Case Study: InMoment Uses Plum IVR to Power Innovative VoC Platform - Plum Voice - ContactCenterWorld.com Blog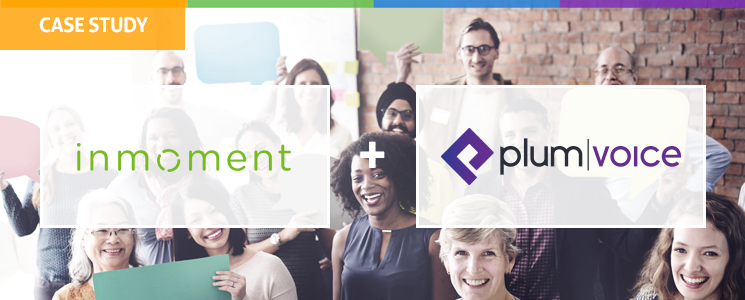 When it comes to customer feedback, it's no secret that the best time to get someone's opinion is right after a transaction takes place because everything is still fresh in their mind. InMoment, which specializes in customer experience optimization, wanted to augment its voice of the customer platform with something more immediate, like voice.
Embracing voice was a logical step for InMoment. After all, pretty much everyone carries a mobile phone with them these days, making it easier for InMoment to deliver post-transaction surveys and for customers to access them.
When InMoment was building their VoC platform, they knew that they needed something flexible to handle the telephony aspects. This is where Plum's platform, which is VoiceXML-based, came into play. Plum provided InMoment with the features and flexibility they needed to deliver the service and experience their customers expected.
Using Plum's IVR platform, InMoment was able to create surveys that dynamically chose the right questions to ask customers based on their previous input. This allowed InMoment to deliver better, more accurate data about customer experiences when compared to a standard, linear survey that asks everyone the same questions.
Not only did Plum's technology put InMoment in a position to succeed, according to John Sperry, InMoment's CEO, but Plum's customer service played a vital role in his company's ability to get their applications up and running in a timely manner. Plum engineers helped them troubleshoot different aspects of their application, and the business development team ensure that InMoment had the information and resources they needed to be effective across the globe.
With Plum's IVR technology serving as the telephony backbone for InMoment's platform, the company now fields over 200,000 calls per month. Plum's cloud platform scales dynamically to meet customer needs, which means that InMoment doesn't need to worry about spikes in customer usage.
To learn more about InMoment and how the company used Plum technology to become a leader and innovator in the customer experience space, read the full case study.
Source: http://www.plumvoice.com/resources/blog/case-study-dynamic-voc-survey-platform/
Publish Date: June 20, 2017 5:00 AM
---
PREMIUM

Future Gen International Pte Ltd
(VIEW OUR PAGE)

Outsourcing provider of English Call Centre services, Audio Transcriptions, Big Data ETL (Extract, Transform, Load) , Big Data Visualization, Big Data Predictive Model Generation

PREMIUM

Avizent Ltd
(VIEW OUR PAGE)

Advanced AI technology and Natural Language Processing delivered to clients in the Cloud that harnesses both voice and digital conversations. The focus is on building an environment where intelligent ...

(view more)

PREMIUM

HigherGround, Inc.
(VIEW OUR PAGE)

HigherGround develops data collection, information storage, and interaction analytics solutions that easily transform data into actionable intelligence, enabling operational optimization, enhanced per...

(view more)
---
View more from
Plum Voice
Recent Blog Posts:
| | |
| --- | --- |
| Bring Your Own Telecom: Is it Worth Doing? | July 26, 2018 5:00 AM |
| Visa Verified: Plum Voice Secures a Listing on Visa's Global Registry of Service Providers | July 12, 2018 5:00 AM |
| What You Need to Know about Poor Call Quality | June 7, 2018 5:00 AM |
| Fairly Allocate Call Transfers to Multiple Contact Centers | May 17, 2018 5:00 AM |
| Making Natural Language Processing Feasible with Artificial Intelligence | February 8, 2018 5:00 AM |
| Outsourcing or DIY? Find the Right IVR Development Approach | November 30, 2017 5:00 AM |
| IVR That Saves $5M per Month | November 16, 2017 5:00 AM |
| The Limitations of Speech Rec & How to Combat Them | November 2, 2017 5:00 AM |
| Why Not All IVR Software Is Created Equal | October 17, 2017 5:00 AM |
| How to Get More From Your IVR with Artificial Intelligence | September 28, 2017 5:00 AM |