Use Analytics to Solve Voice Communications Problems - Plum Voice - ContactCenterWorld.com Blog
Why Data Matters
You can't miss what you've never had. And having data and analytics for automated, voice-based customer interactions used to be unheard of.
This deficiency often led companies to take a "set it and forget it" approach to their automated voice communications channel. The problem with this is that the voice channel connects directly with customers. Therefore, treating it like a Ronco Showtime Rotisserie (remember those infomercials?) makes it impossible to know how your automated voice solution affects customer experience.
But the new dawn of voice analytics is here. VoiceTrends is an analytics toolkit designed to give users data for their automated voice applications. It's built in to each of Plum's cloud products: DEV, Fuse, and Insight.
Analytics provide insight into the efficiency and usability of your voice solutions. Having access to actionable data allows you to monitor voice applications and optimize them as customer needs evolve. This type of proactive concern for customer experience helps to develop brand loyalty.
Knowing what to look for is the trick to getting the most out of any type of analytics data. A few examples of common questions and problems that voice analytics can inform users about are:
What is my average call length? Can I make it shorter?
How often do callers transfer out of the application? Can I prevent that from happening?
How often do callers repeat a menu or prompt? Can I make the call-flow easier to understand?
Each of these gets at a different aspect of the customer experience, whether that's respecting caller's time, providing the information they need, or making your application usable. So let's take a look at a use case for VoiceTrends and how it can help users make connections between data, application performance, and user experience.
Understanding What You've Got
We'll start with a basic problem to get our feet wet. Take the first question from above: What is average call length and how can that be shortened?
To get a baseline, check out what your current average call time is. After logging in to VoiceTrends use the menu on the left to open up the Trend Analysis section, and then expand the Call Volume menu. Click on Average Call Length. This will display a graph and a bunch of other information in the main window.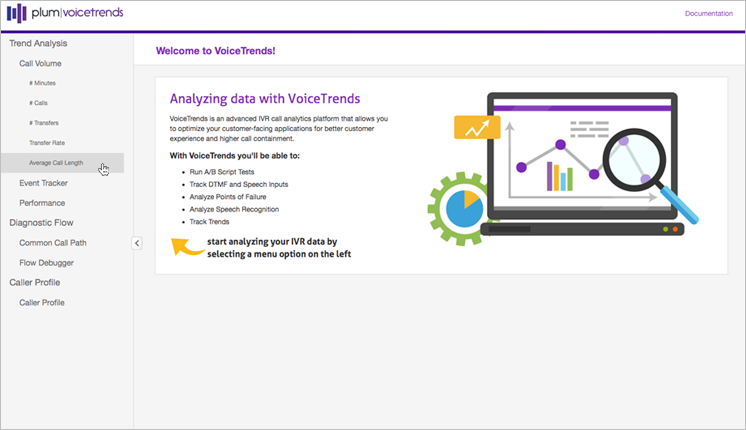 Looking at the month of January it's possible to see a steady rise in average call length after January 10th. On that day the average call length was 89.4 seconds. By January 31st the average call time increases to 150.2 seconds. This type of consistent increase is a pretty solid clue that something isn't working well.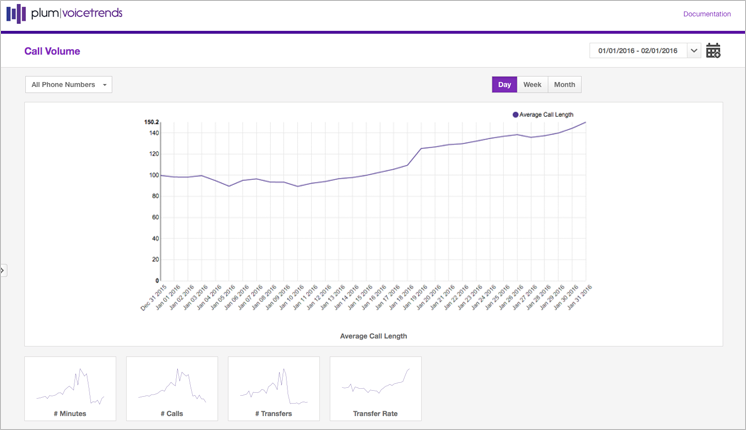 Now that you know there's a problem (thanks data!), it's time to come up with a fix.
Fixing the Problem
Remember the large corpus of data that VoiceTrends accumulates won't solve your problem for you, but it does help you make informed choices when problem-solving. There are a few best practices that can address call length issues.
The first is to make sure that prompts are bargeable. This means that callers can interrupt a prompt, or barge in, by making a selection before the prompt finishes. Repeat callers know what buttons to press and when, so forcing them to listen to entire prompts greatly increases the time they remain on the line. Unless it's critical for callers to hear an entire prompt, make it bargeable.
Second, make sure all of your prompts are necessary. One common mistake we see in this area is with over confirmation. The more menus, prompts, and forms a caller encounters the longer the call is going to be.
Finally, make sure that the prompts present the information in an efficient order. Oftentimes prompts are designed to provide a list of instructions, e.g. "Press 1 for claims, press 2 for sales." The problem arises when the instructions precede the information. Most callers understand that the options will follow each other sequentially. Therefore, a more efficient prompt would read "for claims, press 1; for sales, press 2." You can bet that whatever the third option is the caller will know that they should press 3 to get there.
Evaluating the Results
Let's say that after noticing the trend of increasing average call length a savvy employee realized that they had forgotten to make the application's prompts bargeable. After building and testing the solution, the updated application with bargeable prompts went live on February 1st. Then, on March 1st we can look at the results to see if the fix worked.
Click on the calendar icon in the upper right corner. This will produce a second drop-down menu for comparison purposes. We looked at January previous, so set this one to look at February. The results plot January in purple, and February in a blueish color.
Note that the blue line experiences a sharp and drastic decline on the first of the month. The rest of the blue line oscillates in the 80-100 second range, which is much more satisfactory.
Just Getting Started
Purpose-built analytics are pretty new to the world of voice communications. In other words, as we continue to update VoiceTrends and build out even more features, and there are some good ones in the works, identifying problems and testing results will only get easier.

Source: http://www.plumvoice.com/resources/blog/analytics-solve-voice-communications-problems/
Publish Date: March 31, 2016 5:00 AM
---
PREMIUM

ConceptCall
(VIEW OUR PAGE)

Аутсорсинговый контакт-центр ConceptCall| КонцептКолл специализируется на исходящем и входящем телемаркетинге: мы предоставляем услуги по осуществлению холодных звонков и продажи по телефону, проводим...

(view more)

PREMIUM

Avizent Ltd
(VIEW OUR PAGE)

Advanced AI technology and Natural Language Processing delivered to clients in the Cloud that harnesses both voice and digital conversations. The focus is on building an environment where intelligent ...

(view more)

PREMIUM

CTI Software
(VIEW OUR PAGE)

CTI Software is the creator of custom application called Davos, which complements the telephone client solutions with intelligent features such as automated call attendant, call recording and archivin...

(view more)
---
View more from
Plum Voice
Recent Blog Posts:
| | |
| --- | --- |
| Bring Your Own Telecom: Is it Worth Doing? | July 26, 2018 5:00 AM |
| Visa Verified: Plum Voice Secures a Listing on Visa's Global Registry of Service Providers | July 12, 2018 5:00 AM |
| What You Need to Know about Poor Call Quality | June 7, 2018 5:00 AM |
| Fairly Allocate Call Transfers to Multiple Contact Centers | May 17, 2018 5:00 AM |
| Making Natural Language Processing Feasible with Artificial Intelligence | February 8, 2018 5:00 AM |
| Outsourcing or DIY? Find the Right IVR Development Approach | November 30, 2017 5:00 AM |
| IVR That Saves $5M per Month | November 16, 2017 5:00 AM |
| The Limitations of Speech Rec & How to Combat Them | November 2, 2017 5:00 AM |
| Why Not All IVR Software Is Created Equal | October 17, 2017 5:00 AM |
| How to Get More From Your IVR with Artificial Intelligence | September 28, 2017 5:00 AM |