Coder's Corner: Create A Self-Service App That Doesn't Suck - Plum Voice - ContactCenterWorld.com Blog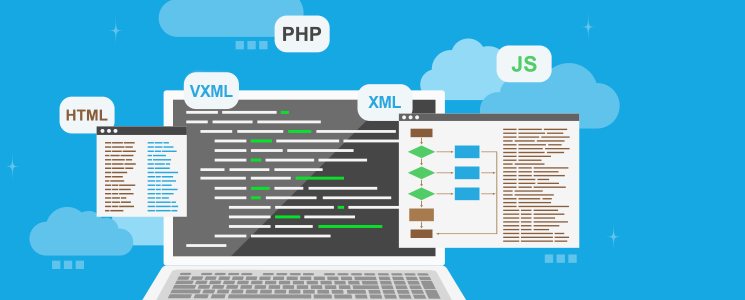 Let Customers Be "In The Know"
It's no secret that the majority of people prefer, and even expect self-service options nowadays. Why, you may ask? Because self-service is a constant. No matter what or where someone is they can pick up the call and make a payment because there's no need for people to be on the other end of the phone. When done right, it's also really fast. Speed and customer service go together like peanut butter and chocolate.
Now you might be a bit skeptical of self-service considering the bad rap that automated phone systems have gotten over the years, but more often than not those issues extend from design, not the technology itself.
Refine For Simplicity
Think about the minimum amount of information you need from a customer in order to complete a transaction. For instance, if your company deals with pre-paid credit cards and someone wants to check their account balance, what does the information exchange look like in that situation?
You want to boil down this process to its simplest form because the fewer menus and prompts a caller goes through the faster they get the information they need. And if that transaction is fast and easy, well, then you've got a satisfied customer on your hands.
Write The Code
Creating a positive self-service customer experience isn't rocket science. Here's an example of some code that you could use for checking an account balance. There are two components to this code: 1. the main menu, and 2. a subdialog that queries a backend database for dynamic, up-to-date information.
As you can see, the call flow here is pretty simple. When the call connects callers are told to press 1 for account balance or press 2 to exit. This is the first tag in the main menu section.
The next section, which consists of the tag, verifies the caller's selection. It's worth pointing out that this is the type of thing you can A/B test. Do you need verification at this point in the call flow? The VoiceTrends call analytics toolkit can provide you with the data you need about whether to retain or remove this.
There is some standard error correction to account for mistakes, but then callers are prompted to enter an account number. (The code here has another verification section, but that can also be A/B tested and optimized.)
Once the caller enters a valid account number the call-flow runs a subdialog.
\n"); $account_number = $_POST['account_number']; $db_host = ; $db_username = ; $db_password = ; $db_name = ; $db = mysqli_connect($db_host, $db_username, $db_password, $db_name); $query_result = mysqli_query($db, "SELECT `account_balance` FROM `account_info` WHERE `account_number`='".mysqli_real_escape_string($db, $account_number)."'"); $result_array = mysqli_fetch_array($query_result); $account_balance = $result_array['account_balance']; mysqli_close($db); ?>
Here you can see that the application will pull through the account number and query the connected database for account balance information associated with it. The $db_xxxxx values would be replaced with an actual business database on your end, but this at least gives you an idea of what the code would look like and what fields you may need for a successful operation.
After the subdialog runs and obtains the account balance it's back to the main menu, where that information is then presented to the caller and the call is disconnected.
Note: You might want to A/B test giving callers the option to have their account balance repeated here.
Don't Forget To Optimize
Overall, this is a very simple and very fast process: the call connects, the caller enters their account number, the application queries a database, gets the account information, and displays it to the caller. All told a call like this could take 30 seconds or less. Plus, there are a number of items present that you could test to make the process even faster or user-friendly.

Source: http://www.plumvoice.com/resources/blog/code-balance-check-self-service-app/
Publish Date: September 14, 2016 5:00 AM
---
PREMIUM

HigherGround, Inc.
(VIEW OUR PAGE)

HigherGround develops data collection, information storage, and interaction analytics solutions that easily transform data into actionable intelligence, enabling operational optimization, enhanced per...

(view more)

PREMIUM

Avizent Ltd
(VIEW OUR PAGE)

Advanced AI technology and Natural Language Processing delivered to clients in the Cloud that harnesses both voice and digital conversations. The focus is on building an environment where intelligent ...

(view more)

PREMIUM

Future Gen International Pte Ltd
(VIEW OUR PAGE)

Outsourcing provider of English Call Centre services, Audio Transcriptions, Big Data ETL (Extract, Transform, Load) , Big Data Visualization, Big Data Predictive Model Generation
---
View more from
Plum Voice
Recent Blog Posts:
| | |
| --- | --- |
| Bring Your Own Telecom: Is it Worth Doing? | July 26, 2018 5:00 AM |
| Visa Verified: Plum Voice Secures a Listing on Visa's Global Registry of Service Providers | July 12, 2018 5:00 AM |
| What You Need to Know about Poor Call Quality | June 7, 2018 5:00 AM |
| Fairly Allocate Call Transfers to Multiple Contact Centers | May 17, 2018 5:00 AM |
| Making Natural Language Processing Feasible with Artificial Intelligence | February 8, 2018 5:00 AM |
| Outsourcing or DIY? Find the Right IVR Development Approach | November 30, 2017 5:00 AM |
| IVR That Saves $5M per Month | November 16, 2017 5:00 AM |
| The Limitations of Speech Rec & How to Combat Them | November 2, 2017 5:00 AM |
| Why Not All IVR Software Is Created Equal | October 17, 2017 5:00 AM |
| How to Get More From Your IVR with Artificial Intelligence | September 28, 2017 5:00 AM |