Portage Communications, Inc. - ContactCenterWorld.com Blog
By: Steve Martin of Call Center Recording Center
I read an article in the July/August issue of this periodical regarding Call Center Workforce Optimization ("Workforce Optimization for Small Call Centers"). This article outlined options for small call centers, mainly 50+ agents and above with the least expensive option requiring an investment of $17,000. Very reasonable, however if your center is 20 to 75 agents this is still a huge investment for your company.
What keeps this investment for Workforce Optimization (we used to call these workforce management systems) so high? Typically the integration and associated professional services. This integration enables the systems to automatically upload historical call data and real-time agent/call data used to create call forecasts. From these forecasts, the software predicts staffing and creates your schedules.
If your switch can provide real-time data (switches typically provide this data in 15 or 30 minute intervals) real-time adherence can be provided. And if you do skills based call routing this scheduling, by skills, is also an additional module that can be added. The Real-Time Adherence and Skills modules are expensive add-ons (tack these onto your already $17,000+ initial investment).
So What's the REAL Cost?
Expensive? A relative term. If you have 20 to 75 agents, yep. So are you stuck with spreadsheets and manual scheduling? No, not really. There are much more cost-effective options available for you. You can obtain a Workforce Optimization and call center scheduling software tool that will provide as accurate a schedule as the expensive systems. The only difference is you either manually import a file with the historical call data, "cut and paste" it in and some low-cost system even automatically upload it. Wait, it's not that tough if you have to import it yourself. Even if you manually enter your average call volume per quarter, half or full hour. Then add your average handle time and after call work time, both can be easily copied to each field and your schedule can then be computed. These systems range in price from $3,000 to $14,500 for 20 – 100 agents, depending on the number of agents to be scheduled. No special hardware or excessive professional services needed.
These systems can provide full schedules that can be shared with your agents via printout and/or Web interface. These systems use the same Erlang-C algorithm that the pricey systems use. You have the ability to do intra-day management, "what if" scenarios and even create holiday schedules to proactively prepare for the season. Some even provide the ability to run your forecasted schedule against a simulated switch to see how it performs. Make adjustments to address any issues that are presented and test it again, using these tuned stats to create your working schedule.
Accurate scheduling is actually more important to the centers with less than 50 agents than the 150 seats centers. Why? Well if an agent calls in sick at 8:45am to the 150 seat they can easily cover the eXTRa calls. That agent is less than 1% of their workforce. What happens if an agent calls in sick at 8:30am to a center that only staffs 25 agents? Ouch, now you're scrambling and your service levels are blown for at least the morning. Or, you have seriously over staffed to proactively head off this type of situation. Expensive. Either way you lose.
Workforce Management : Well Worth the Investment
Workforce management is still "best guess technology" but these systems greatly reduce the margin of error. Reducing unneeded staff by a single agent or providing the ability to correctly staff for billing cycles, holidays and any other special staffing situations makes a huge impact on your ability to field calls. This impact on your service levels and payroll more than compensate for the investment. There is hope. Give these systems a look.
Learn More
For a free, no obligation consultation with Steve Martin or any of our call center technology experts, contact us and we'll be happy to help.
Source: https://www.portagecommunications.com/costs-of-call-center-workforce-optimization-by-steve-martin-of-call-recording-center/
Publish Date: October 27, 2015 5:00 AM
---
Free?! Yes, really.
We've decided to offer some free consulting using our Call Center Designer and SimACD tools. We can do staffing scenarios free for you to analyze how many people you need at each time period of a given work week to meet your service levels, or to see what happens to your service levels if you are either under or over staffed. Just call us at 208-263-6776 and we'll arrange for you to send us the call volume data we need and we'll do some work for you.
Is there an ulterior motive? Sure there is. We'd like you to see what our software can do for you so that you might choose to buy it someday, and to also consider our AgentTime call center scheduling software.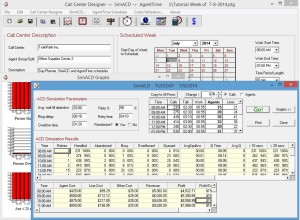 Source: https://www.portagecommunications.com/free-call-center-consulting-staffing-projections-from-portage-communications/
Publish Date: August 18, 2015 5:00 AM
---
by Stuart Harris
Telephone traffic along with other forms of traffic, such as automobile traffic, share similar characteristics. Traffic may be very busy and have to slow down and wait, or it may be very light with little slowing or blockage. Facilities such as roads, telephone lines, toll booths, service agents, and bank tellers may be either under or over utilized causing costly idle time or poor service to customers. Call center workforce managers face a daily, continual challenge in finding the right number agents to use at the right time to handle calls that arrive in a random manner. This paper explores why this challenge occurs and two methods used to meet it.
The Problem
The fundamental challenge for the inbound call center manager is to correctly balance the number of agents and trunks to the varying volumes of calls throughout the day in order to:
1. Keep all the agents busy, and
2. Keep the time callers have to wait to an acceptable minimum.
The inbound call center is a customer/server/queuing system: customers (calls), arrive in the system to be served by servers (agents or operators), but may have to wait (in queue) for them. Almost a century of mathematical study has gone into the problem of "arrivals" that need service by a "server".
How Calls Arrive in a Call Center
A simple minded approach to determining the number of agents needed in a particular hour might be to take the number of calls expected to arrive in the hour, multiply that by the average minute length of all the calls and then divide by 60. As an easy example, if 60 calls arrive in 1 hour, each with an average length of 1 minute, you might say that you only need one agent with a single telephone line to answer all the calls.
The obvious flaw to this sort of logic is that call arrivals in the real world are not distributed one right after the other. The average arrival rate in the above example is 1 minute, but their actual arrival is distributed randomly: some will come in at the same time, some will come in when another is being served, and during some periods of the hour no calls may arrive at all. Also, the length of the calls follows a random distribution. These random distributions are determined by the laws of probability.
How then can the actual arrival rate of calls in your call center be predicted? While we cannot predict the exact time that each call will arrive, we can predict the probability of when the next call will arrive. This probability follows a well known distribution called the Poisson distribution. It looks something like the following bar graph:
Probability of Arrival




⇑

Source: https://www.portagecommunications.com/a-primer-on-two-call-center-staffing-methods/
Publish Date: August 8, 2015 5:00 AM
---
Here's a great article about the reality of call center call volume forecasting by James Lawther:
http://www.squawkpoint.com/2012/11/call-center-forecasting/
My favorite quote from it:
"If your forecasters were the sort of people who could precisely nail the outcome of a random, chaotic, complex system, day in and day out, then they wouldn't be forecasting your call centre. They would be playing the euro-millions lottery for 5 minutes every Friday and spending the rest of the time cruising the shores of the Mediterranean in a Ferrari."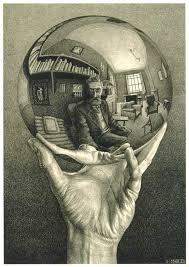 Source: https://www.portagecommunications.com/article-the-forecast-is-always-wrong/
Publish Date: June 5, 2015 5:00 AM
---
Portage Communications is seeking sales representation in SE Asia for its AgentTime call center scheduling and workforce management software. AgentTime™ Scheduler is the leading affordable and practical call center scheduling software solution designed specifically for small and medium sized call centers. AgentTime determines staffing requirements and creates optimal schedules from a database of agents, shift definitions, agent availabilities, for inbound and inbound/outbound/chat environments.
Please see our website at www.portagecommunications.com and contact Stuart Harris if you are interested in reselling AgentTime in the ASEAN market.
208-263-6776 (USA Pacific Time) stuart.harris@portagecommunications.com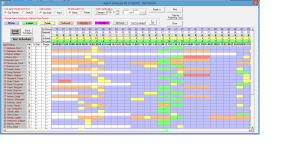 Source: https://www.portagecommunications.com/portage-communications-is-seeking-sales-representation-in-se-asia/
Publish Date: June 1, 2015 5:00 AM
---
In business-to-business selling the last month of the year is always slow, so I've been going through some old stuff. Normal people would take this time to look at pictures of loved ones, photos from old trips and so forth. But I'm a mathematician so I look at graphs and equations instead. Yes, this sounds pretty sad, but in this case I'll impart some wisdom from a very old piece of stuff I came across.
Call centers have two fundamental time measurements that they pay close attention to: average talk time, and average queue time. What does it mean when we say, "our average talk time is 2 minutes"? It does mean that some calls last less than 2 minutes and others last longer, but averaging all them we get 2 minutes. But, how are the call lengths distributed around that average? Does this mean that the probability of some calls lasting 1 minute is the same as the probability of some calls lasting 3 minutes? Is the probability of call lengths distributed on a normal bell-shaped curve with 2 minutes right in the middle like this graph?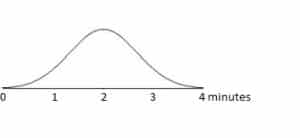 You might think so, but you'd be wrong if you did. Caller behavior and the way calls get handled create something different. Here is an old graph dating all the way back to 1961 that shows the probability of call talk time lengths with an average talk time of 2 minutes.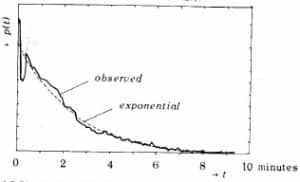 It's from some old AT&T data. It shows that call lengths follow an exponential distribution rather than a bell curved shaped distribution. Because the average is 2 minutes, the area under the graph to the left side of the 2 minute mark is equal to that under the right. The greatest probability is that calls are handled pretty quickly under two minutes, but there are a lot of calls that take longer and stretch out to 9 or 10 minutes, but with decreasing probability as the times get that long. You'll notice right at the very beginning of the graph near 0 minutes there's a spike and and then a dip after which it then settles into near perfectly following an exponential distribution (the dashed curve). This was caused by people hanging up right away because of having called the wrong number, or nowadays pressing the wrong selection to an IVR prompt.
The time spent in queue time follows the same pattern because the highest probability for when someone is likely to abandon from queue is the very moment they are placed in queue or soon thereafter. There's no certain way to avoid this because a lot of people have little to no tolerance for being placed on hold. If there is any alternative such as a company competitive to you, or they've called on an impulse, a larger number of people will be of the no tolerance type. Try increasing your ring delay, the amount of time your ACD gives a ring tone to callers before it seizes the call — callers don't feel they are delayed when hearing a ring.
Source: https://www.portagecommunications.com/how-call-center-talk-and-queue-times-work/
Publish Date: December 27, 2013 5:00 AM