The Ultimate Inside Sales Checklist for 2016 - RDI Corporation - ContactCenterWorld.com Blog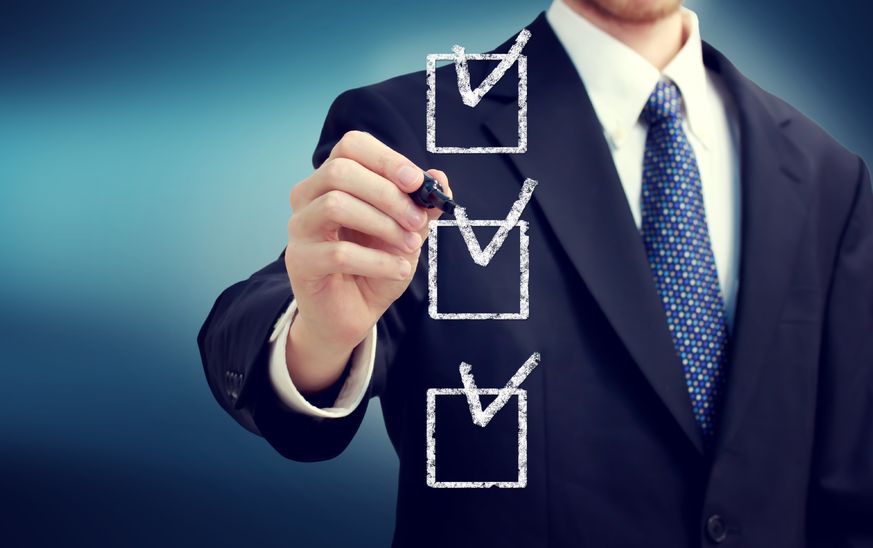 Believe it or not, 2016 is right around the corner. Has 2015 been a record sales year for your company? Or, has the past year proven that you need to increase your sales performance? Whatever your company's situation, read on for a checklist that will help you make the most of your 2016 sales results.
Make 2016 Your Best Sales Year Ever
Ask yourself these questions, and then use the answers to guide your performance goals and sales tactics for the upcoming year:
1. Do you have clear performance metrics set for your inside sales agents? Metrics drives sales teams and encourage them to keep improving and realizing their goals. Zorian Rotenberg of InsightSquared says it's important to measure the number of open opportunities each rep is working at any given time by count, not by dollar amount. Rotenberg adds that it's important to also track the number of opportunities your sales team closed, which includes both won and lost opportunities.
Another performance metric that's important to track is the average duration or time (usually in days) that it takes your reps to win a deal.
2. Do you know which sales activities contributed to positive ROI last year? It's always important to fully understand how your investment in sales initiatives and campaigns are paying off. The sales experts from Marketing MO suggest that you calculate ROI using the following formula: return minus investment, divided by investment. Then, you would multiply by 100 to yield a percentage. Although this is a simple formula, you can use it to determine what tactics really helped enhance your sales department's performance.
3. Have you identified new markets to help grow your company? If you're looking to grow your business in 2016, it's important to plan to expand your business into new markets. This means you'll need to mine for new prospects in new territories. Andris A. Zoltners, PK Sinha and Sally E. Lorimer of the Harvard Business Review point out that expanding your marketing and sales reach beyond your current geographic footprint (e.g., into more rural areas with potential customers) can be helpful in improving sales.
4. Do you know how to achieve a lower-cost and more efficient selling model? Lowering your costs and streamlining your sales model are essential components of a productive inside sales strategy. As Kyle Heller of Openview Labs points out, larger companies today are taking a page from the startup book by using inside sales as a primary sales channel in order to successfully cut costs and up their revenues.
5. Do you have a compensation program in place that is actually motivating? You may be surprised to learn that compensation for inside sales reps can't be tied to outside sales reps anymore since their jobs are no longer dependent on each other (See Heller, above). But, it's the truth. Ken Thoreson of SalesForce offers four effective ways of compensating your sales teams. One option is profit-based, meaning that your reps' commission rates change as margin levels increase. Another option is based on revenue/quota, meaning that compensation is based on volume achieved over the previous sales period or on a percentage of a quota reached. The third option is balanced, meaning that you base reps' compensation on margin, revenue and a third component such as quota attainment. The fourth option that Thoresen suggests is team. With this approach, all team members receive a bonus when the team hits their quarter-to-date sales goals.
6. Do you have team development procedures in place to maintain healthy attrition rates? Turnover happens, but that doesn't mean your business has to be its victim. Instead, be proactive about reducing attrition for your top sales performers. What's more, offer support for your under-performing reps so that it's less likely they'll become part of your attrition problem. As Benson Smith and Tony Rutigliano of Gallup point out, the two biggest causes of attrition are employees who don't feel that they're being adequately compensated and employees who don't have a solid, consistent relationship with their manager. Interestingly, "turnover in the top quartile indicates a bottom-driven culture in which star performers are actually—albeit inadvertently— made to feel unwelcome." Take steps to make sure you identify what is causing attrition in your sales department.
7. Is your inside sales team closely aligned with your marketing team? Your marketing team can be a great resource, and helpmate, for your inside sales team, so be sure you're encouraging these teams to work together for the growth of your company. Matt Wesson of SalesForce writes, "Sales reps that make a point to communicate with marketing will find they are never at a loss for great content to send to prospects or a compelling reason to reach out." Your marketing team should work closely with your sales reps in the creation of relevant content resources, promotions and email blasts.
Equip your sales reps with the tools and knowledge to grow your business, increase sales performance and better serve your customers. By asking yourself the questions above — and closely analyzing your answers — you can make 2016 the best year ever for your inside sales team.
Source: http://blog.rdi-connect.com/the-ultimate-inside-sales-checklist-for-2016
Publish Date: December 23, 2015 5:00 AM
---
PREMIUM

Future Gen International Pte Ltd
(VIEW OUR PAGE)

Outsourcing provider of English Call Centre services, Audio Transcriptions, Big Data ETL (Extract, Transform, Load) , Big Data Visualization, Big Data Predictive Model Generation

PREMIUM

ConceptCall
(VIEW OUR PAGE)

Аутсорсинговый контакт-центр ConceptCall| КонцептКолл специализируется на исходящем и входящем телемаркетинге: мы предоставляем услуги по осуществлению холодных звонков и продажи по телефону, проводим...

(view more)

PREMIUM

CTI Software
(VIEW OUR PAGE)

CTI Software is the creator of custom application called Davos, which complements the telephone client solutions with intelligent features such as automated call attendant, call recording and archivin...

(view more)
---
View more from
RDI Corporation
Recent Blog Posts:
| | |
| --- | --- |
| Superior Customer Care Creates True Customer Loyalty | September 19, 2017 5:00 AM |
| Great Customer Care Creates New Customers Through Word of Mouth | September 12, 2017 5:00 AM |
| Using Social Media, Bots, and Well-Trained Reps To Create A Customer-Care-as-a-Service Platform | August 1, 2017 5:00 AM |
| Become a Service Maester: 5 Customer Care Lessons From Game of Thrones | July 11, 2017 5:00 AM |
| The Importance of Employee Retention in Customer Care Centers | July 6, 2017 5:00 AM |
| The Emotional Intuition Factor: Why Humans are More Important Than AI in Customer Care | June 29, 2017 5:00 AM |
| AI and Customer Care Bots: Freeing Your People For the Tough Questions | June 27, 2017 5:00 AM |
| Memory and Human Emotions: How AI Turns Big Data Into Customer Insights | June 20, 2017 5:00 AM |
| Using  Customer Speech Analysis  With AI To Improve Call Center Performance | June 16, 2017 5:00 AM |
| How AI Can Evaluate Employee Speech Patterns to Boost Call Center Productivity | June 13, 2017 5:00 AM |
Industry Champion Award Leaderboard