RingByName - ContactCenterWorld.com Blog
Did you know RingByName now offers Call Presence? Presence gives you the ultimate visibility of your telephone system, allowing you to see the status of all members of your team.
What is Call Presence?
Call Presence allows RingByName users to see whether their colleagues are online, on a call, and even see who the call is with. Call Presence makes businesses more efficient in many ways. Dropped call transfers, wasted time trying unmanned extensions, and the inability to easily identify who an employee is taking to are all eliminated with RingByName's Call Presence feature.
This innovative tool is only available on the web application, and we are working to get the newest version of RingByName published on the Apple App and Google Play stores– with so many ingenious apps the approval process can take some time. But don't worry, we will let you know when the newest version of RingByName becomes available for download
Source: http://blog.ringbyname.com/call-presence-is-now-on-ringbyname/
Publish Date: April 19, 2016 5:00 AM
---
Why RingByName is a better choice for your business
Cloud based business phone systems provide efficient and resilient communications for your business. Unlike traditional telephone systems, RingByName's business class phone system allows you to have all of the features of a large phone system without the expense and maintenance of a PBX.
RingByName can help you grow your bottom line and help you win and keep clients. It is:
Cost effective: With a fool proof phone system you never have to worry about system failure. A cloud based system means no costly maintenance and no hardware that will require replacement. With low cost unlimited phone services to the USA, Canada, and Puerto Rico, a better deal is hard to come by.
Resilient and Reliable:

When disasters such as hurricanes, fire, and water damage strike, your business telephones and customer records are safe and accessible from anywhere on the internet.

If the internet is down or there is a power outage, your telephone system and client records are not only secure, but also remain accessible from any internet connected device, such as a mobile phone. Phone calls can be forwarded to your mobile device or even to alternate destinations quickly and easily.
Efficient: Your RingByName system can be used to centrally manage all of your business locations from a single account. Professional grade telephones can connect remote workers and branch offices. As long as you are hooked up to the internet you will always be connected to your phone system and customer data hassle free.
Source: http://blog.ringbyname.com/our-cloud-based-business-is-the-best-there-is/
Publish Date: February 18, 2016 5:00 AM
---
The Federal Communications Commission ("FCC") recently adopted an order that requires RingByName, like all Voice Over Internet Protocol ("VoIP") service providers, to inform its customers of any differences between the E911 access capability available with RingByName as compared to the E911 access capability available with traditional telephone service. (A copy of this FCC order is available at http://transition.fcc.gov/cgb/voip911order.pdf.)
We ask that you carefully read this E911 Disclosure Statement and understand how these differences affect your ability to access E911 services. If you have any questions or concerns about the information contained in this notice, or if you do not understand anything discussed in this notice, please contact our Customer Service representatives at (855) 345-7464 during the hours of 9 a.m. to 9 p.m. EST.
By using RingByName service, you affirmatively acknowledging that:
You have read and understood this E911 Disclosure Statement,
You understand that you may not be able to contact emergency services by dialing 9-1-1 using RingByName, and
You understand that you must inform users of RingByName that they may not be able to contact emergency services by dialing 9-1-1 using RingByName.
You may obtain a copy of the FCC regulation and accompanying E911 VoIP decision in Docket No. 05-196 athttp://www.fcc.gov/cgb/voip911order.pdf.
RingByName E911 SERVICES MAY NOT OPERATE DURING A POWER OUTAGE. Even if your VOIP DEVICE may be powered by a battery backup unit or Uninterruptable Power Supply, your VOIP DEVICE may cease to function in the event of a commercial power outage lasting longer than the your backup battery life, or if the power is not available on your Internet Access Equipment causing a loss of voice and data service, including access to E911 services.
Once power service is restored, you may be required to reset or reconfigure your equipment before you will be able to use RingByName to contact E911 services. You are responsible for providing an uninterruptible backup power supply if you wish to ensure continued operation of electrical equipment in the event of a power outage.
RingByName E911 SERVICES WILL NOT OPERATE IF YOUR BROADBAND CONNECTION IS DISRUPTED OR RingByName HAS BEEN SUSPENDED FOR ANY REASON, INCLUDING, FOR EXAMPLE, NON-PAYMENT. Once your broadband connection and RingByName have been restored, you may be required to reset or reconfigure your equipment before you will be able to use RingByName service to contact E911 services.
YOU MUST PROVIDE RingByName WITH YOUR CORRECT SERVICE ADDRESS OR RingByName E911 SERVICES CALLS MAY BE ROUTED TO EMERGENCY PERSONNEL WHO WILL NOT BE ABLE TO ASSIST YOU. If you notice that the service address information identified in your contract or bill is inaccurate, you can make corrections by calling our Customer Service representatives at (855) 345-7464 during the hours of 9 a.m. to 9 p.m. EST, or by editing your E911 Physical address online.
RingByName E911 SERVICES CALLS MAY NOT COMPLETE OR MAY BE ROUTED TO EMERGENCY PERSONNEL WHO WILL NOT BE ABLE TO ASSIST YOU IF YOU DISABLE, DAMAGE OR MOVE THE VOIP DEVICE TO A LOCATION OTHER THAN THE SERVICE ADDRESS YOU PROVIDED TO RingByName WHEN SERVICE WAS INITIATED. If you wish to move to a new service address or report damage to your VOIP DEVICE, please call either your sales representative or Customer Service representatives at (855) 345-7464 during the hours of 9 a.m. to 9 p.m. EST.
RingByName E911 SERVICES CALLS MAY BE DELAYED OR DROPPED DUE TO NETWORK ARCHITECTURE. Due to network congestion or problems, calls to E911 services made using RingByName may be dropped, in which case you will not be connected to emergency services, or your E911 calls may take longer to connect than E911 calls made using traditional telephone service.
IN ADDITION, YOU SHOULD MAINTAIN ALTERNATE MEANS OF CONTACTING E911 SERVICES AND YOU MUST INFORM YOUR RingByName USERS OF THESE ALTERNATE MEANS. You will receive from RingByName a set of stickers explaining when E911 service may not be available. Please place the stickers on or near the equipment you use to access RingByName to alert users of alternate means of contacting E911 in the event of an emergency. If you need additional stickers, please contact our Customer Service representatives at (855) 345-7464 during the hours of 9 a.m. to 9 p.m. EST or click here to download.
Source: http://blog.ringbyname.com/e911-disclosure-statement/
Publish Date: January 26, 2016 5:00 AM
---
At RingByName we're a passionate group: passionate about helping businesses win and keep more customers and passionate about giving small and medium-sized businesses a better alternative to the horrible phone services from huge, out-of-touch phone companies that so many have been forced to settle with for too long. We're also passionate about sharing the benefits of our success with others. For that reason we decided to support a unique and impactful local organization: Shake-A-Leg. Shake-A-Leg is an organization in RingByName's hometown of Miami that does something wonderful: it makes it possible for people with disabilities to enjoy being on the water. Miami surrounds one of the most beautiful bodies of water anywhere in the world, Biscayne Bay. It's beauty was unreachable for too many until Shake-A-Leg was created and we're proud to support them. Shake-A-Leg maintains a fleet of boats and other equipment and has the staff necessary to allow anyone to be out on Biscayne Bay and enjoy the beautiful views, steady breeze, and warm water you can see through to the bottom. We think living in Miami and not being able to enjoy this is unacceptable and Shake-A-Leg obviously agrees.
RingByName supports Shake-A-Leg as a corporate sponsor plus we provide our fantastic phone service to all their employees and volunteers completely for free. This funding and the elimination of their phone bill allows Shake-A-Leg to benefit more people. We're proud of our association with Shake-A-Leg and plan to continue to support them for many years to come. What's perhaps most gratifying is that Shake-A-Leg tells us that RingByName has improved their organization. Our answer-by-name feature makes those that call feel welcomed by an organization that knows them and cares about them. The RingByName web user interface provides Shake-A-Leg's employees and volunteers with detailed information on callers: when they last called, appointments or tasks associated with this caller, and more. And RingByName's reporting feature allows Shake-A-Leg to see how their phone service is being used so they can evaluate their marketing and effectively manage their limited resources. As we like to say, RingByName is way more than a business phone service.
Learn more about RingByName and Shake-A-Leg.
Related topics: phone service, benefits, mobile application, communication
Source: http://blog.ringbyname.com/ringbyname-provides-business-phone-service-to-a-miami-charity/
Publish Date: November 18, 2015 5:00 AM
---
Today we officially announce a partnership with VTech, the world's largest manufacturer of cordless phones plus electronic toys and other fancy electronic stuff. VTech has recently leveraged their long experience making business phones under the AT&T brand (you may have heard of those guys) to release a line of IP phones under the VTech brand. RingByName is proud to help them do that.
The new VTech IP phones are great. They look great, they work great, and they're priced at the value-end of the market. You can see them on our website here: https://www.ringbyname.com/pricing.php Their IP desk phones provide all the needed features and their cordless phones offer businesspeople that aren't anchored to a desk a great solution for staying connected anywhere in the office. But their coolest innovation is their conference phones. Ever been on a conference call with a group of people and you couldn't hear everybody? What about being in a group and needing to huddle over a conference phone to all be heard on the other end? VTech has applied their cordless phone expertise to solve these problems with . . . wireless microphones! Their conference phone has four wireless, rechargeable microphones that can be placed around the room or even held in the hand of the person talking. We have one in our office and we love it.
At RingByName we've long believed that a phone needs to be reliable, easy-to-use, and inexpensive since all the brains of the phone system should be in the cloud — not the phone or some other box stashed somewhere in your business. VTech agrees — which might seem surprising. The truth is that for quite a few years the "hardware guys" like VTech have fought the cloud as a threat to their ability to sell expensive and complicated devices. Those expensive devices allowed their distributors to make big money upfront and the complexity supported their service model of charging for setup and maintenance. So what happened? Did the hardware guys just suddenly change their mind?
I think it's safe to say that they had their minds changed for them. It's simply not possible for an on-premise phone system to keep up with the power and flexibility of a cloud-based system. A cloud-based solution can be updated regularly and easily; is easy to use and manage from anywhere via a web browser; and scales effortlessly. So the hardware guys decided to "join 'em" and we're happy they did. It's an indisputable endorsement of the cloud model for business phone systems when the part of the industry that perhaps is the most threatened — by being forced to offer low-cost, "dumb" endpoints rather than expensive, fancy phone systems — comes around to wholeheartedly supporting the cloud model.
Get in contact with us to learn more about the maximum value available for businesses that couple VTech phones to RingByName!
Source: http://blog.ringbyname.com/ringbyname-vtech-maximum-value/
Publish Date: October 22, 2015 5:00 AM
---
The shared notes icon displays shared notes and announcements shared among users within your system that are not necessarily attached to a specific contact in your RingByName application.

Notes can be emailed directly to users within your organization or shared with external contacts via email.

To share a note to a team member click on the share icon located at the top right corner of the note entry. Click the check-box next to the colleagues you wish to share the note with, or enter an email address to share the note with someone outside your company.
Source: http://blog.ringbyname.com/the-mobile-application-shared-notes/
Publish Date: October 9, 2015 5:00 AM
---
RingByName for your Mobile Device
The power of RingByName is now available for your iOS and Android Device!
Your RingByName business phone system is now available in the palm of your hand. Manage your phone system directly on your iPhone or Android device and take your business calls, manage business contacts, and voice messages from anywhere.
– Make calls using your RingByName calling plan.
– Use the app to make local calls while traveling.
– Create, share, and assign Notes to contacts
– Manage and schedule calendar events
– Keep all your business voice mails separate from your personal messages.
– View call time, date, and return calls directly from your RingByName app.
– Access your company extensions as a contact group.
Source: http://blog.ringbyname.com/download-ringbyname-mobile/
Publish Date: October 6, 2015 5:00 AM
---
What is the RingByName Application? What does it do? Read below for a quick introduction to the RingByName web application located at http://login.ringbyname.com.
Know who is calling and why?
With RingByName you always know who is calling. Plus, you can see a detailed call history of each caller so you and your authorized staff gain a huge advantage on how to manage the caller. RingByName makes it possible to know who called every time. What's more, it enables you to return calls instantly. RingByName has its own CRM system built right in.The system even posts a handy summary of each call for your instant review.
Let's take a look

The web based application is organized into three distinct columns. From left to right, they are: Your CONTACTS, the MAIN DETAIL PANEL, and the ACTIVITY LOG. Don't let the simple layout fool you, this powerful system is designed to make sure that you never miss a business opportunity by automatically logging all of your inbound and outbound calls, missed calls, voicemail and even allowing you to attach notes to individual contacts that are shared across the organization. Let's examine each in more detail below.
Contacts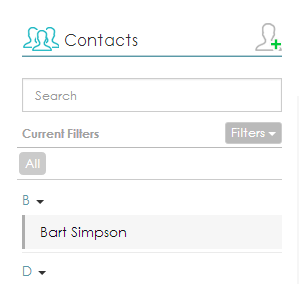 Your contact list gives you a quick index of all of your stored shared contacts. Contacts are shared across your organization allowing for callers to be quickly identified and any relevant notes to be shared amongst colleagues.
Filtering your contacts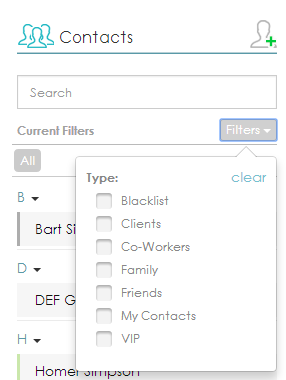 You can create filters to quickly sort and find clients, friends, family — even blacklist telemarketers and gently give them a busy signal when they call.
The Detail Panel
Zoom
The center panel show you all of the details for any call record or contact that you are working with. When you first access the application, it also serves as an announcement center, notifying you of any missed calls, voicemail. assigned events or reminders as well as any important announcements from RingByName or your company's system administrator. As you click on any contact in the column to the left, or from your call log from the right, this panel will change to show you the details for that contact or call record.
Call and contact details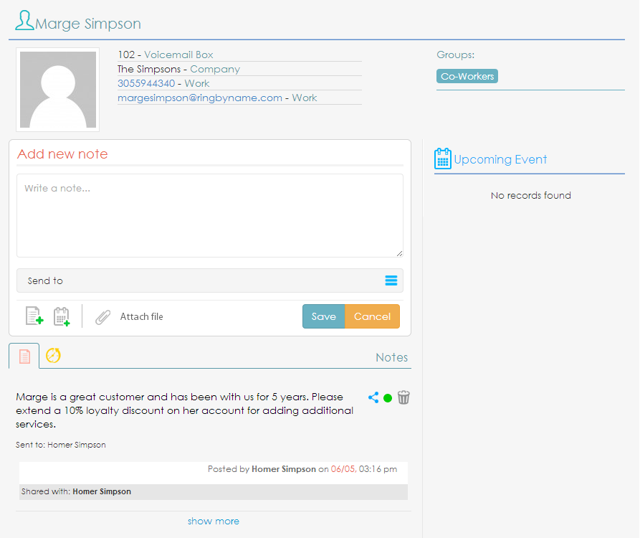 Zoom
Whenever you click on a contact or call log entry, the details for that entry are displayed. The contact information, Call notes and contact history are displayed in one convenient place along with a list of any upcoming reminders for that contact. A handy window is ready to document any additional call notes. You can even attach documents and files to the contact and make them available for your colleagues.
Call history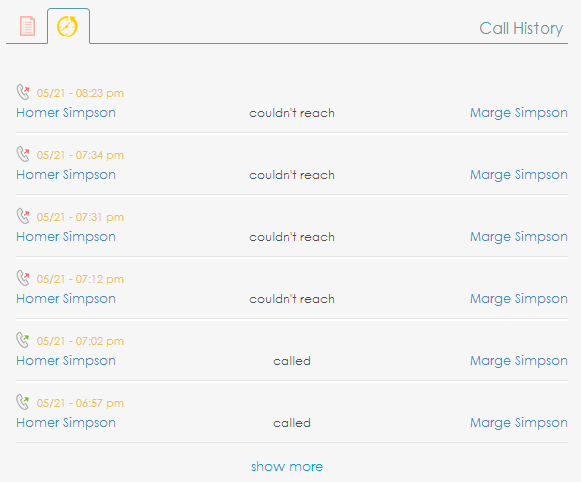 You can even view a complete call history for the contact by clicking on the history icon just below the note window (it's the one that looks like a yellow clock). The system will display all calls made and received for the contact as well as a disposition for each call (completed call, missed call, voicemail, etc). The system will even let you know who last spoke to them.
All of this is logged automatically for all of your contacts on each and every call. No additional work is necessary.
Team and Personal Call Activity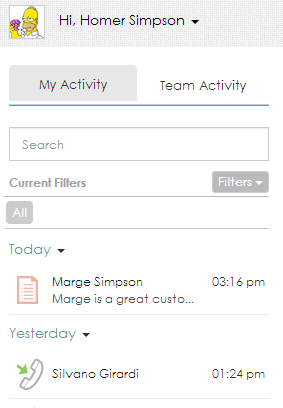 The third column is the Call Activity Column. This gives you access to a continuously updating log of all of the calls into and out of the system, voicemail, call notes, appointments and all other pertinent information.
Powerful call log filtering built-in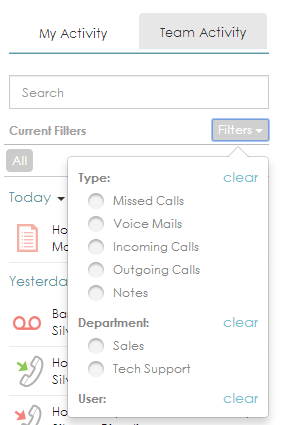 Our powerful call filtering engine gives business owners and administrators the ability to sort and display calls by type (Missed, Voice Mails, Inbound calls, Outgoing calls, Notes), for a specific department or for a user.
Manage personal settings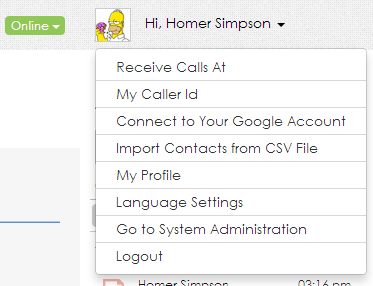 The web application can be used to route calls to your cell phone or land line, change your outbound Caller ID (to display your personal direct number or the main company number).
For those customers using an Android mobile device or those who have contact stored on Google Contacts, the application can synchronize with your Google account and import all of your contacts into the system.
Your personal preference such as default language, photo and password can be managed from within the application. Administrators will also see an option for System Administration.
Source: http://blog.ringbyname.com/what-is-the-ringbyname-web-application/
Publish Date: September 29, 2015 5:00 AM
---
Need to make changes to your company's telephone system? Not in the office? Then we have great news!
RingByName is happy to announce the upcoming release of our upgrade mobile application. Company administrators will have complete access to all phone system settings directly from their compatible Android™ or Apple iOS™ device. Imagine being able to change company business hours, routing of phone calls, and updating extensions without ever having to access your PC or laptop. Best of all, administrators will be able to access call reporting functions directly from their mobile device and generate reporting on all call activities within RingByName.
Our developers have been hard at work to update the tools available to our business owners and administrators. As soon as this update is available in the Google Play Store or the Apple App Store we will announce its availability.
Should you have any questions, please do not hesitate to contact us at support@ringbyname.com
Source: http://blog.ringbyname.com/advanced-administration-features-coming-to-mobile/
Publish Date: September 21, 2015 5:00 AM
---
RingByName is proud to announce the release of the CALL REPORTING feature into their world-class RingByName cloud based phone service. This feature allows system administrators and business owners to quickly access vital statistics for all call activities.
This new feature allows subscribers to generate reports for:
All Inbound calls, Outbound calls, Missed calls, and voicemail
Generate a report for an individual department, employee, stored contact or telephone number.
Call duration and detailed call report
In addition to providing users with easy to understand graphics, all reports can be exported as a spreadsheet for archival and additional analysis.
While many companies offer this premium feature at a charge, Call reporting is being offered to our customers FREE OF CHARGE.
System administrators can access the call reporting via the web application by clicking on the "Call Reporting" tab in the administration panel.
For more information, please feel to contact our technical support team at 855-345-RING(7464) or email us at support@ringbyname.com
Source: http://blog.ringbyname.com/introducing-call-reporting/
Publish Date: September 18, 2015 5:00 AM
---
RingByName, a leading cloud based communications company, will embark on a partnership with VTech, a global leader and manufacturer of IP based phones, in order to provide end-to-end cloud business phone services aimed at helping businesses keep both in-office and remote employees connected with customers and colleagues.
As an interoperability partner, RingByName will provide SIP based carrier services, including hosted PBX for the partnership, while VTech will provide a broad array of SIP based hardware. RingByName is well-known in the cloud communication industry for carrier-grade communications services that can be easily adapted to the unique needs of individuals, SMBs, enterprises, niche markets or other communications service providers. VTech, a well-established organization in state-of-the-arts manufacturing of telephony hardware, brings best of breed devices to the joint venture.
"Aligning ourselves with Vtech is a strategic step for RingByName, says Rod McCree, Channel Sales Manager. " By partnering with a well-respected leader in telephony hardware, we expand the breadth of our communication and collaboration solutions for businesses."
About RingByName
Founded in 2004, RingByName, a leading cloud based communications company, offers telephony services in more than 150 countries. Miami-based RingByName serves communications service providers, businesses of all sizes, value-added resellers (VARs) and consumers, under its own and other brands. Offerings include multiple applications, services and utilities, such as VolP, hosted PBX, SIP trunking, product creation and provisioning.
About Vtech
Founded in 1976, VTech's mission is to design, manufacture and supply innovative and high quality products in a manner that minimizes any impact on the environment, while creating sustainable value for its stakeholders and communities.
With headquarters in the Hong Kong Special Administrative Region and production facilities in China, VTech currently has operations in 11 countries and regions. It employs approximately 30,000 employees, including around 1,500 R&D professionals in R&D centers in Canada, Germany, Hong Kong and China.
For more information, please contact our Channel Sales Manager:
Rod McCree
rod.mccree@inphonex.com
305-400-4684
Source: http://blog.ringbyname.com/ringbyname-partners-with-vtech/
Publish Date: August 27, 2015 5:00 AM