What is the RingByName Web Application? - RingByName - ContactCenterWorld.com Blog
What is the RingByName Application? What does it do? Read below for a quick introduction to the RingByName web application located at http://login.ringbyname.com.
Know who is calling and why?
With RingByName you always know who is calling. Plus, you can see a detailed call history of each caller so you and your authorized staff gain a huge advantage on how to manage the caller. RingByName makes it possible to know who called every time. What's more, it enables you to return calls instantly. RingByName has its own CRM system built right in.The system even posts a handy summary of each call for your instant review.
Let's take a look

The web based application is organized into three distinct columns. From left to right, they are: Your CONTACTS, the MAIN DETAIL PANEL, and the ACTIVITY LOG. Don't let the simple layout fool you, this powerful system is designed to make sure that you never miss a business opportunity by automatically logging all of your inbound and outbound calls, missed calls, voicemail and even allowing you to attach notes to individual contacts that are shared across the organization. Let's examine each in more detail below.
Contacts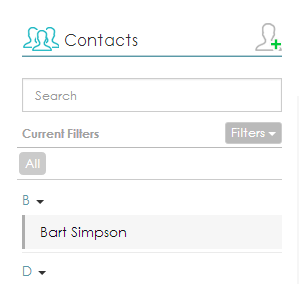 Your contact list gives you a quick index of all of your stored shared contacts. Contacts are shared across your organization allowing for callers to be quickly identified and any relevant notes to be shared amongst colleagues.
Filtering your contacts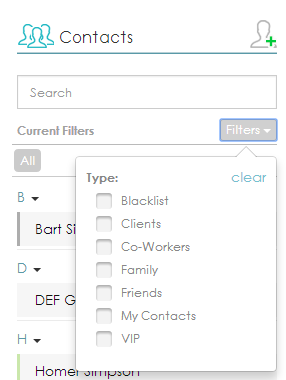 You can create filters to quickly sort and find clients, friends, family — even blacklist telemarketers and gently give them a busy signal when they call.
The Detail Panel
Zoom
The center panel show you all of the details for any call record or contact that you are working with. When you first access the application, it also serves as an announcement center, notifying you of any missed calls, voicemail. assigned events or reminders as well as any important announcements from RingByName or your company's system administrator. As you click on any contact in the column to the left, or from your call log from the right, this panel will change to show you the details for that contact or call record.
Call and contact details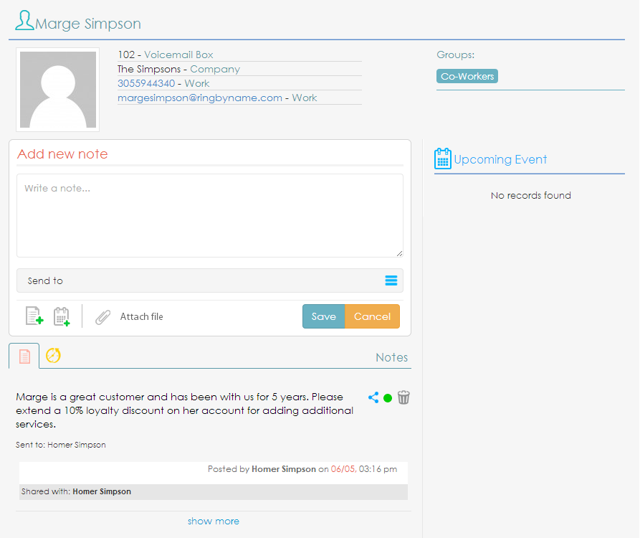 Zoom
Whenever you click on a contact or call log entry, the details for that entry are displayed. The contact information, Call notes and contact history are displayed in one convenient place along with a list of any upcoming reminders for that contact. A handy window is ready to document any additional call notes. You can even attach documents and files to the contact and make them available for your colleagues.
Call history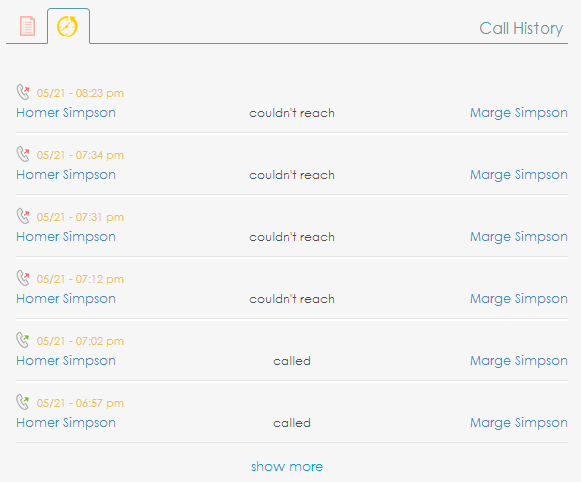 You can even view a complete call history for the contact by clicking on the history icon just below the note window (it's the one that looks like a yellow clock). The system will display all calls made and received for the contact as well as a disposition for each call (completed call, missed call, voicemail, etc). The system will even let you know who last spoke to them.
All of this is logged automatically for all of your contacts on each and every call. No additional work is necessary.
Team and Personal Call Activity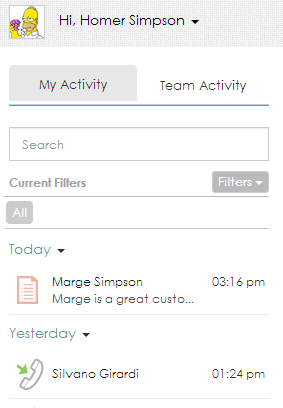 The third column is the Call Activity Column. This gives you access to a continuously updating log of all of the calls into and out of the system, voicemail, call notes, appointments and all other pertinent information.
Powerful call log filtering built-in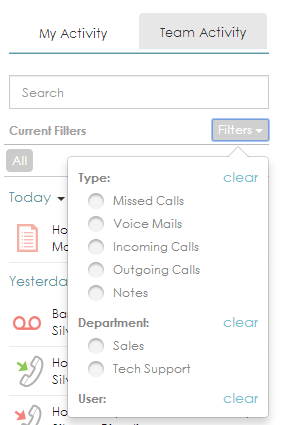 Our powerful call filtering engine gives business owners and administrators the ability to sort and display calls by type (Missed, Voice Mails, Inbound calls, Outgoing calls, Notes), for a specific department or for a user.
Manage personal settings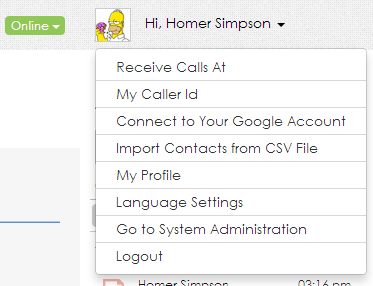 The web application can be used to route calls to your cell phone or land line, change your outbound Caller ID (to display your personal direct number or the main company number).
For those customers using an Android mobile device or those who have contact stored on Google Contacts, the application can synchronize with your Google account and import all of your contacts into the system.
Your personal preference such as default language, photo and password can be managed from within the application. Administrators will also see an option for System Administration.
Source: http://blog.ringbyname.com/what-is-the-ringbyname-web-application/
Publish Date: September 29, 2015 5:00 AM
---
PREMIUM

CTI Software
(VIEW OUR PAGE)

CTI Software is the creator of custom application called Davos, which complements the telephone client solutions with intelligent features such as automated call attendant, call recording and archivin...

(view more)

PREMIUM

Future Gen International Pte Ltd
(VIEW OUR PAGE)

Outsourcing provider of English Call Centre services, Audio Transcriptions, Big Data ETL (Extract, Transform, Load) , Big Data Visualization, Big Data Predictive Model Generation

PREMIUM

ConceptCall
(VIEW OUR PAGE)

Аутсорсинговый контакт-центр ConceptCall| КонцептКолл специализируется на исходящем и входящем телемаркетинге: мы предоставляем услуги по осуществлению холодных звонков и продажи по телефону, проводим...

(view more)
---

View more from
RingByName
Recent Blog Posts:
| | |
| --- | --- |
| Call Presence is now on RingByName | April 19, 2016 5:00 AM |
| Our cloud based business is the best there is! | February 18, 2016 5:00 AM |
| E911 Disclosure Statement | January 26, 2016 5:00 AM |
| RingByName Provides Business Phone Service to a Miami Charity | November 18, 2015 5:00 AM |
| RingByName + VTech = Maximum Value | October 22, 2015 5:00 AM |
| The mobile application shared notes | October 9, 2015 5:00 AM |
| Download RingByName Mobile | October 6, 2015 5:00 AM |
| What is the RingByName Web Application? | September 29, 2015 5:00 AM |
| ADVANCED ADMINISTRATION FEATURES COMING TO MOBILE | September 21, 2015 5:00 AM |
| Introducing Call Reporting | September 18, 2015 5:00 AM |
Industry Champion Award Leaderboard