RingCentral, Inc. - ContactCenterWorld.com Blog
Page: 1 | 2 | 3 | 4 | 5 | 6 | 7 | 8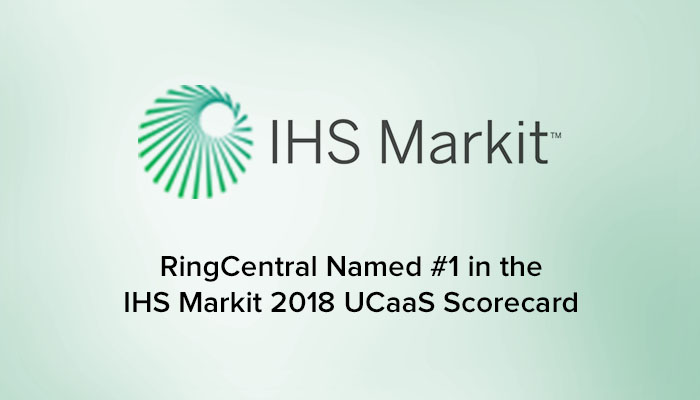 I'm excited to share that RingCentral has been ranked #1 by IHS Markit in the 2018 North American Unified Communications as a Service (UCaaS) Scorecard for the second year in a row. RingCentral is lauded for its #1 market share position, accelerated growth, product innovation, and continued momentum with global enterprises.
The IHS Markit annual scorecard evaluates the top U.S.-based UCaaS providers, who are best positioned to succeed long term based on market share, financial stability, market momentum, service development, and support options. According to Diane Myers, Senior Research Director at IHS Markit:
"RingCentral is setting itself apart with progress in global expansion and investments in customer success and professional services. RingCentral's enhanced capabilities make the company well positioned to meet the evolving business communications and collaboration needs of today's increasingly global and mobile workforce."
This recognition is further proof that our strategy is working. Our Collaborative Communications solutions combine mobile-first voice, video, meetings, team messaging, and contact center solutions in a single global platform that can be consumed anywhere, on any device. This enables workers to communicate and collaborate the way they want and ultimately be more productive.
According to a recent global survey conducted by CITE Research, 69 percent of workers waste up to an hour each day navigating between myriad communications apps, amounting to 32 days wasted per year. To counter this app fragmentation, 66 percent of workers said they want a single communications platform that will bring all modes of communications in one unified, intuitive experience. And that's what we deliver at RingCentral.
The recognition from IHS Markit further adds to our industry accolades from the world's leading industry analyst organizations, including Gartner, Frost & Sullivan, and Aragon Research.
For additional information, you can find a complimentary copy of the IHS Markit 2018 North American UCaaS Scorecard here.
Source: https://blog.ringcentral.com/blog/2018/05/ringcentral-ranked-1-ihs-markit-2018-north-american-ucaas-scorecard/
Publish Date: May 14, 2018 5:00 AM
---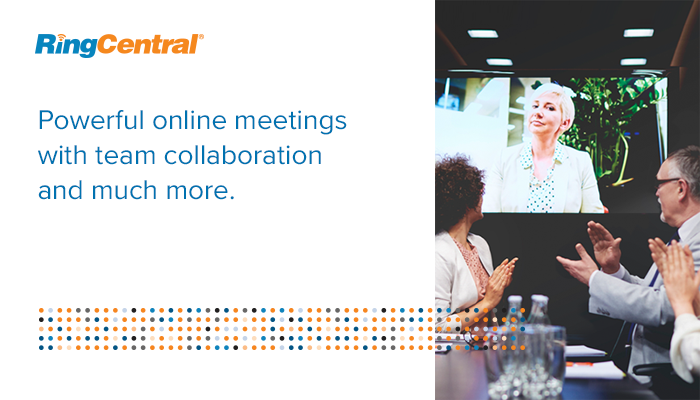 At Enterprise Connect 2018 RingCentral is delivering on its vision of collaborative communications by redefining the RingCentral Meetings experience. RingCentral Meetings is an integrated team messaging, online meetings, video conferencing, screen-sharing, and task management solution. Available stand-alone, the solution can be easily upgraded to the full cloud communications capabilities of RingCentral Office.
With the introduction of RingCentral Meetings, we are addressing a significant market need for an integrated, best-in-class video conferencing and collaboration experience so our customers can connect and collaborate from anywhere and at any time. According to Frost & Sullivan's recent research, the total video conferencing market is expected to reach $11.7 billion by 2021, with rapid adoption coming from next-generation devices and cloud services that will extend the reach to a broad set of users.
Key end-user features include:
HD video conferencing

Screen sharing

RingCentral Glip

team messaging

File sharing and task management

Ability to move easily from team messaging to web meetings
Key IT benefits include:
Replacement for disjointed legacy meeting and messaging systems

Single solution for reduced IT complexity and administrative oversight

Accessible across any desktop and mobile devices

Scalable globally with ability to add the full cloud PBX capabilities of RingCentral Office when needed

RingCentral Room Connector and

RingCentral Rooms

add-ons
RingCentral Meetings is available in three tiers: Free, Essentials ($14.99/user/month), and Advanced editions ($19.99/user/month). To learn more, click here. To see the solution in action and to start collaborating today, stop by our booth #1907 at Enterprise Connect 2018!
Source: https://blog.ringcentral.com/blog/2018/03/introducing-ringcentral-integrated-collaborative-meetings-solution/
Publish Date: March 14, 2018 5:00 AM
---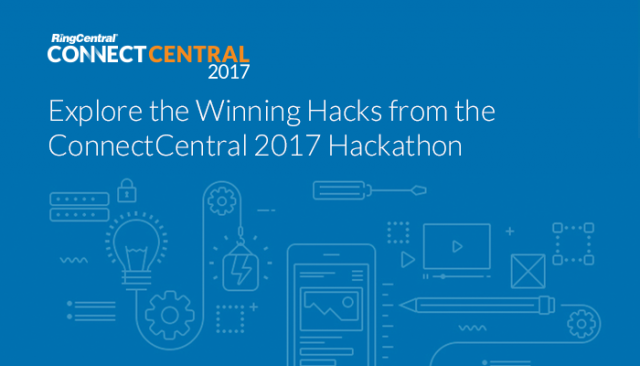 ConnectCentral 2017 is RingCentral's annual conference, the industry's premier cloud communications event. The hackathon was an exciting pre-game to the conference, held on the hot and sunny weekend of October 21–22, 2017 in San Francisco. A wide range of RingCentral customers, freelance developers, and college students participated in three categories of hacks, including:
State-of-the-art chatbots: Participants were challenged to build from scratch or port existing messaging, virtual assistant, customer service, or e-commerce bots from other frameworks to the RingCentral Glip bot framework.
Awesome customer experiences: Hackers could use RingCentral Connect Platform APIs to build next-generation interactive experiences that improve the way businesses engage with their customers.
Connectivity anywhere on any device: Contestants powered up their web apps using RingCentral's WebRTC SDK, providing advanced call control functionality for making and receiving calls.
The third prize went to the Meeting Notes bot team. This team consisted of three engineers who built a Glip bot that enables online meeting participants to evade the tedious task of taking notes. They initially planned to integrate their app into conferencing services and to access audio streaming to create real-time transcriptions. But, as time was too limited for that, they pivoted and had the Meeting Notes bot listen for uploaded voice record attachments, which then transcribes the voice recording to text. Lastly, the bot uses text analysis to create written notes and proceeds to send the notes to meeting attendants.
The second prize winners were the LunchBot team. Two enthusiastic young developers had the brilliant idea of how to make it easier for coworkers to go on team lunch runs. Collecting orders from a variety of people, organizing them, and making sure the orders are correct is no picnic.
LunchBot was born to solve this issue by listening to the Glip channel recognizing natural conversations around food and drinks. It takes a limited number of orders and sends the orders in a tidy list within a single text message to the teammate that's designated to pick up the order. The LunchBot logic was built with Node JS and used the Glip chatbot framework for Botkit.
The first prize of the ConnectCentral 2017 Hackathon was awarded to team EZ Track. The two college students came up with an idea of how to make goods transportation tracking convenient, transparent, and secure for transport agencies and customers all around the world. EZ Track is a bot that sends real-time updates on each leg of the journey through Glip messaging. The risk of asset loss or damage during the transportation process is greatly reduced and provides peace of mind to all parties. For assets which require regulated environments such as fruits, prescription drugs, groceries, etcetera, EZ Track enables stakeholders to also track the temperature, air humidity, and other conditions. Upon receipt of the assets, EZ Track also incorporates voice authentication to make sure the asset is securely received by the designated person.
The EZ Track communications portal is built using Glip adapter for Botkit. Environmental data is captured using IoT sensors and devices and gets uploaded to Firebase. The collected data then syncs with Botkit in real time. The alert system and security authentication was all built as an Android app.
VoiceBase, an industry leader in speech recognition, speech analytics, and predictive analytics technologies, sponsored the event and sent engineers to help developers with using VoiceBase APIs to enhance their project features. The Meeting Notes bot team won the VoiceBase first prize for using VoiceBase's speech recognition and text analysis APIs to create meeting notes. VoiceBase's second prize and third prize went to team LunchBot and team Chatbot Caller respectively for using VoiceBase APIs.
A big thank you to VoiceBase and all the participants. An innovative and fun time was had by all, and the developers came, saw, and conquered with some remarkable hacks.
Source: https://blog.ringcentral.com/blog/2017/10/explore-the-winning-hacks-from-the-connectcentral-2017-hackathon/
Publish Date: October 27, 2017 5:00 AM
---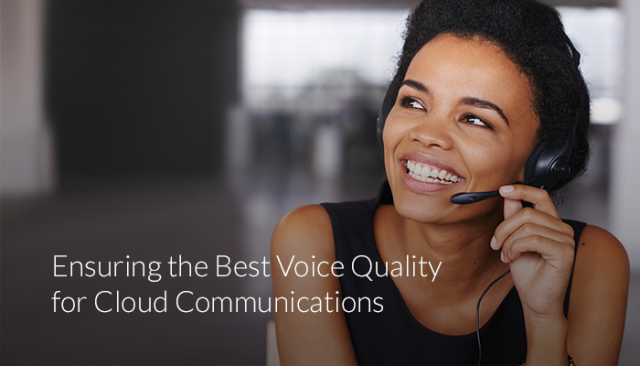 Whether you are an enterprise with advanced communications and collaboration needs or a small business that depends on a cloud phone system, it's important to optimize your network to achieve the best voice quality. It's also important to have the right set of capabilities to identify problems with voice quality issues when they arise.
IT administrators are likely familiar with having to diagnose and resolve call quality issues reported by stressed, unhappy end users. Resolution of such escalations used to require trying to pinpoint a problem that occurred in the past; however, the trouble with retroactively troubleshooting voice quality problems is that they are caused by various points of network activity that change constantly throughout the course of a given day. In order to identify network deficiencies effectively, administrators needed to diagnose problems when they actually occurred.
New capabilities to ensure voice quality
RingCentral continuously strives to empower our customers with innovative solutions, and we are thrilled to announce Quality of Service Reports, enabling IT administrators to monitor, diagnose, and troubleshoot voice quality issues.
"Enterprise IT organizations are demanding real-time reporting capabilities to deliver a high quality of communications services to their users. We are now bringing the industry's most sophisticated reporting capabilities so IT and department leaders can easily monitor, analyze, and resolve issues proactively," says Jose Pastor, Vice President of Product Management at RingCentral.
Quality of Service Reports gives administrators access to key operational QoS metrics in near real time to monitor your phone system's global health and accurately diagnose call quality issues impacting your users. Our powerful reporting dashboard provides the ability to monitor voice quality and call volume at an aggregate organizational level. Administrators can also drill down into specific calls to identify specific call quality information, including packet delay, jitter, and packet loss. This provides end-to-end visibility into network conditions, from a caller to RingCentral and back. With this information, administrators can isolate potential problems affecting call quality for accurate resolution.
The result is faster resolution time for end-user issues with call quality, and ultimately, higher end-user satisfaction for IT teams.
Quality of Service Reports is available for RingCentral Office Premium and Enterprise customers in the US, Canada, and UK. We invite you to learn more about Quality of Service Reports and how it can help meet your business needs here.
Proven commitment to the highest voice quality
Quality of service (QoS) is a network management technique that can help ensure consistent delivery of high-quality voice over your IP network. By prioritizing voice traffic, QoS ensures that you can make a high-quality phone call regardless of any outside network activity.
At RingCentral, QoS has always lain at the heart of all our architecture and technology decisions, and Quality of Service Reports is just the latest tool we have developed to help ensure superior voice quality.
Because we know that call quality is paramount to your business, we also provide a recommended set of QoS-enabled routers that we have tested and verified as optimal for managing an IP network's bandwidth requirements. Furthermore, our dedicated Professional Services experts work with you to assess your network and provide recommendations on how to optimize your system for quality of service.
Learn more about how RingCentral can help improve your voice quality experience here.
Source: https://blog.ringcentral.com/blog/2017/10/ensuring-the-best-voice-quality-for-cloud-communications/
Publish Date: October 26, 2017 5:00 AM
---
The third and final day of RingCentral's ConnectCentral user conference focused on innovation achieved, under way, and yet to come.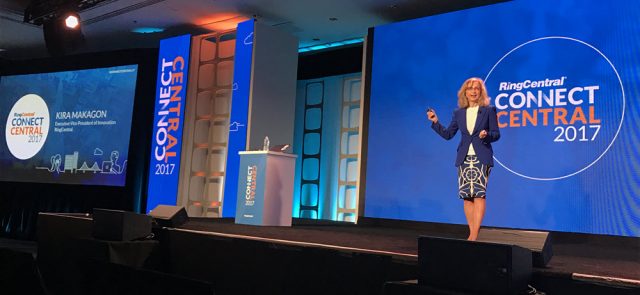 In addition to "sharing a vision and a strategy for collaborative communications, we want to show you how we're bringing it all to life with a relentless focus on innovation," Kira Makagon, EVP of Innovation at RingCentral, said in the day's opening keynote. She also encouraged audience members to think of themselves as also "part of my team," since customer demand determines what innovations are truly useful.
In addition to showcasing RingCentral's latest cloud software, this was a day for showing off integrations like the latest RingCentral widget for dialing or texting from within Gmail and the potential of APIs such as the chatbot interface to RingCentral Glip.
One of the most important ways RingCentral has been innovating is by rethinking the connection between communications and collaboration and providing new ways for workers to navigate smoothly between different modes of interaction.
To dramatize how that can make a difference for a business, VP of Product Management Jose Pastor led a demo built around a fictitious retailer in the process of opening a new store in Boston. Here is the scenario:
When Pastor in the role of IT manager gets a request from a store manager about adding accounts for new employees, which comes to him as a message in Glip, he quickly creates those accounts in the RingCentral administrative portal.
He then calls the store manager, taking advantage of the click to dial function in Glip and integrated WebRTC dialing.
Pastor learns of a more serious issue, a "wicked bad problem" with the digital store signage. That's a problem he can't solve himself, so he logs it as a trouble ticket in Salesforce.
Through APIs, that trouble ticket in turn triggers a notification to the Glip conversation for the operations team responsible for new store openings.
The operations manager needs to call the designer, an outside contractor, so he looks up the last email he got from her in Gmail. The RingCentral for Gmail widget in the sidebar looks up her phone number and presents him with a click to dial option.
He also invites her into Glip as a guest user to make it easier for her to share a file with the correct store signage.
Just to make sure it is correct, the operations manager invites her and the store manager into a video conference where they can make sure they all understand each other. Glip makes it possible to launch the RingCentral Meetings video call with one click, from the context of the team conversation.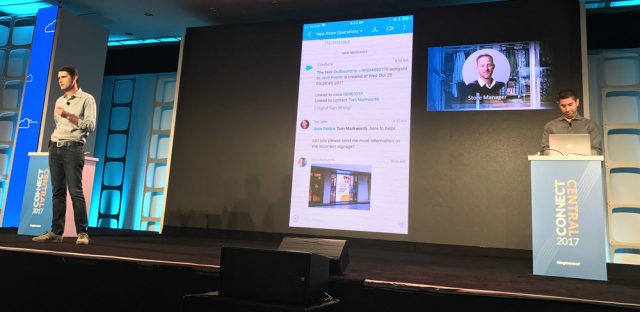 "The goal here is empowering teams to get to the bottom of things quickly, with seamless integration," Pastor explained. The store manager, who is rarely at his desk, was able to participate in all these interactions through his phone while others were on their computers.
Ultimately, the point is to speed resolution of business issues, such as solving problems at a critical time for a store opening, with smooth handoffs between RingCentral, Google, and Salesforce. "Ultimately, the goal is making you more successful," Pastor said.
In a panel discussion, representatives from RingCentral integration partners Google, Salesforce, and Okta said they shared the goal of allowing multiple cloud applications to combine to serve their joint customers better.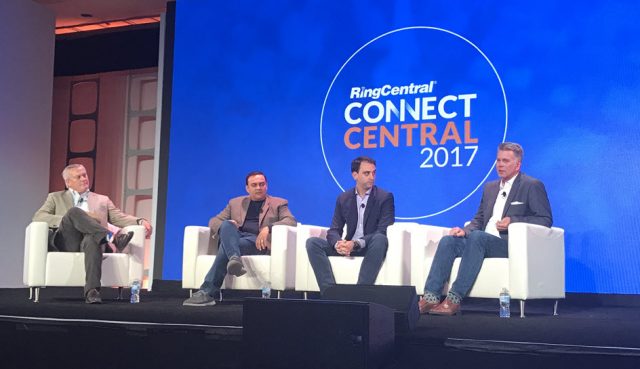 "Best of breed is king in the cloud," said Alex Salazar, VP of Product, Integration and Partner Ecosystem at Okta. His firm gets its insight into the trends from its role as an authentication service that allows people to sign into multiple cloud applications more easily. Almost every category of application is led by a different vendor, he said. "There is no one vendor that is really dominant in multiple categories."
Doug Chaney, VP Business Development for the ISV Partners program at Salesforce, said the ecosystem of cloud partners expanding rapidly and artificial intelligence is starting to play a bigger role in making them all work together.
Pankaj Dugar, who leads the Alliance Tech Partners program at Google, agreed, although he said customers are tiring of the hype around API and looking for practical results. "If you talk to them about machine learning and productivity, what they want are really simplistic scenarios that they can go ahead and implement," he said.
One partner showcasing its AI capabilities at ConnectCentral was Cloze with its smart chatbot integration with Glip and the RingCentral platform. Cloze CEO Dan Foody described his software as "somewhere between a CRM and a personal assistant," a product designed to keep track of all your interactions with customers and potential customers across channels including email, phone calls, and social media. When the Cloze chatbot is connected to Glip, team members can ask questions like, "Who is the last person who talked to David Carr?" and get back a listing of the most recent email contacts as well as records from the RingCentral call log. Messages phrased as commands, like "Remind me to call David Carr tomorrow" can also be executed on the user's behalf.
In a tutorial on how to build a chatbot, Foody explained that it is less challenging than you might think thanks to the advent of cloud services for natural language processing, a type of AI. "A lot of the heavy lifting in this can be done for you," he said. "You can take advantage of the work done by the bot adapters, by RingCentral, and by AI services."
RingCentral provides adapters for several popular bot software developer kits, including BotKit, the one Cloze originally started with. Foody said his developers have since factored out BotKit and connected directly to the RingCentral APIs, but he does recommend using a bot SDK to get started.
Those resources give you a head start, but you will have to think through the many different ways someone might phrase a question and the follow up questions the bot might have to ask to clarify the request, Foody said. For example, "Remind me to call Dave" might elicit clarifying questions. For example: which Dave in your contact list are you referring to? And when do you want to be reminded?
AI software can be trained to recognize a variety of forms in which a question can be phrased, but the software developer still has to take responsibility for training it properly. To respond properly, your software will need to be smart enough to identify entities such as personal names. That can be tricky, since the software may be good at recognizing common English names but not tricky Indian ones. Another example is you want your software to recognize the significance of dates, but it might be confused about whether "April Carter" refers to a person or a date.
"You're not going to get this right the first time," Foody said. "Building bots is an iterative process."
That is how innovation moves forward.
Source: https://blog.ringcentral.com/blog/2017/10/connectcentral-2017-ends-focus-innovation/
Publish Date: October 26, 2017 5:00 AM
---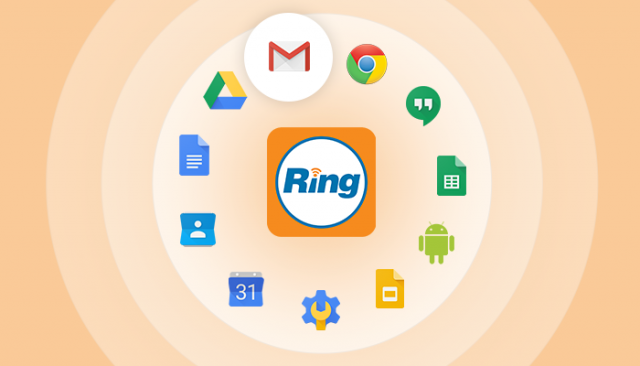 At RingCentral, we are constantly striving to bring people closer together and streamline the way you work. One way we do this is by ensuring that all of your favorite applications work in harmony with your RingCentral cloud communications and collaboration solution. That's why we're excited to announce our native integration within Gmail.
What does this mean for Gmail users?
RingCentral for Gmail makes communicating with email easier. Users can transform their Gmail application, whether they are on their desktop, smartphone, or tablet, into a powerful tool that surfaces contextual information within an email. It's now possible to access and message your contacts within the context of your email conversations, especially remotely.
How does RingCentral for Gmail work?
RingCentral for Gmail is an add-on found in the G Suite Marketplace that improves the user's experience by intuitively displaying key information within Gmail message threads. Once the add-on is installed, users can see the online/offline status of RingCentral contacts, review recent call history, make outbound calls (requires RingCentral Mobile), and view and send SMS messages—all within an email.
We are excited to strengthen our partnership with Google Cloud by extending our current integration points across the Google Cloud ecosystem. Other current features of RingCentral for Google Cloud include ability to make audio calls from within the Chrome browser, using Google account credentials for Single Sign-on, and even sending faxes from Google Docs. These capabilities, along with RingCentral for Gmail, are designed with the user in mind and to help drive personal as well as organizational productivity.
RingCentral for Gmail is available now for all RingCentral users. Click here to find out more and download the integration.
Source: https://blog.ringcentral.com/blog/2017/10/ringcentral-expands-google-integration-to-include-native-gmail/
Publish Date: October 24, 2017 5:00 AM
---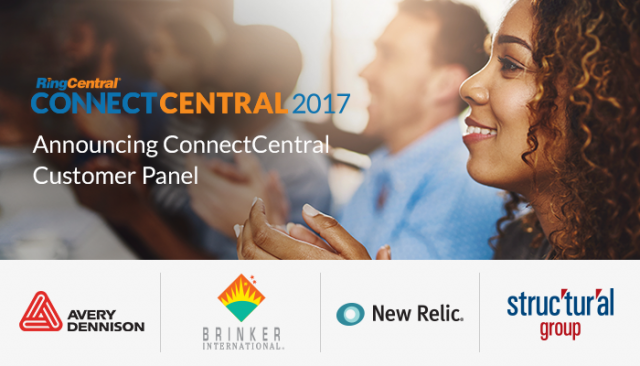 The rapid pace of digital innovation and new generations with personalized workstyles, coupled with high-growth business requirements for global, distributed, and mobile are creating new challenges and opportunities for companies. What is the reality of today's digital business, and how are companies empowering their workforces to work the way they want, all the while balancing requirements around corporate standards, compliance, and security? What is the role of IT in this new world, and how can you lead your organization into the new era of the connected workplace? Join us to hear firsthand from RingCentral customers as they share their real-life stories of the digital workplace and what's in store for the future.
On our customer panel, leaders from Avery Dennison, Brinker International, New Relic, and Structural Group will share how they are:
Achieving digital business transformation and empowering their teams to work the way they want
Managing security and compliance while moving their businesses to the cloud
Leveraging the opportunity for IT to forge new paths in the era of digital business
Panel: The Digital Workplace: Today, Tomorrow, and Beyond
Date: Tuesday, October 24, 2017
Moderator: Mitch Tarica, SVP Commercial & Enterprise Sales, RingCentral
Panelists:
Giles Johnson, Manager, Enterprise Telephony Services, Avery Dennison
Nyle Brandenburg, Sr. Network Engineer, Brinker International
Philip Luedtke, VP, IT & Business Applications, New Relic
Jason Kasch, CIO, Structural Group
Come explore the future of the digital workplace at ConnectCentral 2017, the industry's premier cloud communications event. You'll hear from thought leaders, industry experts, IT practitioners, and RingCentral customers on advances in communications and collaboration—and how to leverage them for your business. The three-day agenda includes hands-on labs, intensive breakout sessions, networking events, and much more.
We look forward to seeing you at the conference. If you haven't already signed up, register today.
Source: https://blog.ringcentral.com/blog/2017/10/announcing-connectcentral-2017-customer-panel-the-digital-workplace-today-tomorrow-and-beyond/
Publish Date: October 5, 2017 5:00 AM
---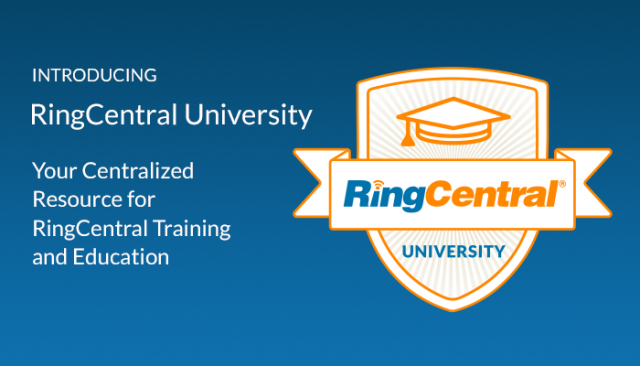 RingCentral empowers today's modern workforce with innovative solutions to enable communication and collaboration anytime, anywhere, and on any device. Employees can better engage internally and with partners and customers like never before. Organizations are finding innovative ways to leverage RingCentral solutions to increase productivity, efficiency, and customer engagement.
To share these best practices and help our customers maximize the value of their RingCentral solutions, we are pleased to introduce RingCentral University—the portal for RingCentral training and educational resources, including:
Live and on-demand webinars
Online guides, self-paced tutorials, and instructional videos
User product training
System administrator certifications
RingCentral University is online and tuition free
RingCentral University provides anytime, anywhere training and support for both system administrators and users—and best of all, it is included free with RingCentral Office. Starting in August 2017, we began the process of enabling customer access to RingCentral University. All system administrators and users will be enabled by the end of October. Email notifications are sent to system administrators once RingCentral University has been enabled for their users. To log in, customers will use their RingCentral Office username and password.
Come and check out the resources available online through RingCentral University, including previews of upcoming live training webinars and self-paced online training. We're excited to provide customers with these new and comprehensive resources.
RingCentral University classroom training at ConnectCentral 2017
System administrators, register for our half-day classroom training on the first day of ConnectCentral 2017, our annual conference, taking place October 23–25 in beautiful San Francisco.
Come explore the power of connection, and choose from our introductory Level 1 system administrator session or more advanced Level 2 training. For more information on RingCentral University classroom training and to register for the conference, visit connectcentral.ringcentral.com.
ConnectCentral 2017
At ConnectCentral 2017, you'll hear from thought leaders and experts on advances in the communications and collaboration industry and how to leverage them for your business. You'll see real-life examples of organizations that have empowered their teams, customers, and partners with RingCentral. Plus, you'll get hands-on experience using RingCentral cloud solutions to communicate and collaborate in new ways, creating deeper and more meaningful connections. Most of all, you'll hear how cloud communications solutions are empowering the digital workplace.
Source: https://blog.ringcentral.com/blog/2017/10/22613/
Publish Date: October 5, 2017 5:00 AM
---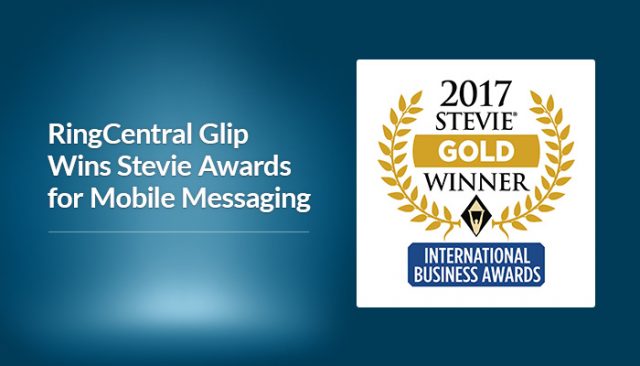 The RingCentral Glip mobile app has just been recognized with gold and bronze awards in the International Business Awards, the worldwide edition of the Stevie Awards.
In addition to recognizing the work of our developers and user-experience designers, this recognition is important because it specifically recognizes RingCentral Glip as a mobile user experience for unified communications and collaboration. While Glip is also a web app and a desktop app for workplace messaging and collaboration, we have dramatically improved the performance and versatility of our mobile apps in the past year—and clearly, it's paying off.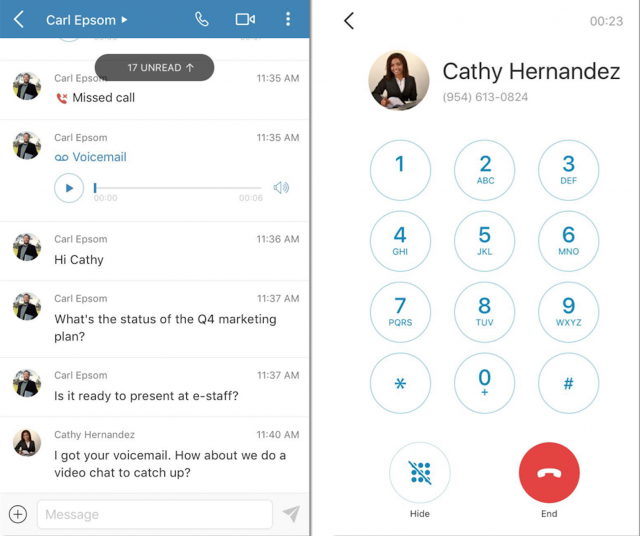 RingCentral has always had a mobile-first approach to innovation. Since entering the team messaging and collaboration market with Glip two years ago, we've been working hard to create a common user experience across Glip apps on all devices. The experience you have for team messaging, collaboration, voice, and video on the desktop should be just as great or even better on the Glip apps for iOS and Android. The mobile apps have also been on the cutting edge of the convergence of Glip and RingCentral Office, our suite of business phone, phone conferencing, and video conferencing services. You can now make and take calls without leaving the Glip app, which is particularly handy for calling the same coworkers you are messaging with. Ultimately, we want people to be able to switch to whatever mode of communication or collaboration is most appropriate for the task at hand.
The Stevie Awards program, which recognizes excellence in business and technology, receives more than 10,000 nominations each year from organizations in more than 60 countries. RingCentral Glip unified communications won the gold award in the Messaging & Social segment of the Mobile Sites and Apps category. In addition, RingCentral Glip won a bronze award in the Integrated Mobile Experiences category.
Here are a few excerpts from the comments of the judges:
"Brilliant idea, and I can sense the effort that has been put in to this project."
"Solid, clean, and intuitive UI. Really useful and in-demand functionality. It seems to cover every feature that would be expected by users with a design that doesn't reinvent the wheel."
"Really solid app. Love the communication integration."
We're committed to designing great user experiences, and these comments validate our approach of putting consumer-grade polish on a team messaging app for the workplace as the best way of making people more productive. That is what our engineering team is focused on as we strive to build the leading workstream communications and collaboration platform.
If you have not yet tried the Glip mobile apps, download them from Apple App Store and Google Play.
Source: https://blog.ringcentral.com/blog/2017/09/ringcentral-glip-wins-stevie-awards-mobile-messaging/
Publish Date: September 27, 2017 5:00 AM
---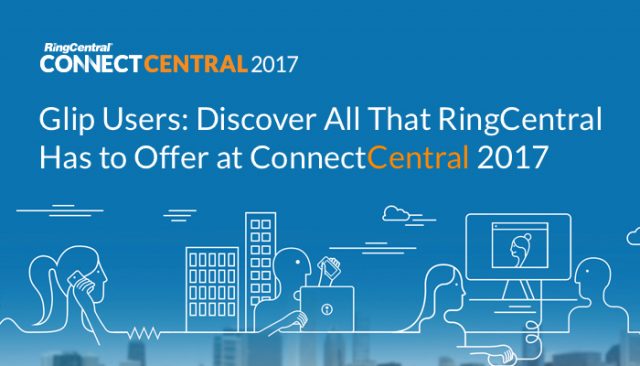 As a RingCentral Glip user, you've already experienced firsthand how having this intuitive team messaging and collaboration app has helped you and your team do your best work together. But that's just the tip of the iceberg when it comes to what the RingCentral platform can do.
Today's digital business environment is having a profound impact on the way people work, bridging the barriers of geography, time zones, and technology. And it's allowing your customers, partners, and employees to connect in ways never before possible.
This October 23–25, thought leaders, industry experts, IT professionals, RingCentral users, and others will gather in San Francisco to explore the power of connection in the digital workplace at ConnectCentral 2017, the RingCentral annual conference. And there are plenty of reasons for Glip users to attend.
Here are some key session highlights of particular interest to Glip users:
What Is Collaborative Communications? RingCentral's vision of collaborative communications enables people to communicate in new ways, creating more meaningful conversations in any mode, anywhere, anytime, and on any device. Cloud plays a starring role, enabling us to achieve more as organizations change the way they do business. Rather than simply replicating how we used to communicate using legacy on-premises technology, it's now possible to create integrated workflows that embed communications within productivity applications, CRM tools, and beyond. This unified approach enables stronger customer engagement and heightened workforce productivity.
Taking RingCentral Glip to the Next Level with Smart Chatbots. Discover how others have built smart chatbots on RingCentral Glip that connect RingCentral communications data and Natural Language Processing (NLP) to provide highly interactive contextual conversations with sales teams inside RingCentral Glip.
What Is the Collaborative Contact Center? See how RingCentral Glip improves collaboration in contact centers, enhancing agents' abilities to connect to experts, and increasing efficiency and overall satisfaction.
You can view the full agenda here.
ConnectCentral 2017 also features three dynamic keynote speakers:
Peter Guber, Co-Owner Golden State Warriors, Entrepreneur, #1 NYT Best-Selling Author
Sal Khan, Founder and Chief Executive Officer, Khan Academy
Will Randolph, Chief Information Officer, World Vision USA
Join us at ConnectCentral 2017 to hear about the latest advances in communications and collaboration and how to leverage these solutions for your business. You'll see real-life examples of organizations that have empowered their teams, customers, and partners with RingCentral. Plus, you'll get a chance to put RingCentral cloud communications and collaboration solutions to the test while networking with your peers.
Register now to attend ConnectCentral 2017. We hope to see you there!
Source: https://blog.ringcentral.com/blog/2017/09/glip-users-discover-ringcentral-offer-connectcentral-2017/
Publish Date: September 26, 2017 5:00 AM
---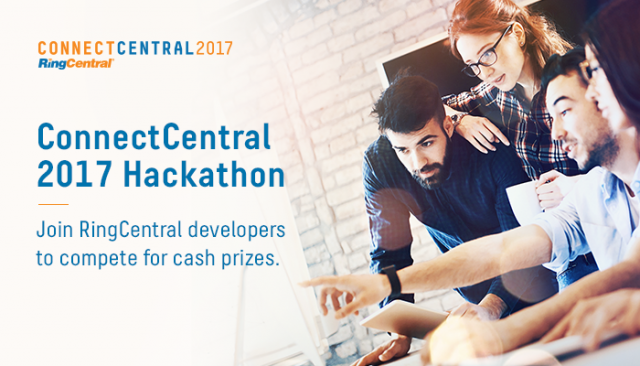 Are you a developer, innovator, or IT engineer who sees a process at work you'd like to improve? Do you want to share your development ideas with other like-minded individuals? Would you like to learn about how members of the RingCentral developer community use different tools to automate business workflows and streamline their day-to-day work?
If you answered yes to any of the above questions, then register now for the ConnectCentral Hackathon. Preceding RingCentral's ConnectCentral 2017 annual conference, the industry's premier cloud communications event, this complimentary developer session will give you a chance to show off your skills and connect with others to create cool hacks and win great prizes.
When: October 21–22, 2017
Where: The Westin St. Francis, 335 Powell St., San Francisco, CA
The challenge
For the ConnectCentral Hackathon, RingCentral is calling developers to build interactive chatbots from scratch, or port existing messaging, virtual assistant, customer service, or e-commercial bots from other frameworks to the RingCentral Glip™ bot framework. Or use RingCentral Connect Platform™ APIs to build next-generation interactive experiences that improve the way businesses engage with their customers.
Participants can compete as individuals or enter as a team with up to four members. All entrants must follow the Hack Code of Conduct and are free to use any programming language or technology. If you prefer, you may begin preliminary work on your hack before arriving at the event.
The reward
Winning teams will receive the following:
First prize: $5,000
Second prize: $2,000
Third prize: $1,000
All members of winning teams will also receive a RingCentral backpack.
In addition, RingCentral partners will join the ConnectCentral Hackathon to launch their own challenges. It's your opportunity to win even more great prizes.
The schedule
Day 1: Saturday, October 21
1:00 p.m. Opening ceremony and swag pickup
1:15 p.m. RingCentral welcome and partner breakout sessions
1:45 p.m. Team up and begin coding
2:30 p.m. Technical workshops (30 minutes/session)
6:00 p.m. Dinner
9:00 p.m. Doors close for day one
Day 2: Sunday, October 22
8:30 a.m. Doors open, breakfast
9:00 a.m. Coding
12:30–1:30 p.m. Lunch
4:00 p.m. End coding
4:15 p.m. Team presentations/demos (three minutes per team)
5:15 p.m. Judges deliberate
5:45 p.m. Winners announced
6:00 p.m. Doors close for day two
Register today for the ConnectCentral Hackathon. Then stay on to experience the power of connection at the three-day ConnectCentral 2017 annual conference.
Source: https://blog.ringcentral.com/blog/2017/08/connectcentral-2017-hackathon-join-ringcentral-developers-to-compete-for-cash-prizes/
Publish Date: August 30, 2017 5:00 AM
---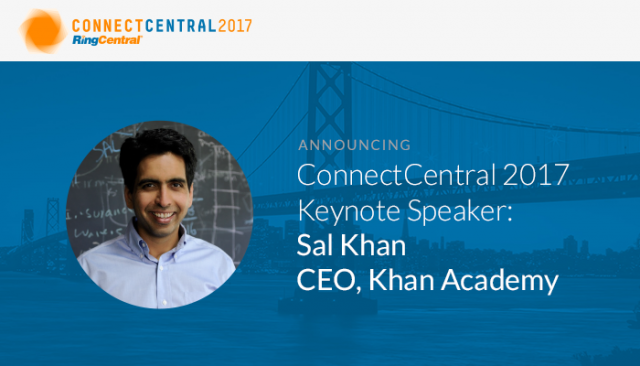 RingCentral is excited to announce our first keynote speaker for ConnectCentral 2017: Sal Khan, founder and CEO of the not-for-profit Khan Academy. Millions of students from all over the world learn at their own pace on Khan Academy every day. With 52 million registered students in 190 countries, Khan Academy is rethinking the world of education with the power of technology.
At ConnectCentral 2017, RingCentral's annual conference, Khan will share how he's leveraged technology to achieve his vision of providing free, world-class education to students around the globe. With video and other advanced communications solutions, the Khan Academy has removed traditional barriers to education, making it available and accessible to all, and enabling students to learn anytime, anywhere, on any device.
Join us to explore the power of connecting people at ConnectCentral 2017, the industry's premier cloud communications event. You'll hear from thought leaders and experts on advances in the communications and collaboration industry and how you can leverage this for your business. You'll see real-life examples of organizations that have empowered their teams, customers, and partners with RingCentral. You'll get hands-on experience using RingCentral cloud communications and collaboration solutions while networking with your peers.
The three-day conference agenda also includes:
Hands-on training sessions and labs
Breakout sessions with actionable takeaways
Networking with your peers
And much more.
Don't miss out on Early Bird pricing—register for ConnectCentral by August 31 and save $200 per person.
Look forward to seeing you October 23–25, 2017, in San Francisco as together we explore the Power of Connection.
Source: https://blog.ringcentral.com/blog/2017/08/announcing-connectcentral-2017-keynote-speaker-sal-khan-ceo-khan-academy/
Publish Date: August 10, 2017 5:00 AM
---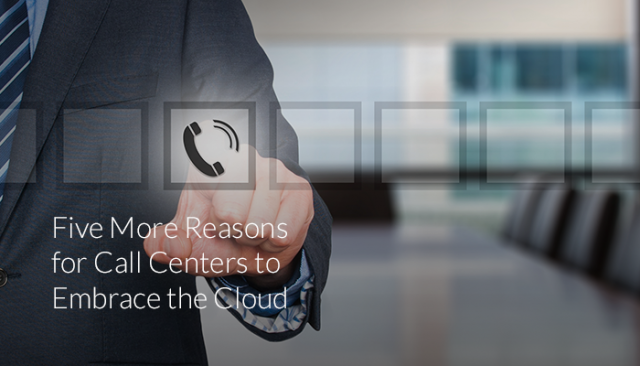 At this point, most call centers or hotline centers have realized the potential of cloud computing, management and tools. Many have even deployed cloud software or platforms for their employees.
In fact, cloud technology has transformed many businesses and enterprises in recent years, but not as quickly as you might expect. All that is about to change, as market experts believe cloud computing and software is entering a second wave.
As 2017 progresses, so will the cloud market, accelerating faster than it ever has in the past. This will be spurred by enterprises and brands who want to boost efficiency and productivity, at least according to Forrester Research.
But what does this have to do with the average call center? Market trends affect cloud platform deployment in cloud centers, and call center managers and administrators have many reasons for adopting this technology.
1) Trustworthy Companies Come Onboard
Keep in mind, when we refer to "trustworthy" companies, we're not talking about exclusivity. Most managers and administrators prefer to use tools and software from providers they are familiar with.
In the case of cloud computing and call centers, some of the biggest names in the business are gearing up to launch various services. For example, reports claim Amazon and its Web Services unit are working on cloud-based tools and software for companies that need to manage call centers.
Most likely, you use some form of Amazon's Web Services already, either through your online toolset or existing cloud systems. It's not that there's been a lack of support in the past. There are already some great cloud providers out there. But when the biggest names start to jump in, like Amazon, you can bet the market is picking up considerably.
It also leaves room for innovation, so we may see some new uses and deployments of this particular technology in the call center environment.
2) Security Improves Every Day
One of the biggest benefits of using a cloud provider is that your security concerns and efforts are streamlined. That's not to say you are shifting responsibility, as you are always responsible for the security and privacy of your personal data and that of your clients. But when you use a third-party cloud provider, you don't have to worry about the incurred costs of boosting security, and you can take advantage of the updates immediately.
That is, when a cloud provider like Amazon Web Services rolls out new security updates and protocols, you benefit immediately, and so do your clients.
And since providers are working on improving their security every day, you better believe the security of your platforms and data will benefit from that boost.
3) Efficiency of the Cloud Becomes Better
TechStyle Fashion Group, the parent company of brands such as JustFab, Fabletics, ShoeDazzle and FabKids, recently deployed a cloud workforce management (WFM) system for its customer service team. Since adopting the new system, its answer speed has improved from more than a minute per call to 32 seconds per call. In addition, its answer rates have jumped from 92 percent to 97 percent.
There's a real opportunity for you to boost efficiency for your own team. But it also depends on the kind of work your team is doing. TechStyle's employees, for instance, primarily handled "retention" during calls. This is because the companies associated are mostly membership and subscription-type programs.
That doesn't mean a cloud system won't work for your call center if your focus is different, but it does mean you'll need to come up with unique strategies for your team. In the end, it's all worth it if you can boost efficiency and productivity just like TechStyle has done.
4) Versatility Comes to the Fore
Call center technology deployed locally has some pretty serious limitations. For example, it's not as easy to outsource your team or have them work remotely. There are ways of adopting remote systems served through a local network, but it can be costly, especially when you consider maintenance.
Cloud technology offers so much more versatility in this aspect. Since you are not actually hosting the tools and software to do the work, you can station your team anywhere. This is great even during disasters or local failures. Why? Because you can have a remote team still doing work through the same systems, even if your local team doesn't have access — like if there's a serious power failure in your home office or something similar.
It's even possible to deploy hybrid cloud platforms that are a mix of both public and private cloud services. Seventy-one percent of business respondents admit to using hybrid platforms, which is an increase from 58 percent in 2015.
5) Talent Pool Gets Bigger
Working in a call center is fast-paced, stressful and competitive, especially if your team is handling sales or leads. That means it's expensive to train new team members, and it's just as expensive — and difficult — to find good, reliable workers.
When you use cloud-based systems, you can borrow and hire from a much wider talent pool. For instance, let's say all your systems are local and you need your team members to work from a single office location. You can only seek out potential team members locally. But if this was expanded to include remote locations, you could sort through a much larger pool of potential workers, and that means better and more experienced talent.
Kaplan — a company that now allows about 85 percent of its employees to work remotely — has attributed cloud technology to an expanse of its talent pool options. In addition, it's improved its retention, increased productivity, lowered office and operating costs, and more.
This has allowed it to look for and hone in on team members with a particular set of skills, beneficial to its industry. The same could be done with your team in your customer service or call centers, strengthening your team and the service you bring your customers.
Source: https://blog.ringcentral.com/blog/2017/04/5-more-reasons-for-call-centers-to-embrace-the-cloud/
Publish Date: April 28, 2017 5:00 AM
---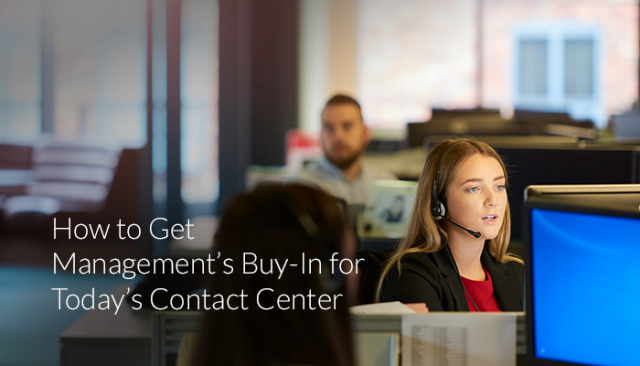 In this day and age, it's easy to think that every business has a contact center. Yet, not only do many businesses not have one, but among those that do, there's a growing desire to modernize their systems to keep up with changing customer expectations. These are two very different scenarios, but both often face a common obstacle in the way management thinks about the contact center.
While there certainly are contact centers performing at world-class levels, a lot of things have to go right for that to happen, including management buy-in for making the entire business customer-centric. In this post, I'm going to address each of these two scenarios, both in terms of what management's thinking looks like, and what you can do to change that.
Scenario 1—No Contact Center
This scenario actually has two branches—businesses that have never had a contact center and those that have but for whatever reason chose not to continue it. Each of these warrants deeper analysis, but for now, I'll focus on two common issues. First is the associated investment, ongoing cost, and technical complexity around having a contact center.
While these issues are valid contact center deterrents, they are based on legacy technology models and don't reflect the current state of the market. This is particularly relevant for never-before situations, which tend to be smaller businesses having serious IT limitations. They may, in fact, want a contact center, but based on what they know—or think they know—the business simply has higher priorities.
A second common issue would be the belief—primarily from management—that the use case just isn't there. This could be based on prior results—possibly from experiences at other companies—when the effort simply didn't translate into happier customers. Whether that may have been the result of poor agent training and/or relying on legacy technology, management has made their decision. A possible supporting factor may be business related: wherein the company has a strong enough market position that a contact center isn't really warranted. Typical scenarios would be highly regulated markets, captive customer bases, and mature sectors where hardly anything changes.
In 2017, it's hard to support any of this thinking, and management really needs a reality check. Every sector is vulnerable if customers are taken for granted, and a good starting point is to update management on how technology has evolved—not just for customers, but in the contact center. A related holdback is the language we use around this, namely "call center" or "contact center."
Given the legacy associations with terrible service experiences, it won't be enough to talk to management about what's new without changing the nomenclature. If management associates these terms with bad service, it's no wonder they won't be interested. As such, the strategy is to change the narrative and talk instead about "customer care." That's the language of 2017, and it doesn't carry any of the legacy baggage that is holding back these companies.
Scenario 2—Want to Modernize Contact Center
At least these businesses have enough buy-in from management to have a contact center, but they are still being held back by legacy thinking. Given the capital-intensive nature of premise-based systems, many businesses have little choice but to make do with aging technology that puts agents at a stark disadvantage when dealing with tech-savvy customers.
Again, this is a case when management needs to be updated, especially around CCaaS—contact center as a service. All the legacy holdbacks to modernizing the contact center go away with CCaaS, at which point management can begin to think differently about what's possible. Here too, a narrative built around customer care will help them reframe things around what's really important—the customer, rather than trying to keep contact center costs down.
Instead of thinking in terms of being a cost center, the emphasis needs to be on empowering agents to have deep engagement with customers. This is how you increase customer satisfaction, reduce turnover, create brand ambassadors, and increase share of wallet. These are the outcomes management understands and values, and that's what customer care is about.
They may not see any of this if you keep talking about the contact center in legacy terms, so it starts with you. For IT decision makers reading this post, I think you'll understand what to do, and the same holds for service providers selling hosted services to businesses. You may have access to great technology with CCaaS, but that's not what management cares about. However, by translating that into business-level benefits, you might be surprised how easily the conversation about modernizing the contact center will turn.
Source: https://blog.ringcentral.com/blog/2017/04/how-to-get-managements-buy-in-for-todays-contact-center/
Publish Date: April 27, 2017 5:00 AM
---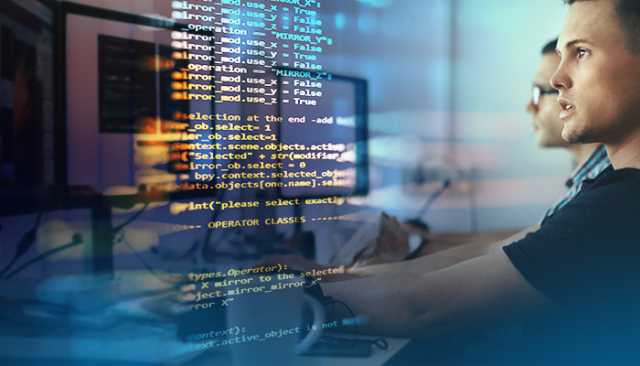 RingCentral is heading to Orlando, FL to sponsor Enterprise Connect Conference (March 27th — March 30th, 2017) and the associated TADHack (Telecom Application Developer Hackathon, March 25th — 26th, 2017). This is exciting for us since TADHack is the first hackathon to be attached to the Enterprise Connect Conference (we have been sponsors of Enterprise Connect for many years, and this is a really welcomed addition).
If you haven't already registered to participate in TADHack, you can register to participate in TADHack '17 here.
Are you a developer, programmer, data scientist, UI/UX developer?
Planning on hacking with RingCentral in your TADHack '17 project?
Want to get up-to-speed with RingCentral and our Platform quickly?
Got developer questions about RingCentral APIs, SDKs, WebRTC?
Want to hack on Glip APIs or create a ChatBot for Glip?
Join the TADHack-RingCentral Developer Acceleration Webinar + Q&A (2017–03–17)
Good news for you! Friday, March 17th at 10:00AM PDT I will be conducting a RingCentral Developer Acceleration Webinar empowering your success hacking on RingCentral! Our goal will be to help you get enabled for hacking on RingCentral in under twenty (20) minutes. I will leave the last ten (10) minutes for Q&A.
Join from PC, Mac, iOS or Android (requires download/install of RingCentral Meetings): https://meetings.ringcentral.com/j/1486462872
Or iPhone one-tap:
+1(773)2319226,,1486462872#
Or Telephone:
Dial: +1 (773) 231 9226
Meeting ID: 148 646 2872
International numbers available: https://meetings.ringcentral.com/teleconference
RingCentral at TADHack '17 Prize List
1st Place — $2,000.00 and a Raspberry Pi Project Kit w/ 7″ touchscreen!!
2nd Place — $1,000.00
3rd Place — $300.00
All cash prizes will be equally divided by the number of people who are on your hackathon team, and distributed to each eligible member of your TADHack team.
RingCentral Judging and RingCentral Prize Eligibility Requirements
Team Eligibility. Each team who wishes to be eligible to be judged and considered for the RingCentral prizes at TADHack '17 MUST COMPLETE the TADHack '17 Team Registration Form (one registration for the whole team)
Developer Eligibility. Each member of your teammate you listed, MUST COMPLETE the TADHack '17 Developer Registration Form (individual registrations are required from each teammate).
How Do You Win the RingCentral Prizes at TADHack '17?
Simple, just let your fingers do the walking (oh wait…that's the old Yellow Pages slogan, heh heh).
First and most importantly, make sure to submit your Team Registration Form here, and be certain that each member of your team submits their Developer Registration Form here. This MUST be done (by all teammates) before 6pm on Saturday, March 25th, 2017. No late submissions accepted, and no exceptions.
To win the RingCentral TADHack Prize(s), Developers must use one (1) or more of the RingCentral API resources for your submission to be considered meeting the minimum for judging consideration (view the official RingCentral API Documentation here).
Bonus Point Opportunity During Judging
We will be giving bonus points toward teams that develop applications -or- integrations using:
Chatbots on Glip
AI-Driven RingCentral Applications -or- Integrations
Don't know how to build or deploy a Chatbot for Glip? No worries…
View the various Glip API resources, SDKs (Ruby and JS), Adapters (Botkit, Hubot, and Lita), Sample Bots and Libraries here:
http://ringcentral.github.io/glip/
RingCentral Engineering Team Wiz-Kid, Tyler Long has created a simple tutorial explaining how to deploy a Glip Chatbots using IBM Bluemix.
For the JavaScripters, the talented John Wang, RingCentral Director of Platform Products, has created a handy tutorial showing How to Build a Customer Feedback Bot for Glip using Hubot.
Botkit lovers! Our Mad-Wicked, Messaging-Guru and Platform Product Manager, Pawan Vengopal, has created the Glip Botkit Adapter. In case you're unfamiliar, Botkit is a toolkit for making bot applications.
Or you can just execute a quick search on your favorite search engine for the term, "chatbots on glip". Here's a quick link to those SERPS for that term on Duck Duck Go.
Why is RingCentral so Excited to be Sponsoring TADHack?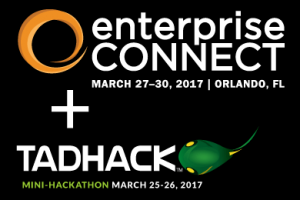 Easy, we love developers, LOL! In all seriousness, RingCentral is sponsoring TADHack because we love developers, but also because we are launching new resources as part of API that are entirely focused upon Glip.
Hackathons are a great way for us to get real feedback from developers about the experience of using our newly released Platform resources in a very short amount of time so we can make improvements before we ship the production versions to our entire developer community for consumption.
What is Glip…?
Glip is RingCentral's FREE enterprise messaging, team collaboration and productivity product (yes, I said that right…FREE, get your FREE Glip account here). Glip is changing the future for how teams communicate, but don't take my word for it.
Here is what users are saying about Glip…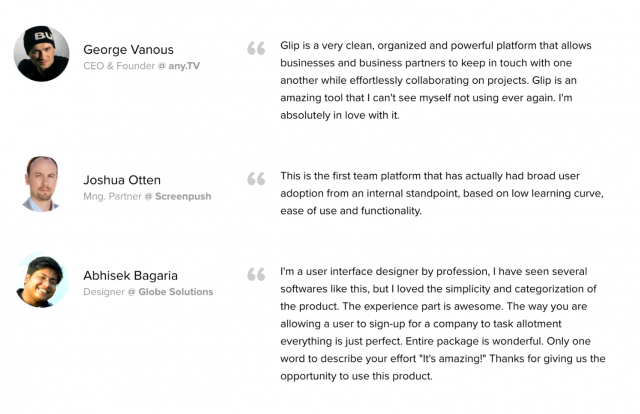 Learn more about RingCentral for Developers and our Connect Platform!
Source: https://blog.ringcentral.com/blog/2017/03/developing-with-ringcentral-for-tadhack-17%e2%80%8a-%e2%80%8ain-under-20-minutes/
Publish Date: March 15, 2017 5:00 AM