WOW Story: Wild Wyatt Goes West - Ruby Receptionists - ContactCenterWorld.com Blog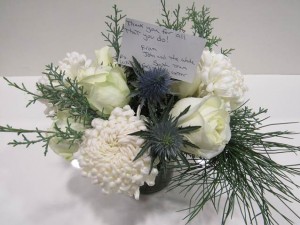 For the Ruby team, making connections with clients never ceases to be rewarding, and we love following a friendly conversation with a handwritten note or carefully chosen gift. But when our clients take the time to surprise us with a note or gift, we're truly honored. We know workdays can be wild for the small businesses we serve, and our clients' precious time is in high demand.
Recently, receptionist Tarah offered a call to Ruby client John M. on one of those wild days. John was at home with his son Wyatt, who was ill. As they were chatting, John referred to Wyatt as "Wild Wyatt" several times. This nickname gave Tarah an idea: Why not WOW Wyatt with a little Ruby magic?
To cheer Wyatt and send him on the road to recovery, Tarah picked out a cozy throw blanket and a copy of the perfect wild western: Fievel Goes West.
Fast forward a month to the moment when Tarah received a beautiful bouquet of flowers delivered to her desk. They were from none other than John M! He was so impressed with her attention and care to his son that he wanted to return the favor. The lovely bouquet was accompanied by a note from John:
Thank you for all that you do! From John and the whole South team.
P.S. Wyatt is feeling much better.
It's not often that our clients are able to WOW us. Tarah's gift inspired John to reach out not only to say thank you, but to perpetuate the meaningful connection she began. Congrats, Tarah!
Source: http://www.callruby.com/the_watercooler/2016/05/wow-story-wild-wyatt-goes-west/
Publish Date: May 12, 2016 5:00 AM
---
PREMIUM

ConceptCall
(VIEW OUR PAGE)

Аутсорсинговый контакт-центр ConceptCall| КонцептКолл специализируется на исходящем и входящем телемаркетинге: мы предоставляем услуги по осуществлению холодных звонков и продажи по телефону, проводим...

(view more)

PREMIUM

Future Gen International Pte Ltd
(VIEW OUR PAGE)

Outsourcing provider of English Call Centre services, Audio Transcriptions, Big Data ETL (Extract, Transform, Load) , Big Data Visualization, Big Data Predictive Model Generation

PREMIUM

Avizent Ltd
(VIEW OUR PAGE)

Advanced AI technology and Natural Language Processing delivered to clients in the Cloud that harnesses both voice and digital conversations. The focus is on building an environment where intelligent ...

(view more)
---

View more from
Ruby Receptionists
Recent Blog Posts:
| | |
| --- | --- |
| Webinar: The Secret to Attracting and Retaining Customers | October 12, 2016 5:00 AM |
| What Does it Mean to Be a Customer Service Champion? | October 5, 2016 5:00 AM |
| 3 Overlooked Soft Skills that Set Your Customer Service Apart | September 15, 2016 5:00 AM |
| WOW Customers by Delivering the Unexpected | September 13, 2016 5:00 AM |
| Emotional Intelligence: The Customer Service Super Star | August 16, 2016 5:00 AM |
| Webinar: The Insider's Guide to Hiring a Virtual Receptionist | August 11, 2016 5:00 AM |
| How Consistency Carves a Pathway to Legendary Service | August 9, 2016 5:00 AM |
| Webinar: How to Create Raving Customers that Grow Your Business | August 4, 2016 5:00 AM |
| Before the Phone Call: How Content Marketing Can Help Build Leads | August 2, 2016 5:00 AM |
| 8 More Telephone Touchpoints for Delighted Callers | July 19, 2016 5:00 AM |