3,874 B2B Marketing Technology Solutions on a Single Slide [Infographic] - SalesStaff - ContactCenterWorld.com Blog
Scott Brinker at Chiefmartec.com does a great job every year putting together the Marketing Technology Landscape graphic, enumerating all of the major players in B2B marketing technology. It's a graphic I look forward to every year since its inception in 2011.
This year, there were an astounding 3,874 logos (some duplicates) on the massive supergraphic – almost twice as many as last year.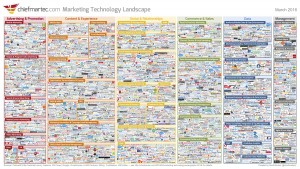 Click here for a larger version.
The top 5 largest categories, by number of solutions included, are:
Sales Automation, Enablement & Intelligence (220)
Social Media Marketing & Monitoring (186)
Display & Programmatic Advertising (180)
Marketing Automation & Campaign/Lead Management (161)
Content Marketing (160)
Just for some reference, the first 2011 version featured about 150 logos.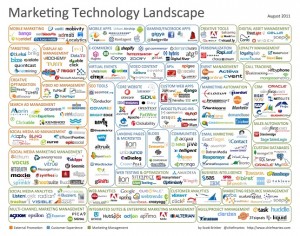 Click here for a larger version.
So what does that mean?
Well, we could draw the conclusion that the B2B marketing technology space is getting more and more crowded. I think there are some caveats to that assessment though:
Scott has added quite a few categories to his taxonomy over the years, opening up the space a bit more
Many solutions are listed more than once in different categories as B2B marketing technology stacks become more comprehensive and diverse in their functions
In spite of those caveats though, it would be hard to disagree with the notion that the B2B marketing technology space is growing immensely in terms of different solutions buyers have to choose from.
Join our 30-minute webinar, Using Moneyball Metrics for B2B Sales for Explosive Growth, where we're pulling back the curtain and revealing:
The most common metrics used to gauge sales success
Which sales metrics matter the most and why
Formulas for calculating pipeline velocity and other key metrics
How to interpret leading vs. lagging indicators
The blueprint for a successful lead generation strategy
Leave knowing which metrics you need to add to your scorecard.
Source: http://salesstaff.com/blog/3874-b2b-marketing-technology-solutions-on-a-single-slide-infographic/
Publish Date: April 15, 2016 5:00 AM
---
PREMIUM

Future Gen International Pte Ltd
(VIEW OUR PAGE)

Outsourcing provider of English Call Centre services, Audio Transcriptions, Big Data ETL (Extract, Transform, Load) , Big Data Visualization, Big Data Predictive Model Generation

PREMIUM

Avizent Ltd
(VIEW OUR PAGE)

Advanced AI technology and Natural Language Processing delivered to clients in the Cloud that harnesses both voice and digital conversations. The focus is on building an environment where intelligent ...

(view more)

PREMIUM

HigherGround, Inc.
(VIEW OUR PAGE)

HigherGround develops data collection, information storage, and interaction analytics solutions that easily transform data into actionable intelligence, enabling operational optimization, enhanced per...

(view more)
---
View more from
SalesStaff
Recent Blog Posts:
| | |
| --- | --- |
| 20 Tips for Personalizing B2B Sales Calls and Emails | July 24, 2017 5:00 AM |
| 25 Killer B2B Sales Teleprospecting Tips for Quick Reference | May 19, 2017 5:00 AM |
| You Must Ask This Question of Every B2B Sales Prospect on the First Discovery Call | March 29, 2017 5:00 AM |
| 6 Helpful Sites to Research a Prospect Before a B2B Sales Call | March 7, 2017 5:00 AM |
| B2B Marketers Embracing Customer Experience More than Ever – What are their CX Priorities? | November 18, 2016 5:00 AM |
| No More Cold Calling: 5 Strategies to Make Every Sales Call a Warm One [Resource] | September 14, 2016 5:00 AM |
| 7 Ways to Use Jedi Mind Tricks (aka Sales Psychology) in B2B Sales [SlideShare] | September 6, 2016 5:00 AM |
| 15 Interesting Places to Find Your B2B Sales Prospects [Infographic] | August 24, 2016 5:00 AM |
| These 6 Factors Separate the Best B2B Salespeople from the Weakest [Research] | August 23, 2016 5:00 AM |
| The Anatomy of an Absolutely Horrible Cold B2B Sales Email [Infographic] | August 1, 2016 5:00 AM |