Know Your Leading vs. Lagging B2B Sales Metrics (and 3 Examples of Valuable Leading Metrics) - SalesStaff - ContactCenterWorld.com Blog

Today at 12 CST, SalesStaff is delivering a world-class 30-minute webinar called Using Moneyball Metrics for Explosive B2B Sales Growth. (Come join us here.) One of the topics we're covering is the difference between lagging vs. leading indicators for measuring B2B sales teams – see a slide from the webinar below.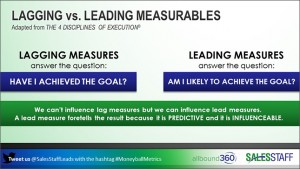 B2B sales managers are often asking themselves (or should be, anyways): "Which metrics should I focus on that truly connect to success?"
One of the issues many sales teams have is focusing too much energy on what's going to close this quarter – or month or week or whatever. They put a lot of energy into measuring revenue dollars from last month, total net new deals, and average deal size. All of these constitute lagging indicators – measurements of past work.
They are indeed important numbers to know and by no means am I suggesting that you scrap them. That would be disastrous. I am suggesting that they don't do a great job in regards to managing your sales team's effort and activity.
Leading your Team to the Promised Land with Leading Indicators
Leading indicators are a harbinger of what might occur in the future. A 2013 article by InsightSquared puts it very poignantly with a simple analogy:
Consider that the differences between lagging sales metrics and leading indicators is analogous to the different roles of a coroner and a doctor. A coroner performs an autopsy on a deceased person to try and figure out what went wrong in the first place. A doctor looks at warning signs that could suggest something bad might happen (or is in the midst of happening) and tries to prevent these ailments from exacerbating or occurring at all. Just as a coroner cannot bring someone back to life – even if they have pinpointed the exact cause of death – lagging indicators cannot bring a dead deal back. On the other hand, leading indicators give you an idea of what you need to do or how you need to change to be healthier, avoid "dead deals" and gain greater sales success.
Essentially, leading indicators represent a proactive measurement, while lagging indicators are more reactive in their effect.
What are Some Examples of Leading Indicators?
Conversion ratios on sales activities
Are you measuring the hard numbers of outbound activities – emails sent, calls made? Good. You probably should be. Keep in mind though that those are lagging indicators of prior output. Knowing the ratio is far better for forecasting success. For example, if you know that your sales reps close a deal every 100 calls, on average, then you can start to forecast future success by determining how many calls the team has made (or should be making).
Average number of days in each opportunity stage
When B2B sales managers know the mean number of days spent in each stage at the opportunity level, they can better forecast which deals are likelier to close. The best example is this: Let's say your closed business typically comes after spending 10 days in the 'Proposal Sent' stage. If you have two opportunities that have mired with a proposal for 35 days, those are dramatically less likely to close according to your leading indicator.
Pipeline stage movement ratios
If one of your sales reps is failing to move deals from the 'Demo' stage to the 'Proposal' stage at a rate that you've identified as a normalized rate, there might be a problem. By knowing the win-loss ratio at each stage and how many deals typically advance to the next stage at each juncture of the sales process, you can start to coach your reps whose numbers aren't nearing the norm.
The science of B2B sales metrics is fascinating (and actionable). Please join us today at 12PM CST to explore Lagging vs. Leading Indicators and these other actionable takeaways:
The most common metrics used to gauge sales success
Which sales metrics matter the most and why
Formulas for calculating pipeline velocity and other key metrics
The blueprint for a successful lead generation strategy
Leave knowing which metrics you need to add to your scorecard.

Source: http://salesstaff.com/blog/know-your-leading-vs-lagging-b2b-sales-metrics-and-3-examples-of-valuable-leading-metrics/
Publish Date: May 12, 2016 5:00 AM
---
PREMIUM

CTI Software
(VIEW OUR PAGE)

CTI Software is the creator of custom application called Davos, which complements the telephone client solutions with intelligent features such as automated call attendant, call recording and archivin...

(view more)

PREMIUM

HigherGround, Inc.
(VIEW OUR PAGE)

HigherGround develops data collection, information storage, and interaction analytics solutions that easily transform data into actionable intelligence, enabling operational optimization, enhanced per...

(view more)

PREMIUM

Avizent Ltd
(VIEW OUR PAGE)

Advanced AI technology and Natural Language Processing delivered to clients in the Cloud that harnesses both voice and digital conversations. The focus is on building an environment where intelligent ...

(view more)
---
View more from
SalesStaff
Recent Blog Posts:
| | |
| --- | --- |
| 20 Tips for Personalizing B2B Sales Calls and Emails | July 24, 2017 5:00 AM |
| 25 Killer B2B Sales Teleprospecting Tips for Quick Reference | May 19, 2017 5:00 AM |
| You Must Ask This Question of Every B2B Sales Prospect on the First Discovery Call | March 29, 2017 5:00 AM |
| 6 Helpful Sites to Research a Prospect Before a B2B Sales Call | March 7, 2017 5:00 AM |
| B2B Marketers Embracing Customer Experience More than Ever – What are their CX Priorities? | November 18, 2016 5:00 AM |
| No More Cold Calling: 5 Strategies to Make Every Sales Call a Warm One [Resource] | September 14, 2016 5:00 AM |
| 7 Ways to Use Jedi Mind Tricks (aka Sales Psychology) in B2B Sales [SlideShare] | September 6, 2016 5:00 AM |
| 15 Interesting Places to Find Your B2B Sales Prospects [Infographic] | August 24, 2016 5:00 AM |
| These 6 Factors Separate the Best B2B Salespeople from the Weakest [Research] | August 23, 2016 5:00 AM |
| The Anatomy of an Absolutely Horrible Cold B2B Sales Email [Infographic] | August 1, 2016 5:00 AM |