5 Ways to Get Buy-In From Your B2B Sales Team on Company Goals - SalesStaff - ContactCenterWorld.com Blog
Most B2B businesses have become adept at setting specific, measurable, and attainable goals for their sales team. The problem then becomes, how do you get your sales people to buy into these goals? Ultimately, if you want your B2B sales team to care about and be motivated to achieve your corporate goals, you will need to show them what is in it for them and give them what they need to achieve these goals.
Here are just 5 ways that you can get your B2B sales team on board with and motivated to meet your company goals:
Show sales reps how the company's target goals relate to their individual goals.
The best way to show your sales representatives what is in it for them is by relating the corporate goals to their individual goals. Start by meeting with each individual and finding out what they want to accomplish individually, whether that is a specific target they want to hit, customer they want to win, or income level they want to achieve. Then use that information to show individuals how hitting these larger corporate goals can help them accomplish their individual goals.
Find out how individuals prefer to be managed and held accountable.
Individual buy in is important to getting the whole sales team on board, and one way that you can accomplish this is by letting sales representatives take the lead in how they would like to be managed and held accountable. When meeting with reps individually, ask them about how they would like their goals to be managed and in what ways they would like to be rewarded for accomplishing these goals.
Give them the training and tools they need to accomplish their goals.
If sales reps don't have the tools or training they need to be successful, they may start to feel discouraged and lose motivation when it comes to meeting new company goals. In addition to asking your sales team what they need, take time to observe sales reps in the field to see what training and tools may better help them be successful. Empowering reps builds confidence, and that confidence helps them become more invested in corporate goals.
Use a little friendly competition to motivate your sales team.
Competition is a great way to motivate your sales team to become more invested in company goals. Once you have found out what type of incentives appeal to your team, use these to develop a friendly competition. By displaying sales figures and competition standings on a central display, you not only increase motivation but help each rep feel more connected to the sales process.
Make a commitment to open communication.
Open communication is an important part of getting your sales team on board with your company goals. Managers need to make it clear to their team that they are willing and ready to listen to sales reps who have concerns, complaints, or new ideas. Then, take what you learn from these conversations and turn them into suggestions for change. Doing this shows your B2B sales team that they are a valued part of your company and their ideas are meaningful.
Take a moment and download this list of sales books – see how many you already have and which ones you should have: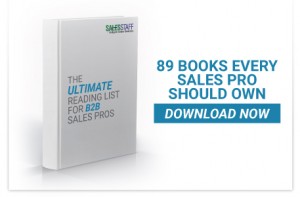 Source: http://salesstaff.com/blog/5-ways-to-get-buy-in-from-your-b2b-sales-team-on-company-goals/
Publish Date: March 18, 2016 5:00 AM
---
PREMIUM

Future Gen International Pte Ltd
(VIEW OUR PAGE)

Outsourcing provider of English Call Centre services, Audio Transcriptions, Big Data ETL (Extract, Transform, Load) , Big Data Visualization, Big Data Predictive Model Generation

PREMIUM

HigherGround, Inc.
(VIEW OUR PAGE)

HigherGround develops data collection, information storage, and interaction analytics solutions that easily transform data into actionable intelligence, enabling operational optimization, enhanced per...

(view more)

PREMIUM

Avizent Ltd
(VIEW OUR PAGE)

Advanced AI technology and Natural Language Processing delivered to clients in the Cloud that harnesses both voice and digital conversations. The focus is on building an environment where intelligent ...

(view more)
---
View more from
SalesStaff
Recent Blog Posts:
| | |
| --- | --- |
| 20 Tips for Personalizing B2B Sales Calls and Emails | July 24, 2017 5:00 AM |
| 25 Killer B2B Sales Teleprospecting Tips for Quick Reference | May 19, 2017 5:00 AM |
| You Must Ask This Question of Every B2B Sales Prospect on the First Discovery Call | March 29, 2017 5:00 AM |
| 6 Helpful Sites to Research a Prospect Before a B2B Sales Call | March 7, 2017 5:00 AM |
| B2B Marketers Embracing Customer Experience More than Ever – What are their CX Priorities? | November 18, 2016 5:00 AM |
| No More Cold Calling: 5 Strategies to Make Every Sales Call a Warm One [Resource] | September 14, 2016 5:00 AM |
| 7 Ways to Use Jedi Mind Tricks (aka Sales Psychology) in B2B Sales [SlideShare] | September 6, 2016 5:00 AM |
| 15 Interesting Places to Find Your B2B Sales Prospects [Infographic] | August 24, 2016 5:00 AM |
| These 6 Factors Separate the Best B2B Salespeople from the Weakest [Research] | August 23, 2016 5:00 AM |
| The Anatomy of an Absolutely Horrible Cold B2B Sales Email [Infographic] | August 1, 2016 5:00 AM |
Industry Champion Award Leaderboard