The Best Days and Times for B2B Content Marketers to Publish Blog Articles [Research] - SalesStaff - ContactCenterWorld.com Blog
Content marketing optimization company TrackMaven conducted some research on the ideal days and times for data driven marketers to post blogs to maximize shares and views. In their research, their team evaluated over 4,000 blogs and studied the social media momentum of those articles, tallying a grand total of over 1.9 billion social shares for the data set – a huge sample implying extremely reliable results.
According to Technorati, well north of 3 million blog posts are published each day. For data driven marketers, it begs the question: Is there a best time to publish – in terms of day of the week and time of day?
Best Day of the Week for Blog Posts as Measured by Social Shares
Take a look at the data compiled by TrackMaven on social shares by day of the week: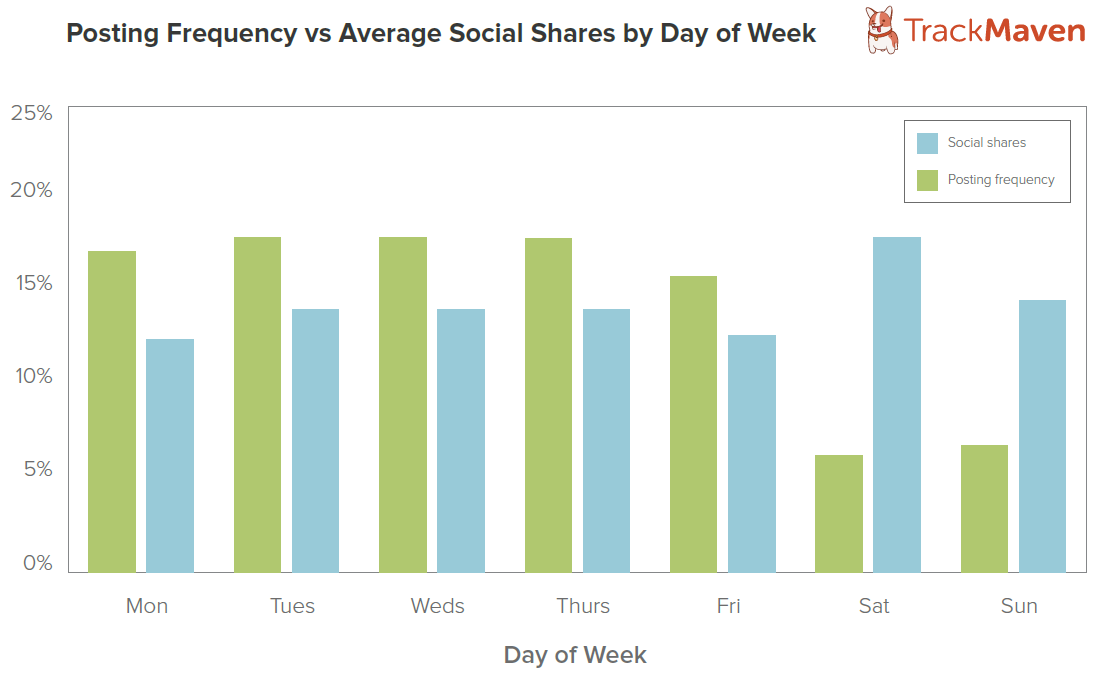 To sum up, the average posting frequency for each day is:
Tuesday & Wednesday (tied): 18% of all posts published
Thursday : 17.9%
Monday: 17.2%
Friday: 15.9%
Sunday: 6.8%
Saturday: 6.3%
And the most telling stat, days of the week in order of average social shares:
Saturday: 18% of all social shares
Sunday: 14.6%
Tuesday, Wednesday & Thursday (tied):14.1%
Friday: 12.7%
Monday: 12.5%
What day of week is most effective for blog posts?
If you consider the most frequent days for publishing blog posts, the workweek tends to be king (as you would expect), with Tuesday and Wednesday leading the charge. A staggering 87% of posts studied were posted during the workweek.
But get this: the 13% of posts published on weekends gathered the most social shares. Saturday is especially good for data driven marketers looking to increase social capital on their posts – while only 6.3% of posts were published on Saturdays, they garnered 18% of total social shares.
Best Time of Day for Blog Posts as Measured by Social Shares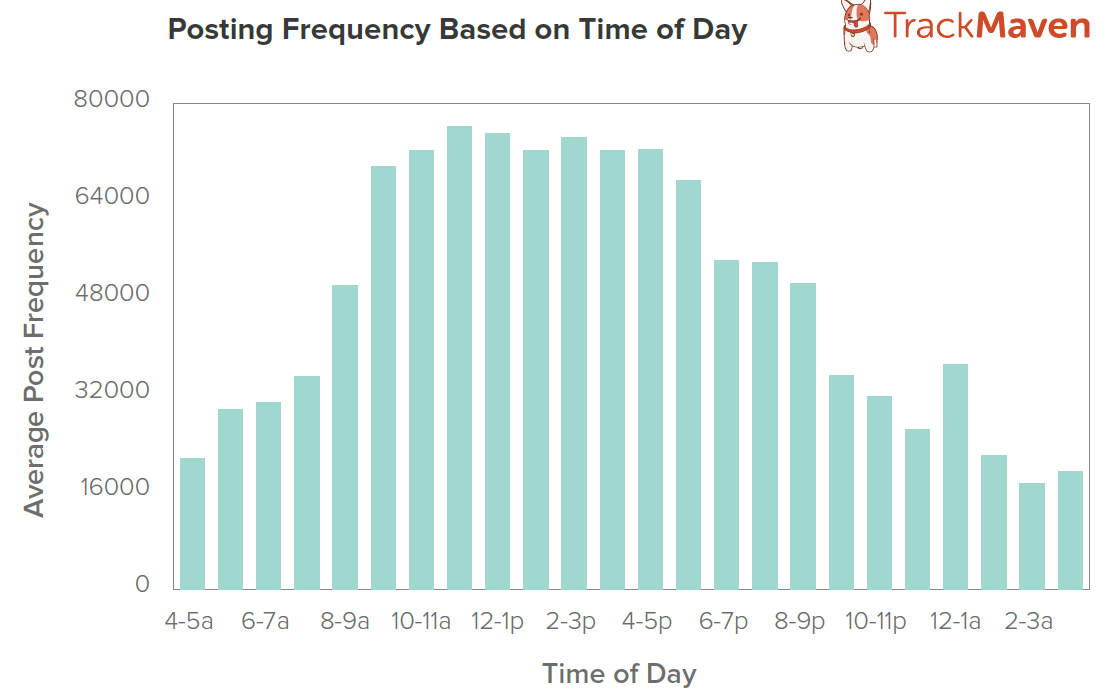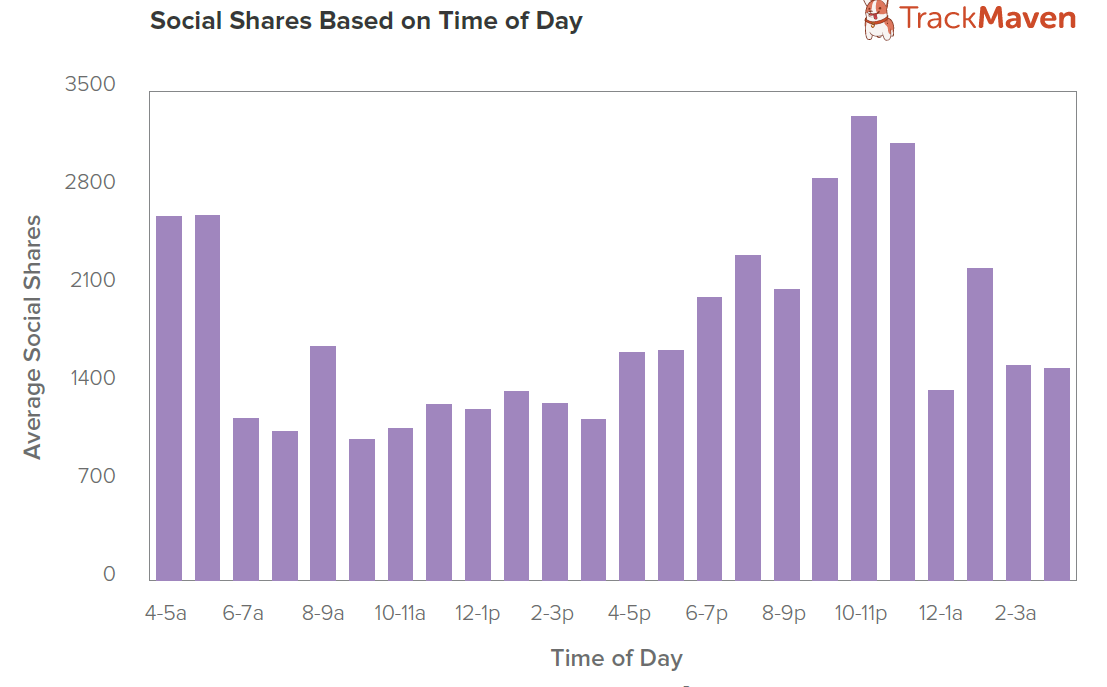 The distribution of posting times looks pretty normal and as one might expect, with most posts coming in between normal work hours. The posts peak at 6.5% in the 11AM-12PM hour and then tail off.
I found it strange that there is another spike at midnight, but I suppose that can be attributed to the scheduling of posts (otherwise there's a bunch of us marketers working late nights concurrently).
The kicker here is that, when you look at blog post shares by time of day, there is an inverse relationship. The peaks of social shares are bunched outside of normal working hours.
Blogs posted between 9PM and midnight have the most social shares, with the 10PM hour having the highest engagement, and numerous secondary spikes in engagement in those other off-hours.
The Lesson: While it may seem counterintuitive, you might test out publishing of blog articles at different days and hours you than you would normally. Determine if some of this data holds true for your content.
Source: http://salesstaff.com/blog/the-best-days-and-times-for-b2b-content-marketers-to-publish-blog-articles-research/
Publish Date: February 5, 2016 5:00 AM
---
PREMIUM

HigherGround, Inc.
(VIEW OUR PAGE)

HigherGround develops data collection, information storage, and interaction analytics solutions that easily transform data into actionable intelligence, enabling operational optimization, enhanced per...

(view more)

PREMIUM

CTI Software
(VIEW OUR PAGE)

CTI Software is the creator of custom application called Davos, which complements the telephone client solutions with intelligent features such as automated call attendant, call recording and archivin...

(view more)

PREMIUM

Avizent Ltd
(VIEW OUR PAGE)

Advanced AI technology and Natural Language Processing delivered to clients in the Cloud that harnesses both voice and digital conversations. The focus is on building an environment where intelligent ...

(view more)
---
View more from
SalesStaff
Recent Blog Posts:
| | |
| --- | --- |
| 20 Tips for Personalizing B2B Sales Calls and Emails | July 24, 2017 5:00 AM |
| 25 Killer B2B Sales Teleprospecting Tips for Quick Reference | May 19, 2017 5:00 AM |
| You Must Ask This Question of Every B2B Sales Prospect on the First Discovery Call | March 29, 2017 5:00 AM |
| 6 Helpful Sites to Research a Prospect Before a B2B Sales Call | March 7, 2017 5:00 AM |
| B2B Marketers Embracing Customer Experience More than Ever – What are their CX Priorities? | November 18, 2016 5:00 AM |
| No More Cold Calling: 5 Strategies to Make Every Sales Call a Warm One [Resource] | September 14, 2016 5:00 AM |
| 7 Ways to Use Jedi Mind Tricks (aka Sales Psychology) in B2B Sales [SlideShare] | September 6, 2016 5:00 AM |
| 15 Interesting Places to Find Your B2B Sales Prospects [Infographic] | August 24, 2016 5:00 AM |
| These 6 Factors Separate the Best B2B Salespeople from the Weakest [Research] | August 23, 2016 5:00 AM |
| The Anatomy of an Absolutely Horrible Cold B2B Sales Email [Infographic] | August 1, 2016 5:00 AM |