SalesStaff - ContactCenterWorld.com Blog Page 3
Most B2B businesses have become adept at setting specific, measurable, and attainable goals for their sales team. The problem then becomes, how do you get your sales people to buy into these goals? Ultimately, if you want your B2B sales team to care about and be motivated to achieve your corporate goals, you will need to show them what is in it for them and give them what they need to achieve these goals.
Here are just 5 ways that you can get your B2B sales team on board with and motivated to meet your company goals:
Show sales reps how the company's target goals relate to their individual goals.
The best way to show your sales representatives what is in it for them is by relating the corporate goals to their individual goals. Start by meeting with each individual and finding out what they want to accomplish individually, whether that is a specific target they want to hit, customer they want to win, or income level they want to achieve. Then use that information to show individuals how hitting these larger corporate goals can help them accomplish their individual goals.
Find out how individuals prefer to be managed and held accountable.
Individual buy in is important to getting the whole sales team on board, and one way that you can accomplish this is by letting sales representatives take the lead in how they would like to be managed and held accountable. When meeting with reps individually, ask them about how they would like their goals to be managed and in what ways they would like to be rewarded for accomplishing these goals.
Give them the training and tools they need to accomplish their goals.
If sales reps don't have the tools or training they need to be successful, they may start to feel discouraged and lose motivation when it comes to meeting new company goals. In addition to asking your sales team what they need, take time to observe sales reps in the field to see what training and tools may better help them be successful. Empowering reps builds confidence, and that confidence helps them become more invested in corporate goals.
Use a little friendly competition to motivate your sales team.
Competition is a great way to motivate your sales team to become more invested in company goals. Once you have found out what type of incentives appeal to your team, use these to develop a friendly competition. By displaying sales figures and competition standings on a central display, you not only increase motivation but help each rep feel more connected to the sales process.
Make a commitment to open communication.
Open communication is an important part of getting your sales team on board with your company goals. Managers need to make it clear to their team that they are willing and ready to listen to sales reps who have concerns, complaints, or new ideas. Then, take what you learn from these conversations and turn them into suggestions for change. Doing this shows your B2B sales team that they are a valued part of your company and their ideas are meaningful.
Take a moment and download this list of sales books – see how many you already have and which ones you should have: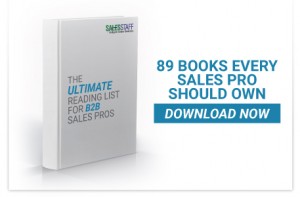 Source: http://salesstaff.com/blog/5-ways-to-get-buy-in-from-your-b2b-sales-team-on-company-goals/
Publish Date: March 18, 2016 5:00 AM
---
Look, all data points to the fact that LinkedIn is an indispensable part of a B2B sales arsenal – like this research here. In fact, LinkedIn sends nearly four times more people to your homepage than Twitter and Facebook. Getting requests from individuals who have things or people in common with you is the norm, but you can really increase your stock on the platform with a little bit of effort. Here are six easy ways to be more visible on LinkedIn:
Write articles on Pulse (and they don't have to be epic sagas)
LinkedIn Pulse is picking up some steam. By publishing a short article or two, you can build a roster of followers and grow your readership. Individuals can like, share and follow you to see what you have to say. Make sure what you write is relevant, engaging and interesting to your existing network – but it doesn't have to be long at all. In fact, short articles can do well on LinkedIn. Over 70% of Pulse featured articles are under 1,000 words.
Share information on your newsfeed (and automate it if you want)
You usually reach 20% of your followers with a single post. Relevant insight shared on your profile will show up in the newsfeed – plain and simple. If you don't want to get in there and post every day, you can even use solutions like Hootsuite or Buffer to automate posts for you on a scheduled interval. LinkedIn has stated that 20 posts per month can help you reach 60% of your unique audience.
Use images in your status updates
Make sure when you post an article or something relevant, you have an image file to accompany what you post. On average, status updates that contain images lead to 98% higher comment rate.
Be interesting by asking interesting questions
To increase the level of engagement on your profile, ask for opinions on industry topics. It's a great way to get a sharable conversation going. Status updates that contain questions receive almost 50% more comments, according to LinkedIn.
Mention others (it's the most social thing you can do)
Don't keep it all to yourself! Mentioning other connections you have in your network who may have relevant thoughts on your posts not only helps bring attention to you, but extends what you have to say to their network as well. You can also mention companies with the [email protected] symbol as a way to draw some attention.
Post often and consider optimal days and times
No matter what the social platform, one of the best ways to increase engagement and bring visibility to yourself is to post with some frequency. Your comments and posts will stay on the newsfeed, giving others an opportunity to hear what you have to say. LinkedIn has cited that their busiest times tend to be morning and midday, on weekdays. Business hours, in general, have the largest reach, so you don't have to be too precise about specific times.
Source: http://salesstaff.com/blog/6-ways-b2b-sales-pros-can-be-more-visible-on-linkedin/
Publish Date: March 11, 2016 5:00 AM
---
In a recent study from LinkedIn [download page], nearly half of the 6,000 surveyed B2B buyers say that their relationships with vendors are getting stronger over time:
15% responded that relationships are getting stronger, and
33% responded that relationships are getting slightly stronger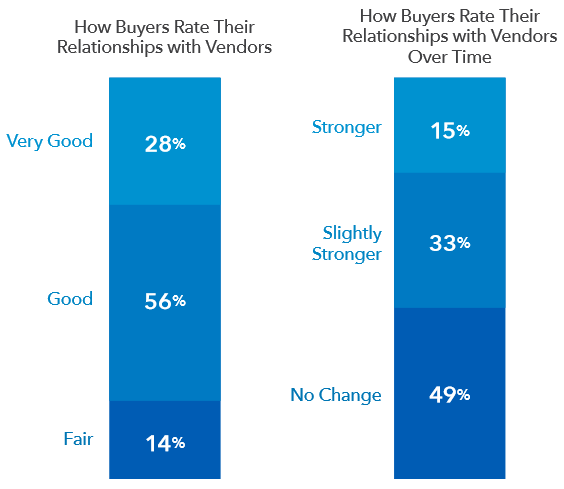 Not only that, but a whopping 84% of B2B buyers stated that their relationship with vendors is either 'good' or 'very good.'
This is great news for B2B vendors and perhaps evidence that a rising tide raises all ships. In other words, B2B vendors are becoming more agile and adept at serving their customers in order to stay competitive. The stats reinforce the idea that increasingly companies are putting more emphasis on the customer experience.
Another big revelation is why buyer-vendor relationships are strengthening. The most-cited reason for a strong relationship? Trust at 52% of respondents, with personal relationships (45%) and responsiveness (45%) coming in at a close second and third.
But while responsiveness was a top three reason for stronger relationships, lack of responsiveness shot to the forefront as the main reason some buyer-vendor relationships were weakening, cited by 31% of respondents.

The takeaways:
Value for the money was only cited by 38% of those surveyed as a reason why vendor relationships are getting weaker. It seems B2B buyers are putting a premium on trust and relationships rather than price.
The best way to make those clients stickier to your solution and your brand is to tend to the relationship and build rapport and ultimately trust – be a vendor that responds and that can be relied upon.
While I enjoy most of the content LinkedIn puts out, this short study is especially good. Download it when you can.
Source: http://salesstaff.com/blog/by-the-numbers-why-b2b-buyers-trust-their-vendors-new-research/
Publish Date: March 9, 2016 5:00 AM
---
OK. All of our prospects, please line up in an orderly fashion and we'll be giving sales presentations, one-by-one.
Wouldn't that be nice? But unfortunately, we all know that's not the reality of B2B sales. With the advent of digital marketing and sales by proxy, the traditional B2B sales funnel has undergone a paradigm shift into this twisty-turny roundabout path that brings buyers to us. We explained this in a previous narrative: Does the B2B Sales Funnel Look More and More like a Game of Chutes and Ladders?
While I may not totally agree (yet), consulting group Lenati claims that the B2B sales funnel hasn't just shifted – it's dead altogether in its previous form. They put together this infographic last year with some keen stats and a nice illustration of the nontraditional path buyers may take to become customers.

Source: http://salesstaff.com/blog/5-stats-that-offer-evidence-of-the-death-of-the-traditional-b2b-sales-funnel-infographic/
Publish Date: March 7, 2016 5:00 AM
---
Nails on a chalkboard, a cricket in the house… and clichéd sales conversation attempts have one big thing in common – they repel and annoy just about anyone on the receiving end. Want to avoid annoying your prospects and an outright rejection? Strike these obnoxious clichés from your sales vocabulary for good.
"Just checking in"
This phrase basically admits that you have no real reason for getting in touch, and portrays a certain level of desperation as well. Every touch you make with a prospect should come with something useful, whether it is more information about your product, a helpful blog or piece of content or even an answer to a question that came up the last time you spoke. Strike "just checking in" from your sales vocabulary and you'll find that more of your emails actually get opened.
"Touching base"
This is pretty much "just checking in's" annoying cousin, avoid it, unless you have something else to offer or bring to the table. Strike both of these phrases and your emails will be a lot more interesting than 90% of the other reps attempting to close your prospect.
"Is this in your budget?"
Not only is this often asked prematurely, if you don't know the answer, you could be giving the prospect an easy way out. Simply answering "no" gives them an easy way to end the conversation without having to come up with a reason or objection – you've handed them the perfect excuse.
Prequalifying your leads can help you speak with prospects who can afford your product or service and allow you to avoid giving away this easy "no" too early in the conversation.
"To be honest" or "Honestly"
Were you lying before? Because that is what either of these phrases indicates. If you are already struggling with the conversation or simply looking to make a point, there are better ways to do so. These are particularly bad performers if you are already working with a prospect who avoids salespeople or seems reluctant to interact in the first place.
"Are you the decision maker?"
At best, this question gives a prospect an easy way out – at worst, it can be taken as condescending, particularly if the prospect is younger than his or her peers. Asking open ended questions about their role and truly listening to the responses can help clue you in as to the prospects true buying power. Starting with a warm or qualified lead can make it easy to determine you're talking to someone with purchasing authority as well.
"I want…"
Your wants don't matter in the sales process – and the prospect already knows you want to close the sale. Adding your own wants or demands, even if you are just using "I want" as a term of speech, puts pressure on the buyer and can even make them question why they are speaking with you in the first place. Keep the focus on your prospect and fulfilling their needs, and keep your wants to yourself to keep the conversation and relationship on track.
Create better relationships with this slimmer sales vocabulary
Striking these phrases can strengthen your skills and help you shore up any potential leaks in your sales approach. Simply being aware of these common pitfalls and the ways that a prospect could respond can help you avoid missing the mark and keep things on track when you speak with a potential client.
Source: http://salesstaff.com/blog/6-obnoxious-and-cliche-phrases-to-strike-from-your-sales-vocabulary/
Publish Date: March 4, 2016 5:00 AM
---
You shouldn't want to close early. You should want to close a sale when your prospect is sold. Sales reps can't show up ready to sell something, they have to show that they are experts who are graciously looking to help those who have a problem that really needs solving. Premature closing make the prospect feel less comfortable with a B2B sales closing tactic that is company-centric, rather than buyer-centric.
The Full Transparency Question
And that brings me to a call I received from an email marketing provider a couple years back that I hadn't thought of in a while. We were a couple calls into the evaluation phase of our purchase decision and this specific discussion was memorable because the rep asked me a very pointed question:
"On a scale of 1 to 10, where 1 is 'not interested at all' and 10 is, 'sign me up right now', where do you find yourself?"
Although it was bit campy, the question helped me really define what I was feeling and give a definite number to my level of interest and commitment.
I answered:
"About an 8."
Finding the Benefits
The rep acted surprised at my choice.
"Really? Based on our conversations, I thought you would be much closer to a 6 or 7. I'm surprised your number is so high. Why did you pick 8?"
My hunch is that whatever number I'd have picked, he would have said he thought I was lower than that. Why? Subtly, I found myself saying out loud all of the reasons I liked his solution – benefits and reasons why I should buy, right out of my own mouth.
The rep began to bring up other things he thought I'd like about the solution.
"What about X? Is this part of why your number is so high? How important is X benefit?"
Active listening skills are important here. The rep then repeated all of the benefits I'd hit on.
"So it sounds like you picked an 8 because of A, B, C and, most of all, D."
Discovering the Roadblocks
There was still some reason I didn't pick a 10 on his scale, so he took the opportunity to find out what might have been holding me back from a resounding yes.
"Okay, those sound like really good reasons for moving forward, but now I'm confused. What is stopping you from being at a 10?"
Boom. There it was. And I answered candidly.
"The other solutions we looked at charged per send and not per contact. That's really what we liked."
He listened to my concern and took the time to talk about that concern in its entirety:
"Hmm. Would you like to talk about it a little more? I've heard that quite a bit and we might be able to work through that problem together."
In order to really solve a prospect's concerns for an easy sell, you have to listen, acknowledge their problem, explore their hang-ups and respond with possible ideas.
Changing the Number
Finally, after we'd talked about the pricing model and he'd allayed some of my concerns, this rep circled back at the end of the conversation to see if we were moving closer to a purchase decision.
"It sounds like there are a lot of reasons to move forward: A, B, C, D, etc. It also sounds like you were concerned specifically about X and Y. Now that we've talked about possible solutions, has your number changed at all?"
It was a great technique and one that got me talking about why I liked the solution and the objections I had. In the end, we signed with this vendor.
Why should you use this B2B sales closing tactic
The point is: You never want to come off as desperate to close a sale. This 1-10 B2B sales closing tactic the rep used can help close a deal when the prospect still seems to have a few objections. Most prospects will reveal their own true objectives when faced with the right questions and when given the time to think weigh all the pros and cons.
Source: http://salesstaff.com/blog/this-campy-b2b-sales-closing-tactic-gets-prospects-to-reveal-their-objections/
Publish Date: March 2, 2016 5:00 AM
---
B2B sales objections come in all shapes and sizes. What the savvy sales pro does that separates them from their peers is to uncover the motivation behind the objection – the subtle part of sales psychology.
There's an old Salesforce.com blog article that states succinctly the most common causes of sales objections:
May simply be lack of knowledge: "We don't need a mobile solution."
May be a specific, warranted concern: "Your price is higher than everyone else."
May represent a hidden agenda: The customer has a preference or incentive to use a different product but doesn't say that outright.
May be a perception issue: "The Cloud isn't secure."
We may not be clear about their interests: "That's not a priority for me this year."
Depending on your solution, there may be multiple responses to any given B2B sales objection, but sales trainer Bill Cates also points out in the video below that sales pros would be well-served in remembering this short three-word phrase when objections bubble to the surface in the B2B sales process.
Want to know what those magic three words are? Check out this 90-second video for the answer:

Source: http://salesstaff.com/blog/the-most-powerful-3-word-phrase-for-handling-any-b2b-sales-objection-video/
Publish Date: February 29, 2016 5:00 AM
---
Every business has certain goals in common with other businesses – mainly increasing growth and revenue. Looking at the buyer and marketer trends of this year, it's easy to see some common methods for achieving those goals. Looking at some B2B lead generation statistics from small companies to big ones, you can quickly see an increasing trend in content marketing and the importance of buyer-centric strategies.
Here are the top 20 B2B lead generation statistics to help you locate and engage sales qualified leads:
Nearly all B2B buyers (94%) will conduct some kind of online research before making their purchase decision. (Marketing Charts)

Even global buyers are looking online – with more than 61% of global buyers looking for products and conducting their research online. (HubSpot)
Buyers hate unsolicited marketing tactics; 91% of B2B buyers say they will never respond to an unsolicited inquiry. (Huthwaite)
70% of buyers say they would rather learn about a company through articles than an advertisement and 86% of people say they skip TV advertisements. (Demand Metric)
YouTube is now considered the second biggest search engine, passing Bing, Yahoo, AOL and Ask combined. (Social Media Today)
60% of executives are saying email is their top performing channel for ROI. (MarketingSherpa via HubSpot)
Over 80% of B2B leads that come from social media platforms are generated through LinkedIn. (Oktopost)
75% of B2B buyers are using social media to support their purchasing decisions. (International Data Corporation)
More than three-fourths of B2B marketers (77%) are already planning to increase their reach through LinkedIn. (Social Media Examiner)
Over 68% of B2B companies are using landing pages in order to increase new leads for their sales teams. (MarketingSherpa via HubSpot)
Marketing professionals say their top lead gen strategies are email marketing (78%), event marketing (73%) and content marketing (67%). (Demand Metric Research Corporation)
SEO is still incredibly relevant with 44% of online shoppers starting their buying journey via a search engine. (HubSpot)
Businesses that actively grow their reach and have websites of 401-1000 pages are able to achieve 6x the leads of businesses that only have 51-100 pages. (HubSpot)
Attracting and cultivating new leads is important, starting with the awareness stage; 96% of website visitors are not ready to buy. (Marketo)
Nurtured leads are more likely to purchase with an average 20% increase in sales opportunities when compared to non-nurtured leads. (HubSpot)
90% of consumers say custom content is useful; 80% say they feel more positive towards a company using custom content and 78% say they perceive a relationship being built when a company uses custom content. (Demand Metric)
Nearly half (48%) of marketers say they are creating landing pages for every marketing campaign. (MarketingSherpa)
Content marketing creates 3x more leads than traditional marketing and costs 62% less. (Demand Metric)
83% of marketers say they are using content marketing to achieve their goals for lead generation; 84% say it helps brand awareness, 81% say they use it for engagement with their audience and 75% say they are using content marketing to directly boost sales. (CMI)
Marketers that actively blog are 13x more likely to achieve a positive ROI than those who don't. (HubSpot)
You might start seeing a trend where you are falling short in your own strategies. Did you know that 74% of marketers are spending more than $50 for every new lead and 5% are spending over $1,000?
The big takeaway from these B2B lead generation statistics? Make sure you are budgeting adequate time and money to achieve those important goals of growth and revenue with better lead generation strategies this year.
Source: http://salesstaff.com/blog/20-of-the-most-impactful-b2b-lead-generation-statistics/
Publish Date: February 26, 2016 5:00 AM
---
2016 Demand Generation Report Methodology
Demand Gen Report just released their latest Demand Generation Benchmark Report. It surveyed 131 marketers from an assortment of industries (with 60% from companies with at least $10 million in revenues). While this may be a smaller sample, there are some key takeaways from the 2016 Demand Generation Benchmark.
B2B Marketing Budgets on the Rise
A little over two-thirds of B2B marketers anticipate an increase their demand generation budgets this year. This is no surprise as demand generation has been thrust into the limelight over the last few years as an imperative piece of the sales and marketing puzzle.
Lead Quality Takes Precedent over Lead Quantity
In previous years, marketers could be heard clamoring for more, more, more when it comes to sales leads, but this year marks a bit of a tide-turn. Respondents indicated that the most significant priority is an emphasis on lead quality over lead quantity. Consequently, that shift was also documented in a study by Ascend2, where respondents also indicated that enhanced lead quality is the most vital objective of a successful lead generation program.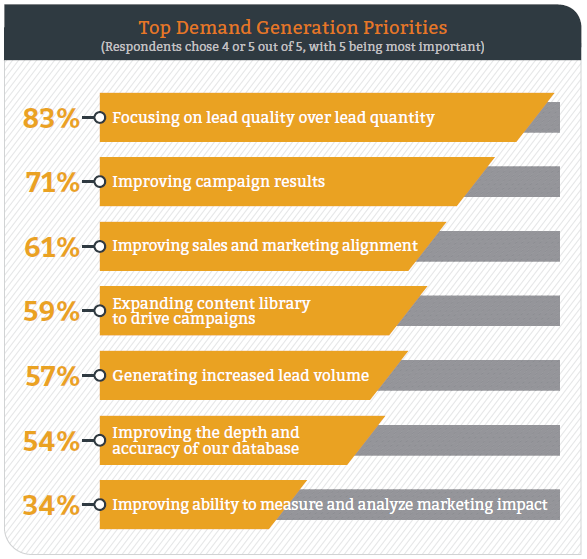 Events Replacing Webinars as Most Common Tactic
Now this is interesting. When considering lead gen tactics, Demand Gen Report uncovered that events (70%) have displaced webinars (65%) as the most commonly used tactic. There have been other studies that corroborate the effectiveness of events in generating leads with increasing ROI – like this study and this one.
Email Marketing Ain't Going Anywhere
More than 75% of respondents cited email as one of their top three channels for driving leads. This is also not surprising considering (1) the relative ROI realized by email marketing, and (2) the ability email gives marketers to contact lots of prospects in mass.
To download the full 2016 Demand Generation Benchmark report, click here.
Source: http://salesstaff.com/blog/4-must-see-revelations-from-the-2016-demand-generation-benchmark-report/
Publish Date: February 24, 2016 5:00 AM
---
Sometimes we need to get back to the basics. When I saw Daniel Nilsson's SlideShare on defining a B2B sales process, it made sense. It's a nuts and bolts approach to building out a B2B sales process. Without process, we're just fish in a fishbowl wandering aimlessly, hoping to sell something to somebody.
Much like most, I like SlideShare's that are idea-heavy and text-light. This one is a bit wordy, but well worth the read. I particularly liked the diagram on Slide #14; it could legitimately serve as a blueprint for setting up an effective B2B sales process.
So if you want to get back to the basics with me, take ten minutes and check out his SlideShare.
Source: http://salesstaff.com/blog/how-to-define-a-b2b-sales-process-the-nuts-and-bolts-slideshare/
Publish Date: February 22, 2016 5:00 AM
---
It's not very fun to spend time nurturing a prospect that doesn't buy. Leads who can't or won't buy are a drain on sales productivity and rep morale. In order to uncover the leads who have a real need and want your help, you need to uncover a real business pain. The faster you can discover the business pain, the better you can judge who is worth cultivating and who isn't truly motivated to make a conversion decision.
True business pain isn't about a solution that would be nice to have, it's something that has become a budgeted, have-to-get-it-solved, stakeholder-approved, pull-your-hair-out kind of problem.
Every business has problems that might have to do with small work-life balance issues for employees, changes to make product packaging prettier, reducing overhead costs a bit to help free up parts of the budget or making the production process a little more streamlined. But, it's the problems that have your prospects expressing serious retention issues, team morale struggles, customer dissatisfaction or a serious workflow inefficiency that will show true business pain. And, true business pain is the kind of problem that has to be solved. Real pain causes the kind of motivation that won't lead to a stalled decision or an inflexible budget roadblock.
What's your company's biggest inhibitor of growth?
This is the first question that can get straight to the matter. There is always a need for growth in a company, so typically this obstacle is what causes the most pain. This question shows expertise and helps build personal credibility with the prospect, demonstrating you understand their company drive. Follow-up questions might include:
Do you have a plan in place to tackle X growth problem?
Is there a timeline established for when this has to be solved?
Is it an easy problem to solve?
Who is working to fix this problem in your company right now?
If you are hearing stress in their voice and if they have put a certain amount of thought into solving the problem, then you know you have found a real business pain.
What does your boss obsess over?
You probably won't be speaking to the head of the company during your sales process, but it is smart to get them involved as quickly as possible in the conversation. The CEO or Executive Director is often the one who is going to control the budget and the approval for buying decisions. This means that the pain of the head honcho is going to be more important to start with than the pain of the individual you are directly working with. Most prospects are highly motivated by the idea of getting their boss unhinged from certain issues they shouldn't be dealing with.
What is stealing your time?
Typically time is one of the biggest assets to a prospect. What could save them two hours of work each day? What could cut their meeting times in half or reduce the time spent brainstorming over a problem. This will help reveal the concrete value your product might be able to offer your prospects on a personal level.
What is one thing regarding X that's repeatedly discussed by Senior Management?
Business pain is the kind of problem that keeps popping up until it is solved. Problems that are continually addressed are the kind of problems that provoke real pain in a business and motivate real solutions.
And a silly one…
If you had a bottled corporate genie, what three wishes would you make to improve XYZ business process?
I received a call from a data validation company last week, and the rep actually asked me this question. He did preface the question by saying, "I'm going to ask you a silly question, but would you humor me and give it some thought?" (And I'm glad he prefaced with that disclaimer, because it would have been an abject showstopper otherwise.) It turned out to be a fun and ridiculous hypothetical that got me thinking. Now I'm not sure this one is right for my style, but, hey, maybe you're bolder than I am.
Get your free whitepaper addressing crucial lead generation challenges:
Source: http://salesstaff.com/blog/5-questions-you-can-ask-in-the-b2b-sales-process-to-get-prospects-thinking-about-their-pain/
Publish Date: February 19, 2016 5:00 AM
---
B2B lead generation isn't exactly the easiest thing in the world. In fact, 68% of companies report struggling with it. If you're in that same boat, it might be misconceptions are holding you back from being successful.
SalesStaff recently released a brief 5-page whitepaper where we put our decades of experience on display as we explain the six most widespread misunderstandings that many B2B companies hold true about lead generation. We include misconceptions about:
Lead databases
Proper targeting
Procuring marketing lists
The best and worst ways to reach prospects
Get your free whitepaper addressing these crucial lead generation challenges: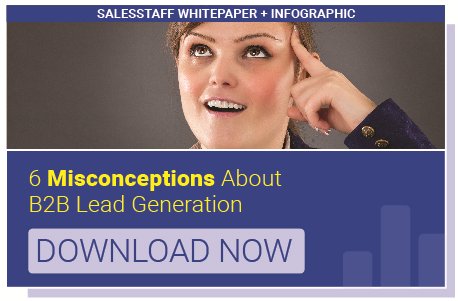 Source: http://salesstaff.com/blog/6-huge-misconceptions-about-b2b-lead-generation/
Publish Date: February 17, 2016 5:00 AM
---
In a recent survey, 68% of companies reported struggling with lead generation. B2B lead generation starts with a strong data set – a database that is well-defined for an organization's ideal prospects.
We know this because every sales campaign we execute for our clients starts with a good look at who exactly the targets are. What is their title? What do they manage? Is it a group or an individual that normally makes these decisions?
Everyone in B2B sales that pitches a product or service needs to first undergo the exercise of properly profiling their ideal customer. How did you construct the persona of your ideal prospect?
Take a look at our infographic below for some tips on putting together your ideal prospect profile.

Source: http://salesstaff.com/blog/targeting-your-ideal-prospect-profile-infographic/
Publish Date: February 15, 2016 5:00 AM
---
"Results-oriented."
"Competitive."
"Sales wolves."
I've heard keywords like these used by CEOs and sales managers to describe the vision they have of their sales team. In reality, catchwords like "results-oriented" only get you so far. What does a results-oriented sales team actually look like? And how does the culture of your company encourage a sales team that is truly capable of "winning"?
After all, team culture is one of the great intangibles of a sales organization. It is quietly responsible for countless wins and lost deals. As a sales manager, you are responsible for setting the tone that will, in the end, determine whether or not your team makes the bottom line. Despite the myth that people work better under pressure, you might find that giving your salespeople the space to grow means that you can cultivate a successful, visionary team that will stay with you for the long haul.
Here are five simple steps to get on your way to creating a culture where your salespeople will be able to thrive and – most importantly – meet their goals:
Be conscientious in your observation.
Before a doctor diagnoses what's ailing a patient, he or she listens: listens to what the patient has to say, monitors the patient's heartbeat, checks on blood pressure. Emulate a doctor when you are diagnosing what is going on with your current sales culture, and what you'd like to change. Listen and watch your sales team. What are they saying? What works and what does not? In addition to observing, asking your people questions about how they felt during a sale – whether it came through or didn't – will provide you with valuable insight into their thinking process. Beyond performance, observe their level of satisfaction with their career, their surroundings, the support they receive from the company – all of it. Take it in.
Cut your losses with bad apples.
Lucky for me, there's not a colleague of mine here at SalesStaff that isn't positive and a pleasure to work with. But I have also seen at other organizations the stifling effect a negative personality can have on his or her peers. It's contagious – just as contagious as a positive disposition. Too often, salespeople linger on a team even when they have bad attitudes, poor work ethic, or simply are not cutting the mustard (largely due to bad attitude). Moving on sooner rather than later will help you cultivate the culture your sales team needs.
Define your vision.
People work better on a team when they believe they are united by a common cause that is bigger than themselves. What is your team about? It can't just be about sales: it's about making a meaningful contribution to your world, giving people a product or service that will improve their lives. When the goal becomes bigger than the company or the product, magical things start to happen.
Support your sales team.
What are you doing to make sure that your people are as successful as they can be? How are you supporting your sales team in the field? There's two ends of the spectrum here: the organization that gives their sales reps a phone book and a telephone and says "Get to work" and the organization that provides sales support, marketing leads, and all of the tools needed to supercharge their team. If you hold up your part of the bargain, your sales team will be that much more likely to hold up theirs.
Celebrate success.
Recognize when your salespeople succeed. Some people are motivated by tangible incentives, but most of us also appreciate the opportunity to be recognized – it's primal. Sometimes, it's not about the $50 gift certificate spiff as much as it is about being recognized as an achiever, someone that others can come to for advice and help. Create a workplace where people know that their accomplishments will be seen, and your top earners will stick around.
Source: http://salesstaff.com/blog/5-keys-to-a-winning-b2b-sales-culture/
Publish Date: February 12, 2016 5:00 AM
---
We all have different personalities that we bring to the selling game. Are there traits and perceptions though that make B2B buyers more likely to buy from you?
SalesforLife summed up the ins and outs of who buyers like to engage with in a neat little infographic.
The main takeaways are:
92% of B2B buyers would engage with a sales rep who was known as a thought leader in their industry
86% would follow up with someone who was able to provide insights about their business
So if you're not a subject-matter expert in your industry, that's a good first step. Be perceived as a thought-leader.
In addition, only 17% of respondents are likely to engage a B2B seller that reached out cold. That's why it's important to implement elements of inbound marketing and share relevant content. Make those cold calls warm.
Here's who B2B Buyers like to buy from:

Find out how SalesStaff can provide industry leading Warm Handoff™ leads for you today.
Source: http://salesstaff.com/blog/who-do-b2b-buyers-like-to-buy-from-infographic/
Publish Date: February 8, 2016 5:00 AM