SalesStaff - ContactCenterWorld.com Blog Page 4
Content marketing optimization company TrackMaven conducted some research on the ideal days and times for data driven marketers to post blogs to maximize shares and views. In their research, their team evaluated over 4,000 blogs and studied the social media momentum of those articles, tallying a grand total of over 1.9 billion social shares for the data set – a huge sample implying extremely reliable results.
According to Technorati, well north of 3 million blog posts are published each day. For data driven marketers, it begs the question: Is there a best time to publish – in terms of day of the week and time of day?
Best Day of the Week for Blog Posts as Measured by Social Shares
Take a look at the data compiled by TrackMaven on social shares by day of the week: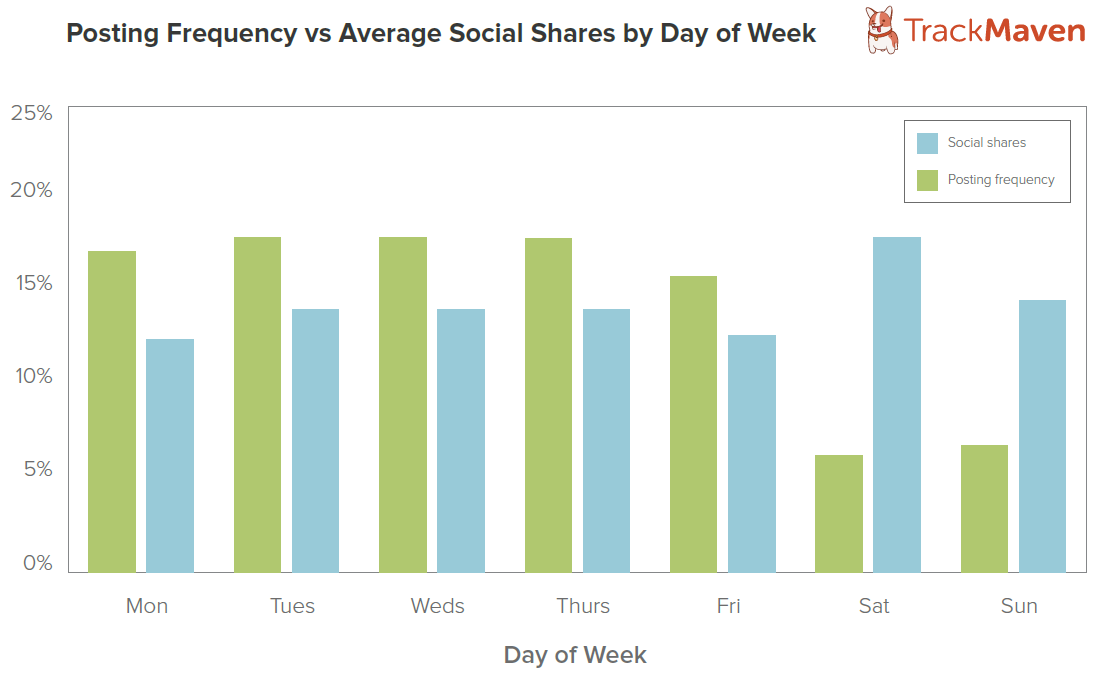 To sum up, the average posting frequency for each day is:
Tuesday & Wednesday (tied): 18% of all posts published
Thursday : 17.9%
Monday: 17.2%
Friday: 15.9%
Sunday: 6.8%
Saturday: 6.3%
And the most telling stat, days of the week in order of average social shares:
Saturday: 18% of all social shares
Sunday: 14.6%
Tuesday, Wednesday & Thursday (tied):14.1%
Friday: 12.7%
Monday: 12.5%
What day of week is most effective for blog posts?
If you consider the most frequent days for publishing blog posts, the workweek tends to be king (as you would expect), with Tuesday and Wednesday leading the charge. A staggering 87% of posts studied were posted during the workweek.
But get this: the 13% of posts published on weekends gathered the most social shares. Saturday is especially good for data driven marketers looking to increase social capital on their posts – while only 6.3% of posts were published on Saturdays, they garnered 18% of total social shares.
Best Time of Day for Blog Posts as Measured by Social Shares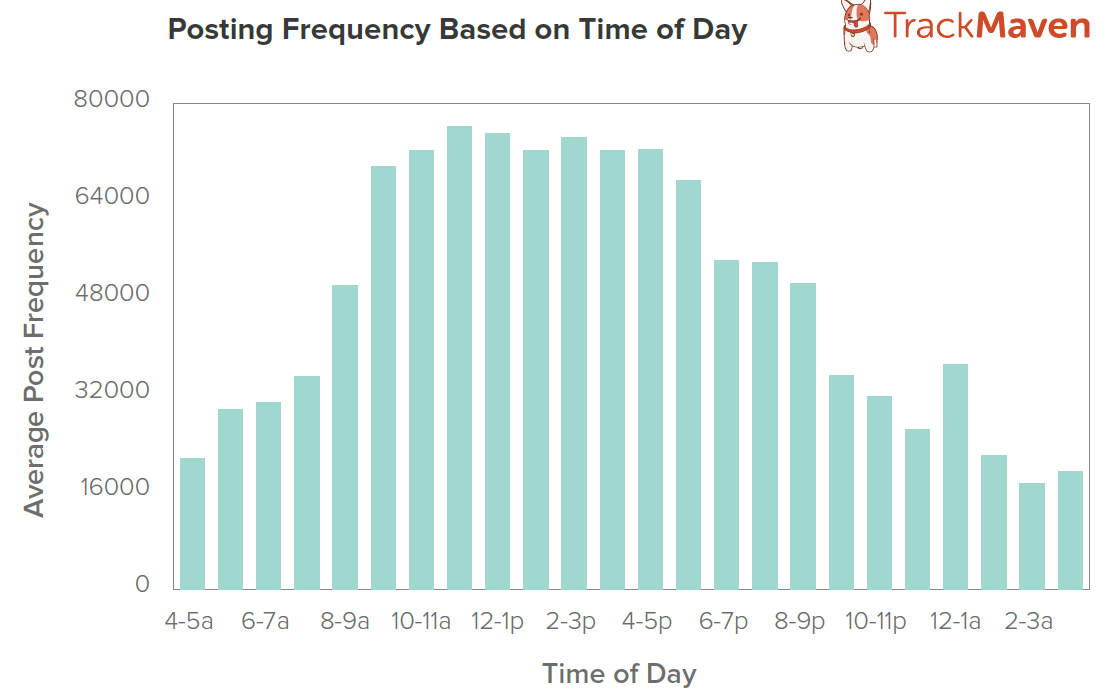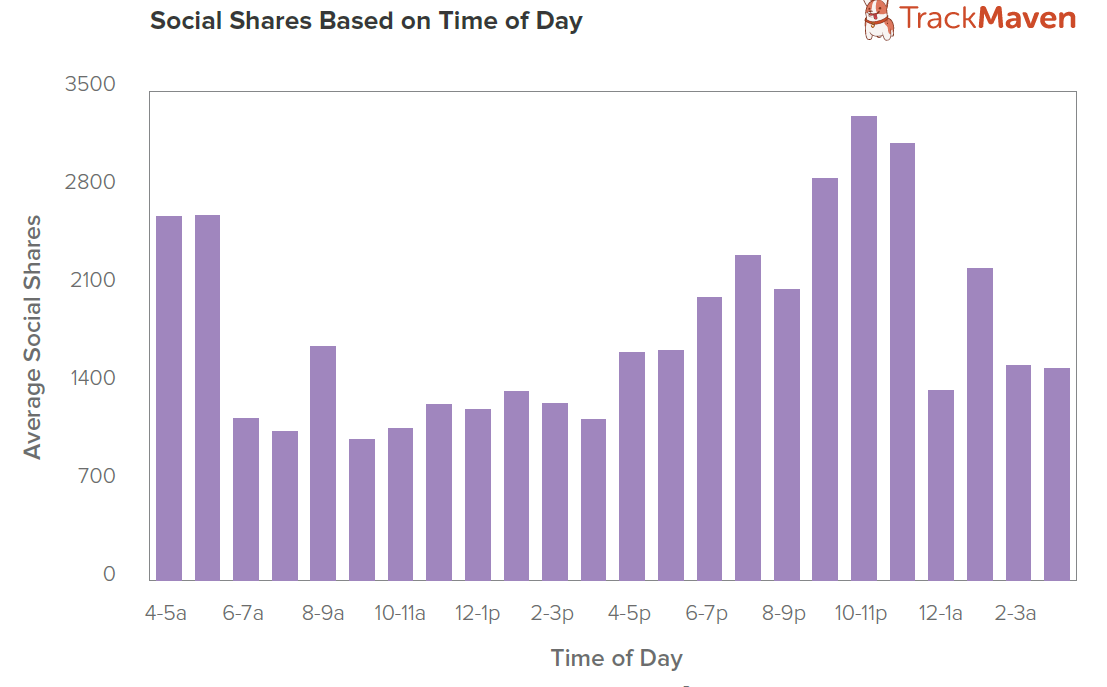 The distribution of posting times looks pretty normal and as one might expect, with most posts coming in between normal work hours. The posts peak at 6.5% in the 11AM-12PM hour and then tail off.
I found it strange that there is another spike at midnight, but I suppose that can be attributed to the scheduling of posts (otherwise there's a bunch of us marketers working late nights concurrently).
The kicker here is that, when you look at blog post shares by time of day, there is an inverse relationship. The peaks of social shares are bunched outside of normal working hours.
Blogs posted between 9PM and midnight have the most social shares, with the 10PM hour having the highest engagement, and numerous secondary spikes in engagement in those other off-hours.
The Lesson: While it may seem counterintuitive, you might test out publishing of blog articles at different days and hours you than you would normally. Determine if some of this data holds true for your content.
Source: http://salesstaff.com/blog/the-best-days-and-times-for-b2b-content-marketers-to-publish-blog-articles-research/
Publish Date: February 5, 2016 5:00 AM
---
Utilizing inbound marketing techniques to tempt prospects into your sales funnel can help them stay engaged, build trust and even give you something to talk about. While most content marketing techniques are used to draw prospects in, they are incredibly useful in the sales process too. Why does content matter when it comes to sales?
Inform Prospects with the Content You Want Them to See
Salespeople used to have the task of educating their prospects and customers about their product, service and company and relaying their key benefits and value propositions. Now that information is so readily available, your prospects are learning about your solution without you or your salespeople. So when prospects enter your funnel, take the opportunity to give them the content that will be most impactful to them and gives the sales rep the best chance to advance the prospect.
Social Media Proof
Part of the content marketing engine these days is the content posted on social media channels. It used to be that a referral from someone you knew was just that – a personal reference and proof of a company's ability to deliver. Today, a company's credibility can be perceived well if their social media game is strong. Prospects who are fully invested and active on social media give more credence to organizations that they see as an authority on topical information within Social Media channels.
Building Trust as a Thought-Leader
When you provide a steady stream of relevant content in the sales process, you create trust in your brand and your position as a thought-leader. Your prospects come to know what to expect from you. Every time you share interesting, pertinent and educational content, you help establish yourself as an expert in your field and build trust with your prospects.
Content Marketing as a Vehicle for Reaching Out
We've all had prospects that seemed interested, but just needed multiple touch points to advance in the B2B sales process. Content gives you an awesome reason to get in touch in a non-threatening and non-aggressive way. It's a softer approach that conveys, "Hey, I read this and thought of you." Send along your latest whitepaper, link to your newest infographic or point a warm prospect to your latest blog; your great content can give you a reason to get in touch and provides a great talking point.
Source: http://salesstaff.com/blog/4-ways-content-marketing-supercharges-b2b-sales-teams/
Publish Date: February 3, 2016 5:00 AM
---
I've been on the receiving end of quite a few B2B sales presentations with weird-looking slides, mismatched graphics, and (a cardinal sin) Comic Sans font – true story.
Your B2B sales presentation is one of those things that you should invest time and resources into perfecting because you never can know how much revenue you'll lose with a substandard one. A dreadful presentation will undermine all of the value of your solution.
A group called PPTPOP put out a keen infographic on the elements of a good B2B sales presentation. Take a look:

Source: http://salesstaff.com/blog/the-framework-for-a-perfect-b2b-sales-presentation-infographic/
Publish Date: February 1, 2016 5:00 AM
---
To most people, another human being talking is a compelling sound to listen to. Despite all our digital technology, the spoken word is how we interact with others and develop relationships in the most meaningful way.
Too many times on my own voicemail, I've heard a seller just leaving a message which is essentially a stuttering apology for failing to reach me. Those rambling and unfocused messages left a negative impression on me – which rendered it ultimately a waste of my time and of theirs.
We all know that a cold B2B sales voicemail normally has a low return rate but if you want your B2B sales voicemail to be as effective as possible, here are a few tips.
Write it down.
The worst time to come up with the right words is on the fly. While there's a little room for improvisation, a message left on the fly risks a lot of hemming and hawing, which sounds unprofessional. Some of our Account Managers recommend using an outline for your script rather than verbatim dialogue which adds the air that the voicemail is natural and spontaneous.
Come up with a strategy.
When you call, how often, and what results you expect. Your primary goal should be to establish a relationship and drive engagement by asking the prospect, at minimum, to get in touch with you through a phone call or email.
Try different times of the day or you may end up reaching gatekeepers rather than prospects. You can even get fancy with the messaging and A/B test different ones if you're so inclined. Figure out what makes certain recordings successful and propagate that lesson in future voicemails.
Be brief, taking no more than 10-20 seconds. Get to the point immediately. When a prospect has several voicemails to get through at the beginning or end of the day, he'll press the Delete button if you take too much time.
Use the prospect's name in the first three seconds.
It's natural for people's ears to perk up at the sound of their name. This subtlety can make a bit of difference in getting your message heard – which is goal #1. Notable inside sales experts often advise using the prospect's name in the first three seconds and last three seconds for maximum effectiveness.
Include a (very) short value statement.
Keep it short and sweet and maximize the impact of the value statement by highlighting the single-most important benefit a customer will realize when they own your solution. As an example:
Mediocre: We have a world-class solution which organizes your data into meaningful analytics that you can access anywhere.
Better: Companies like yours use our solution to supercharge their sales with crystal clear, actionable analytics.
Have you tried voicemail automation software?
Many inside sales calling solutions now offer an automated voicemail feature. Instead of re-recording each phone message from scratch, you can pre-record a message. It allows you to record the perfect voicemail in advance.
Practice your message at least 10 times.
Do you come off warm, likable and friendly? I've heard of Inside Sales Reps reciting their voicemail in front of a mirror and wearing a smile. Practice your B2B sales voicemail a few times and record it as well, so you can play it back.
Source: http://salesstaff.com/blog/how-to-leave-a-killer-b2b-sales-voicemail-in-6-simple-steps/
Publish Date: January 29, 2016 5:00 AM
---
Over the last few months, we've featured new content that addresses some of the most common B2B sales challenges faced by real-world sales and marketing teams.
Today we address the nuances of combining an outbound and inbound B2B lead generation tactics including their methods of generating sales opportunities – the strengths and weaknesses of each approach individually as well as in concert.
Many B2B companies struggle with the decision whether to pursue a strategy consisting of inbound or outbound B2B lead generation tactics. Each has advantages and disadvantages.
Download this 6-page whitepaper and infographic where we make actionable recommendations on:
Common strengths and weaknesses of outbound lead generation campaigns
Common strengths and weaknesses of inbound marketing campaigns
Bridging the two into a cohesive marketing strategy
Needed resources for a successful outbound and inbound strategy

To download the B2B lead generation tactics infographic and the companion whitepaper, click here: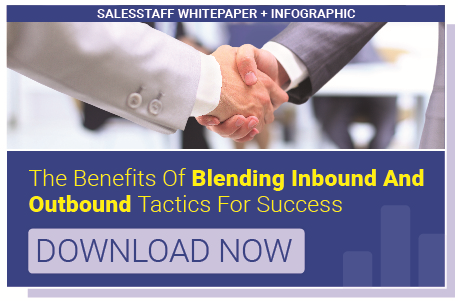 Source: http://salesstaff.com/blog/why-you-should-combine-inbound-and-outbound-b2b-lead-generation-tactics-infographic/
Publish Date: January 27, 2016 5:00 AM
---
"If you don't know where you are going, you'll end up someplace else." – Yogi Berra
What I like about Yogi Berra quotes is that they are generally self-evident and profound at the same time. This gem from the late, great Yankee catcher is especially applicable to the B2B sales profession. Your time is finite and what you do with it will dictate whether you're going to crush it this quarter or if you'll be playing catch-up for three weeks in March.
Work smarter, not harder. The maxim that all B2B sales pros need to make their mantra, because it's really easy to fall into the pit of circular activity that doesn't drive towards the goal. You can work smarter with a few easy tweaks to your workflow to help streamline your day.
A sales training company called The Brevet Group gathered together ten productivity tips for B2B sales pros in a decent little SlideShare. Maybe you'll find some of them actionable enough to incorporate into your workflow.
Source: http://salesstaff.com/blog/10-easy-tweaks-for-b2b-sales-pros-to-better-streamline-their-workflow/
Publish Date: January 25, 2016 5:00 AM
---
You ever have a date (or a friend) where they were just way too needy? Where they would incessantly ask for your time when it was unrequited?
There's a thin line between enthusiasm and desperation in the annals of social propriety and the same applies to selling. Being a B2B sales representative is a tough, but some rookie mistakes inadvertently show prospects a sense of desperation. It's a tough balance because sales reps are expected to make sales each month in order to hit quota. The burden can sometimes make them appear a bit too anxious with prospects.
A B2B Sales rep may not even realize that their giving off that desperation vibe. Here's a look at sales desperation and how to avoid these red flags.
Desperation Red Flags
There's a handful of red flags that can turn off a prospect:
Chasing deals that aren't going anywhere: Chasing a deal to the ends of the Earth is a surefire way to burn out a rep… as well as the prospect. It's terribly counterproductive. Know when to chase and when to call off the hounds.
Discounting too early: Nothing screams "I'm desperate" than continually slashing the price in order to get a deal closed. It leads the prospect down a path where they think they can get your solution for dirt cheap. You undervalue your solution and come off as desperate. Compete on value – not price.
Used car salesman high-pressure tactics: In the world of complex sales, the used car salesman tactics are obsolete. Be a trusted adviser and not a pusherman.
Pressing too hard for a meeting: This is subjective and you have to have a feel for the situation. You have to determine whether the prospect is giving you a "not now" or a "not ever" response which can be tricky. Solve it with a direct question like, "What exactly is giving you pause?" The prospect will usually reveal their hand.
How to Avoid These Red Flags
There are a few simple ways one can avoid falling into these red flag traps:
Stay away from the roller coaster: Keep your sales pipeline consistent, feeding it with new opportunities. This mitigates the neediness of having to close that one last deal. If your pipeline is consistently healthy, one 'No' is not the be-all-end-all.
Ask the right questions: If you've done your job and established rapport with prospects, they should feel comfortable enough to answer your questions honestly when you ask to gauge interest. When you ask simple, effective questions, the cat-and-mouse aspect of the sale vanishes.
Desperation reeks. Prospects can smell it a mile away. We're not saying that you shouldn't be aggressive – it's the hallmark of many a great B2B sales rep. But when you go from consultative to desperate, you put yourself at a huge disadvantage.
Source: http://salesstaff.com/blog/4-red-flags-that-a-b2b-sales-rep-is-in-desperation-mode-how-to-avoid-them/
Publish Date: January 22, 2016 5:00 AM
---
Getting to the root of a prospect's need on a B2B appointment setting call can be crucial. A rule of thumb when speaking to a prospect is to use the 80/20 listening rule. This communication rule dictates that you allow the prospect to speak 80% of the time while you speak about 20% of the time. Since you'll spend majority of your time listening to the prospects for cues, it's imperative that you use active listening skills so you can get a fuller understanding of your prospects' needs.
Have you ever been speaking with someone and attempted to restate what you heard only to be told that was not what they were saying at all? There was a communication gap between what you heard and what the speaker said. This discrepancy in a conversation leads to frustration and in many cases may cost you the advancement with the prospect. Using active listening skills is one way to successfully prevent these discrepancies and missed opportunities.
Let's discuss the 'why' and 'how' of developing active listening skills.
WHY should we develop active listening skills? Because we listen to others:
to gather information
to understand challenges and needs
Research suggests that we remember 25-50% of what we hear. Without strong listening skills, you can only hope that the most important facts are captured in that 25-50%. You can improve the odds by developing active listening skills through practice.
Next let's talk about HOW to develop active listening skills. Here are four key listening techniques to practice whenever you are speaking with a prospect whom has a B2B demand problem to improve your active listening abilities:
Pay Close Attention
While it may seem obvious, sometimes it's important to make a conscience effort to block out any distractions. Listen closely with the intent of fully understanding what the prospect is saying and the meaning behind their words. Are they indirectly alluding to some challenge you might solve? Blink and you might miss that one tidbit that you need to show value. Don't get distracted by what's going on in the office next to you or by whatever's on your screen at the moment. This is one I see all the time also… many inside sales reps get in a hole by thinking about their responses in advance – at the expense of listening to the prospect.
Use Words and Phrases of Acknowledgment
Let the prospect know they have your undivided attention by inserting confirming words like "okay" and "I understand" into the conversation. Unlike empty filler words ('Umm', 'Uh', 'Like'), acknowledgment words guide the conversation along. In a real life meeting, you would acknowledge that you're locked into the conversation with nonverbal cues, like head nods and eye contact. But on the phone, these words of acknowledgment take the place of nonverbal cues.
Feed the Prospects' Words Back to Them
Never assume you know what the prospect meant. If you're confused or need clarification, take a note and ask when they've completed their thought. "Mr. Prospect, you mentioned that technology integrations have historically been a problem for you. What exactly did you mean? Was there a time when an integration project fell flat?" Always begin with a quick recap of what the prospect has stated and end with a question.
Respond 'In Kind'
What I mean by responding 'in kind' is that your responses should be precisely connected to the statements of the prospect. I've been on the other end of sales calls where the rep glosses over what I've said to start explaining benefits. Were you even listening to me? You should address the prospects' main talking points with the intent to educate and inform.
Source: http://salesstaff.com/blog/4-habits-that-supercharge-your-active-listening-skills-on-b2b-appointment-setting-calls/
Publish Date: January 20, 2016 5:00 AM