A security question for organizations: 'Passive or Active Voice Authentication?' - Sestek - ContactCenterWorld.com Blog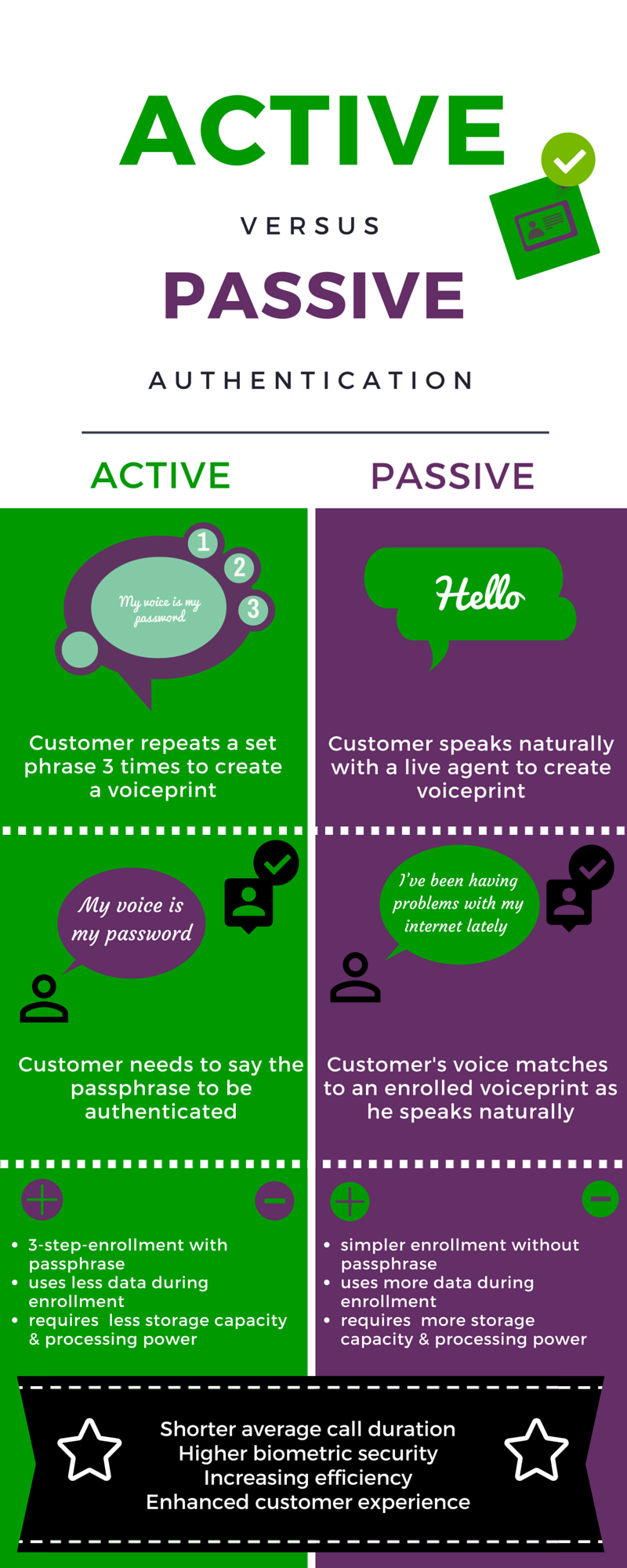 As a result of hundreds of successful implementations from various industries today organizations do not question the value of voice biometrics technology. Bu they still need to answer an important question as they decide to use the technology: "Which authentication method: passive or active?"
To make a simple distinction; active voice biometric identity verification requires a set passphrase for enrollment and authentication while passive voice biometric identity verification authenticates customer identity during the course of a natural conversation. With active authentication users are verified by speaking a fixed passphrase through their engagement in an IVR system. On the other hand, passive authentication verifies customer identities during a live conversation with a customer representative or call center agent.
Even though each method includes pros and cons when compared; both of them make remarkable contributions to organizations by providing high biometric security, shorter average call duration, increasing efficiency and enhanced customer experience.
While making a decision among two verification methods; organizations need to take into consideration not only their organizational goals but also customer expectations. For example organizations which adopt a self-service oriented approach can prefer active authentication whereas organizations which provide customer services via live agents can prefer passive authentication. Two methods can also be combined in different service levels of organization.
Whichever method they choose, organizations need to put their customer first and at the core of their business. They need to understand their customer and design the services accordingly in a way that maximizes customer experience. They also need to evaluate customer feedback continuously to provide a consistent and improving service.
Source: http://www.sestek.com/2015/11/a-security-question-for-organizations-passive-or-active-voice-authentication/
Publish Date: November 23, 2015 5:00 AM
---
PREMIUM

HigherGround, Inc.
(VIEW OUR PAGE)

HigherGround develops data collection, information storage, and interaction analytics solutions that easily transform data into actionable intelligence, enabling operational optimization, enhanced per...

(view more)

PREMIUM

Avizent Ltd
(VIEW OUR PAGE)

Advanced AI technology and Natural Language Processing delivered to clients in the Cloud that harnesses both voice and digital conversations. The focus is on building an environment where intelligent ...

(view more)

PREMIUM

CTI Software
(VIEW OUR PAGE)

CTI Software is the creator of custom application called Davos, which complements the telephone client solutions with intelligent features such as automated call attendant, call recording and archivin...

(view more)
---
View more from
Sestek
Recent Blog Posts:
| | |
| --- | --- |
| Using Voice Biometrics in Law Enforcement: Audio Forensics | January 20, 2019 5:00 AM |
| Engage with Your Customers Smartly: Use the Power of Conversational Technologies | December 4, 2018 5:00 AM |
| Fighting Against Call Center Fraud with Voice Biometrics | November 13, 2018 5:00 AM |
| Enjoying Self-Service Benefits with Speech Enabled IVR | August 15, 2018 5:00 AM |
| Four Steps to Providing the Virtual Assistant Your Customers Ask For | September 5, 2017 5:00 AM |
| Introduction to Chatbots | May 2, 2017 5:00 AM |
| Top Technology Trends in 2017 and their Intersection with Speech Technologies | January 19, 2017 5:00 AM |
| Yin-Yang in Customer Interactions | November 28, 2016 5:00 AM |
| Correcting some misconceptions about Voice Biometrics for Forensics | November 9, 2016 5:00 AM |
| Speech Analytics at SESTEK | November 9, 2016 5:00 AM |