Simply66 - ContactCenterWorld.com Blog
As our infographic below shows, statistics suggest some small businesses may be falling behind when it comes to marketing their business in the online world.
Online marketing – including social media – has made it easier than ever before to interact with your target audience, and our infographic outlines how and why businesses engaging with their customers is now so important.

REMEMBER:
You can share this infographic on your social media channels by selecting any one of the widgets on the left hand side of the page!
Source: https://simply66.co.uk/98543/all/1/are-small-businesses-giving-online-marketing-attention.aspx
Publish Date: September 2, 2015 5:00 AM
---
In a working environment increasingly driven towards speed, efficiency and flexibility, customer expectations are progressively becoming more demanding.
There's no room for letting slip and providing customer service below par, because with the amount of choice out there for customers now it could severely hamper your chances of success.
Small and growing businesses are constantly on the go and trying to find new ways of keeping up with their customers' expectations – and one simple way of doing this is through businesses effectively managing their call flow, because in a small or growing company it's not always an easy task.
Our infographic below highlights some of the ways businesses can take advantage of new technologies available today to successfully conquer their call flow management.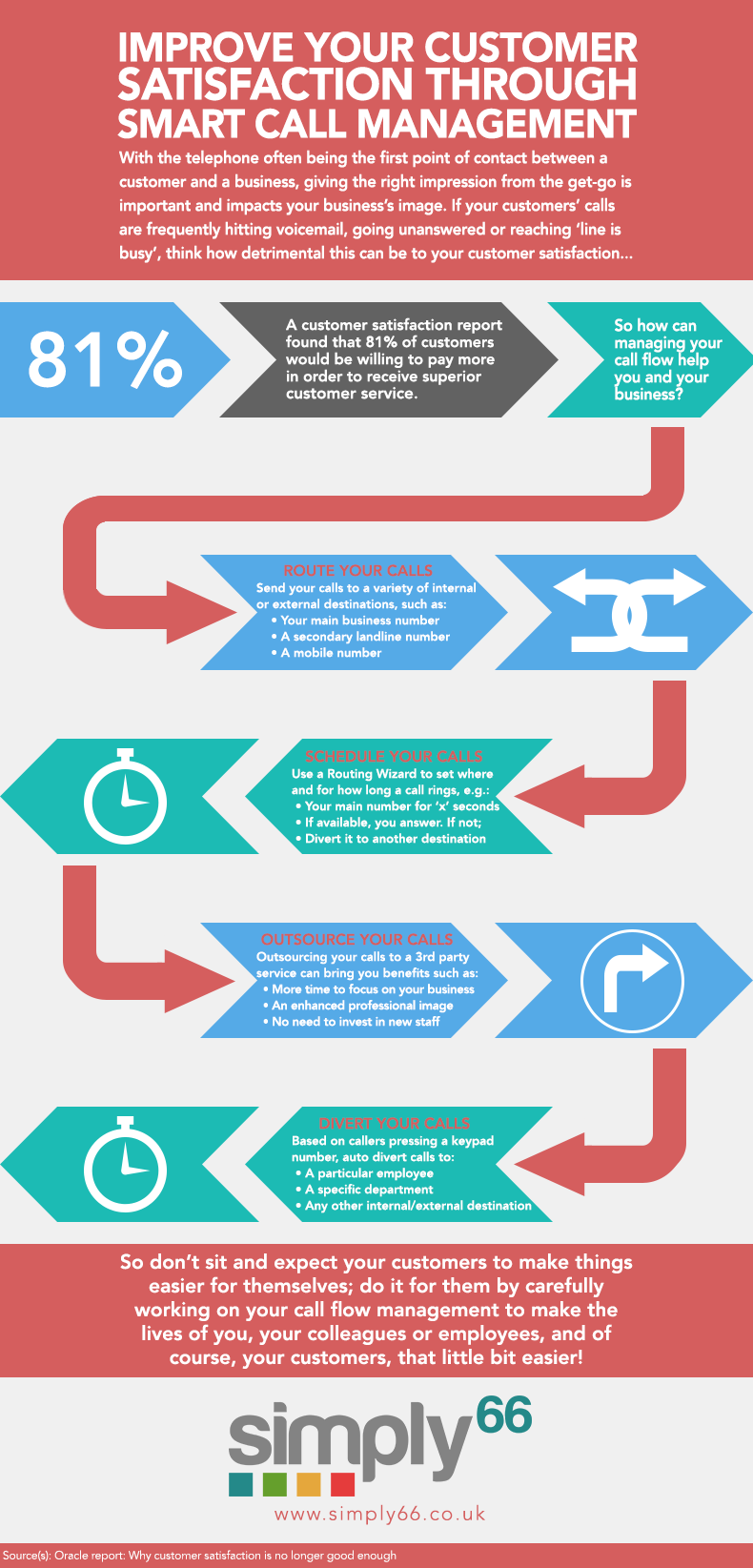 Don't forget, you can share this article with your friends and followers using the social tools on the left hand side of the page!
Source: https://simply66.co.uk/98483/all/1/how-managing-your-call-flow-can-improve-customer-satisfaction.aspx
Publish Date: July 17, 2015 5:00 AM
---
Meeting the expectations of your customers on a customer service level is the crucial ingredient when it comes to providing a pleasant experience for them.
As the infographic below demonstrates, the customer experience most definitely matters – even more so than the quality or price of a product in many cases – and the price for failing on this front can be costly to businesses...

Don't forget, you can share this article with your friends and followers using the social tools on the left hand side of the page!
Source: https://simply66.co.uk/98443/all/1/customer-experience-potential-cost.aspx
Publish Date: June 23, 2015 5:00 AM
---
Put yourself in the shoes of your customers.
You have a problem with a service you're paying for and need to speak to the company providing it. You call them and get no answer; so you wait 10 minutes and call them again. Once again there is no answer.
You try to call again only for the process to repeat itself, so by this point you're gradually losing patience. Finally you get through to someone who answers your call, clearly flustered because they're busy multitasking, which results in them not dealing with your enquiry in the most professional or timely manner.
This consequently leaves you feeling disappointed at your customer experience, while from the company's point of view their reputation has been damaged – even if it is seemingly just a scratch on the surface because it's "only one customer".
However, did you know? That 95% of consumers have taken action as a result of a negative customer experience, while 79% have told others about a negative experience – so even if it is just 'one' customer it could do more damage than you think.*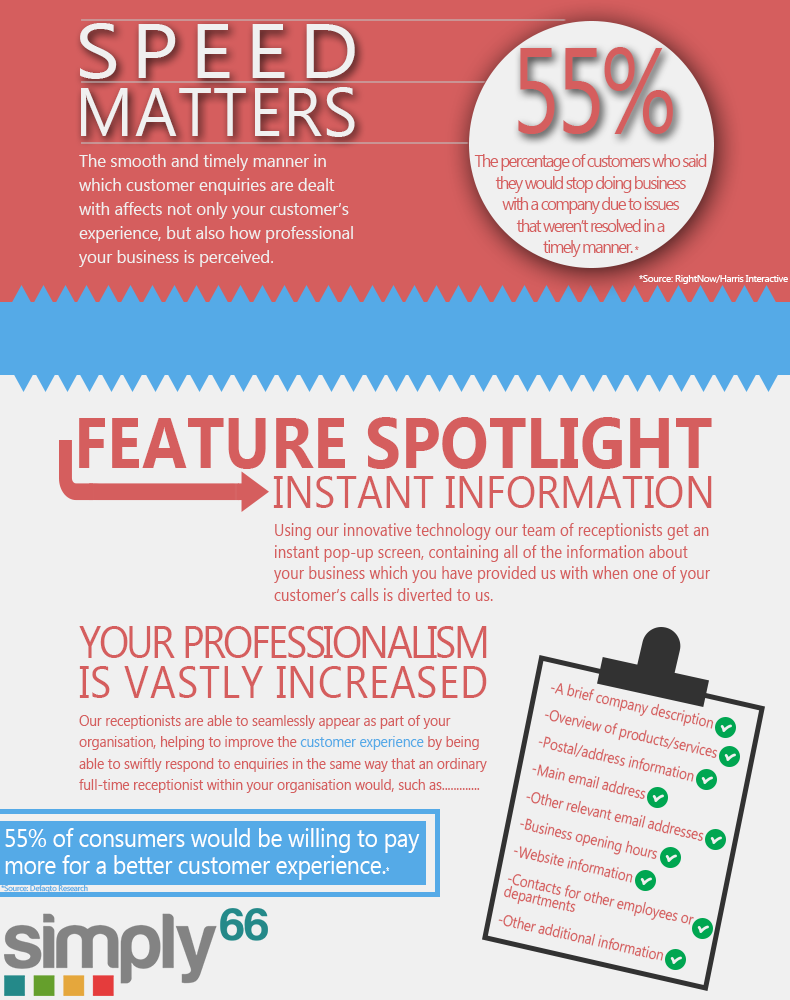 *RightNow 2010 Customer Experience Impact Report.
Source: https://simply66.co.uk/98393/all/1/keeping-your-customer-service-upto-speed.aspx
Publish Date: June 5, 2015 5:00 AM
---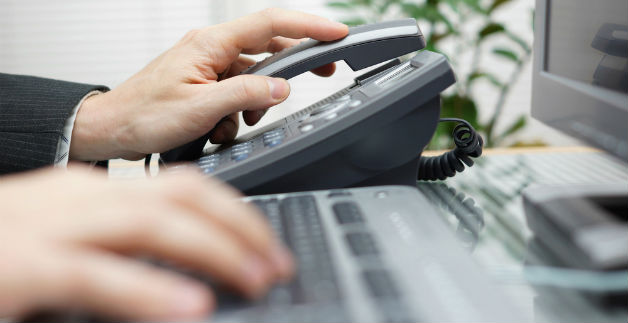 If your organisation uses a 'non-geographic' service number for people to contact you – that's one beginning 08, 09 or 118 – you need to be aware of major changes to how these numbers are charged.
Ofcom state that, "The unbundled tariff will ensure consumers can know, for the first time, how much of their money is paid to their phone company and how much is passed to others, such as the organisation or service being called. It will require that, instead of paying a single charge to their phone company, they will pay two separate charges:
the Access Charge: which will be paid to the phone company which originates the call; and
the Service Charge: which is paid to the phone company which terminates the call and may be shared with the service provider, i.e. the company providing a service using the number (a bank for example), to cover or contribute towards their costs."
If you have a Soho66 non-geographic number (0845 or other chargeable 08 numbers), we will have recently emailed you to advise you of the updated charges, coming into affect from July 1st onwards.
You must ensure that your customers are made aware of these updated charges when calling your number, for example by stating, where you advertise your number, the clear breakdown of costs involved.
Should you have any questions or concerns regarding this, you can visit this helpful website: http://snip.ly/sBQ5 or the Ofcom website which explains the upcoming changes: http://stakeholders.ofcom.org.uk/telecoms/policy/non-geo-call-services/
If you are yet to receive an email concerning your non-geographic Soho66 number, please don't hesitate to contact us on 03333 443 443, and one of our Technical Support Team will be happy to talk you through things.
Source: https://simply66.co.uk/98413/all/1/non-geographic-call-charges.aspx
Publish Date: June 5, 2015 5:00 AM
---

We've all heard the saying "put up or shut up" before. There are times when you simply need to swallow your pride and apologise, or at least get your side of the story across, while there are others when it's best to just say nothing at all and continue to go quietly about your business.
These principles are never more apparent than when it comes to customer reviews. Customer reviews play a crucial role in the buying process, with more than 60% of customers on average said to read online reviews of a product or service before they decide whether to make a purchase.
When you're on the receiving end of a good customer review it's pleasing to hear that you're obviously doing something right, and it can be courteous to sometimes leave a small reply thanking the customer for taking the time to leave the review and that you're delighted they are happy with the product or service.
However, when you receive a negative review, thinking about how to deal with it requires a bit more consideration.
On the one hand you want to respond so any potential customers reading your reviews can see your side of the story, while on the other you just want to keep quiet and hope it sinks down the page into oblivion.
So when might it be appropriate to reply to a negative customer review?
When you really were at fault
Customers will appreciate it if you are able to recognise when you are at fault by acknowledging it and offering your apologies – while not forgetting to firmly state it won't happen again so you are putting a positive spin on it and giving the customer reassurances they can still trust you to deliver. By doing this you're showing you are actually human and not just a 'faceless' organisation out to take their money, while also demonstrating the confidence you have in your product or service.
When you think the customer may have got the wrong end of the stick
If you find a customer has left a review whereby it's clear they haven't fully understood a situation, there's nothing wrong with politely butting in to explain it to them and put them right. For example, say if a customer wanted to return a product and your returns team informed the customer that in order to return it and issue a refund they must first authorise their details for security purposes, which they fail to do and then leave you a bad review stating your company is not willing to process the return, it would be careless to leave this be without replying. The chances are they won't have realised their mistake and perhaps missed the correspondence whereby they were told they must authorise their details – while any visitors to your reviews page will be able to see your side of the story.
When the reviewer is bending the truth
Some customers might sometimes change or leave out certain facts of their experience with your business in order to deflect the blame of a situation. You will of course need to be certain this is the case, and when you are, you should reply to once again put your side of the story across. For instance if a customer was to lodge a complaint about something and then leave a negative review stating you weren't willing to help rectify the situation, before actually giving you reasonable time to investigate and amend the wrongdoing, you shouldn't be afraid to step in and emphasise that your team were confident they could have brought the issue to a satisfactory conclusion had they been given the appropriate time to do so.
In the meantime if your team has had the opportunity to investigate the issue it would be worth inviting them to contact you so you can explain this to them – it will demonstrate to other customers that even after negative publicity you're willing to go the extra mile to settle an issue.
When the review has the potential to grow in reach
In these circumstances it's likely to be a case of damaged limitation, as you must be able to identify when a negative review has the legs to grow and get out of control. If you identify the reviewer as having a considerable social presence or they appear to be seen as an 'authority', you need to ensure you swiftly step in to stop it in its tracks and prevent a snowball effect. In this day and age social media gives just about anybody a free platform to broadcast their experiences and feelings, so nipping things in the bud before a wider audience is reached can be pivotal in protecting your reputation.
Final thought...
Fundamentally you should keep responses to reviews of this nature as brief as you possibly can, especially when they're in the public domain because the last thing you want to do is go in with good intentions but then end up adding fuel to the fire.
Negative reviews shouldn't always automatically be perceived as a disaster either, a positive way to look at them – unless particularly damaging of course – are a free means of conducting customer research. Information you gain from these can be invaluable and the best bit is you haven't had to invest any time or work into obtaining the findings. You should see them as an opportunity to gain an insight into what you're doing well, what you aren't doing as well as you can be and how or why you should improve something.
Source: https://simply66.co.uk/98363/all/1/etiquette-responding-negative-customer-reviews.aspx
Publish Date: May 19, 2015 5:00 AM
---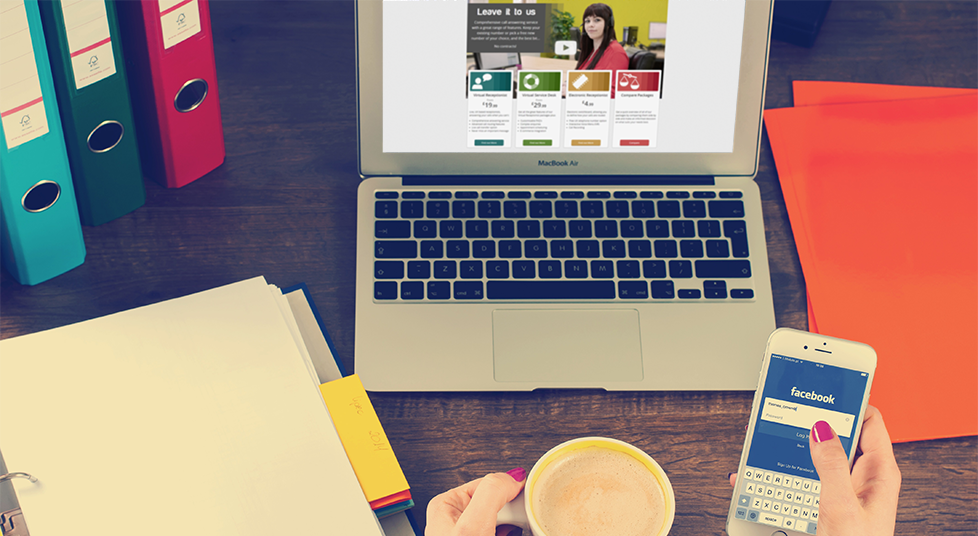 The simplest rule of thumb when it comes to understanding your customers is a happy customer equals a returning customer.
And yes, while the most important thing when it comes to keeping a customer happy is the level of service you provide, in the modern day customers are increasingly wanting or even expecting more.
They want you to be available when they need you; they want you to answer your calls when they call you; and, they probably even expect you to have a social media presence so they have an informal and quick way of communicating with you, connecting with your other customers, and keeping up to date with news and promotions.
Encouraging your customers to market your service for you
Your customers should be one of your biggest assets, in that if they are happy with the service they get from you they're more likely to recommend you to friends, family or business associates.
This generates referral traffic and is essentially a free method of advertising. Many businesses actively promote and encourage referral schemes, offering current customers who refer someone to you a financial reward or discount of some sort.
But ultimately you must be able to deliver on the customer experience side of things, too, because customer satisfaction will determine whether: a) your customers come back to you; and b) whether they will recommend you.
This puts a large emphasis on customer service and being able to get the basics right, because failing to do so can have a severely detrimental effect on your reputation.
What you should consider
Time to respond
The time you take to respond to customers, whether it be the time it takes you to answer a call, the time it takes to reply to an email, or even the time it takes you to return a customer's call after they've left you a voicemail, is one of the most basic things you must get right.
The business world today is fast-paced and instantaneous, and the least customers expect of you is to be able to respond to their calls or queries promptly. While it may seem minor, it demonstrates you care and that's what customers want to know so it goes a long way to building a positive business-customer relationship.
Way in which you respond
On top of responding to your customers in a timely manner, your customers will also expect you to handle their queries in a professional and accommodating manner which is befitting for the image you want your business to present.
Building rapport with customers and easily being able to identify customers' needs will ensure the customer is satisfied that they are being dealt with properly and that they're dealing with a reputable company with strong values when it comes to providing customer service – ultimately increasing the chances of them buying from you again and recommending you.
Being able to fulfil the customer's needs
A large part of being able to fulfill customers' needs comes down to being organised and prepared. One simple and effective way of doing could be to simply manage your diary, so you have concrete reminders in place to remind you of a task – it could be something small such as remembering you scheduled a call-back to a customer or something more 'important', such as a meeting you might have arranged.
It's also wise to carefully think about what you can deliver on, before you go making any claims. For example, don't boast on your website that every call will be answered at the first time of ringing if you can't because as a rule when it comes to customer service, it's always better to over-deliver on your customers' expectations as opposed to under-delivering.
If you go the extra mile for your customers it's of course excellent and will, in all likelihood, go some way to setting you apart from your competitors, however, if you fail to get the basics right it's ultimately going to be a waste of time.
Source: https://simply66.co.uk/98293/all/1/why-building-good-customer-relationships-can-be-good-for-your-marketing.aspx
Publish Date: March 31, 2015 5:00 AM
---
Missing a business call is not like missing a personal call. Rather than wait to call you back, a business caller is far more likely to move on and try to contact another company, meaning you are in severe danger of losing business to a competitor.
BT Business recently surveyed 1,500 business people to find out the impact missed calls is having on businesses.
We took the findings from the survey to create an infographic which outlines the percentage of people who told how missed calls impact their business.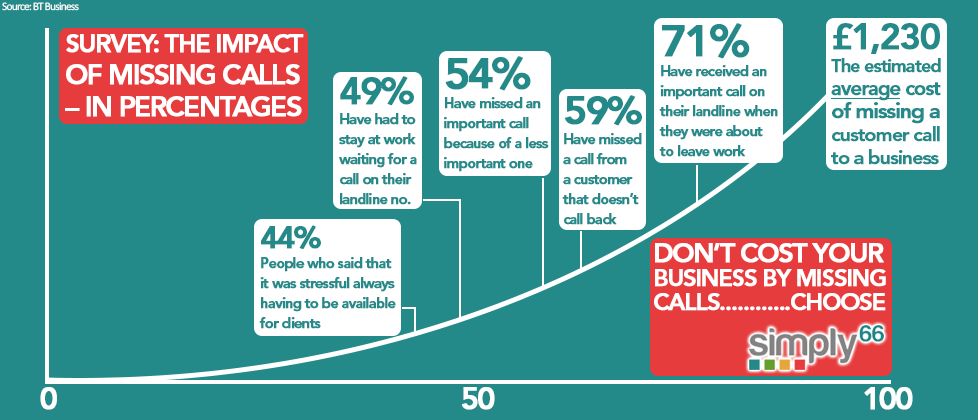 So if you haven't considered the impact missed calls may be having on your small or growing business, perhaps now is the time to do so before your competitors steal any more business from under your nose!
Source: https://simply66.co.uk/98083/all/1/impact-of-missing-calls-in-percentages.aspx
Publish Date: March 4, 2015 5:00 AM