Sitel - ContactCenterWorld.com Blog
While managing customer experiences and creating positive interactions between brands and their customers is important throughout the year, it's especially critical during the holiday season. Retailers must handle shopping influxes while delivering seamless experiences for their customers. Whether they're connecting in the store or with contact center agents over the phone, each consumer touchpoint is fundamental in creating long lasting brand loyalists. This is why we partnered with Fonolo, the leader in cloud-based call-back solutions for contact centers. Fonolo's "In-Call Rescue" solution helps our customers to improve the overall experience for callers.
In-Call Rescue is an enormous time saver for customers who don't want to "lose their spot" in the call queue, but who also need to handle life's other demands in the interim.
How it works
After a designated amount of time, the In-Call Rescue solution gives consumers the option to schedule a callback or stay on the line. Customers who select a callback simply hang up the phone. Fonolo then waits in the queue for them, as if they remained on the line. Additionally, customers can schedule a time to receive the call-back, ensuring they are ready when the agent calls. This flexibility allows contact center agents to handle call activity in a more manageable manner and gives customers the freedom and flexibility to connect with agents when they want.
"On a customer level, we all know the frustrations of waiting on the phone for a service representative to help us solve an issue, and oftentimes we're on hold for an extended period of time," said Chip Heineman, VP, Global IT Solution, Sitel. "Our partnership with Fonolo enables us to provide our clients around the world with the sought after service of In-Call Rescue, which supports putting the customer's needs, convenience and efficiency first. Additionally, Fonolo's Web Rescue and Mobile Rescue functionality, which allows a customer to request a call-back from a non-voice channel, adds value to our digital clients. Not only is Fonolo's technology a great asset to improve call center efficiency, this technology adds tremendous value to every brand's customer engagement and support journey."
Launched in March 2017, the partnership has added service value to Acticall Sitel Group's retail clients. One particular client (a large online and on-premise toy retailer) who began using In-Call Rescue as a way to prepare for the holiday shopping influx saw abandonment rates drop more than 35 percent and service levels improve more than 20 percent.
"To see such significant success from this partnership is extremely rewarding," said Shai Berger, CEO, Fonolo. "It's always positive to hear that our solutions are making customers happy, but the true value of the product is in its ability to deliver quantitative ROI for organizations, and we hope to continue these achievements in our future projects together."
Not only has Acticall Sitel Group leveraged Fonolo for their retail clients, but the tool has also proven to be a vital customer experience component for companies across every industry and vertical. The Group expanded their partnership with Fonolo to support a large credit reporting company who experienced a significant influx of call activity. During this spike in call volume, the partnership helped to manage more than 12 thousand call-backs.
To learn more about our partnership with Fonolo, read the press release here.
Source: http://www.sitel.com/blog/acticall-sitel-group-partners-fonolo-improve-customer-experience/
Publish Date: December 13, 2017 5:00 AM
---
With our expansive global footprint, Acticall Sitel Group has a unique opportunity to make a positive impact on each of the local communities in which we serve. Our associates consistently look for ways to improve the lives of those in their communities through community service. Whether it's painting a school building, organizing a drive or raising funds, we make a difference one experience at a time.
Back to School Supplies
Sitel India
With donations from associates, Sitel India recently donated backpacks with school supplies for more than 500 unprivileged children of Mumbai and Hyderabad. In India, many children in low economic situations do not have easy access to education. Often, their families are not able to afford basic school supplies for their kids – making back to school a real struggle.
"We are proud to help out these kids and take the burden off their parents," said Mary George, HR Generalist, Sitel India. "We are very proud to see the children wearing the Acticall Sitel Group logo on their backpacks! Supporting them with their education is invaluable for us."
Sitel Philippines
Sitel Philippines supplied the school needs of 100 children of Aeta's Children Home (ACH) through Project Tenfold Circle, a non-profit organization founded by Sitel associates back in 2009. ACH houses and provides education for 150 kids from the Aeta tribes, indigenous people who live in isolated mountainous parts of the island of Luzon, in the Philippines. ACH's funds prioritize food and health, so education needs are not always their top priority. This is where Sitel associates' donations make a huge difference.
"For more than five years, we've been helping Filipino children through our ACH efforts," said Fox Llante, President and Co-Founder of The Project Tenfold Circle and Learning Manager, Sitel. "We have been doing so in different ways – providing school supplies, running hygiene classes and art sessions, distributing hygiene kits and for the fourth time in recent history, we completed our Basketball Clinic. This effort has, in fact, moved outside ACH to the nearby community where an access to potable water supply was also provided to benefit more than 50 families. This year, we are working on building a Reading Center made up of eco bricks – plastic water bottle stuffed with plastic waste. In all these projects and more, Sitel associates were our constant supporters and, sometimes, our field volunteers too. We couldn't have done it without everyone's help."
Sitel in the States: Sitel Amarillo, Sitel Bartlesville, Sitel Norman, Sitel Knoxville
Every year, many of Sitel's U.S. sites also mobilize to give back to the community through back-to-school programs. This year, our sites in Amarillo, Bartlesville, Norman and Knoxville helped more than 500 kids with school supplies. One of the organizations we partnered with is Maverick Boys and Girls Club, which provides child care to low-income families in the community. Sitel Amarillo has a long-standing relationship with the Maverick - for the last three years, they have volunteered every other Friday during the summer. For this year's school supply giveaway, more than 300 children received a substantial amount of school supplies.
"Education is the key to the future for every community," said Paul Petersen, Site Director in Bartlesville. "Regardless of where you come from, having support and encouragement at an early age makes all the difference. It is imperative we do everything we can to get the tools to the people who support them," said Virginia Ellis, Learning Manager at Sitel. "Seeing the smiles on the children's faces when they came to get their school supplies meant so much. The community knows that Sitel cares about the important things in their lives."
Sitel Nicaragua
Sitel Nicaragua has supported several charitable organizations since it began operations in the country. During a visit to one of the orphanages Sitel supports, our volunteers learned that three young ladies who lived in the orphanage just started attending university. Sitel donated three laptops and accompanying school supplies to these ladies to help out with college.
"This is a small gesture in the hope of big changes in the community," said Elmer Bervis, Site Director, Sitel Nicaragua. "We truly understand what it's like to struggle for a better life. We know doing something even this simple can help out in a big way."
Acticall Sitel Morocco
Our most recent activity was in Morocco where funds were raised by associates which were matched by Acticall Sitel Group to purchase backpacks filled with books and school supplies. These were donated to 200 children of a local school in a partnership with Enfance Magreb Avenir (EMA). EMA intervenes in public institutions to improve the conditions of schools and provide children with a healthy, clean and beautiful school environment which encourages them to complete their studies.
"Our associates had the opportunity to spend some quality time with the kids, learn the reality and their dreams and inspire them when we distributed the supplies," said Fatima-Zara Bahoum, Communications Manager. "It was a really special experience," added Ilham Mouhriz, Morocco Human Resources Director, who initiated this idea.
Source: http://www.sitel.com/blog/acticall-sitel-group-supports-students-around-globe/
Publish Date: November 15, 2017 5:00 AM
---
In late October, Sitel sponsored and attended the Customer Experience Management in Telecoms - North America event in Atlanta, Georgia. The event, which focused on customer experience for telecoms, hosted speakers from leading telecom companies including AT&T, Cable & Wireless Communications, Orange™, T-Mobile and Verizon among others.
The two-day event highlighted the importance of customer experience and the potential gains when operators excel at customer service. A wide range of insights were shared focused on driving customer centricity through digital disruption and transformation. Acticall Sitel Group's Gordon White, General Manager, The Social Client, spoke about the importance of trust in customer experience.
While the event had many significant takeaways, below are three key insights that drove the conversation.
1. Building a highly engaged brand culture leads to improved CX
Brands are looking for ways to improve their customer experience, reduce attrition and improve CSAT. But, those are just the results of the vast activities brands must focus on if they are to reach successful KPIs. Some of the world's leading telecoms have found success when they placed their attention on building a customer-centric brand culture. In fact, several of the event's keynotes focused on a brand's necessity to provide an unforgettable omnichannel experience in a highly competitive market. The recipe is simple: The C-suite must be customer obsessed, listen to its associates and build a customer-first culture. By doing so, everyone – internal and external stakeholders – will benefit. This may include empowering associates and holding them accountable for driving positive customer experiences, investing in learning and development activities and providing top-notch onboarding experiences.
2. Trust is key in the sharing economy…and for your customers
Airbnb. Lyft. OfferUp. WeWork. Venmo. These are just a few of the many platforms operating in today's Sharing Economy – an ecosystem in which assets or services are shared between people via online marketplaces with tremendous transparency. Not buying it? Just ask Venmo's news feed when you send someone money.
So where does trust come in?
The sharing, or trust, economy is on track to becoming a $335 billion industry by 2025, and it is primarily driven by trust. People trust these platforms will provide the services they ask for, exactly as they want it and when they want it. Unfortunately, trust in brands is tougher to come by.
"Trust is a challenge for brands when 42 percent of Americans find brands and companies less truthful today than 20 years ago," said White during his keynote. "The telecom industry, in particular, is ranked fourth for 'trust' out of eight industries according to Edelman's 2016 Trust Barometer."
People are finding that a brand's content can be inauthentic, websites are inundated with ads and consumer perception is that brands are focused more on profits than on doing what's right for their customers.
One way some brands have helped improve trust is by building online communities and engaging in dialog and a mutual value exchange with their customers.
"People trust recommendations from others, even people they don't know, over branded content," said White. "It's one of the reasons online communities are important."
A client in the telecom industry created an online community where super users became brand ambassadors and provided customer support on behalf of the brand. The community grew by an average of 9,000 new monthly members and drove an 83 percent self-help rate. The best part? The brand ambassadors were not employees of the brand – they simply had a passion to support the brand and help others.
3. Finding the right balance between human interaction and AI
The arrival of AI and chatbots have already transformed the customer experience industry. The best ones are able to deliver experiences that customers are not able to differentiate between humans or computers. However, is human interaction required in today's world? Absolutely. Though many organizations utilize virtual customer assistants and natural language processing to address some of the most common customer needs - and bring in human agents when necessary. There is no perfect equation, but continued innovation, personalization and scalability will enhance the customer experience.
While technology continues to evolve the way brands drive the customer experience, Sitel partners with many of the leading global telecom operators through a mix of digital channels, learning solutions and customer experience management.
To hear more insight from the event or to have a general discussion about end-to-end customer experience solutions, contact us.
Source: http://www.sitel.com/blog/three-takeaways-cem-telecoms-north-america/
Publish Date: November 1, 2017 5:00 AM
---
Recent mobile technology progress has given us a spirit of freedom and an increased desire to do what we want, when we want and where we want to do it. And, while we tend to associate this digital nomad mentality with Millennials, it is gradually gaining a foothold among all generations across nearly all types of jobs.
Flexible working hours, being able to work away from the office and a better work-life balance…tele-working was first introduced in 1970 in California and has been variously relabelled as e-working, work at home or even homeshoring in the customer experience marketplace - so it is not a new model per se. But, thanks to more effective Information and Communication Technology (ICT) and more secure data, a growing number of businesses are coming around to the idea and recognizing its strategic value.
The model is spreading, mindsets are changing
Around 25 percent of the American working population now work from home, placing the phenomenon firmly in the mainstream and reflecting changes in society's usages and the way it manages its time.
According to FlexJobs.com [1], 60 percent of Generation Y consider that they work better from home than in an office and 82 percent express greater loyalty and trust in an employer that allows for more flexible practices. Younger employees are increasingly shunning rigid work organization structures and their lack of creativity. Teleworking challenges this organization by fostering a new mindset and relationship with a company – and with work itself – that is underpinned by trust.
A win-win model
This new managerial culture is increasingly present in big corporations. In fact, 10 percent of Fortune 500 companies already have teleworking arrangements and FlexJobs reported an 11 percent rise in the number of e-working job offers in 2016.
In 2016, Global Workplace Analytics (GWA), international consultants in flexible working practices, reported that businesses could generate annual savings of $11,000 per associate if they allowed half of their workforce to work from home - and associates could save between $2,000 and $7,000 in transportation costs alone.
More flexible hours, shorter commutes, lower transport costs, simpler childcare arrangements, better work-life balance and enhanced productivity – the benefits of having less stressed "Work at home agents" are fairly obvious. And there are no shortage of positive results for companies either: 80 percent of employers report teleworkers are more motivated resulting in better qualified and more loyal associates coupled with lower costs, an average 22 percent rise in productivity and a 2.5 percent increase in working time [2].
The current success of e-working arrangements is being driven by changing mindsets which are redrawing spatial-temporal boundaries in the world of work and its related management models. However, this logistical and structural transformation would not be possible without technological innovation. When this model is used and applied effectively, it can be a fantastic strategic development and business performance opportunity.
Three Questions with Marcy Payne, VP, Operations, Sitel Work@Home Solutions
1. What is the strategic thinking behind Sitel's Work@Home Solutions?
Our aim was to change the ground rules in order to achieve a better fit between the needs of businesses and those of the young associates we hope to retain into the future. We wanted to be at the cutting edge of changing practices and to keep on adapting to change. And our Work at Home mode is exactly that – a change enablement program!
2. What are the key factors that differentiate your Work at Home solution from a more traditional model?
Aside from its solution for dealing with the peak demands that brands have to contend with, Work at Home also factors in the highly specific and local – and sometimes very costly – needs of brands. Without increasing our costs, we are able to work with more loyal associates with specialized skills in terms of languages spoken, expertise and availability because we have removed the constraints linked to employment areas that continue to affect contact centers. Our agents are older, 85 percent have a college degree and 40 percent have had some management experience.
3. What are the risks that still make certain brands reluctant to work with Work at Home and how do you handle this?
While there are many advantages to the teleworking model, there is also a risk of isolation. Our Work at Home's communication solutions seek to mitigate such risks by favoring direct, rapid and ongoing communication between the company, associates and their colleagues. We are constantly conducting surveys of e-workers and devising initiatives to keep them closely involved. For example, on a day-to-day basis, they stay in touch thanks to gamification modules and are immersed in our corporate culture via interactive communication applications such as chat, video conferencing social media platforms, etc.
Click here to learn more about Sitel's Work@Home Solutions.
[1] International platform dedicated all types of flexible jobs
[2] Source: Working Anytime Anywhere, a research report published jointly by Eurofound and the International Labor Organisation in February 2017.
Source: http://www.sitel.com/blog/sitel-workhome-solutions-three-way-win-society-businesses-associates/
Publish Date: October 13, 2017 5:00 AM
---
Why organizations of all sizes are turning to outsourced customer experience
– and why you should, too
With technological advancements, global reach and highly connected customers, companies have turned to business process outsourcing (BPOs) to enhance their customer-care experience. In fact, by 2020, customer experience will overtake price and product as the key-brand differentiator (source: Walker).
Top 3 Reasons Companies Find Success in Outsourcing
Cost Savings
Historically, customer service has been a substantial expense for organizations due to the amount of time and manpower required to manage high-volume contact centers. Companies must consider salaries, benefits and consistent training programs. In addition, advances in technology may require systems to be frequently updated to meet market compliance.
Increase Efficiencies and Market Competitiveness
Outsourcing customer service is an effective way of maintaining efficiencies during peak calling times as contact centers are equipped to quickly ramp-up and absorb demanding call volumes. In addition, organizations can to leverage a global knowledge base with access to world-class capabilities unavailable in their current market.
Prioritize Growth by Outsourcing Complex Processes
Companies grow when they can focus on their core business while delegating time-consuming processes. Outsourcing such operations allows them to free up internal resources that can best profit the company while mitigating risk.
Where to Outsource: Onshore to Botshore
The business process outsourcing industry has evolved with companies looking for ways to drive transformational change and improve business results. To meet growing demands, Sitel has five delivery capabilities:
Onshore Outsourcing: Sometimes referred to as "domestic outsourcing," onshore allows companies to obtain services outside the company but within the same country. This is an ideal solution for companies who require proximity to BPO resources, legal jurisdiction or other company-specific needs. Sitel's 20+ onshore locations in North America provide such services for a range of Fortune 500 companies.
Nearshore Outsourcing: Outsourcing services to nearby countries, from Mexico to Brazil and many countries in between, allows companies to easily travel and communicate with the various centers. Sitel's 10,000+ associates throughout Latin America speak multiple languages and can easily meet company demands in neighboring countries.
Offshore Outsourcing: Some of the world's biggest brands have partnered with Sitel to take advantage of its offshore capabilities. In the Philippines, Sitel has more than 22,000 associates who provide high-quality service for outstanding customer experiences.
Work at Home: Companies that depend on planned and unplanned peaks in their business can benefit greatly from Sitel's highly skilled and multi-language Work@Home agents.
Botshore: A growing trend is the use of a chatbot to manage the customer experience. In fact, 80 percent of businesses want to utilize chatbots by 2020 (Business Insider, 2016) with a growing number of businesses already seeing higher retention and conversion rates. Sitel's Botshore capabilities are positioned to help drive your business strategy.
Do your customers need assistance at times you can't provide? Are you equipped to handle planned and unplanned peaks or seasonality? Do you require agents who speak multiple languages? Customers may want a service that current resources can't provide, which can lead to poor customer experiences and profit loss.
Our global strength and capabilities allow us to provide you with the right customer care to meet your company's demands. Contact us today to discuss your options.
Source: http://www.sitel.com/blog/outsourcing-customer-service-best-geography-best-shore/
Publish Date: October 4, 2017 5:00 AM
---
Visiting London is always exciting but this time I had one special reason for the trip. I am just returning from Facebook's London headquarters where we (Acticall Sitel Group) co-hosted an event dedicated to discussing how Messenger and other messaging apps are reshaping Customer Care from Contact to Conversation hubs. It was a unique opportunity to learn from the insights and experiences of prominent thought leaders and experts like Julien Decot, Sarah Burnet, Thomas Rudelle, Vanessa Boudin-Lestienne, among others.
To give you a brief taste of the discussions that took place, I summarized my Top 2 most memorable takeaways from the event. I hope they are as useful and inspiring to you as they are to me.
Real Connections Can Never be Replaced by Technology
This statement should make us pause and reflect about today's innovation paradigm — especially considering it is coming from a Facebook fellow. Technology is abundant and talked about all of the time; but Julien Decot's view is that technology's mission, including his own platform, is to help build connections, not to replace them.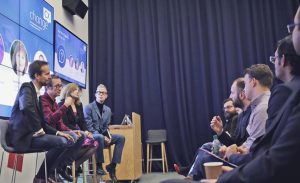 I couldn't agree more with Julien. A couple months ago, debriefing with a friend who is the CEO of a dedicated smart-home solutions company, the two of us came to the conclusion that he doesn't sell technology. The technology he sells removes elements taking up excess time and energy thus simplifying things to suit a happier lifestyle. In short, he sells to his customers a "happier lifestyle" – or improved experiences, if you rather. This is what we should all be doing nowadays.
Of course some purely transactional events during the customer journey will move to pure self-serve and automated models, but the main objective of platforms such as Facebook, Messenger, WhatsApp, WeChat or solutions like bots and chatbots are to enhance our ability to connect and build trust – not to replace our role in building true relationships with customers.
Cyber Security: A Growing Concern
The incredibly fast, dynamic and scalable options that the evolution of internet provides to businesses across industries has resulted in an environment where the security is not as well attended to as we wish.
After the debate, the conclusion is that there is a clear space of improvement and an immense security opportunity to still be addressed. As companies continue to better understand and apply existing standards and regulations to emerging channels, there are noticeable security business challenges and uncertainties – not counting solid responses and appropriate controls – which holds back some top-tier organizations and prevents them from making real progress in the new digital economy.
And they still have reason to be conservative. Statistics reveal no good sign for the future as it has been estimated that by 2021, the cost of cyber-attack damage will exceed $6 trillion – while no one is truly safe from these cyber attacks. I mean, not even social media king Mark Zuckerberg is protected as his Twitter and Pinterest accounts were both hacked in 2016, not to mention John Podesta's email hack, Yahoo's billions of personal data stolen, Tumblr's millions of accounts hacked, Tesco Bank customers' account exposed, PlayStation accounting hacked and the more recent Equifax breach.
The security aspects of our new and digitally driven business environment still need to be clearly identified and different industry players must ensure they are taking on different ways of approaching things in order to deal with these changes.
—
If you want to keep this conversation going or learn more from the 2017 CX Change event, feel free to send me a message – you can also find me on Twitter (@GesnerFiloso). I look forward to hearing from you!
Source: http://www.sitel.com/blog/top-2-takeaways-2017-cx-change-event-facebook-hq-london/
Publish Date: October 2, 2017 5:00 AM
---
The month of October kicks off at a fast pace with Acticall Sitel Group's digital customer experience agency, The Social Client, flying next week to San Francisco for Oracle Open World 2017 World 2017 #OOW17 —an event that brings customers, tech partners and Oracle together to connect, discuss and learn about digital transformation.
The Social Client will accompany Dial-Once, a strategic Acticall Sitel Group partner to the event. Dial-Once's platform, sometimes referred to as Visual IVR, intercepts and digitizes service calls to present rich content and functionality via an Intelligent Contact Hub. They are one of a suite of best of breed partnerships TSC has cultivated focused on improving the customer care experience.
"We're excited to partner with Dial-Once, it's a very impressive platform and that saves time for both customers and agents while at the same time reducing call costs," said Gordon White, general manager, The Social Client.
Dial-Once's ability to answer 20 percent of customer questions via self-care and redirect inbound calls to the most efficient digital channel has earned the company one of 17 spots in the Oracle Startup Cloud Accelerator.
It's no surprise to us they were chosen to exhibit from such high-potential competitors from all over the world. Intelligent Contact Hubs are a compelling new touchpoint we're encouraging all Acticall Sitel Group's clients to consider. Dial-Once's platform is a simple and powerful digital solution that delivers on some things our clients – and their customers really care about. The solution:
Capitalizes on evolving customer behavior and desire to self-serve versus navigating through IVR menus
Leverages existing content and functionality with fairly light integration into existing systems
Yields substantial savings and a quick ROI often in the first six months of activity
We're excited to see how Dial-Once will leverage the Oracle ecosystem to develop new capabilities. Join us at Open World to learn more.
Want to see a live demo of how Intelligent Contact Hubs work?
The Social Client and Dial-Once will present the solution October 2-4 at North Hall D of the Moscone Center in San Francisco. You will enter an interactive playground to 'Explore Tomorrow Today' with technologies from artificial intelligence (AI) to machine learning to virtual reality (VR).
If you're not able to attend Oracle Open World 2017 and are interested in learning more about our Intelligent Contact Hubs, contact us.
Source: http://www.sitel.com/blog/social-client-dial-partner-oracle-open-world-2017/
Publish Date: September 29, 2017 5:00 AM
---
The Congress of Company-Customer Relations (CONAREC) event took place September 12 and 13 at Hotel Transamerica in Sao Paulo, Brazil. CONAREC is Brazil's largest national event dedicated to customer relationships. Thousands of executives from major global and local organizations gather every year to discuss customer relationship and customer experience trends and share innovative ideas and best practices. This year, more than 4,000 people participated in the two-day event where keynote speakers presented trade news discussing 'Millennials' as their main theme. Acticall Sitel Group, an official sponsor of the event, was present at the event in partnership with Paulo Miri, Whirlpool President Home Appliances Brazil, as the two discussed industry transformations.
"For BPO companies, CONAREC is the main opportunity each year to strengthen our relationships with clients and prospects and show them how to improve their business operations with new technologies," said Geraud Mazel, COO – Brazil.
During the event, speakers demonstrated how millennials' actions are changing the marketplace. Their actions are impacting not only companies but also their peers – teasing companies to invest in new strategies.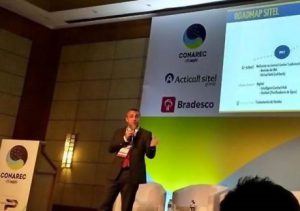 "Today, customer experience is indispensable – even for companies that have had a more discreet relationship with their consumers in the past," said Mazel.
It is no coincidence that Acticall Sitel Group's client, Whirlpool – along with their brands Brastemp, Consul and KitchenAid - has improved its methods. Today they are constantly concerned with increasingly complex expectations of consumers. To meet these demands, they have reinvented themselves by conveying innovation throughout – from products to their customer relationships. Acticall Sitel Group participates in this strategy by offering customer journey consulting and developing the platforms for these journey improvements such as the Intelligent Contact Hub – a self-care platform that direct from voice contact to digital service.
"This was a unique opportunity to illustrate our case study with Whirlpool and the hard work of Sitel, Learning Tribes and The Social Client," said Mazel.
Source: http://www.sitel.com/blog/acticall-sitel-group-whirlpool-partner-brazils-conarec-2017/
Publish Date: September 27, 2017 5:00 AM
---
Sitel India: Providing Best-In-Class Customer Experiences For Your Customers
With 29 states and seven union territories, India is the world's fastest-growing Major Economy and combines a very competitive infrastructure with one of the largest employable diversified talent pools. India has a fine balance of rich cultural heritage yet a modern outlook. Sitel began operations in India in 2000. Hear from three of our local leaders as they introduce you to Sitel India.
Ravi Iyengar – Chief Operating Officer, Sitel India
I warmly welcome you to India. We look forward to taking you around our facilities and telling you about Sitel's unique approach to creating wonderful customer experiences.
India has one of the youngest populations in the world with 44 percent of our people below the age of 24. As an outsourced destination, India is conveniently located between the UK (United Kingdom) and ANZ (Australia and New Zealand) markets. We do get a lot of our business from those markets although the U.S. is by far the largest outsourcer to India. The Indian BPO market is growing very rapidly at around 10 percent per year.
Sitel began operations in the year 2000 and has sent us strategically located in Mumbai, Gurgaon, Hyderabad and Chennai. Sitel's value proposition is the strong combination of youthful and talented people coupled with great infrastructure, a world-class price competitiveness and the ability to build up strong business transformation.
Our People-first culture is designed to get you the best talent from the marketplace and deliver great customer experiences.
Suresh Kumar – Site Director, Sitel Chennai
In Sitel, we focus on a strong People-first strategy, a long-term client relationship by delivering flawless execution at all times. Our Global Operating System is designed to ensure continuous and seamless service coupled with strong capabilities for continuous improvement and excellent customer service. It is based on real-time experiences over years to ensure consistent delivery and highly related customer experiences through excellence in execution.
We know the strength of our business comes from all our talent pool. We strongly believe in People-first culture and thus we engage them through mentoring and coaching. We use diversified training programs including English communication and proficiency customer services skills to deliver best-in-class support for all of our customers.
We measure our people's performance through key performance indicators (KPIs) and we reward and recognize them to collectively achieve our business goals.
Kalpak Hudar – HR Leader
We provide our associates with ample opportunities to excel in their jobs.
At Sitel, people come first! As we care for our people, we developed many engagements on the cognition programs.
Various communication platforms help employees learn about the organization. Our talent management strategies address complete employee career life cycle where we have the right programs from agents to second-line management for them to grow with Sitel.
Our workforce is highly skilled, adapted and customer oriented dedicated to helping clients like you achieve your goals. We recently benchmarked our people policies and practices to guide our industry best. And, I'm confident we are on our journey to become the best place to work.
Ravi Iyengar:

Thank you for watching and we look forward to seeing how Sitel India can support you in the future.
Source: http://www.sitel.com/blog/welcome-sitel-india/
Publish Date: September 26, 2017 5:00 AM
---
For Sitel and our digital consulting partners at The Social Client, there is no doubt. The future of customer experience involves bots.
Today, 55 percent of internet surfers use instant messaging daily. For the millennial generation, web chat and social media are their primary contact channels. Within five years, we believe up to 80 percent of our activities will have migrated to conversational services. Already, of the five most downloaded apps, four are instant messaging ones.
If messaging is about to steal the lead from every other communication channel, chatbots are providing brands with huge opportunities to enrich, or reinvent, the customer experience. They are, in essence, the natural extension of virtual assistants. In a context of racing digital evolutions, chatbots are a new, more modern form of customer assistance - one in which we must without question invest in. Only by being agile and experimental can a brand remain at the cutting edge of technological innovation and ahead of a market that ceaselessly shifts.
Several years ago, virtual assistants, or dynamic FAQs, were already forerunning bots and popping up on websites everywhere. Many of these have since become so popular they've blended into our virtual landscape. Before Siri, Cortana and Google Now, we had Lea at SNCF, Laura at EDF and Lucie at SFR. Chatbots are nothing more than this same assistance extended onto new platforms.
Bots must be integrated into our navigational and relational habits - not only used for fun. Therefore, it's critical to understand our habits in order to develop bots best suited to them.
Thinking bots through
A bot must first and foremost be relevant in all the tasks it can perform, without aiming to pass itself off as an advisor. Our conviction at The Social Client is that a bot must always be devised in relation to the customer journey - by properly discerning when to activate it and clearly defining its purpose. Introducing a bot implies studying beforehand the customer's issue by examining the context and typology of the customer contact. The, there are several essential steps in the bot's actual development: examining the point of contact, identifying what induces service flow, analyzing the web traffic's source and then working out the bot's design.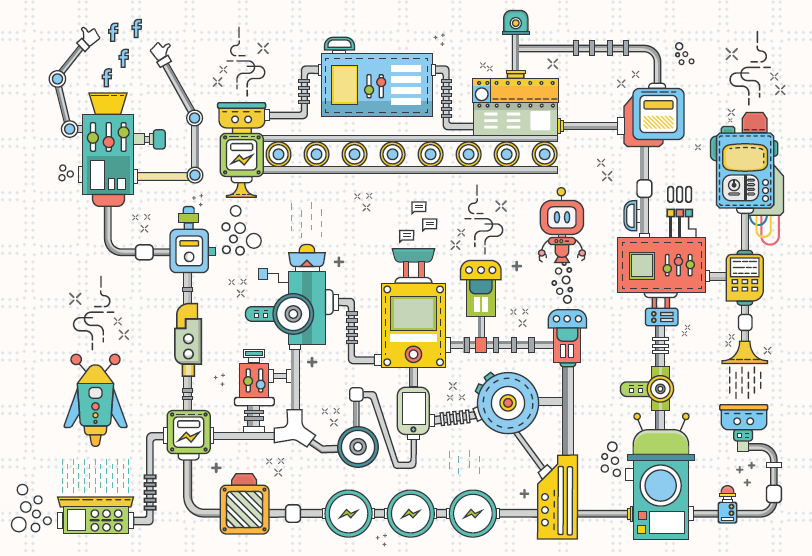 "Bots are opening up all sorts of opportunities to improve our customer assistance," explains Vanessa Boudin-Lestienne, Co-CEO and Founder of The Social Client. "We must not consider bots as tools but see beyond the tool to the kind of customer experience we want to deliver."
Tests run by The Social Client have shown that 80 percent of users accept first level automated responses. What matters most is for the transition to occur seamlessly. Bots will streamline first-level interactions by qualifying and precisely routing these queries before they reach an advisor. The advisor will then follow-up with the time and expertise required for the more complicated issues. In addition, the advisor can recommend specific interfaces enhancing the customer journey. The advisor can also foster a relationship articulated around a customer's interest - perhaps even passion. Bots can also thematically arrange customer queries into clusters helping advisors answer several customers at once by optimizing his/her work time while simultaneously organizing customer communities.
"Our navigation habits and activities are constantly evolving," said Boudin-Lestienne. "Bots and messaging represent considerable added value for the actual quality of our future conversations."
The power of messaging… convergence made simple
A new customer experience is materializing - one that is streamlined through the convergence of multiple interfaces.
Allowing the transfer of visuals, videos and live or even virtual and augmented realities, messaging has transcended the simple textual exchange. Today 68 percent of internet users take advantage of every interface and content format available to get in touch with a brand. It's easy to imagine a scenario where someone introduces a video while chatting with a friend in order to show him a product he's consulting and on which he's searched for text and image-based information, then eventually places an order.
Additionally, 90 percent of people make a purchase in the 24 hours that follow a productive mobile search. As such, brands have every reason to make sure a customer stays where he is and deliver him all the personalized interfaces and content necessary to complete a purchase. Otherwise, the customer may wander the internet on his own for a wealth of information spread out over several different interfaces.
However, it is becoming increasingly complicated and costly for brands to be everywhere at once. They need to make the right choices.
Combined with messaging, the automation of first-level interactions lets customers get in touch with brands at any time and through any interface. Meanwhile, brands can appear where their customers already are through a convergence of these multiple interfaces on the same single platform.
If indeed other messaging apps (WhatsApp, Snapchat, Twitter) have this same convergence capability, only Messenger, with 1 billion active mobile users and 1.5 billion web users, can provide a cross-channel and cross-device experience with an unrivaled number of potential clients. More than any other messaging service, Messenger offers an evolving converging space that easily integrates every interface and new technology. The ease with which it is possible to develop Messenger bots, through built-in functionalities not requiring complex algorithms (carousels, action buttons, images) is why today Messenger chatbots are what everyone is talking about.
Thus, the convergence of personal and commercial exchanges in varying formats onto one continuous messaging thread and the seamlessness that bots guarantee that investing in chatbots is not only obvious but imperative to secure a leading position ahead of the market.
Source: http://www.sitel.com/blog/stop-stalling-and-start-installing-bots-to-ensure-a-successful-digital-customer-experience/
Publish Date: June 28, 2017 5:00 AM
---
Acticall Sitel Group's Botshore™ concept completes our global multi-shore markets offering. It delivers on our vision for the present and future of customer experience management.
In customer relationships near future, AI will coincide with an evolution of the advisor's role and the appearance of new trades. First, there will be several levels of processing interactions: 100% automated, semi-automated or human assisting bots. Bots work well in the front office answering consumers' questions or in the back office helping agents propose better solutions to customers. Furthermore, they will listen to the conversation and make recommendations to the advisor based on the consumer's profile analysis. With non-linear client paths, back and forth between those dimensions will be permanent. The man-machine cooperation areas will multiply. And client relationships will see patterns in conversations initiated by bots and continued by the agents.
How do you train a bot?
As a result, of these transformations, two new roles will undoubtedly emerge, bots trainer and bots manager. For an AI bot to become relevant, it is necessary to tell him what is right and what is not. It is a largely manual work which requires real customer experience knowledge. Consequently, for bots to do more advanced tasks, they will need training. Who could be the best trainers if not the agents themselves? Therefore it is a plausible prospect for the evolution of this part of the work: these collaborators will undertake the initial and continuous training of "robots".
While properly trained, bots will always face situations where they are not able to deliver the correct answer. They will not have been trained for it. The bots manager will be there to supervise 20, 50 or 100 bots operating in parallel. He will only intervene in the case of any obstacle faced by his "teams of bots". And that whole learning process will feed the AI engine. Finally, Natural Language Processing-type tools are commodities. As a result, they will need to be driven and enriched with the specific vocabulary of the industry and the brand.
In conclusion, Acticall Sitel Group features a team of developers whose mission is to set up an interface for advisors to train and manage bots. These customer experience and information technology experts will lead the future's "botshore"!
Source: http://www.sitel.com/blog/botshore-bots-trainers-or-bots-managers-imagining-the-future-of-customer-relationship/
Publish Date: June 26, 2017 5:00 AM
---
What is a chatbot?
The Oxford dictionary defines a chatbot as "a computer program designed to simulate conversation with human users, especially over the internet."
It seems like bots are a hot topic these days; but what exactly are bots? First, it's important to highlight the differences between bots and artificial intelligence (AI). While they function well together, they are two different things.
A bot is a program that interacts automatically with a user…
A coffee machine, for instance, can be a bot. You press a button and it mechanically serves you coffee. In a conversation, live chat, messaging or a social network, bots can answer and converse with human beings. An FAQ is a bot in its most basic form. FAQs lead you through a series of links, you automatically access results.
But, what's generating all the hype today is the notion of a bot capable of inserting itself into a conversation - the chatbot. This differentiates it from a simple program of links and results or a from Q&A library. Many research and learning technologies have existed for several decades helping bots learn and perfect their knowledge using databases. Today, the goal is to insert a bot within a conversation while remaining indistinguishable from a human being. In other words, have a bot answer identically, for example, or come up with content relevant to the meaning it has drawn from the user's sentences.
Artificial intelligence involves everything pertaining to human behavior
Understanding language, the ability to formulate sentences and identifying meaning and emotion through written and oral language are the central elements of artificial intelligence (AI). It also covers image recognition and interpretation: the ability to recognize shapes, colors and so on. Among all the applications of artificial intelligence, the most useful for a bot are those engineered around language: Natural Language Processing which allows a bot to understand the user's language, and Natural Language Generation through which the bot can express itself. Machine learning is equally instrumental as it ensures a learning process based on a collection of information enriched by various sources through which the bot can gradually self-optimize.
In short, artificial intelligence is a tool that makes a bot more efficient. The bot that has everyone abuzz is a program that is capable of fitting seamlessly into a conversation… and that changes everything.
Source: http://www.sitel.com/blog/what-is-a-chatbot-and-why-you-should-care/
Publish Date: June 21, 2017 5:00 AM
---
We are counting down the days to one of our favorite events - Call Center Week! This year's event is being held again at The Mirage in Las Vegas the week of June 26th.
Over the years we've learned a few things about making the most of your time at one of the industry's biggest events. Here are a few tricks we've learned:
1) Thoroughly review the Call Center Week agenda before you arrive in Las Vegas
Each day is packed full of incredible speakers and workshops so plan your days in advance so you don't miss anything. This year, we're hosting the Disruptor track on Wednesday and Thursday afternoon which has sessions from some impressive thought leaders: ezCater, Lincoln Financial Group, Epicor and Carlson Wagonlit Travel. It's called the Disruptor track because all of these companies are transforming the customer experience in really unique ways.
2) Scope out after-hours events
Many companies have evening activities taking place after the conference concludes. This year we are hosting a tour of our flagship Las Vegas contact center on Wednesday evening, just ten minutes from The Mirage. Be sure to sign up (spots are limited) and join us for cocktails, food and a great time!
3) Plan your time in the exhibition hall wisely
With numerous sponsors, it can be challenging to navigate the exhibition area and have meaningful conversations. When you register, you'll receive a map from IQPC that shows where the vendors are located. Decide who you want to meet with and plan your route around the room accordingly. And of course, make sure you stop by the Innovation Hub to check out our chatbot demo and pick up some fun Acticall Sitel Group swag!
Source: http://www.sitel.com/blog/three-ways-to-maximize-your-call-center-week-experience/
Publish Date: June 16, 2017 5:00 AM
---
Sitel partnered with IQPC in this year's 2017 IQPC Contact Center Executive Exchange and events. On March 19 in Frisco, TX, John Thompson, Sitel's Vice President Business Development, Banking & Financial Services, hosted our first roundtable to facilitate a discussion on "Simplified Customer Experiences: Chatbots Are Here". Here are his takeaways.
---
Prior to the Contact Center Executive Exchange last week in Frisco I published a post "teasing" topics for Sitel's roundtable on Chatbots. I knew we had a great topic, however, my expectations were exceeded during the round table and the event as a whole.
A couple of highlights:
Matt Dixon is consistently great at using stories and data to illustrate the core data points around customer effort. Check out his work.
Adrian Guenther presented a very interesting case on how Speech Analytics was successfully implemented at Lincoln Financial.
Oh, Chatbots! - Yes, Chatbots were discussed and it didn't go exactly as I expected…
Most everyone agreed that AI is the future of customer interaction. A way to automate interactions, gather data on customers and provide personalized service to customers. The discussion evolved to how big data, AWS or Watson are playing key roles and the emergence of startup companies who are pushing the tech further.
Ultimately the discussion landed on the big elephant in the room. How will AI transform Human Interaction?
In my own opinion, I think the "death" of Human Interaction is grossly overstated. I do believe in the evolution of Human Interaction. We can all but confirm that. The way in which each generation prefers to interact with each other has always evolved (heavily influenced by technology advancements). From hand-written letters to telephonic conversations, Text, Chat and Social Media. Messaging requires Human Interaction. Bots can be trained but the context and empathy needed in "moments of truth" that many brands have with their customers will require Human Interaction.
That is where experts like Sitel come into play. We are the voice for our customers. Typically the first voice our customer's, customers hear. As experts in customer engagement, we arrive at this brave new world of context confident in our ability to deliver solutions that move customer engagement forward through technology and human interactions. The confluence of where Robots and Humans are delivering great customer experiences.
---
John Thompson, Vice President Business Development, Banking, Financial Services & Insurance | Follow John on Linkedin »
Source: http://www.sitel.com/blog/the-confluence-of-where-robots-and-humans-are-delivering-great-customer-experiences/
Publish Date: March 30, 2017 5:00 AM
---
Wired magazine said it first: "It's time to copy China." Indeed with Alibaba and WeChat, China has steadily been paving the way from e-commerce to m-commerce.
Business is changing, our habits are changing and… the size of the web as well. Cyber Monday generates $3 billion for Amazon; yet, its Chinese counterpart, Alibaba, earns five times as much thanks to B-to-B that's become B-to-C then C-to-C – all of which transit through smartphones. In a world where m-commerce (mobile commerce) is growing 200 percent faster than e-commerce in general, the alliance of mobile technology with instant messaging has become a crucial growth factor and revolutionizing customer experience.
By weaving personalized and instantaneous ties between brands and their customers, m-commerce privileges pocket sized business. Via WeChat, a businessman will place an order for his noodles from his neighborhood vendor who will have purchased her ingredients through Alibaba. Set against this logic of convenient business, our habits have changed, as we're already seeing in China, and are evolving within a new digital reality.
Connected Customer Experience
The technological adoption curve is staggeringly gaining in speed and predicting the end of technologies devoted to a single use. "The mobile has killed the phone," observes Arnaud de Lacoste, Founding Partner of Group Acticall and Chief Marketing Officer of Sitel. A reality proven by the multiplicity of services deployed on mobile interfaces such as WhatsApp, Messenger, Instagram, Twitter, Snapchat and in their midst… the Chinese giant WeChat.
Indeed, the very fabric of our behaviors seems to herald the "always connected" era: we've gone from a connecting act to a permanent state of connectivity.
Services provided have shifted from mobile first to mobile only and multi-interfaces are disappearing in favor of a proactive mobile mono-interface – possibly screen-less if the success of the Echo speaker developed by Amazon says anything. Akin to an OS, this mono-interface must perform everything within a limitless conversational thread that blends personal and professional exchanges. WeChat follows convenient business and social network principles and thus merges professional and personal interactions through instantaneous, fluid and historicized conversations within messaging.
The Age of Context and of Conversation
"We are entering the Age of Context," declares de Lacoste. Services will be provided to the client depending on his life context and consumer behavior. It will no longer be necessarily up to the client to act first. The Customer Experience will become increasingly more personalized through conversations that will be both permanent and recorded. "It will be harder for the client to forget, and therefore harder to forgive," de Lacoste underlines.
As a result, "an exceptional level of service will be absolutely compulsory," stresses Thibaut Bayart, Chief Connector at Ze Twelfth Player, "and exceptional translates here as a more personal relationship that the advisor will nurture with the brand's clients."
These new ways of exchanging, this "conversational business" will open up new opportunities in terms of commercial rebound, sales upscaling and quality of service.
For de Lacoste, "this will 'disrupt' the customer relations industry. We have to accustom our business culture to this huge paradigm shift, prepare our advisors accordingly… The impacts are considerable and it will keep changing very quickly. In terms of tech adoption rates, we're talking months not years."
Augmented Human Skills
This evolution will force companies to be more proactive. These new ways of interacting will improve our exchanges and interactions. The future belongs to an "enhanced" customer experience where chatbots seamlessly slip into conversations.
"We're talking a lot about bots, the robotization, and automation of our industry," says de Lacoste. "I think this will prove to be empowering. We are fortunate to benefit from a technology that can augment human beings." This notion of "augmented" advisor will facilitate a cooperation between men and robots. Tomorrow the chain of interactions will be different but definitely enhanced and generating value.
A conversation will thus begin with a bot, either talking or texting, then at some juncture, an advisor will take over to answer more specific technical issues in a personalized fashion where emotion will layer the relationship: the advisor will be able to handle more complex requests and address them with the required time and expertise. We could then figure redirecting the conversation back to a bot for the purely transactional part of the exchange.
All of this might seem futuristic to clients, but we'll grow used to interacting with machines. "We're at the vanguard of an exciting future, both as consumers and as professionals working within the customer experience industry," explains de Lacoste. "If the role of the advisor is augmented by technology, the customer experience is both expanded and enhanced".
The "human touch" will remain crucially important. Advisors will be relieved of all repetitive and administrative tasks so as to devote themselves thoroughly to their interactions with a brand's clients.
There is, therefore, no question about it: the critical differentiating element in quality service is the human element, which we will need and expect more than ever.
---
Contact us and explore ways we can help your business
navigate the changing landscape of customer experience »
Source: http://www.sitel.com/blog/the-always-connected-customer-experience/
Publish Date: February 14, 2017 5:00 AM