Sitel - ContactCenterWorld.com Blog Page 3
Questions to Esmeralda Mingo, Managing Director at Sitel Iberica, responsible for the Spanish and Portuguese market
How are Sitel Iberia's nearshore services positioned in EMEA?
Sitel Iberia provides award winning customer service from our experienced teams from our near shore locations. Sitel Iberia has been serving clients from Portugal and Spain since the early 90´s. We have sites located in the most cosmopolitan and strategic cities on the peninsula such as Barcelona, Lisbon, Seville or Porto. These cities provide a diverse talent recruitment pool with unique culture and entertainment options, cultural proximity, best in class infrastructure and proven experience. In summary, Sitel Iberia offers its customers a high level of choice. Our clients usually cite affinity with European culture, understanding of regional business values and similar time zones as key factors supporting their decision to outsource their services into this region. Our impressive native speaking capabilities, covering almost all Western European languages is also recognised as one of our key unique value proposition.
One of the main concerns about Nearshore is the lack of quality or excellence in the service provided, what does Sitel Iberica to cope this concern?
A nearshore model offers the advantages of a centralised structure at an optimal cost. It prevents clients having to handle a multitude of small, support structures which lack common process, communication or a uniform customer experience. Furthermore, outsourcing your customer care by selecting a nearshore strategy enables you to handle low volume languages with the same quality standards than larger volume languages. Sitel's solutions encompass single or multiple hub strategies, delivery through native or highly fluent advisors and a potential to blend low volume languages thus reducing clients' support costs whilst maintaining high level of service quality.
The awards received by our Spanish and Portuguese teams for some of our most complex nearshore campaigns endorse the quality of our nearshore operations. In Portugal, Sitel has been recognised with Gold and Silver Portuguese Contact Center Association Awards (APCC Portugal Best Awards) in 2015 and the Best Contact Center Gold Award in 2014, whereas Sitel Spain has been awarded with the CRC Gold Awards in different categories since 2010.
Which kind of clients are you working with under a nearshore model from Iberica?
We have been working for many years with global companies with international presence from a wide array of verticals – financial services, consumer electronics, travel & tourism, retail, etc., who demanded a multilingual provider for their customer care, sales & retention, technical support and back office services in an accessible location.
Currently, we can see how small or medium companies (normally related to the digital world) are more and more interested in this kind of services, as their business is growing internationally. These companies are looking for a provider with multilingual capabilities and the flexibility to manage day/night shifts, peaks, 24×7 operations… under an integrated customer service and Sitel Iberica is the best option for them.
And compare nearshore to other possible European nearshore destinations, what advantages does Iberica offer?
We are offering the high experience and excellence of Sitel's Iberica nearshore proposition, as well as the availability of multilingual workforce. I would also highlight that Spain and Portugal have recently seem significant progress on the flexibility of the labour laws, which incentivises job creation, which makes those countries the best option to outsource a nearshore program.

To continue the conversation, please check out the opinion of Sitel leaders in EMEA on European Nearshoring Solutions:
Christian Steinebach, Managing Director at Sitel Germany & Eastern Europe
Nordine Benbekhti, Managing Director at Sitel France & Morocco
Karl Brough, Managing Director at Sitel UK, Ireland & Nordics
Esmeralda Mingo, Managing Director, Sitel Spain & Portugal
Pedro Lozano de Castro, Managing Director, Sitel EMEA
Source: http://www.sitel.com/blog/nearshoring-the-european-angle-at-your-fingertips-part-iv/
Publish Date: December 3, 2015 5:00 AM
---
Aligning contact center capacity with peak demands is one of the toughest challenges for customer relations executives across industries. Everything from gift-giving seasons to membership renewals, and new advertising campaigns can overload phone queues, email inboxes and Twitter streams, resulting in a frustrating customer experience, brand erosion and missed sales opportunities for businesses.
Sitel's whitepaper provides insight to efficiently and economically provide exceptional customer experiences during peak seasons. It offers proven strategies to deliver consistent service across planned and unplanned surges, year round. This is achieved through activating geographically dispersed, specialized customer care agents with unique training, language capabilities and availability aligned to meet specific client needs – the key tenets of the Sitel Work@Home Solutions™ program.
The customer care industry tends to have dramatic fluctuations in staffing needs during specific periods of the year. Everything from gift-giving seasons, to billing cycles, membership renewals, to new ad campaigns can overload phone lines, email inboxes and social media accounts. Other times, customer needs are minimal. Ramping up contact center capacity to meet peak demands is one of the toughest issues that a customer relations executive may face.
Gain insight to efficiently and economically provide exceptional customer experiences during peak seasons. Explore proven strategies to deliver consistent service across planned and unplanned surges, year round.
You will learn how at-home agents solve seasonal challenges like:
Managing enhanced recruitment, screening and employee retention
Maintaining dynamic, real-time staff scheduling and management
Controlling infrastructure costs
Meeting technology requirements
Enhancing security
Download our free whitepaper "Achieving High Performance During Peak Seasons"
Source: http://www.sitel.com/blog/sitel-workhome-solutions-offers-whitepaper-on-seasonal-support-strategy/
Publish Date: November 24, 2015 5:00 AM
---
Esmeralda Mingo, Managing Director of Sitel in Spain received the award in the 16th edition of Customer Relationship Expo, a key event in the field of outsourcing customer relationship services in Spain
Sitel has been awarded CRC Gold for Sale Inbound customer service provided to Iberia.
Esmeralda Mingo, Managing Director of Sitel in Spain, received the award in a ceremony celebrated October 7th, at the Presidential Balcony of the Santiago Bernabeu Stadium, within the framework of the 16th Expo Customer Relationship, a key event for companies of outsourcing services industry.
"This award reinforces teamwork Sitel and Iberia just the year we celebrate 10 years of partnership. The key to success is, undoubtedly, a consolidated relationship we maintain thanks to we have been able anticipate and adapt to the needs of Iberia and the requirements of their complex and changing industry. Along this time, the team's formation and technological infrastructure, next to the great flexibility of our services and the professionalism of our agents have been decisive. Today, I feel very proud to be here collecting this award. It means to us a reward and recognition for all the effort and commitment of Sitel and its employees with Iberia over ten years," said Esmeralda Mingo.
CRC Gold Awards are organized by the Spanish Association of Experts in Customer Relationship (AEERC), with the collaboration of IZO and IFAES. This award recognizes the excellence of companies through a comprehensive audit in which quality metrics are evaluated, strategy and vision of each company, people management and management of each operation and the technology implemented.
This year, the CRC Gold Awards have redefined the participation model to reward those companies that have several channels of contact with their customers and integrate them into a unified service model, to attend inquiries, complaints or suggestions.
Source: http://www.sitel.com/blog/sitel-awarded-the-crc-gold-award-for-inbound-sales-for-iberia/
Publish Date: November 13, 2015 5:00 AM
---
Many public schools in the Philippines are in very sad shape. Schools and other community facilities, where they exist, are basic and often in need of repair. We all know that having a nice and well maintained classroom is key to the children's learning environment.
Last July, Sitel Philippines, led by the HR Business Partner team, conducted a series of classroom repainting activities in a nearby public elementary school – Pasig Elementary School. The HR team was joined by willing hands and hearts from various departments: IT, Workforce Management, Facilities and Operations. No special skills were required, only their will to help others.
There was laughter, serious work and focus as all the Sitel volunteers worked side-by-side to achieve a common purpose: to help the local community and its children.
It is amazing how rewarding a simple job like painting a school wall or fixing a desk in a classroom can be. Sitel volunteers can make a significant mark on a community in the few hours they spend there, bringing a fresh perspective to students and the community.
This activity also aims to strength the community ties of Sitel by providing an avenue for employee engagement through volunteerism. Volunteerism is supported by Sitel, and in the schools of Philippines, many of these improvements wouldn't be possible without the volunteer's help. For the volunteers, the most rewarding things is the feeling that they are leaving a lasting contribution in a community and making a significant difference in the life of others.
Elisa Narahara
Global Corporate Social Responsibility Manager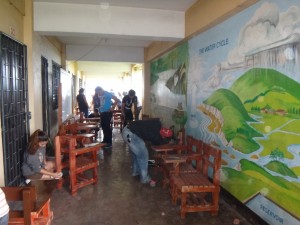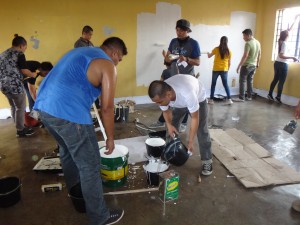 Source: http://www.sitel.com/blog/brigada-eskwela-painting-a-better-future/
Publish Date: October 30, 2015 5:00 AM
---
Today's social and mobile customers require an agile approach to managing interactions in a seamless way that protects the brand experience. In an era where customers are connected using multiple devices to access a dizzying array of products and services, these consumers expect responsiveness and resolution in a real-time manner and they demand interaction, prediction and problem–solving at the drop of a hat.
Currently, 39% of companies do not track their social media responses at all, and 55% ignore all customer feedback on Twitter and Facebook, largely because they have no process in place to respond. (Source: AllTwitter). This lack of process and capability can be quite damaging to any brand from a social perspective. If expectations are not met and customers feel let down, this can create tension and negative feelings and, most often, lead to retaliation.
When resolution isn't granted through the consumers' efforts, they often begin sharing their bad experiences publicly, typically via their favorite medium (in this case, social channels), where one bad experience (or good) can easily "go viral," creating a wave of negative or positive public perception that, once formed, is difficult to sway. The impact can be extreme. Herein lies great opportunity to start the conversation, interact with customers, respond to feedback and solve their issues quickly, in-turn, creating the very best experience and nearly guaranteeing a positive impact for your brand.
Another great opportunity to consider when developing a consumer experience process of this type is an increase in revenue. Social media has proven to have a 100% higher lead-to-close rate than outbound marketing (Source: Social Skinny). Your customers come to your social media pages first when engaging your company. This is your strongest opportunity to increase revenue with little effort. Social media users who receive excellent customer service from brands also spend on average 21% more than non-social customers (Source: Social Skinny).
Efforts must be made to ensure your customers have the very best experience via the channels they use most to reach you.
Sitel provides the multichannel solutions that enable you to deliver outstanding customer experiences. We:
Deliver amazing social experiences by monitoring, supporting, and engaging with customers across varied social networks and communities
Deliver a seamless customer experience at all times by converging customer service channels on mobile devices to the contact center to fully address the needs of the growing base of mobile customers
Proactively engage customers online to increase sales conversions and improve acquisition of new customers.
Thrive in the mobile environment with a flexible and personalized solution that supports mobile customers via SMS
Improve the customer experience while reducing more costly service engagements by addressing customer needs on the web
Improve the customer experience while reducing more costly service engagements by addressing customer needs on the web
Whether interacting via social media channels, the web, or SMS; Sitel provides a personalized customer experience that combines self-service capabilities with interactive and proactive communications enabling your customers to interact with your brands when they want, where they want.
Start today: Begin building loyal customers, developing rippling advocacy for your brand, implementing real-time resolution and impacting your bottom line in a big way!
Contact us today to get started!
Source: http://www.sitel.com/blog/how-to-build-outstanding-customer-experiences-that-create-the-happiest-customers/
Publish Date: October 27, 2015 5:00 AM
---
Sanj Johal, TRACK OPERATIONS MANAGER – STRATFORD UPON AVON, UNITED KINGDOM
We were lucky enough to catch up with the busy Track Operations Manager, Sanj Johal, who works at our Sitel Stratford upon Avon site. Sanj recently won a phenomenal award from our client showcasing his leadership skills. It was great to have the chance to sit down with Sanj to learn a little about his Sitel journey and the secret of his success.
How he started at Sitel… Sanj joined Sitel in 2010, where he started as an agent. Sanj immediately showed dedication and he soon began mentoring and coaching other agents — always eager to give any support that was needed. After being at Sitel for a year, he quickly progressed and became a Team Manager — managing a team of fourteen people. With Sanj's expertise, they quickly became one of the highest performing teams.
During his time as Team Manager, Sanj shadowed Gary German and Marc Turner who worked in the operations team for the client. He received great advice and support from both of them, which became very useful when a Track Operations Manager role became available.
Sanj felt he was ready, so he applied for the role and, after completing the interview process, was offered the position. Since 2012, Sanj has been constantly supporting and welcoming new agents.
What he loves about our client and being a Track Operations Manager… The main thing Sanj loves about his role is watching his team progress and learn new things. He likes to see his team happy and smiling. For him, this is rewarding. With his knowledge and experience, he can coach and influence others and show them how to make the most of their potential.
Advice Sanj would give to other associates… The main advice Sanj would give to other associates would be to enjoy learning, be hungry for the role, have the desire to succeed and be self-motivated. Also, don't be afraid to try something new.
It is important to listen to the Team Managers and take any support and training that is given and apply that knowledge to the role.
Well done, SANJ!
Source: http://www.sitel.com/blog/associate-spotlight-sanj-johal/
Publish Date: October 16, 2015 5:00 AM
---
Part 2 – France & Morocco
Four questions to Nordine Benbekhti, Managing Director at Sitel France & Morocco:
How is Sitel positioned in Morocco?
Sitel was the first global BPO and customer service company to settle in Morocco back in 2003. The importance of Morocco as An offshore delivery location has naturally been pronounced in the last 10 years. The need to manage costs (in the face of shrinking CRM budgets) and gain access to commercially and culturally savvy frontline contact center talent has led many executives to look to Morocco for top levels of customer experience management over the past several years.
Morocco is today recognized as the first offshore destination of the French market and the competition among key BPO and Contact Center vendors is aggressive in the region. Can you elaborate Sitel strategy and vision for this market?
Indeed, Morocco has grown in the last 10 years as a country with ideal conditions to develop BPO and Contact centers: stable political situation, an advanced technology and communications infrastructure and a strong and mature labor pool with a high level of education and multilingual skills. Actually, "talent" is one of the key strategic elements of Morocco as a service location. Especially in offshore and nearshore engagements, we believe that the customer experience is driven by productive and motivated agents – outstanding associate experience enables an outstanding customer experience. As such, we have anchored our "People-first culture" (Human Resources Strategy in the country) on four key associate experiences: Talent Development, Reward & Recognition, Leadership, Culture & Engagement.
From services perspective, Sitel is providing a high level of features and functionality across a variety of vertical markets, solutions, and channels, through more than 1,500 associates located in 3 sites (strategically located in Casablanca and Rabat). Our strategy in the country, as in all our strategic offshoring and nearshoring locations, take a very different approach in designing and adding value to customer relationship management via a Total Cost of Ownership (TCO) approach. TCO is foundationally tied to the combined measurement of three core areas:
Cost Optimization
Customer Satisfaction
Revenue Generation
Can you elaborate your service strategy in the country and the TCO approach?
In today's business climate, with companies surrounded by challenges and opportunities of quick evolving technologies and new customers' demands, providing value-add while creating lasting partnerships is at the core of excellent and efficient customer relationship management. All too often we see companies making customer care decisions based purely on a price point rather than total cost or overall business return, thereby leaving significant value untouched in many cases. Our Morocco offshore strategy solves tactical concerns, addresses short term budgets constraints, and stakeholder commitments, but also deliver against the full lifecycle cost of services we provide – in simply words, by combining new technology tools and the Sitel Global Operations Methodology, we can provide a flexible and scalable solution, avoiding service disruption, reducing long term costs and improving our client's customers experience using a single, central customer account with real-time information regardless the client size. But don't talk our word for it – in a recent survey with our clients – some of them TOP Tier Brands in their industries – 58 % reported that our sites in Morocco are delivering better services than any other location in Europe – including France. Sitel Morocco is also recognized by delivering the best NPS results among the 108 Sitel locations in the world.
Some offshore and nearshore locations across the globe suffer with negative public perception. What is the general perception about Morocco as a service location?
Morocco has invested hard in becoming business friendly with public and private groups that are keen to secure attractive foreign investments in the country. Yet we appreciate that doubts and negative opinions persist among a number of potential clients. For some, the mention of "Morocco" calls to mind images of strong accent, poor French skills lack and instability. As a company doing business in more than 23 countries globally, we believe that the best way to attack negative and inaccurate perceptions is to expose potential clients to the actual results achieved by TOP Tier Companies, as such to political and business climates of each nation to debunk damaging stereotypes. Based on that, I personally invite everyone interested to learn more about Morocco to come and visit our sites in the country – we will be happy to share more about how we are offering more efficiency as well as cost-efficient solutions for companies across different industries.
Which type of company could think on Morocco as an ideal Offshore location?
All companies who wish to have added value services for their customers, whether in technical support, customer care or sales, in one or multi-language engagements (i.e: English, French, Spanish, Italian and Arabic). Sitel footprint in Morocco allows us to serve countries like France, Canada, Belgium, Switzerland or Spain. But above all, our commitment to our clients, beyond meeting their initial requirements, is to pursue excellence together and capitalize on expertise to transform the way technical customer services are delivered. Sitel Morocco is prepared to continue to invest in our clients and its customer experience. We understand what is needed to differentiate our services, though proven success and lead the industry BPO solutions.
To continue the conversation, please check out the opinion of Sitel leaders in EMEA on European Nearshoring Solutions:
Christian Steinebach, Managing Director at Sitel Germany & Eastern Europe
Nordine Benbekhti, Managing Director at Sitel France & Morocco
Karl Brough, Managing Director at Sitel UK, Ireland & Nordics
Esmeralda Mingo, Managing Director, Sitel Spain & Portugal
Pedro Lozano de Castro, Managing Director, Sitel EMEA
Source: http://www.sitel.com/blog/nearshoringoffshoring-have-the-european-angle-at-your-fingertips/
Publish Date: October 13, 2015 5:00 AM
---
Leading Global Customer Care Provider Conducts Week-Long Associate Appreciation Event
Sitel, a leading global customer care provider, today announced its celebration of Customer Service Week. The international event, running from October 5-9, 2015, is celebrated annually in 21 countries. Sitel takes this time to recognize the hard-working professionals who handle calls, emails, chat sessions and social media interactions on behalf of some of the world's best-known brands.
Sitel's worldwide team is united by a deep commitment to delivering outstanding customer experiences. The company embraces agents with specialized skill sets to serve as passionate brand evangelists specifically aligned to meet customer needs. Expert customers helping fellow customers – the brand-building customer experience approach that is unique to Sitel.
"Customer Service Week is an important time to recognize our talented team and their direct effect on Sitel's brand. Fulfilled agents enable great customer experiences. Sitel's Experience Shared environment put associates first, and this focus on talent development provides the best possible outcomes for everyone from our valued associates to our clients and their customers," noted Chief Human Resources Officer, Elsa Zambrano.
In an ongoing appreciation of loyalty, Sitel promotes leaders almost exclusively from within, creating continuously advancing career opportunities. Many of Sitel's top executives, including Chief Executive Officer Bert Quintana, started their careers in entry-level roles of the customer care industry. The company offers exceptional training and ongoing professional development.
"Team members across the globe exemplify Sitel's commitment to the highest degree of customer care," said CEO Quintana. "This week, Sitel shows its appreciation for all of the talented agents, coaches and supervisors that we're so proud to have on our team. Our success has been made possible by the finest team in customer care."
Sitel has hired thousands of new team members this year, with many open opportunities at Customer Experience Centers in multiple countries. New candidates are encouraged to apply online in the "Careers" section of www.Sitel.com or by calling 866-430-9983. Sitel also offers a number of at-home positions.
Source: http://www.sitel.com/blog/sitel-honors-team-during-customer-service-week-2015/
Publish Date: October 9, 2015 5:00 AM
---
Here at Sitel, we go all-out for Customer Service Week, October 5th through the 9th. Our sites are spending time reviewing our outstanding customer service core goals in a fun and creative way. Whether it's the Spirit Week happening down in Augusta, GA with food, games, prizes, and events, or it's the High-Fives happening in the Nashville corporate office to celebrate excellent customer service of individuals, Sitel is committed to rewarding the hard work that goes behind the 2.1 million exceptional customer experiences we manage daily.
What are our 5 Core Goals of Customer Service Week?
Boost morale, motivation and teamwork

Our sites are taking the time to work together on their campaigns in a fun and creative way. This week, sites are participating in Spirit Week with costume contests, team-building exercises, and other fun activities

Reward frontline associates for the important work they do all year long

Our associates are enjoying refreshments all week long courtesy of Sitel! They're also taking part in special incentive programs to reward all of their efforts.

Raise companywide awareness of the importance of customer service

With "Knowledge sharing" as one of our brand promises, our site directors are taking time to provide education on how to better serve our clients' customers on their behalf. We're dedicated to continuing that education well beyond customer service week.

Thank other team members/departments for their support

It takes more than just our agents on the floor to run a successful campaign. Whether it's the Ops department coming up with client strategy, or the corporate office supporting the business efforts, all of Sitel's 61,100 associates contribute their skills and expertise to serve our clients.

Remind customers of our commitment to customer satisfaction

We are dedicated to showing our commitment to customer service to our clients. It all begins with our employees. We strive to be the very best in our industry by providing continued training and support to our employees, while empowering them to deliver exceptional customer experiences every day.
How are you celebrating National Customer Service Week?
Source: http://www.sitel.com/blog/5-core-goals-of-customer-service-week/
Publish Date: October 6, 2015 5:00 AM
---
For many less-fortunate Brazilian families, warm coats are a luxury they simply cannot afford. For them, even the basic needs are a real struggle.
Every year, the Sitel Brazil Warm Clothing Campaign provides families in need with appropriate clothing. The objective of this Coat Drive is to warm the winter of those families with the donation of clothes and shoes. Brazil Corporate Social Responsibility Committee collects winter clothing and receives donations of blankets, footwear, and regular non-winter clothing.
The coat drive takes place in July – Winter in Brazil – and this year, with the generosity of hundreds of Sitel Brazil associates, we have collected and distributed over 800 coats to children, teenagers and adults, benefiting people from 3 institutions of the surrounding communities.
The Corporate Social Responsibility Committee members handed out 30 boxes filled with warm clothes, shoes and blankets to the families in need, and also took the time to get to know them better, share experiences and spend some quality time together.
The Winter Clothing campaign was a hit!
Check out some photos of Brazil Winter Clothing Campaign!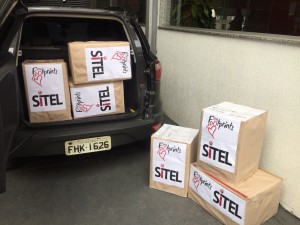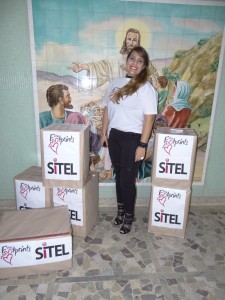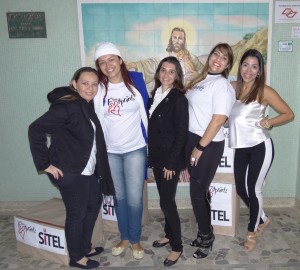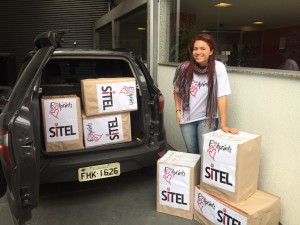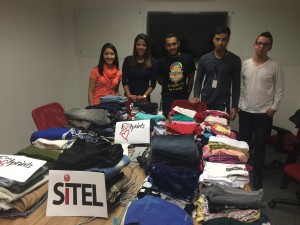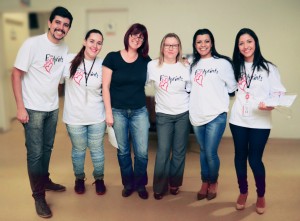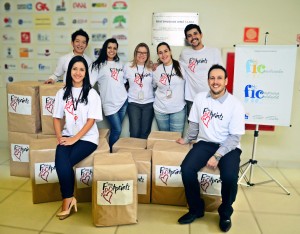 Source: http://www.sitel.com/blog/winter-clothing-campaign-for-a-warmer-winter/
Publish Date: October 2, 2015 5:00 AM
---
How Sitel Intelligent Desktop Helped A Technology Company Streamline Processes, Improve Customer Service, and Increase Resolution
What would your company do if it had the technology to view cross-platform customer interactions, provide real-time solutions, interact with customers through their preferred method, and improve customer satisfaction and experience, all through seamless integration with current systems and technologies?
The future of communications service providers is being defined by the disruption of the established value chains and business models. The trends in the industry offer non-traditional growth prospects and new opportunities that may have not been accessible a few years ago. But unlike any other industries, the communications industry is facing a new global marketplace dynamic in which industries are overlapping and colliding.
When a technology company needed assistance with the above, Sitel was there with a solution. The company delivers internet and network access virtually to any location for consumers, governments, enterprises, and the military. Based in Carlsbad, California, employs over 3,000 people in a number of locations worldwide for technology development, customer service, and network operations. Annual revenues hit $1.1 billion during the most recently completed fiscal year.
With value chains being redefined, the client asked Sitel to: 1) better connect to the new digital consumer, 2) increase customer service relevance, 3) develop and launch innovative solutions to speed and optimize customer relations performance while reducing costs.
Sitel worked closely with the client's top leadership and its IT and Compliance Dept teams to define the right personal profile, processes and systems required to enable workforce planning and talent management processes. The customer service campaign was organized in 4 key areas:
Customer service (Inbound voice: complaint management, and product activation)
Level 1 technical support
Payment & billing
Customer retention (for 400,000 consumers)
Additionally, Sitel leveraged its IT and CRM expertise licensing the Sitel Intelligent Desktop. The platform was integrated with the core of the client's customer service database application with access to client's internal teams and other client vendors.
Initially planned to track agents notes, generic contact information, manage contact recording and quality listening, the Sitel Intelligent Desktop platform has evolved to allow front line agents to use more comprehensive contact management forms with consistent and accurate data sourced by client's
CRM. Besides CRM, the integration with other client's systems (e.g: IVR data base, billing and ticketing systems) enhanced billing, transaction and troubleshooting contact efficiency, reducing issue resolution time and improving the whole customer experience with the brand.
What were the results? CLICK HERE to read our Client Case Study with details on how Sitel Intelligent Desktop exceeded all client expectations, then get in touch with us to begin using this powerful technology.
Source: http://www.sitel.com/blog/sitel-intelligent-desktop-your-one-stop-shop-for-a-better-customer-experience/
Publish Date: September 29, 2015 5:00 AM
---
In support of National Volunteering Week, six members of staff from Sitel along with six young people from Young Devon, are getting their paintbrushes out at Exeter YES Centre.
Young Devon's Youth Enquires Service (YES) on George Street in Exeter city centre caters for young people looking for support across a wide range of issues such from homelessness, apprenticeships and training to victim support and counselling. On Wednesday 3rd June it will be a flurry of paint pots and overalls when the centre receives a much-needed facelift.
Having chosen Young Devon as their nominated charity for 2015, the makeover is the latest in a series of activities that the Exeter city centre based Sitel have run to support the charity and will give the YES Centre a new lease of life. From being Secret Santa for disadvantaged young people to hosting a traineeship programme and staging a range of fundraising events over the year, Sitel have already raised over £3,500 for the charity.
Jamie Keyse, Centre Manager at Exeter YES said:
'Young Devon is hugely grateful for the continued generosity of the staff at Sitel who are volunteering their time to help us give the YES Centre a much need lick of paint This gesture is a fantastic way to brighten up the building, and will really improve the atmosphere for the young people that we work with.'
'The response from staff at Sitel is always brilliant, and we are delighted to be working with such a progressive employer in the city.
A spokesperson from Sitel said:
'Young Devon is a local charity that offers tremendous support to young people right across the county, which is provided with such care and enthusiasm.'
'Their dedication to young people is visible in all their projects and we are very proud to be able to support them in any way that we can. We're very happy that we can offer some of our staff to help Young Devon decorate their building as part of Volunteering Week."
– See more at: http://www.sitel.com/news/sitel-exeter-and-young-devon-go-diy-for-national-volunteering-week-2015/#sthash.ADDjEvQh.dpuf
Source: http://www.sitel.com/blog/sitel-exeter-and-young-devon-go-diy-for-national-volunteering-week-2015/
Publish Date: September 25, 2015 5:00 AM
---
Sitel recently announced that its Las Vegas customer experience center Director, Cassidy Klundt, has been awarded the Best Contact Center Executive/Director by Contact Center World. Klundt was honored with the Gold Medal in his category, the top award for contact center leaders in the U.S. Contact Center World is a well-respected global association for contact center and customer engagement best practices.
"Sitel has given me the opportunity to grow with the company, travel and learn new skills for more than 10 years. It's an honor to be recognized by my peers for the hard work and accomplishments. I share this award with Sitel and my many talented team members," said Klundt.
Klundt was named a 2015 Top Ranking Performer Americas Region. He was selected by a peer-based panel of contact center professionals in a multi-stage process. Klundt has grown with Sitel across multiple geographies to his current position leading the company's flagship U.S. customer experience center.
"Cassidy's outstanding management skills play an important role in Sitel's success story. I congratulate him on this well-deserved award," said Sitel's Chief Human Resources Officer Elsa Zambrano. "Cassidy leads by example, creating an environment that fosters advancement for our staff and outstanding customer experiences on behalf of the world's best-known brands."
Congratulations, Cassidy! You and our Las Vegas associates make us very proud!
Source: http://www.sitel.com/blog/sitel-las-vegas-executive-director-cassidy-klundt-is-awarded-for-excellent-service/
Publish Date: September 18, 2015 5:00 AM
---
Since Sitel began operations in 1985, the European market has always been a focus and a key area to develop new business. With this in mind, Sitel recently announced the opening of its second customer experience center in Bulgaria. The ceremony was attended by key clients and partners, as well as business and government representatives. Guests included the mayor of Varna, Ivan Portnih, the governor of Varna, Stoyan Pasev, and the executive director of the American Chamber of Commerce in Bulgaria, Valentin Georgiev.
The expansion is the result of Sitel's hard work and investment in the local economy of more than $2.2 million. Sitel entered the Bulgarian market in 2006 and currently employs nearly 800 customer experience specialists in Sofia. The new site in Varna enables this number to exceed 1,200 by next year.
"I am happy that such a big international investor has chosen Varna for its second location in Bulgaria and that the company will provide new jobs. This investment is a testament to the potential that the city with its young, educated and skilled people is holding. I hope that this will set an example for many other investors to find a good environment for the development of their business in our city," said Mayor Ivan Portnih at the opening ceremony.
"We are very pleased that Sitel continues its success story in Bulgaria by opening another branch in Varna to create additional qualified customer service jobs in the region. Jobs are key drivers for growth," said the executive director of the American Chamber of Commerce in Bulgaria, Valentin Georgiev in his address.
"The decision to open another site in Bulgaria is in line with Sitel's expansion strategy," said Christian Steinebach, Sitel's Managing Director, Germany & Eastern Europe. "Sitel's nearshore team in Sofia is composed of educated, ethical, service-oriented, multicultural and multilingual employees, who have a strong affinity toward European values, products and service expectations, which has been crucial to deliver exceptional experiences to our clients with very competitive costs."
George Uzunov, Regional Director Germany & Eastern Europe at Sitel, added, "Bulgaria is one of the key nearshore markets in Europe, and more than 700 employees in Sofia are already delivering exceptional results to both. I am sure that our expansion strategy, paired with our focus on quality and experience, will soon deliver exceptional results in Varna as well." The new site is headed by Dariya Maneva.
Welcome to the Sitel Family, Varna! We're happy to have you!
Source: http://www.sitel.com/blog/sitel-expands-in-varna-welcomes-new-site-and-new-associates/
Publish Date: September 11, 2015 5:00 AM
---
Three Questions to Christian Steinebach, Managing Director at Sitel Germany, responsible for the German and Eastern European market:
Sitel Germany is offering its clients a wide range of services… How much are international companies interested in outsourcing their services to a Nearshore location in Eastern Europe?
We have a clear trend by international brands to try nearshore customer service solutions. In today's economically challenging times with highly competitive market environments the pressure on companies to improve financial performance increases. Clients are focusing on reducing operational costs, improving financial management, strengthening customer relationships and using quality customer service as their competitive advantage. Sitel helps companies become more streamlined and shed costs because we are geared to providing operations that drive efficiency – and to create a real differentiator by means of excellent customer service.
In which countries in Eastern Europe are you operating and what services do you offer?
With our Eastern European sites in Bulgaria (Sofia and Varna), Poland (Warsaw) and Serbia (Belgrade) we have four high-performing multilingual hubs currently supporting many large international clients in more than 25 different languages. Today, our specialists in customer support, technical support, customer service and social media services are serving some of the most important international brands from different verticals such as retail and e-commerce, consumer electronics, manufacturing, telecommunication, financial services, pharmaceutical and healthcare throughout our Eastern European sites.
By applying our unique Sitel GOS standards (Global Operating System) in all our markets we can guarantee consistent processes and a high level of quality. This is a real competitive advantage for our international customers as with our consistent service & quality processes we avoid to put any nearshoring business is at risk when it comes to quality.
What are the biggest advantages in outsourcing to Eastern Europe?
The biggest advantages can be found in an educated and skilled workforce with multilingual capabilities to support our business in the region ‒ almost all EMEA languages are represented. The combination of the proximity to major domestic markets, such as Germany, and the reliable infrastructure as well as communication networks makes the Eastern European region a desirable service offer for foreign businesses.
All in all, nearshoring has proved itself as an attractive alternative for basic to mid-level LOBs across different industries. Furthermore, it is a smart support solution for customers who need a combination of Western and Eastern Europe locations to cover the full range of requested LOBs. Basic requirements such as education, language skills and mindset are available and GOS on top ensures service at Sitel quality.
Sitel would like to hear your opinion and have you joining the conversation. If you want to learn more about the challenges and advantages of outsourcing, get an idea of latest market trends or simply learn more about Sitel's solutions, feel free to check out our recent whitepapers on trends and developments in customer service that are available at Sitel.com. Our reports address the drivers of trends we are observing and provide insight into the advantages of outsourcing customer service.
To continue the conversation, please check out the opinion of Sitel leaders in EMEA on European Nearshoring Solutions:
Christian Steinebach, Managing Director at Sitel Germany & Eastern Europe
Nordine Benbekhti, Managing Director at Sitel France & Morocco
Karl Brough, Managing Director at Sitel UK, Ireland & Nordics
Esmeralda Mingo, Managing Director, Sitel Spain & Portugal
Pedro Lozano de Castro, Managing Director, Sitel EMEA
Source: http://www.sitel.com/blog/nearshoring-the-european-angle-at-your-fingertips-part-i-germany-and-eastern-europe/
Publish Date: September 9, 2015 5:00 AM