Sitel - ContactCenterWorld.com Blog Page 4
To be truly effective in today's omnichannel world, it is essential to collect and compile customer data simultaneously via various contact channels. Agents must be equipped with the knowledge and access to customer information, touch point interactions and preferred devices. Without the opportunity to optimize this data, agents and customers are forced to repeat steps in the resolution process, such as retrieving account numbers, reason for connecting, issues, etc., creating long resolution times. This can often frustrate customers and creates more work for customer care agents.
Integrating customers' interactions from various channels and devices then delivering that intelligence to the agents in real time is key to streamlining the process and improving first contact resolution. Sitel Intelligent Desktop is a user-friendly CEM platform addressing these unique demands of a contact center. This modular CEM platform, optimized with agent workflow capabilities, connects to both back-end data sources as well as to desktop applications.
The end result is a seamless blend of CRM applications optimized for an omnichannel environment, all within a highly flexible presentation layer. For companies across industries who seek to empower their contact center agents to excel in the new omnichannel world, Sitel Intelligent Desktop provides agents with a 360 degree view of all customer interactions across channels.
Delivered via the cloud, our easy to customize Customer Experience Management (CEM) Platform streamlines system interactions and communications within the customer's channel of choice therefore reducing implementation time, decreasing average handle time and increasing first contact resolution, while improving the overall customer experience.
Taking the steps to streamline the contact center process enables more successful agent interaction, happier customers and less time (and money) spent spinning wheels. It's often said to work smarter not harder. Smarter takes our clients to a whole new level in customer experience.
For more information on Sitel Intelligent Desktop, please visit Sitel.com
To learn how Sitel Intelligent Desktop is helping Sitel clients succeed in the omnichannel environment, view this Client Success Story
Source: http://www.sitel.com/blog/real-time-intelligence-key-to-optimizing-first-contact-resolution/
Publish Date: September 8, 2015 5:00 AM
---
July 31st will never be the same in Las Cruces, New Mexico. On this day, New Mexico Governor Susana Martinez and Secretary of Economic Development Jon Barela spoke with the Las Cruces business community at the Sitel Customer Experience Center. They announced that Sitel was named a recipient of a Job Training Incentive Program award.
The JTiP award provides incentives for New Mexico companies that are successfully empowering employees to deliver products and services to customers outside New Mexico. Governor Martinez recognized Sitel's continued commitment to provide high quality employment training and employment opportunities for New Mexico residents.
"I am committed to fostering an environment that encourages companies to hire and train new workers. New Mexico stands behind Sitel and other businesses that create these jobs while providing significant career education," said Governor Martinez. "Sitel has demonstrated its strong commitment to the Rio Grande Valley and the state of New Mexico, and I'm confident that the JTiP initiative will assist the company in its ongoing success."
Sitel has a longstanding reputation for exceptional training and ongoing professional development. Career path development is a foundational building block for the company, with a standard practice of nurturing and promoting team members through the ranks to management positions.
"We appreciate the Governor's ongoing support, and we look forward to her presentation this afternoon," said Jerry Kinnick, SVP Finance and CFO for Sitel North America. "With a strong reputation as an employer-of-choice in Las Cruces, Sitel proudly remains one of the most committed and growing employers in the community. The JTiP initiative will help Sitel continue to drive economic growth and maintain world-class training programs."
Sitel currently has more than 100 job openings for Las Cruces-area residents. Sitel Las Cruces Site Director, John Munoz, said, "These jobs are additional opportunities for area residents and more than 90 percent of the support and leadership roles at the Las Cruces site are staffed by local talent who have been promoted from within. Thanks to the continued client dedication shown by our current employees, Sitel customers have asked to expand services and prompted the need for additional positions. With the JTiP award, Las Cruces employees will continue to showcase their exceptional skills for client services."
We're so proud of our team at Sitel Las Cruces. Great work! We're already planning our Sitel Day celebration for next year. Maybe cake?
Source: http://www.sitel.com/blog/las-cruces-announces-sitel-day-as-we-expand-to-add-new-jobs-to-new-mexico/
Publish Date: September 4, 2015 5:00 AM
---
Many factors get in the way of productivity in a call center. Unfortunately, they all can have a negative impact on customer experience. When Sitel set out to learn more about the processes and technology used by our agents, a single key discovery was found: there is a big need to streamline call centers' processes, making agents' jobs easier while improving the customer experience and driving greater end results…
Enter: Sitel Intelligent Desktop, or SID.
By bringing the call center well into the 21st century with one solution, Sitel was able to provide a whole new level of support to our clients and their customers. SID is an all-encompassing cloud-based system that allows agents to deliver the best possible experience by putting everything they need on one place at their fingertips. The highly customizable platform solves many problems at once.
Sitel is able to deliver the perfect Customer Experience through their preferred channels. Whether the client contacts our clients via website, social media channels, or on the phone, our agents are equipped to interact with the customer on-demand. Social is the new standard in customer service and SID allows contact centers the ability to monitor and engage with a client's customers in real time to resolve issues quickly.
SID increases the agent's productivity by providing all necessary support tools and automated processes needed to assist the customer. This leads to shorter agent handling times and higher first contact resolution which, in turn increases productivity and operating efficiency, all while increasing customer satisfaction and the overall customer experience. With higher agent productivity comes higher reward for both the client and the agent leading to lower attrition rates and greater performance.
Sitel made a wise investment in SID to reduce overall technology spend while allowing organizations to migrate, expand, or supplement their legacy CRM systems, reducing infrastructure, maintenance, and implementation costs. With this investment comes great research and development into the future of the SID system and processes to continuously optimize the usefulness and effectiveness of the platform.
SID is highly customizable and flexible to allow for future growth and incorporate future technology needs. Companies and their clients' needs are ever-evolving, as is the SID platform, which allows for greater use down the line.
SID ensures agent and site compliance with increased work flow capabilities by providing processes and scripts, increasing response times and reducing non-compliance issues. By putting everything in one place, the margin of error decreases.
We are seeing incredible results from Sitel Intelligent Desktop. In a short time, one client saw an 11% CSAT Net Improvement and an increased first call resolution from 87% to 96%. With those numbers, it's no wonder the North American Communications client continues to use SID and grow with the ever-expanding capabilities of this powerful and versatile product. We can't wait to see what the future brings for this client.
Want learn more about Sitel Intelligent Desktop? Download our SID Client Success Story here and join the conversation in the comment section about how SID can revolutionize your contact center processes.
Source: http://www.sitel.com/blog/sitel-intelligent-desktop-streamlining-the-call-center-while-increasing-customer-experience/
Publish Date: September 1, 2015 5:00 AM
---
Here at Sitel, we take our People-first Culture very seriously. It drives everything we do. Whether it's in the corporate offices, or in any of our 108 locations around the world, our commitment to putting people first in all our decisions is not taken lightly. This is evident in our ability to engage all of our associates. We spend a third of our time at work. It might as well be enjoyable!
What does associate engagement look like at Sitel? The answer to that varies greatly depending on the location and the associates. For example, our new site in Spartanburg, SC plans to open a community garden which will allow associates to plant flowers and vegetables on-site during their breaks. It's a way to get people off the production floor and get their hands dirty for a brief time while building a sense of community around a common goal.
In Poland, associate engagement looks a little different than our Spartanburg friends. Sitel Poland threw the party of the year for their associate engagement! There was dancing, great food, and special prizes and awards. All in all, we're told it was an event that will not soon be forgotten, and this writer is jealous his invite got lost in the mail.
Our friends in the Philippines recently had a celebration called "Boodle Feast" where everyone brought in food and they ate off of banana leaves. While the food looked absolutely delicious, it's the smiles that are spread across people's faces that truly tell the story.
In Nashville at our corporate headquarters, engagement centers around coming together for a fun time. Whether it's attending a Nashville Sounds baseball game, participating in National Dog Day, or our Ping Pong Tournament, the focus is on getting everyone together to have some fun and get to know each other better.
Associate Engagement is important on so many levels. When a company takes time to actively involve their people it creates a supportive workplace environment where everyone feels valued and appreciated. We love hearing stories of our sites celebrating their associates!
Source: http://www.sitel.com/blog/people-first-culture-how-sitel-engages-61100-associates-all-over-the-world/
Publish Date: August 28, 2015 5:00 AM
---
The era of eCommerce has commoditized many industries, leaving service as the key competitive differentiator. According to a recent customer experience report, in our industry, 86% of customers say that they would pay more for a product that provides them better service.
Brands and retailers have come to believe that they can win sales and ongoing loyalty by "delighting" customers. But a story in the Harvard Business Review (HBR) has smart businesses re-thinking their customer-facing strategies by urging "Stop trying to delight your customers."
Subsequent research by Matthew Dixon, one of the article's contributors, surveying more than 125,000 customers, 5,000+ agents and more than 100 companies teaches us that customer "delight" only happens 16% of the time. Chasing this rarely achieved "delight" increases operating costs by as much as 20 percent.
Reducing Customer Effort is a much more effective way to win the competitive battle for customer loyalty without washing away profit margins. Sitel Premium Technical Support (PTS) does just that.
Sitel Premium Technical Support (PTS) offers a robust delivery platform to monetize "out-of-scope" contacts by offering customers paid support when they have the need. With Premium Technical Support (PTS) solutions Sitel is creating revenue that can be shared with our clients, converting cost centers into solid revenue stream (profit centers) while improving their customers' satisfaction by as much as 45 percent.
Simply put, consumers will pay to reduce tech support-based Customer Effort and companies offering PTS are reporting far greater satisfaction stats than that of typical free support.
Premium Tech Support (PTS) is paving the road to customer support satisfaction by maximizing opportunities to enhance the customer experience and reduce customer effort, all while delivering an increase to the bottom line.
With contribution by Chandra Venkatesan.
Source: http://www.sitel.com/blog/winning-the-competitive-battle-for-customer-loyalty-without-breaking-the-bank/
Publish Date: August 25, 2015 5:00 AM
---
When Sitel opens a new site, it all begins with one dream, and everything falls into place from there. From the beginning of the process, the focus is on our ultimate goal: providing excellent service for our clients and their customers while sharing the best possible experience. At the start of a new site, this is the primary objective.
When Sitel decided to open a new site for one of our clients, a well-known and trusted financial institution, in early 2015, the dream started to take shape into reality. A team was formed to begin looking at the perfect place to house this new site, and it was determined that Pompano Beach, Florida was just the right fit. With diversity, a hunger for new jobs and industries, and a supportive community, Sitel Pompano started to take shape.
With the city and location picked, it was time to begin construction on a new site. Over the last three months, crews have been working around the clock to complete an ambitious build-out that included running miles of data and electrical cable, over 500 gallons of paint, and more than 100,000 square feet of carpet. All in all, it's taken a lot of work to bring this new site to life.
Now, the training classes have begun, the client is thrilled with the work, and Sitel is getting ready to officially open the site with the first call scheduled to come in in the next few weeks. It's a historic day for Sitel, for Pompano Beach, and for all involved in the project.
During a recent visit with local city officials and Florida State Representatives, Sitel was thanked for bringing new jobs into the community. As part of our Sitel Footprints project, we vowed to continue our exemplary worldwide community service and outreach into the Pompano Beach community with several projects slated for the coming months. We're thrilled that the local and state government has welcomed us into the community, and we're excited to partner with them to make Pompano Beach a better community, bringing over 1,000 new jobs to the area in the next year.
See all of the pictures below for your inside view of the new Sitel Pompano Beach site. Welcome to the Sitel family, Pompano Associates!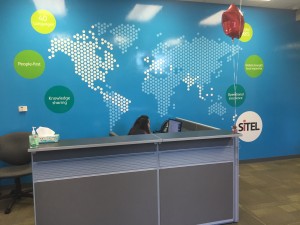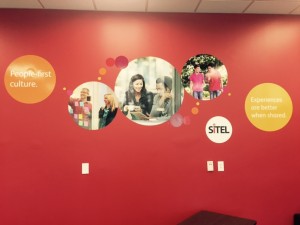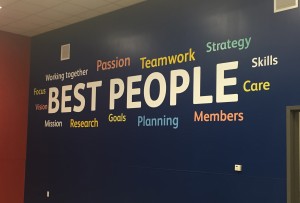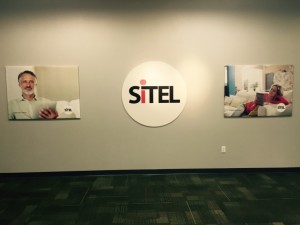 Source: http://www.sitel.com/blog/6-months-thousands-of-people-one-dream/
Publish Date: August 21, 2015 5:00 AM
---
Simply put, Customer Effort is the amount of perceived work (or effort) a customer must exert to receive the desired service and resolution. This can include the actual time from start to finish, and the number of times the customer is transferred. This effort isn't simply an annoyance to the customer, it's a driver of disloyalty. Some of the top factors that increase Customer Effort include:
Multiple contacts: Customers want a "one-and-done" interaction with technical support or customer care. If they need to reach out to you again, Customer Effort rises.
Channel issues: Customers that interact via self-service many times don't want to be moved to the phone. Those that call your center often prefer voice-based service, so don't reply with an email. Any time you force a customer to switch channels, they experience increased Customer Effort.
Repeating information: Phone-based interactions typically begin with customers providing information to an IVR – and they don't expect to be asked again by a machine or a person. If asked more than once, Customer Effort rises and loyalty fades.
Lack of tonality and understanding: Customers expect to be taken seriously. Consequently, the tonality of agents, their choice of language as well as the emotional and technical understanding of customer needs has to be adequate.
Looking at these points, one quickly finds out that customer incentives, for example, such as unsolicited additional offers as compensation for delays, etc., do not meet customer needs, because they are looking for a quick and easy solution and not for a compensation for long waiting times. The CES measures how quickly customer problems are solved. A low Customer Effort score shows that customers had to undertake little effort to achieve a solution to their problem. Overall this follows the well-known architectural motto of "less is more".
While this realization is increasingly met with interest in Europe, various examples of US providers exist, proving the positive effects of the CES approach, especially in the field of e-commerce. This also includes the trading company, Sears, founded in 1886, represented in Germany with the brand Land's End. The use of new ways of measuring and achieving customer satisfaction has been achieved here by a comprehensive analysis of the relationship history of customers. It was found, amongst others, that 73% of customers looking for a phone contact had previously made a fruitless attempt at solving the problem via the website. This was a clear indication of problems with the architecture of the website, which clients obviously did not understand how they could simply help themselves. As a result, they had to use an additional communications channel as an aid. By naming the specific weaknesses, the website was adjusted, reducing the burden on customers and therefore recovering customer satisfaction.
Author: Irene Nehrkorn-Kayn, responsible for Sitel's Marketing & PR in Germany, Eastern Europe and the Netherlands since 2013. She holds an MBA from the University of Wales, UK, and brings many years of experience, inter alia, in the sectors of international trade services, financial services, technology and capital goods, advertising and media in various management roles to Sitel.
Source: http://www.sitel.com/blog/understanding-customer-effort/
Publish Date: August 18, 2015 5:00 AM
---
At Sitel, we have a global passion for community and charitable outreach. This is evident by our "Sitel Footprints" initiative which engages our associates in campaigns across the world to make the lives of local communities better through service. Whether it's painting a school building, organizing clothing drives for the homeless, or raising funds for a good cause, the Sitel Footprint can be seen in all corners of the globe.
Sitel Newcastle in the United Kingdom is living the initiative through their most recent fundraising efforts to donate over £6,000 to Tiny Lives, a local charity that supports premature, sick newborn babies and their families on the Neonatal Unit at the Royal Victoria Infirmary Hospital.
Carol Meredith, Founder of Tiny Lives, said: ""Our thanks to everyone across the staff team at Sitel for raising an amazing £6,022 in six months! It's a credit to the company and our thanks go to every single member of staff who played a part in such astonishing fundraising in such a short time. Your fundraising will purchase high quality developmental care aids that make a real difference to babies on the RVI Special Care Baby Unit at one of the most critical times in their lives."
Sitel Newcastle got very creative in their ways to raise the funds, working on the project for almost 8 months. They held World Culture days, bake sales, and raffles for great prizes. Associate engagement was at the core of the fundraising effort, and it shows in their spirit, drive, and success.
Judith Mottershead, Newcastle Site Director for Sitel said: "As active members of our local community, our team places a great deal of emphasis on giving back to local good causes. I'd like to add my personal thanks to the team, many of whom have invested a great deal of their personal time into organising fundraising events for Tiny Lives."
The Sitel Newcastle site has been actively involved in fundraising efforts for Tiny Lives for over two years now, and 2015 has already surpassed the previous years in total giving, and they're not finished yet. More events are on the horizon.
We're always proud of our Sitel family, but hearing about such wonderful work in our community really lives up to our PEOPLE-FIRST CULTURE of which we're so proud. Great work, Sitel Newcastle!
Source: http://www.sitel.com/blog/sitel-newcastle-raises-6022-for-tiny-lives-charity/
Publish Date: August 14, 2015 5:00 AM
---
There are events that are slowly happening in the home environment that will challenge customer service as we know it. These 3 household shifts toward increased technology are fueling the need for customized, personal support that customer's value.
1: The home is becoming a complex technical network with the proliferation of devices. At last check, the average US household has 8 devices at home. These could be iOS or Android based and of several brands in the home. Currently ISPs. Telco's and Hardware Manufacturers play in this space.
2: Utilities companies such as gas and electric firms are getting smart. It is not uncommon to have a smart thermostat that regulates temperature in the home or selects the lowest cost of utilities for the home.
3: Home security is getting more modern. People are able to have cameras on doorbells and the ability to monitor their kids when they are away at work. There is a proliferation of devices that are DIY or brand specific and this leaves a service area that is open for grabs.
When you put all of this together in the home environment, there is an opportunity to stream line the customer experience especially when there is a technical issue with any of their smart or old devices.
For many device and software vendors, tech support is an ongoing challenge. Even the best-designed consumer electronics and apps require occasional assistance–or just simply break down—leaving customers frustrated and anxious for a solution. Unfortunately, the cost of maintaining a tech support staff is expensive, and each call comes at the expense of profitability.
If your business is faced with these challenges, it's time to re-invent your tech support business unit. Seventy – four percent of companies don't have a well-developed customer experience strategy, which presents an opportunity to gain a competitive advantage by moving to a better model.
Most companies view technical support as a costly, non-revenue generating department. However, it's a critical customer touch point. Premium Technical Support (PTS) can turn your support team into a profit center. PTS provides more than just improved customer experience and happy buyers–it also delivers bottom-line results.
Harris Interactive reports that 86% of customers are willing to pay more for a product that provides better service. This creates an opportunity to move upward in product pricing simply by increasing the value of post-sale support. The satisfaction of an issue resolved with a Paid Tech Support engagement is far greater than that of typical free support, and consumers are eager to receive the assistance.
Premium Tech Support (PTS) is the future of customer experience. Today we sort out issues in the device…tomorrow it will encompass how to share advice with customers on value add as well as security and well-being in the home.
Source: http://www.sitel.com/blog/smarter-technology-in-the-home-calls-for-premium-customer-support-solutions/
Publish Date: August 11, 2015 5:00 AM
---
On August 5th, more than 82,000 students returned to the classrooms of Metro Nashville Public Schools with high hopes of learning reading, writing, and arithmetic. Sadly, some students are attending school ill-prepared with the necessary school supplies needed to succeed. Sitel Nashville and its associates decided it was time to step in and provide a solution.
Bert Quintana, President, Chief Executive Officer, and Chairman of the Board of Sitel, sits on the Board of Directors for PENCIL, an organization that focuses on education success. This charity is near and dear to his heart, so our Volunteer Team came up with the idea of taking donations for the organization and the building management company, CRI, was happy to assist in taking the initiative even further, spreading the donation bins across the building with other companies in our office park participating as well.
For over four weeks our Nashville associates and building tenants have been collecting pencils, notebooks, paper, markers, crayons, backpacks, Kleenex, and the like to donate to local teachers who often end up having to spend their own money on school supplies because of budget constraints and families who cannot afford to provide school supplies for their children.
Later this month, teachers will have the opportunity to "go shopping" at the PENCIL store where all of Sitel's collected items will be on display for them to choose from, the only catch being they don't have to pay a single dime.
One of the Volunteer Team members, Trisha Collins, has been very involved in the organization of the school supply drive and is very happy with the success of the initiative, saying "This has been very successful and we've had great participation. It's going so well we've decided to extend the donations through Tax Free Weekend until August 10th. We'll then take everything over to PENCIL. We're very excited to be able to help our local teachers."
So, how can you get involved? "We still need supplies!" said Collins. The Volunteer Team, made up of 8 Nashville associates, has reported that around 70% of the Nashville office has contributed to the project, but we have the opportunity to extend the participation elsewhere. "We need all types of school supplies. We need backpacks, notebook paper, printer paper, colored pencils, crayons, markers, pens, pencils, dry erase markers, notepads, Clorox wipes, and so much more! Anything you can think of a classroom possibly needing, we're collecting."
Do you want to participate? Send your items to:
Sitel
C/O Volunteer Team
3102 West End Ave, Suite 900
Nashville, TN 37203
Source: http://www.sitel.com/blog/sitel-nashville-participates-in-the-pencil-project-to-benefit-local-schools/
Publish Date: August 7, 2015 5:00 AM
---
For many device and software vendors, tech support is an ongoing challenge. Even the best-designed consumer electronics and apps require occasional assistance–or just simply break down—leaving customers frustrated and anxious for a solution. Unfortunately, the cost of maintaining a tech support staff is expensive, and each call comes at the expense of profitability.
If your business is faced with these challenges, it's time to re-invent your tech support business unit. 74 percent of companies don't have a well-developed customer experience strategy, which presents an opportunity to gain a competitive advantage by moving to a better model. Global customer care provider Sitel reveals 5 strategies to transform your tech support offering to not only enhance customer satisfaction, but also increase ROI.
1-Move to Paid Tech Support
Most companies view technical support as a costly, non-revenue generating department. However, it's a critical customer touchpoint. Paid Technical Support (PTS) can turn your support team into a profit center. PTS provides more than just improved customer experience and happy buyers–it also delivers bottom-line results.
Harris Interactive reports that 86% of customers are willing to pay more for a product that provides better service. This creates an opportunity to move upward in product pricing simply by increasing the value of post-sale support. The satisfaction of an issue resolved with a Paid Tech Support engagement is far greater than that of typical free support, and consumers are eager to receive the assistance.
2-Use Your Tech Support Team as a Sales Force
Tech support staff has the unique opportunity to promote product or service upsells during their customer interactions. From a customer's perspective, hearing the upgrade benefits from a technology specialist can often carry more influence than from a sales associate. To the same degree, customers are more likely to engage with a tech support specialist when their initial question or problem is resolved, giving your team a segway into discussing upgrade opportunities. In one case, a global electronics manufacturer aimed to improve service proficiency and increase revenue by identifying monetization opportunities in current call queues. This resulted in improved client satisfaction and revenue of more than $250,000 per month.
Another consumer electronics company experienced similar results, creating a solid revenue stream in just three months. Agents achieved a 96 percent customer satisfaction rating while increasing upsell conversion rates by 25 percent. This strategy not only delivers net profit to the company's bottom line, but also results in increased customer satisfaction.
3-Improve the Customer Experience and Increase Loyalty
50 billion devices will be on the Internet by 2020, and rapid technological innovations sometimes translate to steep learning curves and disappointment. Each of these painful experiences erodes customer satisfaction and brand loyalty. It's critical to maintain a clear channel of communication with customers through these challenges.
With the increasing dependence on technology, excellent technical support is critical in enhancing customer experience and maintaining loyalty. Quality technical support is just as important as the quality of the product itself. Technical frustrations can quickly result in a poor reputation, customer erosion and, consequently, lost revenue. Yet a positive tech support experience can produce repeat buyers.
4-Own the Customer
Consumers are reaching out for assistance with the 6.3 connected devices in their homes, including tablets, printers, SmartTVs and more. Become the sole source for solutions by providing device-agnostic technical support service for the entire Connected Home ecosystem. This includes complementary products. For example, the customer calls for help with their XYZ brand computer and challenges with their ABC brand printer. Typically, the computer manufacturer will not support the printer, but you can. This provides opportunity to offer an enhanced customer experience and generate revenue.
By employing expert staff members, your customers won't need to make another call to get issues resolved. This presents an opportunity to become the single trusted advisor for all technical issues, earning influence in future buying decisions.
5-Adopt an Omnichannel Strategy
How are your customers reaching out for technical assistance? Phone calls are becoming less common, and email requests are virtually extinct. Meanwhile, social media queries continue to increase. Engage in resolving inquiries in the channel of choice, without dragging customers to offline channels.
And make sure you have a robust self-service offering. We've already seen the dawn of the "Digital Natives" generation who prefer to conduct all interactions through online or through mobile devices. Most prefer self-service whenever possible. Deliver optimized experiences that enable a seamless escalation to channel-specific assistance when self-service applications prove inadequate.
Source: http://www.sitel.com/blog/5-strategies-to-transform-your-tech-support-offering/
Publish Date: August 4, 2015 5:00 AM
---
I recently had the pleasure of visiting one of our sites, Sitel St. Catharines, to learn more about the day-to-day lives of our agents. I started my career in the BPO industry working for a company making cold-calls asking people if we could purchase their used cellphones. From there, I moved to a senior living company where I answered calls helping people through the sales process, so I've been on that side of the process as well. Both jobs taught me a lot about communicating with people and visiting St. Catharines provided me with a different look into the daily life of a Sitel Customer Service Agent.
Here are four lessons I learned visiting Sitel St. Catharines.
1. Our Agents Work Hard
There's no denying that working in a call center can be tiresome work. Taking calls may look easy, but our agents are on the top of their game. I sat with one agent, we'll call him "Sam" who was dealing with a particularly interesting technical support issue. The caller was having trouble understanding why her TV service was going in and out every time she turned the television set off and back on. Sam was calm and collected while she described to extreme detail the issue over and over again. He was so patient and researched everything. The whole process was very taxing just to listen to.
2. Our Agents Are Excited About Helping Others
Once he realized what was happening, I saw a smile flash across his face. He was getting excited that he was able to offer a solution. He explained to the customer very politely that she wasn't in fact turning the TV off, she was changing the channel. As a customer, I could imagine being told this and feeling very inadequate, but Sam made it sound like the most common of issues, and reassured the customer that this wasn't the first time he'd heard this same problem. The customer was relieved, and happy with the results. When the caller hung up, Sam turned to me and said, "I love this stuff."
3. Our Agents Are Having Fun
The best part of my visit to Sitel St. Catharines was the excitement I saw in the agents, coaches, and support teams. They were truly enjoying their jobs. They told me stories about times they felt excited about their career opportunities. I witnessed "Power Hours" where the coaches and support teams would pass out candy to the agents for hitting their metrics during the hour. I heard about game days, spirit days, events, and initiatives that brought the site together and made it feel like a family.
4. Our Agents Aren't Working a Job, They're Working A Career
Our agents have goals for their career growth. They're constantly learning more about the industry, their clients, and the Sitel processes. They're focused and dedicated. I sat with one agent, "Beth" who detailed her plans to advance her career. She's been with Sitel for three years at St. Catharines and she's worked hard and become one of the top performers. Now, she's assisting with training and new agents sit with her to hear "how it's done." Her next step is to become an Assistant Coach on the production floor, working her way to a Coach, then "who knows from there," she said.
I learned a lot from my visit at Sitel St. Catharines, but probably the greatest lesson I learned: our agents are dedicated to serving our clients' customers to the highest standards. It's evident in their attitude, their efforts, and their work ethics.
Source: http://www.sitel.com/blog/the-agents-of-sitel-st-catharines-hard-work-customer-care-fuel-fun-and-bright-futures/
Publish Date: July 31, 2015 5:00 AM
---
Remote call center agents are one of the fastest-growing trends in the customer care industry. But there are employers who still express hesitation. The number one obstacle revolves around that of productivity. "Won't the agents be more distracted and less productive working from home?" Well, the exact opposite is true. Research shows that a work-at-home program:
Promotes a healthy personal-professional life balance
Elevates a refined focus on work at hand
Boosts productivity and job satisfaction through part-time and flexible schedules
Significantly reduces attrition, up to 75% in many cases, as compared to traditional call centers
Hiring the Right People for the Right Role
Increased productivity starts with hiring the most ideal candidates for each brand, campaign and customer culture. Sitel hand-picks high-caliber, highly skilled customer care experts who are passionate brand ambassadors (and often the client's customers), with deep product knowledge and enthusiasm. Through Sitel's extensive recruiting footprint, assessment data and hiring process, we improve retention and deliver superior service results.
People Development
An investment in both initial and ongoing training is essential to maintaining high productivity levels. Customer care agents interact and learn through Sitel's multi-faceted approach to virtual classrooms, offering remote agents the same learning opportunities as their in-office counterparts.
daily video conferencing
polls to gauge knowledge gains
face-to-face team meetings via integrated video platform
mock, client-specific call scenarios
group discussions
internal team building exercises
Continuous Quality Management
How can we confirm high productivity and superior service to our clients' customers when we can't "see" the agents? Once the right people are hired and trained, the focus shifts to control, compliance and consistently high performance execution. A dedicated Work@Home SolutionsTM leadership team continuously leverages the most advanced virtual management tools such as:
Key Performance Indicators (KPIs) – pre-defined metrics which define objectives and expectations.
Continuous quality monitoring – if performance scores drop below KPIs, Sitel's agent performance program alerts the manager and recommends an agent training course, to be completed within a specified time frame.
A Six Sigma trained process improvement manager focuses on KPIs, continuous improvement and key business drivers.
Enhanced "scale up / scale down" flexibility maximizes operating efficiency.
Weekly progress reports and engagement dashboards aid the leadership team and agents to gauge success and improvement plans.
While staffing call centers can be a tricky business, Sitel provides front and back office voice and non-voice transactions supporting all communication channels. What's more, Sitel Work@Home Solutions TM incorporate world class hiring, training programs and a highly secure technology platform. With the number one concern of productivity alleviated, and a partner like Sitel with over 30 years of global call center experience, let's discuss how our Work@Home SolutionsTM can complement your call center for the highest quality customer experience possible.
Download our brochure to learn more about Sitel Work@Home SolutionsTM.
See more about Sitel's Work@Home SolutionsTM on our blog page. And check out this recently published article found in our Newsroom.
Source: http://www.sitel.com/blog/at-home-customer-care-agents-show-increased-productivity-really/
Publish Date: July 27, 2015 5:00 AM
---
The work at home customer care model continues to see immense growth in the contact center industry. At Sitel, we've recently doubled our remote workforce and we anticipate the trend to continue.
Despite the rapid growth, some organizations are hesitant to implement an at-home model. "Why would I want my workforce to be outside of the call center? How can I ensure they are being productive? Won't this be more costly for our business?"
The at-home model is the fastest-growing trend in our industry, and a win-win-win for customer care providers, customers and employees. Here are five reasons why:
Employee Recruitment Barriers are Demolished
One of the greatest constraints businesses face is their talent selection pool. Companies are, oftentimes, forced to select their hires based on their location. Unless an employee is willing to uproot their life and their family to take a job half way across the country, companies are very limited in their talent recruitment choices. With a work-at-home model, however, that barrier is completely knocked down. Customer care providers can select anyone in the nation to fill a position no matter the location. The result is a greater talent pool to select from enabling better hiring decisions for your company.
Workers Show Increased Productivity
One of the biggest misconceptions regarding remote workers is decreased productivity. Workers will be distracted by a television, a refrigerator and a couch. However, research has found the exact opposite to be the case. Workers are actually more productive when working from home. How can that be true? Because a work-at-home program allows for an employee to be more effective at managing their work and life balance. Rather than sitting in a cubicle thinking about getting home to let the dog out or needing to find something to cook for dinner that night for their kids, they can fully focus on the work task at hand. The same idea can be said for part time employees or for those with flex schedules. Because they have that work-life, employees can fully allot their attention towards their career when they are working because they have that healthy personal and professional balance. This not only leads to increased productivity, but also to more satisfied employees overall.
Increased Scalability and Flexibility
A work at home customer care model allows for businesses to adequately staff for spikes in business needs more efficiently than an onsite model. For example, when the holiday season comes, the customer service industry sees a huge influx in customer inquiries. Work-at-home programs enable organizations to scale staffing to business needs during yearly peak and valley times resulting in cost savings without compromising the level of service delivered to customers.
Decreased Maintenance and Technical Costs
A work at home program significantly lowers overhead costs. Operating a contact center requires a facility, technology capabilities, building maintenance, staffing costs and much more. Many work-at-home programs have a BYOD—or bring your own device –policy, which means that remote employees use their own high speed broadband as well as their own office equipment. These bottom-line savings add up to significant savings for customer care service providers.
Extensive e-Learning Capabilities
With training modules essential in any field, some employers are concerned that remote workers may not have the same training and team building opportunities that call centers provide. However, thanks to web-based virtual classrooms, remote agents have the same learning opportunities as their in-office counterparts. These capabilities allow for employees to meet face-to-face through integrated video and audio connections and to experience the same level of training through mock customer interactions, client specific call scenarios and internal team building exercises.
Download this brochure to learn about Sitel Work@Home SolutionsTM
Source: http://www.sitel.com/blog/top-5-reasons-why-at-home-customer-care-is-succeeding/
Publish Date: July 14, 2015 5:00 AM
---
Being Brazilian, I have a little bit of experience of how it feels to define your nation by sporting success. In Brazil, we see football flair as part of our national identity. We celebrate the success of athletes like Pelé, Garrincha, Falcão, Sócrates, Romário or Ronaldo feeling these guy´s panache like an example of a national positive character.
However, this has been changing in the last decade. In the last World Cup, Brazil did not merely lose; "We" lost brutally in semifinals against Germany; deservedly and with boring play that left the nation in desolation, feeling anger and demanding consequences – including political ones.
In fact, there are several lessons any strategic analyst could learn from the Brazilian Football "crisis". Actually, given the nature of sports, it's not surprising that athletes and coaches have had some inspiring and insightful things to teach us about team work, leadership, perseverance, winning, and much more. Even if you are not a football fan, you can hopefully apply these 5 lessons to your life today:
1 – Building a culture of continuous improvement
From Pelé to Neymar no one will argue that Brazil is one of the most productive football player "factories" in the world. However, over the past 15 years, the Brazilian Football Federation (CBF) has clearly not invested in developing other aspects of the sport in the country, showing as a result that there is no such thing as being stagnant in sport as in business.
The German Football Union (DFB), on the other hand, is a vivid advocate of long-term career planning and development. DFB is highly committed to nurture talent, starting with the training of youth teams, ongoing coaching, academies, investment in local, regional, and national leagues, partnering with TOP Global teams, etc.
Top performers in business are top performers because they consistently search for ways to make their best even better. For top performers, "continuous improvement" is not just a slogan. It's a mantra that creates real and positive impact in the business.
2 – Developing a strategic plan
Planning is one of the most important parts of running a business, no matter whether it is a large multinational corporation trying to launch a new product or a national team targeting to win a world championship.
It is easy to start a project, but without a detailed planning it is like setting off on a journey to an unknown destination without a map. In that case, the chances to get lost are very high. The value of a plan simply cannot be overstated. Putting your ideas, objectives, mapped risks, resources and milestones own on paper is invaluable and the act of researching and compiling data about your competitors and the marketspace will prove to be critical in the years to come.
3 – Developing "bullet-proof" self-confidence teams
Brazil unexpectedly struggled and was unable to react against the pressure of playing at home and the difficulties created by the Germany team in the same way that employees too often underestimate their abilities to solve problems. This is why many companies and teams rely on motivational articles or videos to push teams up. However, becoming independent from external factors of motivation, and learn to push themselves internally, is one of the key success factors of high productive teams.
The truth is, we can push harder than we think and self-confidence is the cornerstone of all great performance teams. The role of the manager and leader is to create opportunities for teams to learn by problem solving and overcoming adversity, setting standard and attitudes high. By empowering teams to lead and recognize quality evidences, teams can move mountains!
4 – Detecting and analyzing failure
There are many researches that say that in many organizations any failure that can be hidden is hidden as long as it's unlikely to cause immediate or obvious harm. It was evident, for instance, that without Brazilian's beloved player Neymar, the team would struggle to play its offensive game. However this only became a problem in semifinal against Germany, when he was injured and not able to play. The goal for CBF should have been be to surface it early, before it has mushroomed into disaster.
Once a failure has been detected, it's essential to go beyond the obvious and superficial reasons for it to understand the root causes. This requires the analysis, planning and discipline to ensure that the right lessons are learned and the right remedies are employed to mitigate risks.
5 – … but don't overrate the problem
There's a cultural fascination with the concept of failure. When we fail, we've learned a sequence of things that didn't work as planned and, must probably, we won't make the same mistakes again. This is true, but high performance teams are vowing to spend more time mining their successes rather than their failures for insights going forward.
Easier said than done, but if you're going to reflect on your failures, focus improving what has succeeded in the past rather than avoiding what has failed. Pay much more attention to what is working for you.
Source: http://www.sitel.com/blog/what-5-strategy-lessons-brazilian-national-football-can-teach-us/
Publish Date: July 8, 2015 5:00 AM