Sitel - ContactCenterWorld.com Blog Page 5
Today, customer experience and mobile are interconnected, and this will only increase as technology continues to evolve. According to Cisco, mobile data traffic will reach the following milestones in the coming years: The average Smartphone will generate 2.7 GB of traffic per month in 2017, coming from 342 MB per month in 2012.
People are using mobile devices to talk to their colleagues, friends and family, to learn about products, to engage with brands before, during and after their shopping experience and just about any other time they need general assistance.
As a result, business operations have been reimagined in order to give the consumer more control over where, when and how they engage with an organization. Transactions are planned to be executed in real-time and provide the user immediate feedback with minimal intrusion to their daily lives.
To remain relevant and win in the new mobile economy, the best Customer Relations departments are now focused on helping to improve customer service and employee engagement with in-app customer services rising as one of the best alternatives for brands to respond faster and more effectively, getting customer feedback, and boost the lifetime value of every customer.
"… an extraordinarily customer-centric approach where humans and systems empower the world behind the app boosting the incredible potential of technology"
Imagine that you are in a foreign country for example, and you and the taxi driver don't speak the same language. So, you select your destination from the Hotel app menu and either the prerecorded audio in local language or a well-trained concierge helps the cabbie understand where you need to go.
This is a good example of what I believe is the best answer in our digitally-obsessed era – an extraordinarily customer-centric approach where humans and systems empower the world behind the app boosting the incredible potential of technology. In other words, Customer Relations centre is becoming a profit and innovation centre.
————————————
I encourage us all to join the conversation. If you want to learn more about the challenges of the new Age of Experience, you may want to check out my recent whitepaper "TRENDS RESHAPING THE FUTURE OF CUSTOMER SERVICE" that is available for free at Sitel.com. This report addressee the drivers of trends we are observing – evolving channels and customer experience expectations – and provides insight into methods for addressing the customer relationship evolution.
Source: http://www.sitel.com/blog/the-changing-role-of-apps-in-the-experience-economy/
Publish Date: June 30, 2015 5:00 AM
---
An Interview with Sitel's David Beckman
David Beckman serves as Sitel's Chief Legal Officer and Secretary and is responsible for leading our global legal, corporate governance, risk management and compliance functions.
Prior to joining Sitel in 2007, David spent 19 years at Frost Brown Todd LLC, an AMLAW 150 law firm, first as an associate and then as a partner concentrating his practice on mergers and acquisitions, commercial transactions and franchise and general corporate law and represented the company as outside corporate counsel starting in 2003.
David is an alumnus of Harvard University and Northwestern University School of Law and resides in Louisville, Kentucky with his wife of 23 years and two daughters (12 and 14). His personal hobbies include golf, boating and fishing for just about anything.
WE SAT DOWN WITH DAVID RECENTLY TO DISCUSS A FEW KEY QUESTIONS:
What opportunities do you see for Sitel in the next 12 months?
Well the longer I am at Sitel, the more opportunities I am seeing opening up for the company, especially opportunities that arise from the dynamic change impacting the worldwide economy in general and also our industry. Clients are constantly under pressure to do things better or more efficiently. That prompts them to look for partners that are responsive and help them with new ways to drive their business and financial goals. I see this boding well for growth in our industry and for Sitel, in particular, especially for some of our most profitable target markets. We just need to continue every day to cultivate winning relationships with our clients and the business will come. My sense is that we are close to breaking our barriers and fully succeeding in 2014. It will take a lot of hard work and discipline, but it will be very, very rewarding to win.
What makes Sitel different/unique?
Working at Sitel is continually exciting. The issues we tackle and support in Legal, the number of countries we touch, the complexity of our business and capital structure, and the professionalism of the people we work with, are first rate. There are few companies in the world that are as diverse in culture and excitement as Sitel; we get to experience different challenges every day.
What does "Experience shared." mean to you?
Naturally in the Legal department we do not get nearly the touches with clients that those in Operations or Account Management get, but to me "Experience shared." means we do what we can to give our clients and their customers the best experience possible. That oft en means that even when we are negotiating tough issues with our clients, we do our best to communicate politely, clearly and fairly so that even if they disagree with the position we are taking, they respect us and no matter the outcome we protect the client relationship.
Source: http://www.sitel.com/blog/spotlight-executive-leadership-team-david-beckman/
Publish Date: June 26, 2015 5:00 AM
---
What We Can Expect from the IoT
Fitbits, MagicBands, Apple Watches, smart cars … According to Forbes, connected devices will soon outnumber connected users six to one. There's no doubt, the rise of connected devices will have a profound impact on customer service – affecting everyone from the consumer to the business leader. Regardless of industry, the IoT will further refine customer interactions and increase consumer expectations.
At a recent Sitel-hosted round table, brands including Apple, Zappos, Nationwide and State Farm Insurance companies contributed their opinions on the IoT and the impact on customer service. At the onset of the session, several of the participants had little knowledge of IoT, while others were expert. In fact, Zappos had a smart house with automated door locks, coffee machine and thermostats.
There was a consensus that the IoT will provide opportunities to better meet customer needs. The data generated by the connected devices will provide the insights needed to proactively address customer needs giving way to increased automation reducing customer effort. It was agreed that having this data would allow more information to be pushed vs. pulled from customers. And all of this could, in fact, increase customer loyalty. Some even talked about the revenue-generating opportunities the IoT will present to organizations – more products and services to upsell and cross sell.
However, it was noted that the IoT will also add complexity to the contact center. Customer service agents may no longer interact only with people; they may also interact with devices – think a smart refrigerator contacting the manufacturer to order the replacement water filter. More and more self-service will become more sophisticated. No longer will customers contact organizations for simple fixes; conversations will become more complex meaning agent profiles will need to change
State Farm Insurance was very passionate and concerned about organizations' ability to provide compassion in the device-centric world where the human touch can easily get lost. When drivers call in to report accidents, agents are trained to console them especially at the scene of the accident. This could get lost if the car automatically notifies the company without driver intervention. And of course, privacy and security was a huge concern for everyone.
We're still at the early stages of the IoT era. And there will be growing pains. However, the IoT has a huge potential to reduce customer effort, increase brand loyalty and elevate customer spend. At Sitel, we are working to anticipate the positive impact the IoT will have on our clients and their customers.
Do you want to learn more about the Internet of Things? Download our FREE whitepaper HERE.
Source: http://www.sitel.com/blog/iot-and-customer-service-the-good-the-bad-the-ugly/
Publish Date: June 23, 2015 5:00 AM
---
A New Year's Eve car accident eight years ago caused by a drunk driver hurt Doyle Bode Hammer's back, his ability to continue in his chosen career and his feelings of self-worth.
"Not having a job when you're someone who is used to working, it's bad on so many levels because you feel worthless," the Cleveland, Tennessee resident said.
Hammer grew up in a construction family. Building houses from the ground-up is all he had ever done, he said. After the accident, he spent about five years doing odd jobs.
Hammer would apply for jobs, and hiring agents would look at his résumé and say that his skills didn't transfer, despite his associate's degree in computer science. "People don't want to give you a chance in a new field," he said. "It was really hard on me emotionally because I really enjoyed my work."
Eventually, he found Sitel, a global customer care provider that provides support and billing assistance for major satellite companies. Sitel's work-at-home platform is an ideal fit for people in Hammer's situation or who don't live close to call centers.
Hammer is now a customer service representative who can work from home. He did a training program to get him used to working with customers over the phone, and his at-home work allows him to take breaks and rehab his back when needed.
Obviously, a life-threatening accident changes a person's life perspective, Hammer said. "You feel like nothing can happen to you, like you have everything figured out," he said. "But then, something bad happens, and you realize how life is short. You could lose everything. It's nice to have a company who is willing to give [people] a chance."
In addition to providing opportunities for people like Hammer, the work-at-home platform allows the company to broaden its employee base.
Source: http://www.sitel.com/blog/after-car-accident-local-resident-finds-help-from-work-at-home-option/
Publish Date: June 19, 2015 5:00 AM
---
According to TechSci Research report "Global Smart Wearable Market Forecast & Opportunities, 2020", the global market for smart wearables is projected to reach USD37 billion by 2020. At the moment, consumer smartwatches and smart wristbands cumulatively account for a lion's share in the global smart wearables market. In response, luxury watch manufacturers are foraying in the market and launching luxury smartwatches to attract the high income customers.
Obviously, these customer's expectations are different. Behavior is also drastically different between the customers in the West and in Asia. For instance, there are many different accents within Europe. To target this inhomogeneous group of consumers, brands must operate according to that specific market, and here is where Customer Relations companies play a critical role.
The vast majority of high value goods purchasing still happens in the physical domain by impulse, but omnichannel is quickly changing the digital landscape and with many brands still hesitant and wary of ecommerce they may be left behind completely if they do not adapt quickly.
According to Deloitte, in the UK for instance, 58 percent of millennials already buy high value (luxury) goods through ecommerce channels, thus driving omnichannel. Research also shows that more than 86 percent of consumers would pay more for a product that provides better service.
By targeting millennials via social media, brands are increasing their chances of building a relationship with this consumer, which may translate to lifelong "high margin" loyalty. An understanding of these new relationship drivers can lead brands to have a greater knowledge of their consumers' habits and individual drivers. Giving insights into to what, when and how a client wishes to experience the brand at hand.
"Cheaper and better" has always been the mantra among customer relations executives, however, we have been hearing a much more focused message around the overwhelming need to capitalize on new trends, enhancing customer experience and increasing profits. If done smartly and strategically, omnichannel can be a cost-effective way to share innovative visions while building up the brand's allure and lifestyle.
————————————
I encourage us all to join the conversation. If you want to learn more about the challenges of the new Age of Experience, you may want to check out my recent whitepaper "TRENDS RESHAPING THE FUTURE OF CUSTOMER SERVICE" that is available for free at Sitel.com. This report addresses the drivers of trends we are observing – evolving channels and customer experience expectations – and provides insight into methods for addressing the customer relationship evolution.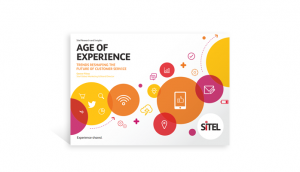 Source: http://www.sitel.com/blog/world-wide-wednesday-cheaper-and-better-think-twice/
Publish Date: June 17, 2015 5:00 AM
---
How Companies are Leveraging the IoT
We live in the world of connectivity. Anything your heart desires is quite literally at your fingertips. With over 10 billion devices currently connected to the internet, and more and more added each day, we've turned into a world of digital relationships. You can now purchase anything in the world and have it delivered right to your doorstep without ever having human interaction.
Still, studies have shown that this human interaction is what defines the customer experience. While we may no longer be an "Internet of People" and are now an "Internet of Things," the vast majority of consumers still long for some sort of human interaction. It's companies that stay ahead of the game and offer both ease of user experience and digital customer service that truly profit.
Here are three ways the Internet of Things will revolutionize the customer service experience
The customer will no longer worry about the maintenance of their "things"
By applying the latest technologies, products will now be able to communicate with customer services centers about the issues they're having. Does your refrigerator need a new water filter? Your customer service center will know before you do. Using this technology to their advantage, companies can stay ahead of the customer service curve by providing what their customers need, right when they need it, whether they know they need it or not.
Companies will be able to leverage data like never before
Have you ever noticed how your Google searches suddenly appear everywhere you look? Let's say you're searching for a new dishwasher on Google one day. 20 minutes later you log on to Facebook and a top named brand has an ad about a dishwasher sale currently happening. Coincidence? Definitely not.
The internet is a very powerful place. What you search for follows you. Companies will be able to utilize this like never before. Just bought a new car? You might suddenly find that all of the dealer's accessories for that particular model suddenly pop up all over your newsfeed. Using information you provide like your email address, companies can push information to you that they feel might be relevant to your most recent purchases. While some might consider this an intrusion, most feel it's the company's way of showing that they care about their products and your happiness.
Companies will receive feedback faster and more efficiently
Not satisfied with your washing machine's performance? Tell it. Not thrilled with the new cappuccino machine you purchased? No worries. Let it know. Companies will have unlimited access to the feedback of their customers in relation to their products. This allows them to make real-time changes to ensure that the situation is resolved quickly and efficiently. Some products are rolling out new technologies that ask for short surveys from the consumer from time to time to measure "wear and tear" and other factors that cause products to decrease in value over time.
Additionally, with the increase in video functionality, some products are even connected via a video chat system. If the consumer is having trouble with the product, they can instantly connect via video with the technical support department who can walk them through fixing the issue. Adding this level of customer service will greatly increase customer satisfaction.
The world is more connected than ever. We here at Sitel are here to ensure that your brand is well-represented on the Internet of Things. Whether it's utilizing our Social Monitoring & Social Engagement Services to monitor your social media outlets and interact with your customers on your behalf, or it's leveraging our online chat functions to assist your customers with anything they might need, we're your go-to source for customer experience. With over 2.1M interactions per day, we feel confident that we can help you, and your customers, navigate through this Internet of Things to find what is really needed.
Do you want to learn more about the Internet of Things? Download our FREE whitepaper HERE.
Source: http://www.sitel.com/blog/revolutionizing-customer-service-with-the-internet-of-things/
Publish Date: June 16, 2015 5:00 AM
---
Sitel Joins Community Care's Back to School Snacks and Sneakers Program
Hundreds dropped by the St. Catharines Market Square to see some amazingly talented artists supporting Community Care's Back to School Snacks and Sneakers program. Most of these artists were Sitel employees! These gifted artists and entertainers donated their time and talents to ensure that every child is given the opportunity to look forward to their first day of school, following the theme that kids "deserve to start school on the right foot."
This kid-friendly environment was coordinated through the efforts of Sitel, which has become an increasingly familiar name in the community. All of the performers hailed directly from this budding business. Although Sitel has been involved in many charitable works over its 13 years in St. Catharines, Ontario, Canada, events such as this demonstrate that call centers don't just "take or make calls." They are a team of very unique, very talented individuals who can make a genuinely positive impact on their community.
The event was kicked off by Sitel St. Catharines' Site Director Brandy Perrier and St. Catharines Deputy Mayor Dawn Dodge and was covered by Cogeco Cable TV and 105.7 EZ Rock. They thanked everyone who came out to the market square to donate their time or money. The event helped raise awareness of many programs and initiatives, giving St. Catharines residents even more pride in their community.
The event was also officiated by the Niagra Folk Arts Multicultural Center, Ontario Works and Niagra Regional Housing, who set up information booths and activities for children. The generous support of food vendors, such as Bistro on Church and The Yellow Pear Farm to Truck Cuisine, was also integral to the event. Overall, the combined support of these local vendors and organizations rose $1,850.00 and benefited hundreds of children.
Special thanks also goes out to children's author and artist Chris Summerhayes and Sitel's own Elaine Bolton, Lori Butler and Jason Stewart, who provided activities, donations and additional media coverage to help make this event a great success. Other volunteers handed out free water, freezies and popcorn, and set up the children's movie and gaming area. Sitel's Darlene Valentine served as the event coordinator and deserves a very special thank-you for dedicating months of effort in order to make this charitable event a reality.
Sitel St. Catharines' work in the community isn't over yet. In 2015, they'll be alongside other essential organizations in the market square, too. Together, they'll work to ensure that area children will be excited about their first day of school. As the Snacks and Sneakers program theme goes, "All kids deserve to start school on the right foot."
You warm our hearts, St. Catharines!
Source: http://www.sitel.com/blog/sitel-gives-back-at-the-market-square-menagerie-in-st-catharines/
Publish Date: June 12, 2015 5:00 AM
---
Managing Director, EMEA Pedro joined Sitel in 2001 as Chief Financial Officer for Spain, in which he managed the financial organization. For almost seven years he was responsible for corporate finance, tax and operational finance, accounting and controller functions. From 2009-2011 Pedro was General Manager, Southern EMEA where he had responsibility for financial operations and served Sitel's local and global clients and market needs. Having been in his current position of Managing Director, EMEA since 2011 Pedro is responsible for Sitel's contact center services in the EMEA region.
Pedro is multilingual and earned his Bachelor's Degree in Economics and Business Administration from Universidad Pontificia Comillas in Spain.
PEDRO RECENTLY SHARED HIS INSIGHT ON A FEW KEY QUESTIONS:
What opportunities do you see for Sitel in the next 12 months?
The economic crisis is disappearing in some of the different markets, slowly in some like Italy, France, Portugal or Spain and faster in the UK, Germany and Eastern European countries. Sitel is ready to grow again in EMEA as we're doing in other regions. The new branding is helping significantly in our approach to new clients and prospects and the offer of new services like Sitel
Intelligent Desktop and Work@Home will also make a difference. We will continue to be strong in our multilingual hubs and look to expand our existing locations (Barcelona, Belgrade, Kingston, Lisbon, Sofia and Warsaw) to new geographies where we can deliver a service of great quality in more than 40 languages.
What makes Sitel different/unique?
Our people. We're more than peers, we are a family. We suffer when our colleagues in other campaigns, sites or countries are suffering and we all celebrate when our colleagues are succeeding. Being One EMEA in ONE Sitel has been our aim for the past two years and we'll continue striving to do our best as part of a people-first company.
What does "Experience shared." mean to you?
It's what we do every day – using our collective experiences from different places, clients, verticals, languages and cultures. Sharing our expertise with other team members and with our clients is the best way for us to ensure consistency and continue to deliver value. Although it is not always easy to find time for this activity, once you truly understand the value of it you'll become a promoter of this idea.
Source: http://www.sitel.com/blog/spotlight-executive-leadership-team-pedro-lozano/
Publish Date: June 6, 2015 5:00 AM
---
Original Article By Felix Serrano, SVP & GM, Sitel Work@Home Solutions
The rise of the remote call center agent is one of the fastest-growing trends in the customer care industry. In fact, with an anticipated annual growth of 25 percent, some industry leaders are beginning to wonder if the dramatic rise of work-at-home agents could mean the eventual extinction of brick and mortar contact centers.
Accordingly, customer care providers are beginning to transform the way they hire, train and manage their remote workforce through new innovations and technologies such as multi-channel support capabilities, security and validation applications. The proof is in the pudding – the call center industry is seeing an increased adoption of outsourcing from in-house centers that have not kept pace with these innovations and want to leverage company's expertise and capital investments in the call center of today.
Below are five primary reasons that a work-at-home model is beneficial to customer care providers and their customers:
GREATER TALENT POOL
The traditional contact center is typically limited in its hiring selection to employees who are either local to that particular area or are willing to relocate for their new career. On the contrary, the work-at-home model allows for an unlimited talent pool and ultimately increases the quality of staffing. Additionally, employees with flexible work schedules have a lower propensity to switch jobs which ultimately means reduced attrition, fewer interruptions due to new hire learning curves and increased knowledge retention for businesses.
ENHANCED OVERALL EMPLOYEE PRODUCTIVITY
One of the main concerns with deploying a work-at-home model is that agents will become less productive and more distracted. However, new research shows the exact opposite to be true. By having this type of flexibility, employees eliminate distractions and time-consuming non-productive tasks, such as socializing with colleagues, elongated lunch breaks and downtime associated with inclement weather. Remote workers are able to maximize their work time and decrease wasted time.
COST REDUCTIONS FROM SCALABILITY AND FLEXIBILITY OPTIONS
The customer care industry tends to have dramatic fluctuations in staffing needs during specific periods of the year.
During the holiday season, for example, there is always an increase for customer interaction. Fortunately, the work-at-home model enables greater flexibility with adapting to particular needs. And work-at-home isn't just a seasonal solution; it is a more efficient way of providing optimal staffing levels for providers that have evolving business needs and a way to further enhance business ROI.
MINIMAL REMOTE OFFICE COSTS RESULT IN MONETARY SAVINGS
The cost of deploying and maintaining a physical contact center site is much more of a financial expense than deploying a work-at-home model. Maintenance repairs aside, traditional call centers also need equipment, IT capabilities and costly insurance premiums just to remain in business. Work-at-home programs reduce those overhead costs where the agent is typically using their own equipment which may include their own high speed Internet access, computer and other office equipment. These are tangible, bottom-line savings with work-at-home programs.
TRAINING OPPORTUNITIES THROUGH E-LEARNING
While brick and mortar contact centers allow for group trainings, new advancements in e-learning capabilities are helping remote workers to have the same, if not better, level of training as their in-office counterparts receive.
E-learning tools also require fewer trainers to be present, making this capability a lower cost solution for businesses overall.
So is work-at-home the future of customer service and will the call center simply become a distant memory in years to come? While the industry-wide swing towards the at-home call center is a beneficial attribute–both are still essential to a balanced business strategy. Both models will continue to complement each other and make the other discipline stronger for the highest quality customer experience possible.
Source: http://www.sitel.com/blog/could-work-at-home-agents-turn-the-call-center-into-a-ghost-town/
Publish Date: June 4, 2015 5:00 AM