Global brands can now better serve the hyper-connected customer through WeChat's messaging service using Sparkcentral
SAN FRANCISCO— May 10, 2016—Sparkcentral, the leading social and mobile customer engagement platform, today announced the addition of WeChat support, so brands can better manage customer interactions on any social or messaging channel and adapt to rapidly evolving customer experiences.
Customer expectations of service are changing quickly with the proliferation of more and more digital interaction channels, including a massive influx of customers demanding the highest level of service from brands on social and messaging platforms. Sparkcentral already unifies customer engagements with brands across Twitter, Facebook, Facebook Messenger, Instagram and via mobile in-app messaging. Today's addition of WeChat enhances Sparkcentral's customer-first engagement platform, giving enterprises a more comprehensive way to evolve social and messaging into the contact center and meet modern customers where they are.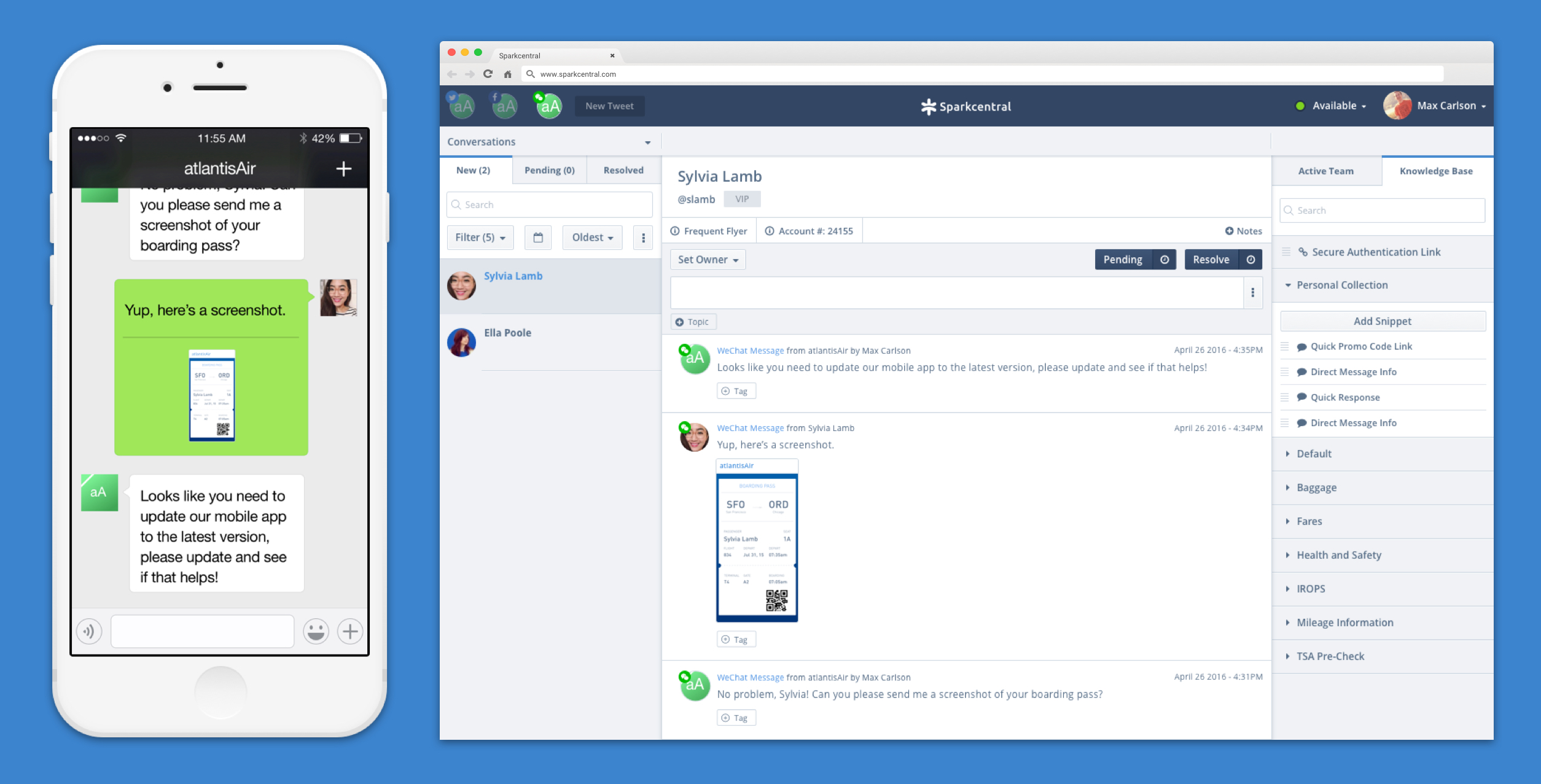 "Adding new channels like WeChat to the Sparkcentral platform is just the beginning of our mission to transform social media and messaging into viable customer service channels," said Davy Kestens, CEO of Sparkcentral. "We are just scratching the surface of what's possible and as we keep building out our offering, we'll continue to enable brands to shine by delivering amazing customer service in ways that are even more customer-centric and innovative."
With more than 700 million usersー100 million of those outside China, throughout Asiaー WeChat is a regional force in social media and messaging. Not only used for one-to-one messaging, WeChat also offers group chat, personal posting, gaming, payment, shopping and local services. Consumers can book appointments on WeChat, check-in for flights, order taxis, make cashless payments in stores, pay utility bills and transfer money or bitcoins to friends. While WeChat represents an exciting opportunity for customer care and support, brands still struggle to scale customer service on these emerging channels and match the level of service possible with the power and convenience of the channel itself. The success of implementing new channel and customer care strategies along with the technologies to manage them still depends largely on the way customer care teams adopt and execute.
Adding WeChat support will helps brands and customer care teams move towards full, high-volume, enterprise-grade customer service resolution with Sparkcentral in several key ways:
Customer care agents can maximize customer satisfaction with a dashboard built to help them easily resolve customer issues. Agents can connect WeChat profiles with existing CRM data for a complete picture of the customer and ultimately unify customer information across all channels.

Sparkcentral WeChat support makes it easy for customers to reach brands using WeChat and receive faster service and shorter issue resolution times than other traditional modes of customer support. Customers will benefit from customer support agents seeing a unified history of customer interactions and experience smoother, faster and more appropriate responses to issues.
Adding WeChat to the Sparkcentral Customer Engagement Platform was built leveraging Sparkcentral Channel Connect, a newly released API that enables brands to support popular channels like WeChat and SMS as well as custom channels like forums and home-grown chat services. Sparkcentral also utilized Nexmo, a global cloud communications platform leader, via the Nexmo Chat App API to access WeChat. This news follows last month's launch of the company's integration with Facebook Messenger in direct partnership with Facebook, allowing brands to seamlessly integrate Messenger conversations into their social customer care strategy.
About Sparkcentral
In the age of the customer, Sparkcentral is the only enterprise customer engagement platform that unifies social, mobile, cloud and contextual data to proactively deliver personalized and engaging customer experiences. Customer service teams use Sparkcentral to efficiently handle large amounts of inbound inquiries over social media, mobile apps and messaging platforms in a fast and structured way. Sparkcentral's client roster includes Delta Air Lines, Emirates, Netflix, Nordstrom, Dropbox, Uber, and T-Mobile. To learn more, visit www.sparkcentral.com
See WeChat in Action
Source: http://www.sparkcentral.com/blog/sparkcentral-adds-wechat-support/