Ian Jacobs, Senior Analyst at Forrester Research recently presented on the evolution of customer service in our "Social as a Modern Form of Customer Service" webinar.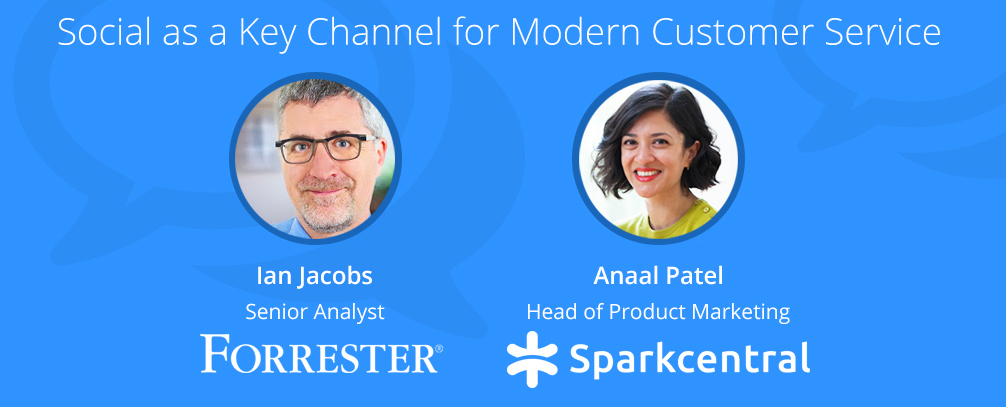 If you missed it, be sure to watch as we discuss the best technology to use for scalable social customer care and how industry leaders are utilizing social service across a variety of verticals such as financial services and fast food.
We received more questions than we had time for during the webinar, so I asked Ian to answer some of the ones we couldn't get to. If you have any more questions to add to the mix, tweet us @sparkcentral and we'll get back to you!
Q: How important do you think it is to integrate humor into interactions on social?
IJ: Humor works if it is part of your brand image. No one expects every interaction with the taxman to contain humor, but a tropical resort is a different story. Really, personality is what is important. That can be expressed through humor, but it can be expressed through expressions of taste (I love the band in your profile photo!), or just reminders that the responder is also a human being (Yeah, I hate when that happens with my cable too!).
Q: How can brands/companies direct inquiries to social and away from phone calls?
IJ: There are two answers here. One is that many of our clients just start answering queries on social and find that the volume snowballs. Once clients know you are open for business on a channel, the message spreads. A bit of 'if you build it, they will come.'
The other answer is that companies actually market social service to their customers. Verizon, for example, lists how to get various types of support via social prominently on their website. Here is an example. Other companies such as Delta Air Lines have even used print and television commercials to do the same.
Q: Do you believe there is a difference in social customer service for B2B versus B2C?
IJ: The only real differences are scale and collaboration. B2B customers are still consumers outside of work hours and their expectations have been set by an increasingly social world in the same way that ours have. In fact, given that they are likely turning to social for customer support in their consumer guise, why should they have to shift into a different mode when they need support as a business?
That said, B2B cases tend to be more complex and require more than a single back and forth to resolve. Therefore, B2B social service requires a tool that allows easy collaboration across employees to help resolve the case.
Q: How are brands and retailers that want to avoid resolving support issues publicly still serving customers over social channels?
IJ: Pivoting the interaction to the private communication vehicle for each channel is the answer (direct message for Twitter, Private Message or Messenger for Facebook, etc.). Moving my communication from public Twitter to private Twitter does not create a disruptive experience for me – I still access those messages using the same Twitter client, so this is not the same problem as transferring a Twitter interaction to the phone.
Q: Are Bots and AI the obvious future of social customer support?
IJ: I think that, as with many technologies, people are overestimating what AI will be able to do in 3 years and underestimating what it will be able to do in 10 years. So, the answer depends on your timeframe. If you mean, in the near term, then the answer is no. Virtual assistants today lack two critical components required to give a human-like experience. First, they are not conversational.
Try asking Siri a follow-up question to one it just answered. It doesn't work. Even the newer virtual assistants that are building in conversational capabilities (such as Soundhound's Hound) only take this so far – in many situations, the assistant just loses the thread. Secondly, the virtual assistants of today have no ability to tap into context outside of a specific corporate knowledge source.
A human agent would likely know that when a customer types Shaq, that refers to Shaquille O'Neal. A virtual assistant lacks that context. So, until the assistants are contextual and conversational, they will not totally replace human support.
Source: http://www.sparkcentral.com/blog/social-customer-service-qa-ian-jacobs-forrester-research/