Spoken Communications - ContactCenterWorld.com Blog
Page: 1 | 2
It may seem that we talk a lot about trends in our Spoken blogs, and a quick search of our blog archive would certainly confirm that, but trends are an interesting phenomenon in that they act as a teacher of sorts when it comes to learning about what's happening in an industry, or the world for that matter. Plus, watching trends helps us to know what steps should be taken in order to "ride the wave" of the trend instead of getting "swept away" in it.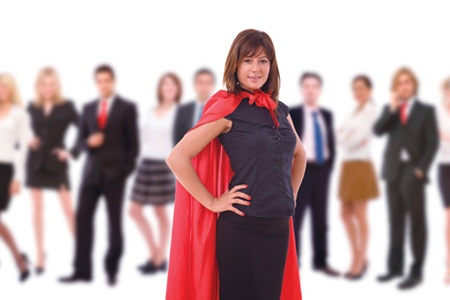 Let's take, for example, the issue of Customer Service. In recent years, the function of customer service has trended away from a single department/cost center to a primary marketing function of an organization. What's brought about this change? In a recent article by Tricia Morris, consumers now tend to value customer service and customer experience even more than they value a product or a good price. Consumers are much more savvy than they used to be; they have the ability to shop multiple sites to compare products and prices and once they've found what they want, the process of making a purchase then becomes all about how quickly and easily they are able to do this and how well they are treated should an issue arise with their order. Additionally, this article points out that 90% of consumers expect consistency and continuity from a brand across channels. That means regardless of how a customer contacts you via phone, e-mail, live chat or a social media platform, they expect the experience to be exactly the same.
These changes in customer expectations have been the driving force behind the call center's shift from single department to a more front and center marketing function. Interestingly enough, however, not all contact centers have implemented a multi-channel integration that provides a consistent experience across platforms. Additionally, many contact centers are still lagging behind when it comes to training their agents across multiple channels or equipping them to make on-the-spot decisions that will assist the customer.
Check out this Spoken blog to learn more about how to equip your call center agents to meet the customer's expectations.
Considering that this customer trend will not be going away anytime soon, it's important to implement some customer service principles that will enable your organization to grow with the trend instead of getting lost in it. This requires a commitment from all levels of the company and is the process by which you make your customer service move from a "back-office" department to a front and center marketing function. Here are a few specifics:
Empower Employees: Leaders need to train their customer-facing employees to know what they are doing, what they can offer and where to go to get the information they need to assist the customer.
Insights: Leaders need to equip the customer-facing employees with access to key customer insights that will make the customer experience more personal. This should include customer profiles on the products and services they use and analytic tools to view customer history.
Mobility: Customers are mobile and customer service should be as well. Leaders who monitor trends will see the importance of a mobile customer service department that is ready to connect and engage with customers on any platform with any device.
Empowering employees to serve the customer requires leadership from the top down that embraces trends, uses multiple channels to engage your customers and training all of your employees to be customer centric. Leaders who have moved with the call center trends have reaped the benefits and built a company that is seen as a leader in customer service.
Source: http://www.spoken.com/blog/empower-your-employees-to-serve-your-customers
Publish Date: July 28, 2016 5:00 AM
---
It's no secret that customer service expectations are high and growing higher as new technologies are helping to streamline communications between brands and consumers. But due to these high expectations the probability of meeting these service ideals is low and customer let downs are commonplace following contact with today's call centers, whether with a live agent or an IVR system. One might even say that your customers are prepared for the worst from the moment they dial into your hotline. One mix up by your auto-attendant, for example, could send the whole customer experience spiraling downward.
Since customer service is a top priority for brands, upgrading your technology to support your call center team and improve every customer service interaction is vitally important to your company's reputation and, ultimately, its bottom line. So ask yourself: Is your current technology causing more mishaps than success stories? If the answer is yes, then now is the time to stop letting your subpar system diminish your call center's ability to provide excellent customer support.
With the right technology, you can let the capabilities of your call center shine and never worry that your customers are growing frustrated by an IVR system that frequently transfers them to the wrong representative, for instance.
So, what does a call center model that produces "wow" results look like? Here are few features and benefits:
Full redundancy: Is there anything worse than having your phone lines go down due to a storm or power outage? Your customers expect that you'll be available under all circumstances, so make sure you have technology that can support this supposition. Your technology provider should have redundant and geographically diverse data centers that will back up your phone lines and keep the calls flowing no matter what. For instance, in the event that one data center fails, the second data center will immediately take over the full call volume without missing a beat or disconnecting a single customer.
Smart IVR: Your IVR system should be fully customizable to your specific call center needs. That is, you need your IVR system to be intelligent enough to automatically identify and route callers with specific qualifications to particular agents. For example, an IVR system with flexible and programmable call flow capabilities enables call centers to choose exactly how they need their calls to be routed. In addition, advanced programming capabilities help call centers more accurately route callers to the representative most knowledgeable about their issues.
Usage-based pricing: Another important feature that will help you produce more internal (in addition to customer-facing) "wow" results is usage-based pricing. For example, if you employ a team of remote agents, they'll need to use a virtual desktop solution so that they can access the same tools their colleagues in the office use. But some agents may log in at different times, or may not have the same volume of calls each day; therefore, it's more cost-efficient to pay per minute of usage so that you can get the biggest bang for your buck. Rather than paying upfront for capacity that may not be used at all times, pay as you go and avoid shelling out more money than is truly necessary.
Advanced security: Security is a major concern for customers who share their personal information—from home address to credit card numbers—over the phone. As such, it's important to choose a provider that can offer on-the-fly encryption that uniquely codes each customer's phone call, making it extremely difficult for hackers to gain access to data that is shared. Rather than only having one general encryption for all of your customers, individual call encryption ensures that, even if there was a security breach, the hacker wouldn't be able to gain access to all of your customers' information at once.
So put an end to letting your customers down when they dial into your call center. Arm your call center with the advanced technology that can fully support your customers' needs and deliver high-quality results.
Source: http://www.spoken.com/blog/give-your-customers-more-wow-experiences-with-smarter-technology
Publish Date: July 21, 2016 5:00 AM
---
We recently came across a fascinating article detailing the relatively young profession of the Customer Success Manager, in the recently released 2016 Customer Success Salary & State of the Profession Report. What's a Customer Success Manager you ask? Well, to best answer that, let's learn a bit about Customer Success Management programs.
Customer Success Management is a new term that describes a Business to Business program designed to bring success to your business customers. For example, here at Spoken, we sell products and services that are designed to support the Customer Service functions of our clients. We have a vested interest in making sure that our customers succeed because if they don't, we don't. Say we want to implement a program or new piece of technology that we believe will bring great success to our customers, like encouraging certain customers to move to the Avaya Cloud. In order to insure that this "push" is successful, we decide to implement an incentive program for our agents that offers some additional commissions or bonuses for every customer that they are able to successfully transition to the Avaya Cloud system. That is a Customer Success Management program. It is a program that really benefits all involved, because it will bring greater success to our customers and at the same time, reward our employees or Customer Success team for a job well done.
Below is a graph that outlines some of the possible top goals of a customer success team.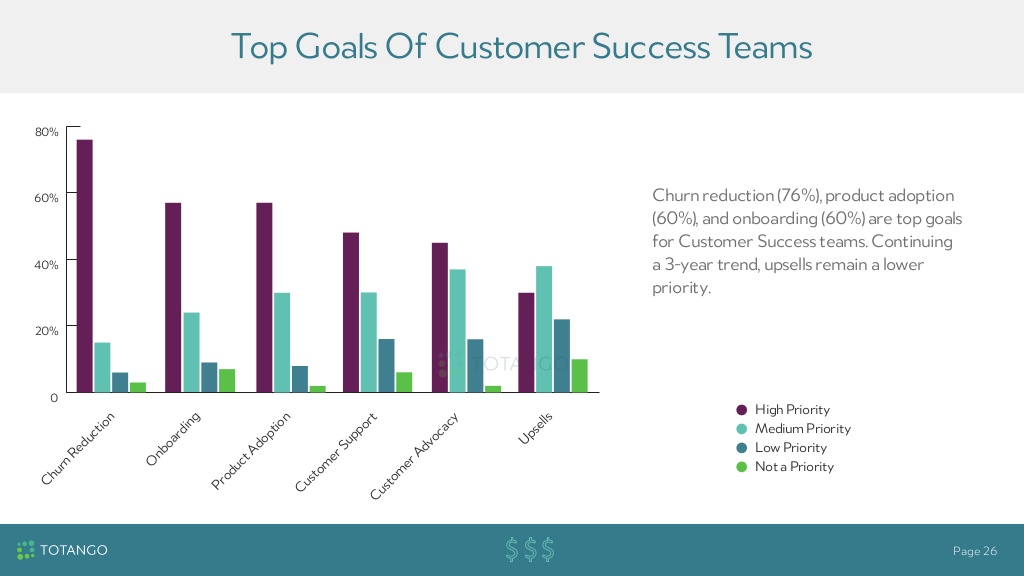 2016 Customer Success Salary Survey & State of the Profession Report
Want more? You can learn other techniques for reducing churn in our recent blog. And here's 5 tips for customer retention.
Customer success programs are growing as are the teams that manage them. As the Customer Success teams grow, so does the need for managers. Customer Success Management is a new and fast growing profession that has seen tremendous growth within the industry over the past two to three years and is proving to be a profession with low turn-over.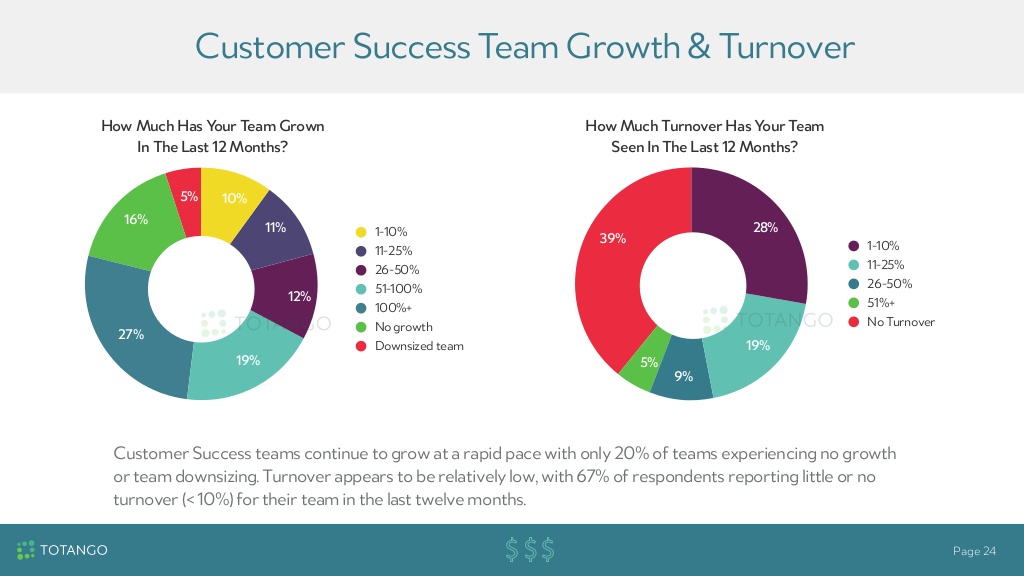 2016 Customer Success Salary Survey & State of the Profession Report
Compensation
The compensation structure within the customer success program can be key when it comes to successful implementation. In addition to their salaries, agents can earn additional compensation within the Customer Success program. As we mentioned above, incentives can be offered to agents when they successfully move a customer into a new program or a new product. Additionally, other metrics, such as churn reduction, renewals, upselling, or portfolio health can be factored into the compensation structure. Bonuses can be driven by both the team performance and company performance as well.
Teams
Customer Success teams can have as few as 1-5 members or as many as 100 plus. Larger companies are likely to have a number of positions that comprise the Customer Success team, beginning with more entry level positions and continuing up to executive positions.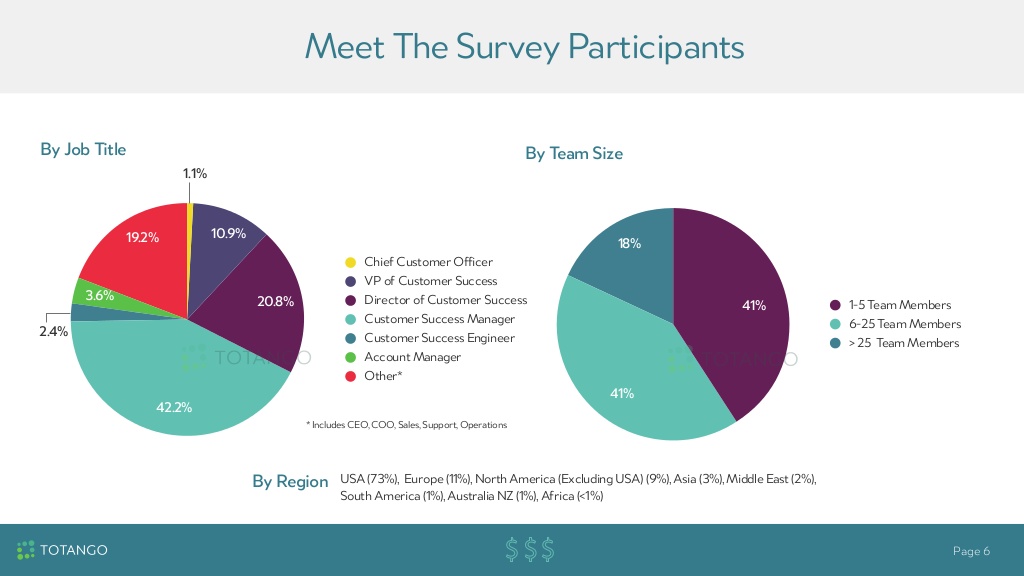 2016 Customer Success Salary Survey & State of the Profession Report
The Customer Success Management Program is a trend that is worth watching and one that we anticipate will continue to grow and change with our every-changing and growing industry.
Source: http://www.spoken.com/blog/an-inside-look-at-the-customer-success-manager
Publish Date: July 19, 2016 5:00 AM
---
2016 Cloud Trends Unfolding Series
So far, as we've been moving through our series on Cloud Trends Unfolding in 2016, we've talked about cloud providers optimizing big data in the cloud followed by how cloud analytics helps IT and the emerging security standards we can expect to see. Let's take a closer look at another cloud trend for 2016: how contact centers are approaching cloud adoptions.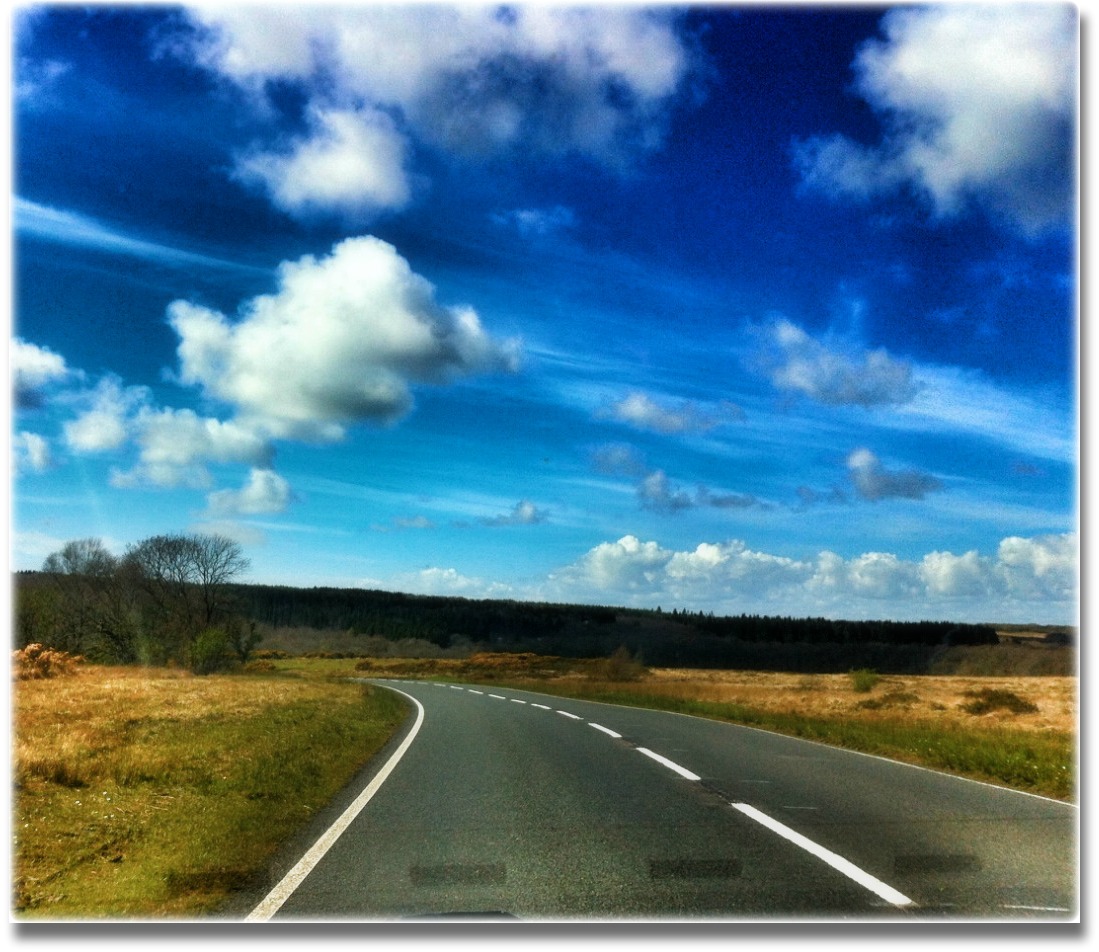 However, before we dive into this, let's take a quick overview of the cloud and how it works. First, it's important to remember that the cloud is not a single thing but a network of services, storage, applications and servers that both perform tasks and store data. Some of those servers provide services, while others provide storage. An example of the services the cloud provides would be something like SalesForce or Adobe Photoshop. We used to access this creative service by buying the boxed software, now Adobe Photoshop, along with other creative services, has been moved to the cloud and is accessed through a subscription in order to use the service. Microsoft has moved to a subscription model for its popular Office suite as well, now charging for a yearly subscription rather than for a one-time download and outright ownership.
And anyone who has uploaded photos to iPhoto or Instagram or who has shared documents using Google Drive or SharePoint knows about cloud storage.
The real driver of cloud growth in 2016
Given that consumers use the cloud every day without realizing, what is the value to the enterprise of cloud in 2016? According to Dustin Smith, Sr. Product Marketing Manager at Tableau Software, it's ease of use. Moving data to the cloud will become as easy as a simple copy/paste move. Smith predicts:
"With self-service cloud analytics and data prep now a reality, the chance of letting an individual move data into a cloud ecosystem quickly and easily (and without a technical background) is on the horizon," he says. "Simple solutions that largely decouple the complexity of data integration, staging, and transformation and focus solely on letting business users drop data into preferred cloud databases and warehouses are on their way."
Smith states a simple truth: the ability to easily back up, access, share and store data in the cloud without even thinking about it is the real value here. Ten years ago, data backup procedures required hardware, manual action and strict protocols. Today, even a non-techie can backup, store or share data in the cloud without even thinking about it. What is driving cloud growth is that it is so easy to use that we can now spend our energies focusing on our core tasks rather than on manual ways of storing and sharing data.
More cloud predictions and other cloud technology posts
Perhaps one of the greatest lessons we're learning as we watch these trends unfold is simply that cloud technology is easily accessible to the average user with minimal barriers to entry. In the early days, changes in technology had to go through the IT department. But the accessibility of cloud computing meant that departments could bypass IT entirely: a sales team could easily implement SalesForce, a marketing team could implement HubSpot and a development team could share documents on Google Drive or DropBox without going through a lengthy IT vetting and installation process.
The contact center cloud in 2016
A recent report by research firm Frost and Sullivan on contact center modernization predicted that the cloud contact center market will grow to over $3 billion by 2017. This represents the combined spend across ACD, IVR, outbound contact, chat, quality monitoring, workforce management, and analytics applications.
Furthermore, Frost and Sullivan has reported that the adoption of hosted or cloud solutions is not concentrated to any one industry or few industry sectors; rather, it is fairly distributed across industry verticals. They believe its high adoption in industries such as financial services and healthcare validate the robustness and maturity of the model.
According to the Cloud Contact Center Market Trends Report by Frost and Sullivan, the key considerations for moving to a cloud-based contact center include:
Reduced systems maintenance and management costs
Reduced IT budgets to buy and manage infrastructure in-house
Rapid time to deployment
Flexible scalability and business agility
Ease of provisioning and managing multi-site operations
To support remote / at home agents
It only makes sense that contact centers are flocking to the cloud with the abundance of benefits and the increasing simplicity. Will the cloud contact center market reach $3 billion by 2017? Only time will tell. But based on the growth we are seeing at Spoken and the immense benefits our clients are receiving, we certainly think so.
Source: http://www.spoken.com/blog/real-driver-cloud-adoption-2016
Publish Date: July 7, 2016 5:00 AM
---
Even though we are a technology company, pretty much everything we do here focuses on one thing: improving customer service and the customer experience. The products and services Spoken creates enable the customer service departments, in a wide variety of industries, to do their jobs and provide a high level of customer satisfaction to their clients. Needless to say, (but we'll say it anyway) we tend to watch the trends that impact this industry VERY CAREFULLY!
A recent article detailing customer service trends caught our eye. Not only does this article offer some interesting insights into today's customer, but it also details some very specific trends that will impact the customer service industry going forward.
First, let's talk a little about today's customer and how they have a major role in shaping how customer service is done. Customers today tend to be very savvy and well informed. With a simple "click" on a tablet or smartphone, a customer literally has a wealth of information about the product itself as well as access to dozens or hundreds of customer reviews.
Online customer reviews have been the key factor in upending the business to customer relationship. Why? Because they're right there for all to see! By reading online reviews, customers can see how problems are handled and whether or not the business truly does value their customers by seeing to it that they're satisfied especially if there has been a problem. Online reviews as well as social media platforms have forced a transparency in the business world that didn't exist even ten years ago, and this has had a HUGE impact on customer service. Basically, if a business is not tracking brand mentions online and engaging in conversations via social media--well, as we used to say in the days of The Cluetrain Manifesto, "the conversation is happening out there, with or without you."
Customer service trends in 2016
But aside from understanding that markets are conversations, 2016 has brought a plethora of new trends to the customer service space.
Quicker responses: Customers who complain on Twitter expect a response within 60 minutes. A recent study showed that customer expectations of email response time has sped from four hours in 2014 to just one hour in 2015. It's no longer acceptable to deliver a response in 24 or 48 hours. And what about on weekends? It may be time to review and refresh your response rate policies.
Video chat: This is a new and innovative technology that is beginning to emerge and can be seen on popular tablets. Amazon's Kindle Fire HDX, for example, feature the Mayday button, which allows a customer to connect with an agent within 10 seconds via a one-way video chat. And medical video chats are becoming all the rage; even insurance companies are covering these effective, low-cost service calls. Other companies are beginning to hop on the band wagon with their own versions of this; expect this technology to become much more common in the future.
Making self-service easier: Zendesk reported that 91% of customers said they would happily self-serve using an FAQ database rather than contacting customer service directly. Making your FAQ section more robust and easy to navigate will become increasingly more important moving forward. Businesses can beef up this section simply by mining the interactions between the customer and the agents.
Connecting with customers on every channel: In the 2015 Call Center Report, one key conclusion we discovered is that customers each have a preferred channel, and it's fruitless to try to drive them to another channel that isn't their preference. Customers want a variety of options when it comes to communicating with a business, so be sure you have phone, e-mail, live chat, text and social media covered.
Rewarding success: Building a company culture of care and going the extra mile will foster a customer service department that is committed to customer satisfaction. Happy employees make the best customer service agents, so invest in team building and employee appreciation events to ensure the best team possible.
The 2015 Call Center Report: Telephone wins and IVR loses

What trends do you see as we move through 2016 and into 2017?
Source: http://www.spoken.com/blog/customer-service-what-are-the-trends-shaping-this-industry-in-2016
Publish Date: June 28, 2016 5:00 AM
---
Business Intelligence, often abbreviated BI, is the set of techniques and tools for the transformation of raw data into meaningful and useful information for business analysis purposes. You probably already know that there are tools available today that businesses can use to gather information that will help them make informed business decisions.
And most businesses use some form of BI, but there are several factors that affect whether businesses are actually using their BI tools to full advantage. After all, if the intelligence isn't comprehensible or actionable, how intelligent is it, really?
Tableau recently released a report citing 10 trends that are impacting Business Intelligence in 2016. I found that three of them ring especially true for the call center.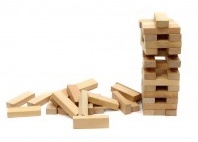 1. Data integration
Many companies today want to have agile analytics. In other words, analytics or business data that allows them to see the big picture instead of just the pieces. Think of it like a puzzle: you've got hundreds of pieces that need to be put together before you are need to see the full image to figure out what to do next. Data integration is a bit like the finished puzzle: it allows a company to see the whole picture by integrating data from various departments and putting it all together. The call center is one particular business that benefits greatly from data integration. With analytics and data coming off the Automated Call Distributor (ACD), the Customer Relationship Management (CRM) tool, the Interactive Voice Response (IVR), speech analytics and customer satisfaction surveys, it's essential to be able to get the full picture of the complete customer experience data.
For example, if the ACD data indicates a long hold time, the CRM indicates the third call this month, the IVR indicates a high-value customer and speech analytics show dissatifaction keywords, a 360-degree view of that data in one place could lead a supervisor to save a lost customer in real time.
Four insights your call center analytics SHOULD reveal
2. Cloud data and cloud analytics
As enterprises have continued to embrace the cloud, they've learned that it offers the analytics agility they need. The cloud has been proving over and over again that it is safe, reliable and adaptable to a business' specific needs.
Six cloud predictions for 2016
3. New technologies
New technologies are constantly emerging to adapt to customer expectations in the contact center space, and call center technologists are inevitably scrambling to catch up. In 2016, we are seeing increasing demand for multichannel contact center support as well as speech analytics, real-time reporting and cloud transition support. This is where BI comes in: new technologies mean new data information sources, which contribute to a more complete picture. For example, when customers implement the Spoken Smart IVR, there is a wealth of new data about the automated interactions newly available: every single customer utterance as well as any Guide corrections are compiled in a database, which makes it easy to visualize the information and spot areas for improvement.
For example, one customer noticed that callers were giving a 10-digit number when asked for their street address. Aha! That is probably a phone number. So we worked with them to automatically run any response to the "What is your street address" IVR prompt as a phone number. The results? A 10% jump in caller identification rates!
Spoken Smart IVR case study for Guthy|Renker
Source: http://www.spoken.com/blog/three-business-intelligence-trends-call-center
Publish Date: June 22, 2016 5:00 AM
---
Does our body language REALLY matter in our day to day communication? Aren't our skills and qualifications all that we really need to be successful in our lives and chosen vocations? One would think the answer to that would be "YES, of course", however, according to non-verbal communications experts, the answer to that question would be "NO! Body language is extremely important!" In fact, our body language could be the difference between staying stuck in the same position or advancing up the corporate ladder.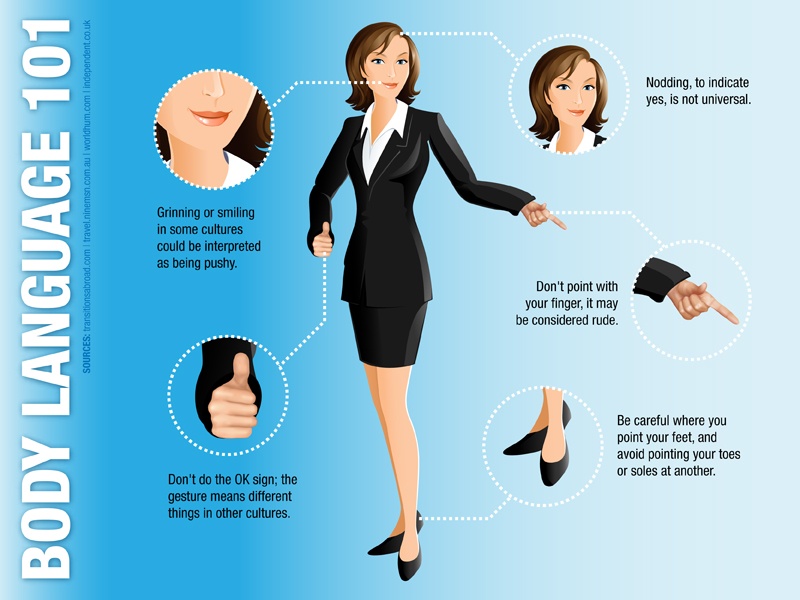 Let's take a look at some ways that positive body language can make a significant difference in how you are perceived.
Posture: Sitting or standing with good posture, shoulders back, spine erect and head up conveys to the listener that you are confident and comfortable in your own skin.
Approach people directly: Rather than approach people from behind or from the side, it's better to approach them head on and while conversing with them, make sure you stand face to face. This will allow you to hold their attention while you speak to them.
Eye contact: This one is SO important! Good eye contact allows you to establish trust between you and the person you're addressing. Think about it for a minute; when you speak to someone who can't look you in the eye, doesn't it make you feel uncomfortable and perhaps even a little suspicious?
Voice Pitch: Did you know that breathing deeply and lowering the pitch of your voice will project a calm confidence when you speak? Try it sometime.
Use your hands: Using your hands in certain ways can also work to your advantage. It will cause you to feel more engaged in what you are saying, but you do want to ensure that you are not being aggressive or invading someone else's space. One specific gesture is called the "steeple gesture." Touch the tips of your fingers together while keeping your palms open. Believe it or not, this communicates sincerity.
So these are some of the positive body language habits that you want to put into practice. The following infographic details some of the more negative body language habits that can be a hindrance to your success.

Where do you fall between the two lists? Do you think body language really matters?
Source: http://www.spoken.com/blog/body-language-101-business
Publish Date: June 16, 2016 5:00 AM
---
If you're reading this post, I'm going to assume that you're curious about transitioning your contact center to a CCaaS or cloud model. That said, you may also be reading this because you still have reservations about uprooting your on-premise contact center infrastructure. So here you are, diligently investigating to avoid making an unwise investment and losing control of your contact center altogether.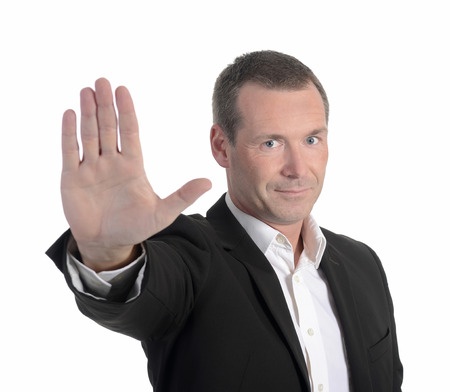 If you currently use on-premises contact center infrastructure such as Avaya, you might feel attached to your legacy technology. And we get that; it's a huge financial and cultural investment. But did you know that Avaya recently teamed up with Spoken Communications to present to you—the skeptical contact center supervisor—a CCaaS model that looks, feels and functions just like your old Avaya system, but with the added benefits of the cloud?
Six barriers to entry to the Avaya cloud call center (and how to overcome them)
Top three CCaaS objections
After spending last week at the Avaya user group conference (shout out to our new friends from Avaya Engage 2016!), we heard quite a few objections to the cloud. Happily, most of those concerns have been overcome in the last few years:
A rip and replace will be disruptive. As with many things, this is an "it depends" answer. Yes, if you go with a cloud-in-a-box vendor, a rip-and-replace approach can be exceedingly disruptive. However, that is not the only approach to a CCaaS transition. We have found that a gradual method works much better and prevents rollbacks. You can choose the type of cloud that works for you--shared, dedicated or private--and choose a transition pace that prevents business disruption.
I'll lose control of my system. Not true! Many cloud solutions offer a level of control. The Spoken CCaaS solution powered by Avaya is designed to afford a 360-degree view of your operations. Get a 24/7 online dashboard to administer agents and users, play back and download call recordings, view real-time reports or even listen in on live calls. You stay in control of call center operations without the hassle of on-premise infrastructure.
The cloud is always less secure. This is a myth we've been working to bust for years, yet many still believe that news headlines about hacks mean that all cloud platforms are inherently insecure. Again, this is an "it depends" answer: yes, some cloud platforms are vulnerable to security breaches. But most cloud platforms offer far better security than on-premise ones. A few questions to ask your cloud vendor:


Are all the data centers PCI Level One compliant?
What is your call encryption protocol?
Do you provide unique encryption keys for each interaction?
Do you encrypt the live call or wait until it is completed?
Five things you need to ask about security when choosing a cloud contact center vendor
Want to find out more about what it's really like to take the leap into a CCaaS model? Join our webinar this Wednesday at 10:00 Pacific/1:00 Eastern in which leading BPO CIO Martin Ingram shares his experiences with moving to the Spoken CCaaS powered by Avaya:
Source: http://www.spoken.com/blog/three-common-misconceptions-about-contact-center-as-a-service-solutions
Publish Date: June 13, 2016 5:00 AM
---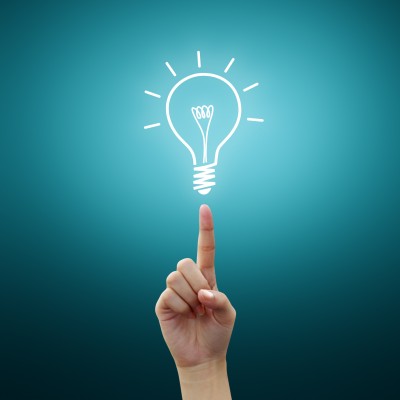 Call it what you want: virtualization, cloud or distributed computing. But the cloud is one of the most innovative technological advances to hit the call center in a long time. It has literally changed the way that organizations operate, and its effect on the call center industry has been nothing short of revolutionary.
According to Frost and Sullivan, the cloud contact center market is predicted to grow to $3 billion by 2017. More and more call centers are migrating their premise-based solutions to cloud-based call centers and finding that, in addition to delivering on the standard promises of cost savings and scalability, cloud vendors are also leading the way in technological innovations for the call center.
Let's take a look at some of the ways the cloud is innovating the call center:
Streamlined logins With many on-premise call centers combining solutions from three or more vendors, it's not unusual for the agent login process to be convoluted and end up driving unnecessary calls to technical support, thereby decreasing the agent's productivity and increasing the cost of supporting agents. Cloud vendors have leveraged the uniformity of SaaS and can often streamline the agent login process, ending calls to tech support and skyrocketing agent productivity.
Arise case study: Spoken Avaya CCaaS cloud reduced internal support calls by 99%

Live call observation: Because cloud solutions don't require on-site installations, useful tools such as live call observation for remote agents can be implemented quickly and easily. Rather than relying on a supervisor walking around a brick-and-mortar call center, cloud-based live call observation allows any supervisor working at any location to listen in on any live agent call at any time and give a coaching whisper when needed.
Speech analytics Many call center cloud vendors are showing their innovation expertise by setting up internal think tanks to create technology that addresses common call center issues. For example, call transcription and speech analytics tools can provide data insights that can help drive call center quality best practices.
Agent verification With a growing portion of call center agents working from home, verifying agent logins has become even more critical. For example, Spoken has developed a voice product that compares an agent's voice print to original samples to ensure no imposters are logged into the system.
Smart IVR IVR is a critical yet often overlooked component to the customer service experience. Current research suggests that, for most tasks, a large percentage of callers prefer self-service rather than speaking to a live agent. Interactive Voice Response is the means by which a contact center offers a self-navigating solution to customer inquiries or problems, but it hasn't changed much in the last 20 years. Except for this bit of cloud innovation: Spoken's patented Smart IVR combines the speech recognizer with an online dashboard and a Silent Guide who performs near-real-time corrections to caller utterances, thereby increasing the call completion rates and dramatically decreasing misroutes and opt-outs.
Neat case study: Smart IVR increases routing accuracy and lowers costs

Call recording It's no secret that on-premise call recording is klunky, incomplete and expensive. Cloud vendors improved not only the quality but the quantity and availability of call recordings. And, as mentioned above, many cloud vendors are also implementing innovative analytics programs to suss out even more data and insights from call recordings.
What innovations would you like to see next in your cloud call center? Let us know in the comments!
Want a more in-depth look at the reality of transitioning your Avaya call center to the cloud? Register for our upcoming webinar on June 15th.
WEBINAR June 15: Transition to Cloud with Avaya: a Customer Case Study
Source: http://www.spoken.com/blog/five-cloud-call-center-innovations
Publish Date: May 26, 2016 5:00 AM
---
A leading BPO shares the real experience of transitioning to an Avaya cloud with Spoken Communications

You're an Avaya loyalist. You love your on-premises infrastructure. And while you understand the benefits of the call center cloud, you certainly aren't interested in investigating a cloud transition tha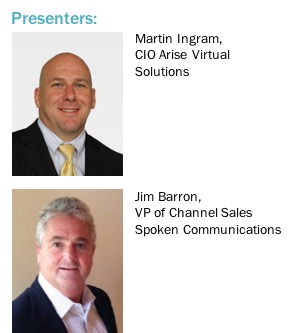 t doesn't involve an Avaya ACD. You might even fear that transitioning to the cloud means uprooting your current call center systems, retraining employees to use new tools and, worst of all, compromising productivity that results in an optimized bottom line.
What if we told you that you could keep all of your familiar Avaya call center technology and seamlessly transition to the cloud at the same time?
It's true; you can now abandon your fears of a nightmarish cloud transition when you use Spoken Communications to easily and seamlessly move your Avaya call center technology to the cloud. Sound too good to be true? It isn't.
On June 15, Spoken is excited to bring you a webinar that will detail the case study of Arise Virtual Solutions and how that major outsourcer transitioned from an on-premise system to the Spoken Avaya CCaaS. Arise CIO Martin Ingram will share the driving factors, the challenges and the end result of moving to an Avaya contact center cloud. Webinar attendees will learn:
The value of a highly reliable and secure Avaya cloud CCaaS and simplified utility-based pricing structure.
Common pitfalls of transitioning and how to avoid them
How to evaluate and differentiate common cloud delivery and pricing models.
Click here to register for this webinar on Wednesday, June 15, 2016.
There are a myriad of benefits to transitioning to the cloud and we can help you transition at a pace that is comfortable to you. Additionally, you can save on Avaya licenses and gain all the benefits of the cloud while sticking with your tried-and-true Avaya system. You can continue to use all the same tools in the cloud, so throw your worries of productivity loss and retraining employees to the wind. When you use Spoken to transition to the cloud, you can take it step by step, or, perhaps more appropriately, app by app.
Have we piqued your interest? You can also learn more about this exciting opportunity to leverage Avaya in the cloud by registering to attend the International Avaya Users Group conference in Orlando, Florida June 5-9, 2016. Spoken will be there--come visit us at booth 117! We hope to see you there.
Source: http://www.spoken.com/blog/spoken-avaya-cloud-call-center-webinar
Publish Date: May 23, 2016 5:00 AM
---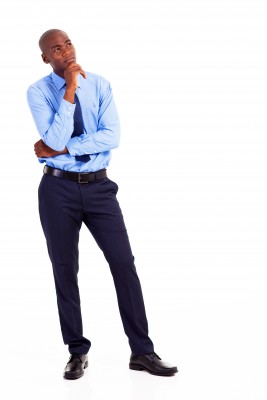 Is an Avaya private cloud right for you?
The cloud is probably the most cost-saving innovation in call center infrastructure since the invention of the IVR. Many vendors will offer private cloud options, especially to owners of Avaya infrastructure who want to stay in the Avaya system. With a dizzying array of options ranging from homegrown public clouds to Avaya public clouds to Avaya private clouds to hybrid offerings, it can be difficult to know which cloud configuration will deliver the most benefits to your organization.
Curious about an Avaya private cloud? Stop by Spoken booth 117 at IAUG.
Benefits of a private cloud
A private cloud, also known as the "internal" or "corporate" cloud, differs from a public cloud in that the physical servers reside within the company's environment or colocation. Unlike a public cloud, which may house tenants from multiple companies, access to a private cloud is restricted exclusively to the company employees or business partners. There are five key attributes the private cloud offers:
Offering resources (infrastructure & applications) as a service
Flexibility and scale that meet client demands
Resource sharing among large number of users
Measurement and payment according to use of the service
Use of Internet protocols and technologies to access cloud resources
Drawbacks of a private cloud
Wherever there are benefits, there are drawbacks. Depending on the vendor selected, a private cloud solution can carry with it some of the drawbacks of a premise-based solution, including a lack of redundancy and a lack of security. While these can be implemented, the cost might increase in order to accommodate the additional servers required for full redundancy or to become PCI level one compliant. Additionally, some of the anticipated cloud cost benefits can be lost, since a large capital expenditure is still required.
How to select a private cloud vendor
When selecting a vendor to provide a private cloud solution, consider the following:
Do you have a name brand system of preference, such as Avaya or Cisco?
Is the vendor partnered with those brands?
If the cloud is homegrown, what references can the vendor provide?
If reliability is a concern, is geographic redundancy included in the private cloud offering?
If security is a concern, will the data centers be certified PCI Level One compliant?
How does the vendor guarantee a smooth cloud transition?
What Service Level Agreements (SLA's) does the vendor provide in terms of maintenance and upgrades?Can the vendor integrate with any existing systems (CRM, IVR, etc.) seamlessly, or will those need to be replaced?
Case study: from on premise to a Spoken Avaya CCaaS private cloud
What about a hybrid cloud?
As you can see, a private cloud can offer great advantages for those who are more comfortable with servers being hosted on site as opposed to publicly. And just to throw a wrench in the debate, there is yet another option: a hybrid cloud.
As with hybrid gas/electric cars, a hybrid cloud can offer the best of both worlds. Companies can keep the systems at highest risk of hacking, such as CRM systems hosting private customer data, on site, while leveraging a cloud-based ACD, call recording and reporting capabilities.
Is an Avaya hybrid cloud right for your call center?
Ultimately, the decision of public, private or hybrid cloud is up to the business requirements and objectives of the organization; one size does not fit all. To find out more about the details of a real-life private Avaya cloud implementation, join us for our upcoming webinar on June 15 at 1:00 PM Eastern.
Webinar: Transition to Cloud with Avaya: a customer case study, June 15, 2016 1:00pm EST, 10:00am PST
Source: http://www.spoken.com/blog/seven-things-consider-before-selecting-private-cloud-vendor
Publish Date: May 17, 2016 5:00 AM
---
Smashing down the most common barriers to an Avaya cloud transition
As we approach the season for the annual International Avaya User Group (IAUG) conference, one thing is becoming clear: change is difficult. Change is scary. So why in the world should you consider transitioning your Avaya contact center to a cloud-based solution? After all, a cloud transition can often mean taking three steps backward for every one step forward. It can mean retraining your employees and incurring costs associated with downtime and lost productivity, leaving both your customers and your team dissatisfied.
Stop by the Spoken booth 117 at IAUG to see our new video and to get a live demo!
And let's face it: many cloud vendors promise a low-cost, no-stress utopia, while the end experience ends up being more post-apocalyptic.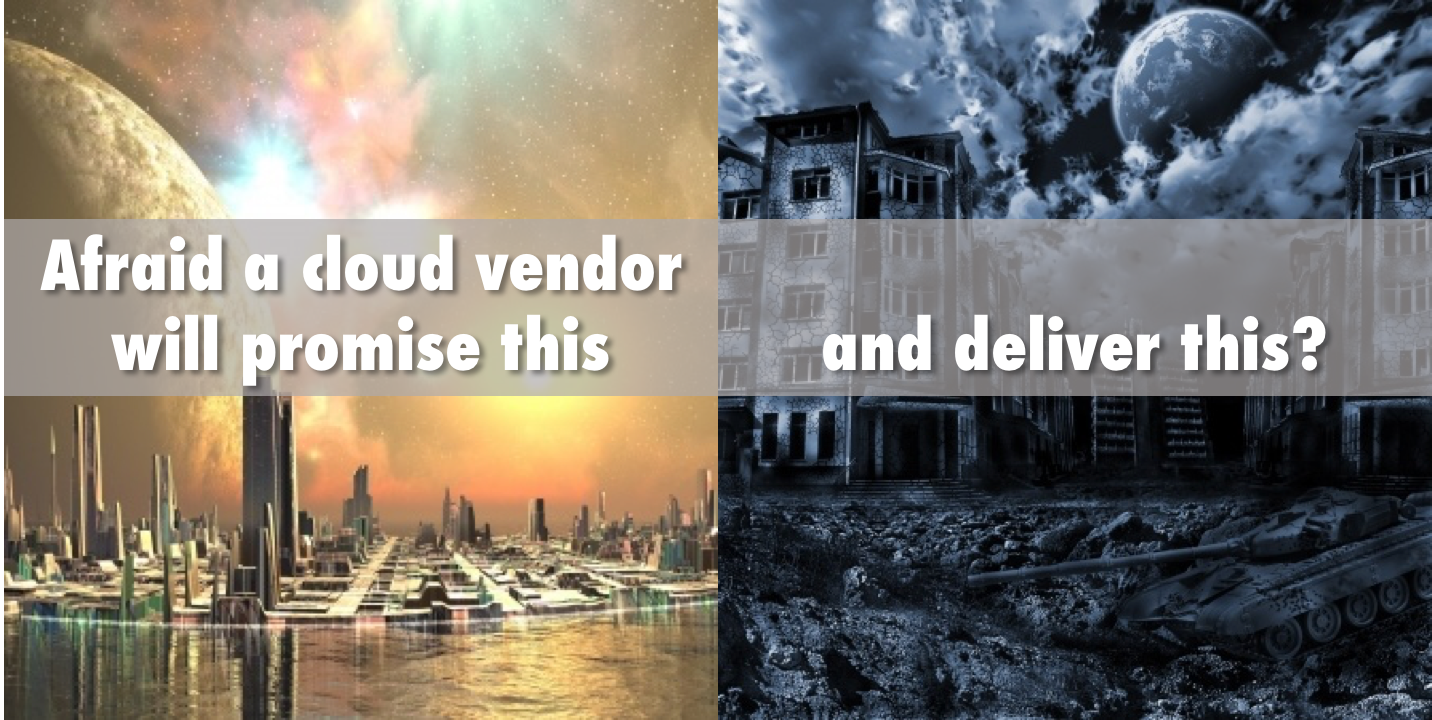 What's more, most Avaya users love their on-premise Avaya contact center solution. Even if competitors are transitioning to an Avaya cloud, there are real objections to taking that step within your organization. All cloud platforms are not made equal, and selecting the wrong Avaya cloud could lead to a world of regret.
Three steps to taming the complex cloud integration
I hear that. So let's talk about the main objections I hear about Avaya cloud transitions. My goal here is not to convince you of one solution or another but rather to bust some of the myths circulating about what a cloud transition is really like.
Barriers to entry for an Avaya-based cloud contact center
Over the years, I've heard quite a few objections from Avaya users about transitioning to a cloud platform of any kind and to the Spoken cloud platform in particular. And I always take it as a sign that we're doing something right, that the cloud is a wise decision for these companies, provided that these issues can be addressed.
Do any of these sound familiar?
I don't want to swtich off Avaya in order to get a cloud It's true that only one vendor currently offers a public cloud platform with an Avaya ACD and access to Avaya EMC multichannel solution. (And yes, you guessed it: it's Spoken!)
Cloud transitions are always disruptive. While no one can predict the success of every element of a cloud transition, choose a vendor that allows you to transition to the cloud when you want. A tried-and-true method is to start with a small call volume--maybe 5% of total call volume--and test the system. Find the misalignments and bugs. Fix, re-test, repeat. Gradually increase the call volume over as long as 18 months with no disruption. It's not magic; it's method.
I'm worried about sunk costs. The investment in not only Avaya infrastructure but also in the third-party integrations required for call recording, CRM and other systems as well as training to use them is not insubstantial. Here's a recommended approach: keep your sunk investment by retaining all your existing systems. Start with a single application, such as cloud call recording or transitioning a single telephone number to the Spoken Avaya Cloud ACD while leaving the bulk of call volume on the legacy systems. As the systems age out, transition the rest of the volume and applications to the cloud.
I have a complex legacy infrastructure that will be hard to upgrade. Don't we all? Select a vendor that can work with your legacy infrastructure rather than doing a rip-and-replace.
I'm worried that a new cloud solution won't be able to scale with my call volume. The beauty of an Avaya public cloud is that it's designed to house a minimum of 10,000 agent seats. Homegrown cloud vendors can't compete with that volume and provide the scalability your business needs. When you select an Avaya cloud vendor, be sure to ask about maximum call volume: in your wildest dreams of success, how much volume could the cloud vendor take? If you scale to 5,000 peak concurrent calls, will you have to switch cloud vendors to accommodate the additional volume? Or will you have to pay more, if you're considering a private cloud model?
I haven't heard of Spoken Communications As the head of marketing, that's my fault. We made the decision to put our money into developing the only public Avaya cloud call center platform available today rather than buying advertising to shout about it. But if you've read this far, allow me to introduce us further: Spoken is a technology innovator that provides a cost-effective, secure and high availability call center cloud platform that is the platform of choice for over half of the world's major outsourcers.
And I want to hear your additional objections: what else is keeping you from transitioning to an Avaya cloud? Let me know in the comments!
Source: http://www.spoken.com/blog/six-barriers-to-entry-to-avaya-call-center-cloud
Publish Date: May 13, 2016 5:00 AM
---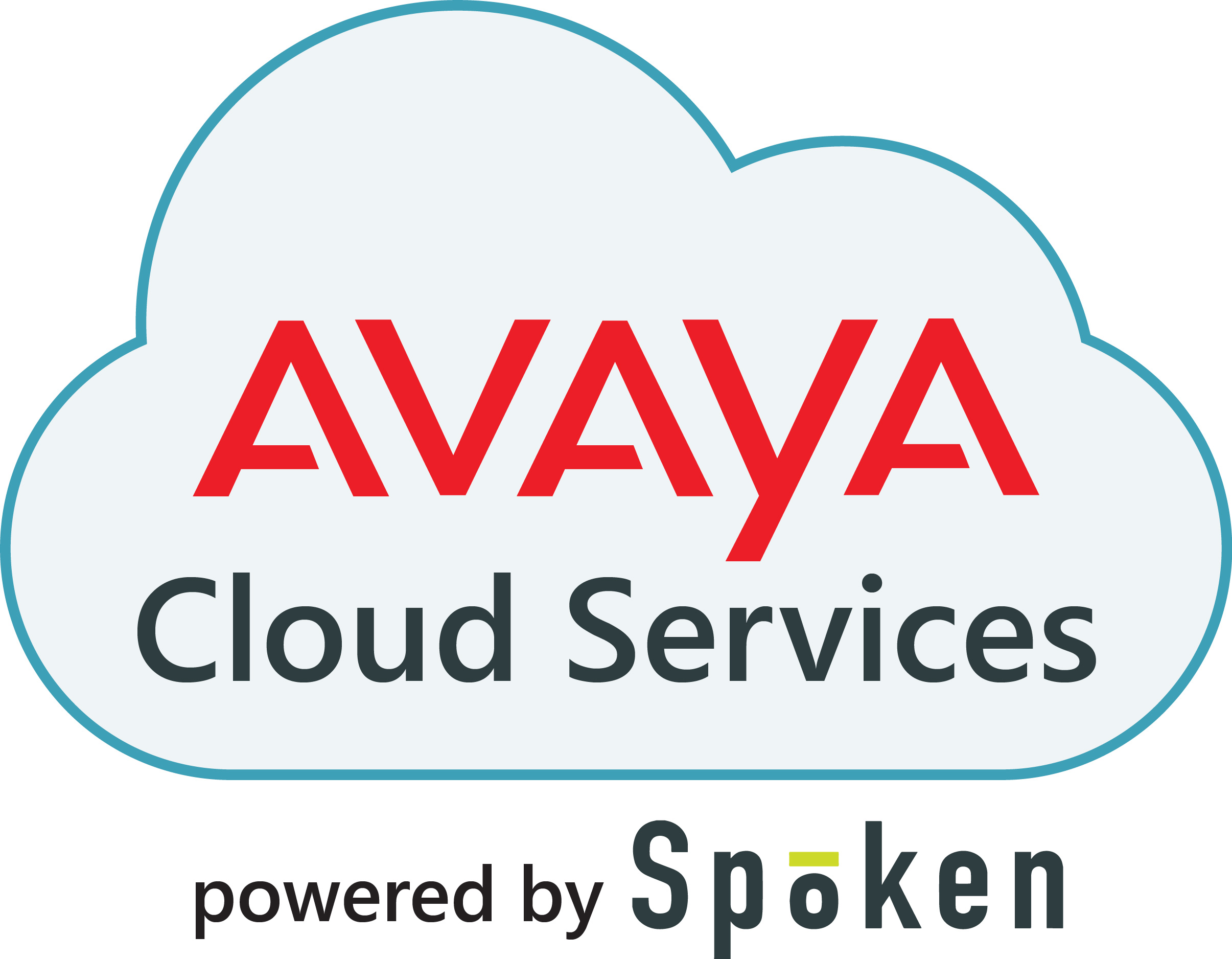 Choosing the right Avaya cloud for your organization


If you've been keeping up with technology trends, you are well acquainted with the cloud and the advantages that it can offer for your contact center, including business agility, scalability and cost savings. However, one of the challenges we run across is that very few contact centers are green field implementations: almost every contact center already has some type of existing legacy infrastructure, very often an Avaya system. And with that comes the question: how can I transition to the cloud without losing the benefits of the sunk costs in my legacy infrastructure?
As part of our series of cloud trends unfolding in 2016, it's time to finally address the concept of a hybrid cloud for Avaya users and why, when and where a hybrid cloud strategy is best applied.
Upcoming webinar June 15, 2016: Transition to cloud with Avaya: a customer case study
The promise of the hybrid cloud
"Hybrid" is used to refer to a cloud solution that is something other than 100% public, multitenant cloud. As we know, a cloud solution is one that is hosted on remote servers. Hybrid refers to a cloud environment that uses some type of mix of premise-based infrastructure, private cloud or third-party, public cloud services with some type of connection among the platforms. Organizations opt to implement hybrid clouds for a number of reasons, including data security and optimization of legacy infrastructure.

Premise-based infrastructure is purchased outright by the organization and housed on the organization's preferred colocation. Many of Spoken's customers, for example, have existing Avaya on-premise equipment and are interested in transitioning it to the Spoken Avaya cloud platform. Premise-based infrastructure has the advantage of being private; however, it is costly to purchase, expensive to maintain over time and difficult to scale when more volume is needed.
Public cloud refers to cloud services that house multiple tenants, referred to as "multi-tenant." Gmail, DropBox and Amazon Web Services are examples of public clouds. They generally offer high levels of security, scalability and cost-efficiency, since the vendor develops a large host of servers and provides cloud services to a variety of tenants on them. It's simple to scale up or down if your call volume increases or decreases, and there is no large capital outlay to a cloud contract, since you're paying for services only.
Private cloud refers to a single-tenant cloud platform that is implemented for a single organization. A private cloud offers the key benefits of cloud with the added benefit (and drawbacks) of outright ownership. However, it also offers the key disadvantages of premise-based infrastructure, since it must be built and customized for a single company. This model is sometimes called "managed services," since the company purchases the infrastructure for its private site, while the cloud vendor maintains the equipment providing the service.
Three helpful steps for your cloud transition
Step 1: Take inventory
The first step in determining which type of platform will work best for your situation is to take inventory of your current infrastructure. The contact center is a complex web of integrated systems: the ACD, CRM, call recording, IVR and reporting structures must be kept up and running through any transition process.
For example, if you have existing Avaya licenses and infrastructure, you probably want to retain that legacy system and select a vendor that can do a cloud or hybrid cloud implementation as a wrapper over your existing system.
Which critical systems must be retained? Why?
Which systems have contracts expiring soon?
Which systems would most benefit from a cloud transition?
Which systems would cause the least disruption with a cloud transition?
What will your business look like in three months, six months, a year? Do you need room to grow?
Step 2: Define your goals
If you don't know where you're going, any road will get you there. What are the primary goals of your cloud transition? If your goal is cost savings and ease of transition, an Avaya public cloud is probably the best option for you. If you want access to innovations such as live call observation from anywhere or 100% call recording, either pure cloud or a hybrid cloud might fit the bill. If, on the other hand, data ownership and security are more important than cost savings or ease of use, a hybrid solution might be the best option.
Step 3: Choose your Avaya cloud
While a multi-tenant or public Avaya cloud works well for most organizations, your goals or inventory may reveal the need for a hybrid cloud solution, with one foot still firmly planted on premise. For example:
Data privacy if your client data must stay on site, you might consider an Avaya public cloud ACD that will integrate with your CRM database, which could remain on your private colocation.
Business disruption If a key goal is lack of business disruption, you might consider a hybrid model wherein your existing Avaya infrastructure remains in place, and a cloud "wrapper" is implemented on top of it. Access to 100% end-to-end cloud recording would decrease liability, and you would still be able to keep your existing Avaya ACD. Once the current ACD ages out, a transition to an Avaya public cloud ACD could be implemented.
For example, major outsourcer Arise Virtual Solutions had a customer requirement for Avaya but the need to be able to scale for thousands of new agents in a matter of weeks. Since the Spoken Avaya Contact Center as a Service public cloud offered more security than the premise-based solution, Arise opted to leverage the cost-efficient Spoken Avaya public cloud rather than a hybrid model. However, to prevent business disruption, a gradual transition plan was developed. Eighteen months later, 24 customers had been transitioned to the secure public cloud with no rollbacks.
Read the case study: Arise Virtual Solutions transitions to the Spoken Avaya Cloud
Ultimately, the cloud decision for Avaya users is up to you: public, private or hybrid, the key is to meet your business goals with minimal disruption.
Want to find out what it's really like to transition your on-premise contact center to the Spoken Avaya Cloud? Grab a seat at our webinar on Wednesday, June 15, 2016:

Source: http://www.spoken.com/blog/avaya-hybrid-cloud-right-for-your-call-center
Publish Date: May 4, 2016 5:00 AM
---
If there's one thing we know, it's that the customer service industry is truly the king of the 3-letter acronyms. Today's acronym is "CRM," or customer relationship management.
What is CRM?
CRM stands for Customer Relationship Management and covers all aspects of the customer journey, from the first clickthrough to customer satisfaction surveys to the customer loss analysis. A more complete definition of CRM:
Customer relationship management (CRM) is a term that refers to practices, strategies and technologies that companies use to manage and analyze customer interactions and data throughout the customer lifecycle, with the goal of improving business relationships with customers, assisting in customer retention and driving sales growth. CRM systems are designed to compile information on customers across different channels -- or points of contact between the customer and the company -- which could include the company's website, telephone, live chat, direct mail, marketing materials and social media. CRM systems can also give customer-facing staff detailed information on customers' personal information, purchase history, buying preferences and concerns.
In the call center context, CRM usually refers to software involving the prospect and customer database, including interaction and loyalty data. Popular CRM brands include Salesforce, Zoho, SAP and Insightly. CRM software consolidates all the customer information into a single database so that businesses can easily access, manage and analyze it. Common features of CRM software include: marketing automation, sales enablement automation, contact center automation and location-based services.
Making the most of your CRM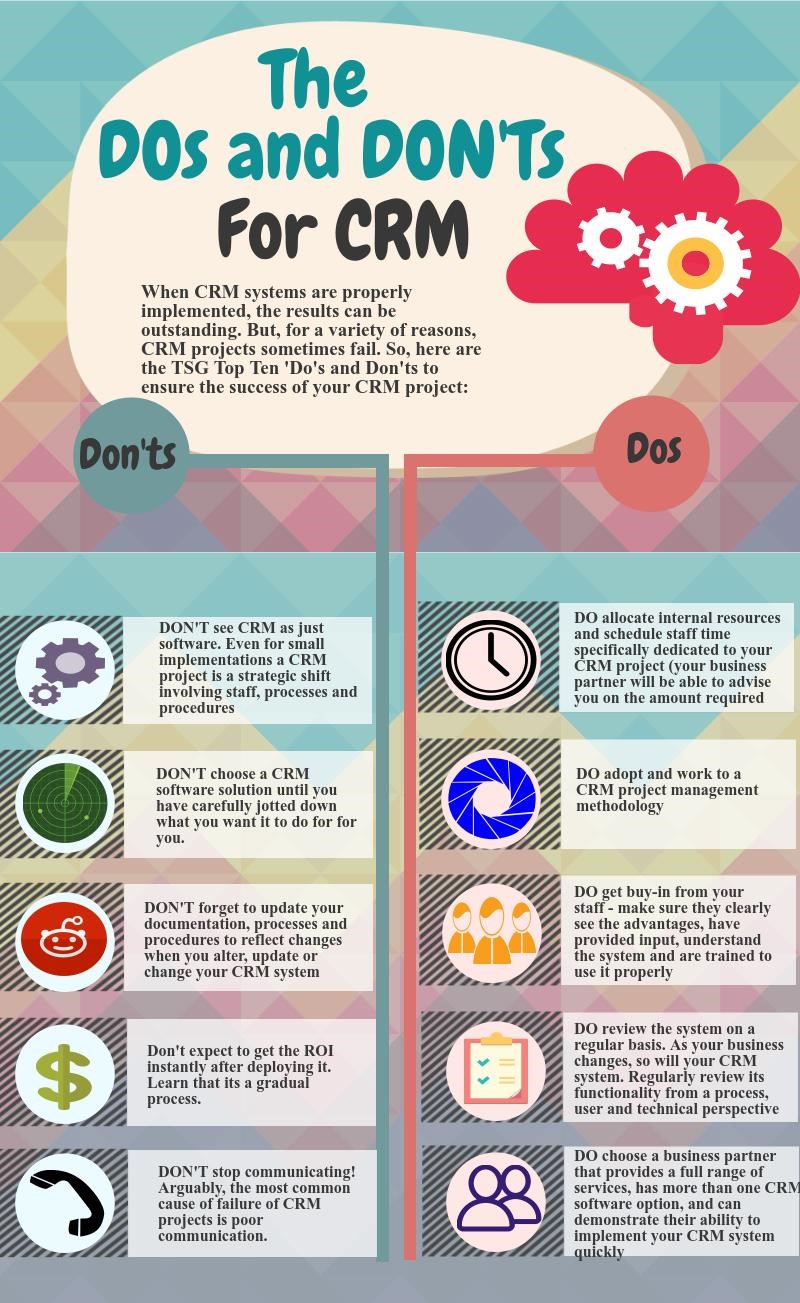 When selecting a CRM system to implement, as with any enterprise software decision, many organizations fall victim to common pitfalls. Below is an infographic detailing some do's and don'ts when it comes to making the most of your CRM system. We would add the following do's for your consideration:
Do engage the end users in the decision-making process. Having excitement and buy-in from the end users will make training and transition a breeze.
Do engage both technical and operations users in the requirements-building process. IT will have technical requirements, and Operations will be able to lay out the types of reporting required to improve business processes. You might also involve the Sales and Marketing departments as well.
Do consider types of access. Will the users only access from desktops? Or will they be using mobile devices? If so, which devices and how often? If mobile access is key, make sure that your CRM candidates meet your end user needs.
Do make a choice based on functionality rather than price. The cheapest solution isn't always the best for your organization; neither is the most expensive. Make the decision based on realistic requirements and growth possibilities rather than exclusively on price.
Source: http://www.spoken.com/blog/dos-donts-crm
Publish Date: April 28, 2016 5:00 AM
---
How do you define company culture?
"Company culture": we hear this term so often, but what exactly IS company culture? My good friend and specialist in internal communications Shel Holtz has the best definition of company culture I've heard to date: "the way we do things around here." Easy to understand and undeniably true.
Some might say that company culture is a company's personality. Is it relaxed, buttoned up or work-hard-play-hard? Others would say company culture is how people inside the organization get things done, while still others would consider it to be how the employees and management interact with those outside of the organization. If you go with "the way we do things around here," one could argue that all of those elements contribute to the company's culture.
Who owns the creation of culture?
Ah, therein lies the rub. In a recent study cited by the aforementioned Shel Holtz, HR professionals, business managers and front line employees each believed that they were the primary source of the company's culture: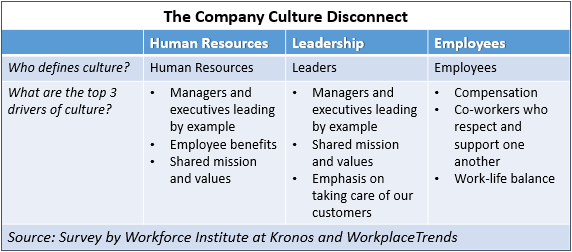 As Holtz goes on to remark:
The consequences of this disconnect are potentially massive. For example, acting on the belief that employees value the company's focus on customers leaves front-line staff wondering why so little attention is paid to work-life balance. HR thinks they're doing a great job with superior employee benefits and can't figure out why engagement surveys scores are so low, while employees roll their eyes at pay disparities. We have long known that employee commitment begins with the belief that they're being treated fairly—in compensation and opportunities to advance, for example. It's nearly impossible to build a culture when employees believe they're not being treated fairly.
At the root of culture is the health of internal communications. Are managers willing to give feedback to both the C-suite and to their direct reports? Is the CEO willing to show vulnerability? Are front-line employees rewarded for direct and honest communications with both managers and with the C-suite? Communications must flow freely, including top-down, bottom-up and peer-to-peer. And we must understand that everyone in the company defines the culture.
How to develop your corporate culture
John Tabis recently wrote in Fast Company about his three basic steps for developing an authentic company culture:
Make it personal Too often a brand voice is flat or developed by management and doesn't reflect the voice of the people who work for the company, day in and day out. What is your vision for changing the world? At Spoken, we recently engaged in a similar activity in our all-company meeting, where everyone from the receptionist to the CEO wrote down their grand vision for Spoken in a dream world. Everyone was engaged and everyone was excited about what Spoken's great vision could be!
Communicate that vision Now comes the hard part--how is that vision communicated? If you have a visionary like Steve Jobs at the helm, it's easy. But what if your organization takes a more collaborative approach, like Zappos? Zappos has ten core values that its entire team is encouraged to live and breathe every day, and it hosts a "powered by service" library that every employee reads. Maybe you meet monthly or yearly to collaborate and engage everyone to brainstorm in how better to live your corporate vision.
Put people first The best organization do this: they value their people over their vision. They believe that the vision won't happen without their people, so their people come first. "We need to start treating people like human beings, not like cogs in a productivity machine, writes Tabis. "Look at the individual first and their role second and relate to employees on a more human level. When employees feel cared about as people, I've found they do their best work."
If you don't take the time to develop your culture and vision, it will happen on its own. And that culture might end up being "this company uses people and throws them away" or "this company values competition over quality." Your culture is being developed as we speak: what do your employees have a voice in the creation of your culture?
Source: http://www.spoken.com/blog/building-company-culture
Publish Date: April 26, 2016 5:00 AM
Page: 1 | 2