StarTek - ContactCenterWorld.com Blog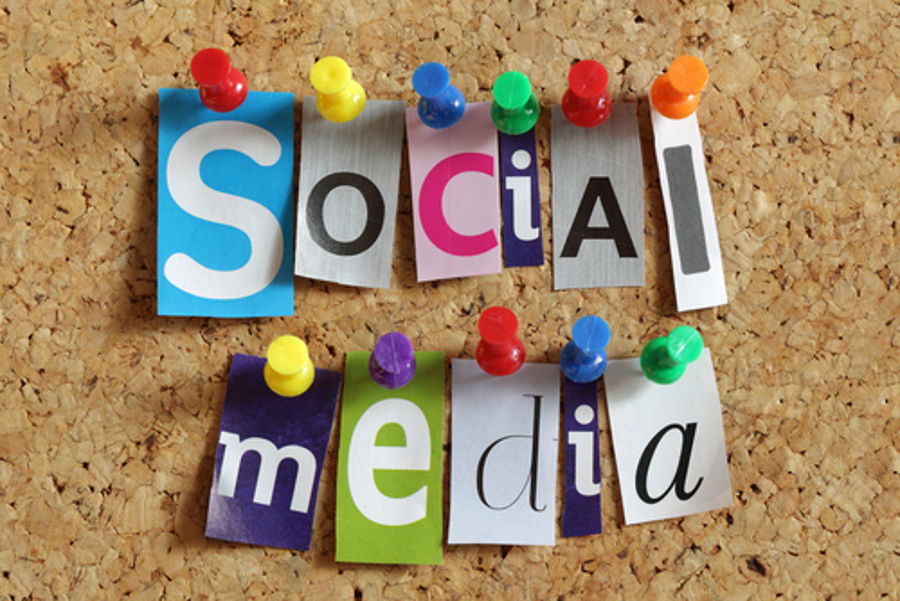 In today's digital, social and interactive world, consumers want access to companies on their own terms. While phone and web channels remain vital to cus­tomer service, consumers are increasingly seeking assistance through social communi­ties. Whether adding a compliment to a brand's Facebook wall, tweeting about a negative customer experience, or posting a customer service question through a user forum — the social consumer now controls the conversation. But marketers aren't completely powerless. With careful planning and a little help from the experts, brands can find their voice while reducing costs and increasing customer satisfaction and sales.
Recently, we sat down with Roger Huff, our leading expert on social media, to learn more about Startek's plans to improve the future of social care. He also shares his predictions and social trends to watch for in 2019.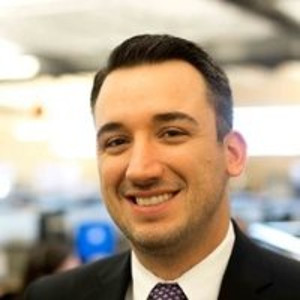 Pictured: Roger Huff, Director of Social and Digital Media
What is your role at Startek and how long have you been with the company?

I am Startek's Director of Social Media and Digital Engagement. I have been with the company for over 10 years and have led social media strategy for 7 of those years. My role includes consulting with leading brands to design and deliver world-class social support.

Recently, Startek merged with Aegis to create a global leader in customer experience management. How are Startek and Aegis combining efforts to improve social care?

The Startek and Aegis merger has unlocked enormous opportunities across all areas of the business that neither company could achieve alone, including in social care where both brands have complementary strengths. Aegis brings to the relationship an industry leading omnichannel support tool in the AegisLISASM platform, which can pull in customer data not just from legacy channels like phone and email but also across social media channels, chatbots, blogs, forums, mobile apps, and messenger apps to create a unified view of the customer. Aegis also has extensive experience building and implementing chatbots for customer support. These chatbots are built to support customer communication across all channels, including social media and digital engagement. Today, Aegis utilizes these capabilities to support some of the world's largest and most prestigious brands that are on the cutting edge of digital customer support and engagement.
Similarly, Startek brings to the relationship industry leading expertise in social media strategy design and execution. This includes a social media engagement lab with a hub and spoke support model. The lab serves as the hub of expertise to support all satellite spokes implemented across the globe. Startek executes social media support for dozens of brands worldwide and has built digital reputation management and community management capabilities that are most often found at digital agencies rather than BPO providers. Through this expertise, Startek supports tens of thousands of brand-owned retail locations and hundreds of thousands of online products while monitoring millions of brands mentions and brand-aligned topics every year for our clients.
The complementary digital expertise of Startek and Aegis brings together industry leading digital tools, proven AI and chatbot capabilities, digital agency capabilities, and complex global digital support capabilities to create a unified offering for our current and future clients not before seen in this industry.

Do you think social media has become the most important customer service platform across industries? If so, why.

Social media has quickly become the preferred method of customer service engagement for many consumers who have adopted social media as a staple in their daily lives. Brands previously believed they were reaching a specific demographic on social media, but it has become a way to reach consumers from all demographics and customer profiles. Social media is also especially important for customer service because many times it is a last resort of sorts. Customers have called, emailed, and even chatted on native brand websites with customer service specialists. When they feel they have not received sufficient help, they often turn to social media to communicate their frustrations. Social media customer care gives brands a unique opportunity to reach out in those times of frustration and save customers from potential brand defection and churn – and in many cases, creating brand advocates in the process.

In your opinion, what are some social trends to watch for in 2019?

In 2019, the largest social trend to watch for will be digital customer engagement volume growth. According to eMarketer, Facebook ad revenue in the U.S. is expected to outpace total print ad spending by 2019. With larger-than-ever portions of marketing budget being focused on growing and engaging customers on social media, the by-product of those strategies will be larger-than-ever digital audiences to engage with on those platforms.
I believe we will see brand marketing teams create stronger partnerships with digital customer care teams, both internally and externally. Scaling internal marketing resources to handle customer care concerns can be very expensive. Brands will look for ways to handle growing amounts of digital customer engagement while looking for ways to retain brand voice in those engagements. Companies like Startek and Aegis who have this expertise will be poised to grow relationships with brands that are focused on digital customer engagement, acquisition, and growth.
If your social media strategy needs a facelift, visit our contact us page to learn how Startek and Aegis can help.
Source: http://www.startek.com/news/finding-social-voice-tips-from-social-media-expert
Publish Date: October 4, 2018 5:00 AM
---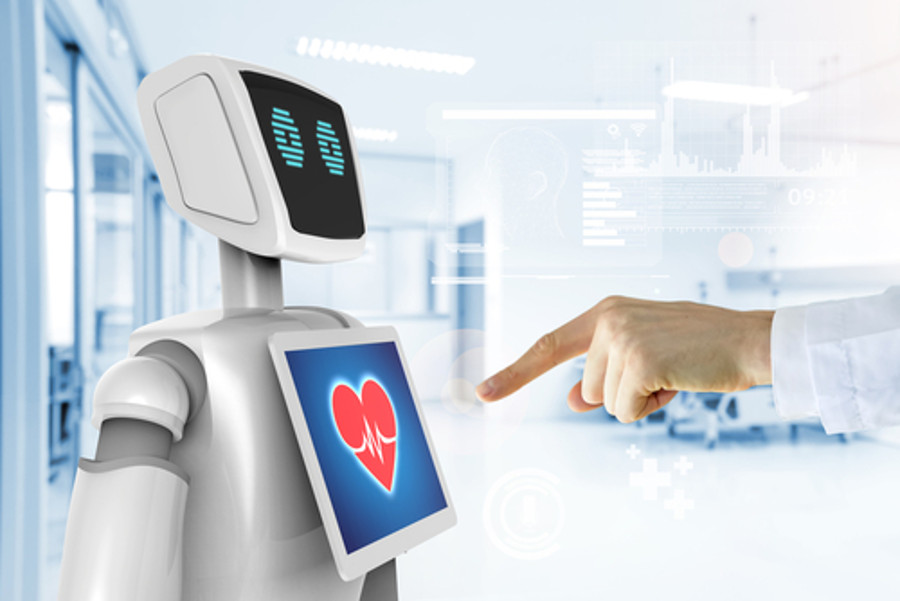 With the rise of digital channels and self-service technologies such as chatbots and other artificial intelligence (AI)-based technology, are we seeing the end of human interaction with the engagement center (contact center)? Likewise, does the availability and adoption of digital channels mean that engagement centers can begin reducing their investment in human engagement specialists (agents)?
To learn more about the healthcare industry download recent highlights
Source: http://www.startek.com/news/will-healthcare-customer-service-centers-be-staffed-by-chatbots
Publish Date: August 23, 2018 5:00 AM
---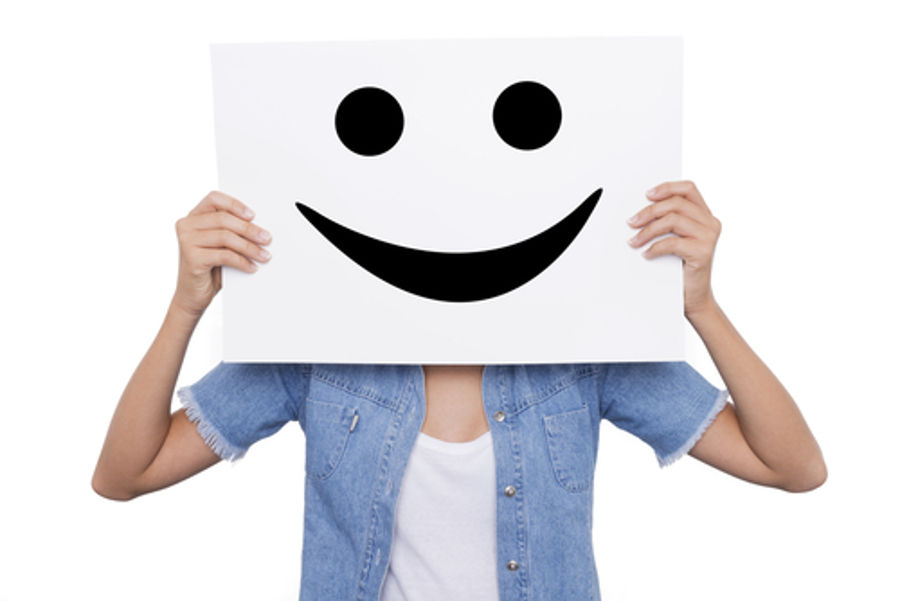 Are you a 'glass-half-full' person or a 'glass-half-empty' person? Your answer may determine whether you are perpetually an optimist – someone who always thinks that good things will happen – or a pessimist – someone who always thinks that bad things will happen. Perhaps Winston Churchill said it best when he stated, "A pessimist sees the difficulty in every opportunity; an optimist sees the opportunity in every difficulty." When it comes to the interactions your customers have with your brand, you can't afford to have a pessimistic mindset. You must look for the opportunity in every customer engagement to improve customer facing metrics such as satisfaction, retention, sales conversion, and net promoter scores. How? Start by communicating optimism.
Eliminate the Negative
When consumers experience an unexpected expense on their wireless bill, issues with a new product they just purchased, or delays in receiving an online order, they understandably react in ways that demonstrate their frustration. These stressful situations are often charged with negative emotion, and more often than not, it's your engagement specialists (agents) who must try to defuse the tension. One effective method is to communicate optimism by describing and explaining events, especially unfavorable occurences, in ways that diminish their ability to negatively impact emotions. Consumers who express their concerns pessimistically are often looking for reassurance that the situation or problem is neither permanent nor pervasive. How your engagement specialists handle the situation will determine the customer's perception of your brand. Make sure your engagement specialists create a positive and lasting impression by following these three key tips:
Take direct responsibility for handling identified needs.
Make language choices that serve to frame the situation optimistically.
Discuss what can be done rather than what isn't possible.
Accentuate the Positive
By now, you may be thinking that communicating optimism is a lot like looking through rose-colored glasses. However, optimism is not about glossing over difficulties and pretending that everything is perfect. Instead, optimism requires one to take control over a situation and fix the problem rather than avoid it. By using an optimistic frame and explaining problems as temporary and fixable, it's possible to reduce the stress your customers feel, which increases their overall engagement in conversations with your brand.
Under the direction of our chief science officer, STARTEK helps clients leverage the principles of human communication to orchestrate the ideal customer engagement. This includes coaching engagement specialists to use meaningful phrases that are likely to evoke positive customer interactions while discouraging the use of phrases that are likely to confuse customers or cause negative repsonses.
In fact, STARTEK recently assisted a regional cable provider by deploying a solution that helped engagement specialists learn and adopt conversational habits that built emotional connection. By the end of the first year, the company had increased its Net Promoter score by 10% and decreased escalations by 26%.1 STARTEK can help your brand deliver similar results and bridge the gap between science and communication.
While no-win customer care situations are the new norm, they are also opportunities to deepen your engagement with customers and finally improve customer satisfaction and loyalty scores.
Source: STARTEK "Winning the No-win Situation Customer Care Situation" Jan. 2017
Learn how STARTEK helped a regional cable provider increase its net promoter score by responding to concerns optimistically and with emotional understanding. Or, visit our website at www.startek.com to learn more.
Source: http://www.startek.com/news/healthy-habits-communicate-optimism
Publish Date: June 7, 2018 5:00 AM
---
Do you remember the first time you used the rewind function on your tv remote? The ability to pause, rewind, and play live tv on demand gave you a level of control you'd never had before. No longer were you missing important moments due to household interruptions or being out of the room when your favorite program came back on. While the rewind function is great in our daily lives, when it comes to customer conversations, backtracking isn't such a good thing. When customers are forced to repeat portions of their conversation with your engagement specialists (agents), they become frustrated and disengaged. So how do you press pause on this bad customer service habit? Ask insightful questions.
The Key Elements of Insightful Questions
When speaking with your customers, it's imperative that engagement specialists ask insightful questions to help understand their pain points, diagnose the problem, and craft an appropriate resolution. For example, asking clarifying questions can help you uncover the real intent behind what the customer initially said while exploratory questions help identify root wants or needs. Different types of questions will lead to different outcomes, but asking insightful questions will ultimately help the engagement specialist gather high quality information about both the customer's situation and the context (want, need, or issue) behind the interaction. Taking time to ask the right questions also helps engagement specialists gain a broader understanding of the situation by challenging assumptions and identifying connections between individual issues. From there, engagement specialists can narrow their focus to solve the real problem at hand.
Of course, none of this is really possible without first establishing trust, which we discussed in our previous blog. If customers don't trust the engagement specialist they are interacting with, they are less likely to disclose important details about the real motivations behind their reasons for contacting you. As you can see, the communication skills of the specialist are critically important. Their ability to quickly establish credibility, the questions they ask, and how they frame the conversation will have a substantial impact on the customer's perception of your brand. To help your company elevate dialogue and ask the questions that really matter, follow these three simple tips:
Ask insightful questions to identify root wants or needs.
Use persuasive statements to increase buy-in and communicate expertise.
Engage in verbal matching by offering a solution that matches wants or needs.
Does Asking Insightful Questions Increase Talk Time?
A concern we often hear when talking about dialogue is its impact on Average Handle Time (AHT), with the mistaken assumption that a transactional conversation is efficient while dialogue is costly. The concern stems from a misunderstanding that dialogue is just transaction conversation with chit chat peppered throughout rather than viewing dialogue as an adaptation to conversational needs. Throughout our decades of scientific research, we've found that conversational techniques such as asking insightful questions actually reduce the likelihood of conversational backtracking, which reduces handle time. Asking insightful questions also helps engagement specialists get to the root cause of the issue faster, which also reduces handle time. And not only does it decrease handle time, asking insightful questions will also help reduce repeat calls because you're diagnosing and treating the problem instead of the symptoms, which is truly a win win for everyone.
STARTEK recently completed a study involving 17,000 calls and found the engagement specialist's ability to engage in the habits of dialogue had no negative impact on AHT.
If your engagement specialists are treating symptoms instead of problems, trying to end calls too quickly, or using pre-scripted and rehearsed statements, it could be time to take back control of your contact center. To learn more about STARTEK's principles of dialogue, visit our website at www.startek.com and ask us some insightful questions about our solutions through the contact us form.
Source: http://www.startek.com/news/reducing-conversational-backtracking-important
Publish Date: May 10, 2018 5:00 AM
---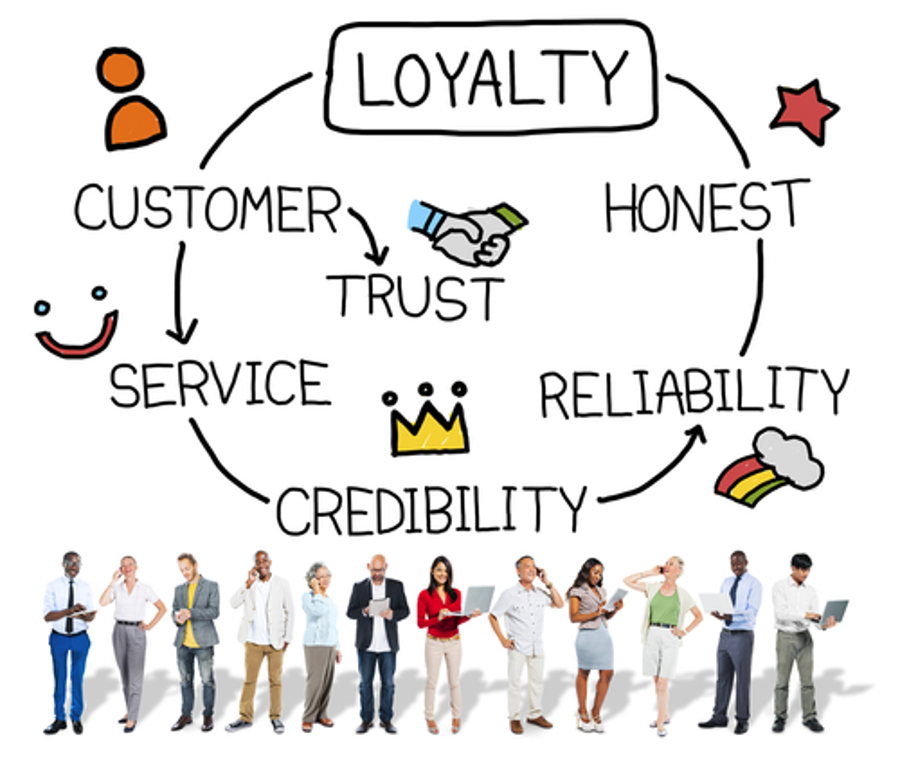 Regardless of how or why a customer chooses to interact with your brand, the only thing that stands between a positive or negative experience is a human connection. But creating a unique and memorable customer experience isn't rocket science. It's much more difficult. That's because human communication is incredibly complex—especially in the contact center. In fact, before an engagement specialist says or types "hello," there are more than 750 million situations that can frame the conversation. Acknowledging this incredible complexity, leaders in the customer experience industry are faced with a pivotal question: How do I manage engagement specialist and customer communication to create a unique and authentic experience that improves customer satisfaction, retention, and sales? The first step is to establish credibility.
The Key Elements of Credibility
Establishing credibility is an important first step to building trust and creating openness. If customers do not feel valued by engagement specialists (agents), they will not necessarily trust what the agent says. This is one of the reasons why customers across all verticals re-contact brands on the same issue. In the healthcare industry, trust is a key ingredient to increasing patient compliance regarding follow-through with important medical instructions. And in the retail and financial services sectors, trust drives repeat purchases when there is a clear link between the customer's needs and the provided solution.
At STARTEK, we partner with multiple brands to help them learn and master the concepts of using the science of human communication to create good dialogue, which builds trust. This is accomplished through STARTEK's Essential Habits proven communication principles. Part of those habits include these three key elements to establish credibility:
Listen to the needs and situation of the other person.
Demonstrate common courtesy and etiquette.
Choose language to optimize comprehension.
What's the Payoff?
Good dialogue is about using proven communication principles to adapt to the implicit needs of the customer, and by doing so, gaining credibility, rapport, and trust. Once trust is established, your customers will feel comfortable enough to divulge important details about the real motivations behind their reasons for contacting you. Once you have achieved disclosure, the engagement specialist can then make an accurate assessment of each customer's true needs.
When you use dialogue techniques to talk, text, chat and email with your customers in a meaningful, authentic way, you can not only improve first call resolution, but measurably drive customer satisfaction, loyalty, and lifetime value. STARTEK can help you use the power of human communication science to establish credibility and trust and drive real results in ways traditional, scripted approaches can't.
"When someone picks up the phone and calls, there is an expectation that you know who they are, and you respond to their unique needs as a customer"
– Cory White, Chief Sales and Marketing Officer, STARTEK
Source: http://www.startek.com/news/credibility-essential-habits
Publish Date: May 3, 2018 5:00 AM
---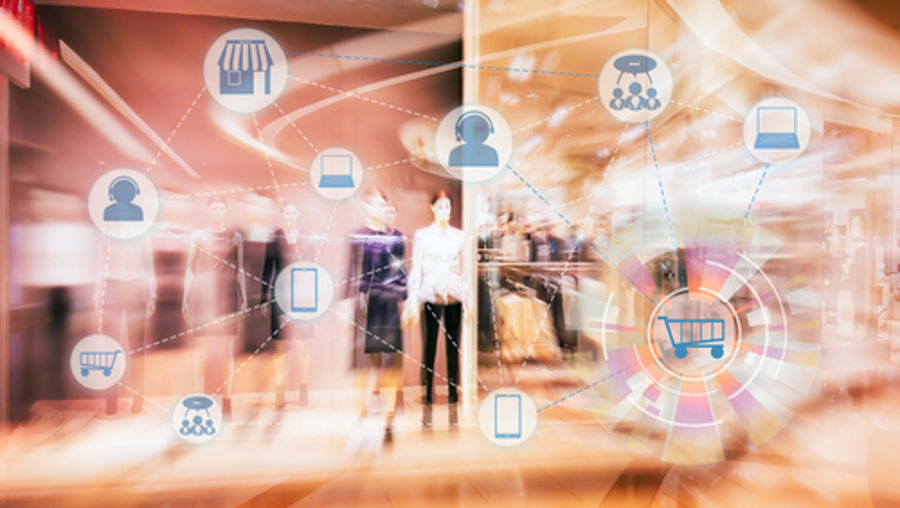 The Value of Customer Experience Analytics
Every day, millions of vital service interactions take place between your company and your customers, and there is a lot at stake in your ability to manage and optimize this complex, fast-paced environment, including your brand's reputation and your economic survival. Faced with an increasing competitive marketplace, the ongoing challenge of any company's engagement (contact) center is how to extract the insights hidden within these voluminous, unstructured multichannel interactions and provide decision makers with the information they need to acquire, support, retain, and grow their customers.
But how do you know if you are collecting the right data? Are you leveraging the right technology? Who in your organization is leading the charge for your analytics strategy, and are they asking the right questions? Your answers will determine if you should trust the current process or change it. Disjointed systems, lack of communication, organizational silos, and inefficient processes are all reasons to take another look at your analytics process.
Analytical Insights Alone Aren't Enough
Even with access to a wide variety of tools and information, companies still struggle to find ways to improve customer-facing key performance indicators (KPIs) such as customer satisfaction, loyalty, retention, and revenue. While big data and analytics can help identify that something is wrong in the customer conversations taking place in the engagement center, analytical insights alone don't usually provide the level of nuanced diagnostics needed to uncover the root causes of the problems. Companies don't have an easy way to identify, isolate, and prioritize the variables that impact their customer-facing metrics, nor can they easily test hypotheses while controlling for other variables in their production environment. So how can you uncover hidden insights? Put your lab coat on because we're headed to the science lab.
Unlocking Insights from the Lab
STARTEK's Communication Science Lab picks up where data analysis leaves off by applying scientific rigor and methodology to uncover micro-issues at the conversation level that are important drivers for your critical metrics. We utilize these experiments to test solutions prior to implementing them in our clients' production environments. After testing these solutions, we analyze the data and form conclusions to determine the best customer engagement strategy.
In a recent pilot conducted in the lab, STARTEK showed through the use of universal specialists an 8% reduction in handle time and 3% improvement in customer satisfaction.
Customer needs and behaviors change frequently thus requiring continual learning and new strategies. If you want to improve the dialogue with your customers, check out STARTEK's communication science lab and put your customer experience issues under the virtual microscope.
Watch STARTEK's Chief Science Office, Dr. James Keaten, explain the exchange of information and the value it creates.
Source: http://www.startek.com/news/customer-experience-analytics
Publish Date: April 26, 2018 5:00 AM
---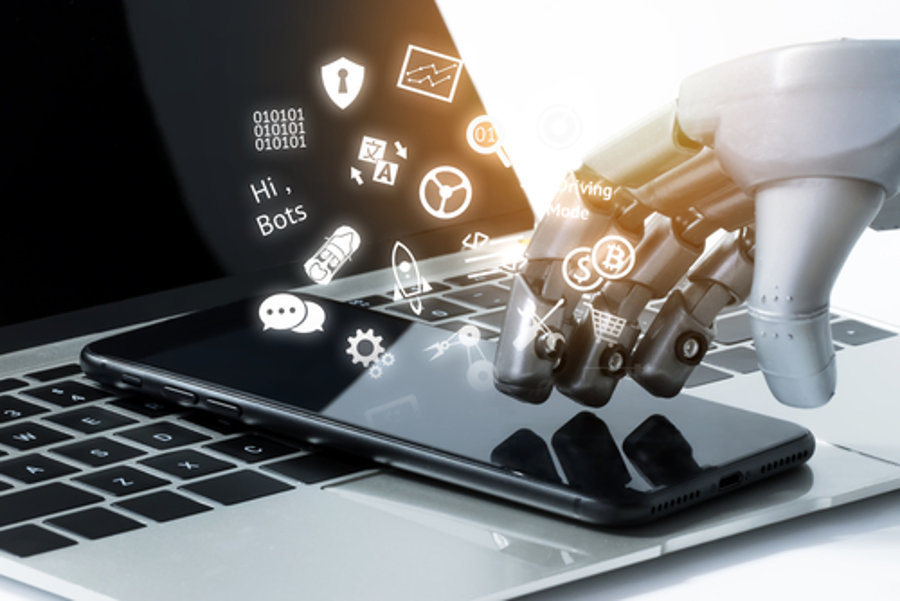 First-contact resolution, customer satisfaction scores (CSAT), Net Promoter Score (NPS). Ever get the feeling that as you're working to move the needle on customer-facing performance metrics that something is missing?
That something could be robots, specifically robots in the back office. That's because even though back-office processes and personnel aren't on the customer-experience front lines, they are often an important step in the customer journey. And frequently that step is fraught with manual and/or redundant steps, extensive data entry across multiple systems, and inefficient management of resources and work queues. The result can be delays for customers on everything from order processing to installation scheduling to returns processing.
Robotic process automation (RPA) is changing the back office to make it far more productive, effective and accurate than ever before, shortening wait times and reducing frustration for customers—and that all adds up to a better customer experience.
Improving cycle time and productivity
Recently STARTEK helped a large telecommunications firm demonstrate the benefits of automating a resource-intensive back-office process: SIM activations. Using an RPA platform, STARTEK quickly mapped the process and built the robotic model to automate the work queue and steps within the process. The resulting solution uses guided workflow and automated task processing to help back-office specialists perform SIM activations faster and with fewer errors.
What is RPA?
Robotic process automation (RPA) allows companies to configure software or a "robot" to capture and interpret existing applications for processing a transaction, manipulating data, triggering responses and communicating with other digital systems.
Source: Institute for Robotic Process Automation & Artificial Intelligence
Processing orders faster and with greater accuracy
The SIM activation proof of concept quickly showed just how significant the impact of RPA can be on back-office processes. The initial results were impressive:
45 percent improvement in the number of SIMs processed per hour
28 percent improvement in average processing time
40 percent reduction in errors
This was just a first step in showing that automating high-volume, back-office processes can have a dramatic impact on improving throughput, reducing errors, and ultimately making customers happier and more likely to stay with the brand.
Learn more about the benefits of RPA for this large telecommunications company in the detailed case study.
Read now
Source: http://www.startek.com/news/robotic-process-automation-missing-piece
Publish Date: April 12, 2018 5:00 AM
---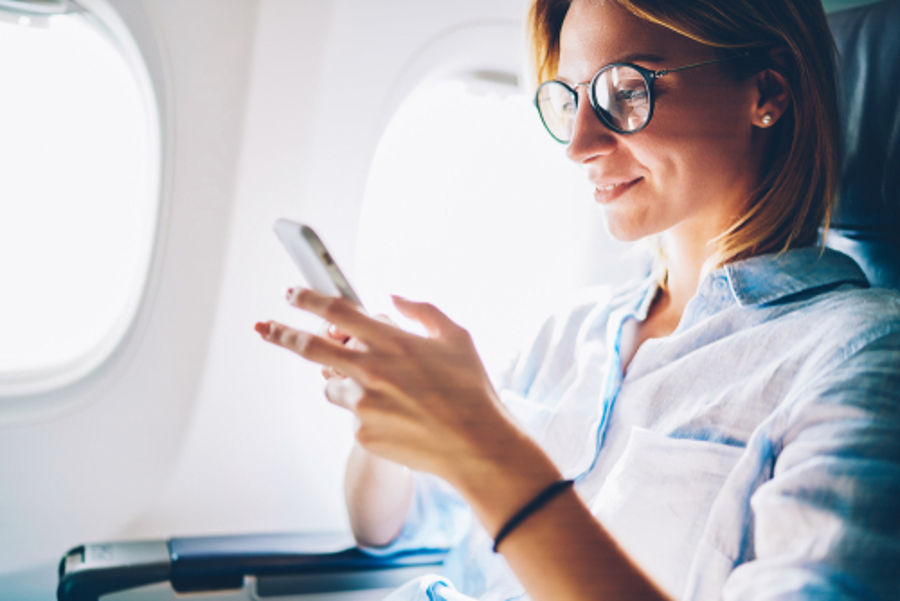 Today's travelers have high-flying expectations for customer service across the various companies and brands with which they interact before, during, and after their trip. For one company, a leader in the travel industry, meeting those expectations was becoming increasingly difficult to do—until the entire company learned how it should be communicating.
Delivering easy, fast customer service—even in challenging situations
Travelers expect that customer service will be easy, fast, and convenient to use. The team at this travel company has to not only deliver excellent customer service that meets those expectations, but do so under very demanding and sometimes stressful situations, such as major weather events, which are outside of the direct control of the company.
With help from STARTEK, the travel company launched an initiative to return the business to having a true dialogue with its customers—freeing employees to connect emotionally with customers, resolve their issues and improve perception of the travel leader's brand.
"We're not only well trained on how to do our job, but now we know how to communicate well with each individual customer."
A tenured travel company employee of 20 years
Improving customer satisfaction with dialogue
STARTEK deployed its Performance Optimization solutions at the travel company to help everyone in the organization learn how to talk, text, chat, and email with customers using scientifically grounded, dialogue communication skills.
From the moment the company began using the STARTEK solutions, it started to see improvement in customer satisfaction. After implementing the first half of the program, the company experienced a five percent increase in customer satisfaction scores.
Employees are more satisfied, too
Another benefit is that the travel company's employees report greater job satisfaction as they now have the autonomy and the skills to support the customer no matter what issue the customer brings to them on the phone, via email or chat, or in person. Employee confidence has increased as well.
Learn more about how this leading travel company uses STARTEK's solutions to improve the outcomes of customer interactions using the science of human communication.
Read now
Source: http://www.startek.com/news/authentic-dialogue-soars-customer-satisfaction
Publish Date: March 22, 2018 5:00 AM
---
The mandate to the engagement (contact) center is to improve customer satisfaction (CSAT) or Net Promotor Score (NPS) or first-call resolution (FCR)—or better yet, all three. But clearly traditional approaches to improving the customer experience—and the metrics that measure it—haven't been working. Delivering scripted monologues or pre-written text in a chat window just doesn't build the credibility, rapport, and trust that are needed to really move the needle on customer-facing metrics.
Instead, your engagement center needs to use the science of dialogue to deliver a true human conversation. That's because only good dialogue (not chit chat) meets the needs and expectations of today's consumer. Here's why.
It's all about the humans in the conversation
While some industry experts give lip service to personalized conversation between an engagement specialist (agent) and a customer, authentic dialogue that improves engagement and outcomes is much more than saying the customer's name at certain points in the conversation or chit-chatting about the weather.
Instead, good dialogue is about using proven communication principles to adapt to the implicit needs of the customer and by doing so, gaining credibility, rapport, and trust. The result is that customers feel that someone is listening to them, they are being treated as unique individuals, they are understood, and can trust the people they are speaking with.
When asked about potential customer service contacts either online or by phone, 85% of survey respondents said they prefer a customer service representative versus a chatbot/AI or IVR (interactive voice recognition) experience.
Source: STARTEK U.S. Customer Engagement Survey, 2017
The hallmarks of good dialogue
What makes for good dialogue that improves the outcomes of customer interactions? There are three hallmarks to look for:
Professional
Personalized
Marked with moments of spontaneity
Here's a test: if the conversation could have been with any customer at any point in time, it's not personalized or spontaneous. It's simply a series of canned responses used at appropriate points.
On the other hand, if the conversation could only have happened at that time and with that particular customer, then it's truly personalized and spontaneous. If it's also professional, then you have the makings of good dialogue.
Once your engagement specialists learn and master the concepts of using the science of human communication to create good dialogue, you'll see the marked difference in CSAT, NPS, and FCR. And that's not idle chit-chat.
Check out our video featuring Dr. Keaten, Chief Science Officer, explaining why we prefer humans in complex situations.
Source: http://www.startek.com/news/good-dialogue-drives-customer-satisfaction
Publish Date: February 15, 2018 5:00 AM
---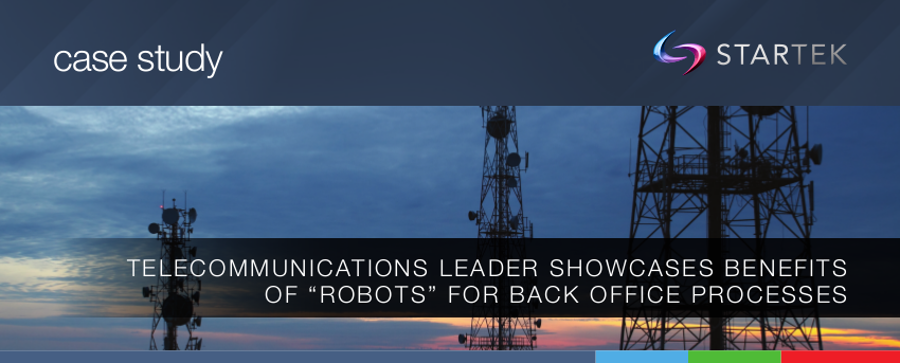 For mobile operators, activating and managing subscriber identity modules (SIMs) require back-office specialists to complete a long series of tasks, often with redundant steps and data entry. For one large telecommunications client, STARTEK saw the opportunity to use automation and analytics to improve productivity, cycle time, and accuracy for this complex process.
Source: http://www.startek.com/news/telecom-leader-showcases-robots
Publish Date: December 7, 2017 5:00 AM
---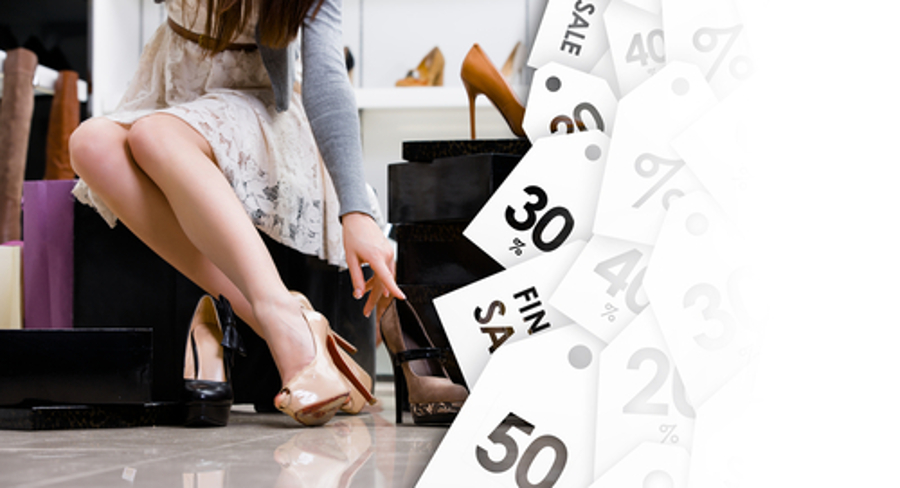 It'll soon be the biggest day of the year for eating and more eating (and napping, no doubt). More pumpkin pie, anyone?
But for some people, it's the day after Thanksgiving that's the bigger deal, in multiple senses of the word. Black Friday is the biggest shopping day of the year—and this year promises to be bigger than ever.
A RetailMeNot survey predicts a robust holiday shopping season for 2017, with consumer spending over the Black Holiday weekend expected to increase by a whopping 47 percent compared to 2016.
Cyber Monday is growing, too. More than 56 percent of consumers in the RetailMeNot survey say they plan to make a purchase on Cyber Monday this year, compared with 39 percent last year.
The $743 Shopping List
Americans will spend an average of $743 on holiday shopping across Black Friday/Cyber Monday weekend, up from the $505 spent in 2016.
Almost 7 in 10 consumers (68 percent) will spend money between Black Friday and Cyber Monday.
Source: "'Tis the Season for Sales," RetailMeNot, 2017
What does this mean for your engagement center?
Retailers that have ramped up accordingly for the expected surge in volume might have the human engagement specialists (agents) in place, but are they ready to deliver what customers truly want?
Savvy retailers know that to drive sales during this or any other peak season, they need to deliver a personalized, omnichannel customer interaction that features human communication.
STARTEK research shows that 83 percent of customers in retail prefer to speak with a human— and not just any human, but one that cares about them and personalizes the interaction to meet their needs.
So the question for retailers becomes not only do you have enough trained staff to handle Black Friday and the other prime shopping days that come afterwards, but how well is your staff trained to deliver what customers expect? Can your engagement specialists consistently create an engaging and effortless experience that anticipates your customers' needs and builds rapport using your brand's unique voice?
If not, it could be more of a Bleak Friday instead of the successful Black Friday that your competitors might enjoy.
It takes humans to meet customer expectations
Find out why your strategy shouldn't neglect the importance of human interaction—at any time of the year.
Read the ebook, "Will Retail Customer Service Centers be Staffed By Chatbots in the Near Future?"
Source: http://www.startek.com/news/blog-is-your-engagement-center-ready
Publish Date: November 22, 2017 5:00 AM
---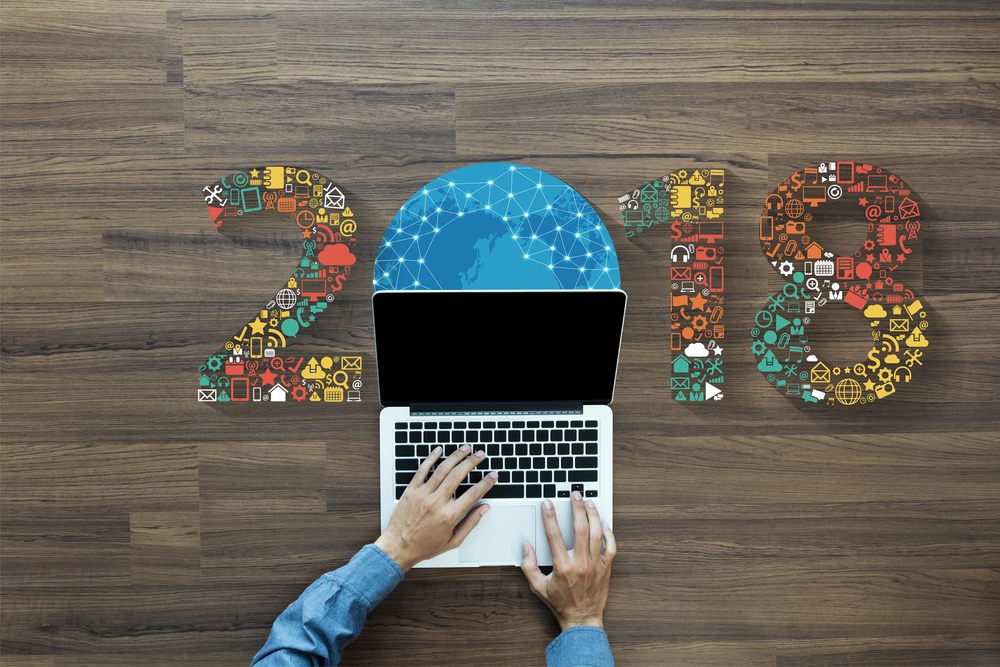 It's that time of year, where we dust off the old crystal ball and peer into it to see what's coming in the near future. Are you ready for what's headed our way in 2018 in the world of customer care?
We're seeing three major trends taking shape.
Trend #1: Re-humanization of the customer experience and the engagement center
In 2018, we're headed back to the future. That is, we're seeing a return to a more personalized, humanized approach to customer care. While over the past decade, the pendulum swung in the direction of new technology that improved productivity, efficiency, and convenience, it's now swinging back to the human side of the equation. Supported and improved by the technology gains we've made, in 2018, authentic human conversation will once again be valued as an essential component of customer relationships.
This goes for the engagement (contact) center as well. It's time to re-humanize what we've de-humanized in the engagement center. At a time when the attrition problem is more intractable than ever, we need to translate the nature of engagement center work into something intrinsically valuable to the engagement specialist (agent). We see this happening by focusing on the human conversation—empowering engagement specialists to create spontaneous interactions that build rapport, trust, and job satisfaction.
Consumers want human interaction
When asked about potential customer service contacts either online or by phone, 85 percent of survey respondents say they prefer a customer service representative versus a chatbot/AI or IVR (interactive voice recognition) experience.
Source: STARTEK U.S. Customer Engagement Survey, 2017
Trend #2: Artificial intelligence that determines when humans are needed
So far we've seen artificial intelligence (AI), primarily in the form of chatbots, start to make in-roads for self-service, delivering convenient assistance to customers for simple transactions. However, while AI-driven software may be "smart" enough to take over more challenging interactions, the greater opportunity in 2018 is to use AI to determine when a human is needed for an interaction. Instead of investing significant dollars in trying to solve everything without a human, savvy companies in 2018 will use AI to better understand when to use authentic human conversation to greatest effect to engage with customers.
Trend #3: Data that helps businesses understand their human customers
Engagement centers collect massive amounts of data every day about customers, but companies haven't done a great job of taking advantage of it. In 2018, we see that changing as more companies begin to deeply analyze the treasure trove of engagement center data to better understand what their customers are thinking, the experiences they are having, and the way they want to interact with brands. They can then use this insight to improve both self-service and human interactions.
Learn more from our Chief Science Officer Dr. Jim Keaten
Source: http://www.startek.com/news/3-trends-customer-service-2018
Publish Date: November 16, 2017 5:00 AM
---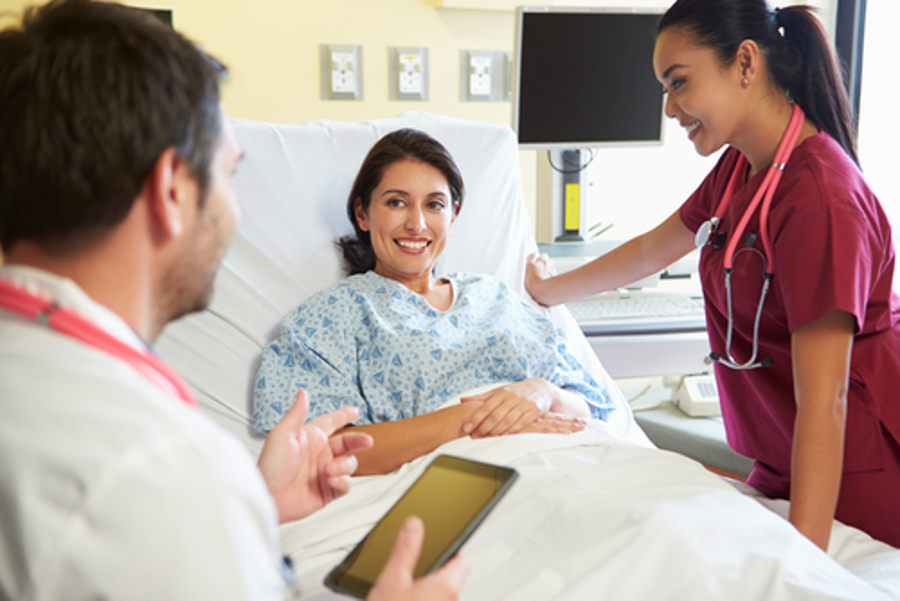 Chatbots are seemingly everywhere and with the continued hype about their cost savings, it's only logical to wonder whether the healthcare engagement center (contact center) will need humans in the future?
The answer is no, not if you want customers (that is, members and patients) to be satisfied with their interactions and with your organization. In the STARTEK 2017 U.S. Customer Engagement Survey, a whopping 88 percent of healthcare consumers told us that they prefer human interaction to interacting with a chatbot, artificial intelligence software, or IVR for healthcare customer service.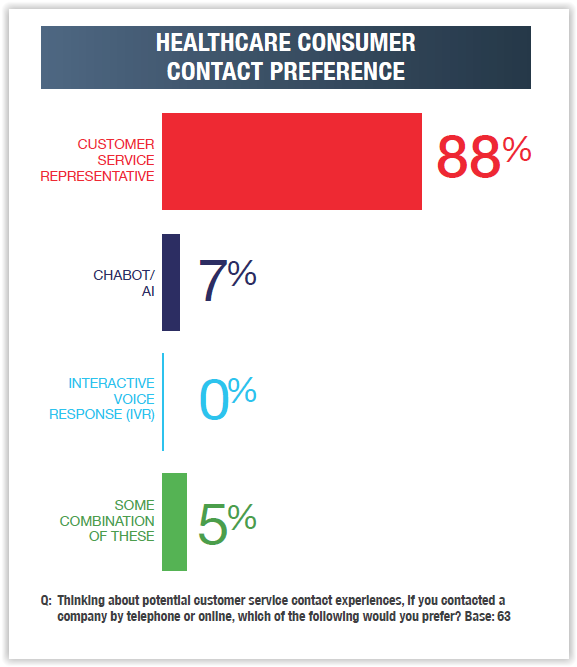 Healthcare consumers used the phone for customer service more often (87 percent) than any other industry in the survey, compared to using email (14 percent), online chat (13 percent), in person (16 percent), and social media (8 percent) channels.
Source: STARTEK U.S. Customer Engagement Survey, 2017
Wanted: a personalized, human interaction
When asked to choose what their ideal customer service interaction would look like, 65 percent of healthcare consumers want to speak with "an individual who cares about me personally and both answers my questions as well as offers insights."
This is not surprising, given the increasing complexity of the healthcare ecosystem. According to a report by Instamed, only seven percent of consumers could successfully define terms such as plan premium, deductible, co-insurance and out-of-pocket maximum. And 74 percent of consumers are confused by explanation of benefits (EOBs) statements.
Should healthcare organizations use chatbots?
While the survey shows that human engagement continues to be critical to member and patient satisfaction, technology can play an important role as well. Use chatbots, for instance, to handle simple interactions on public and member portals. You can use interactive voice response (IVR) to likewise automate simple interactions for those that choose voice channels, providing claim status, refill reminders, and other straightforward responses and information.
Once you automate the simple issues, what are left are the more complex, higher-stakes interactions. Your engagement specialists (agents) must be prepared to handle these complex and emotional issues in a way that shows they care.
Rethinking your member service strategy for payers and PBMs
Read the new STARTEK white paper, "Course correction on the direct-to-consumer healthcare journey."
You'll learn about the barriers to delivering the kind of experiences that drive member engagement, satisfaction and loyalty and how to use a two-pronged human-centric approach to overcome them.
Get it now
Source: http://www.startek.com/news/chatbots-healthcare-customer-service
Publish Date: November 9, 2017 5:00 AM
---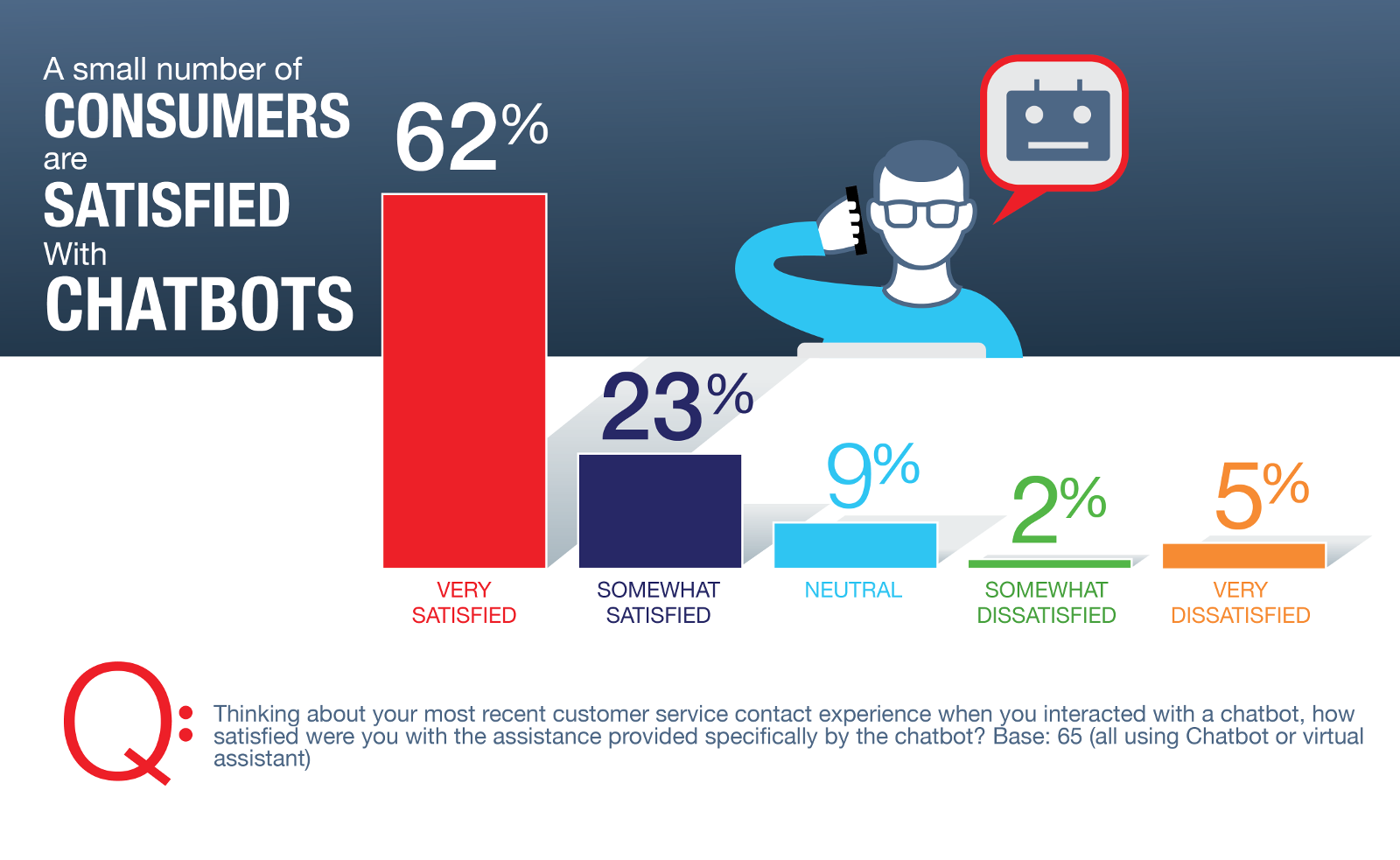 Chatbots seem to be all the rage right now. Need to order flowers for your mom? Chances are there's a chatbot for that. Want to know the weather in the city you're flying to? Ask a chatbot.
For enterprises, chatbots can help lower customer-service costs when deployed in the right way for the right type of self-service interactions. If straightforward answers to typical questions—such as your shipping policy—are what your customers need, then a chatbot can be created that responds with the correct answers.
Beyond simple self-service, however, consumers want to interact with humans. While artificial intelligence and machine learning have made significant progress in understanding human language and enabling chatbots to hold a human-like conversation, at the end of the day, humans are still preferred.
According to the STARTEK U.S. Customer Engagement Survey, 85 percent of consumers prefer to interact with a human customer service representative, while only a small percentage of consumers (5 percent) want to interact with chatbots or AI software.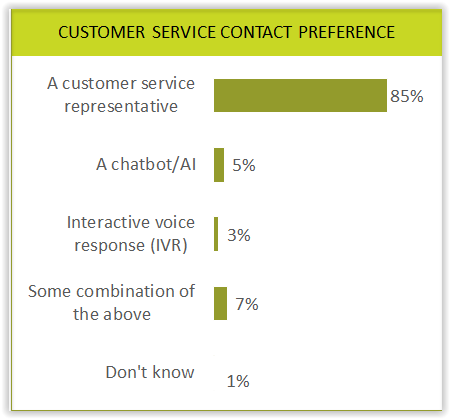 "Basic transactions are always more of a candidate for automated response systems. In fact, by replacing transactional conversations with automation, we are increasing the complexity of the remaining human-to-human conversations."
—Ted Nardin, President, STARTEK Science Lab
For the very few interacting with chatbots, satisfaction is high
Of the consumers who have interacted with a chatbot for their most recent customer service experience (13 percent), 85 percent of them were either somewhat or very satisfied with the interaction.

Also, of those consumers who had interacted with a chatbot in their most recent customer service experience, 85 percent were somewhat or very likely to want to use them again in the future.

For a very small percentage of consumers, chatbots and AI software deliver the self-service experience that they are looking for, particularly when the issue is simple and straightforward. For low-value/low-complexity customer interactions, chatbots can be a cost-effective self-service tool that increases customer satisfaction while reducing your cost to serve.
The takeaway: Don't bet it all on chatbots
Despite the advantages of using chatbots to automate simple, repetitive interactions, humans are more important than ever. Why? Because as self-service automates the easy interactions, the complex issues must be handled effectively by human customer service. An earlier study of customer satisfaction conducted by STARTEK shows that 78 percent of customers have diligently tried to solve issues on their own before contacting an engagement specialist (agent).
When self-service fails, it takes a human engagement specialist to step in and frame a customer's situation in ways that positively impact the customer's perception of the brand. Humans remain an essential component in customer service because only humans can do what chatbots can't: show emotional understanding, reduce customer anxiety, and build rapport.
See more findings from the STARTEK Customer Engagement Survey
Get quick insight into more findings from our survey in this infographic.
Source: http://www.startek.com/news/machine-human-do-consumers-like-chatbots
Publish Date: October 26, 2017 5:00 AM
---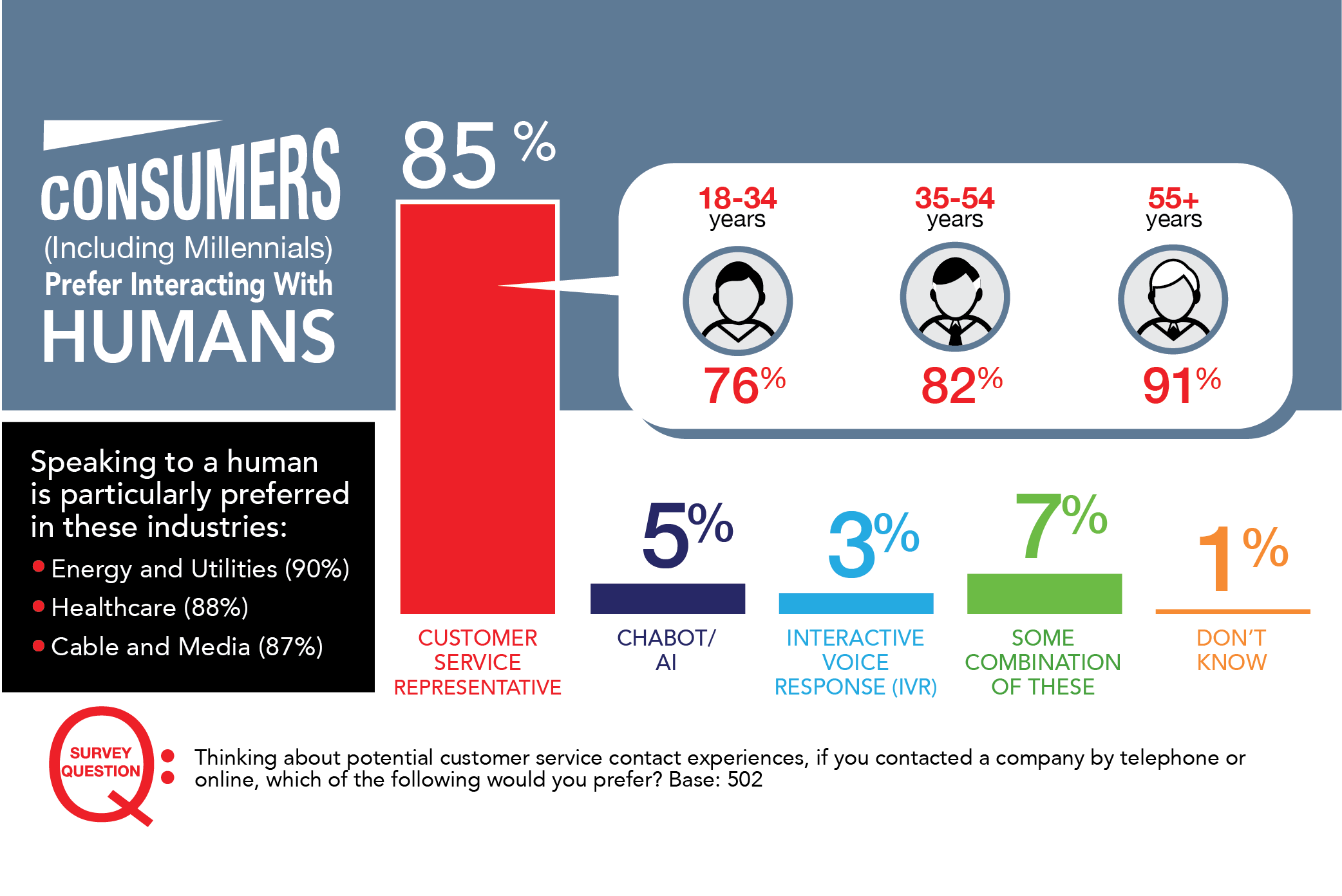 With the focus on digital transformation and the adoption of digital channels—everything from chat to social media to mobile app—you'd think that, in the near future, we won't need humans at all for customer service. It turns out that nothing could be further from the truth. Despite all things digital, consumers overwhelmingly want to interact with a human—no matter what the channel.
Digital channel usage continues to rise
Surveys and anecdotal reports have shown that consumers are increasingly turning to digital channels for customer service. When STARTEK surveyed more than 500 U.S. consumers about their recent experiences, preferences, and expectations for customer service and technical support, it was no surprise that significant portions of customer service communications take place in digital channels:
24 percent use email
22 percent use online chat
11 percent use social media
"If a highly efficient machine could care or connect with a human, a machine might be preferred. However, until that day, humans fulfill human needs more effectively than a machine."
–Ted Nardin, President, STARTEK Science Lab
But digital doesn't mean fewer humans
The adoption of digital channels doesn't mean that consumers don't care whether or not there is a human on the other end of the interaction. They are simply choosing the channel that best suits their needs in the moment, for that particular issue.
Overwhelmingly, consumers want human interaction, whether it's in a digital (online) channel or traditional voice. In the STARTEK survey, when asked about potential customer service contacts either online or by phone, 85 percent of survey respondents said they prefer a customer service representative versus a chatbot/AI or IVR (interactive voice recognition) experience.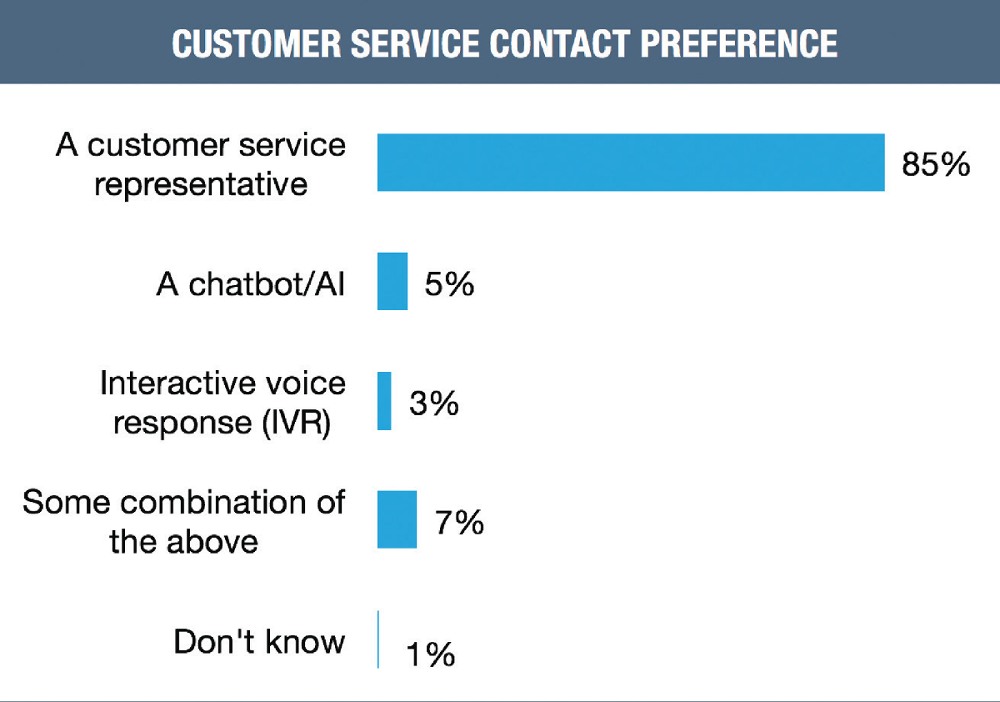 What this should mean for your customer service strategy
While digital transformation is valuable for delivering seamless, convenient customer experiences, your overall strategy shouldn't neglect the importance of human interaction or you risk alienating the vast majority of your customers.
It's time to make humans the center of your customer service strategy once again. For instance, your engagement specialists (agents) must excel at delivering authentic human dialogue that frames the customer's situation in ways that impact the customer's perception of your brand. This requires the right training and coaching around proven communication skills so that engagement specialists can:
Respond to concerns optimistically and with emotional understanding
Educate consumers in ways that reduce their anxiety
Anticipate consumer needs and build rapport
Create an engaging and effortless experience
See more findings from the STARTEK Customer Engagement Survey
Source: http://www.startek.com/news/consumers-want-human-conversation
Publish Date: October 12, 2017 5:00 AM