SupportNinja - ContactCenterWorld.com Blog
Page: 1 | 2
There is a lot written about why a business should outsource certain tasks, but not as much about how to manage and motivate your virtual team.
A disengaged, poorly motivated, and unreachable virtual team can be just as dangerous (if not more than) as a team with the same or similar characteristics in an actual office.
That is why it's important to know effective strategies on how to motivate your virtual team, so you don't end up with missed deadlines, poor quality of work, and bad employee reviews.
The following five steps will help you to keep your virtual workers engaged no matter how far away they are, what time of the day it is, or where they work.
Utilize communication tools
There are plenty of communication tools on the internet at your disposal, all of which can be used to benefit your relationship with your virtual team.
What's important is that you have an efficient and specific function for each tool you use. Slack may not be the greatest for a large meeting, but it is a great, quick, and relaxed way to ask someone how a task is going. At the same time, if you need to video chat with someone to quickly check in on a project, then your virtual employee might think that you are being overly controlling and wasting their time.
You can also try utilizing communication platforms that have several different functions. For example, with Gmail you can email, instant message, and video chat. This makes it very convenient to communicate with your virtual team in a variety of ways.
There is new technology being created every day, so also make sure that you are up-to-date on new communication tools and updates for the tools you already use to see if any of them can benefit your team.
Make an effort to get to know your virtual team
Just because you aren't seeing someone at the water cooler everyday, doesn't mean that you shouldn't get to know them.
Whenever you bring on a new virtual team member, or if it has been a while since you've had a non-work related conversations with one of your current members, you should schedule a time to video chat or instant message them and talk about how they are doing.
Ask them about their life. Tell them appropriate details about your own. It's important that you are able to recognize them as an actual person who you work with, and not as a robot. That way they can do the same.
Be respectful, courteous, and have reasonable expectations
Virtual workers are notorious for working at odd times, late hours, and on weekends. It can be tempting to look at this and assume that they are willing to work non-stop. However, that is simply not the case.
It is important to remember that your virtual workers have a life away from their laptops. Just because you might not ever see or hear about their family, doesn't mean they don't have one. They also likely have a social agenda and other priorities that they must tend to.
So if you need to give someone extra work ask them if they are available to do it, try to give them as much notice as possible, so that they can fit it into their schedule, and be prepared to compensate them for this.
The worst thing that you can do is burnout your workers. Unlike in an actual office, you probably won't see that they are close to the edge until it is too late.
And remember, everyone likes being complimented after a job well done.
Present clear guidelines at the beginning of each project
If you use vague or confusing guidelines for a project, it will be difficult for your virtual team to deliver the product that you are expecting.
Instead, take sometime before you assign each project to think about how you want the product to look, and then craft specific and clear guidelines that will ensure that your team is be able give you your desired results.
Remember to also be available to your virtual team in case they have any questions or need clarification on any of your guidelines. The last thing you want them to do is feel that they need to guess how to complete any aspects of a project.
Pay well
There are hundreds, if not thousands of websites where you can get work done for cheap. As tempting as this is, it's important to remember that you are getting what you pay for.
It is nearly impossible to find quality web content, with SEO capable of ranking your website high in Google's search engine, when you pay a few dollars per webpage. Even though content can easily be found for that price, you should not purchase it.
Find out what the competitive rates are for virtual employees who can produce the quality of work you desire, and pay your employees a comparable rate.
If you don't, you can expect a low quality product or that good virtual team members will leave your company for greener pastures.
If you are looking to find quality virtual team members, SupportNinja is a good place to start. We offer excellent customer service and back-office support to mid-sized businesses. Contact us to see how Ninja can work for you.
Source: https://www.supportninja.com/blog/how-to-motivate-your-virtual-team/
Publish Date: October 6, 2016 5:00 AM
---
Gallup polls show that only 9 percent of the U.S. workforce telecommuted during the 90s. By the time 2015 arrived, over 35 percent of the employees now telecommute to work on a routine basis. When the virtual team is constructed correctly, dispersed professionals are often more productive and produce better results than the employees limited by a conventional office environment. Successfully developing a killer virtual team like those that work with Support Ninja involves following important tips embracing team building, management strategies and technology applications.
1. Start with Team Building
Hiring qualified candidates, divvying up labor and grouping employees proportionately should be the first steps for building a virtual team. Employees qualified for virtual work often exhibit strengths in emotional intelligence, communication, awareness, resilience, empathy and working independently. According to the Harvard Business Review, using personality tests and behavioral interviews may be an effective strategy for identify the best workers for your new virtual team.
2. Size and Groupings Matter
Grouping employees in teams comprised of no more than ten members each is the most effective approach when running a virtual organization. Studies show that social loafing begins to negatively affect the group once there are at least 13 members. Once the team has more than four or five members, employees can begin feeling less responsible for their individual performance and production. Having more than ten members on an individual team can also make effective communication a challenge as well.
3. Improve Communication with Technology
The technology used to support the business typically dictates how effectively management and the virtual team are able to communicate. For the initial orientation, important meetings and group chats, the most successful virtual teams use video applications like Skype. The ability to instantly chat or email a co-worker on popular platforms like Google, and submit work through project management software like Basecamp is also vital to keeping everyone in the organization on the same page.
4. Adopt Soft Management Strategies
Researchers have concluded that the most predictive factor for a virtual team's success is whether or not management has experience overseeing dispersed teams in the past. Establishing trust, procedural guidelines, organizational goals and an open dialogue between leadership and the remote employees is important to focus on when organizing a virtual team. Making an effort to foster camaraderie in the virtual workplace can be effective at mitigating some of the isolation effects many remote workers experience.
5. Prioritizing Quality Assurance and Tracking Performance
Automating recurring tasks can help reduce the workload and provide more time for monitoring performance metrics and the quality of service being provided to the consumer. Keeping records of meetings, group chats, email chains and other conversations may prove to be beneficial as well. Industry experts recommend using a project management system with an interface designed to help with scheduling, organizing files and collecting data is recommended.
Statistics show that more often than not, most virtual teams don't work as well as intended. However, the ones that do work typically outperform the production of employees at a standard workplace. Understanding the fundamentals of how to design and manage the team is imperative for success. With internet access and capable devices, employees can be productive anywhere,and anytime if they are provided with the proper infrastructure and leadership.
Source: https://www.supportninja.com/blog/5-tips-for-developing-a-killer-virtual-team/
Publish Date: September 12, 2016 5:00 AM
---
Customer service seems to be one of those parts of a company that can be so hard to get right. In a world where so many companies are too focused on the bottom line that they don't treat their customers well, it can be relatively easy to stand out from the crowd. It doesn't matter if you are a big company with a big budget or if you are a smaller brand with limited resources. In fact, smaller companies have the opportunity to connect with their customers more directly than the bigger brands.
Regardless of the size of your company, you should be looking for ways to serve your customers creatively. Creative customer service that surprises the customer helps to make customers for life. This post shares five companies that have gone above and beyond in customer expectations.
1. Jimys Automotive: Handwritten notes
When Xander picked his car up from the mechanic in Streetsboro, Ohio, he definitely wasn't expecting anything out of the ordinary. This genuine, handwritten thank you card totally blew him away.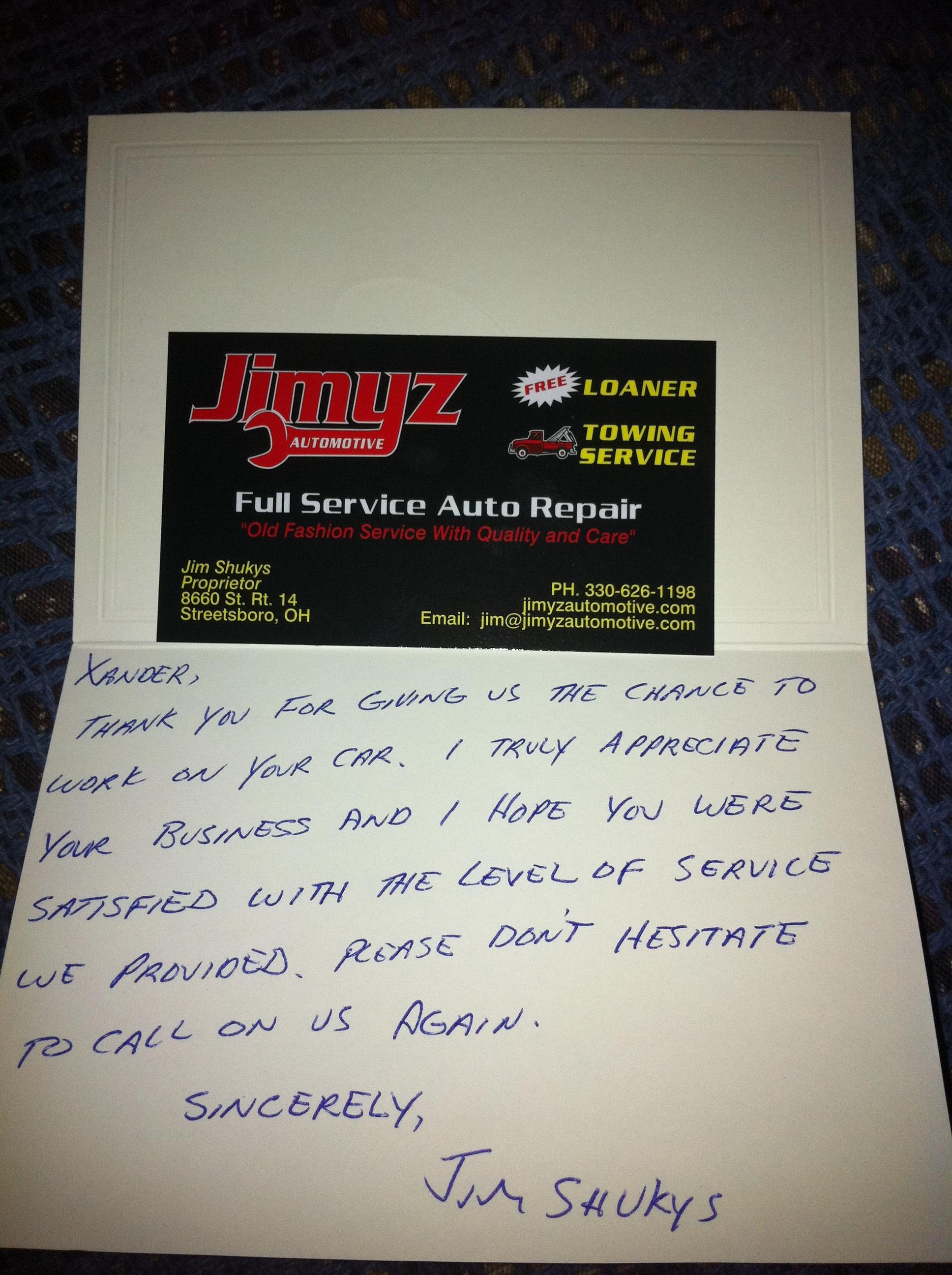 Jim has clearly incorporated friendly service into his business model, and from some of the responses on the reddit post, it's working for him!
"I used to live in Streetsboro and I know exactly who that is. He's a good man, stay with him!"
Giving a handwritten note to a customer really says a lot. But if you feel that would take up all the time of your customer service reps, you can always outsource it. MailLift.com specialises in writing and sending handwritten notes to your customers and they'll even send it from your location!
2. Trader Joe's: Delivering the groceries
One particularly wintery day in Pennsylvania, an 89-year-old WWII veteran was snowed in and without food for the day. His daughter phoned around to different stores to find one that would deliver. Even though Trader Joe's doesn't usually deliver, they would gladly deliver given the circumstances.
Not only did they deliver, but they didn't charge for either the delivery or the food! That is a prime example of going above and beyond for the customer. More companies should be allowing their employees to meet the needs of customers even when it's outside the bounds of usual operation practices.
3. Amazon: Wireless tech support
For the last few years, Amazon has been delivering tech support to their Kindle users using a feature they dubbed 'Mayday'. It's as if the support technician was standing right next to you, since you can see them via live video on your screen and they can see, control, and annotate your device's screen.
With an average response time of less than 10 seconds, customer's queries and difficulties can be solved within a minute. On their website, Amazon says, "We strive to be Earth's most customer-centric company, and this is just one more way we are working to achieve that goal." Mayday sounds like a great creative way to help reach that goal!
4. Nordstrom: Looking for diamonds
One story comes up over and over again with Nordstrom's reputation for outstanding customer service. It's not because it's the only one out there, but because it shows the level of dedication that the staff of this department store have towards serving their customers.
A woman had lost the diamond from her wedding ring while trying on clothes and was searching for it on her hands and knees. After the staff realised what the matter was, they stopped at nothing until it was found. That eventually meant sifting through the vacuum cleaner bags to find it mixed in with the dirt and dust.
Karen McKibbin, president of Nordstrom Canada, says that, "What it boils down to is we give employees complete freedom to take care of the customer. And we say, if you're going to make a mistake, let's make sure you make it in the customer's favour. "
5. Morton's Steakhouse: Airport delivery
Have you ever had a craving for some good food? Peter Shankman tweeted out to Morton's Steakhouse as he boarded his flight in Florida jokingly asking for a porterhouse to be delivered to the Newark airport 2 hours later.
Hey @Mortons – can you meet me at newark airport with a porterhouse when I land in two hours? K, thanks. 🙂

— Peter Shankman (@petershankman) August 17, 2011
Not only did they deliver on the request, but it was delivered by a guy in a tuxedo along with "an order of Colossal Shrimp, a side of potatoes, one of Morton's famous round things of bread, two napkins, and silverware."
Shankman says that "customer service is no longer about telling people how great you are. It's about producing amazing moments in time, and letting those moments become the focal point of how amazing you are, told not by you, but by the customer who you thrilled."
When a company delivers on a request that was made with zero expectations, the customer will be blown away and will tell everyone how awesome you are.
6. Insert your company name here
Hopefully these stories helped to inspire you to think creatively when it comes to serving your customers. Our team at Support Ninja would love to help you meet those goals — let us know how we can help today! In the words of Benjamin Franklin, "Well done is better than well said."
Source: https://www.supportninja.com/blog/5-companies-delivering-customer-service-creatively/
Publish Date: August 5, 2016 5:00 AM
---
According to Microsoft's 2016 Global State of Customer Service Report, 55 percent of consumers' customers service interactions are currently happening online, and 28 percent are through a mobile device. If your sales occur online, you may benefit from learning more about four core customer service processes that you should have in place.
Once the proper processes become routine, it's much easier to outsource or delegate specific customer service related tasks and responsibilities. Most shoppers consider the quality of customer service to be the most important influence affecting their consumer choices and customer loyalty.
1. Invest in online chat and live agents
Providing the help your customers need right away is one of the most important aspects of maintaining quality customer service. Researchers in 2013 discovered that over 80 percent of your customers will need help before successfully making their online purchase, and over 70 percent expect help within the first five minutes. Many consumers think the most frustrating aspect of poor customer service is not having a live person available to help when they need it. Having an online chat window and live agent support provides consumers with a resource for immediate assistance available at their own discretion.
2. Improve guidance for employees and customers
Consumer rights, responsibilities and return policies should be presented to employees and customers in clear terminology. For 39 percent of your consumers, not having to repeat themselves or be passed onto another agent are the most important interactions associated with a quality customer experience. Having agents who lack the information or ability to resolve the customer's problem is one of the most frustrating things about poor customer service. In the e-commerce sector, the degree of confusion and dissatisfaction felt by customers is the primary factor in determining the success or failure of your online business.
3. Align customer service processes with brand expectations
Consumers' perceptions of a company brand are strongly affected by online reputations and social media platforms. Using the raw social media data online to improve customer service processes can help ensure that frustrated consumers are not left disappointed and lost over preventable issues. Nearly 50 percent of the consumers out there say business don't take enough action on the feedback customers provide. When there are inconsistencies between consumers' brand expectations and the customer service processes, your referrals, retention, goodwill and revenue start to erode.
4. Automate customer service processes with the cloud and IoT
Integrating the business model into an Internet of Things ecosystem and cloud application makes aligning, monitoring and controlling customer service processes and interactions much more effective. Improving system connectivity makes for better products, smarter employees and happier customers. These more innovative applications provide real-time feedback and may help prevent potential issues before they occur. Automating these systems according to your particular service processes helps eliminate much of the challenges associated involved with maintaining quality assurance.
Microsoft reported that 60 percent of their 5,000 consumer respondents stopped using a brand or business after having just one bad experience involving poor customer service. Among consumers between 18 to 34-years-old, the rate was even higher at 68 percent. In fact, more than half your consumers will have higher expectations for customer service with each new year, so make it a priority to implement these four core processes today.
Source: https://www.supportninja.com/blog/4-customer-service-processes-you-should-have-in-place/
Publish Date: July 29, 2016 5:00 AM
---
There's a reason why everyone from Dell to teenage bloggers outsource – it works!
Finding affordable and specialized virtual team members can reduce labor costs by as much as 80%. Particularly for startups and solopreneurs who can't afford an in-house team, outsourcing offers an opportunity to scale when it otherwise wouldn't be possible.
However, outsourcing done wrong can be a costly mistake. If you don't understand how to effectively delegate a project, you'll end up with a lackluster final deliverable.
The following five steps will help you outsource your first task, and any ongoing tasks, effectively.
1. Confirm that it's a task and not a project
There's a time to hire a virtual assistant, and I time to seek out a consultant. Make sure you know the difference. In order to effectively outsource, you need to make sure that the item being delegated is a task and not a project.
What's the difference? A task is an activity with a clearly defined process. For example, creating images for your blog posts or responding to customer service calls using pre-developed processes.
A project, on the other hand, is something that requires serious thought and development. This would be things like creating your customer service protocols, or developing a comprehensive marketing strategy.
When it's a task, outsourcing to a virtual assistant team is the perfect solution. When it's a project, consider hiring a consultant.
2. Develop a clear process
Once you know that you have a task that could easily be outsourced, it's time to develop a and perfect a clear process yourself.
Is there an optimal time to post on your social media profiles? Is there a specific style that you use for your Pinterest images? Do you track leads using a specific software?
Whatever the task is, make sure that you clearly understand the process before trying to outsource it.
3. Create training material documenting the process
After developing the process in step two, step three should be easy. Clearly document the process into a step-by-step guide that can be handed off to your virtual assistant.
Include screenshots, videos, and written content that explains and illustrates the process.
By completing this training package, you will save yourself substantial time in educating a VA on how to handle the process.
4. Find a virtual assistant (or team) that is qualified to manage the process
Depending on the size and complexity of the project, you may need a single virtual assistant, or an entire virtual team. Either way, your next step is to find someone within your price-range that is qualified to accomplish what you need.
Finding a qualified individual is important – as it will save you an additional step in the training process. After all, if someone already understands how to manage social media accounts, while they will need to know the intricacies of yours, they already understand the basics.
To find qualified VAs you can either use a service like Support Ninja, that already has an vetted team of high-quality specialists, or you can reach out to individual freelancers directly using a freelance platform. Either way, ensure that they are qualified to accomplish the tasks at hand.
5. Provide frequent feedback for the first few weeks
Once you have a virtual assistant or virtual team in action, it's not quite time to go 100% hands off. Instead, for the first couple of weeks, and especially the first few days, check back frequently. Ensure that your instructions made sense and the assistant understands how to follow through based on your needs.
It's very likely that there may be a few hiccups at the beginning, but that's okay. The long term benefits will certainly outweigh this initial investment.
Once the first few weeks are completed, the assistant should have a solid grasp on how to manage the task – allowing you to focus elsewhere.
Choose the next task to outsource
Congratulations! After following the process above, you will have completely outsourced your task effectively.
Now what do you do with all of that extra time? Well, we recommend two things. First, spend more of your time on projects that require your involvement and are clear value-add to your business. Second, invest a few more hours into determining the next task you can outsource. Before long, you'll be running a very effective and efficient business.
Source: https://www.supportninja.com/blog/how-to-outsource-any-task-in-5-steps/
Publish Date: July 16, 2016 5:00 AM
---
Maintaining phenomenal customer support isn't simply a perk to offer clients, it's an essential element of a successful business model. According to the Harvard Business Review, acquiring a new customer costs five to 25 times more than maintaining a current one. Meanwhile, research by Bain and Company suggests that a 5% increase in retention rates can improve profits by as much as 95%!
In short, customer service should matter to everyone within the organization – including the CEO and CFO. It's the secret ingredient to a successful company.
But for many brands – both large and small – the biggest hinderance to exceptional customer service is cost. After all, if you spend 2 hours with a customer buying a $10 product, it won't be long before you help yourself out of a business.
Although you should expect to spend a decent amount on customer service, it doesn't have to break the bank. Here are three ways you can save on customer support – while still providing exceptional service.
1. Automate as much of your customer service as possible
Most of the time people would like to solve the problem on their own – rather than have to call your support team.
Make the most of this by creating as much documentation as possible. Offer self-service to your clients through FAQs, support, forums, and how-to pages. Then, make these pages readily accessible on your home page. Sure, this may require a few minutes of time at the beginning – but it will save your customer service team hours in the long run.
Once you have a forum or FAQs page in place, continually add issues and solutions to it as they arrive. If something happens more than twice – create a thread about it on the forum or write a solution on your support page.
Not only will this help your customers, but it can also benefit your customer service reps if they haven't experienced an issue in the past.
Additionally, invest in software that can assist you with providing fast and efficient customer service. That could be online chat systems, forums, or other tools.
Any time you observe your team spending excessive time on a single task, consider finding a way to automate that process. The fewer phone calls or support requests your team receives, the fewer employees you'll need – ultimately improving your bottom line.
2. Implement changes to resolve frequent issues
Do you consistently receive complaints about the same issue? Then fix it! Or, if you can't fix it, find a way to mention the issue to customers ahead of time – along with potential solutions.
Even the best customer service can't replace a crummy product. So make every effort to fix the problem!
Particularly in the B2B world, software companies have been able to get away with offering a showdy product, with minimal support, at a premium price. Why? Because businesses needed a solution and there were no market competitors!
But times are changing. A company can't earn an absurd ROI for long. Eventually other players will start entering the market.
Therefore, regardless of how much market share your brand has, resolve customer service issues as fast as possible – especially when the issue lies with a key component of your service or offering.
By resolving frequent issues you can save your company money through reduced customer service calls, less time being spent on ad hoc fixes, and an improved customer retention rate.
3. Outsource your frontline customer service team
With clear processes in place and a high quality product, you will still receive calls and chat requests from customers who aren't familiar with your support pages or simply wish to interact with someone directly.
To satisfy these needs in an affordable way, consider outsourcing your entire frontline customer service. The prices are far more affordable than using in-house support, and you can keep your higher-level experts available for the more complex questions and issues that your general customer services reps aren't able to resolve.
The additional benefit of outsourcing is that you are able to maintain a customer service presence 24/7 without requiring substantially more work from you own team.
Although outsourcing customer service used to mean that your customers wouldn't be able to understand the reps, that isn't the case anymore. By working with an agency like Support Ninja, with a team of highly educated and culturally knowledgeable employees, your customers will think they're speaking with someone right across town!
Closing thoughts…
The key to wowing your customers is to minimize the costs of ongoing customer service, so that you can invest more in providing elite services, bonuses, and perks that go above and beyond the norm.
Therefore, use automation, implementation, and outsourcing to keep your ongoing costs down – so that you maintain a higher profit margin and have more to offer additional benefits to your customers.
Source: https://www.supportninja.com/blog/3-ways-to-save-on-customer-support/
Publish Date: July 8, 2016 5:00 AM
---
As we've talked about in the past, there's a time to hire consultants and a time to hire virtual assistants. However, how do you know when you should outsource something in the first place?
The answer is actually very simple – you should outsource any task that can be done by someone else for less money than it would cost you.
For a startup, that means determining the hourly wage of your key players and, if someone else can do something for less, paying them instead. This way your founders and key partners can focus on value-add projects, rather than constantly putting out fires.
What types of projects/positions should be outsourced?
I'm glad you asked! The following three categories are the areas where it may be more beneficial to outsource than to use a full-time employee (or try to do yourself).
Executive or Professional Expertise
A startup may not be able to afford a full-time CFO or marketing executive, but you may be able to pay for one to come in on a biweekly or monthly basis to provide insights and confirm that appropriate progress is being made.
For many companies, it may be more effective to hire a high quality bookkeeper and an exceptional CFO consultant, then find a mediocre full-time CFO. The bookkeeper will be happy with a lower rate than someone with a CFO title. Meanwhile, the bookkeeper can learn from the CFO consultant and perhaps become the full-time CFO when finances and expertise permit.
Don't assume that you have to settle for mediocrity because of your finances. Instead, determine the areas that absolutely require expert oversight and outsource those – assigning the less essential tasks to a competent low-level professional.
Projects Requiring Specialized Knowledge
The obvious people who fall into this category are your lawyer and CPA. You meet with these partners on occasion, but as an early-stage startup you would never expect to bring these individuals on as full-time employees.
But there are many more professionals that may be worth hiring on an independent basis. Bringing IT, accounting, marketing, and other professionals on as consultants, rather than employees, allows you to get things done without increasing your payroll. It's also a lot easier to stop working with a consultant than it is to fire an employee if quality drops or finances get tight.
As your start transitioning complex tasks away from yourself, consider hiring specialized consultants rather than Jack-off-all-trades assistants to manage the more complex activities.
Repetitive Tasks
Finally, anytime you or someone on your team seems to repeat the same project over and over, it's time to look at outsourcing the work. Data entry, accounts payable, and shipping inventory could all fall under the umbrella of repetitive tasks worth outsourcing.
Small companies that are strapped for cash will have key team members picking up the slack and taking on these simple time-consuming tasks under the misconception that it's saving the company money. In reality, they're actually costing the company money by having innovators, communicators, and strategists spend their time responding to emails or sealing envelopes.
Allow your team to specialize on what they do best by outsourcing the simple tasks that could otherwise consume their days.
Closing Thoughts…
Never outsource purely for the sake of outsourcing. However, when it's clear that outsourcing is the most cost-effective way to grow your business, don't try to save money by avoiding it.
When you constantly analyze your schedule, and outsource tasks as soon as possible, you'll ensure that your spending time working on your business rather than in your business.
Source: https://www.supportninja.com/blog/the-three-task-categories-you-should-outsource/
Publish Date: July 1, 2016 5:00 AM
---
When it comes to hiring someone external to your business, you have two options – you can either hire a consultant, or a virtual assistant. All independent contractors and freelancers ultimately fall into one of these two categories – regardless of whether they're a designer, customer service rep, writer, programmer, etc.
What's the difference between the consultant and the virtual assistant? The consult will charge a premium to take on complex projects. Meanwhile, the virtual assistant will cost substantially less to follow establishes processes and tasks that you delegate.
Both the consultant and virtual assistant have their place in your broader business strategy. The key is to figure out which one to hire for which tasks.
To make your life easier, we've developed this brief list of when it's best to hire a consultant, and when it's best to hire a virtual assistant.
Hire a consultant if you need strategy
developed
If you know that your business needs social media marketing, but you have no idea where to start, then you want to hire a consultant.
If you need a way to improve your customer service experience, but aren't sure what path to follow, your best bet is to hire a consultant.
Anytime that there's an area of business where you're unfamiliar, and uninterested in learning, it's time to hire a consultant.
Hire a virtual assistant if you need strategy
implemented
Once your social media strategy has been developed, and you know who to follow, when to post, and what to post, you're ready to hire a cost-effective virtual assistant to help make that strategy happen.
After determining that the best way to improve your customer service experience is to reach out to each customer directly with x specific questions, you're ready to hire a virtual assistant to make the calls and send the emails.
The virtual assistant is able to clearly track and define the steps to ensure that the strategy is implemented effectively.
Hire a consultant if you need processes
established
Maybe you have the right strategy, but you feel like it could be improved upon. If this is the case, hire a consultant.
Whether you need a system for tracking your finances, a process for monitoring workflow, or a method for maximizing productivity, a consultant can share best practices that will help guide successfully grow your business.
Hire a virtual assistant if you need processes
followed
When you look up from your desk one day to realize that you're spending hours on the same, trivial tasks, day-after-day, it's time to hire a virtual assistant.
You already know what needs to be done, and how to do it. Simply document this process and hand the task over to your virtual assistant.
While the consultant helps you discover and develop an effective process, the virtual assistant can implement the day-to-day – allowing you to focus your time on higher value activities that can't be outsourced.
Hire a consultant if you need to
develop
a network
The right connections can make or break a company – and the right consultant can help you develop those connections.
If your business is just starting out, and meaningful network in a specific niche would benefit your brand credibility, then consider hiring a consultant who is already a part of that community.
By working with the consultant for a brief period of time, you can gain access to their network.
Hire a virtual assistant if you need to
activate
a network
When you already have your own network and simply need to keep them engaged and interested, hiring a virtual assistant can save hours.
Provide the VA with access to your email account and have them reach out with requests to share, promote, or connect. Furthermore, have them respond to comments on your blog or forum.
Although it may take a bit of extra effort and planning to have a virtual assistant manage your network as you, it can be worth it – as it literally allows you to be in two places at once.
Closing thoughts…
Both consultants and virtual assistants play a valuable role in the success of a business – as long as you know when to hire which. Hire a consultant when you need a VA, and you'll be throwing money down the drain. Meanwhile hire a VA when you need a consultant and your results will be minimal.
At Support Ninja we have a healthy combination of both consultants and virtual assistants – which allows us to benefit our clients wherever they may be on the planning and implementation scale. If you're looking to improve your company's productivity through outsourcing, get in touch. We'd love to discover if our services can help you grow your business.
Source: https://www.supportninja.com/blog/when-to-hire-a-virtual-assistant-and-when-to-hire-a-consultant/
Publish Date: June 24, 2016 5:00 AM
---
What percentage of your SDRs' time is actually spent speaking with prospects? For most sales organization, this number isn't as high as it should be.
Rather than communicating with prospects, SDRs often spend the majority of their day hunting down contact information, looking for new leads, and preparing for and scheduling meetings.
Although all of these tasks are critical to the sales process, they may not be the most efficient use of your sales team's time.
Here are five tasks that can be outsourced to allow your team to spend less time collecting information, and more time talking with prospects.
1. Collecting prospect contact information
Finding contact information for leads doesn't need to consume a large percentage of your team's time. If you already know what individuals or companies you want to reach out to, have your virtual sales team or assistant track down the contact information.
Have your virtual team use tools like PersistIQ's Chrome Extension to find prospect email addresses on social networks and add them directly to your database.
2. Scheduling appointments
Particularly if the decision makers that you need to reach are executives, finding a time to meet can be complicated and time consuming.
Rather than having your SDRs constantly running into gatekeepers, use a virtual sales team to reach out and schedule these appoints. Of course, you'll want to make sure that they are professional and educated – but they don't need to be your higher-paid SDRs.
3. Doing pre-meeting research
In the book Never Eat Alone, Keith Ferrazzi mentions the value of compiling a one-page information sheet on the interests and experiences of an individual before meeting with them. By doing detailed research on an individual, it becomes easier to connect around shared interests and experiences.
Having a virtual assistant quickly develop an information sheet using LinkedIn, Facebook, and a quick Google search, you may discover a new way to connect with the individual – whether that's through their alma mater, mutual friends, or child looking for an internship.
4. Taking and recording meeting minutes
Keeping track of the key takeaways from a meeting is important – but trying to take notes while leading the conversation can be difficult. Meanwhile, recording a conversation to go back and listen to later doubles the time investment required.
A virtual assistant can take notes throughout the meeting – making it easy to remember who is responsible for what and any other key points discussed during the conversation.
5. Sending out holiday and thank-you cards
Maintaining contact with current and potential customers is crucial for any business. While there are many ways to do this, making it efficient, yet personal, can be challenging.
A virtual assistant can help with everything from crafting messages, to finding and purchasing gifts, to sending thank-you cards. By taking the time to send a physical piece of mail, you help keep your business at the forefront of your prospect's mind.
Closing thoughts…
Many effective salespeople are high-energy and results driven. Requiring them to spend time on monotonous tasks can be both mentally draining and a waste of their talents. By finding ways to outsource the right tasks through individual freelancers or structured teams like Support Ninja, you can increase the moral and productivity of your SDRs, while improving your bottom line.
Source: https://www.supportninja.com/blog/5-tasks-your-sales-team-should-be-outsourcing-right-now/
Publish Date: June 17, 2016 5:00 AM
---
Kayako is available as a SaaS cloud-based customer service platform and as an on-premise Help Desk and Customer Support solution. The software is supported by Windows 7 and 8, Vista, XP, Mac OS, Windows 2000, Linux and Web browser (OS agnostic). The cloud-based solution is known as Kayako OnDemand and the on-premise solution is called Kayako Download. The company also has Kayako Fusion which is the customer support via documentation such as email, remote desktop support, live chat, self help, VOIP, and ticketing.
Brief History of Kayako
Kayako is the brainchild of Varun Shoor. Shoor was born in a city in Punjab, India and started Kayako at age 17 with no formal education having dropped out of college. His family is involved in the business of manufacturing hand tools like hammers which is where he got his influence to start his own business. As a young man, Shoor's passion was design and learned programming at the young age of 13. He took what he knew and applied to what he called "stuffy business help desks."
Kayako was launched in 2001 with no investors or capital. St 16 Shoor simply began experimenting with web hosting when he chanced upon a company that sold customer support solutions. He decided to create his own open source customer support software. Today, 15 years later, Kayako software is still an open source solution available to all, cost-free for charities and has managed to turn a profit despite having no external investors. The company moved its head offices to London and manages branches in new Delhi and Jalandhar with a staff of more than 140.
Kayako has more than 30,000 customers from around the world and offers a 30 day free trial.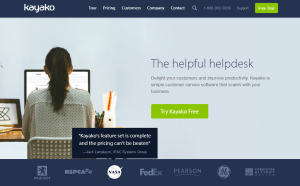 Features of Kayako
Kayako is your 24/7 Help Desk that offers 4 main avenues for customers to contact you: email, web, mobile, and live chat. It provides quick answers to customers who don't have to wait more than a few seconds to get queries answered. The self service portal that can be customized beautifully allows Kayako users to manage tickets efficiently while providing users with a means to communicate via video and a well-thought-out layout and design.
Some of the features of Kayako include:
Manage Tickets – All tickets that come in are prioritized, sorted, forwarded, and given time targets. The tabs are organized and easy to understand and use. As tickets are worked on, the changes are updated automatically although entries must be done manually. Macros are available as well as notification. Replies can be made 'private' among staff users which allow your customer service staff to leave notes regarding a specific ticket in order to prevent delay in progression and response. Each ticket incorporates all the information needed to have on hand immediately including billing, comments, and actions taken. Tickets can also be color coded flagged which can be used by the user to indicate status, urgency, or location.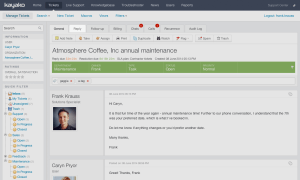 Live Chat – The live chat is very simple and direct. Anyone can look at it and know how to use it. It's just like chatting with a friend on a social media account but with a detailed timeline.
Scaling, automation and customization – Kayako allows users to use the software and alter it according to their needs.
Reports and analytics – Kayako provides users with feedback and data on customer satisfaction, ticketing performance, and create tailored reports and audited logs for easy cross referencing and analytics. The Report Writer and Queries have auto completion, auto suggestions, and syntax and grammar correction through its text editor.
Troubleshooting Wizards – These wizards are one of the reasons Kayako has been getting rave reviews. The wizards allow for self diagnosis and quick resolution of tickets. They free up the time of your staff from the simple issues that come with using the software.
Pricing
As a cloud-based solution, you have a choice of 3 services:
Case – Includes ticket and email management, ticket routing, workflow, target setting, and tracking. It costs $29/month/agent if paid monthly or $24/month/agent for annual billing.
Engage – Includes live chat, real time monitoring, voice and click-to-call. It costs $29/month/agent if paid monthly or $24/month/agent for annual billing.
Fusion – Includes email, ticket, live chat, calls, and tracking It costs $49/month/agent if paid monthly or $39/month/agent for annual billing.
For On-Premise Use
Case – Includes ticket and email management, ticket routing, workflow, target setting, and tracking. The charge is $3,000 for 10 agents a year
Engage – Includes live chat, real time monitoring, voice and click-to-call. The charge is $3,000/10 agents/year
Multi-Channel Fusion – Includes email, ticket, live chat, calls, and tracking and costs $4,000/10 agents/year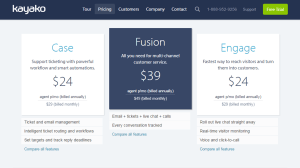 Reviews from Verified Users
Some of the comments favoring Kayako as the Help Desk software to use say that the lay-out, design, and organization of the software especially the ticketing is phenomenal.
"It's a very easy system to pick up and transition into. It's user-friendly."
If compared to the email Inbox, Kayako is a far better option because nothing is allowed to slip through unattended or unresolved. This will boost your business image among your customers and the positive feedback will reverberate and help improve your reputation in your industry.
It also helps that the pricing is still affordable although the company has increased the price about 3 to 4 times since 2001. Nonetheless, the range has remained manageable for most users.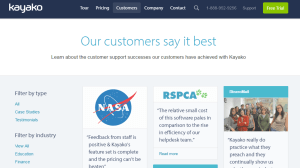 On the downside, the software struggles with heavy traffic (over 10MB) making it difficult to attach large files. The reporting could also be friendlier especially for quick emergency access to critical data. And although the set-up is relatively simple, you may probably have to consult with the company's customer service for assistance with full customization. However, once you are over this hurdle, it's clear sailing all the way! If you are willing to pay $299, Kayako can install the software in your system as part of their after sales service.
Finally, if you are looking for a system that is intuitive, responsive, and customer-friendly, Kayako comes highly recommended by experts from different fields and industries.
Source: https://www.supportninja.com/blog/kayako-software-review/
Publish Date: May 26, 2016 5:00 AM
---
Business process outsourcing (BPO) is an umbrella term that covers both front office processes like customer support and lead generation, and internal back office processes like HR and accounting. Many businesses choose to take care of these business processes in house, while smaller companies may outsource certain processes to freelance individuals or business process outsource provider. While there are definite benefits and downfalls to every potential solution, there are 4 key benefits to choosing a business process outsourcing provider.
Minimize interdepartmental tension
If your organization runs like butter, then feel free to skip this one. But for many companies, tensions exist between core departments like IT, design, or sales with some support entities and back office departments. For example, a support ticket that's fielded by call center staff might not be adequately handled by the responsible IT or sales team – and the support employee gets the backlash. Consequently, support staff may resent certain departments. This is just one of many ways that teams can clash and build tensions. Business outsourcing solutions like off-site customer teams provide the business with team extensions without the proximity and potential for grievances.
Internal teams focus on only their job
Many businesses have the IT department field inquiries, or the sales department chase down cold leads. These are tasks that might have been handled for years in-department. But these auxiliary, although important tasks might be costing too much time equity. Even if your organization is large and able to absorb the hit, these inefficiencies chip away at productivity and innovation. CEOs have assistants not because they're too good to answer the phone or schedule meetings, but because their time is better spent doing the work they're paid to do. When you selectively outsource business processes, the internal teams that spend time on these tasks can focus more on the job they're paid to do. It's a win-win.
Establish definitive repeatable processes
When a company looks to outsourcing development for certain process-level tasks, freelancers can fit the bill just fine. But the problem with most freelancers when they take over certain tasks is that they won't optimize their processes in your favor. Freelancers are great for task completion, but there is limited scalability and little motivation to develop and improve processes. This is not to say it's impossible, but these are typical issues. Business process outsource teams are scalable, and optimize processes to save the organization time and money. Further, these teams retain collective knowledge about processes (similar to in house teams) but typically come at a lower price, and have continuous motivation to improve processes.
Teams work together
In-house teams have the benefit of sitting right next to each other – so they're able to resolve issues quickly. These teams also cost a lot to maintain, and come with the challenges of interdepartmental discontent. On the other side, freelancers are scarcely able to communicate with each other effectively enough to justify bringing a whole team of independent contractors aboard. Using business process outsourcing like SupportNinja gives every organization a team of individuals that work with each other in the same office on the same projects. When outsourced teams act as a support extension of your existing departments, then day-to-day activities run far more smoothly than with freelancers.
If you're looking for continuity of service without the hassle, an extended support team from SupportNinja might be right for you. Contact us to see how our ninjas can work for you.
Source: https://www.supportninja.com/blog/4-benefits-of-business-process-outsourcing-done-right/
Publish Date: May 13, 2016 5:00 AM
---
Business lead generation is one of the toughest elements of the sales funnel. Sure, closing the deal is challenging – but your bottom line relies on finding quality potential clients after you've exhausted your existing business network. You have no other option than to look for more sales leads.
In today's economy, outsourcing is fast becoming an effective way to handle many back office functions. Lead generation is one of many areas where companies can streamline their business processes. Still, many companies opt for lead generation tactics on opposing ends of the cost / risk spectrum.
Traditional Lead Generation Options
High cost, high-risk
Many take the path of (seemingly) least resistance and do personally do inside lead generation, or hire an onsite sales team. This age old method works well enough, but inside salespeople have notoriously high attrition rates, and hiring teams that work well together and share your goals is a lengthy process. But more importantly, maintaining and sourcing a quality in-house team is costly, and these lead-generators may not be able to deliver as promised.
Low cost, low risk
There are a slough of low cost, low risk options for gathering quality leads – but many of them require a good deal of personal legwork. Small business owners personally scrape sites like LinkedIn or Facebook for quality leads or get membership for relevant industry groups or associations. These methods may put quality leads at your finger-tips, but if you're expecting sustained lead volume, these efforts will leave you disappointed. As with any low cost and low risk lead generation tactics, your mileage will vary.
Alternative Lead Generation Options
Purchase a list
Traditionally, many companies consider "outsourcing lead generation" as purchasing pre-qualified lists from "lead generation services." These lists are hit or miss, and prices vary. More and more, these scraped lists are just not worth the personal time investment needed to chase down a useful leads from a dicey list.
Hire a freelancer
Freelancers can be great assets to your bottom line. Freelancers from Fiverr sell gigs starting at $5, whereas Upwork's freelancers vary more widely in terms of skill and cost. The associated risks are similar to purchasing a list; some freelancers may provide tremendous value, but others will barely scrape the surface of useful industry leads. Which leads to…
Hire an outsourced team
Purchasing lists and hiring freelancers requires extensive knowledge of the lead generation process and is still time intensive. Why not leave lead generation to the experts for a flat rate? Whether you need email lead generation or marketing outreach, your best cost to effort ratio happens when you get highly qualified leads at a set price. Outsourcing lead generation to a team like SupportNinja eliminates the burden of sourcing (and even contacting) qualified leads.
Outsourced teams cut out the guesswork, legwork, and micromanagement often associated with other most other forms of lead generation. An outsourced team's success depends on your success with the leads they generate. Unlike lists, which are one-off solutions, or hiring freelancers or inhouse salespeople who get paid regardless of how good their leads are, your outsourced team needs you to be successful.
Here's what an outsourcing email lead generation will give you:
Multiple data-points that back up the quality of each lead

Complete customer profiles are generated for each lead

Peace of mind knowing that your leads are good
Give it a try! Whether you need to kickstart your lead generation efforts with contact lists, or have a team follow through with potential clients, SupportNinja's lead generation team has you covered.
Source: https://www.supportninja.com/blog/why-you-should-be-outsourcing-lead-generation/
Publish Date: April 27, 2016 5:00 AM
---
Introduction
Zopim is a startup company from Singapore that launched its live chat software in 2008. Zopim offers SaaS online marketing, support, and analytics all in real time. Two years after launch, Zopim offered its "freemium" model, powered mostly by investors, and was named as Asia's Top 10 Apps for 2010. The majority of users opted to use the paid version, pushing the company to earning its first million by 2012.
Zopim was initially compared to Olark, a similar software from California's Y-Combinator, but Zopim began growing at a faster pace by 2014. Zopim was later purchased by Zendesk, Inc, which also offers cloud-based SaaS customer support solutions.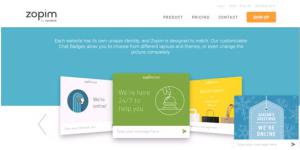 The Features of Zopim
The typical Zopim system has two main elements:
A web-based chat widget
A web-based dashboard control panel
Zopim users can easily embed the widget into their HTML code and begin chatting with web visitors using the dashboard. In a recent interview with the Content Marketing Manager of Zopim, Abhiroop Basu, Basu reveals the company policy of customer-first and customer's customer-first being the main reasons for the success of the software.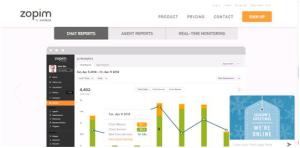 Here are the major features of Zopim:
The Live Chat – The chat is automated and can be launched from the Zopim dashboard. Chat is available in different languages. There are customizable triggers that initiate a chat session. An example of a trigger is when a visitor stays on a page for a specific length of time. This action suggests uncertainty, which prompts Chat to pop up and volunteer assistance. Chat transcripts are stored automatically and deleted after several weeks.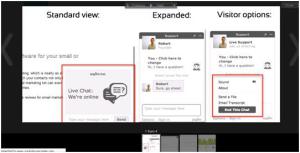 Ticketing System – There is a ticketing system for CRM. Additionally, customer notes can be added when used with a third party CRM software.
Tracking and Monitoring – Zopim has a tracking feature that allows the user to see who is on site, location, and the amount of time the visitor spends on site. All visitors can be categorized, prioritized, and even color coded so users never miss critical chats.
Chat Reports – This report gives users a rundown on chat activity and missed chat opportunities plus satisfaction ratings given by visitors.
Agent Report – This report gives users an overview of chat times, calls served, response time, and satisfaction ratings.
Real Time Monitoring – This report can be run daily, and shows users a quick summary of chat volume, agent performance, and visitors' experience.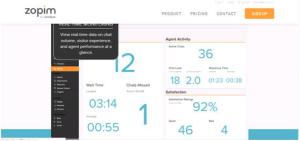 Security Protocol – Zopim does not require its users to install additional security software. Zopim has a multi-layered, multi- tiered setup similar to those used by top corporations. All data is password protected, and all passwords are account specific.
Datanyze – This is Zopim's way of identifying customers and helping agents encourage and nurture a sale. It eliminates the need to buy data from outside sources by offering a high response system that is simpler and easily updated.
Customization – Zopim is able to match the look of a website so it appears to be part of the business platform. Colors, layouts, and themes are available for full customization.
Other Features – Other features include a smart offline mode, Smartphone apps, advanced filtering by country, agent, or search, and integration with other apps like Zendesk, Shopify, Salesforce, and other popular apps.
Thus, users can easily switch from email to chat or social media channels to cater to customers' needs.
Zopim Live Chat Plan Pricing
Zopim offers 4 standard plans: Lite, Basic, Advanced and Premium. There are no hidden fees and the free 14-day trial does not require a credit card.
The Lite Plan is the freemium offer. It can be used by only one agent at a time and is a great way to test the system. This plan has a 14 day chat history, email piping, visitor profiling, and IP and visitor banning.
The Basic Plan is priced at $11.20/month/agent for annual payments or $14/month/agent for monthly payments. It offers unlimited chats, full widget customization for up to two departments, and allows for two triggers.
The Advanced Plan costs $20/month/agent for annual payment mode or $25/month/agent for monthly payments and comes with all the features of Zopim including unlimited triggers, unlimited departments, online and offline operating hours, chat reports, and REST API among others.
The Premium Plan has an annual payment mode of $44/month/agent or can be billed monthly at $55/month/agent. Aside from the features under the Advanced Plan, the Premium Plan also has widget unbranding which means the widgets won't appear as Zopim widgets, agent reporting, high load dashboard, agent reporting, real time monitoring, IP access restriction, and 24/5 support.
Companies with more than 30 agents can avail of a bulk discount to be discussed personally with a Zopim representative. Users who want to use Zopim must start with the free 14-day trial.
Review Summary
Zopim is easy to install and use, however customization is limited; full customization is available under the Premium Plan. Their Chat and triggers are the best features of the software except trigger access is only available to those with paid plans.
The downside is their idle setting which disables tracking. Therefore, if users shift to another program, then users will have to switch off the idle mode in order for the software to remain active. There have also been issues with customer support which is plagued by various time zones, and 24-hour support which is only available on weekdays.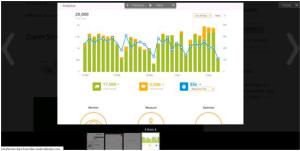 The metrics offered are simple to understand, is accurate and in real time. They help users improve the quality of service provided to visitors and clients. Users will be notified of missed chats, pending cases, and the volume of incoming and outgoing communications. This gives users control over resource needs and availability.
Compared to other customer support features and software, Zopim is best described as a mini version of Zendesk. It allows for third party integration but only one integration at a time. In addition, being so closely connected to Zendesk, it appears that to get access to screen sharing and other real time monitoring, you have to get Zendesk.
Zopim is a good choice, but only if users can afford the monthly rates because settling for the free version or Basic plans will not give users the flexibility and range of features that are necessary to improve customer support. However, if users are looking for a robust chat feature to give customers quick access to support teams, then Zopim is one of the best in the industry.
Source: https://www.supportninja.com/blog/zopim-software-review/
Publish Date: April 14, 2016 5:00 AM
---
We're on a constant treadmill of measurement, augmentation, and optimization. And much like stepping onto the scale, KPIs tell us what's working and what's not. For many businesses, KPIs rule supreme. For customer support, KPIs are the heart monitor for the organization. But many organizations that focus solely on heart rate believe themselves to be healthy while high blood pressure remains unchecked. As Arthur Conan Doyle said: "There is nothing more deceptive than an obvious fact."
Your metrics aren't altogether wrong, but they aren't pointing you in the right direction either…
So is everything you know a lie? Maybe not. Rather than looking at them as lies, focus on these top 3 metrics that actually matter, and learn how to make them work for you:
Support Ticket KPIs You're Probably Getting Wrong
These ticket based KPIs typically point to a support center's efficiency. These are important metrics to track, but they might not indicate what you think they do.
Overall Ticket Count and Tickets Resolved:

Usually indicates:

Incoming ticket volume. Ticket count is a key factor for determining ticket resolution rates.

But should account for:

Effectiveness of UI/UX.

High ticket counts– especially tickets on similar issues can point to problems in your self-service areas.

Low ticket counts and high churn, which indicate that your customers don't know how to access your support systems.

Average Ticket Resolution Time:

Usually indicates: Efficiency of support staff, and ability to meet support levels.
But should account for: Ticket difficulty and ability for customers to resolve the issue through self-support methods.
Metrics that Matter: Customer KPIs
If you're meticulous about customer-centric KPIs, that's great! Your customers are your reason for doing business. See what they can show you.
Channel Distribution:

Your customers should dictate your support hours. If your live chat numbers are low compared to phone inquiries, then emphasize live chat as a simple alternative to boost your team's efficiency. Conversely, be sure that you have a sufficient team size as determined by customer volume per channel.
Customer Satisfaction:

Some consider a low churn rate or absence of direct complaints to be the hallmark of satisfied customers. Others email surveys that say, "How did we do?" But it's clear that the company has no interest in making actionable change.
To determine satisfaction, look at your social media. It's not an "objective" KPI per se, but it's a good indicator that your customers are happy if they're saying good things about you. Do they share your blog posts? Do they rave about your service? But more importantly, do you interact with both positive and negative social media attention? Positive brand sentiment on social media platforms should be encouraged through dialogue and consistent social media attention.
Top Customers in Need
You should be able to name your top 5 or 10 customers. But what about those customers who require a little more attention? Your customers who require more attention should also require management's attention. They might not have created the most tickets, but they cause headaches. They request highly technical solutions that cause long wait times, which can create a bottleneck for your support team. They respond to surveys with low satisfaction. They submit a high volume of finicky tickets.
Look at the customers that you've lost in the past year or two. Do these customers have anything in common? Consider whether it's wise to exert effort to fix your processes that cause churn. You may simply recognize that these "customers in need" might end up costing more time and money than is responsible to exert. These customers are highly likely to churn– it's up to you to recognize which metrics indicate churn and act appropriately.
It's easy to fall into a KPI rut. It's easier to get tunnel vision with your metrics. Revisit your KPIs. Do they say what you think they do? You might be surprised.
Source: https://www.supportninja.com/blog/are-your-kpis-lying-to-you-3-metrics-that-matter/
Publish Date: March 31, 2016 5:00 AM
---
The Freshdesk Story
Freshdesk is a cloud-based app that offers businesses a customer service tool to add value to their service. It was founded and created by Girish Mathrubootham of India. Girish was working for a large company for 9 years before he decided to put up this startup with his partner and co-founder, Shan in 2010. His extensive experience and knowledge of cloud computing and helpdesk services, coupled with following Zendesk's success inspired Girish to design an SaaS product that would target the customer support market.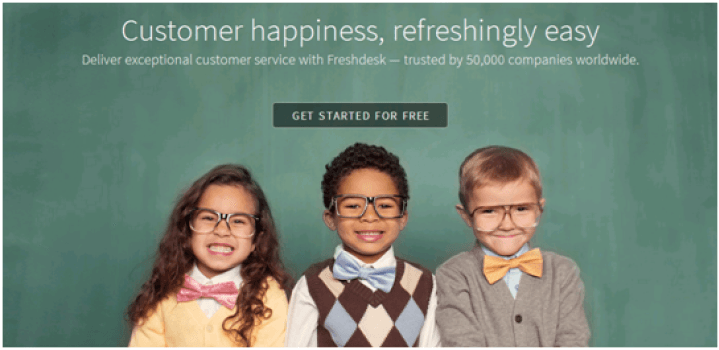 Growth in Numbers
According to Girish, the concept behind Freshdesk is to solve basic problems in customer support, and offer a management helpdesk solution system that would incorporate feedback and satisfaction surveys. In short, Girish wanted to design a software that wasn't too cumbersome or have too many steps or processes.
Freshdesk has seen a recent growth spurt with new funding worth $31 million in June 2015, and another $50 million from investors, Tiger Global, Google Capital, and Accel Partners. Their user-base has grown from 4,000 to 50,000 in the past two years, and their team has grown from 6 to 475 employees.
The Freshdesk Features
Freshdesk has always been on the cloud. It offers phone, email, chat, and web tools alongside social channels. The software is a management tool that provides a way to customize customer interactions and forward them to the proper channels and departments.
Ticketing is very easy to use. Each ticket provides the necessary information to solve customer issues such as:

Who is assigned to each ticket
Start times
Due dates
Private notes
Customer data
Formatting
Ticket merge
Priority status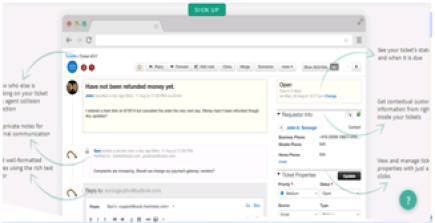 Email ticketing provides for unlimited mailboxes in order to effectively manage all emails from one place. This helps you to prioritize and categorize tickets. Agents can also collaborate and work as a team using the private notes. This prevents the duplication of work efforts, collision, and risks.
The Built-in Phone Channel allows the agent to enjoy a dedicated cloud-based call center, which is a cost-effective solution. Users are required to buy a phone number for $1/month and they can receive calls from anywhere in the world. Calls can be recorded automatically, forwarded to mobile devices, and converted into tickets.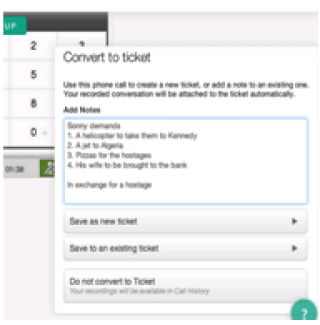 The Self Service Portal allows for customization of the Freshdesk account so it looks like part of a website.
Mobihelp is an In-app support tool. It provides instant mobile access on FAQs, chat, and customer support at no extra charge.
In-house reward system is Freshdesk's offer to users in recognizing outstanding performance by agents. Users can give them the following recognition awards:

Most Valuable Player
Speed Racer
Customer Wow Champion
Sharp Shooter
These rewards help add a lot of motivation to agents…making work a fun environment.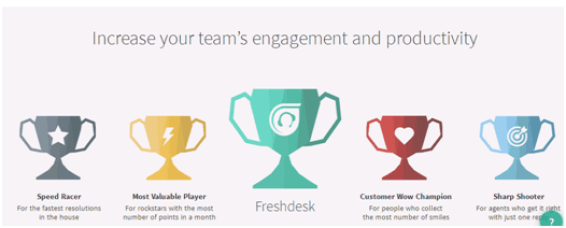 Freshdesk Automation is another valuable feature which includes the Freshdesk Dispatch'r (automated ticket dispatch), Supervisor (support tidy-up or time-based actions), and Observer (automated events-triggered actions).
Enhanced security that includes SSL encrypted servers, global infrastructure, redundant backups, IP whitelisting, single sign, free upgrades and periodic maintenance and fixes
Analytics, report on customer satisfaction, surveys, load analysis, phone and chat reports, comparison reports, and summary reports
Other features include Live Chat, feedback widgets, forums, multiple languages and time zones, multiple SLAs, native integration, FreshPlugs, API assistance, and Facebook and Twitter channels
Freshdesk Products
Freshdesk offers three products:
Freshdesk – The main customer support software
Freshservice – The internal IT Helpdesk
Mobihelp – The In-app support
Freshdesk offers free trials for all its plans, and offers five plans:
Sprout – Free with a maximum of three agents. More than three agents are $15/month and includes email and phone support.
Blossom – $16/month per agent if paid annually, otherwise the fee is $19/month per agent. This plan includes social media support, community forums, and game mechanics.
Garden – $25/month per agent if paid annually, otherwise rate is $29/month per agent. This plan includes live chat, multiple locations, and multiple products.
Estate – $40/month per agent if paid annually or $49/month per agent. This plan includes portal customization, reports, and custom agent roles.
Forest – This is the top of the line plan at $70/month per agent if paid annually or $79/month per agent and includes custom email servers and IP whitelisting.
User Interface
Freshdesk is easy to use, which is one of the reasons why it works. Freshdesk is very similar to Zendesk, and is often sometimes referred to as the Zendesk copycat, but lacking in features. Zendesk's CEO recently tweeted that Freshdesk was a "freaking rip-off" which set off a flurry of comments from analysts and users alike.
The interface is web-based, centralized and user-friendly. It supports Windows 7, Windows Vista, Windows XP, Mac OS, Linux, HP-UX, AIX, Solaris, Unix, IBM OS/400, Web browser (OS agnostic), and Windows 2000.
The ticketing system is very intuitive and makes tracking simple, quick, and convenient.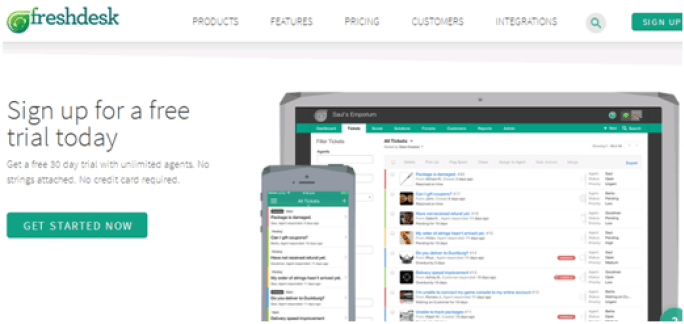 On the downside, it lacks comprehensive reporting and analytics. Also, the automation could be more responsive, but what it lacks in features, it makes up in customer support. In summary, it is a basic customer support program that works well but is limited in capacity and features. Thus, for small companies, the pricing may be seen as a little steep considering it is a basic software.
Compared to Zendesk, the leader in customer support software, Freshdesk has a great Self Help Community but is not as good as Zendesk's Multi-Channel and problem management.
Source: http://www.supportninja.com/blog/freshdesk-software-review/
Publish Date: March 9, 2016 5:00 AM
Page: 1 | 2