4 Factors To Consider When Calculating Number of Call Center Agents Needed - Taking You Forward, Inc. - ContactCenterWorld.com Blog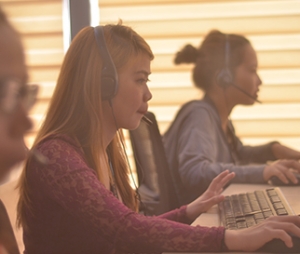 Once you've got your contact center department up and running, it's important to have enough manpower to take care of each customer interaction. This makes certain that your day to day operations will consistently be running smoothly. This is achieved through efficient workforce management including the ability to forecast the number of agents needed to deal with all your calls. To make an accurate calculation of the number of agents you need, you first have to determine the following information.
Call volume
This refers to the number of inbound calls received by your department in a specific time period. You can retrieve this information from your system or tools. If you wish to collect your data manually, however, another option is to ask your agents to take notes on the number of calls they receive every day.
Your Service Level Goal
Now that you know approximately how many calls your department typically receives in a day, you should be able to set a target. Calculate the percentage of incoming calls you expect your agents to answer within a specific length of time. For most centers, the Service Level Goal is usually any number between 80 to 90 percent and in less than 30 seconds. Your customer support team as a whole must be able to consistently fulfill this objective.
Average Handle Time of Agents
AHT is a term often used in call centers and this refers to the length of time an agent takes to speak with a customer and resolve their concerns. Using this estimate and your Service level goals and comparing and analyzing these together, you can now assess how many agents your department will require including on which days and on which shifts or times of the day.
Another Awesome Blog: Before You Outsource, Secure Your Data With These Tips
Seasonal fluctuations
Although you now have a good idea of how many representatives your department will need on regular days, you will also need to make a forecast for future needs. Take into account expected changes during particular times of the year such as peak seasons like holidays as well as off-season downtimes. Create a plan on how to adjust your manpower so you can still meet your Service level goals.
Figuring out the number of staff needed will be easier when you partner with the right BPO service provider. Taking You Forward is a growing call center company in the Philippines with experience in managing the workforce to maximize efficiency in call center operations. Call us today for your customer service, sales or technical support needs.
Source: http://www.takingyouforward.com/blog/4-factors-to-consider-when-calculating-number-of-call-center-agents-needed/
Publish Date: June 5, 2017 5:00 AM
---
PREMIUM

ConceptCall
(VIEW OUR PAGE)

Аутсорсинговый контакт-центр ConceptCall| КонцептКолл специализируется на исходящем и входящем телемаркетинге: мы предоставляем услуги по осуществлению холодных звонков и продажи по телефону, проводим...

(view more)

PREMIUM

CTI Software
(VIEW OUR PAGE)

CTI Software is the creator of custom application called Davos, which complements the telephone client solutions with intelligent features such as automated call attendant, call recording and archivin...

(view more)

PREMIUM

Avizent Ltd
(VIEW OUR PAGE)

Advanced AI technology and Natural Language Processing delivered to clients in the Cloud that harnesses both voice and digital conversations. The focus is on building an environment where intelligent ...

(view more)
---
View more from
Taking You Forward, Inc.
Recent Blog Posts:
| | |
| --- | --- |
| Customer Care Challenge: Delivering Bad News to Customers | July 16, 2017 5:00 AM |
| Why Telemarketing Still Works In The Digital Era | June 26, 2017 5:00 AM |
| 4 Factors To Consider When Calculating Number of Call Center Agents Needed | June 5, 2017 5:00 AM |
| 4 Points To Ponder When Winning Back Customers | May 5, 2017 5:00 AM |
| Weekly BPO News: April 18-21, 2017 | April 28, 2017 5:00 AM |
| 4 Reasons Why Sales Needs Storytelling Skills | April 28, 2017 5:00 AM |
| Top 6 Complaints In Customer Service | March 28, 2017 5:00 AM |
| With Outsourcing, Everyone Wins | March 12, 2017 5:00 AM |
| 5 Techniques to Manage High Call Volume In Peak Seasons | February 22, 2017 5:00 AM |
| 5 Tips For Excellent Live Chat Customer Support | February 3, 2017 5:00 AM |
Industry Champion Award Leaderboard