Customer Care Challenge: Delivering Bad News to Customers - Taking You Forward, Inc. - ContactCenterWorld.com Blog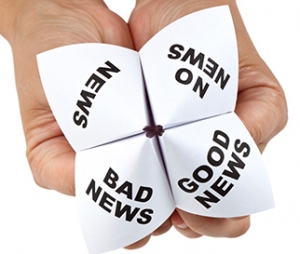 Even if your purpose for outsourcing is because of the lower outsourcing labor rates, the quality of your customer service should not be affected. This includes knowing how to impart unfavorable news to your customers which does happen from time to time in any business. Make sure that both you and your outsourcing partner know how to inform customers of any bad news while still retaining their goodwill.
Let the customer know ahead of time
Don't wait till the last minute to let the customer know what's going on. Customers are far more likely to understand if they have enough time to prepare and to adjust to whatever bad news you're bringing them. At the same time, they are also likely to get angry if they are caught unawares by any changes to their account.
Give a brief explanation of what happened
Do your best to give a concise explanation of what happened and why. If the customer needs more details and demands more information, give as much information as you can provide. One important thing to remember, however, is to refrain from blaming others such as someone else in the company or partner companies or suppliers. Stick to the facts and maintain your professionalism.
Inform the customer of what to expect
Honesty is crucial at this point. Though it's tempting to try and lessen the severity of the news, the need for the customer to be aware and prepared is more important. Make sure the customer knows exactly how they will be affected and when to expect any changes. However, choose your words well to avoid inflicting further damage.
Empathize with the customer and reassure them of your commitment
In connection to choosing your words well, your sincerity and consideration for the customer's feelings should be clear during this interaction. Empathize with the customer and express your frustration or concern as well over the current situation. Customers will be more disposed to cooperate if they can feel that they are still your priority and that you're on hand to assist them through this difficult time.
Provide options and alternatives
It's crucial that before speaking with the customer, you're already equipped with a plan of action that includes other solutions and feasible options for the customer to take. It's also a must that your representatives who will be speaking with the customer are not just knowledgeable on your products and services but are excellent as well at communicating with customers and analyzing problems.
Conflict resolution needs to be handled with care by trained customer service representatives. This is why it's important to make the right choice when selecting your BPO service provider. Taking You Forward is a growing BPO company that provides trained agents for customer service, sales, back office tasks and technical support. Call us today.
Source: http://www.takingyouforward.com/blog/customer-care-challenge-delivering-bad-news-to-customers/
Publish Date: July 16, 2017 5:00 AM
---
PREMIUM

Future Gen International Pte Ltd
(VIEW OUR PAGE)

Outsourcing provider of English Call Centre services, Audio Transcriptions, Big Data ETL (Extract, Transform, Load) , Big Data Visualization, Big Data Predictive Model Generation

PREMIUM

HigherGround, Inc.
(VIEW OUR PAGE)

HigherGround develops data collection, information storage, and interaction analytics solutions that easily transform data into actionable intelligence, enabling operational optimization, enhanced per...

(view more)

PREMIUM

Avizent Ltd
(VIEW OUR PAGE)

Advanced AI technology and Natural Language Processing delivered to clients in the Cloud that harnesses both voice and digital conversations. The focus is on building an environment where intelligent ...

(view more)
---
View more from
Taking You Forward, Inc.
Recent Blog Posts:
| | |
| --- | --- |
| Customer Care Challenge: Delivering Bad News to Customers | July 16, 2017 5:00 AM |
| Why Telemarketing Still Works In The Digital Era | June 26, 2017 5:00 AM |
| 4 Factors To Consider When Calculating Number of Call Center Agents Needed | June 5, 2017 5:00 AM |
| 4 Points To Ponder When Winning Back Customers | May 5, 2017 5:00 AM |
| Weekly BPO News: April 18-21, 2017 | April 28, 2017 5:00 AM |
| 4 Reasons Why Sales Needs Storytelling Skills | April 28, 2017 5:00 AM |
| Top 6 Complaints In Customer Service | March 28, 2017 5:00 AM |
| With Outsourcing, Everyone Wins | March 12, 2017 5:00 AM |
| 5 Techniques to Manage High Call Volume In Peak Seasons | February 22, 2017 5:00 AM |
| 5 Tips For Excellent Live Chat Customer Support | February 3, 2017 5:00 AM |
Industry Champion Award Leaderboard