Transition Your Contact Center from On-Prem to the Cloud - Talkdesk - ContactCenterWorld.com Blog

If you are still debating whether you should transition your contact center from on-premises (on-prem) to the cloud, let's consider the advantages of cloud-native contact center. The internet has enabled the SaaS model for enterprise software and it's unleashed a new age of innovative software like Salesforce that allows companies to be more efficient.
Consider this: if you were to look for a new CRM solution today, you would certainly start the conversation with a SaaS options. However, many companies are stuck with legacy on-prem contact centers because the first-generation of cloud contact centers did not offer enough benefits to outweight the cost of the transition. First-generation cloud contact centers were very close to on-prem solutions in their architecture and generally the only difference was multi-tenancy. They still worked with regional carriers, ran in private data centers and scaling was a step function.
With the advent of Communications Platform as a Service (CPaaS) like Twilio and NexMo, public switched telephone network (PSTN) carriers around the world are getting stitched together into one global telephony network. Additionally, with Infrastructure as a Service (IaaS) like AWS and Microsoft Azure, SaaS architecture can be adopted quickly and cost-effectively, unleashing the second generation of Contact Center as a Service (CCaaS) solutions like Talkdesk.
Talkdesk is the leading second-generation CCaaS, built from the ground up for today's digital communication environment. Just like Salesforce and other market leading SaaS solutions, Talkdesk is fundamentally different than both on-prem solutions and first-generation cloud contact centers. Here's an illustration of the benefits that are possible with this new type of architecture: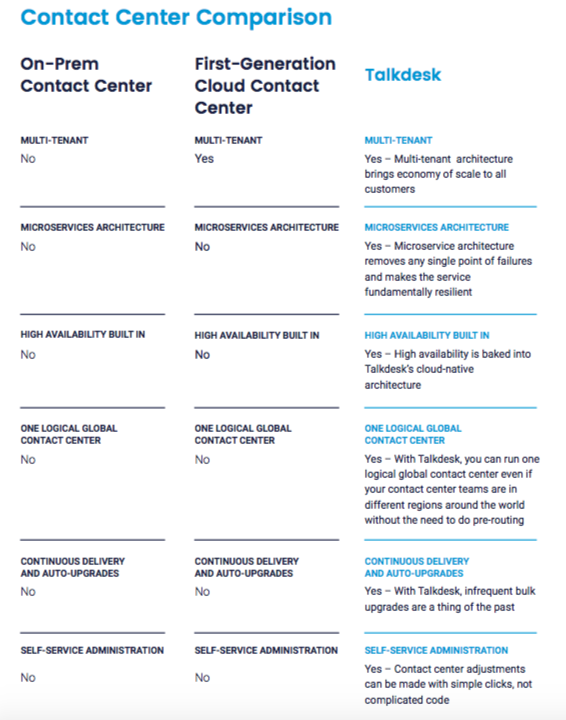 If your company has an on-prem contact center solution, you know firsthand how painful the setup process was. After you made a purchase decision, you probably had to schedule a site visit, buy and install the hardware, figure out licensing, configure the infrastructure and more. It's standard that the complicated setup steps and the waiting between them can stretch out several months.
Talkdesk's cloud-based contact center software offers a replacement for those old on-prem contact centers, but it is also a replacement for the difficult implementation process. Our contact center was built to revolutionize setup, replacing the monthslong installation of older, on-prem competitors. You can say goodbye to hardware – all you need is an internet connection and a headset to make and receive calls. You don't even need to wait for a Talkdesk representative to complete the process, your in-house admin can manage it all internally with a few clicks. With Talkdesk's cloud contact center, installation happens on the schedule that's most convenient for your company, which means you can get it up and running in a very short time – in fact, customers like Vivino have installed Talkdesk in just one day.
Because the entire process is managed in the admin backend, you can prioritize the basics first – buying phone numbers, assigning seats, setting up ring groups – to get you up and running, then progress to more complex steps when it makes sense for you. Flexibility like that gives Talkdesk customers the business agility to stay in line with customer demands. It also gives admins the most control to customize their team's contact center.
Talkdesk continually delivers a seamless experience throughout product upgrades. Since there is no hardware and the product lives in the cloud, we can update our offering frequently, meaning customers always have the most up-to-date contact center software. As soon as we finish building a new feature, we make it public, so our customers can begin using that feature immediately. It's an easy way to future-proof your contact center investment.
When you want to offer your customers service beyond the standard contact center offering, Talkdesk also makes it incredibly easy to add new solutions to your contact center stack. In seconds, you can add new functionality like workforce engagement, voice analytics, business intelligence and more to your contact center via Talkdesk's AppConnect. All AppConnect solutions come with free 30-day trials, one-click setup and a simple month-to-month billing process, so there's no hassle to try new tools. Using this unique new model, Talkdesk customers can add new functionality in minutes and only pay for solutions that add value and fit into their larger strategy. It's never been easier to try, buy and manage your contact center.
If your team is considering a move from an on-prem contact center to a cloud-based solution, you don't have to make your decision overnight. Talkdesk makes it easy to start small and scale upward. You can try Talkdesk for one team, one region or even for a single agent. If you like how it works, it's as easy as a couple of clicks to expand the team to new agents, new teams and new geographies.
Talkdesk costs less than the maintenance of your legacy on-prem system. This makes the business case of moving to cloud with Talkdesk a no-brainer.
After you make the move to a cloud-based contact center, you'll start seeing improvements at every step of the way. One of the best ways to get more value out of your contact center is to streamline your process with integrations. This technology allows contact centers to share information with your other business tools and maximize productivity by streamlining the entry process.
Learn more about transitioning your legacy contact center to the cloud by joining our webinar on January 24th. Register today by clicking the button below:
Publish Date: January 18, 2018 5:00 AM
---
PREMIUM

Genesys
http://genesys.com

Genesys® powers 25 billion of the world's best customer experiences each year. Our success comes from connecting employee and customer conversations on any channel, every day. Over 10,000 companies in...

(view more)

PREMIUM

HigherGround, Inc.
(VIEW OUR PAGE)

HigherGround develops data collection, information storage, and interaction analytics solutions that easily transform data into actionable intelligence, enabling operational optimization, enhanced per...

(view more)

PREMIUM

IntelePeer, Inc.
(VIEW OUR PAGE)

IntelePeer delivers a complete business communications solution including: complete Cloud Contact Center, full-service cloud calling directly integrated with Cisco Spark unified communications, Enterp...

(view more)
---
View more from
Talkdesk
Recent Blog Posts:
| | |
| --- | --- |
| Call for Stories: 101 Customer Stories Contest is Open! | February 21, 2018 5:00 AM |
| A Cheat Sheet for Innovative Contact Center Metrics | February 14, 2018 5:00 AM |
| 7 Types of Phone Calls Where You Should Screen Share | February 13, 2018 5:00 AM |
| Don't Put Contact Center Implementation on Hold | February 8, 2018 5:00 AM |
| Apply Today to Speak at Opentalk 2018 | February 6, 2018 5:00 AM |
| Contact Center Agent Performance: No Room for Sacrifices | February 2, 2018 5:00 AM |
| 6 Contact Center Features That Make Customer Experience Effortless | January 31, 2018 5:00 AM |
| The Biggest Reason Voice Support Isn't Decreasing | January 24, 2018 5:00 AM |
| Talkdesk's Easy Contact Center and CRM Integration | January 22, 2018 5:00 AM |
| Transition Your Contact Center from On-Prem to the Cloud | January 18, 2018 5:00 AM |