When it Comes to Customer Experience, Channel Matters - Talkdesk - ContactCenterWorld.com Blog

This post was written by Talkdesk COO Gadi Shamia.
At the core of Talkdesk is a simple mission: to transform customer service experiences that are usually dreadful into an opportunity to solve problems and create brand loyalty by creating real human connections. Part of what makes the mission so palpable is that we've all been on the consumer end of an undesirable service experience. We truly believe that in the digital world of self service, mobile apps, retargeting and other digital interactions, phone customer service that is delivered by a well-trained, empathic representative, can build brand loyalty that will last.
I recently had a less-than-perfect customer service experience that illustrated a key Talkdesk principle – that the communication channel needs to match the urgency and emotion of the situation. Below is a short version of what happened.
To celebrate my wife's birthday, I planned a party, inviting friends near and far to bring together all of the most important people in her life. To commemorate the occasion, I collected photos from the attendees and sent them to an online photobook service. I planned to present the book at the party so each of her friends could leave hand-written best wishes at the event and comment on those shared memories. It was a small gift, but for my wife, a keepsake like this would be priceless.
I collected the photos, built the book online and placed my order. I chose the expedited delivery, only to realize that it had not been shipped two days before the party. While a delayed delivery on almost anything else would not have been so urgent and emotional, this one was. I planned this party for a while and I wanted to talk to the company as soon as possible to find out what was going on.
Unfortunately, the only contact information available from the site was a generic support email address and a chat. My email didn't get a response, and the chat experience just made me angrier. The chat agent was distracted (most run 6-12 chats at once) and lacked empathy because my short text messages could not convey the importance of the issue. All he did was confirm the delay and offer to refund the shipping cost, but that didn't resolve my issue. I wanted the book to be delivered on time for the party! He couldn't hear my voice, so he didn't know the urgency or the emotion of the situation. He just wanted to resolve the issue as fast as possible and move on.
Since the chat wasn't effective, I tried directly tweeting to the head of customer service (thanks Linkedin). In the hours following my interactions, I got more upset and stressed. It was a Friday and I didn't think the issue will be resolved. I was surprised to get a call from the VP of customer service on Saturday morning. While he could not solve the problem at this time, he apologized and sent my wife flowers with a note wishing her a happy birthday and explaining that he was sorry the book wasn't delivered on time.
The VP of customer service "saved the day." He refunded the entire order, sent flowers and took ownership. He spent his personal weekend time resolving the issue. While it is admirable, it begs the question of why the day needed saving in the first place.
It doesn't take much diagnosis to realize that because the customer support team didn't have the right channels available for the right cases, they were unable to support my needs as a customer at a time were urgency and emotions were high. At Talkdesk, we analyze customer interactions on two axes: urgency and emotion. The appropriate channel for an issue is determined by the degree of both.
Here's a graph to illustrate the best time for each channel: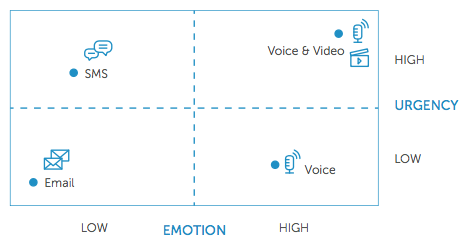 In my story, I had a high-emotion/urgency issue, but only had access to low-emotion/urgency communication channels (email and chat). I had an unsatisfactory experience, but it wasn't because the company didn't care about me or want to help, it was exclusively because they didn't have the right channels in place to handle my situation.
The learning is clear: not every customer interaction is the same and for companies to support their customers' issues, they need to offer a range of communication channels. Companies should invest more heavily in the channels that align with the most common customer issues, but when it comes to customer satisfaction, limiting access to certain channels just won't get the job done.
Publish Date: December 21, 2017 5:00 AM
---
PREMIUM

Genesys
http://genesys.com

Genesys® powers 25 billion of the world's best customer experiences each year. Our success comes from connecting employee and customer conversations on any channel, every day. Over 10,000 companies in...

(view more)

PREMIUM

IntelePeer, Inc.
(VIEW OUR PAGE)

IntelePeer delivers a complete business communications solution including: complete Cloud Contact Center, full-service cloud calling directly integrated with Cisco Spark unified communications, Enterp...

(view more)

PREMIUM

Future Gen International Pte Ltd
(VIEW OUR PAGE)

Outsourcing provider of English Call Centre services, Audio Transcriptions, Big Data ETL (Extract, Transform, Load) , Big Data Visualization, Big Data Predictive Model Generation
---
View more from
Talkdesk
Recent Blog Posts:
| | |
| --- | --- |
| Transition Your Contact Center from On-Prem to the Cloud | January 18, 2018 5:00 AM |
| 6 Characteristics Your Contact Center Should Have in 2018 | January 12, 2018 5:00 AM |
| When it Comes to Customer Experience, Channel Matters | December 21, 2017 5:00 AM |
| Customer Voice Management: Enabling Heroic Customer Relationships from the First Contact to the Last | December 6, 2017 5:00 AM |
| Identifying Customer Success Heroes | November 30, 2017 5:00 AM |
| What Happens to Contact Centers on Black Friday? | November 24, 2017 5:00 AM |
| 3 Top Goals of a Successful Sales Professional | November 20, 2017 5:00 AM |
| 5 Steps to Boosting Your Inside Sales Conversions | November 16, 2017 5:00 AM |
| 17 Amazing Talkdesk Moments from Dreamforce 2017 | November 13, 2017 5:00 AM |
| 5 Crazy Ideas for Transforming your Contact Center | November 8, 2017 5:00 AM |