Talkdesk - ContactCenterWorld.com Blog Page 13
Page: 1 | 2 | 3 | 4 | 5 | 6 | 7 | 8 | 9 | 10 | 11 | 12 | 13 | 14 | 15 | 16 | 17

Call center outsourcing is a hot topic on both ends of the phone – company and customer. And both groups have reasons to celebrate and hesitate. From a company's perspective, call center outsourcing can be attractive for expanding customer communication, but may be nerve-wracking given that it requires giving up some control over their provision of service. From the customer's perspective, call center outsourcing can provide longer service hours and more available agents, but it can also lead to frustration and misunderstandings.
Let's take a closer look at call center outsourcing and explore what it could mean for your business.
What is call center outsourcing?
Call center outsourcing is the process by which companies employ an external service provider to operate and manage their call center. This external service provider can be based out of anywhere, but most often this term is used to refer to offshore outsourcing. Offshore outsourcing is simply moving call centers outside of the United States.
Companies may choose to outsource all or part of their call center operations (e.g. sales, service, market research, etc.) In general, companies hand over most of the control to the external provider, giving them the power to hire and train agents, maintain call center software and manage day-to-day operations.
What are the principal upsides of call center outsourcing?
The biggest benefit of call center outsourcing is that external service providers absorb the cost of operations, including call center software maintenance and hiring. This can represent significant savings. Call center outsourcing can also facilitate around the clock service for customers, since outsourced call centers tend to be in different time zones.
What are the principal downsides of call center outsourcing?
The biggest downside of call center outsourcing is that it can lead to decreased customer satisfaction if service representatives do not speak the same language or come from the same culture as the customers. Additionally, companies may feel that their call center operations are no longer in their control, so they do not have as much power over brand representation, company knowledge or call center decisions.
25 Questions to Ask Before Outsourcing Your Call Center
What am I hoping to achieve by outsourcing?
Which aspects of my call center will be outsourced?
Does the outsourced solution allow for inbound and outbound agents?
How much money will it cost to outsource?
How much do I expect this to affect my profit margins?
How involved do I want HQ to be with the outsourced call center?
How much time will it save longterm?
How much time am I willing to put in upfront?
Where will the call center be located?
What language will the call center agents speak?
What culture will the call center agents come from?
What are the laws concerning privacy in the location of your call center?
How secure will the outsourced solution be?
Will these call center agents be fielding calls for other companies at the same time?
How much control will I have over hiring?
What will my call center's hours of operation be?
How will I ensure that quality standards are being met?
What call center KPIs will I use to track success?
Will my customers mind if I outsource my call center?
Will my customers notice that my call center has been outsourced?
How will the outsourced solution scale?
Will the outsourced call center be able to receive calls from everywhere your customer base is?
Will it be possible to outsource more than just phone communications?
What call center software will the external source use?
How customizable will the software settings be?
Note: This list is by no means exhaustive.
What are your choices when it comes to call center outsourcing?
There are many shades of call center outsourcing. Everything depends on your answers to the above questions.
For one, outsourcing is not a compulsory practice. It's a choice and it may not be the right choice for you! Second, although the implication tends to be offshore outsourcing, local outsourcing is alway an option. Outsource your call center, but don't go very far. Third, if you're not ready to make the leap, why not outsource just a few aspects of your call center?
Another option is to flip the script. Instead of thinking of call center outsourcing as setting up a traditional on-premise solution to somewhere remote, consider that newer technologies may allow you to retain ownership and control over your call center solution, no matter where your agents are.
Cloud-based call center solutions allow for flexibility that traditional on-premise solutions do not. When you're not tethered to a set of physical telephones, you're free to have agents anywhere and everywhere. Not only that, but global managers have a view into their call center metrics and agent activities from wherever they happen to be that day. Save money, ease scaling and expansion, assure quality with call monitoring and recording, and look into the backend to get peace of mind on the operation of your business.
Whatever you decide when it comes to call center outsourcing, make sure to do your research. This is a big decision; treat it like one.
Source: https://www.talkdesk.com/blog/25-questions-call-center-outsourcing
Publish Date: April 11, 2016 5:00 AM
---

Earlier this week, Talkdesk had the pleasure of hosting a live webinar with SpotHero's resident data expert, Nate Peace. Nate chatted with Talkdesk Product Manager, Robert Sur, about the importance of leveraging call center data to develop and refine a phone support strategy. Over the course of the webinar, Nate shared some of the wisdom he has learned as SpotHero's Support Operations Lead and offered valuable advice to listeners during a lively Q&A session.
As the moderator of this webinar, I was both thrilled about how many new things I learned during the talk. I've been on Talkdesk's Product Marketing team for almost a year now, and I have always considered myself to be fairly knowledgeable about the merits of call center reporting. Listening to Nate and Robert speak about everything from gamification to social media opened up my eyes to the wealth of advantages that call center reporting can bring to a business.
There were four insights in particular that stood out to me in the webinar:
Lesson 1: Think Outside of the Box When It Comes to Call Center KPIs
Like many call centers, SpotHero measures and tracks common call center metrics such as service level, average wait time and average handle time. Where the company really stands out, however, is in its measurement of SpotHero-specific metrics such as "contact per park" (CCP). This metric is completely tailored to the company and helps to inform everything from customer service quality to staffing needs.
For managers who are unsure of what call center KPIs to set, SpotHero's CCP serves as a reminder that it's sometimes necessary to venture beyond the typical tried-and-true phone support metrics. Nate encouraged listeners to make an effort to understand both the space their call center occupies and the needs of their customers before selecting KPIs.
For example, SpotHero is a B2C company with callers who are typically driving or in a rush to park their car when they call in. This makes metrics such as average wait time and average handle time especially important for the company. On the flip side, a B2B hardware company whose callers often have questions that require more complicated answers may choose to disregard average handle time entirely.
Lesson 2: Visibility Into Call Center Metrics Is Key To Optimal Performance
SpotHero's entire support team relies on Talkdesk Live to provide critical call center metrics in real-time. The SpotHero team has their Talkdesk Live dashboard on display throughout their office to ensure everyone knows exactly how the call center is performing at any given moment. This high visibility has been beneficial to SpotHero in many ways.
First and foremost, displaying live metrics for the entire team to see has helped introduce an element of gamification to agents. Since agents are able to see metrics in real-time, they're able to take matters into their own hands and essentially compete to out-perform one another. This means that call center supervisors don't need to "police" agents as everyone is self-motivated to succeed.
Another benefit of providing visibility into call center metrics is that it keeps the entire company informed and engaged. Those team members who aren't on SpotHero's support team are able to see metrics at all times, which has helped to create a sense of camaraderie throughout the whole company. This results in the support team always having people to cheer them on.
Lesson 3: Leverage Historical Reporting To Identify Your Callers' Biggest Pain Points
When it comes to historical reporting, Nate is all about consistency and analysis. He cited the Pareto principle, which states that roughly 80% of effects come from about 20% of causes, as a driving factor for his support philosophy. In particular, Nate has noticed that around 80% of agents' time is being spent on just 20% of the issues customers usually call in about.
With this principle in mind, Nate has dedicated his team to identifying exactly what make up the 20% of issues that take up so much of agents' valuable time. This involves consistent measurement of call center disposition codes, metrics and more to ensure a large archive of historical reports. These reports can be leveraged for workforce management and beyond.
With some careful analysis, SpotHero has been able to identify some of the most common issues customers call in about. This has put them in a better position to address these issues early on in the customer journey and ensure agent phone time is being maximized.
Lesson 4: Your Customers Will Notice Changes in Support Quality and Will Talk About it.
Over the course of four months, SpotHero was able to improve their service level by 130%. That's effectively doubling this key metric! One the things that struck Nate as his team's performance improved was how customer service eventually became a part of the SpotHero image. After particularly great support experiences, happy customers would often take to social media to praise the company.
The publicity that SpotHero has received for their excellent customer service serves as both motivation for agents and as a key differentiating factor from many of their competitors. This has proved to be invaluable when it comes to engaging with investors and potential customers.
Just as customers can voice their thoughts on good customer service, they can also do the same for poor customer service. It's a good general rule of thumb to remember that anyone and everyone can be heard in the digital age, so customer empathy is critical. As Nate says, "You have to put yourself in your customer's shoes in order to provide the best customer support."
Nate and Robert shared many more insights than the four I listed here. To hear them all, click below to get a second chance at listening to our webinar "Incorporating Data Into Your Call Center Strategy."
Source: https://www.talkdesk.com/blog/4-call-center-kpi-insights-support-operations-lead
Publish Date: April 8, 2016 5:00 AM
---


Call center technology sometimes gets a bad rap for being difficult to deal with from both the agent and customer perspectives. A lot of this reputation is partially deserved. Many of the legacy call center solutions do, in fact, fit this description to a T.
But, like all good technology, call center software has evolved over time. The old problems associated with call center solutions have melted away for companies leveraging newer tools. Blatant issues like poor call quality, lack of features, faulty or inadequate reporting and inscrutable interfaces are on their way out, particularly in cloud-based technologies.
Work remains to be done. At Talkdesk, we don't think it's enough to just solve the flagrant errors in call center software gone by. Our solution is top of the line and it's not just because we offer 25+ prebuilt integrations, comprehensive reporting and robust functionality. Our product managers and engineers work every day to find and address problems that make the call center experience less than perfect agents and customers.
In the first three months of 2016 alone, we have unveiled five updates to our award-winning call center software that directly impact and improve the call center experience. Here's a rundown:
Problem 1: The phone rang, but no one answered.
Solution: Automatic Away
Customers reach out via telephone because they want real-time support. The last thing they want is to sit on the line while the phone rings and no one answers.
Talkdesk's answer to this is Automatic Away. Companies can set a limit on the number of consecutive calls an agent can miss before they are automatically set to "Away." When agents are "Away," calls are no longer routed to them, meaning customers no longer sit on the line and wait for someone who isn't there.
Problem 2: The call dropped.
Solution: Intelligent Reconnect
Sometimes customers are accidentally disconnected with agents while they are in the middle of a call. This can be extremely frustrating because customers have often been waiting to speak with an agent and do not want to start again from the back of the line. They may also be frustrated at the idea of re-explaining their problem to a new agent.
Good news for customers: Talkdesk's Intelligent Reconnect feature routes customers who have been accidentally disconnected directly to the agent who fielded their initial call.
Problem 3: Caller requested a callback, but didn't get one.
Solution: Unsuccessful Queue Callback Message
Queue Callback is an advanced call center software feature that allows callers to request a callback, rather than waiting for an agent to be available. It's a great feature that Talkdesk has made available since 2013.
This year's innovation is the Unsuccessful Queue Callback Message. Sometimes a customer's request for a queue callback cannot be completed due to agent availability or business hours. This new, custom message enables call centers to automatically notify customers that they will not be receiving a callback. This is meant to help companies assure customers that they care about their time.
Problem 4: Agents and managers want metrics in real-time.
Solution: Talkdesk Live
Data-driven decisions are essential to the health of a call center. Talkdesk has always been adamant about providing customers with historical and real-time metrics.
This year, we upped our game. Talkdesk Live, our real-time reporting experience, is designed to provide clear insight into the call center KPIs that matter most. We even optimized it for big screens to encourage the sharing of data with agents.
Problem 5: A seasonal business isn't scaling efficiently.
Solution: Agent Deactivation
Many call centers deal with seasonal or fluctuating staffing. This means that they have peak times when they require a large number of agents and afterwards must return to their original size. From the admin perspective, this requires a lot of legwork in adding and removing agents.
Talkdesk's Agent Deactivation assists in this process by enabling managers and admins to quickly remove agents from their rosters without deleting related data.
Our product releases in 2016 are only getting started. If you think these five are awesome, just wait to see what else we've got up our sleeves!
Source: https://www.talkdesk.com/blog/5-common-call-center-problems-solved-2016
Publish Date: April 7, 2016 5:00 AM
---

The heart of our business is enabling companies to make better connections and build stronger relationships with their customers, prospects and partners. Delivering on this promise starts with providing our users with the most advanced cloud-based call center solution on the market, but it doesn't stop there.
At Talkdesk, we seek out opportunities to share valuable, actionable information to help businesses grow their customer bases, inspire loyalty and promote their brands. To that end, four members of the Talkdesk team will be attending the TOPO Sales Summit on April 7-8, 2016 in San Francisco to glean insights and create useful materials on the content.
Members of the Talkdesk team will be attending the 30+ sessions and workshops. They will mingle with more than 600 sales leaders and learn about best practices, organizational design and metrics in the sales space, with a particular eye towards driving scalable revenue growth.
Talkdesk is sending team members to both days of the conference and all four tracks – Sales Leadership, Sales Development, Sales Technology and Sales Effectiveness. They will report back on thought leadership from innovators such as Jeffery Ma, Director of Business Insights at Twitter, Scott Kean, Director of Demand Management at Google, and James Burnette, Director of Global Sales Development at LinkedIn.
During the next few weeks, we will be producing high-quality materials based off of information from the TOPO Sales Summit. This blog post will serve as the hub for all of it.
Check back here in the coming days and weeks for updates on content produced from Talkdesk's full coverage of TOPO Sales Summit 2016.
COMING SOON
About TOPO Sales Summit
The Sales Summit is an intensive, engaging learning experience that brings together sales leaders from high growth companies to share specific best practices, patterns, and plays for driving scalable revenue growth.
About Talkdesk
Talkdesk is intuitive, easy-to-deploy cloud-based call center software with advanced features, comprehensive reporting and seamless integrations with 25+ business tools.
Publish Date: April 6, 2016 5:00 AM
---


There is no doubt that Talkdesk's inaugural summit on customer experience has a world-class lineup. Innovators like Emmanuelle Skala, Nick Mehta and Josh Stein will take the Opentalk stage, exploring topics including customer evangelism, the influence of UX on CX and how social media enhances customer communications.
Content is invaluable. It's the substance of the event. But let's be fair: No one wants to spend eight hours listening to content without a few perks – an open bar, some swag, a couple of new connections.
The content of Opentalk explores the customer experience. What better way to embody this than by creating an extraordinary attendee experience?
Opentalk has been carefully designed to offer a comfortable, interactive space for business leaders to mingle, explore meaningful topics and enjoy activities with a community of forward-thinking peers.
It all starts with the place. Opentalk will be held at The Village in San Francisco, a state-of-the-art event venue known for being fully customizable. Talkdesk will be utilizing The Village's incredible multimedia capabilities to project entertaining and enlightening materials throughout the summit.
The guest list has been carefully curated. Opentalk will be an intimate event designed to foster discussion among attendees and speakers. The physical set up will be laid out to facilitate approachability and conversation.
Talkdesk's field marketers have gone to great lengths to ensure creature comforts. Rather than sitting in fold-up plastic chairs, attendees will lounge on couches with their feet propped up on ottomans. Artisanal Blue Bottle espresso will be made-to-order. Attendees will be invited to participate in wine tasting sponsored by Silicon Valley Bank.
Foxtail Catering will offer exquisite menus of carefully executed food, accompanied by craft cocktails and wine pairings. Ever heard of gastro microhabitat food? You're about to.
Opentalk will also have a unique product showcase featuring the latest technologies, including wearable tech and connected home devices. Attendees will be invited to engage with these products and encouraged to provide feedback.
As the consumer landscape evolves, companies must adjust to rising expectations. This is the heart of the real-time revolution. We, at Talkdesk, are great believers in this movement. Opentalk will demonstrate the future of customer communication by replicating it in the form of a summit.
We are really looking to seeing you there. Haven't saved your seat yet? Want to become a sponsor? Visit the Opentalk website.
Source: https://www.talkdesk.com/blog/opentalk-redefine-event-experience
Publish Date: April 5, 2016 5:00 AM
---

It's official. Opentalk is going to be the must-attend summit of the year. Why? Because attendees will be a part of a community of customer-centric business leaders and influencers while enjoying delicious food and an amazing environment. On top of all of that, they'll be invited to take in thought-provoking content presented by an all-star lineup of speakers.
Here are just a few of the great personalities that will be presenting at Opentalk:
Nick Mehta
CEO, Gainsight
Nick Mehta knows the value of investing in your customers. That's the entire premise of his company, Gainsight, which is the leading Customer Success Management solution. Gainsight's purpose is to help customer-centric companies grow their business by focusing their energy on the success of their clients. Everyone can agree that Nick Mehta is a natural fit for the Opentalk stage.
Emmanuelle Skala
VP Sales, Influitive
Emmanuelle Skala adds a unique flavor to our lineup as she is one of few sales leaders who also prides themselves on being a customer advocate. Emmanuelle Skala has an extensive sales leadership and management track record. At Influitive, she helps B2B companies place customer advocacy at the core of their marketing and sales efforts. We're more than excited to have Emmanuelle Skala join us at Opentalk.
Jason Lemkin
Founder & CEO, SaaStr
Notably one of Silicon Valley's most popular SaaS and B2B startup advisors and investors, as well as an entrepreneur himself having founded EchoSign, Jason Lemkin has interviewed, befriended and met thousands of customer-centric business leaders via his outstanding conference, SaaStr Annual, and online publication. Jason Lemkin's experience and social capital make for great content for an event. We can't wait to hear his thoughts.
Josh Stein
Partner, DFJ
Josh Stein is a serial investor that has not only seen, but has had a direct impact on many companies' path to greatness, including Twilio, Box, Yammer and, of course, Talkdesk. With such extensive experience hearing pitches and invitations to peak inside the inner workings of growing businesses, Josh Stein surely understands the constant among them all – the need to focus on the end user. Opentalk is thrilled to share Josh Stein's wealth of experience with our audience.
Eric Burdullis
Director Customer Experience, Lyft
Eric Burdullis has inside information when it comes to understanding customers, having had years of experience as a customer support leader. He serves as the Director of Customer Experience for Lyft, a San Francisco-based private transportation network that distinguishes itself through a community focus. Eric Burdullis will share what it's like to be chartered with designing great experiences for customers at one of the area's fastest growing companies.
Opentalk is going to be the perfect summit for customer-centric leaders hoping to glean insights and explore the latest trends in customer experience. The speakers in this article will be joined by many more leaders and innovators both on and off stage.
Don't miss out on this unique opportunity! Save your seat here.
Source: https://www.talkdesk.com/blog/5-speakers-opentalk-2016
Publish Date: April 4, 2016 5:00 AM
---
San Francisco, April 1, 2015 /TalkdeskNewswire/ —
Talkdesk, the world's leading cloud-based call center software provider, announced the launch of Talkdesk OmniMultiRetroChannel today. Talkdesk OmniMultiRetroChannel is a first-of-its-kind contact center solution that incorporates a variety of channels that are rarely seen in modern commerce. It is designed to facilitate a different kind of customer communication.
"At Talkdesk, we understand how important it is for companies to connect with each and every one of their customers," said Talkdesk Founder and CEO Tiago Paiva. "We created Talkdesk OmniMultiRetroChannel to help businesses reach out to even the most unique individuals."
Talkdesk OmniMultiRetroChannel is a variation on a recurrent theme in modern customer experience. Modern customers expect to reach out to companies in their own way, whether that be via social media, the phone, email or live chat. But why stop there? So many other channels exist that can be explored as a means of facilitating the kinds of positive interaction that breed brand loyalty.
With Talkdesk's new contact center solutions, businesses will have access to advanced contact functionality, including tin can technology and fax machines. Custom Pony Express ponies and carrier pigeon pigeons bring an animal appeal to Talkdesk OmniMultiChannel. A limited number of Talkdesk Pro customers will also receive the yodeling, morse code and grunting channels.
"Talkdesk OmniMultiRetroChannel has given our call center so much flexibility," said Adrian Brown, Director of Customer Support at Tinderdesk. "We've really inspired customer love with the snail mail love letter integration. The responses have been incredible."
Talkdesk OmniMultiRetroChannel is available to all current and future Talkdesk customers.
Talkdesk is headquartered in San Francisco and has a satellite office in Lisbon, Portugal.
Learn more about Talkdesk: www.talkdesk.com
Get started with Talkdesk: www.talkdesk.com/free-trial
Follow @talkdesk on Twitter
About Talkdesk
Talkdesk is next-generation cloud-based call center software that helps you connect more effectively with your customers. The easy-to-use interface offers robust functionality with advanced features, comprehensive reporting and seamless integrations with 25+ business tools to empower sales and service teams to have personalized, real-time conversations with customers.
CONTACT
pr@talkdesk.com
SOURCE
Talkdesk
RELATED LINKS
https://www.talkdesk.com
Publish Date: April 1, 2016 5:00 AM
---

Agent availability is essential to proper call routing in Talkdesk. In order to avoid potential routing issues, it's important that agents remember to regularly update their agent statuses. This reduces the likelihood that calls are routed to an agent who was suddenly called away or isn't able to pick up the phone.
On occasion, agents might forget to update their statuses. In these instances, what can a call center manager do? The answer is in Talkdesk's new Automatic Away feature.
What is Automatic Away?
Once activated, this feature will allow call center managers to customize a limit on the number of consecutive calls an agent can miss before they are automatically set to "Away" status. For example, Talkdesk can set an agent as "Away" after they miss two calls in a row.
After an agent returns to their computer, they will see a banner in their call bar notifying them that their status has been automatically set to "Away." Agents will then need to manually change their status back to "Available" in order to begin receiving calls again.
Why should I use this new feature?
Enabling Automatic Away can be helpful for everyone who deals with your call center:
For Callers: Get Answers Fast
There's nothing worse for a customer than having a call go unanswered after waiting in a long call queue. Enabling Automatic Away can help increase the likelihood that a call is connected to an available agent on the first dial and that the customer's inquiry can be addressed promptly.
For Agents: Route Calls Properly
While agents should never rely solely on Automatic Away, it can act as a safety net for the times they accidentally forget to update their statuses. Agents can be confident that, in the event they forget, only a minimal number of calls will be routed to them.
For Supervisors: Ensure Reporting is Accurate
Accurate call center reporting is key for measuring progress and making data-driven decisions. Depending on what KPIs are set for a call center, inaccurate agent statuses can drastically affect reporting efforts. Some reports that can be affected include Call Activity, Agent Status and Account Breakdown Reports.
What number of calls should I choose for Automatic Away?
Talkdesk gives you the option of selecting a number anywhere from one call to nine calls missed before activating Automatic Away. We understand that every call center has different needs and that there is no universal number that is right for everyone. When selecting a number, there are a number of factors that should be considered:
1. Your Average Wait Time
If this metric tends to be on the higher end, selecting a lower number of calls for Automatic Away can help provide a better experience for customers who have their calls missed and need to wait in the call queue again.
2. If Voicemail is Enabled
In the event of an accidental missed call, it's important that customers are still able to communicate their inquiry with your support team. If voicemail is not enabled for your call center, it may be wise to select a lower number of calls for Automatic Away to ensure that callers can be connected with an available agent in the least number of dials.
3. Your Average Call Volume
Since agents at a busy call center typically receive more calls, incorrect agent statuses tend to become serious problems much faster in high-paced call centers than in quiet ones. Setting a lower number of calls for Automatic Away can potentially resolve issues caused by incorrect agent statuses before they become widespread.
For call center managers everywhere, enabling Automatic Away is a quick and easy way to safeguard against accidental missed calls. Both your agents and your customers will thank you for it!
For more information on Automatic Away and its configuration, please read our Knowledge Base article.
Publish Date: March 31, 2016 5:00 AM
---


Finding parking in a crowded city can be a pain. Not only is it often time-consuming, parking rates can also be very expensive. Many of us get extremely frustrated when we find ourselves in this situation, even if it's a regular occurrence in our lives. Is there no other way to park?
Enter SpotHero.
This Chicago-based startup that helps connect "Parkers" in 13 cities across the U.S. with available parking spots. Users can book parking spots ahead of time via the company's website or mobile app and get exclusive discounts on rates.
With thousands of active users relying on their service, SpotHero has become dedicated to providing only the best customer support. Parkers, like all modern customers, expect real-time, personalized support when they reach out. To meet the needs of their customer base, SpotHero has chosen to implement Talkdesk cloud-based call center software.
The team at Talkdesk recently had a chance to speak with SpotHero's resident data expert, Nate Peace, on how our cutting edge call center software fits in with his company's customer support philosophy.
As Support Operations Lead, Nate works closely with SpotHero's support agents, or "Customer Heroes," to ensure that all callers have the best experience possible. He told us that Talkdesk's advanced functionality, particularly the comprehensive real-time reporting, has been an integral part of the excellent customer support provided to Parkers.
After many conversations with Nate, we're happy to share with you today our SpotHero case study. From this case study, you'll learn:
Why SpotHero chose Talkdesk to be their call center software provider
How they use call center data to improve their phone support efforts
What improvements in call center metrics they've seen since switching to Talkdesk
Dive deep into how Talkdesk call center software helps SpotHero achieve their customer service goals by downloading the case study now.
Publish Date: March 30, 2016 5:00 AM
---

It's a very special week around here. Today's roundup is the twentieth in our series!
It all started back in October 2015, when a content writer had a dream. And from that dream sprung the Customer Service Excellence Review series. To date, we've supplied our readers with 95 articles and 20 tweets. That's a whole lotta knowledge!
In honor of Customer Service Excellence Review #20, we thought we'd take a stroll down memory lane. After all…
Hindsight is 20/20.
Let's look back on the past twenty weeks of customer service excellence content. Oh, the memories! We'll think about the articles you loved, the ones you hated and those you've forgotten altogether. It's a throwback review. Let's dive in.
An act of kindness can breed brand loyalty. #12
Empowering your employees to make judgement calls will lead to better customer service. #17
Whether it's hands-on customer support or self-help, customers expect an answer in real time. #3
Modern companies should know the difference between customer service and customer experience. #18
The best way to gauge customer happiness is to ask the right questions. #5
The standard IVR message,"Your call is important to us. Please continue to hold," makes many people angry. #13
Achieving customer service excellence isn't just the responsibility of the support team. #1
The language employees use when interacting with customers makes a difference. #15
Far from being an annoyance, upselling can be used as a way to help customers and inspire brand loyalty. #4
Marketing and customer service go hand in hand for promoting customer satisfaction during the holidays. #10
Social media has become integral to modern customer service. #2
A single positive interaction – with any employee – can improve a customer's view of an entire company. #14
Young companies, particularly startups, should not get so caught up in their own growth and acquisition that they neglect to maintain good customer service to retain their existing customers. #8
59% of participants in a recent study reported that if their first call to a company's customer service is not handled properly, they will stop buying from that business. #15
75% of companies view customer service as a competitive differentiator. #16
To stay current, every company must design a customer experience that meets multi-generational customer expectations. #9
Customers can do a great deal of harm by trashing your business on social media. #7
Any organization that deals with customers, prospects or patrons must develop a customer service plan, regardless of what industry they're in. #19
Customer service excellence is the distinguishing factor between businesses in an economy where consumers have unprecedented levels of choice. #6
The most effective companies empower their employees to share customer service tips and tricks with each other, even between global offices. #11

We've uncovered a lot of great tips on what it means to achieve customer service excellence in the past twenty weeks. We hope that our readers have used these ideas to inform their thinking on their own customer experience. As we always say, it's food for thought and we hope you're hungry!
The Customer Service Excellence Review doesn't stop here. There's only more servings to come in upcoming weeks. In this quickly evolving and increasingly important space, more insight is always needed.
So, with that in mind, we'll see you next week for Customer Service Excellence Review #21.
Publish Date: March 29, 2016 5:00 AM
---

This guest post is written by Talkdesk Product Manager Robert Sur.
Chicago is my kind of town.
Simply put, I think we can all agree with Mr. Sinatra that Chicago is truly a first-class city. I am always thrilled to have the opportunity to come back to hear the bustle of the trains running overhead and see the breathtaking architecture towering across the skyline.
Yes, it may have been slightly chilly for yours truly, who is California born and raised, but something about the wind coming off of Lake Michigan just felt right. Although we didn't have nearly enough time to explore it all, the Talkdesk team made sure to do some sightseeing, and most importantly, eating, while we visited the Windy City for Salesforce World Tour!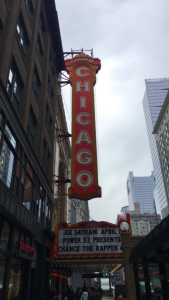 Old Faces in New Places
I arrived in Chicago with Talkdesk Chief Operating Officer Gadi Shamia and Sales Engineer Aleene Webber. The three of us were there to take in the sights, schmooze and present our world class call center software to the crowds.
Those who have worked in the Salesforce ecosystem as long as I have realize how much of a tight-knit community it truly is. Running into former friends and colleagues from my past is always a big highlight of Salesforce events. It probably doesn't hurt that the hosts are very generous in providing a nearly endless stream of live music, hors d'oeuvres and cocktails!
The Who's Who in Enterprise Cloud
Salesforce always does a great job with their events, ensuring both partners and customers are provided with a first-class experience. The Lakeside Center is quite possibly the largest indoor events space I have ever seen; I'm convinced the entire city of San Francisco could fit inside!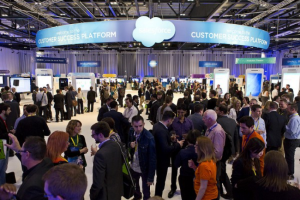 More importantly, Salesforce always seems to bring together leaders in the enterprise cloud industry. It is a great learning experience to mingle with such great companies and individual innovators.
Throughout the show, the Talkdesk team had the opportunity to brainstorm ideas with others on how we can use the Salesforce platform to provide robust integrated solutions for organizations across the world.
No matter how many times I attend, I always come back from these events knowing a little bit more about some of the incredible things brewing in the world of Salesforce.
Our Customers are Awesome
While I was in town, I had the chance to visit our friends at SpotHero, who make their home in the River North district of Chicago. Each time I have visited their office it has seemed as if they have less and less space for their growing team.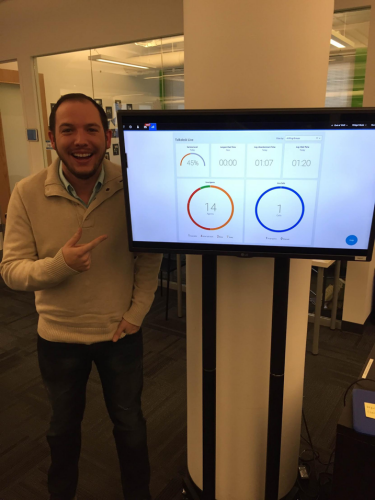 After bonding over the lack of conference room space inherent to hypergrowth startup life, I immediately noticed that SpotHero had our recently-launched Talkdesk Live reporting dashboards posted on big screens throughout the floor for their "Customer Heroes" to see! Nothing is more rewarding for a product manager than seeing your team's blood, sweat, and tears manifesting itself into a beautiful product that's providing real value to the customer.
As Talkdesk has grown, it has been amazing to see our customers grow alongside us, and SpotHero is a prime example of this. As a superstar in the up-and-coming Chicago tech scene, Salesforce chose to highlight SpotHero's growth and commitment to providing the ultimate customer experience during the "5 Best Practices to Build a Scalable Customer Experience" session at the World Tour.
Our friend, Nate Peace, Support Operations Lead at SpotHero, discussed how Salesforce Desk.com and Talkdesk have helped their operations grow while maintaining their commitment to a customer-first philosophy. Talkdesk is truly proud to be a part of SpotHero's success story, and we are looking forward to coming along for the ride as they continue their journey.
Editor's Note: Robert and Nate will be hosting "Incorporating Data Into Your Inbound Call Center Strategy" on April 6. Register now!
Hello, World
As a product manager, the most rewarding (and sometimes nerve-wracking) part of these trade shows is unveiling our newest offerings to the world. We have been cooking up a little something in the lab for quite a while, and we were finally able to show a preview in Chicago. We received tons of feedback from the World Tour attendees, and the reception couldn't have been better. Seeing the reactions to our newly launched Talkdesk Live and the next evolution of our Salesforce offering was truly remarkable.
We are definitely on the right track, which makes it even harder for me to keep all of this under wraps! Stay tuned…

Chicago, you've been great. See you next time!
Publish Date: March 29, 2016 5:00 AM
---

Today's fierce competition for engaging and retaining customers requires that brands stay ahead of the curve and implement strategies that are ahead of their time. Merely covering the customer service basics won't suffice; being forward-thinking is what matters.
It can be a real headache to stay up to speed, even with so many customer support channels, tools and so-called best practices available to choose from. Modern companies may feel like they are drowning in choice as they scramble to meet the needs of increasingly demanding customers. Fortunately, the business world has thought leaders who can help guide companies in taking proactive steps to ensure their customer experience in the future.
Here are a few predictions from today's customer experience influencers:
1. Mobile Support
Mobile phone usage is on the rise and not just for making phone calls. People use their phones for researching brands, purchasing goods and for contacting customer support. Today's customers are using their mobile devices for nearly everything.
According to CX leader and speaker, Matthew Bowman, "Mobile technology encourages omnichannel communications by making it possible on one device to conveniently use chat, email, social media and voice while in the act of shopping or using a product or service."
For this reason, Bowman suggests spending more time and effort in designing a customer experience that is optimized for mobile.
2. Consistency
With so many support channels, platforms, devices and apps available to users today, the challenge many companies face is offering a consistent experience throughout. A disjointed customer experience across platforms and support channels can be off putting for customers. Keep your messaging and processes consistent across the customer journey. Train support agents to follow a system and offer every customer the same excellent service.
CX leader and VP of the Ritz-Carlton Leadership Center, Diana Oreck, says "The number one way for any company to improve their service is to hard wire consistency into their operation and execute the basics flawlessly."
3. The Human Touch
86% of consumers say personalization plays a role in their purchasing decisions (Source: Infosys). No matter how easy technology makes our lives, nothing beats the human touch in customer service. Customers are expecting a more personalized experience from brands, and the best way to do this is via the human touch. While automation can save time, save automated workflows for the backend, and give your customers the satisfaction that comes with being assisted by a real person.
Customer Champion, Greg Meyer says "Respond to customers with a human voice and not a bot – you decide if you want to call, type, chat, or send a care package – and you'll get a more loyal customer."
Learn more about the future of customer experience from the experts at Opentalk on May 17th. Explore the trends and listen to predictions to help inform your business' customer experience strategy. Don't miss out on a unique summit with hundreds of your customer-centric peers. Get your tickets here.
Source: https://www.talkdesk.com/blog/predictions-customer-experience-influencers-2016
Publish Date: March 28, 2016 5:00 AM
---

It has become common knowledge that data-driven decisions are essential to modern business. The old "throw spaghetti at the wall and see what sticks" strategy just isn't going to cut it in today's marketplace. At this point, we've all heard the words "metric" and "KPI" thrown around. Perhaps we've even started diligently measuring our own KPIs. But the question remains:
Once you've collected the data, what are you going to do with it?
Let's go through the use case of an inbound call center to tease out what it truly means to make data-driven decisions.
Two Types of Reporting Metrics
Historical
Access past data within a specific time frame. Historical metrics can be used to help set realistic benchmarks (e.g. If the average abandonment rate was 45% in January, it wouldn't be reasonable to expect the rate to be 5% in February.)
Real-Time
Real-time reporting is exactly what it sounds like – live data. Real-time metrics give you instant information about what's happening in your call center at any moment. This is great for identifying and reacting to any issues, such as an elevated call volume.
Inbound Call Center KPIs
Any call center solution worth its salt will give supervisors and agents access to many different metrics. It is the responsibility of the call center manager to determine which key performance indicators (KPIs) to track in specific. Examples of call center KPIs include:
Service level
First call resolution
Average handle time
Average time in queue
Average speed of answer
Average abandonment rate
Average after call work time
How to Leverage Your Data
Call center managers and agents who have invested in a call center software solution with advanced reporting and taken the time to configure and track their metrics may feel lost about next steps. It's clear that data-driven decisions should be made, but what does that even entail?
1. Track the Right Metrics
First things first: whatever call center KPIs have been selected are a great indicator of where your focus should be. Why have you chosen to pay special attention to something if it's not going to influence your strategy? Figure out which KPIs matter most for your company and start tracking them.
2. Compare the Data
Use industry benchmarks to get a sense of where your company stands. Is 10 seconds a reasonable speed of answer for call centers of your kind?
3. Get to the Root of the Problem
If one of your call center KPIs is notable for some reason (too high, too low, drastically changed in a short period of time), do what you can to determine why. If your average time in queue is too long, you may want to investigate whether you have an adequate number of agents, whether agents are spending excessive times on calls, whether agents statuses are not set to "Available" often enough, etc. When you have ascertained the cause, you can fix it!
4. Let Your Metrics See the Light of Day
Simply providing visibility into your KPIs can make a difference. Empower agents by letting them see the inner workings of your inbound call center. Allowing agents to watch their progress and adjust their workflows to meet goals enables them to feel more a part of your organization. You may even take it one step further and implement call center gamification.
Learn more and get specific figures when you tune in to our upcoming webinar with SpotHero's Support Operations Lead, Nate Peace and Talkdesk's Product Manager Robert Sur. They'll be exploring how SpotHero incorporated real-time call center data from Talkdesk Live to improve their service level by 58%.
Source: https://www.talkdesk.com/blog/leverage-call-center-kpis-customer-service
Publish Date: March 25, 2016 5:00 AM
---

The most efficient use of your time as a salesperson is to speak only with prospects who have a reason to be interested in your product. It's simple – only sell to people who want to be sold to. Even the best ice cream merchant in the world is going to have a tough time convincing a lactose-intolerant passerby to come into their shop.
So how do you figure out who your ideal customer is? Here are five easy steps:
Step 1: Phone a Friend
Before you do anything else, reach out to your marketing team to ask them for help identifying your ideal customer and the key characteristics and pain points that make them unique. One of the major roles of any marketing team is to drive prospects to sales. This means that your ideal prospect is marketing's target audience.
Step 2: Look in the Mirror
Think about your product or service's value proposition. What kind of difference can you make in the life of a business or individual? Being customer-centric means thinking about your customers needs first and foremost, rather than trying to push an ill-fitting solution onto them. View your product through their eyes.
Step 3: Size up the Competition
The ideal customer of your competitors is your ideal customer too. It's math. Figure out who the competition is marketing and selling to and then go after them yourself!
Step 4: Take a Headcount
Check out your current customer base. Every single one of them represents at least one part of your ideal customer. After all, they've signed up for your product or service. You must have gotten through to them one way or another! Even better than just sniffing around? Ask your customer base a few questions so that you have input to work off of.
Step 5: Hammer out the Details
Your ideal customer isn't an amorphous blob. You need to drill down to the specifics of who exactly you're looking for. Depending on your industry, your ideal customer is either a consumer or a representative of a business. Here is a list of a few of the myriad of factors you can look into:
Consumer demographics: location, age, gender, race, socioeconomic status.
Business demographics: location, budget allocation, number of employees, age of company, stage in lifecycle.
Note: Even when you are selling to a company, it is essential to market to the actual individual you are speaking with. What is their role in the company? What are they getting out of this deal? In the end, companies are made of people.
Step 5: Trace the Journey
For cold calls: Ask yourself why this person or company hasn't reached out to you already. What has stopped them from connecting with you?
For leads: Learn about the interactions a person or company has had with your business. How did they find you? How many contact points have they had with your marketing or other teams?
No matter who the customer is, consider where they are in the buying cycle. Are they just exploring or is it time for them to make a decision?
Identifying your ideal customer requires an upfront time commitment, but will pay off in the long run. The more you know about the ideal customer, the better you can tailor your sales pitch. Added bonus: Unless your business is rapidly growing or changing, it won't be necessary to seek out the profile of the ideal customer again very soon.
It's time to get going on seeking out your ideal customer. Imagine how many more deals you could close if every person you spoke to was acutely interested in your product…
Source: https://www.talkdesk.com/blog/5-steps-identify-ideal-customer
Publish Date: March 24, 2016 5:00 AM
---

Users of our CTI Widget may have noticed something different when they logged in today… It has a new look! The CTI Widget is sleeker, more user-friendly and just as intuitive as its predecessor. Let's take explore what's now available.
First things first. Who has access to the new CTI Widget?
Our CTI Widget is currently available to users with a Salesforce, Desk.com or Zendesk integration activated. Salesforce and Zendesk users do not need to take additional action in order to activate the new CTI Widget, but Desk.com users will need to take a few seconds to resize their phone integration for optimal viewing.
What's new in the CTI Widget?
We've made several enhancements to the CTI Widget with this refresh. Here's what you need to know:
Icon Menu Bar
The new CTI Widget now features a centralized menu bar for call controls. In addition to eliminating the need for text-based buttons, this intuitive set of icons frees up space in the CTI Widget, allowing for a more streamlined interface.
Pause Call Recording Functionality
If enabled, agents will now see a pause call recording icon in their menu bar. This grants agents more flexibility during phone calls and helps to protect sensitive information communicated during the call.
| Review call center call recording best practices. |
Enhanced Call Information
In addition to seeing a contact's name and phone number, the new CTI Widget now also clearly displays whether the call is inbound or outbound. This gives agents the salient details at a glance and eliminates any confusion as to the origins of the call.
How will using the new CTI Widget benefit me?
Talkdesk's new CTI Widget is more than just a pretty face. The agent-initiated pause call recording functionality and the new UI will further enhance the workflow of your agents. The CTI refresh will give agents working out of Salesforce, Desk.com or Zendesk a wealth of usability improvements. For example, agents using the new CTI Widget can now enjoy simpler add guest and call transfer workflows, as well as a cleaner interface for selecting outbound caller ID.
We hope you enjoy the new look of our CTI Widget! For more information and a step-by-step tutorial, please visit our Knowledge Base.
Publish Date: March 23, 2016 5:00 AM
Page: 1 | 2 | 3 | 4 | 5 | 6 | 7 | 8 | 9 | 10 | 11 | 12 | 13 | 14 | 15 | 16 | 17