Talkdesk - ContactCenterWorld.com Blog
Page: 1 | 2 | 3 | 4 | 5 | 6 | 7 | 8 | 9 | 10 | 11 | 12 | 13 | 14 | 15 | 16

Well, well, well. Look who it is. We're glad to have you here with us at Talkdesk's Customer Service Excellence Review #19. You know the deal: Every Tuesday, we round up the latest and greatest insights from around the web on what it means to achieve customer service excellence.
Modern businesses know that success is all in the customer experience. If you want to thrive, you're going to have to strive for customer service excellence. Let's see what that means this week.
How to Improve Customer Service Training with Simple Metrics
Customer Think || March 10, 2016
One of the surest ways to get ahead is to be a data-driven business. Looking at the cold, hard numbers can help you get a clear view of your company and assess areas for improvement. It starts with choosing the right metrics to measure. This post will give you a general idea of where to begin.
State Parks to Make Customer Service Improvements
Shakopee Valley News || March 11, 2016
Customer service excellence isn't limited to any particular industry! The Minnesota Department of Natural Resources recently announced a number of improvements to their processes to help visitors in summer 2016. Principal among them is a push for more self-service at campsites and experience reservations.
Get Personal, It's Business!
Beyond Philosophy || March 10, 2016
Throw the old adage "It's not personal; It's business" out the window. Business is all about building relationships based on trust. Customer-centricity stems from genuine interest in the customer's well-being. This post lists a few ways to engage in conversations that matter with customers and prospects.
Source: https://www.talkdesk.com/blog/customer-service-excellence-review-19
Publish Date: March 15, 2016 5:00 AM
---

At Talkdesk, our customer relationships go beyond closing the deal. We care that our customers are happy and that our product makes a difference in their businesses. It's for this reason that we come out with monthly product releases that make small and large improvements to our award-winning cloud-based call center software.
Part of our ongoing customer care is the Talkdesk Knowledge Base. It's jam-packed with diagrams, articles, videos and how-to's to help our customers get more out of our call center solution. The Knowledge Base is a living, breathing resource. We don't just write a post and then let it become stale.
Our devoted Knowledge Base Team has done it again this week with a completely revamped article on Call Center Greetings and Messages.
The article runs through the definitions of the different call center greetings and messages, including welcome greeting, queue callback message, voicemail and holiday greeting. It also delves into the various options for setting up the greetings and messages, which include disabling the greeting or message, writing text to convert to speech and recording a file.
The great innovation of our new Knowledge Base article on call center greetings and messages is an extensive call flow diagram. This image will be especially useful for newcomers to the call center space, but it will also help more experienced customers because it helps visualize the customer experience in the call center.
Call center greetings and messages are an essential part of any successful call center. They are integral to the interactive voice response (IVR) and therefore they set the tone for the overall experience. Talkdesk's advanced features and extensive customization options enable you to take the reigns of your call center.
To learn more, check out our Knowledge Base article on call center greetings and messages here.
Publish Date: March 14, 2016 5:00 AM
---

As unpleasant as it may be, turnover is a workplace reality no matter where you work. This is particularly true in call centers, which have become notorious for high rates of employee turnover. In this post, we'll be diving into this concept to understand what it means for your call center.
What is turnover?
Turnover is a type of attrition. Attrition refers to employees leaving a company. Turnover is a specific, particularly costly, type of attrition in which the leaving employees need to be replaced by new hires. Turnover can result from termination that is either voluntary (e.g. seeking another opportunity) or involuntary (e.g. poor performance).
Why is turnover specifically relevant to call centers?
Call centers have a bad reputation for high turnover rates and, the truth is, that reputation is deserved. Working as an inbound customer service representative (CSR) reliably ranks as one of the highest turnover jobs in the world. Depending on who you ask, call centers have a turnover rate of between 30 and 45 percent. By comparison, the 2013 average employee turnover rate for all industries in the United States was 15.1%.
The work of a CSR can be tough. They can deal with emotional customers, high call volumes and a variety of other stressful situations. It can be difficult for them to get breaks when the phone lines are busy. CSRs are also often entry-level workers, which means that their salaries tend to be on the lower end.
How is call center turnover measured?
There are a few ways to measure call center agent turnover. The most important step is defining what you mean by turnover. Will you only include voluntary termination? Is there a specific amount of time the agent had to have worked before leaving? Are promotions part of the equation? You will also need to set a time frame.
Once you've defined what you mean by turnover, plug the numbers into this equation:

Why should I care about call center turnover?
The obvious answer here is that there is a direct monetary cost to call center turnover. It costs money to find, hire and train new employees, money that would be better spent in other aspects of the business.
But there are also other implications. For one, customer satisfaction may wane as callers deal with representatives who are too new to know how to adequately handle problems. For another, call center turnover can create an unpleasant workplace culture, which fuels more turnover.
How can call center turnover be avoided?
No workplace is immune to turnover, but effective call centers need to recognize that their white blood cell count is particularly low. There are preventative steps that can be taken to help head off excessive call center turnover.
1. Hire the right agents
Don't set your call center agents up for failure by hiring them for a job they cannot succeed in. A little extra time added to recruiting procedures can make a big difference in the long run.
2. Offer competitive pay and benefits
Being an agent is stressful. Make it worth your agent's while by compensating them fairly.
3. Establish clear objectives
Call center agents may start to feel buried in work with no way to benchmark their performance. With clear goals, agents can get their head above water.
4. Reward goal completion
It isn't enough to just set objectives. Call center agents should be celebrated for their wins.
5. Create a career path
Make it clear what kind of performance results in a promotion and what that promotion might look like. This gives employees something to strive for.
6. Give agents the tools they need to succeed
Don't make your agents' lives harder by asking them to cut steak with a spoon. Give them the call center software they need to excel at their work – the kind of call center solution that has a user-friendly interface, advanced features and deep integrations with other business tools.
These are the basics on call center turnover. How this concept impacts the life of your call center is up to you.
Source: https://www.talkdesk.com/blog/understanding-call-center-turnover
Publish Date: March 11, 2016 5:00 AM
---

The modern company no longer leaves customer needs solely in the hands of their support and success teams. Customer centricity is the core mission of every team in innovative organizations, from marketing to sales, engineering to IT.
While the rise of the customer-focused company is sure to be the overarching customer service trend this year as businesses begin to follow the likes of Virgin America, REI and Amazon, there are three other trends that CX and support thought leaders have identified. Here are the top three customer service trends to look out for in 2016:
1. Mobile Support
According to Forrester Research, by the end of 2015, approximately 42% of the global population will own a smartphone. Today's customers are using their mobile devices for nearly everything. From purchasing goods to contacting customer support, your brand's mobile strategy should be in line with your customers' mobile journey. Multichannel support should be optimized for mobile use, including phone support, social media, chat and email.
2. Self Service
Approximately 70% of customers believe that company websites should have a self-service option (Source: The Real Self-Service Economy Report). Customers in 2016 want to feel empowered by being able to solve their issues on their own. Collaborate with your support and product teams to ensure that your FAQ page and knowledge base are up-to-date. Make sure that customers can easily find answers to their questions on your website, via self-service options in your IVR and in your knowledge base.
3. Personalization
According to Infosys, 86% of consumers say personalization plays a role in their purchasing decisions. In 2016, your customers expect you to offer them a personalized experience. Integrate your call center software with your helpdesk and CRM to know as much as possible about your customers the moment they reach out to you. Train your agents to use the appropriate etiquette, vocabulary and language to make your customers feel unique and heard.
Talkdesk COO, Gadia Shamia, will be sharing his insights into 2016's customer service trends during his panel at CS Lab in San Francisco. Register to join the CS Lab conference and come check out what Gadi has to say.
If you can't make it to CS Lab, be sure to catch Gadi and the whole Talkdesk crew at Opentalk 2016 on May 17th. Join the real-time revolution at Opentalk. Get your tickets here.
Source: https://www.talkdesk.com/blog/top-3-customer-service-trends-for-2016
Publish Date: March 10, 2016 5:00 AM
---

Quick! Where's your smartphone? Can you answer this question within 30 seconds? 10 seconds? Do you not even have to think because you're reading this post on your phone right now?
Most of us live and die with our phones in our hands. But as telephones have become more and more ubiquitous, they have worked our way into our collective psyche in more ways than one. A new phenomenon call telephone phobia has begun to take hold.
Telephone phobia is the fear of receiving or placing phone calls.
As with any fear, there is a spectrum for telephone phobia. Some telephonophobics may simply feel apprehension or reluctance about telephone calls. Others may suffer severe symptoms including panic attacks. People with more serious cases of telephone phobia require psychiatric help.
For the purposes of this article, we'll be discussing people who merely exhibit signs of anxiety around the telephone, rather than full-blown phobic behaviors.
How can telephone phobia impact contact centers?
Telephone phobia can have a clear and direct impact on contact centers. Even in a multichannel contact center, phone support is often the central pillar of the strategy. Telephone phobia can negatively impact call center agents, call recipients and inbound callers by preventing or prolonging phone interactions, discouraging customer loyalty and reducing efficiency.
Here are a few ideas for avoiding a scary situation resultant from telephone phobia in your contact center.
Hire the right call center agents
Ok. Someone with telephone phobia probably isn't going to apply for a job at a call center. But in this case, not having fear isn't enough. Call center agents should be actively interested in speaking on the phone. Further, they should understand other people's apprehensions and be sensitive to them.
Use automatic outbound caller ID
Ease the minds of call recipients by using automatic outbound caller ID to choose the most appropriate phone number to appear on the people's phones. A familiar area code can help reduce recipient anxiety and increase the likelihood that they will answer their phone.
Make the inbound calling experience more pleasant
Advanced call center software features can go a long way to improving the customer experience. Three features come to mind when thinking of making inbound calling more comfortable:
Soothing queue music: How better to induce calm than by playing soothing tunes? Leverage a call center software that enables you to customize queue music.
Comprehensive background information: Get the call over with quickly by providing call center agents with comprehensive contact history from the get-go. Cloud-based call center software will store information for you and integrate with your business tools to provide the complete picture.
Warm transfers: If you have to transfer a telephone phobic customer, do so with grace. Use a warm transfer to help them feel at ease by briefing the next agent on their issue and giving them a formal introduction to the new agent.
Offer a multichannel contact center solution
Flip the script. Instead of doing everything you can to make the phone work for your telephone-phobic customer, give the customer what they want, namely, NOT the phone. Empower customers to reach out to your company when and how they see fit with a multichannel solution. This can involve SMS, chat, email, social media, video and more.
Telephone phobia is just one example of a serious customer need. Make sure that your business is customer-centric by adapting your policies to meet each and everyone one of your customers at their level.
Source: https://www.talkdesk.com/blog/telephone-phobia-contact-center
Publish Date: March 9, 2016 5:00 AM
---

Fancy seeing you here! Welcome back, reader, to Talkdesk's weekly Customer Service Excellence Review. You know the deal: We round up commentary from the last week on what it means to achieve customer service excellence. You chew it up, spit it out and maybe use a few of these ideas to help further the service your company provides.
Let's get straight to it.
Why Customer Care is Your Biggest Marketing Draw
Forbes || March 4, 2016
Marketing is no longer just about making the sale. For modern businesses, marketing is about the relationship the customer has with your company. This means that departments within a business must coordinate to achieve overarching goals, rather than being siloed. The customer service your company provides defines who you are to customers. Make it great!
Apple Starts Providing Customer Service on Twitter
The Verge || March 3, 2016
Tech giant Apple has launched a dedicated Twitter account for fielding customer support questions via social media. This move by Apple is by no means unusual, as many companies opt for multi-channel support strategies in an effort to meet customers on their level. Twitter, in specific, has been making adjustments to its service to facilitate customer-company relations, such as allowing businesses to initiate direct messages.
The Best Way to Serve Omnichannel Customers? Just Ask Them.
Customer Think || March 4, 2016
Jim Tincher – who, by the by, participated in a Talkdesk webinar on customer experience – writes about serving customers with the optimal support channel. His answer is simple: Ask your customers what they want. Instead of judging based off of overarching trends, get up close and personal with the needs of your customer base by asking directly.
Source: https://www.talkdesk.com/blog/customer-service-excellence-review-18
Publish Date: March 8, 2016 5:00 AM
---


The real-time revolution is here, and Talkdesk is leading the charge with our first customer communication summit, Opentalk 2016, on May 17th at The Village in San Francisco. Opentalk will be the savvy business leader's one-stop event for building upon their knowledge of and gaining social capital in this space to prepare their business for the real-time revolution.
What is the real-time revolution, you may ask?
The advent of social media and other new communication channels, as well as the myriad of new technologies that have emerged and changed our daily lives, modern customers are not only more connected than ever, we're more demanding than ever.
Today, we can order food, walk our dogs, send for dry cleaning, even find a date, with the click of a button. We've become so spoiled that anything that takes longer than a few seconds or requires more effort than a click makes us itch with impatience. The modern world is ruled by real-time expectations and businesses must evolve to meet this growing need. Companies have no choice but to join the real-time revolution or risk falling behind.
Opentalk 2016 is a summit where customer-centric business leaders can share insights into what the real-time revolution means and how to keep pace with all the changes in the marketplace. Here's what's on the menu at this forward-thinking event:
Innovators like you
Opentalk is for leaders that aren't content with the status quo and are constantly looking for new ways to break the mold when it comes to customer experience. We're expecting customer service, support and success leaders who want to shake up their strategy and take their team to the next level. We'll have founders and CEOs that place customer needs at the heart of every business decision they make. You'll meet directors of marketing, sales, IT and more, all of whom want a 360 view of every stage of their customer experience.
Engaging conversations, lasting connections
Opentalk has been carefully designed to be an intimate and engaging event. Meeting spaces, topics of discussion, agenda items and even meals have been thoughtfully planned out and designed to be interactive, so that attendees don't come away just having stared at speakers and collected flyers all day. Opentalk is a consciously curated environment where a community of forward-thinking business leaders can share insights, experiences, tips and anecdotes, and continue their relationships even after the summit ends.
Compelling content for everyone
Opentalk is not limited to the manager of a call center. Our speakers and panelists will include customer support and service leaders, alongside industry thought leaders, analysts, CEOs, founders, designers, marketers, and more. We'll have debates, fireside chats, panels and exercises. We'll talk about customer experience, Net Promoter Scores, new tech, multichannel support, evangelists and more.
Are you ready to become a part of the real-time revolution? Join us on May 17th at The Village in San Francisco. Register for Opentalk 2016 here.
Publish Date: March 7, 2016 5:00 AM
---

Dear Colleagues,
Customer communication is changing. In the age of the always-connected consumer, being customer-centric means responding to requests in real-time. Is your business prepared for the real-time revolution?
Join me, Talkdesk's strategic partners, customers, investors and your executive peers for Opentalk 2016 on May 17th in San Francisco. We'll explore the trajectory and implications of the new customer communication landscape. Attendees will leave with strategies, insights and connections to aid in achieving their customer experience goals.
Consider this open letter an invitation to count your company among the innovators in the customer experience space. Join the real-time revolution at Opentalk 2016.
Warm regards,
Tiago Paiva
CEO & Founder of Talkdesk

Publish Date: March 4, 2016 5:00 AM
---

Dear Colleagues,
Customer communication is changing. In the age of the always-connected consumer, being customer-centric means responding to requests in real-time. Is your business prepared for the real-time revolution?
Join me, Talkdesk's strategic partners, customers, investors and your executive peers for Opentalk 2016 on May 17th in San Francisco. We'll explore the trajectory and implications of the new customer communication landscape. Attendees will leave with strategies, insights and connections to aid in achieving their customer experience goals.
Consider this open letter an invitation to count your company among the innovators in the customer experience space. Join the real-time revolution at Opentalk 2016.
Warm regards,
Tiago Paiva
CEO & Founder of Talkdesk

Publish Date: March 4, 2016 5:00 AM
---

It's an election year, which means that the political circus has come to town all across America. Politicians have been reaching out to voters for quite a while now, but the outreach has hit a fever pitch as the primaries narrow the field. One of the essential tools in every campaign's toolbox is the call center.
Call centers are an age-old tradition among political hopefuls. Candidates may utilize a variety of tactics to get out the word about themselves, including canvassing, emails, social media and snail mailing campaigns. All of these methods have their merit, but call centers play a central role in candidates overall strategies.
In this post, we'll be exploring the basics of political call centers.
What are political call centers?
Political call centers are principally outbound call centers designed to promote a certain candidate, political action committee (PAC) or party's goals. The three primary responsibilities of political call centers are getting out the vote, volunteer recruitment fundraising and conducting research.
How do political call centers work?
Political call centers can be outsourced to companies that specialize in this service or they can be created and run by the campaigns themselves, usually being staffed by volunteers.
Political call centers make it their business to have curated lists of contacts so that their outbound calling efforts don't follow a "buckshot approach." Call centers cull data from telephone directories, electoral roll and census data, as well as party information collected over decades from things like petitions, canvassing and email lists.
Are political call centers effective?
Given the amount of money hopeful politicians dump into them, you better believe it! Consider this: In the first six months of President Obama's re-election effort, his campaign spent $3.3 million on telemarketing services alone. During that same election season, Political Call Center LLC, a phone and mail communication firm, raked in $8.5 million from conservative political action committees. All three PACs spent upwards of 65% of their money simply on phone solicitations.
What kind of call center functionalities are needed for a political call center?
Political call centers receive large sums of funding in the hopes that their work will be effective. In order to do so, they must be equipped with call center software that is more than adequate. Here's a rundown of a few essential features and functionalities for political call centers:
1. Easy scaling
The nature of the election calendar dictates that political call centers have the ability to ramp up and ramp down very quickly. Sometimes, in the case of a candidate that commits a serious gaff, the call center needs to be able to shrink to nothing in a matter of days. The best way to allow for wild swings in staffing is to utilize a cloud-based call center software that enables you to work, literally, with no strings attached.
2. Comprehensive Caller Information
Volunteers need to know exactly who it is that they're speaking to so that they can target their information to the recipient. A call center solution lacking comprehensive caller information, put simply, wastes a gigantic amount of time. Candidates shouldn't lose elections because their call center software has volunteers reaching out to the wrong people. This problem is easily solved either with a business tool integration or note-taking and contact history within the call center software.
3. Call Disposition Codes
This call center software feature goes hand-in-hand with comprehensive caller information. After volunteers finish calls, call disposition codes enable them to record how it went. So if the recipient yelled into the phone that they hate your candidate, you'll know not to try that number again.
4. Automatic Outbound Caller ID
People prefer to receive calls from within their own area code. This goes for all calls, but particularly for political ones. In fact, people are less likely to even pick up the phone from an unfamiliar area code. Increase pickup rates with the automatic outbound caller ID feature. This feature automatically selects the most appropriate phone number to display on recipients phones.
5. Call Recording
Political call center volunteers serve as representatives for campaigns. It's absolutely essential that their presentation is high quality. Call recording functionality enables organizers and managers to be certain that their volunteers are meeting standards by tuning into past calls.
BONUS: Gamification
Some political call centers use gamification as a way to motivate volunteers. Gamification entails using call center reporting and metrics to post leaderboards. Volunteers can see who has made the most calls, who has had the most successful call dispositions and a variety of other metrics. Gamification requires advanced call center software with real-time reporting.
Call centers form the backbone of many political campaigns. The most effective political call centers leverage cutting-edge call center software. But this advanced technology isn't only available to political big wigs. Companies large and small can benefit from utilizing a powerful call center solution.
Source: https://www.talkdesk.com/blog/political-call-centers-101
Publish Date: March 3, 2016 5:00 AM
---

Advanced call center software enables inbound call center agents to get a clear view into their performance with comprehensive real-time and historical reporting. Agents are then able to make data-driven assessments of their efficacy and adjust their workflows accordingly.
Reporting metrics provide an unbiased picture of call center agent performance. Call center solutions with robust functionality offer customizable agent reports, so that agents have an overarching picture of their work.
Analyzing call center metrics may even help reduce agent stress because they will not have to guess at how they are doing. Further, it will give call center agents the chance to establish clear cut goals for themselves.
This post is for any new inbound call center agent or manager who is wondering what to make of the metrics they see in their report. Below are the top 5 metrics call center agents should track for a 360 view of their performance:
1. Total Calls
The total number of calls handled by the agent in a given time period.
2. Average Speed to Answer
The average amount of time it takes the call center agent to accept incoming call requests.
3. Average Handle Time
The sum total of talk time, hold time and after call work an agent engages in, divided by the number of calls handled. Average handle time can be used to easily determine agent efficiency.
4. Call Disposition Codes
Call disposition codes allow call center agents to assign a tag to each call after it has ended. These tags can describe the type of call, reason for call, outcome of call and desired after-call action. Analyzing the percentage of different disposition codes an agent has recorded is a quick way to quantify the success of their calls.
5. Agent Status
Agent status allows call center agents to mark their current circumstance so that the rest of the team has visibility into it. Typical agent statuses are "Available," "On a Call," "After Call Work," "Offline," and "Away." Agent status can be used to determine if agents are using their time effectively.
In addition to looking at the data on their own performance, call center agents may appreciate having visibility into their ring group or the performance of the call center as a whole. This may help them with benchmarking and goal setting. Some companies even use call center gamification as an incentive system for performance.
Call center agents benefit greatly from having access to reporting metrics. This is why advanced call center solutions come with real-time and historical reporting out-of-the-box. Explore what reporting can mean to your performance with Talkdesk.
Source: https://www.talkdesk.com/5-metrics-inbound-call-center-agents
Publish Date: March 2, 2016 5:00 AM
---

Happy Leap Week and first week of March! We've got a great batch of tips, tricks and ideas for you this week, so let's jump right into Customer Service Excellence Review #17.
Empowering Employees to Improve Customer Service
Independent Retailer || February 25, 2016
As the old saying goes, "The customer is always right." But perhaps this idiom isn't serving us. This article posits that the power dynamic between customer and employee should be shifted to something more equal so that employees don't feel as if they are servants. This will empower employees to use their personalities and problem-solving skills to help customers.
Delight the Customer or LOSE YOUR JOB: Restoration Hardware CEO Sends Scorching Memo
Bloomberg || February 25, 2016
Restoration Hardware CEO and chairman Gary Friedman sent out a controversial email to his team in late January, comparing his company to a burning building and accusing his employees of not focusing on saving the people in the building, i.e. the customers. His mostly caps rant included an apparently non-ironic threat that employees should create a delightful customer experience or get out.
Acceptable Customer Service Drives Away Customers
Forbes || February 23, 2016
This article is less of an article and more of a series of short stories. Each story supports the idea that providing adequate customer service is not enough anymore. Customer service excellence is not only a goal, it's a requirement. One of the major points the author touches on is the idea that teams within companies should work together with the customer in mind. Siloing teams only distracts from the end user.
Source: https://www.talkdesk.com/blog/customer-service-excellence-review-17
Publish Date: March 1, 2016 5:00 AM
---

2016 is a leap year, which means that those of us who live our lives by the Gregorian calendar get an extra day. And that day is today! February 29, 2016.
Leap Day gives us all a chance to get a little extra something. A little extra sleep. A little extra bonding time with your new puppy. A little extra time to hone your pitch for that big deal.
The world is your oyster on Leap Day. Why not pay it forward to your customers?
Most years have 365 days that you can devote to enhancing your customer experience. 2016 has 366. What will you do with that extra day?
The modern consumer landscape demands that successful companies do more than meet the basic needs of their customers. Today's customer experience isn't judged on whether your business provides what it says it will provide. Today's customer experience is judged on how far above and beyond you go to make customers' lives easier.
If you own an on-demand food delivery service, it's not enough to get the customer's order right. It's not enough to arrive on time with the food at the appropriate temperature and nothing dripping from the bag. It's not enough for your delivery person to have a positive attitude. Satisfying the modern customer requires a little bit extra. A mint in the bag, a few extra napkins, maybe a complimentary appetizer.
The seismic shift in customer expectations is exemplified by what we at Talkdesk call "the real-time revolution."
Today's customers expect a customer experience tailored to their needs. One of those needs is real-time service; when they want something, they want it now. Businesses are scrambling to adapt to customers who value real-time sales and support. Legacy customer communication systems just aren't cutting it anymore.
If you own a food delivery service, it's not enough to get everything right and put a mint in the bag. If something goes wrong unexpectedly, even something that's not your fault like someone finding a hair in their rigatoni, the customer is not going to want to wait to get a reply from you! Email customer support? Not going to cut it. You're going to need a minimum of phone support and a plan to expand to multi-channel.
The whole thing can be overwhelming. There are a lot of moving parts to meeting the demands of the modern customer experience generally and the real-time revolution in specific. But hey! You've got an extra day to think about it this Leap Year. No time like February 29 to start creating and enacting a plan for real-time customer communication.
Oh, but wait… There is actually another day. Talkdesk is hosting a visionary event on May 17th. Opentalk is designed to be a forum for exploring the meaning and implications of the real-time revolution in customer experience. Learn from and interact with thought leaders who are defining this movement. Network with other customer-centric businesses who are striving to operate at the cutting edge of customer experience.
Why not spend five minutes this Leap Day to join the real-time revolution?
Publish Date: February 29, 2016 5:00 AM
---

This post is written by Talkdesk's Director of Customer Support, Scott Allison.
Welcome to the final post in my three-part series on VoIP. As Talkdesk's Director of Customer Support, I have experience with VoIP systems both from a user and a seller's perspective. In this series, I share my knowledge and insights into what Voice Over Internet Protocol means for modern businesses.
In my first post, "A Primer on the Merits of VoIP," I discussed the basics. I answered questions like, "What is VoIP?" "Why do they call it the 'information superhighway?'" and "What's the deal with missing packets of voice data?"
My second post, "Ethernet Killed the WiFi Star," examined the differences in VoIP effectiveness using different types of internet connections. The verdict? Ethernet. By a long shot.
Part three is for those among you who, misguidedly, have not believed every word I've written. In this post, I'll present the data from my customer support team's own head-to-head test.
Talkdesk offers customers a network testing tool. It measures a number of important variables. Three of these clearly indicate a bad network connection:
1. Packet Loss
Your audio is converted and sent over the internet as "packets" of data. If some of those packets don't arrive at the destination, you're going to have a very poor call experience.
2. Latency
Latency is the time it takes for data to be sent and received. If the latency is too high, voice calls become unworkable.
3. Jitter
Jitter is the variability of latency. It measures how many data packets arrive in the wrong order. For a voice call, it's absolutely crucial that packets of data arrive in the right sequence.
Packets of data for a live phone call that don't show up in the right order, are slow to arrive or don't come at all spell disaster for quality phone calls.
To ensure that our Support Team provides the most effective phone support to Talkdesk customers, we decided to use our network testing tool. Our test was a simple head-to-head: WiFi vs. Ethernet. We monitored the team at our downtown San Francisco headquarters. Then graphed what we found.
The results were startling!
These graphs compare jitter results over two 24-hour periods. We've added the red line at 10ms to signify the level at which we've seen voice quality start to degrade to the point that calls are interrupted.
Not once on Ethernet does jitter go above the 10ms threshold, and in fact, for the most part, the results are less than 5ms: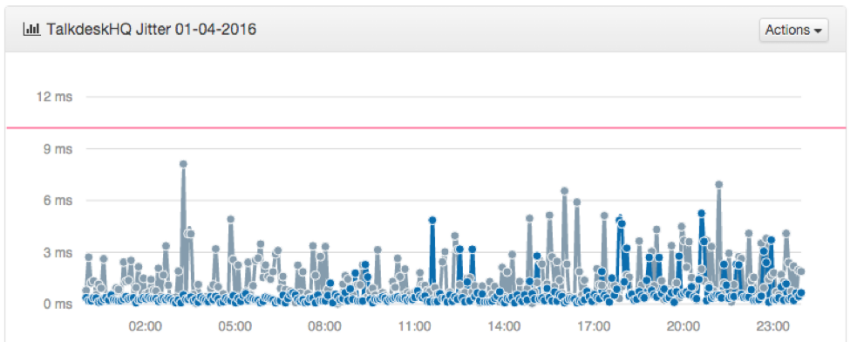 Compare that to the results for WiFi. On fifteen occasions the jitter exceeded the safe threshold of 10ms, and if you had been on a phone call at the time, you would definitely have experienced multiple periods where the audio dropped out.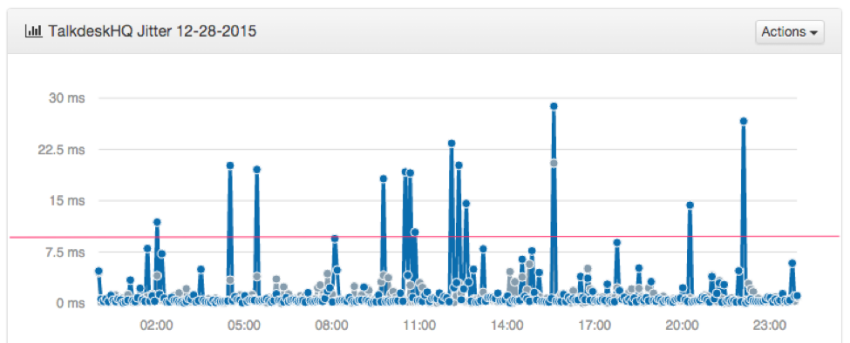 The results are clear, and backed up what we already knew in our hearts: WiFi is not suitable for business-grade voice service.
VoIP is a powerful tool for businesses providing phone support. In order to use it effectively, it's essential that managers learn the merits and drawbacks of the technology and the appropriate ways to implement it. Remember: for the best quality VoIP calls, Ethernet is the answer.
Publish Date: February 26, 2016 5:00 AM
---

In the global economy, expansion of your customer base doesn't just include the customers one town over. As your business scales, you will be faced with a variety of challenges related to international growth.
Some speed bumps can't be avoided. No one could prepare you for the fact that your company's name means "ugly child" in India or that it turns out no one in Argentina actually cares about a service that provides low cost balloon animals. There are stumbling blocks that are par for the course of any growing company.
But there are some issues that you can anticipate and nip in the bud. Principal among them is equipping yourself with integrated, flexible business tools. As you implement (or change) your business tools, you should have your eyes towards tomorrow. Today, the greater Omaha area. Tomorrow, the world.
One of the most valuable tools in your business toolbox is call center software. For many companies, call center software serves as the foundation of the support and sales teams. As such, this tool is make or break for customer experience. When your company hits a growth spurt, you can't afford to outgrow your call center solution.
As you evaluate your current solution or contemplate diving into your first call center purchase, make sure that you've got your bases covered. Here are three call center software must-haves for international expansion:
1. A home in the cloud
No two ways around it. If you're tethered to the ground, you'll never see the world. International business has moved to the cloud. Investing in a cloud-based call center solution is the first step to true flexibility. The cloud is everywhere, which means that your reps and agents can be everywhere too.
2. Easily customizable settings
Scaling involves adapting to changing situations. From adding new agents to changing the composition of ring groups, your call center software needs to be equipped to accommodate your needs. Not only that, but you need to be able to do you it yourself. A call center solution that is so complicated that it requires IT help to customize is simply too cumbersome for a rapidly expanding business.
3. One-click phone number provisioning
This one seems small – the ability to buy phone numbers with a single click. And it is. It's small. But when you're rapidly scaling, even a small convenience makes a difference. Added bonus: Any call center software company that has been thoughtful enough to provide users with one-click international phone number provisioning is likely to have put the same care and attention to detail in other features.
The three above recommendations are the bare minimum for a call center software designed to scale internationally. There are dozens of other call center software features and functionalities that will make a difference in the growth of your company.
Learn more about these must-haves and more by requesting a live demo of Talkdesk cloud-based call center software.
Source: https://www.talkdesk.com/blog/3-+call-center-software-international-expansion
Publish Date: February 25, 2016 5:00 AM
Page: 1 | 2 | 3 | 4 | 5 | 6 | 7 | 8 | 9 | 10 | 11 | 12 | 13 | 14 | 15 | 16