Talkdesk - ContactCenterWorld.com Blog Page 15
Page: 1 | 2 | 3 | 4 | 5 | 6 | 7 | 8 | 9 | 10 | 11 | 12 | 13 | 14 | 15 | 16 | 17

Advanced call center software enables inbound call center agents to get a clear view into their performance with comprehensive real-time and historical reporting. Agents are then able to make data-driven assessments of their efficacy and adjust their workflows accordingly.
Reporting metrics provide an unbiased picture of call center agent performance. Call center solutions with robust functionality offer customizable agent reports, so that agents have an overarching picture of their work.
Analyzing call center metrics may even help reduce agent stress because they will not have to guess at how they are doing. Further, it will give call center agents the chance to establish clear cut goals for themselves.
This post is for any new inbound call center agent or manager who is wondering what to make of the metrics they see in their report. Below are the top 5 metrics call center agents should track for a 360 view of their performance:
1. Total Calls
The total number of calls handled by the agent in a given time period.
2. Average Speed to Answer
The average amount of time it takes the call center agent to accept incoming call requests.
3. Average Handle Time
The sum total of talk time, hold time and after call work an agent engages in, divided by the number of calls handled. Average handle time can be used to easily determine agent efficiency.
4. Call Disposition Codes
Call disposition codes allow call center agents to assign a tag to each call after it has ended. These tags can describe the type of call, reason for call, outcome of call and desired after-call action. Analyzing the percentage of different disposition codes an agent has recorded is a quick way to quantify the success of their calls.
5. Agent Status
Agent status allows call center agents to mark their current circumstance so that the rest of the team has visibility into it. Typical agent statuses are "Available," "On a Call," "After Call Work," "Offline," and "Away." Agent status can be used to determine if agents are using their time effectively.
In addition to looking at the data on their own performance, call center agents may appreciate having visibility into their ring group or the performance of the call center as a whole. This may help them with benchmarking and goal setting. Some companies even use call center gamification as an incentive system for performance.
Call center agents benefit greatly from having access to reporting metrics. This is why advanced call center solutions come with real-time and historical reporting out-of-the-box. Explore what reporting can mean to your performance with Talkdesk.
Source: https://www.talkdesk.com/5-metrics-inbound-call-center-agents
Publish Date: March 2, 2016 5:00 AM
---

Happy Leap Week and first week of March! We've got a great batch of tips, tricks and ideas for you this week, so let's jump right into Customer Service Excellence Review #17.
Empowering Employees to Improve Customer Service
Independent Retailer || February 25, 2016
As the old saying goes, "The customer is always right." But perhaps this idiom isn't serving us. This article posits that the power dynamic between customer and employee should be shifted to something more equal so that employees don't feel as if they are servants. This will empower employees to use their personalities and problem-solving skills to help customers.
Delight the Customer or LOSE YOUR JOB: Restoration Hardware CEO Sends Scorching Memo
Bloomberg || February 25, 2016
Restoration Hardware CEO and chairman Gary Friedman sent out a controversial email to his team in late January, comparing his company to a burning building and accusing his employees of not focusing on saving the people in the building, i.e. the customers. His mostly caps rant included an apparently non-ironic threat that employees should create a delightful customer experience or get out.
Acceptable Customer Service Drives Away Customers
Forbes || February 23, 2016
This article is less of an article and more of a series of short stories. Each story supports the idea that providing adequate customer service is not enough anymore. Customer service excellence is not only a goal, it's a requirement. One of the major points the author touches on is the idea that teams within companies should work together with the customer in mind. Siloing teams only distracts from the end user.
Source: https://www.talkdesk.com/blog/customer-service-excellence-review-17
Publish Date: March 1, 2016 5:00 AM
---

2016 is a leap year, which means that those of us who live our lives by the Gregorian calendar get an extra day. And that day is today! February 29, 2016.
Leap Day gives us all a chance to get a little extra something. A little extra sleep. A little extra bonding time with your new puppy. A little extra time to hone your pitch for that big deal.
The world is your oyster on Leap Day. Why not pay it forward to your customers?
Most years have 365 days that you can devote to enhancing your customer experience. 2016 has 366. What will you do with that extra day?
The modern consumer landscape demands that successful companies do more than meet the basic needs of their customers. Today's customer experience isn't judged on whether your business provides what it says it will provide. Today's customer experience is judged on how far above and beyond you go to make customers' lives easier.
If you own an on-demand food delivery service, it's not enough to get the customer's order right. It's not enough to arrive on time with the food at the appropriate temperature and nothing dripping from the bag. It's not enough for your delivery person to have a positive attitude. Satisfying the modern customer requires a little bit extra. A mint in the bag, a few extra napkins, maybe a complimentary appetizer.
The seismic shift in customer expectations is exemplified by what we at Talkdesk call "the real-time revolution."
Today's customers expect a customer experience tailored to their needs. One of those needs is real-time service; when they want something, they want it now. Businesses are scrambling to adapt to customers who value real-time sales and support. Legacy customer communication systems just aren't cutting it anymore.
If you own a food delivery service, it's not enough to get everything right and put a mint in the bag. If something goes wrong unexpectedly, even something that's not your fault like someone finding a hair in their rigatoni, the customer is not going to want to wait to get a reply from you! Email customer support? Not going to cut it. You're going to need a minimum of phone support and a plan to expand to multi-channel.
The whole thing can be overwhelming. There are a lot of moving parts to meeting the demands of the modern customer experience generally and the real-time revolution in specific. But hey! You've got an extra day to think about it this Leap Year. No time like February 29 to start creating and enacting a plan for real-time customer communication.
Oh, but wait… There is actually another day. Talkdesk is hosting a visionary event on May 17th. Opentalk is designed to be a forum for exploring the meaning and implications of the real-time revolution in customer experience. Learn from and interact with thought leaders who are defining this movement. Network with other customer-centric businesses who are striving to operate at the cutting edge of customer experience.
Why not spend five minutes this Leap Day to join the real-time revolution?
Publish Date: February 29, 2016 5:00 AM
---

This post is written by Talkdesk's Director of Customer Support, Scott Allison.
Welcome to the final post in my three-part series on VoIP. As Talkdesk's Director of Customer Support, I have experience with VoIP systems both from a user and a seller's perspective. In this series, I share my knowledge and insights into what Voice Over Internet Protocol means for modern businesses.
In my first post, "A Primer on the Merits of VoIP," I discussed the basics. I answered questions like, "What is VoIP?" "Why do they call it the 'information superhighway?'" and "What's the deal with missing packets of voice data?"
My second post, "Ethernet Killed the WiFi Star," examined the differences in VoIP effectiveness using different types of internet connections. The verdict? Ethernet. By a long shot.
Part three is for those among you who, misguidedly, have not believed every word I've written. In this post, I'll present the data from my customer support team's own head-to-head test.
Talkdesk offers customers a network testing tool. It measures a number of important variables. Three of these clearly indicate a bad network connection:
1. Packet Loss
Your audio is converted and sent over the internet as "packets" of data. If some of those packets don't arrive at the destination, you're going to have a very poor call experience.
2. Latency
Latency is the time it takes for data to be sent and received. If the latency is too high, voice calls become unworkable.
3. Jitter
Jitter is the variability of latency. It measures how many data packets arrive in the wrong order. For a voice call, it's absolutely crucial that packets of data arrive in the right sequence.
Packets of data for a live phone call that don't show up in the right order, are slow to arrive or don't come at all spell disaster for quality phone calls.
To ensure that our Support Team provides the most effective phone support to Talkdesk customers, we decided to use our network testing tool. Our test was a simple head-to-head: WiFi vs. Ethernet. We monitored the team at our downtown San Francisco headquarters. Then graphed what we found.
The results were startling!
These graphs compare jitter results over two 24-hour periods. We've added the red line at 10ms to signify the level at which we've seen voice quality start to degrade to the point that calls are interrupted.
Not once on Ethernet does jitter go above the 10ms threshold, and in fact, for the most part, the results are less than 5ms: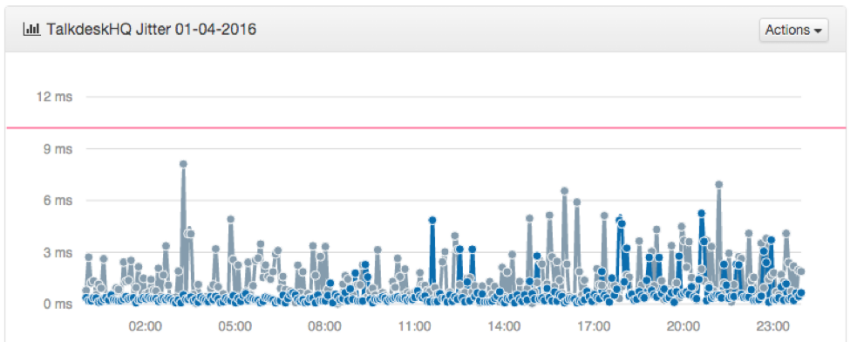 Compare that to the results for WiFi. On fifteen occasions the jitter exceeded the safe threshold of 10ms, and if you had been on a phone call at the time, you would definitely have experienced multiple periods where the audio dropped out.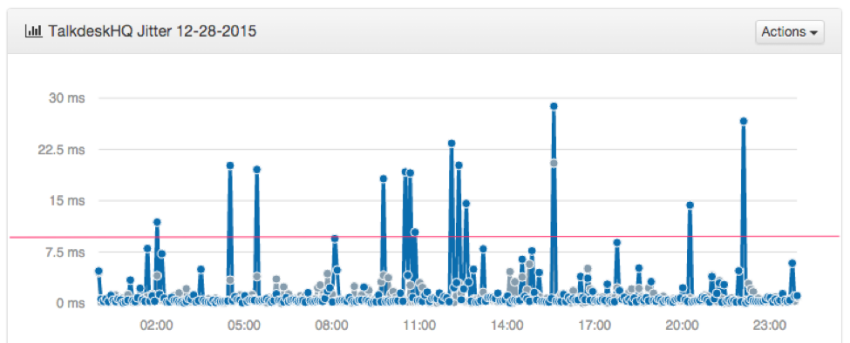 The results are clear, and backed up what we already knew in our hearts: WiFi is not suitable for business-grade voice service.
VoIP is a powerful tool for businesses providing phone support. In order to use it effectively, it's essential that managers learn the merits and drawbacks of the technology and the appropriate ways to implement it. Remember: for the best quality VoIP calls, Ethernet is the answer.
Publish Date: February 26, 2016 5:00 AM
---

In the global economy, expansion of your customer base doesn't just include the customers one town over. As your business scales, you will be faced with a variety of challenges related to international growth.
Some speed bumps can't be avoided. No one could prepare you for the fact that your company's name means "ugly child" in India or that it turns out no one in Argentina actually cares about a service that provides low cost balloon animals. There are stumbling blocks that are par for the course of any growing company.
But there are some issues that you can anticipate and nip in the bud. Principal among them is equipping yourself with integrated, flexible business tools. As you implement (or change) your business tools, you should have your eyes towards tomorrow. Today, the greater Omaha area. Tomorrow, the world.
One of the most valuable tools in your business toolbox is call center software. For many companies, call center software serves as the foundation of the support and sales teams. As such, this tool is make or break for customer experience. When your company hits a growth spurt, you can't afford to outgrow your call center solution.
As you evaluate your current solution or contemplate diving into your first call center purchase, make sure that you've got your bases covered. Here are three call center software must-haves for international expansion:
1. A home in the cloud
No two ways around it. If you're tethered to the ground, you'll never see the world. International business has moved to the cloud. Investing in a cloud-based call center solution is the first step to true flexibility. The cloud is everywhere, which means that your reps and agents can be everywhere too.
2. Easily customizable settings
Scaling involves adapting to changing situations. From adding new agents to changing the composition of ring groups, your call center software needs to be equipped to accommodate your needs. Not only that, but you need to be able to do you it yourself. A call center solution that is so complicated that it requires IT help to customize is simply too cumbersome for a rapidly expanding business.
3. One-click phone number provisioning
This one seems small – the ability to buy phone numbers with a single click. And it is. It's small. But when you're rapidly scaling, even a small convenience makes a difference. Added bonus: Any call center software company that has been thoughtful enough to provide users with one-click international phone number provisioning is likely to have put the same care and attention to detail in other features.
The three above recommendations are the bare minimum for a call center software designed to scale internationally. There are dozens of other call center software features and functionalities that will make a difference in the growth of your company.
Learn more about these must-haves and more by requesting a live demo of Talkdesk cloud-based call center software.
Source: https://www.talkdesk.com/blog/3-+call-center-software-international-expansion
Publish Date: February 25, 2016 5:00 AM
---

Outbound salespeople who work with the San Francisco Bay Area may have felt a disturbance in the force last Saturday. The newly-introduced 628 area code went into effect one minute after midnight, sending shockwaves through landlines, cell phones and call centers alike.
The 628 area code hits call centers hardest in the outbound caller ID feature. But first things first: what the heck is outbound caller ID?
Outbound caller ID allows reps to choose what phone number appears on a recipient's caller ID.
Outbound caller ID helps increase connection rates (and therefore sales) because recipients are more willing to pick up a call from an unknown number if that number is from the same area code as they are.
What's better than outbound caller ID?
Automatic outbound caller ID. Let your call center software do the work for you. Instead of having reps manually pick which number to display, have your solution choose. This reduces the chance of error and eases the burden on reps, particularly those that are making a large number of calls per day.
How does any of this relate to the new 628 area code?
The way outbound caller ID boosts sales is by displaying familiar numbers to call recipients. Now that 628 has made its debut, it's going to become pretty familiar. Sales teams that reach out to prospects in the Bay Area need to make friends with the new kid on the block if they want to keep their connection rates up.
Where do I get one of these newfangled 628 phone numbers?
Here's hoping you're a Talkdesk customer. Our advanced call center software makes purchasing new phone numbers easy. One click and you're good to go. Not only that, but our helpful Director of Customer Support, Scott Allison, posted to our Knowledge Base last week about using Talkdesk to get hip with the 628.
Happy outbound calling to you and your sales reps! May the 628 be with you.
Source: https://www.talkdesk.com/blog/628-area-code-outbound-caller-id
Publish Date: February 24, 2016 5:00 AM
---

Sorry we missed you last week. Like many of you, I was promoting customer service excellence by treating myself to a long weekend away from it all! Sometimes all of us, including and especially customer service representatives, need a little break from the grind. Hopefully President's Day weekend offered a welcome break. If it didn't, try to think about carving out some time in the next few weeks.
Here we are again, another Customer Service Excellence Review. So what's on the agenda this week? A little of this, a little of that, a whole lot of pursuit of customer service excellence. Let's dive right in.
Learn The Secret of Exceptional Customer Service, By Consulting a TGI Friday's Waitress
Forbes || February 22, 2016
Customer service thought leader Micah Solomon learned the meaning of customer service excellence at a Pittsburgh Airport TGI Friday's when a waitress provided him with her personal "Tide To Go" pen after he spilled pasta sauce all over himself. As he put it, the waitress stepped away from her "generic, functional, task-driven" job description and stepped into her purpose as a customer service professional. Effective managers reward this kind of employee initiative and foster a culture of guest-centric values.
16 Statistics Shaping the Future of Customer Service
Customer Think || February 21, 2016
Take a data-driven approach to achieving customer service excellence by reviewing this data! These sixteen statistics should give you a sense of what the future of customer service looks like. My favorite? Number 10. "75% of companies view customer service as a competitive differentiator (up 18% in two years)."
5 Tips for Creating Unforgettable Customer Service
Massage Magazine || February 19, 2016
Companies across a variety of industries strive for customer service excellence. From SaaS to restaurants to online retailers, this aim remains constant. It's unsurprising, then, that this post published by Massage Magazine offers much of the same advice as can be found on Talkdesk's blog. "Initiative feedback about customer support" and "Create a welcoming atmosphere" are no-brainers, no matter what kind of business you run.
Source: https://www.talkdesk.com/blog/customer-service-excellence-review-16
Publish Date: February 23, 2016 5:00 AM
---

Step 1 to leveraging a call center software solution that meets the needs of your business is understanding what you're working with. Your call center software determines the ability of your sales and support teams to operate effectively. You need to be well-informed about what it can and cannot do. This goes both for buying a new solution and operating an existing one.
The barrier to entry here can be high and some people may find the idea boring. Who wants to learn about call center acronyms and customizable settings? Answer: You. You do. You wouldn't buy a car without checking out what's under the hood, would you?
To date, Talkdesk's blog has nearly 800 posts, the vast majority of which are specifically designed to help readers understand key call center software concepts. At Talkdesk, we're here to help you understand where to find the oil-checking thingy and learn to use the GPS joystick navigator button tool.
This post explores "Longest Available Agent," an essential element to call routing.
What is Longest Available Agent?
Simple. The longest available agent (LAA) is the call center agent that has been sitting idly (i.e. not on a call or in after call work) for the longest amount of time. In many call center software solutions, the Longest Available Agent becomes the "Next Available Agent."
How Can I Calculate Longest Available Agent?
Trick question. Longest Available Agent is NOT a call center KPI, despite the fact that it sounds like one. This is not a metric that you calculate and then call Bob into your office to ask him why he's so available all the time.
Longest Available Agent is a call routing term.
When you receive an inbound call, your call center software directs that call to a specific agent or group of agents. How it chooses which agent all depends on your automatic call distributor (ACD). Your ACD works with your interactive voice response (IVR) and computer telephony integration (CTI) to get callers where they need to go.
ACD 101:
When a call is connected, the call center software attempts to connect the call to the most appropriate agent. This routing is based off of predefined criteria, which vary based off of the call center. Generally, it involves IVR and skills-based routing.
Using the IVR, callers input relevant information. For instance, one caller might select "Spanish" > "Support." The ACD would then attempt to route the caller to a Spanish-speaking support agent.
Routing to the Longest Available Agent is one way the ACD can choose which specific Spanish-speaking support agent's phone rings. Makes sense, right? Don't route the call to an agent who's just gotten off of a call. Give it to someone who hasn't been in the game for a while.
Note: If the aforementioned "Lazy Bob" is the Longest Available Agent but doesn't speak Spanish or work on the support team, he will NOT get the call.
What's the Point of Longest Available Agent?
Well… Routing to the longest available agent is one of a few options call center managers have when customizing their call center software settings. There are five major options:
Uniform call distribution: Calls are routed to the Longest Available Agent.
Linear call distribution: Calls are routed to agents based on a predetermined configuration starting with the same agent every time.
Circular call distribution: Calls are routed to agents based on a predetermined configuration starting with the agent that is after the last agent to receive a call.
Simultaneous call distribution: Calls are routed to all available agents at once and the first to accept the call handles the call.
Weighted call distribution: Calls are routed to available agents according to predetermined percentages assigned to each agent.
Different call centers have different needs in terms of routing. Prioritizing the Longest Available Agent might be optimal for a very busy call center because it allows agents to get the maximum amount of rest time between calls. It can also prevent call center agents from getting bored or feeling jealous over who gets what amount of calls.
Then again, routing the Longest Available Agent may be a poor choice for a smaller call center, in which there are some agents who are only meant to field calls in cases of overflow. Perhaps Bob isn't so lazy after all, he's just a member of the Marketing Team, a sort of "double agent." He should always be the last person on the call distribution list.
No matter what works best for your call center, it's important to understand what all the terminology means so that you can make an informed decision. Congrats on reading this far. You're now one term closer to being able to identify everything that's under the hood of your call center software solution.
Source: https://www.talkdesk.com/blog/longest-available-agent
Publish Date: February 22, 2016 5:00 AM
---

Talkdesk's Gadi Shamia was a power player at this year's SaaStr Annual. On Day 3 of the conference, he emceed three panels: "Sales and Customer Success: Where's the Line?" "Customer Success: Don't Make These 5 Mistakes. I Did." and "How to *Really* Sell Into the Enterprise."
Gadi, who is a 3X startup founder and Talkdesk's energetic COO, was chosen to moderate because of his deep insight into the SaaS space.
Here's the rundown on the panels Gadi emceed at SaaStr Annual 2016:
Sales and Customer Success: Where's the Line?
This panel explored the considerable overlap between sales and customer success teams. SaaStr's Jason Lemkin and Gainsight Chief Customer Office Dan Steinman discussed the reasons why customer success managers should be treated as salespeople. They also outlined the key performance indicators managers should track to ensure optimal performance of the customer success team.
This panel played to Gadi and Talkdesk's strong suits. Our call center software sits at the intersection of sales, success and service. Gadi himself also sits comfortably at that intersection, working with all of these teams and interfacing directly with Talkdesk customers.
Customer Success: Don't Make These 5 Mistakes. I Did.
Gadi spoke with Annie Tsai, Chief Customer Officer of DoubleDutch, about the importance of customer success in the modern marketplace. They outlined five missteps that can cost companies big. Among them: listening to the wrong customers, neglecting to ask customers why they bought your product and not distinguishing support and success.
Talkdesk call center software is designed with customer-centricity in mind. Our product is meant to facilitate real-time, personalized conversations with customers to ensure that their needs are being met. Customer success is, therefore, central to our mission at Talkdesk, so it follows that Gadi was chosen to lead this discussion.
How to *Really* Sell Into the Enterprise
Intel VP of Marketing and Communications Becky Brown, Adobe AVP of Enterprise Sales and Digital Marketing Lacey Bell, and Adobe VP of Marketing and Cloud Sales Rodman Likes sat down to discuss what it takes to level up from selling to SMBs to enterprise customers. They explored the differences in approaching these clients in both marketing and sales efforts.
Gadi emceeing this panel marks a big step in the development of Talkdesk. 2015 was a big year for our company. As part of our explosive growth, we have gained a solid footing in the enterprise market. Gadi's insights here were invaluable for that reason.
Gadi's three sessions round out the extensive representation of Talkdesk at SaaStr Annual 2016. We hosted a happy hour on Day 2 and our CEO, Tiago Paiva, spoke at a panel on "pre-nicorns." Thanks to everyone who joined us at these sessions!
Learn more about our company, our software and our leadership team here.
Publish Date: February 19, 2016 5:00 AM
---

The job of a call center agent varies from fulfilling to monotonous, exciting to annoying, challenging to frustrating. Call center agents have high turnover rates and many report low job satisfaction. Don't let yourself be part of those statistics. Do everything you can to make your work worthwhile.
Don't phone it in. Arm yourself with knowledge.
What do you need to know to be a call center superstar? Well, a lot of things; it's a complex job. Here are a few of the big ticket items:
1. Know your product
This should go without saying, but I will say it anyways: Customers reach out to call centers when they are having an issue that they themselves can't solve. Many of them have already Google'd their issue and searched for the answer throughout your website. They called you because you're a higher authority.
The onus for product knowledge is on the call center agent, but it's also up to call center managers to create effective onboarding and ongoing training programs.
2. Know your company
Company knowledge goes hand-in-hand with product knowledge. Call center agents should be aware of their company's histories, policies, marketing efforts and chain-of-command. The idea is that agents should never be caught flat-footed by customer inquiries and requests.
Call center agents act as the face of the company brand, which means they may sometimes have to answer for aspects of the company outside of their immediate purview. This goes back to the idea of being the authority. Customers call in to get answers to a variety of questions. Call center agents should be able to adequately explain the answers and point customers to resources.
3. Know your customers
Effectively serving a customer's needs means knowing who they are and what they want. Call center agents should have a general idea of the kind of person who will be calling in. Are your customers usually technically literate? Are they coming from a specific geographic location? Is the proper functioning of your product essential to their day-to-day lives?
For more specific knowledge of individual customers, call center agents should be armed with advanced call center software that integrates with their business tools and CRMs to easily pull up comprehensive customer data. Modern call center software solutions allow for automated workflows and contact histories, so call center agents have personalized information about callers the moment their call connects.
4. Know when you're out of your depth
The wisest and strongest call center agents recognize when they're in over their heads. Ideally, this is a situation that doesn't arise often, but when it does, agents shouldn't hesitate to transfer or escalate calls.
The more you know, the better you will be able to fulfill your duties as a call center agent. Remember: the health of your company hinges on you. Your job helps define the customer experience. Search your heart. You know it to be true.
Source: https://www.talkdesk.com/blog/need-to-know-call-center-agent
Publish Date: February 18, 2016 5:00 AM
---


At Talkdesk, we're constantly innovating to ensure we deliver the most advanced call center software functionality to our users. We have over 50 awesome features to choose from that can vastly improve the experiences of supervisors, agents and callers. One of these features, queue callback, does so by giving callers the option to hold their place in a call queue without having to stay on the line during long wait times. When they reach the front of the queue, the system automatically calls them back. This frees callers from having to stay on the phone while they wait for the next available agent and can help drastically reduce abandoned call rate. It's no surprise, then, that queue callback is one of our most popular call center software features.
In the spirit of constant innovation, we introduced an enhancement to this popular feature, the unsuccessful queue callback message, in our February Product Release. This new customizable greeting will help clarify for callers instances when their queue callbacks could not be completed.
Interested in learning more? Here's everything you need to know about this new Talkdesk addition:
What is the unsuccessful queue callback message?
In the event that no agents are available to handle a queue callback request, you can configure Talkdesk to call the customer and play the unsuccessful queue callback message. The purpose of this message is to explain to customers why they are receiving a callback without a connected agent. If voicemail is enabled, the message can also be used to prompt customers to leave a message. Talkdesk's unsuccessful queue callback message ultimately creates a more cohesive experience for callers, no matter what the circumstances happen to be.
When would a queue callback be unsuccessful?
The unsuccessful queue callback message can be activated in a couple of different ways:
Max Wait Time Reached: In the event that a callback request sits in the queue past the the max wait time you've specified, Talkdesk will automatically call the associated customer and play the unsuccessful queue callback message.
After Business Hours Reached: Sometimes, a callback request will still be in the queue when all agents have gone offline after business hours. In these instances, customers who have requested a callback would hear the unsuccessful queue callback message.
All Agents Reject the Callback: Although unlikely, a callback request may be rejected by all agents. After the last agent has rejected the call, Talkdesk will call the customer with the unsuccessful queue callback message.
Why should I use this new feature?
If you have our queue callback feature enabled, we highly encourage enabling the unsuccessful queue callback message. Here are a few reasons why:
1. Increase Transparency for Callers
Queue callback can be a welcome surprise for many callers. If a requested callback could not be completed, however, it is important to let callers know why and minimize any unwelcome surprises. With our unsuccessful queue callback message, you are able to do just that!
2. Minimize Caller Confusion
Different call center software solutions will handle unsuccessful queue callbacks in different ways. Some will play a generic message for callers, while others never return a customer's call at all. Using Talkdesk's unsuccessful queue callback message will eliminate this frustrating and confusing situation.
3. Let Callers Be Heard
If voicemail is enabled, an unsuccessful queue callback message can allow callers to relay their inquiries even if no agents are available. The voicemail can then be used by the next available agent to get all the details needed to address the inquiry efficiently.
Talkdesk's unsuccessful queue callback message is a must-have for those looking to improve the caller experience. It takes only a few minutes to configure and the benefits for customers are endless.
Missing out on advanced queue callback functionality? Request a live demo of Talkdesk today to see how it can benefit your call center.
Publish Date: February 17, 2016 5:00 AM
---

Many companies get stuck working with an inadequate call center software solution. Their needs aren't being met, but they just can't seem to let go, no matter how often their solution fails them.
In our last post, "Why You Feel Trapped With Your Call Center Software," we discussed the theoretical underpinnings of your fear of switching call center software solutions, namely, learned helplessness and sunk costs. This post gets down to the nuts and bolts of identifying when your call center software solution just isn't cutting it.
Here are five red flags to look out for:
1. It isn't user-friendly
When your call center software isn't intuitive, it can create a whole range of problems. Onboarding call center agents often becomes an extensive process that requires a lot of time and effort on the part of your call center. Most call centers can't afford this loss of productivity. Call center agents have a notoriously high turnover rate, meaning that your company may spend a ton of money training agents who leave soon thereafter. Further, many call centers have seasonal spikes in agent needs. If your call center needs to be beefed up in December and scaled back in January, you need a solution that allows for quick training.
One of the major drawbacks to unintuitive call center software is that existing agents typically miss out on valuable software features simply because they don't understand how to use them. You can implement the fanciest call center software with the most advanced functionality, but if your agents can't figure out how to put it to use, then your investment is all for nought.
2. It's missing features you need
You might have invested in a call center software solution that covered all your basic needs at first, but customer expectations are bound to change change over time. Are your features keeping up? Smart companies invest in a call center software solution that anticipates their needs.
Maybe you don't need a solution that integrates with more than one business tool, but someday you might. Why limit yourself? Further, the best call center software companies iterate on their products. They continue to get better as time goes on (very often by responding to company feedback).
3. It's not customizable
One size does not fit all when it comes to call center software. Your solution should adapt to your needs, not the other way around. The more customizable a solution is, the more it can reflect the needs and expectations of your customers and agents.
This problem can come in two varieties. The first is a genuinely rigid call center software solution. There's just no way to customize it. The second is call center software that is ostensibly customizable, but the process for doing so is too difficult for you to manage. Both are to be avoided.
4. It requires hardware
Modern call centers do not use hardphones. What is this, the Stone Ages? Call center software solutions that are not cloud-based literally weigh you down. In addition to tying agents to their desks, hardware is expensive to implement, requires upkeep and does not scale well. If your call center software requires anything more of you than an Internet connection and a headset, you need to hit the road, Jack, and don't come back no more.
5. It doesn't integrate with business tools
No call center operates in isolation. Most companies these days are leveraging business tools like Salesforce, Desk.com, Zendesk, Shopify, Userlike and Zoho. If your call center software solution doesn't seamlessly integrate with your other tools, you're in for trouble.
Integrations allows call center agents to operate from within one interface, rather than switching back and forth between numerous. This saves time and can improve the customer experience. Automated workflows increase agent productivity and allow for more consistent data storage. Overall, integrations just make everything easier. Now, wouldn't that be nice?
So what's the word? Is your call center software solution flying any of these red flags? Don't hesitate to switch from an inadequate solution. There are other fish in the sea, fish that will swim with the current of your company.
Source: https://www.talkdesk.com/5-reasons-abandon-call-center-software
Publish Date: February 16, 2016 5:00 AM
---

Major conferences come to town each year (especially this town!). Your company doesn't need to sponsor, have a booth or speak at every single event. Why not opt for hosting a post-conference event near the venue? You'll get the same chance to network at a reduced price.
If you're thinking you should have sponsored an event, hosted a dinner, or generally been more involved in an upcoming conference, there is still time! Getting into the conference game can be effective, affordable and fast if you make the right decisions. And, frankly, offering an engagement that doesn't include a banner and some one-pagers is a really good idea.
Here are a few tips from our experience at SaaStr Annual 2016:
Five Days Out:
Talkdesk hosted happy hour for SaaStr Annual 2016. At first, we planned to hold it near our office to give ourselves an easy commute and easy communication with the venue. But it turned out that the venue we'd chosen was 27 minutes away from the conference itself. Driving. No good.
Pro tip #1: Host your event near the larger conference venue. Give your attendees and out-of-town guests an easy walk to your event.
Four Days Out:
Our talented team quickly sourced a buddy's dive bar (pool table included) and we moved the event four days before the conference. We notified all the major communication sources such as the event hosts and the event app managers. CTAs went out in all public posts and emails. And, marketing and sales made nice to tag team the promotion of the last minute event.
Pro tip #2: Collaborate with Sales. No, really. They are the "cool kids," so take advantage. Sales reps are just outspoken enough to boost your field marketing efforts and galvanize possible attendees into action simply by casually mentioning the event in conversation with prospects and posting on LinkedIn. Our event blog post was shared more than 100 times in 24 hours due to our joint efforts.
Three Days Out:
On the weekend, we knew we wouldn't have the attention of our customers and prospects. In anticipation of that reality, we'd queued up a few tweets; tweets that included the same traction-bearing hashtag #SaaStrAnnual used by the main conference. Twitter is the obvious choice for evangelizing field events, but many companies overlook its usefulness. We didn't.
Pro tip #3: Use scheduling tools to link to your event with a bitly url and post pertinent articles that demonstrate your company's clout and thought leadership. Posts that offer more than just an "Attend CTA" will gain more attention. Your company will also continue to grow its reputation for being dependable content producers rather than spammers.
Two Days Out:
We made it very clear to ourselves and our team who we were hoping to attract at our event. To encourage team members to speak to their networks, we prepared a two-sentence summary to explain the advantages of the event. Our description focused on offering a simple experience, one that no other event sponsor would be offering. We chose not to focus on attracting Talkdesk customers. Instead, we targeted prospects, like-minded businesses and our best and brightest team members.
Pro tip #4: Value your team. Invite colleagues because you'd like to see them and because you trust that. they will bring friends and evangelize your company. Team members can be your best assets, validating both your field marketing efforts and the quality of your company's product all due to their presence at your event.
We encouraged our team to emphasize that this event would be an opportunity to relax and step away from the constant intake of information and SDR pitches. Our event was a chance for guests to breathe, reflect on their long day and chat with peers about their experiences.
Pro tip #5: Give conference attendees a chance to get away from sales pitches. Our event was meant for guests to drink, hangout, and play pool with their peers. We chose a divebar to get away from the stress of hipster mixology bars and California tapas. And while they relaxed, our guests began to develop a positive correlation between our band and their experience.
One Day Out:
At this point, our guest list is growing rapidly. We put out the usual fires with late print jobs and rushed the materials and then checked in with sales. They were pushing the event as hard as we were and it was paying off. Sales was excited to start organic conversations with prospects and those of us in marketing were excited for a successful event turnout.
Pro tip #6: Don't stress about your attendance numbers. Like all after-conference events, conference attendees move from one event to the next because they're all afraid of missing the best one. Attendees will saunter over to your local event because they're curious and don't want to miss out on an opportunity to meet new connections.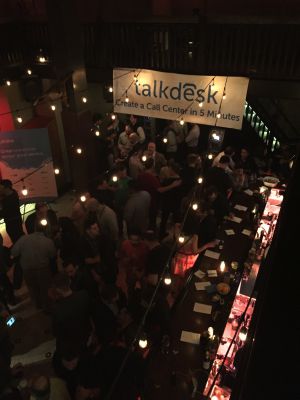 Day Of:
We were fortunate that even in SaaStr's second year of major conferences, our company had a few SaaStr veterans. We sent those veterans to SaaStr all day. They shook hands with colleagues, met new SaaStr sponsors, visited the lounges and generally spent a very busy day networking. All the while, they are inviting people to meet them at a casual hosted event right after the conference.
Pro tip #7: We all seek out our colleagues at conferences and it's nearly impossible to both find them and have a solid conversation with them. That's OK. Go with it. Use your own event as a chance to see old friends while driving attendance to your hosted bar around the corner. Your colleagues will jump at an opportunity to catch up with you, meet your colleagues, eat and drink.
Ultimately, our event led to excellent prospects, several verbal confirmations, and positive feedback. Guests were heard saying "I've had some of the best highest quality conversations here tonight. So much more than I was hoping to get out of this event." We hosted a curated list of invited guests, participated in the SaaStr community, and promoted our company by valuing the relationships we have.
Be sure to invite us to your next event! We'll see you around the customer success conference circuit. Maybe we can buy you a beer.
Publish Date: February 16, 2016 5:00 AM
---
Take a good look at your relationship with your call center software. Does it serve your company's needs as well as it should? Does it adapt to you or are you constantly adapting to it? At the end of the day, is your call center software solution everything you always hoped it would be?
Many companies get stuck in a rut with inadequate call center software. Their inbound and outbound calling, and thus their inbound and outbound customer experience, suffers. What they once sought as a solution has become the problem.
This post attempts to answer why this happens. Our next post in this two-part series teaches you how to recognize the signs.
Why do companies keep trying to make poor call center software solutions work?
There are two primary explanations, both from different social science fields.
1. Learned helplessness (Psychology)
The idea here is that people (or animals) who have received repeat negative feedback for doing something learn to stop that behavior. Hence a lab rat who gets shocked every time he tries to go to the left side of the cage will stop trying to go over there, even when there are no more shocks.
For call center agents with an inadequate call center software solution, learned helplessness plays out as an aversion to attempting to use certain features and functions. So, if your call center software cuts off every time your agents try to transfer a call, they're going to stop trying to make transfers. They'll just find a workaround – one that probably isn't great for your customer experience.
When learned helplessness kicks in for call center managers, they stop trying to fix the problems in their call center software solution and just accept it as it is. With learned helplessness, no one wins.
How to combat learned helplessness: Great news! Your business is much smarter than Pinky and the Brain. Create a regular check (email, in person, etc.) for problems with your call center software. Have agents report any and all issues. Keep track of the data and regularly assess which problems you can live with and which are a dealbreaker. To differentiate the two, do your research on call center software solutions.
If you find a negative pattern with your current solution, start looking into other solutions. You should never be subject to shock therapy from your call center software.
2. Sunk cost (Economics)
A sunk cost is a price you've paid that you can't get back. For instance: if you're sitting at a blackjack table in Monaco and you just bet and lost $600, that $600 is a sunk cost. The opposite here is a prospective cost, which is a price you may pay in the future if you do something. In this case, you've got a $600 sunk cost and whatever you choose to play in the next round is your prospective cost.
The smartest thing you can do at that blackjack table is not think about recovering the $600. It's a sunk cost. You should be focusing on the prospective cost of the next hand. In reality, of course, you're thinking about winning back the $600. It's easy to see how the drive to recover a sunk cost can result in disaster.
When it comes to insufficient call center software, managers often fall into thinking about sunk costs. "I already put X amount of money and time into implementing this solution. I bought all the hardware, spent months deploying and have set up protocols for onboarding all new agents. Yes, this solution is not working. But it's too late."
This logic is exactly what leads to poor customer experience. Instead of focusing on the customer, managers are focusing on not losing any more money to their call center software solution.
How to deal with sunk costs: No one likes to admit when they're wrong, but if you can't 'fess up, you'll never be able to move to greener pastures. When you start to feel trapped in a bad solution, cut your losses and move on. Also, have I got a surprise for you! Part of your feeling of being trapped is learned helplessness. Modern call center software solutions don't require long implementation times, pricey hardware or extensive onboarding procedures. Look for a solution that's cloud-based and easy-to-use!
Now that we've gotten our social science refresher, let's explore the red flags of an inadequate call center software solution. Stay tuned for our next post, "5 Reasons to Abandon Your Current Call Center Software."
Are the concepts of learned helplessness and sunk costs ringing a little too true? Do you see your call center reflected in the lab rat and the unlucky blackjack player? Educate yourself about your options.
Source: https://www.talkdesk.com/blog/trapped-call-center-software
Publish Date: February 12, 2016 5:00 AM
---

Founded in 2011, BloomNation is an innovative startup focused on helping independent florists grow their businesses. The company acts as both a marketplace for consumers and an e-commerce solution for florists across the nation. As a company with a varied client base, BloomNation's goal is to ensure all customers receive the best experience possible according their individual needs. This is where Ryan Fitzpatrick, the company's Head of Support, comes in.
On a sunny day in January, three members of Talkdesk's Marketing Team were invited to visit Ryan and the rest of the BloomNation team at their headquarters in Santa Monica, CA. Located only a couple blocks from the beach, the BloomNation office is exactly as one would imagine: whimsical, fun and full of flowers! Over the course of two hours, we spoke with Ryan and his team members about the importance of phone support and their Talkdesk discovery story.
We returned to foggy San Francisco a few days later with the objective of sharing our newfound wisdom with the world. That's why we're excited to announce the arrival of the new BloomNation case study and video. From these materials, you'll learn:
How phone support fits in with BloomNation's customer support philosophy.
Why they chose Talkdesk to power their call center.
What improvements they've seen since switching call center solutions.
We're releasing them just in time for the most flower-ful day of the year, Valentine's Day. Watch the video below and download the case study now to see how Talkdesk has been a vital part of BloomNation's customer support efforts for more than a year.
We'd like to extend a special thanks BloomNation for opening their doors to us and sharing their story. We're thrilled to know we've been able to make a positive impact on your business!
Publish Date: February 12, 2016 5:00 AM
Page: 1 | 2 | 3 | 4 | 5 | 6 | 7 | 8 | 9 | 10 | 11 | 12 | 13 | 14 | 15 | 16 | 17