Talkdesk - ContactCenterWorld.com Blog Page 16
Page: 1 | 2 | 3 | 4 | 5 | 6 | 7 | 8 | 9 | 10 | 11 | 12 | 13 | 14 | 15 | 16 | 17

Talkdesk Founder and CEO, Tiago Paiva, featured prominently in Day 2 of SaaStr Annual 2016. He shared his insights on Talkdesk's journey during the "Insider's Guide to Becoming a Pre-nicorn" panel, along with Intercom's Co-founder and CEO, Eoghan McCabe, and Digital Ocean's Co-founder and CEO, Ben Uretsky.
SaaStr Annual is one the world's largest SaaS events. It's designed to bring together innovators, thought leaders and investors to network and trade wisdom on the future of Software as a Service (SaaS). The event is held in San Francisco, a few blocks from Talkdesk's headquarters.
Tiago is no stranger to the SaaStr Annual stage. At the last year's conference, he spoke about Talkdesk's journey to $10 million in ARR. This year, he was invited to speak about what it means to be headed towards unicorn status. His panel was moderated by SaaStr founder and Talkdesk enthusiast, Jason Lemkin.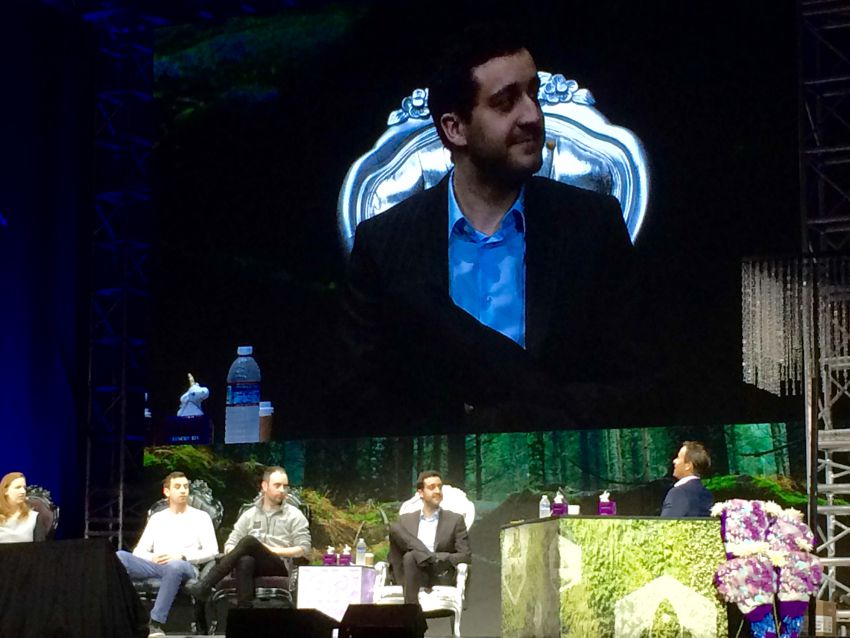 Tiago, with color commentary from Jason, outlined the path that Talkdesk has taken since the last time the Talkdesk CEO found himself on the SaaStr Annual stage.
Talkdesk grew from the winner of a Twilio hackathon with a little bit of seed funding to a hypergrowth company and power player in the SaaS space in less than five years. Our intuitive, powerful call center software has disrupted a $22B industry dominated by legacy players. We have redefined what it means to interact with customers over the phone.
2015 in particular was a transformative year for Talkdesk. In addition to raising $21M series A and adding over 100 employees to our team, we have shifted our focus from SMBs to mid-market and enterprise-level customers.As Tiago explained, this type of growth has meant making major changes to our company. It's because of these changes that Talkdesk is now considered a pre-nicorn. Our horn hasn't sprouted yet, but it's coming!
Always customer-focused, Tiago credited Talkdesk's growing customer base with the decision to move the company upstream.
"Our customers took us up market. As they grew, we had to grow too in order to provide them with the best product possible."
Jason's final question to the panel was "How do you know that you've already built a $5 billion company?" After some initial discussion among the three SaaS founders, Tiago came to a conclusion. He explained that when a company is working towards a goal for 10-20 years in the future, it doesn't matter what the market looks like now.
"At the end of the day, it comes down to execution," he said. "If you can focus on that and build a great team, you can easily become a $10 or even $20 billion company."
Catch Talkdesk COO Gadi Shamia moderating three panels on Day 3 of SaaStr Annual 2016 and look out for Talkdeskers on the conference floor. Want to join the team at our pre-nicorn company? Apply here.
Publish Date: February 11, 2016 5:00 AM
---


Have you ever been on the line with a call center agent and the call dropped? What happened when you dialed back in? You were probably stuck at the bottom of the queue again, only to be connected with a new agent who had no knowledge about your initial call. The whole ordeal can be extremely frustrating, not to mention time-consuming.
In our February product release, we announced Intelligent Reconnect, a new call center software feature designed to eliminate this exact scenario. Here's everything you need to know:
What is Intelligent Reconnect?
Intelligent Reconnect is an industry-first feature that routes customers who have been accidentally disconnected directly to the agent who fielded their initial call. In the event that the agent is no longer available, the caller will be automatically placed at the front of the queue. Exclusive to Talkdesk, Intelligent Reconnect allows disconnected callers and agents to resume their conversations right where they left off.
How does Intelligent Reconnect work?
If a customer dials back in within five minutes of being disconnected, Intelligent Reconnect will detect that the call was dropped and alert customers that they will be routed to their original agent. Callers will also be given the option to press "1" if they would like to be sent back to the main IVR menu instead. This can be useful in situations where the customer would like to reach a different agent or move to a different call queue.
Occasionally, the agent who picked up the initial call won't be available. This can happen if agents enter after call work automatically or if they have already taken another customer's call. In these instances, the customer's call will be routed to the top of the original queue.
Please note: If enabled, Intelligent Reconnect will be configured across all phone numbers in an account.
Can I customize the prompt callers hear?
Of course! We've included a generic Intelligent Reconnect prompt for those who have not uploaded a custom version, but we highly encourage you to personalize the greeting. Customized greetings add a personal touch to your call center and can promote customer loyalty.
When recording your greeting, keep in mind that the default behavior for Intelligent Reconnect is to begin the routing process when a customer calls in and that the customer must press "1" to opt out.
Why should I use Intelligent Reconnect?
Intelligent Reconnect is more than just an innovative call center software feature. It's an easy way to create an excellent caller experience. Here's why:
1. Delight Callers
Most callers expect to have to start from scratch when they dial back in after a dropped call. Hearing the Intelligent Reconnect prompt instead of the main IVR greeting can be a welcome surprise and considerably improve the customer experience.
2. Maintain Seamless Conversations
By connecting callers with their initial agents, Intelligent Reconnect allows conversations to continue as if nothing had happened. This eliminates the need for callers to repeat themselves, which can result in quicker resolution and improved caller satisfaction.
3. Minimize Wait Time
One of the biggest downsides to a disconnected call is having to wait again from the bottom of the queue. With Intelligent Reconnect, customers' wait times are reduced to ensure that their needs are addressed as swiftly as possible.
If you goal is to exceed customer expectations, Intelligent Reconnect is the call center software feature for you. Give it a try and see how smart your call center can be!
Publish Date: February 10, 2016 5:00 AM
---

This post is written by Talkdesk's Director of Customer Support, Scott Allison.
This the second post in a series about voice over internet protocols (VoIP) – what it is, why you should use it and how to get the most out of it. In my last post, I gave a history of VoIP and refuted the most common argument against it's use: unreliability. Here's a summary:
When data packets containing audio information head out on the information superhighway, they sometimes hit a bump in the road, which can lead to poor quality. Although this tends to be blamed on VoIP, the culprit is often at the other end of the line in the user's Local Area Network (LAN).
If all of that went over your head, take a look back on my "Primer on the Merits of VoIP" post.
That's where I left off – I lauded the benefits of VoIP and identified the problem with LAN. So what's the answer?
The biggest recommendation I can provide is to cut out WiFi, and connect to the internet via Ethernet cable instead of WiFi. Yes, we all love connecting without wires, but if you're making calls, I bet you're stationary, sitting at your desk.
Why is WiFi kryptonite to quality phone calls?
WiFi enables connections in the home, office, and elsewhere, and it's so convenient! This is all true, but unfortunately the technology – like the internet itself – was never designed for voice. Added to that is the very significant issue of congestion in the airwaves.
WiFi is convenient because is uses unlicensed radio spectrum, so unlike a TV station, or cell phone company, you don't need to apply for a government license to use WiFi. You just buy a router, plug it in and it works! The problem is there are only 11 channels available for standard WiFi connections, but when you do a search for WiFi networks, you'll often see 30 or more network names pop up. That means that all of these networks are interfering with each other.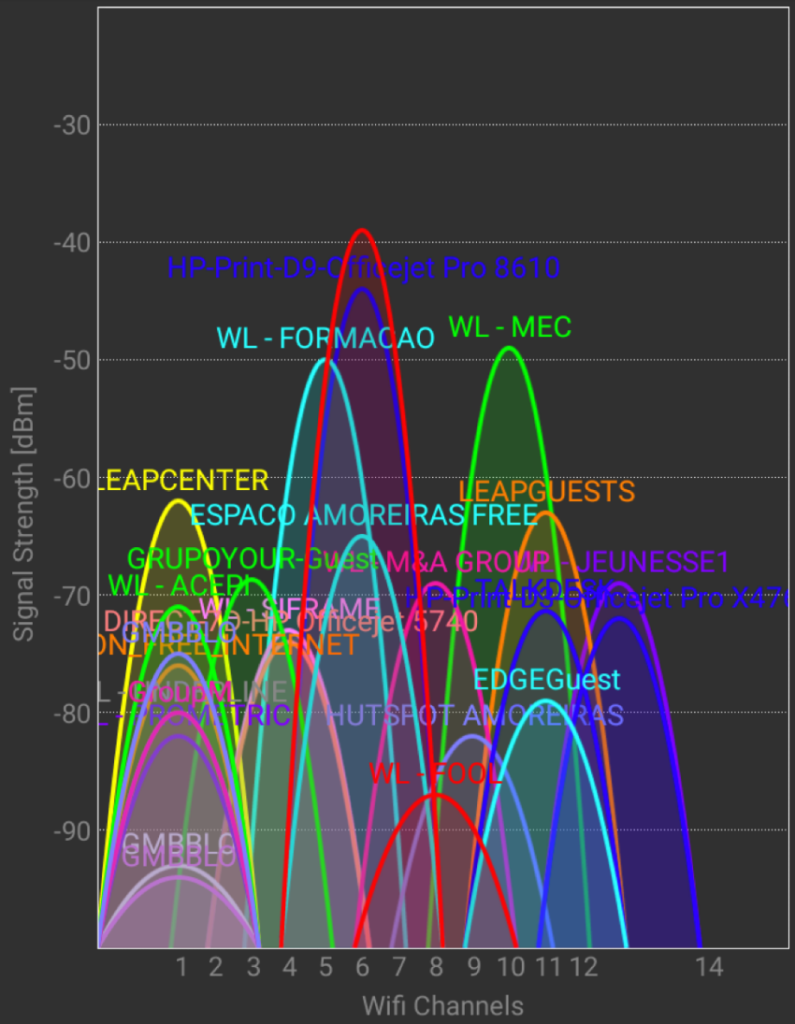 Screenshot of a WiFi-scanning application that shows congested WiFi channels, with different networks interfering with one another.
To make matters even worse, modern WiFi routers are centered on one channel, but use the adjacent ones too. So even if no one else around you is using Wifi, you don't really have 11 channels available; it's only 3. This interference is why your WiFi connection is never ever as fast as it promises on the box.
In fact, to make your WiFi work at all, just like TCP on the internet, there is a great deal of error correction and retransmission of data. As I mentioned in the last post, that affects voice calls much more than any other type of data. Something like watching a video on YouTube tends to be OK, because the flow of data is all in one direction and as long as the buffer doesn't run out, you'll be able to keep watching those cat videos without interruption. But for a phone call, real-time and in two directions, the solution just isn't workable.
Another disadvantage of the unlicensed WiFi spectrum is that it operates on the same frequency as your microwave. A good friend of mine was complaining to me that every time her husband turned on the microwave Netflix stopped playing. She wasn't imagining things. His popcorn popping really was interfering with her "Doctor Who" marathon.
Incidentally, when your mobile phone conversation drops or breaks up, that's because you lost the signal, and is not due to interference. That's because in every country mobile operators are licensed by government agencies who plan and maintain the availability of radio spectrum. This is why the switch to digital broadcasting is such a big deal: the efficiencies of digital broadcasting mean you can bring in more services (and competitors) with the same amount of radio spectrum.
So while it might seem like a backward step going back to wires and cables, connecting your computer over Ethernet really is going to make a huge difference to your internet experience, especially for voice calls. Remember: these calls need to transmit and receive data, reliably with no delay.
Ethernet has everything WiFi lacks.
Gigabit Ethernet offers reliable speeds of up to 1Gbps, with less latency. Ask any serious gamer how they connect to the internet, and they'll tell you it's with a cable, instead of WiFi. The lower latency of ethernet means the online gaming experience is as good as it can be! There's even plans to increase the speed of Ethernet to as much as 25 or 50Gbps. Ethernet's lead over WiFi in the speed stakes is going to remain.
There is one final point to consider on the WiFi versus Ethernet debate: security. WiFi uses encryption to ensure your data is secure while floating through the airwaves, but no encryption is completely safe from intrusion. Plugging in and using Ethernet means your data isn't broadcasted to anyone else nearby.
You've made it this far. Great. I've educated, charmed and convinced you that VoIP is the way to go and I've pled the case for connecting via Ethernet. But maybe that's not enough for you. You want the facts and nothing more. Piece of cake. Stay tuned for the final part in this three part series: "Head to Head: Results from Talkdesk's Wifi vs. Ethernet VoIP Challenge."
Publish Date: February 9, 2016 5:00 AM
---

Happy Customer Service Excellence Review 15, readers. The big one-five. We've learned a lot in the past 15 weeks about what modern customer service looks like.
We all know it's an essential goal if your business is going to be competitive in today's marketplace. But have we finally figured out what "customer service excellence" means? Of course not! It's an ever-changing concept. The whole point of the Review is to stay abreast of recent developments.
Let's dive in to what we found this week.
How to Improve Customer Service by Reducing Employee Stress
CustomerThink || February 4, 2016
Employee stress level can be a predictor of poor customer service. Although improving team morale is a worthy goal in and of itself, it is also incredibly helpful in pushing your business towards customer service excellence. This post runs down a few ideas for improving the work environment for your customer service representatives.
Why the First Call From a Customer Is the Most Important
Entrepreneur || February 2, 2016
In a recent study, 59% of participants reported that if their first call to a company's customer service is not handled properly, they will stop buying from that business. That's a heck of a stat! The study also examined differences in customer service expectations by age and location. The data here is important and valuable, but it turns out that the conclusion is the same as we've always known: The rewards of great customer service cannot be underestimated. From brand loyalty to repeat customers, this is one aspect of your business that should never be ignored.
What the Number One Customer Service Retailer Teaches Us
Small Business Trends || February 2, 2016
StellaService ranks online retailers quarterly on their customer service performance. Consistently at the top of this list of customer service excellence is retail giant LL Bean. So what are they doing so right? This post offers a few thoughts on the secret to LL Bean's success.
Source: https://www.talkdesk.com/blog/customer-service-excellence-review-15
Publish Date: February 9, 2016 5:00 AM
---

Valentine's Day is coming up and it's got all of us at Talkdesk thinking about love (and worrying about the last minute presents we *may* have forgotten to buy for our significant others). 'Round these parts, we make call center software. So, for Valentine's day, we're asking ourselves, "What does call center software love?"
Why, business tools, of course!
Advanced call center software solutions integrate seamlessly with business tools such as CRMs and helpdesks. These integrations are one of the principal innovations in modern call center software. Instead of operating from different interfaces, call center agents who leverage modern call center software integrated with their business tools find all the love they need in one place – like two hearts beating as one.
The major contributor to this revolution? Cloud technologies. Yes, it's the young lovers with their heads in the clouds that come out on top. The advent of call center software in the cloud allows for better communication with other cloud-based software. Think about it: When your call center software is tied to a physical location, it's not flexible. If you love something, set it free!
Any call center software solution worth its salt offers deep integrations with at least two or three business tools. (The best solutions offer more!) Which ones are available is an essential consideration when choosing call center software. Your call center software and business tools shouldn't be like two ships passing in the night; they should be living it up on the love boat!
The upfront advantage of integrations is being able to use one interface. This enables call center agents to operate with the most information possible. This is sort of like the "moving-in" step in a relationship. Instead of having to search both your girlfriend's house and your house for your favorite t-shirt, you know that it's definitely somewhere in your shared apartment!
Integrations discourage call center agents from two-timing their customers by switching back and forth between interfaces. All of their love and attention can therefore be focused on the information contained in a single application. For call centers, this is particularly useful for accessing caller information to personalize conversations. You'll be sleeping on the couch for sure if your non-integrated call center software leads you to forgetting a customer's name and contact history!
Another advantage of the marriage of call center software and business tools is the availability of automated workflows. Automated workflows are tasks that are programmed to occur automatically in certain situations between connected applications. They often operate like this: "If X happens in my call center, then Y happens in my integrated business tool."
Automated workflows are a mature kind of love. Beyond the insane, obsessive delight of operating from within the same interface, there is the functional, comfortable automated workflow. This is similar to when you cook dinner and your partner does the dishes. It's not the sexiest interaction, but it's very helpful and deepens the relationship.
Automated workflows ensure that customer and prospect data stays consistent across systems. This means that call center agents never get caught with missing or incorrect information. It also reduces their after call work. All of these benefits trickle down into an improved customer experience. Customers heart integrations!
Let's face it. Call center software and business tools are a match made in heaven.
Much like a loving relationship, integrations wrap your call center agents in warmth, love and security. They empower your agents, increase productivity and lessen the burden of everyday tasks. Happier agents create more satisfied customers. What more could you ask for in a relationship?
This Valentine's Day, snuggle up with your loved one and spend a little time thinking about call center software integrations. They might just protect you from the February cold!
Source: https://www.talkdesk.com/blog/love-call-center-software-integrations
Publish Date: February 8, 2016 5:00 AM
---

As a call center manager, you may have heard the word "gamification" in passing. What is this mysterious, multisyllabic buzzword and what impact does it have on your call center? Get your head in the game with Talkdesk's guide to the pros and cons of call center gamification.
What is Call Center Gamification?
Call center gamification is the implementation of game mechanics in the call center as a way to motivate employee engagement and achievement.
Call center representatives are encouraged to compete to complete objectives and outpace other agents. Rewards are doled out based upon company culture, but may include recognition on leaderboards, badges and physical prizes like trophies.
Call center managers choose any of a number of agent or ring group-level metrics to gamify. These may include workplace metrics like hours worked, as well as any number of call center KPIs, such as:
Average speed to answer
First call resolution
Number of dials
Total talk time
Average after call work time
Percentage of calls handled by type
Individual agent scores for these metrics are displayed via individual computers, mobile devices or a projected screen for others to see.
Call center gamification can be put into place via a unique system devised by management, an in-software application or a third party service layered over an existing call center software solution.
Factors that Influence the Effectiveness Call Center Gamification
As with any new workplace tool, gamification comes with positives and negatives. The weight of each depends on the specifics of your call center. Let's explore a few.
Reporting Capabilities
The success of your call center gamification hinges on your reporting capabilities. To call it "reporting-intensive" would be an understatement. If you are using an advanced call center software solution with robust historical and real-time reporting capabilities, gamification is no problem. If, however, your call center software is not able to reliably report agent metrics, gamification is dead on arrival.
Competition
The name of the game in call center gamification is competition. The more agents compete with each other, the better the system works. Companies will need to foster an environment of healthy rivalry for this to be effective. If participants begin to develop animosities and refuse to collaborate when necessary, there will be major problems.
Transparency
Call center gamification requires that call center agents have access to the scores and stats of the agents who they are competing against. This helps agents benchmark their scores and ensures that there is a sense of fairness when awards are given out. Transparency in business is admirable and can lead to greater employee confidence in management, but is not necessarily appropriate for all company cultures.
Qualitative Measurements
In order for call center gamification to be seen as fair, only quantitative metrics should be used to judge merit. This is not an issue for many call centers, but could potentially be a challenge for certain companies who place a high value on qualitative measurements, such as written customer feedback.
New Hires
Call center gamification can be tremendously helpful in getting new hires up to speed. Onboarding processes that involve games are likely to spark interest in employees and enable them to retain information faster. Once they've onboarded, however, new hires may be intimidated by call center gamification. If they find themselves immediately at the bottom of the scoreboard, they may become discouraged and more likely to churn.
Oversight
Depending upon how the call center gamification is implemented, the game may require oversight from a designated call center manager. Just how much effort and time will be required from this referee will vary based on the call center and the gamification method.
Company Culture
Call center gamification attracts a certain type of employee – the kind of agent who is motivated by competition. This may limit your applicant pool and lead to a lack of diversity in hires.
Retention
Call center gamification can serve to motivate employees to come in day after day so that they can try to reach the top of the leaderboards. If, however, it starts to seem like only a handful of call center agents are able to "win" the game, those consistently at the bottom may actually lose motivation. If these agents feel that they cannot win, there will be no reason for them to play.
Honesty
The numbers don't lie. Call center gamification enables employees to have a clear view of the quantitative measures of the work of themselves and those around them. Some call center agents may try to game the system to make themselves look more productive. An effective call center gamification setup will be able to detect cheaters and report their dishonest behavior to management.
Call center gamification is a trending topic with the potential change the face of the call center. As gamification technologies and strategies evolve, we'll see whether the pros outweigh the cons. For now, it's a waiting game.
Talkdesk call center software comes equipped with advanced reporting capabilities out of the box – just the kind of robust functionality required for call center gamification. Request a live demo today.
Source: https://www.talkdesk.com/blog/case-for-call-center-gamification
Publish Date: February 5, 2016 5:00 AM
---

SaaStr Annual 2016 is going to be jampacked with excitement and thought leadership. We know our investor, Jason Lemkin, will squeeze content into every available second. And with three full days of events and more than 150 speakers, this year's SaaStr Annual promises some serious bang for your buck.
You'll be there to soak it all in, to swap insights with other forward-thinking businesspeople and to learn about the space from industry leaders. You need to be on top of your game all three days. Last year, maybe you followed the lead of Talkdesk's leadership and put in a very intense 18-hour day of schmoozing, presenting and conviviality. This year, you'll need to make it through three demanding days of handshaking, familiar faces and programming.
Pace yourself. Don't get over-SaaSturated.
By the end of day one, your head is going to be full to bursting with ideas for how to improve your business. But your stomach, well, it will probably be empty. And I'm guessing that a glass of Merlot (or a cold one) wouldn't hurt either.
When it's time to unwind at the end of the day, why not follow the smiling Talkdesk faces four blocks down to The Royale? We're hosting a curated, casual happy hour. The guest list will be kept short, the food will be free and the drinks will be yours for the taking.
What does it mean to get the Royale treatment? It means escaping from the booths on the expo floor and sinking down into a comfy leather booth with a craft cocktail in hand. It means playing a game of pool with a few new friends and some of the ringers from the Talkdesk team. It means getting a feel for the city of San Francisco without having to hop on a congested cable car or complain about rent prices.
After a long day of expos at SaaStr, Talkdesk's happy hour will help you unwind. Chat with like-minded individuals about SaaS, the Super Bowl or something entirely different. No pressure!
If you're in the market for information about the world's leading cloud-based call center software, of course we'll be happy to oblige. We're proud of our product's ability to improve your customer experience, but we're also human beings who'd love to have a beer with you.
You won't be able to miss us as you exit the building on the first day of SaaStr Annual. And why would you want to? We'll be there to show you the way to the bar!
Join us at Talkdesk's Saastr Annual Happy Hour.
Publish Date: February 5, 2016 5:00 AM
---

This guest post is written by Talkdesk's Director of Customer Success Blaire Fernandez.
As your company grows and changes, so too will the needs and structure of your customer success team. At every new phase of development, you will need to set different objectives. Meeting the objectives you set for yourself is a matter of putting the appropriate practices into place to motivate customer success team members. One such practice is the bonus.
At Talkdesk, our customer success team is best-in-class, not only because of our thorough application process, but also because of our conscious effort to set up systems to help them succeed. Our team is an important driver of Talkdesk's growth and stability.
To that end, a quarterly bonus has been put in place on the customer success team to drive the most productive, quick and efficient behaviors. As the director of this team, I am confident that this program will deliver nearly immediate results that will help position Talkdesk for future growth.
At Talkdesk, there are four contributors to this bonus, two of which I will call floating criteria and the other two I will call constant criteria. The constants are retention rate and customer success manager (CSM) performance as assessed by individual portfolio of customers.
In the first quarter that Talkdesk CSMs had a defined bonus structure, one of the floating criteria was resultant from our company's transition from monthly contracts with customers to annual commitments. The upshot was that CSMs were bonused based on the degree of success they had in shifting their existing accounts to the new annual commitments.
The second floating criteria at this time was the percentage of Executive Business Reviews (EBR) completed. Our ERB protocols had just been established and it was imperative that we got this process up and running with a strong start. This was factored into bonuses as a way of incentivizing outstanding performance.
In the next quarter, Talkdesk's customer success team shifted its focus to driving revenue, both directly and indirectly. Directly, CSMs facilitated upsell handoffs to the sales team, who then worked closely with the CSM to utilize the existing reference. The decision to involve sales was strategically designed to discourage customers from thinking of our CSMs as upsellers working off of a quota. The handoff was a much smoother way for the customer success team to capitalize on a growth opportunity while remaining a trusted advisor. Our customer base represents the single largest sales opportunity in our company, so it was critical to incentivize the customer success team to tap into this potential.
Indirectly, CSMs helped to build out the marketing infrastructure that would then assist the sales team. Principally, this required CSMs to actively recruit accounts to serve as references and/or participate in marketing programs and assets such as case studies, videos, quotes, logos, guest blog posts and webinars. It was crucial to incentivize CSMs to seek these permissions via the bonus system because this kind of task, although critical to future sales, can often end up on the backburner if not specifically promoted.
Looking to the immediate future, our customer success team will continue to leverage our evolving quarterly bonus structure to drive attendance at Talkdesk's first annual conference, to ensure that customers are involved in customer advisory boards and to increase the level of customer engagement within the Talkdesk application.
In the more distant future, the bonus criteria may level off and become static, but that's difficult to imagine at this point. Every quarter comes to us full of new goals and new chances to make an impact. So far, we're taking every chance we get to help drive our company's performance.
Hopefully these ideas will be useful to new customer success managers looking to implement a bonus program. Bonuses can be tremendously helpful in driving results and encouraging CSMs to spend time on the activities that are most impactful to the company.
Source: https://www.talkdesk.com/blog/csm-bonus
Publish Date: February 4, 2016 5:00 AM
---
When it comes to customer communication, one size doesn't fit all. Customer preferences for channels vary based on a range of factors. So which channel should your company use?
At Userlike, we often get the question, "Why should we try live chat support when our customers can already reach us over the phone?"
Our answer is that phone and live chat serve different purposes. A customer may want to reach out via phone today, but live chat tomorrow. Why not give him both options?
Let's take a look at their different strengths so you can learn how your company can make the most out of both channels.
The Basics
Let's distinguish written communication from verbal communication, with live chat support falling into the first category and phone support into the second. Each has its pros and cons.
The advantage of verbal communication is that you can perceive the nuances of conversation. Making a joke, for example, is easiest via a verbal interaction. Every cold-calling salesperson knows that when you manage to make the prospect laugh, you're in a good position. The disadvantage of voice, however, is that it doesn't leave a record. A helpful phone support representative's advice can go in one ear and out the other.
Compare that to written communication where it's harder to add human subtlety. Make a joke and you'll risk being misunderstood, and it's hard to assess the appropriateness of making one in the first place. Also, writing is slower than speaking – especially when you're not experienced with a keyboard.
One of the main advantages, however, is that written conversations are easily saved – you store them outside of your head. They're also searchable with keywords and sharable with other support agents. A recorded phone call is like a black box compared to a live chat support or email support ticket.
Real-Time
Another important factor to consider when evaluating the optimal uses of your support channels is the time between the production and consumption of the message. In a standard face-to-face conversation, production and consumption coincides. In most contact channels, however, there's at least some time between the two. The more real-time, the more personal the channel will feel.
Phone offers the closest experience to face-to-face communication because it's the only support channel that offers both the customer and representative a connection in real-time.
Live chat support also operates in real-time. Or at least it can. Messages sent over chat can be read and responded to right away. The advantage of live chat support is that messages don't have to be read immediately if there is some reason that either the customer or support agent needs to focus their attention elsewhere. Live chat participants are able to multitask without sacrificing the essential elements of their interaction.
Device
Understanding where (or rather, on which device) your customer conversations will be taking place is essential as consumers become both more digital and more mobile.
Phone is obviously a convenient channel for the mobile age, since consumers can call a support team from anywhere. Yet troubleshooting technical issues that require you to make changes on your mobile device while talking to a support representative on your phone can make things a little tricky.
Live chat support is made for exactly this purpose – to help people navigate an issue while they're on the web. For many businesses, their website is the core of their product. When there's a question, live chat offers the most context, making it easier to resolve customer issues.
Intimacy Level
Phone is obviously the most intimate of contact channels. When you want to make a personal touch, you either meet in person or talk on the phone. If you throw a party and invite me over Facebook, I might come… if I have time. Invite me by giving me a personal phone call, however, and I'll make sure I'm there.
Because of this, phone is especially valuable in industries where trust is important, like finance or healthcare. It allows for close contact and the construction of interpersonal relationships, the strongest foundation for customer loyalty.
Live chat support is less intimate than phone support. Although it's in real-time, you aren't able to hear someone's voice and pick up on all the cues that come along with a verbal interaction. Certainly, live chat is more intimate than other support channels – notably email – but it's not the best option when you're looking for that personal touch.
Contact Barrier
Most people aren't comfortable striking up a conversation with a stranger on the street. Evolutionary psychology explains this fear by our ancestors' lives as hunter-gathers – when every stranger from outside the group formed a potentially lethal threat.
The contact barrier of a phone call can also be considerable for some customers. Close to 5% of people in Western societies suffer from so-called 'telephone phobia', a social anxiety for making or taking phone calls. Although these are the extreme cases, picking up the phone can sometimes require more effort than customers are willing to exert. It takes time to look for a phone number and many people dread sitting in a call queue.
For live chat support, the contact barrier is considerably lower. Few people have a problem chatting with a faceless internet stranger. (This explains the prominent role of chat in the online dating industry.) Besides, a chat is only one click away, so there's not much of an effort involved in starting one.
Query
Research by Software Advice offers insight into which channels are suitable for which customers and questions. They conducted a survey on customer preferences with companies that offer both live chat and phone support as customer service channels, to help companies make more informed decisions about implementation.
First, it shows that phone is the overall preferred contact channel. Live chat isn't far behind. By neglecting to implement live chat support, companies cut the favorite contact channel of around 40% of customers.
Second, the study shows that there is significant difference in people's channel preferences based upon the content of their queries. For more personal issues, like financial queries, the intimacy of phone support is preferred. On the other hand, when it comes to simple and shopping queries live chat support is almost at an equal level as phone support.
Some subtlety is added to this picture when we take the age of the customer into account. We see that live chat support is most popular for simple queries, with the majority of people aged 18 – 44 preferring to use live chat to have these answered and those from 45+ preferring the phone.
The Answer
Phone and live chat support each offer their own unique strengths and weaknesses. Instead of weighing either/or, why not offer both?
By offering both, you offer a channel for all type of queries and all type of customers, canceling out their weaknesses. By adding live chat support, for example, you can reduce the pressure on your hotlines by absorbing the simple queries – freeing up energy for your phone reps to focus on the more complex ones.
Because of their unique properties, practices in customer communication differ a lot between phone and email. Combining them effectively is an art in itself.
That's the topic Talkdesk invited me to talk about in our joint webinar "How to Combine Live Chat with Phone Support." Click the button below for a second chance to watch the webinar in case you missed it!
Source: https://www.talkdesk.com/blog/what-to-know-about-phone-live-chat-support
Publish Date: February 3, 2016 5:00 AM
---


Can you believe it's already February? As usual, the arrival of a new month means the arrival of some brand new Talkdesk features. This month we're excited to introduce some awesome call center software features our product and engineering teams have been working hard on.
Intelligent Reconnect
We've all been in this situation before: You call in to a customer support line and wait for half an hour before finally being connected to an agent. After spending a good 10 minutes explaining your problem to the agent, you're suddenly disconnected due to bad cell service. You call back only to discover that you're at the end of the call queue once again. Not only are you going to have to sit in the call queue one more time, you'll also likely need to spend another 10 minutes explaining your problem to a different agent. The end result? Wasted time and a frustrated customer.
If this call center were powered by Talkdesk, the situation would unfold differently. As soon as you called back after your call dropped, our new intelligent reconnect feature would attempt to reconnect you with the agent who had picked up your initial call. If that agent could not be reached, then you would be sent to the front of the call queue to reduce waiting time. The result? One happy customer!
Enhanced Contact Search
We know that contacts are one of the most important components of your call center software. Having an easy way to manage and view contacts is crucial to providing a good phone experience. That's why we've greatly improved our contact search functionality in this month's product release. For instances when you'd like to filter your contact list with specific number parameters, Talkdesk can now support partial number matches. This means you are also no longer required to enter an entire phone number to search your contacts list.
Our latest search enhancements make finding the right contacts a breeze. Not only will you be able to match phone numbers with higher efficiency, you can now also do so with greater speed. This ultimately provides greater visibility over your call center contacts for easy management.
Unsuccessful Queue Callback Message
One of Talkdesk's most beloved call center features is queue callback. Instead of having customers stay on the line during their wait, this feature allows callers to opt in for a callback when they've reached the front of the queue. But what happens if the customer's callback request could not be completed? Our new greeting improves the caller experience by allowing admins to customize the message customers hear when their callback is unsuccessful.
This latest addition to Talkdesk's roster of custom greetings is useful because it provides more clarity for callers. Instead of leaving customers hanging, call center admins will have the opportunity to explain why the call was not received. Confusion is minimized and the additional transparency will make for a better caller experience.
Caller Connection Tone
Occasionally, calls will get off on an awkward start. There are many reasons for this, but one of the most frequently cited scenarios is when an agent begins a call by talking over a greeting that was already playing. Talkdesk's new caller connection tone reduces the likelihood of this ungainly situation by playing a sound for the agent when their call is connected. Only heard by agents, this tone can be enabled for calls from current, new and/or all customers. This ensures that current on-call procedures can be maintained and avoids potential confusion for agents.
The first few seconds of a phone call with a customer often set the tone for the rest of the conversation. With our new caller connection tone, agents can start every call with confidence. After all, there's nothing better than knowing that your customer can actually hear you!
We hope you enjoy our new call center features for the month of February! Check in with the Talkdesk blog every Wednesday this month for in-depth posts on these new features.
For more information on these and other Talkdesk enhancements we've made this month, please read our Feburary 3, 2016 release notes.
Publish Date: February 3, 2016 5:00 AM
---

Breathe deep. Can you smell the crisp February air? It's the month of love (and presidents, I suppose). So why not make February the month your customers learn to love your customer service?
Talkdesk's weekly Customer Service Excellence Review pulls together trends and insights from around the web in the realm of customer service. The goal here is to provide you with ideas about what your company can do to work towards customer service excellence.
Welcome to this week's Review. Let's see what we were able to dig up for the first week of February.
Why Customer Service Is More Important Than Ever
Business 2 Community || January 28, 2016
Customer service is an "old-fashioned value" that isn't going anywhere. Despite all the changes in the marketplace, customers have continued to value a personalized approach. Customer service will always be necessary, but customer service excellence is what separates the wheat from the chaff. This post includes tips for success, including doing damage control on your current customer service and understanding the customer experience.
4 Ways To Get Word-Of-Mouth With Customer Service
CustomerThink || January 26, 2016
Modern customers know how to make their voices heard, particularly via social media. This means that achieving customer service excellence can have a ripple effect into marketing efforts. This post runs down a few methods for getting your customers to act as brand ambassadors, including asking for feedback and being available when your customers need you.
The Rising Tide Lifts All Boats: A Customer Service Story
Hoteliers Blog || January 31, 2016
These two short stories underscore the idea that all employees serve as brand ambassadors, regardless of their stated roles. The metaphor, "a rising tide lifts all boats," is meant to explain that a customer's good experience with an employee can also positively impact their entire view of the company. The opposite is also true, so choose your customer service representatives carefully!
Source: https://www.talkdesk.com/blog/customer-service-excellence-review-14
Publish Date: February 2, 2016 5:00 AM
---

At a startup, every year is transformative. There's the year you come up with the idea. The year you get funded and quit your day job. The year you launch. Each one of these events moves your company to a new, distinct phase. For Talkdesk, 2015 wasn't the year we launched, the year we quit our day jobs or the year we got funding, but it was transformative all the same. Looking back, the Talkdesk of January 2015 is unrecognizable compared to the Talkdesk of December 2015.
From our incredible founding at a hackathon in 2011 up to this year, we bootstrapped our company. We paid rent, payroll and servers out of our initial revenue, borrowing office space and sometimes living space, just to get by. In 2015, all that changed.
In late 2014, we received seed funding from Storm Ventures, our office space was tiny in Silicon Valley and shared in Portugal, and our team was comprised of 28 individuals who worked around the clock. We are ending 2015 146 team members strong, with beautiful offices in downtown San Francisco and Lisbon, and DFJ and Salesforce Ventures added to our list of backers.
So what happened this year? To put it simply, we built out a real company. It all started with our team. We attracted like-minded executives and team members who believe in the customer experience above all else. These are the kind of people who are committed to Talkdesk's original vision of providing customers with the highest quality product and support.
Our new team members see what we saw when we were eating $2 tacos every night while bootstrapping this company: The call center market is a $22B industry filled with legacy players. Ancient call center platforms are slowly dying, leaving room for new, cloud-based platforms like Talkdesk. Call center software doesn't have to be clunky, complicated and expensive. It can be as simple as Slack, as robust as Salesforce and innovative as Google. Our vision is to build and iterate on a real-time customer interaction platform for both sales and service.
It's this vision that attracted DFJ, Salesforce Ventures and our other investors. Salesforce, the giant in the cloud industry, was in our shoes just 15 years ago, competing with Old Guard players like Oracle, SAP and Siebel. Like us, they believed that the enterprise software of the future should be easy to deploy, use and modify. Like us, Salesforce patiently won over individual customer after individual customer on their way to becoming the market leader. The support of Salesforce Ventures and our other investors has been invaluable in assisting us in our rapid growth in 2015.
This year represented a turning point in the life of our company. We've come a long way from that hackathon. Stay tuned. 2016 promises to be an even bigger year.
Want to be a part of Talkdesk's future? Apply to join the team here.
Publish Date: February 1, 2016 5:00 AM
---

Super Bowl Sunday is rapidly approaching and this year's a big'un. Super Bowl 50: The Golden Super Bowl. The game is being played in the Bay Area this year, which really brings new meaning to "Let's get ready to rumble."
Talkdesk's headquarters are here in beautiful downtown San Francisco. The whole Talkdesk team is prepping for the game – whether that means buying chips and dip, doing superstitious rituals or just trying to figure out where Queen B might be staying before she kills it at the halftime show.
So, in honor of the game that has made my commute considerably more squished, I thought I'd run down the starting line-up of call center software. Let's imagine that your call center is a football team. Who (or what) plays each role?
The Ball = Customers
The ball itself is the most important thing in the game. It is, at once the most powerful and the most powerless object on the field. It relies completely on the help of the players to get where it's going. Everything in the game revolves around that ball.
So who does the ball represent? Your customers are the football in your call center's game. They are the heart of all the action and the center of all your attention. Your team cannot survive without taking care of that ball!
The Coach = Call Center Management
The life of a football coach can be stressful. They have a great view of the field but can't fix problems directly. They have to leave it up to the players to do what needs to be done. One of their biggest strengths comes from their headset, from which they can send commands out to players.
So who's the coach in your call center? This one's a no-brainer: The call center manager is the one who's presiding over all the goings on. He looks at the overall picture and makes recommendations to the call center agents. The coach's headset is still a headset in this comparison. The call center manager can use call monitoring and call barging software to communicate with players on the field.
The Referee = Reporting Functionality
The referee is a behind-the-scenes player in the game. He's there to make sure everything's running smoothly. Most of the time, this can be accomplished by keeping his head up, but sometimes he needs to go to the instant replay.
So who's the referee in your call center? Your call center software's reporting functionality. This is an essential part of any call center software solution that enables both managers and agents to track their productivity. The numbers don't lie, so there's no disputing these calls.
Quarterback = IVR
The quarterback's job is respond to cues on the field and deliver the ball to the appropriate receiver. It's up to the quarterback to know who that person is.
So who serves as the quarterback in your call center? The interactive voice response system (IVR). The IVR's job is to route customers to the resources they seek. This means listening to voice or dialed responses and then filtering the call.
Running Back/ Wide Receiver/ Tight End = Call Center Agents
These three positions exist to catch and/or carry the ball into the endzone. They're the final step to a touchdown. When the center passes the quarterback the ball, the quarterback is looking for a running back, wide receiver or tight end. Which one he chooses depends on what's happening on the field.
So who plays the role of ball-catcher/carrier? Your call center agents. They are the ones that are really putting in the work to score those touchdowns. Which one the IVR chooses is based on skills-based ring groups. Customers are sorted by the IVR and sent to the most appropriate ring group.
Touchdown = First Call Resolution
The goal of football, like most sports other than hackey sack, is to score. There's only so many ways to score in football; the best one being the touchdown. Getting a touchdown means that the ball has been delivered where it needs to go for the maximum number of points.
So what's the touchdown of your call center? A high score on the call center KPI first call resolution is the closest match to a touchdown your agents are going to get. First call resolution is when a customer's call is resolved correctly on the first attempt without requiring escalation or a call back. In other words, your agents getting it right the first time. Victory dance!
There you have it. Football as a metaphor for call center software. Upon careful reflection, how's your team doing? If your call center software was a football team, would it be here in San Francisco getting ready for the Super Bowl?
Not sure that your call center software is ready for the big leagues? Draft some new players. Test out Talkdesk's call center software solution today.
Source: https://www.talkdesk.com/blog/call-center-software-super-bowl
Publish Date: January 29, 2016 5:00 AM
---

The future of customer service is already at your doorstep. Today's customers are nothing like those before them, more impatient, picky and demanding due to the advent of online experiences that allow for speedy deliveries, on-demand viewing and instant communication. For this reason, the competition to retain and engage your customers gets hotter every year. How will you set your brand apart from the pack in 2016?
Here are just a few ways you can start to provide even better customer support and experiences for the modern customer this year:
Omnichannel Support
If you're not offering some combination of phone, email and live chat support, then you're missing out on a huge market. Not all customers are the same, and you shouldn't expect them to all want to reach out to you in the same way. Make yourself available to your customers through the channels they use most by offering omnichannel support. In order to figure this out, identify your customer journey and test drive what it feels like to contact your own customer support. This should give you insight into what channels make the most sense for your product and audience.
24/7 Availability
It's no longer enough to simply offer voicemail with the typical line we've all heard too many times, "Leave your message after the beep." When your customers contact support it's because they want and need their issues to be resolved immediately. If that wasn't the case then they would have let the issue slide or tried to troubleshoot it themselves. Being available for your customers isn't about your convenience, it's about theirs. Modern customer support tools help you monitor times of high and low ticket volumes so you can more easily ramp up your staff as needed. Leverage support agents in different timezones to sustain 24/7 availability without missing out on catching z's.
Data-Driven Decisions
Your sales and marketing teams are already making data-driven decisions with their CRMs and marketing automation tools, so why shouldn't you? Use the reporting and metrics dashboards in your helpdesk or cloud-based call center software to keep track of your KPIs such as average wait times, backlog volume and service level. Instead of making drastic changes without any insight into what's performing and what's not, use your reporting dashboard to find out which changes to make in your customer service team that will have an impact.
Your 2016 goal to provide better customer support is achievable! Remember: you're not in this alone; your customer support team is there to help you. Start the new year on the right foot and give your customers the service they deserve.
Source: https://www.talkdesk.com/blog/better-customer-support-2016
Publish Date: January 29, 2016 5:00 AM
---

We are pleased to announce that we have been named the Cloud CRM Solution of 2015-16. Our cloud-based call center software is industry-leading and ever-improving. We are grateful that the Cloud Awards program has recognized of our pursuit of excellence.
The Cloud Awards celebrate innovation and achievement in cloud computing. This year, over 300 organizations from around the world were considered for awards. These companies run the gamut from large to small, established to startups. Categories of awards include Best Cloud Infrastructure, Data Innovation of the Year and B2B Customer Excellence.
"We have striven to single out innovative organizations which we feel will continue to impress not only into 2016 but well beyond," said Cloud Awards organizer Larry Johnson. "The stories of our winners – and our shortlisted organizations – are not even half-told."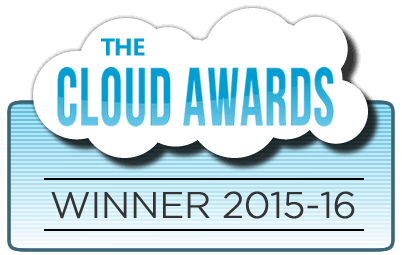 Talkdesk competed against JobDiva, ClearSlide, NewVoiceMedia, SugarCRM, Workbooks Online Ltd and Five9 in the Cloud CRM Solution category. We are proud to be listed at the top of this outstanding group of companies.
Since our product's inception in 2011, Talkdesk team members have worked towards one aim: providing a better call center software solution to our customers. The call center market is a $22 billion industry filled with legacy players. Our innovation has been to move the call center of the future to the cloud.
"By creating our solution in the cloud, we have enabled our customers to leverage modern, easy-to-use and powerful call center software from anywhere on earth," said Talkdesk CEO Tiago Paiva. "Further, creating our platform in the cloud has allowed us to seamlessly integrate with other cloud technologies, such as Salesforce, Zendesk and Desk.com."
Our cloud-based call center software grew at pace with our company this year, which is to say, by leaps and bounds. As we scaled from 28 team members to 146, our product took on new features and functionalities faster than ever before. 2015 was the year Talkdesk really made a splash. It is fitting, then, that we were given the Cloud CRM Solution of 2015-16 Award.
"We are honored to have received the Cloud CRM Solution of the Year Award. This achievement comes on the heels of a transformative year of incredible growth for our company. Recognition from the Cloud Awards program is a good reflection of the appreciation we have already recieved from our customers old and new," said Paiva.
We would like to thank the Cloud Awards for this honor. We look forward to impressing the judges again next year!
Interested in testing out our award-winning call center software solution? Request a live demo today.
Source: https://www.talkdesk.com/blog/cloud-crm-solution-of-the-year-award
Publish Date: January 28, 2016 5:00 AM
Page: 1 | 2 | 3 | 4 | 5 | 6 | 7 | 8 | 9 | 10 | 11 | 12 | 13 | 14 | 15 | 16 | 17