Talkdesk - ContactCenterWorld.com Blog Page 2
Page: 1 | 2 | 3 | 4 | 5 | 6 | 7 | 8 | 9 | 10 | 11 | 12 | 13 | 14 | 15 | 16 | 17

This post was written by Talkdesk COO Gadi Shamia.
At the core of Talkdesk is a simple mission: to transform customer service experiences that are usually dreadful into an opportunity to solve problems and create brand loyalty by creating real human connections. Part of what makes the mission so palpable is that we've all been on the consumer end of an undesirable service experience. We truly believe that in the digital world of self service, mobile apps, retargeting and other digital interactions, phone customer service that is delivered by a well-trained, empathic representative, can build brand loyalty that will last.
I recently had a less-than-perfect customer service experience that illustrated a key Talkdesk principle – that the communication channel needs to match the urgency and emotion of the situation. Below is a short version of what happened.
To celebrate my wife's birthday, I planned a party, inviting friends near and far to bring together all of the most important people in her life. To commemorate the occasion, I collected photos from the attendees and sent them to an online photobook service. I planned to present the book at the party so each of her friends could leave hand-written best wishes at the event and comment on those shared memories. It was a small gift, but for my wife, a keepsake like this would be priceless.
I collected the photos, built the book online and placed my order. I chose the expedited delivery, only to realize that it had not been shipped two days before the party. While a delayed delivery on almost anything else would not have been so urgent and emotional, this one was. I planned this party for a while and I wanted to talk to the company as soon as possible to find out what was going on.
Unfortunately, the only contact information available from the site was a generic support email address and a chat. My email didn't get a response, and the chat experience just made me angrier. The chat agent was distracted (most run 6-12 chats at once) and lacked empathy because my short text messages could not convey the importance of the issue. All he did was confirm the delay and offer to refund the shipping cost, but that didn't resolve my issue. I wanted the book to be delivered on time for the party! He couldn't hear my voice, so he didn't know the urgency or the emotion of the situation. He just wanted to resolve the issue as fast as possible and move on.
Since the chat wasn't effective, I tried directly tweeting to the head of customer service (thanks Linkedin). In the hours following my interactions, I got more upset and stressed. It was a Friday and I didn't think the issue will be resolved. I was surprised to get a call from the VP of customer service on Saturday morning. While he could not solve the problem at this time, he apologized and sent my wife flowers with a note wishing her a happy birthday and explaining that he was sorry the book wasn't delivered on time.
The VP of customer service "saved the day." He refunded the entire order, sent flowers and took ownership. He spent his personal weekend time resolving the issue. While it is admirable, it begs the question of why the day needed saving in the first place.
It doesn't take much diagnosis to realize that because the customer support team didn't have the right channels available for the right cases, they were unable to support my needs as a customer at a time were urgency and emotions were high. At Talkdesk, we analyze customer interactions on two axes: urgency and emotion. The appropriate channel for an issue is determined by the degree of both.
Here's a graph to illustrate the best time for each channel: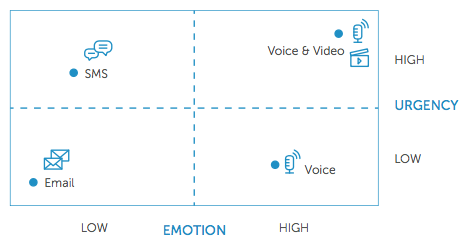 In my story, I had a high-emotion/urgency issue, but only had access to low-emotion/urgency communication channels (email and chat). I had an unsatisfactory experience, but it wasn't because the company didn't care about me or want to help, it was exclusively because they didn't have the right channels in place to handle my situation.
The learning is clear: not every customer interaction is the same and for companies to support their customers' issues, they need to offer a range of communication channels. Companies should invest more heavily in the channels that align with the most common customer issues, but when it comes to customer satisfaction, limiting access to certain channels just won't get the job done.
Publish Date: December 21, 2017 5:00 AM
---

This article was originally written by Bill Hoppin, EVP of Sales, Marketing and Alliances at TalkIQ for Opentalk Magazine.
Today we have so many ways to communicate with each other: email, text, social, web, chat, instant messaging, etc. Businesses are rapidly adopting these new channels to interact with their customers, but they all have one major characteristic: a delay between when a question or a statement is posted and the response. This asynchronous communication can be helpful when a brand needs time to review information and reply. It makes sense — we have all let a call go to voicemail when we want to learn a bit more before being on the spot.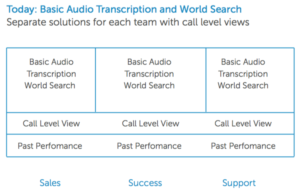 For businesses, the delay associated with these communication channels carries the risk of simply contacting your customers without really connecting with them.
Connect to your customers in real time with a personal touch
Real-time communication is the way humans have interacted to build relationships since the origins of language. Whether it is an in-person business meeting, a web meeting or a phone call, engaging customers in this way is the path to loyal and meaningful customer relationships. When you connect with your customer instead of just contacting them, you show the human part of your company, one that detects and reacts to subtle interactions that occur.
Ideally, these client relationships are developed during face-to-face meetings with your customer, like the door-to-door salesperson of the past, who evolved into the outside salesperson of today. This is still the best way to create and develop meaningful customer relationships. The onsite service person of the past filled a similar role for customer support and service. Nothing helps develop a relationship better than solving a problem quickly and efficiently for a customer in need. If this can be done in-person, it's even better — think about the Apple genius bar. The challenge for many businesses trying to efficiently deliver in-person sales and support is cost and scale. In a majority of cases, it is prohibitive to have a sales or support team large enough to meet on-site with customers.
The meteoric rise of the contact center (the answer to real-time, cost-effective customer engagement at scale)
A better and much more scalable compromise for developing customer relationships is real-time voice communication over the phone. While not as powerful as in-person engagement to develop relationships, voice communication is a much more scalable and cost-effective platform. Teams of sales and support reps can engage customers over the phone to add a personal touch and develop stronger relationships.
This strategy has given rise to explosive contact center growth around the globe. With the advantages that the cloud offers, call centers can be set up quickly and scale up or down according to the business's needs. The cloud-based contact center makes it seamless for a business to maintain internal or outsourced sales and support teams. It's just as easy to maintain a hybrid team of dedicated in-house talent augmented with external teams.
These cloud-based contact center platforms are optimized for speed of installation and setup to get sales and support teams up and running quickly. Businesses gain the benefit of real-time voice and meaningful relationships with customers. These platforms have been built to provide an end-to-end voice solution that begins with the initial sales contact and continues all the way through the purchase decision and into customer support interactions.
Cloud-based contact center platforms have also been built with extensibility in mind. Leading companies are making a rich set of APIs available; enabling an ecosystem of value-added capability derived from contact center data. This API platform ultimately enables solutions to be available in an easy-to-access marketplace where customers can discover, try and buy the latest innovations.
Read the full article in Opentalk Magazine by clicking the image below.

Publish Date: December 6, 2017 5:00 AM
---

This article was originally published in the second issue of Opentalk Magazine.
Building a great team comes down to finding the right blend of skills, personalities and emotions in the interview process. Anyone who is taking a job as a contact center agent needs to be organized, friendly and calm under pressure, but the right candidates for a customer success team need a little bit more.
To illustrate the process of building a success team that truly allows customers to flourish, here are answers to some of the most commonly-asked questions.
Why is customer success important?
Without it, you don't really have a company. Customer success is the crossroad of the product, the company and its customers. It's the company's glue. There's something special about the responsibility to your customers to be genuinely cross-functional within your respective company. Good success managers thrive o the responsibility to build relationships with stakeholders across every part of the organization — finance, billing, sales, product or support. There's something appealing about the risk involved as well. If you can't stand and deliver on being the nexus of your company for the customer, it becomes very apparent, very quickly, that you're not serving them in the right way.
What are the must-have qualities in a great success manager?
There's a lot that goes into being a great success manager, but it all comes down to four essential characteristics: emotional intelligence, hustle, accountability and having a consultative approach.
What does emotional intelligence look like in a success manager?
A success manager with a high emotional intelligence (EQ) has a knack for reading a room and a keen sense for the needs of different audiences. They know how to tailor interactions based on the type and temperature of a specific customer. Success must interact across a customer's entire organization in a wide variety of situations. A low-EQ, one-size-fits-all approach won't cut it.
In the interview process, how can a company test for this? One of the best tactics from an interview standpoint is a role play exercise where the candidate is the success manager and the interviewer is an irate customer. The interviewer's role is to channel everyday pain points into a high-temperature dialogue. What you're looking for from the candidate is their degree of competency in an off-the-cuff situation. Can they maintain their composure? Are they able to take a narrow, tactical conversation and elevate it to a broader, more strategic one?
The best success managers aren't just firefighters; they are strategic partners to their customers. They're always thinking about how to more effectively align with the customer and help them to leverage their particular solution in the most advantageous way. Last, they should always look for signs of follow through. Did a candidate outline their takeaways and action items? Did they discuss a timeline for those action items? Attention to detail is critical; job applicants can't just answers question about this aspect, they need to show it with their actions.
Read the full article in Opentalk Magazine by clicking the image below.

Publish Date: November 30, 2017 5:00 AM
---

We're only a day after Thanksgiving and for businesses nationwide that means one thing: the holiday rush is coming. Black Friday is the official start to the holiday shopping season, meaning big deals and even bigger crowds for retail shoppers.
The stores are certainly bustling on Black Friday, with shoppers lining up hours before some stores even open, but what about contact centers for those retailers? On the biggest day of the shopping season we explored how Black Friday affects the contact center industry.
Take a look at the holiday season contact center snapshot we put together from Talkdesk's retailer customer data in 2016. Here's what we found:
Call volume doesn't spike on Black Friday - Surprisingly, Black Friday looks just like Monday, Tuesday and Wednesday from the same week. Thanksgiving day sees an understandable dip in contact center activity, but otherwise, calls don't change much throughout the week. Actually, of all the weekdays between Thanksgiving and Christmas, retailers saw the the fewest calls on Black Friday. The real activity starts the week after.
The big jump in contact center activity starts on Cyber Monday - Last year, Cyber Monday call volume was more than double that of Black Friday, kicking off a trend that lasted throughout the entire holiday season. In the four weeks between Thanksgiving and Christmas, contact center volume was constantly around a 100% increase from the previous four-week period.
Calls to retail contact centers follows a noticeable pattern - Each week after Thanksgiving starts with a burst of contact center activity on Monday and a gradual decrease in activity until Friday before dropping off on Saturday and Sunday. In fact, the single biggest day for contact center calls was the Monday immediately before Christmas (which was a Sunday in 2016).
Christmas isn't a silent night - While most retail locations are closed on December 25, contact centers still see some activity. Inbound call volume is about 50% less than a typical weekend day, but it's not as close to zero as you might expect. However, the percentage of calls answered on Christmas is very low, around 20% of the answer rate on Black Friday.
The busiest time for contact centers is 9 a.m. Pacific time - As we already stated, most people are placing their contact center calls on the first day of the week. They're making sure they make those calls early in the day. If you're a consumer who is looking to avoid a busy contact center queue, the first day of the week and the first part of the day are the busiest times to call in.
Enjoy the holiday season. If you're participating in any contact center conversations, remember to spread some holiday cheer.
Publish Date: November 24, 2017 5:00 AM
---

Top sales reps are familiar with the ongoing battle between quantity of calls versus quality of conversation. More of one meant less of the other; they could choose to make more calls or have more meaningful conversations, but couldn't have both. A successful sales professional cuts through the noise and sell more by focusing on three key objectives: higher call volume, better conversations and faster rep ramping. Here are three goals top sales professionals set, using intelligent software like Talkdesk for Sales to hit the metrics that matter:
Increase call volume by cutting out busywork
Today, inside sales reps are spending only 33% of their time actively selling. An easy way to increase productivity for an inside sales professional is to increase the number of calls the team can handle in a day. Successful sales professionals spend more of their time actually selling by using intelligent tools like a lead to call, local presence, voicemail drops and callbar to place more calls, get a higher response rate and be more precise in their selling messaging. (Our product experts at Talkdesk found that our power dialer alone can increase a team's outbound connect rate by 30% and talk time by more than 300% per hour). Sales reps can also save time when their tools include integrations that automatically sync information after calls because it allows them to quickly move from one successful call to the next.
Use real-time customer data to increase quality of conversions
To convert a prospect into a customer, isn't enough just to increase call volume. Top sales professionals use AI tools to ensure that those calls have the highest chance of converting to revenue. Technology like Talkdesk for Sales Intelligent Routing ensures that the right agents are talking to the right prospects at the right time. It's the easiest way to optimize the time your reps spend on the phone and also respects your prospects' time by minimizing the number of contacts they have with your team.
Talkdesk for Sales also comes equipped with out-of-the-box Salesforce integration that dips into a prospect's CRM information to give a sales rep information that will personalize the call and increase the chance of conversion. By eliminating the introductory information from a call, reps can get straight to understanding a prospect's needs and finding a solution that fits.
Cut down reps ramping time to onboard quickly and efficiently
Successful inside sales teams grow quickly and onboarding new reps can take a lot longer than desired. The average inside sales rep isn't ramped up to full productivity for more than five months. Top sales reps address that problem in a couple of ways. First, they record all calls, giving a manager the ability to listen to any rep's calls and pinpoint areas for coaching. Second, managers also use the call recordings to share best practices from top-performing reps with the rest of the team.
New, intelligent speech analytics tools in Talkdesk for Sales analyze calls in real time and notify reps of key selling moments in a conversation. This smart technology can act as a coach during calls and can also be used coaching sessions to guide newer reps to be able to identify those moments on their own and future steer calls in the right direction.
Talkdesk for Sales is loaded with new features that will help your inside sales team make the most of key sales opportunities. To learn more about Talkdesk for Sales and how your team can benefit, click the button below.

Publish Date: November 20, 2017 5:00 AM
---
Today's customers often prefer email, phone or chat communications to face-to-face meetings, according to CSO Insights. In response to this shift in customers' preferences, companies have adjusted their sales strategies to focus on identifying, nurturing and converting leads remotely. As a result, inside sales jobs have grown 300% faster than field sales.
Despite the rapid growth the inside sales market training, tools and coaching, inside sales professionals only spend 33% of their time actively selling. The rest of their time is spent on activities like updating multiple CRM and sales tools, leaving repetitive voicemails and manually pulling leads from a website to make calls. Here are identified five steps you can take today to boost your inside sales team's revenue with Talkdesk's intelligent sales technology, enabling more conversations and higher conversions.
#1: Use power dialing to connect reps with the right leads at the right time
Talkdesk's power dialer uses statistical algorithms to minimize the time that agents spend waiting between outbound calls, while also maximizing the number of calls that are answered. Using this function can increase your team's connect rates for outbound prospecting by 30%+ and talk time by 300%+ per hour.
#2: Send pre-recorded voicemails to multiple prospects at a time
Letting your team select pre-recorded voicemails to drop into prospects' inboxes is an easy way to make sure reps are including all of the important information. It also frees up time so they can quickly move on to the next call.
#3: Select a local number to increase connections
Prospects are more likely to pick up a call from an incoming caller with a local number. Allowing your reps to select the optimal number for outbound calls will increase their likelihood of getting an answer and enable more conversations.
#4: View contextual information about prospects on a single screen
Get rid of screen switching with Callbar, a tool that pulls all of a contact's information from your CRM and sales tools into one application that lives outside the browser. Customizing individual prospect conversations leads to a higher percentage of conversions.
#5: Instantly follow up on hot leads from your website
Reaching out quickly to hand-raising prospects is an easy way to dramatically increase the likelihood of conversion. Automatically contacting leads as soon as they fill out a form on your website will allow your inside sales team to strike while the iron is hot, leading to higher conversions.
If these tips sound useful for your inside sales team, check out Talkdesk for Sales to learn how our intelligent software can help you boost revenue by enabling more conversations, higher conversions and faster rep ramping. Talkdesk for Sales uses tools like power dialing, voicemail drop and more to allow inside sales reps to have more conversations than ever before. It also incorporates intelligent contact center technology to customize individual prospect conversations, leading to a higher percentage of conversions.
Additionally, Talkdesk for Sales offers great tools for managers to monitor individual agent conversations, providing them with valuable coaching opportunities that will accelerate the growth of current reps and the onboarding of new reps. To learn how you can increase your inside sales conversions today with Talkdesk for Sales, click the button below.

Publish Date: November 16, 2017 5:00 AM
---

San Francisco had a busy week at Dreamforce 2017 last week. Talkdesk had a great time showing off our intelligent contact center technology and sharing ideas for the future of the industry. Here's a quick rundown of some of Talkdesk's activities from Dreamforce 2017:
#1: Gadi Shamia shared five crazy ideas for transforming customer experience to a packed breakout session
Gadi's idea that agents should have real-time customer information received a spontaneous round of applause from the audience. Check out all of his crazy ideas in our live blog from the session.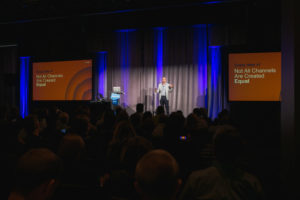 #2: We gave away a Porsche!
Our lucky grand prize raffle winner drove home from Dreamforce in a brand new 2018 Porsche Cayman. Runners up won awesome prizes including a Peloton bike, a custom Indochino suit, a Nectar mattress and pillow set and many more.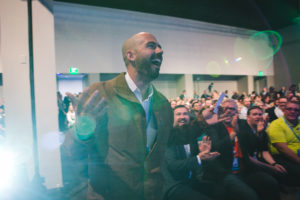 #3: Peter Coffee, VP of Strategic Research at Salesforce, interviewed Tiago for the Dreamforce Day of Compassion Pre-Show
"You used the phrase 'customers of our customers.' That's such an important concept," said Peter Coffee, VP of Strategic Research at Salesforce to Tiago Paiva, CEO of Talkdesk. Check out the full video on Salesforce Live.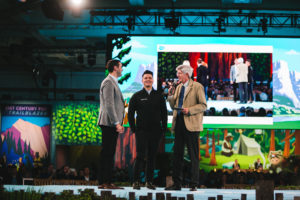 #4: Matt Heiss shared the story of Peloton's journey from kickstarter to national fitness trend
The billion dollar startup, founded in 2012, has cornered the indoor fitness market, combining cutting-edge bike technology with world-class trainers, equipment and analytics to make world-class fitness classes available at home. Matt Heiss, Peloton's Director of Sales Operations, filled the room at Talkdesk's kickoff Dreamforce 2017 session. Find out how Matt reshaped Peloton's inside sales process to optimize for rapid growth.
#5: HotelTonight, Caviar and Evernote showed us what it truly means to go above and beyond customer expectations
High-growth, mobile-first companies HotelTonight, Caviar and Evernote empower agents with customer data, measure what matters with real-time analytics and think outside the box to deliver exceptional customer experience and operate efficiently at scale. Check out the live blog for tips from these leaders' experiences building cultures of empowerment and stories of what it means for agents to truly go above and beyond expectations.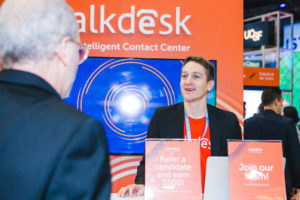 #6: Vivino shared secrets about pioneering the wine industry's move to digital
Wine customers are a particular bunch. Chad Boonsupa, Head of Global Customer Support of Vivino, shared the story of how he used Talkdesk to shift the wine industry to an online marketplace using buying data, highly customized customer service and automated reporting.
#7: IBM iX premiered their thinkLeaders panel in the SFMOMA with "The Future of Customized Experiences" featuring Gadi Shamia of Talkdesk, NextUser and Agent IQ
"Customer experience is the total sum of interactions that a brand has with their customers," said Gadi Shamia, Talkdesk COO, at IBM iX's first thinkLeaders panel at Dreamforce. The panel, held in the SFMOMA's In Situ restaurant, explored the on-demand world of customer experience and spoke with leaders at companies who are delivering customized journeys best: Talkdesk, NextUser and AgentIQ.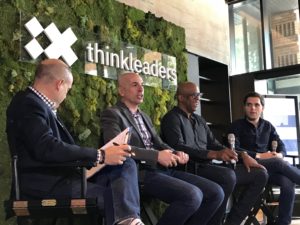 #8: We gave away 3,000 pieces of chocolate at the Talkdesk Booth in the Dreamforce Customer Success Expo Hall
Talkdesk was a Titanium Sponsor at Dreamforce, so we had plenty of opportunities to talk to expo visitors about how our intelligent contact center can help them. We made some great new friends and gave away more than 3,000 pieces of chocolate and prizes to booth visitors. It was a fantastic opportunity to learn more about how companies are using their contact centers today and show them about where Talkdesk is going.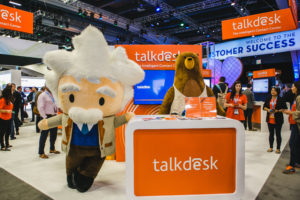 #9: We munched on sandwiches and gave attendees sweet new shades
Dreamforce attendees kicked back in bean bags and picnic tables between sessions to enjoy lunch and Talkdesk sunglasses at Yerba Buena Gardens.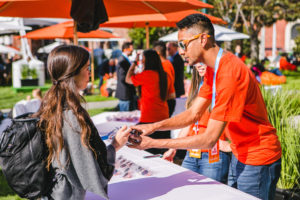 #10: 1,000 people relaxed at Talkdesk's Elixir Hours in our VIP Lounge
More than 1,000 Dreamforce attendees came by Talkdesk's Elixir Hours to enjoy margaritas, savor our delicious candy bar, take pictures in the selfie mirror and take home a personalized cup from graffiti artist Kuya George.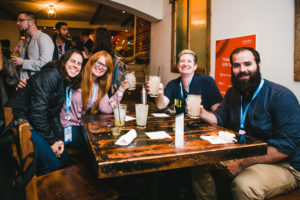 #11: Marissa Kraines interviewed Tiago on Salesforce Live
Marissa Kraines interviewed Tiago Paiva, CEO of Talkdesk, and Matt Heiss of Peloton to learn about Talkdesk for Sales for Salesforce Live.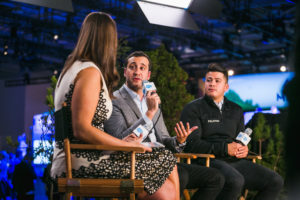 #12: We rocked out to Alicia Keys and Lenny Kravitz at Dreamfest 2017
We rocked out to a world-renowned DJ at WalkMe's Temple Night Club Party, complete with a fully stocked open bar, premium locally made appetizers, an interactive photo booth and networking opportunities with over a thousand Dreamforce attendees.
#13: We talked business transformation with Geoffrey A. Moore, author of "Crossing the Chasm"
Geoffrey hosted an executive roundtable to discuss industry trends including intelligence and autonomy. New companies have a level of customer service personalization, speed and responsiveness that old companies don't have and can use these new tools to create more meaning connections. Talkdesk will be covering learnings from this session in upcoming content pieces, so stay tuned to learn more.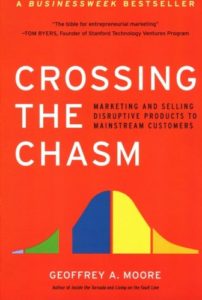 #14: Aduro, TalkIQ and AutoReach gave us a glimpse of their artificial intelligence-powered CX
Customer experience is the sum of all interactions with a brand. When it comes to support and sales, customers expect intelligent, customized experiences right away. Leaders from Aduro, TalkIQ and Autoreach share how intelligence has been used at to achieve a variety of CX goals.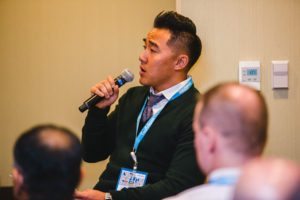 #15: Dreamforce 2017 attendees got early access to Talkdesk for Sales demos in the Lodge
Conference attendees got early access to a demo of Talkdesk for Sales, our newest product, in the Dreamforce Sales Lounge. We announced Talkdesk for Sales at Dreamforce 2017 to help inside sales teams handle more calls, have more productive outcomes and get the coaching they need to convert and close more business.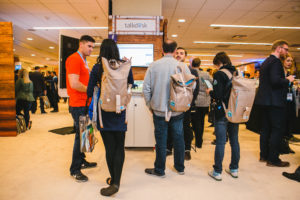 #16: Artificial Intelligence emerged as an industry theme
The topic on everyone's lips at Dreamforce was artificial intelligence. Industry leaders are leaning in to find new ways to improve sales and customer experiences using artificial intelligence. It's exciting to think about how these intelligent products will work together in the future.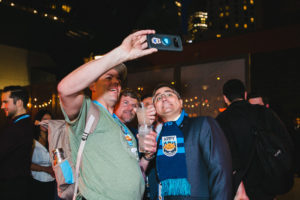 #17: Looking forward to seeing you next year!
It's never too early to start counting down to next year's busy event calendar. We're taking everything we learned back to our office to improve the way we work and the way we treat our customers. Let's swap stories when we run into each other next year.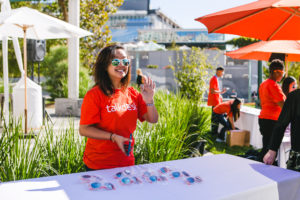 To learn more about Talkdesk, our intelligent contact center or how your sales and support teams can benefit, set up a call with one of our experts by clicking the button below.
Publish Date: November 13, 2017 5:00 AM
---

This post is part of Talkdesk's live-blogging series for Dreamforce 2017. To see all of Talkdesk's Dreamforce 2017 highlights, visit our Dreamforce 2017 landing page.
We've all been on a bad customer support call before: you call, you wait, you talk to an agent, you wait, you talk to another agent … It's very unsatisfying. While the primary function of these calls has shifted from transactional to experiential, the caller journey hasn't been updated in 30 years.
It's time to change all of that. It's time to revolutionize the industry with ideas that will move the needle. It's time to stop putting up with broken processes and start being a little crazy. At Dreamforce 2017, Talkdesk COO Gadi Shamia presented "5 Crazy Ideas for Transforming your Contact Center" to a packed breakout session room. Check out his crazy ideas below and try some of them in your contact center.
#1: Don't treat 
your channels as equal
In the old days of customer support, there was one channel: phone support. Over the years, new channels have been added to the mix (e.g. email, agent chat, SMS, chatbots) and each one has been forecasted as the one to end usage of all the others. Despite the array of technologies that have been introduced over the years, voice remains the dominant channel for customer support. Successful contact centers create a channel mix that is right for the unique needs of their customers.
Talkdesk's approach to determine the right channel mix involves two criteria: urgency and emotion. Once the situation is diagnosed and the right channel is determined, a company can move forward with the conversation.
#2: Agents should have real-time customer information
*This idea received a round of applause from the live audience during Gadi's session.
Modern customers expect brands to provide a personalized experience. If a customer is used to receiving special promotions or ads based on past experiences with a company, they also expect a high degree of information to be available to the agent on the phone with them. However, agents face a blind spot when talking to customers. If you've ever had to provide your name, your account number or, worst of all, your phone number to an agent, you've experienced this issue firsthand.
Talkdesk is built around the idea that a contact center should proactively provide caller information to agents. With the release of Context Mobile, we've taken another step toward bridging the gap between a customer's self-service experience and their support experience. Context Mobile displays information about a customer's in-app mobile activity to an agent before and during a call, allowing the agent to begin the call with a clear understanding of the caller's relevant history and potential needs. Context Mobile saves agents and customers valuable time while improving customer satisfaction.
#3: You should 
be innovating 
at the speed of 
your customers
Innovative companies like Talkdesk build their product quickly and release new features constantly, but nothing moves as fast as consumer expectations. Companies don't just need a contact center that manages calls, they need one that also provides workforce management, voice analytics, productivity and business intelligence. Talkdesk released AppConnect in early 2017 to offer customers an easy way to integrate contact center innovations at lightning speed.
By inviting new partners to build on the Talkdesk platform, we are able to work side-by-side to develop new tools for our customers and make them available to use in record speed. Every AppConnect solution eliminates risk by offering one-click installation, a 30-day free trial and pay-as-you-go billing. It's the best way to make sure your contact center is moving at the speed of your customers.
#4: Every rep 
has the answer
Contact center industry staffing poses a lot of problems: turnover is high, new agent ramping can take up to six months and reps are forced to manage information in disparate systems, which often means hunting down answers while a customer grows increasingly impatient on the phone. In fact, contact center agents spend only 33% of their time actually selling on calls. The rest of their time is spent overcoming roadblocks between callers and the information they need.
Talkdesk's new tool, AgentAssist, provides a solution to the problem of the uninformed agent. The tool uses cutting-edge voice analytics from TalkIQ to transcribe calls in and identify key moments in the conversation. From there, Salesforce Einstein can locate relevant information and assets that will help the agent handle that specific issue. All of this happens in real time, so the agent has an answer for a caller the instant that caller needs it. There's no need to search through a resource library or put the caller on hold while the agent looks for information.
#5: Don't just analyze your customers, respond to them
Reporting is the cornerstone of every contact center. That's why we built Talkdesk Live to help managers make adjustments to real-time information about the activity in their contact center. CSAT is a core metric to understand the effectiveness of customer interactions. We increased our response rates to CSAT surveys from 2-3% to 30-40% by sending the surveys through SMS. Those responses then sync into a customer's CRM profile and can be analyzed to get a better picture of an individual's history with the company.
Better CSAT reporting is only a starting point to understanding your customers better. Using Talkdesk's simple drag-and-drop recipe builder, contact center admins can create workflows to respond to unsatisfied customers the minute they report a negative experience. For example, a bad CSAT score can be configured to trigger an email or a phone call to that particular customer to discuss what went wrong. Because customers who report negative experiences are often the least patient when waiting for an answer, Talkdesk allows companies to move those unsatisfied individuals to the front of the line to turn their experience into a positive relationship.
Bonus Tip #6: You can set up a new contact center 
in minutes
It shouldn't be painful to set up and manage your contact center. You shouldn't have to buy new hardware or make repeated calls to a professional services team. Everything should be managed with an easy admin portal that allows for changes with the click of a button. That's the original crazy idea that started Talkdesk and it's one that can improve your company's relationships with customers immediately.
The best part about Talkdesk is that we're not done innovating. We are constantly coming up with crazy ideas and turning them into solutions to improve customer relations and drive loyalty. To learn more about how Talkdesk can help your company, click the button below to set up a demo with one of our experts.
Publish Date: November 8, 2017 5:00 AM
---

This post is part of Talkdesk's live-blogging series for Dreamforce 2017. To see all of Talkdesk's Dreamforce 2017 highlights, visit our Dreamforce 2017 landing page.
Technology has changed the way consumers shop for everything today. The modern consumer requires a modern solution to stay loyal. Vivino has been at the center of the movement to digitalize the wine industry since it was founded in 2009, taking the wine-buying experience mobile with an app that allows for image recognition, community reviews and intelligent behavior monitoring. By using smart tools to "change the way people wine," Vivino has created the world's largest and smartest wine community and marketplace.
Early in the company's growth, Vivino had an important realization: wine is often an important part of social events of all sizes and in order to satisfy wine drinkers, they needed to facilitate social experiences for their customers. Often, customers who called the support line didn't just want a few quick answers, they wanted to have onversations about their wine choices. The selection process was a social experience in itself and customers needed to feel confident about their wine choices to be satisfied with the product. As the company expanded, Vivino made it a priority to maintain personal connections with the wine drinkers who use their service.
"Voice is so important in the wine industry. Customers need support in their native language; French need customer support in French and English in English. When we began opening the app in new locations, we understood that's what they deserve, which is why we choose local experts to be knowledgable resources for callers," said Chad Boonsupa, VP of Customer Experience at Vivino.
With all these calls happening in different locations and different languages, Chad needed to find a simple tool to manage and optimize support interactions. Having used Talkdesk at a previous company, he was familiar with the ease of setup and decided to use Talkdesk to manage Vivino's customer support.
Starting with a complex support structure that had unique flows for multiple channels and multiple languages, Chad simplified Vivino's diverse customer support team to operate seamlessly inside Talkdesk. He even set up live reporting triggers to deliver daily reports to his business intelligence team so he could optimize productivity for each of his agents. The setup process was so simple that Chad's support team was able to respond to phone calls the same day they set up their contact center.
Chad also set up Talkdesk's analytics function to customize the caller experience for Vivino's six unique consumer archetypes. The team gathered information about each type of user and trained their support team to satisfy the needs of each. This personalized style worked brilliantly. Today, Vivino has grown to more than 26 million active users in seven languages and 11 countries. Talkdesk has enabled Vivino to improve CSAT significantly by minimizing the time to first touch and allowing support agents to stay on the phone as long as a customer needs to complete a conversation.
To learn more about Vivino's experience with Talkdesk, watch their video case study. If you're interested in learning more about the rest of Talkdesk's activities at Dreamforce 2017, click the button below.

Publish Date: November 7, 2017 5:00 AM
---

Talkdesk today announced Talkdesk for Sales, a brand new offering aimed at increasing the impact of inside sales teams. With growth in inside sales far outpacing the growth of field teams, we saw an opportunity to use our intelligent contact center software to equip these professionals with AI tools that would make the prospect conversations simpler and more productive.
Today's inside sales reps are only spending about a third of their time on the phone actively selling, and often those calls aren't converting at a high rate because they aren't powered by any smart features that allow an agent to adapt to each individual prospect.
Talkdesk for Sales fixes that problem in three ways. First, it utilizes tools like power dialing and voicemail drop to allow inside sales reps to have more conversations than ever before. Second, it incorporates intelligent contact center technology to customize individual prospect conversations, leading to a higher percentage of conversions. Finally, Talkdesk for Sales offers great tools for managers to monitor individual agent conversations, providing them with valuable coaching opportunities that will accelerate the growth of current reps and the onboarding of new reps.
Here's a list of some of Talkdesk's next-generation features that are included in the Talkdesk for Sales offering:
Call Recording - enables coaching to ensure call quality and consistency standards.
Voice Analytics - uses AI to identify successful sales calls in order to scale learnings across the sales team
Power dialing - increases connect rates for outbound prospecting by 30%+ and talk time by 300%+ per hour
Voicemail drop - lets reps select a pre-recorded voicemail to leave for prospects' inboxes, rather than re-record a message for every phone call
Local presence - allows reps to use a local number which increases likelihood of an answer
Callbar - simplifies calling with an intuitive click-to-call app that provides unified access to CRM and other tools like ZoomInfo, SalesNavigator and LinkedIn
Out-of-the-box Salesforce integration - unifies voice/omni-channel, desktop telephony, native reporting and automations
Best of all, Talkdesk for Sales gives your entire inside sales team access to our cloud-based platform, meaning that reps can work from anywhere without the need for phones, hardware or complicated setup. Talkdesk for Sales is built directly into Salesforce so provisioning happens in clicks and minutes.
Talkdesk will be showcasing Talkdesk for Sales at Dreamforce in San Francisco this week. Stop by our Cloud Expo booth (#817) or visit the Talkdesk Lounge to see our new intelligent selling tools in action. To learn more about Talkdesk's activities at Dreamforce and plan a time to see Talkdesk for Sales in person, click the button below.

Publish Date: November 1, 2017 5:00 AM
---

At Talkdesk, we think a lot about how we can make contact centers better for customers. Our product is contact center software, so our focus is improving that tool, but in the bigger picture of the customer experience, there's a lot more than goes into successful customer interactions than a contact center.
In fact, the contact center is the tip of the customer experience iceberg. It's the most visible part, the one that callers actually experience firsthand, but there's a lot more than goes into those interactions than just the actual phone call. The leading contact centers of tomorrow will have a rich web infrastructure of business tools interconnected with a contact center to make a customer's experience as effortless as possible.
For starters, today's contact centers should live in the clouds. On-prem services are expensive and slow to manage, plus they make it difficult to integrate additional tools. A cloud-based contact center like Talkdesk can be up and running in just a few minutes and can be connected to your CRM through one of Talkdesk's 25 out-of-the-box integrations. The cloud connectivity doesn't just connect a CRM to your contact center, it allows you to use your CRM as a call center. Features like Click-to-Call and two-way synch mean that you get to add robust contact center functionality into the same tools you already use.
Talkdesk's integrations aren't just limited to CRMs though, there's a lot more you can do with the information from your contact center activity. To learn more, check out Talkdesk's integrations list and see how many your company is already using.
To take it one step further, Talkdesk makes it easy to create automations across different solutions. Sharing information across your business tools is an easy way to cut down the amount of post-call work your agents have to do and keep them on the phone talking to customers and prospects.
Beyond integrations, Talkdesk customers can also take advantage of a whole new suite of advanced contact center tools in AppConnect. These new solutions offer productivity, workforce management, voice analytics and more to your contact center. Even better, they all offer 30-day free trials so you can experiment with them to see what works for you and your customers.
However, the real value of Talkdesk's open platform isn't in just adding a single integration or app. The value of all of these interconnected tools is when they are arranged so they can all add value to each other.
For example, integrating a voice analytics tools from AppConnect into a Talkdesk contact center that is integrated with a CRM will transcribe previous conversations with a customer or prospect and pinpoint specific moments or phrases those conversations when agents should have taken specific actions. With all of those interconnected tools in place, an agent could review that call history and be on the lookout for a similar occasion in an upcoming call. It's like an intelligent cheat sheet for future calls.
The interconnected contact center has limitless options and it's up to you to determine which capabilities will work best for your customers. Read more about our integrations and apps and use your imagination to come up with an interconnected contact center that will delight your customers.
Click the button below to learn more about the revolutionary new intelligent apps available on Talkdesk's AppConnect.
Publish Date: October 31, 2017 5:00 AM
---

At the core of Talkdesk is a dedication to our customers' customers, to the people under stress who pick up the phone in hopes of finding a person who can resolve their issue. What we build is for our customers to use, but the people we want to help the most are the callers who benefit from that technology.
How we measure success with those end callers is through minimizing their customer effort, but since we don't interact directly with them, our goal is to make contact center software that is easy. The thinking is that complications with contact center software will increase the effort of our customers and that extra effort will get passed on to their customers. If a contact center takes two full minutes to identify a customer, that customer is waiting two full minutes before their problem is even addressed.
Talkdesk's simplicity is designed to be passed on to the end caller. The reason that we design a contact center that can be set up in just a few minutes is so that company's customers can start having their problems solved as soon as possible. The same is true for other management tasks. The sooner an IVR is created, the sooner customers can begin using it to navigate to the appropriate agent. The easier it is for contact centers to add new agents, the sooner those new agents can begin resolving caller issues. The effort saved in managing the contact center is converted into effort used to help customers.
Talkdesk is loaded with advanced contact center features that are strikingly easy to use. For example, our Callbar brings the advanced functionality of Talkdesk into a standalone app that allows agents to view caller information without having to switch between tabs as frequently. This extra time saved is translated to the caller in the form of shorter talk times and less silence during the call while the agent looks up information. The same is true for Talkdesk's 25+ integrations. The easier it is to connect Talkdesk to other business tools, the sooner the callers can benefit from quicker access to that information.
One of the biggest focuses for Talkdesk has always been the availability of real-time reporting. With Talkdesk Live, contact center admins and supervisors have access to analytics that let them optimize operational flow to help callers get exactly what they need. Our philosophy is that the sooner contact centers can be alerted to the need to make adjustments, the sooner they can make them and the sooner the callers can benefit. There are 15+ pre-built reports and easy-to-create custom dashboards to help contact centers make things easy for their callers.
The release of AppConnect is the next chapter in Talkdesk's growth and moves that simple functionality to developers looking to create their own contact center apps. It's a brilliant new way to allow contact centers to try, but and manage new tools that will improve customer interactions. AppConnect offers a whole suite of new productivity tools that increase efficiency and minimize effort for the agents and the customers who call in.
To see how simple Talkdesk is to use and start brainstorming ways to reduce effort for your customers, click the button below to schedule a demo of Talkdesk for your company.
Publish Date: October 26, 2017 5:00 AM
---

New Customer Wins, European Expansion and Key Hires Support Smarter Contact Centers
San Francisco, Calif. – October 25, 2017 – Talkdesk, the leading intelligent contact center cloud platform, today announced unprecedented momentum across all facets of its business. In the first half of its fiscal year, the company achieved exceptional growth in new customer wins in the U.S. and Europe and attracted top-tier talent from competitors. Additionally, Talkdesk was recently named a Visionary in the 2017 Gartner Magic Quadrant for Contact Center as a Service, North America.* Talkdesk's new customers include Indochino, Evernote and Education First English Live.
Several companies adopted Talkdesk over other contact center software providers, citing Talkdesk's superior call quality, impressive product roadmap and features that benefit both businesses and their end customers. On average, Talkdesk customers achieve a 20 percent improvement in contact center productivity and a 19 percent improvement in customer satisfaction (CSAT).
Talkdesk was founded in 2011 by engineer and entrepreneur Tiago Paiva, who had a vision for reinventing contact center solutions. Talkdesk has continued to expand, doubling its engineering staff and adding a European general manager and sales office.
"When we started, we had a simple goal to improve contact centers by delivering the best call quality and an easy-to-use interface," said Tiago Paiva, Talkdesk CEO. "There's a bigger opportunity today – leveraging AI and machine learning to radically rethink and shape the way businesses communicate with their customers."
Talkdesk's momentum has attracted top talent, including seasoned industry executives and key product hires. Recent additions include:
Jafar Adibi, Head of Data Science and AI, joined Talkdesk to continue development of AI-enabled functionality. Previously, Adibi focused on data science and consumer intelligence at companies including Reunify, PwC and Incentica. Adibi holds a Ph.D. in Computer Science from the University of Southern California.
Jack Chawla joined Talkdesk from competitor Avaya to advance Talkdesk enterprise strategy and product roadmap. Before Avaya, Chawla was a Vice President of Product Marketing at SAP, Senior Director of Product at Webex and Director of Product Management at eGain. Chawla holds an MBA in Finance from Texas A&M University and B.E. in Engineering.
Peter Ekman,Vice President of People, joined Talkdesk with vast experience in building people processes and culture in iconic companies like Pandora and StubHub. Peter holds a B.S. in Managerial Economics from University of California at Davis.
*Gartner, "Magic Quadrant for Contact Center as a Service, North America," Drew Kraus, Steve Blood, Daniel O'Connell, Simon Harrison, 18 October 2017
Gartner Disclaimer:
Gartner does not endorse any vendor, product or service depicted in its research publications, and does not advise technology users to select only those vendors with the highest ratings or other designation. Gartner research publications consist of the opinions of Gartner's research organization and should not be construed as statements of fact. Gartner disclaims all warranties, expressed or implied, with respect to this research, including any warranties of merchantability or fitness for a particular purpose.
About Talkdesk:
Talkdesk, the leading intelligent contact center cloud platform, empowers business to have more effective customer conversations. Talkdesk provides an intuitive user experience, seamless integration to more than 25 business tools and intelligence capabilities that increase representative productivity and customer satisfaction. With headquarters in SF and multiple offices in Europe, Talkdesk serves customers in more than 50 countries globally. Over 1,400 customers, including Box, Dropbox, Peet's Coffee & Tea and Shopify, rely on Talkdesk to power their contact centers. Request a demo of Talkdesk at www.talkdesk.com/demo/
Press Contact:
Kelsey Cullen
650-438-1063
kelsey@kcpr.com
Publish Date: October 25, 2017 5:00 AM
---

Talkdesk is loaded with smart contact center tools that let you adapt to your customer needs in real time and improve customer relationships. We've already covered the cutting-edge intelligent tools that make our contact center platform an innovator as well as some differentiators that allow Talkdesk to build these tools at at unmatched pace, but what we haven't discussed yet is how Talkdesk affects your contact center strategy.
This arsenal of smart contact center features is only valuable if you make use of them! A change in software isn't going to produce results unless there's an accompanying change in operations. Real-time analytics won't produce value unless you make changes based on that data in real time, and so on.
All of these new changes in Talkdesk's contact center offering mean our customers can make a shift from being reactive to being proactive. For decades, the contact center has been at the mercy of the customer, waiting for a call to come in and then scrambling to collect information and reach a solution. But thanks to new technology, those reactive days are over.
A proactive approach can start before the caller and the agents say any words to each other. Talkdesk's contact center software includes technology that can give callers an option to skip waiting on hold and just receive a call when the next agent is available. From a contact center perspective, replacing inbound support calls with outbound support calls is the definition of taking a proactive approach.
Another way to be proactive for your customers is with the way they are greeted. A reactive contact center agent answers the phone by asking for a name and an account number. A proactive contact center answers the phone by greeting the caller by name and using the available information to determine the topic of their call. It saves the customer and the company some time, and it's emotionally easier on the caller to avoid repeating their issue.
In the bigger picture, these innovative smart contact center tools can provide the most value when they're built into the larger operations plan and literally change the logic behind the calls. New tools like voice analytics from TalkIQ or Simple Emotion give your contact center much richer insights into specific moments in a conversation and how they impact a customer. These real-time analytics can make the difference in how effectively your contact center operates, but there has to be a strategy in place to respond to those incidents as they occur.
These new integrations and solutions require outside-the-box thinking to integrate into your smart contact center workflow. This is the challenge, the companies that will eventually gain a competitive advantage from smart technology will be the ones that try new things and entirely re-think the process. At every step along the way, there will be new opportunities to increase customer satisfaction and agent efficiency, the real leaders of today will be ambitious about what they can achieve in both areas.
More than anything, the new smart contact center poses new challenge to customer-centric companies. With the industry changing so quickly, customers will notice which companies are communicating proactively and take their business to the company that goes the extra mile to make their experience better. To talk to one of our Talkdesk experts about how your company can create a proactive call center, click the button below.
Publish Date: October 24, 2017 5:00 AM
---

In the contact center industry, Talkdesk is one of the newest players. Legacy solutions have been established for decades and Talkdesk's best chance was to build faster than competitors. So that's what we did. And we haven't stopped.
When Talkdesk was founded, it was the first 100% web-based contact center software, which was a startling achievement at the time. The company vision was always to be exceptionally simple to set up and use and a huge part of that concept was minimizing hardware and eliminating Talkdesk from the administrative tasks.
At the time, those ideas were revolutionary. Since then, Talkdesk has continued to lead the way with an innovative intelligent product vision that is focused on providing the smartest software for our customers. Providing that experience means building a lot of new features and building them quickly, but that's what gives us the edge in the race to create the smartest contact center.
Here's a quick overview of some of the things that let Talkdesk make our contact center smarter at such an incredible rate:
Investment in Research & Development
Talkdesk has grown a lot in the last few years. In a little more than five years, the team has grown more than 300 new employees. No matter how quick the growth, our focus has always been on dedicating new staff to building our intelligent product.
Throughout Talkdesk's history, 50% of our headcount has always been in engineering/R&D jobs. That approach is how we caught up to all of the legacy competitors and it's how we're going to separate for the field in the future. That intense focus on the product is what powers Talkdesk's aggressive release cycle and lets us build new smart features at an unmatched pace.
Aggressive release schedule
While some of our competitors release new versions of their product once or twice a year, Talkdesk updates our industry-leading contact center platform on a monthly basis. We don't want our customers to have to wait on us to provide better contact center experiences for their customers. As soon as we have a cutting-edge, intelligent feature on the roadmap, we want to build it for our customers and make it available for use as soon as possible.
Talkdesk customers should be confident that they're using today's smartest tools, not the smartest tools from a year ago. With our frequent product builds, Talkdesk can stay agile with what we build. It also gives us the ability to involve current customers in product betas, giving them a chance to work alongside our team to develop the most cutting-edge contact center features.
AppConnect
The decision to build AppConnect was one we made for a few big reasons. First, it was the best way to expand what our platform's capabilities. The Talkdesk team is talented and hard-working, but we can't build everything we want. We needed to bring in some innovative minds to help create more smart solutions on top of our contact center. The goal was to give developers the tools to create intelligent AppConnect solutions as simply as possible so they could instantly add value for our customers.
What that means for our customers is the widest array of solution offerings for their contact center. Since all of the apps offer easy install and a free trial, Talkdesk customers can experiment with these different tools and keep only what provides the best value for them. Because app creation, installation and management are are easy as possible, new solutions can be made quickly and customers can adapt their contact center just as fast. AppConnect lets Talkdesk customers change the look and functionality of their contact center in real time to match customer expectations. This speed of innovation lets our customers incorporate the smartest tools into their contact center in real time to match customer expectations.
To learn more about how quickly Talkdesk is building smart features, click the button below and set up a call with one of our experts.
Publish Date: October 17, 2017 5:00 AM
Page: 1 | 2 | 3 | 4 | 5 | 6 | 7 | 8 | 9 | 10 | 11 | 12 | 13 | 14 | 15 | 16 | 17