Talkdesk - ContactCenterWorld.com Blog
Page: 1 | 2 | 3 | 4 | 5 | 6 | 7 | 8 | 9 | 10 | 11 | 12 | 13 | 14 | 15 | 16

In an economy where customers have a lot of product options, a personalized touch can make all the difference. In fact, according to a study done by Accenture in 2016, 75% of consumers are more likely to buy from a retailer that recognizes them by name, recommends options based on past purchases or knows their purchase history.
The ability to have intelligent, personalized conversations with customers is the reason we at Talkdesk are equipping agents with a smarter contact center platform. We do this through a number of features, including Advanced Routing, Sentiment and Mobile Context.
Have Personalized Conversations with Advanced Routing
This starts before an agent even answers the phone. Our Contact History feature supplies agents with information that 75% of customers agree improves interactions — their name, data about all previous calls or support requests and purchase history. Your company should be gaining the upper hand with quick wins and the loyalty this feature establishes with customers.
Likewise, in a world of unpredictable connectivity, it's common for customers to suddenly lose service and need to call back into your contact center. However, with most call center software, a dropped call means having to start over at the beginning of the queue with a new agent. It's a quick way for a customer's frustration to escalate. Talkdesk understands this and has recently added Intelligent Reconnect which allows for conversations to seamlessly continue after a dropped call. If a caller is disconnected while speaking to an agent and calls back within five minutes, Intelligent Reconnect automatically routes the customer back to the agent who picked up the initial call. If that agent is no longer available, the caller will get placed at the front of the line to minimize wait time and customer effort.
Have Intelligent Conversations with Sentiment
Talkdesk's Sentiment feature now equips your contact center with the opportunity to capture a customer's mood after each call from both the customer and the agent's perspective. Capturing a full picture of a customer's happiness from both points of view is incredibly valuable information to have for a couple of reasons.
First, in regards to the the customer, it can provide key insights on how best to approach a conversation with that customer on their next call. Immediately after a call ends, Talkdesk sends the customer a user-friendly SMS survey, which has statistically shown to be a low-friction communication channel and one that gets a substantially higher response rate than traditional IVR surveys. Our customers see a 30% response rate on average through SMS surveys compared to the typical 2-3% response rate through traditional email surveys. This faster and effective follow-up tool gives your agents feedback on a customer's mood in the moment, not hours or days later.
Second, having metrics on both sides of the conversation provides supervisors with individualized training opportunities. If an agent thought a conversation went well, but the customer did not, it creates a specific and immediate training opportunity. Moreover, with Talkdesk's Call Recording feature, a supervisor can instantly pull up the call recording to playback with the agent and have a faster and more intelligent training experience.
Have Smart Conversations with Context Platform for Mobile
Just as agents appreciate Talkdesk's Callbar feature that offers a simple and easy way to call customers, customers also appreciate being able to contact an agent by the simplest and smartest means possible. Talkdesk's Context Platform for mobile allows agents to identify, authenticate and deliver the right content in the right context for customers. Likewise, Talkdesk's SMS feature enables agents to communicate with customers directly about tickets or cases.
Smart service delivered quickly is what is impressing and winning customers today. To learn more about how our intelligent features can create smarter conversations for your agents and gain loyalty from your customers, click the button below and get connected with one of our experts.
Publish Date: September 27, 2017 5:00 AM
---

Talkdesk is proud to announce Talkdesk Context Mobile, part of the broader Talkdesk Context suite designed to provide up-to-the minute intelligence on customer self-service activity. Context Mobile is a contact center solution that provides real-time information about a caller's mobile in-app activity to customer service agents, so they can immediately provide relevant and personalized support. The service will be available as a closed beta today and general availability will come soon after.
Talkdesk Context is a response to common pain points that customers experience during contact center calls. It's a shortcut to their resolution that bypasses satisfaction-reducing tasks like account identification, agent switching, lengthy issue explanation and waiting on hold. Context is designed to allow Talkdesk customers to utilize our smart contact center technology to skip all of the undesirable contact center actions and focus on the things that matter most: resolving issues for callers.
Context Mobile is a new feature that allows Talkdesk agents to view information about a caller's in-app activity before they even answer an incoming call. It's designed for the modern customer, who often attempts to solve problems through self service first and resorts to a phone call if they can't resolve the issue on their own.
With Context Mobile, agents who answer a call will instantly have access to critical new information about a caller. First, they will have instant account identification authentication from the incoming phone number. No more asking for a caller's name, address or account number, Instead, agents can answer the call and greet the customer by name.
Second, Talkdesk Context gives agents access to information about the caller's in app-activity. In the case that a caller has been using a mobile app to prior to placing a support call, the agent who answers their call can use that information to instantly identify the issue.
For example, consider a customer who was trying to book a hotel room through an app but didn't want to complete the process without first checking to see if the hotel was pet-friendly. Typically, that customer would have to call the hotel chain and ask their question. If they got the answer they wanted, they still have to specify the exact location they want to use, give their name and contact information, confirm the dates of their stay and select the size of their room.
With Context Mobile, Talkdesk customers can recognize the incoming caller from their mobile phone number and answer the call by saying, "Good afternoon, Mrs. Johnson, it looks like you're trying to book a queen suite in our New York location for October 7-8. Can I help with that?" The agent can then confirm that the hotel is pet-friendly and complete the reservation without needing any additional information from the customer.
One of the most exciting features of Context Mobile is that customers can avoid the waiting process altogether by using Talkdesk's callback form. The new feature allows customers to request a call back from the next available agent instead of waiting on the line for that agent to free up for their call. It's a natural next step in saving the customer time and effort during support interactions.
Talkdesk Context Mobile is a huge next step in the evolution of contact centers, one that forward-thinking companies will use to dramatically increase customer support and agent efficiency immediately. We'll be rolling out additions to the Talkdesk Context suite in the future, so stay tuned to see what comes next.
Click the button below to schedule some time with a Talkdesk expert and see Context Mobile in action.
Publish Date: September 12, 2017 5:00 AM
---

The Talkdesk Road Show kicked off last month in Chicago to discuss designing the intelligent contact center. We were lucky to have some incredible speakers to help us share our vision for the future of the contact center space. One of these leaders was SpotHero's Support Operations Manager, Nate Peace.
Nate has been an outspoken leader in the customer support space for quite a while. He was a speaker at Talkdesk's Opentalk Summit earlier this year and even contributed a piece to the first issue of Opentalk magazine. Nate and SpotHero are so dedicated to providing outstanding and memorable customer support that they even call their support agents "customer heroes."
At Chicago's Designing the Intelligent Contact Center event, Nate sat down with Talkdesk's Vice President of Customer Services, Gillian Heltai, to discuss the remarkable support that SpotHero provides. Here are a few of the quotes and lessons that Nate shared in that conversation:
"One thing that truly set SpotHero apart early on, and it's continued, is that we've made a conscious decision to really put our customers first. We say that drivers get the right of way, and it's not just something we say, we try to live it out."
"Loyalty, especially with millennials, but just loyalty in general, is tougher than ever before because there's so many options. Often, you can have that mediocre customer service, but what will give you that loyalty is going above and beyond in customer service."
According to Nate, the best customer service often goes unnoticed. It's about the entire customer experience and how easy your product is to use at every level. The best companies make products that are intuitive to use and result in very few customer support interactions. While it's important to have a team of friendly, intelligent support agents, the best case scenario is that the customers don't need to utilize them.
"If you look at these cultures that have great customer service, such as Nordstrom, they've really found that it's not about just hiring to fill seats, but it's about hiring the right person. Your customer service agents are your ambassadors, this is the way you represent your brand."
When it comes to hiring, great customer service companies don't worry about hiring the perfect agent. They set some basic standards to hire the right people (at SpotHero, they prioritize friendliness, effectiveness and efficiency) and then giving them the technology, workflows and processes to get them the information they need to be heroic on calls.
One of the most important metrics that SpotHero uses to measure their support effectiveness is how many total contacts customers have to make before their issue is entirely resolved. This number combines how well the customer service team is performing and how well the team is building the product.
Another important metric is customer retention cost. This all comes down to providing the best experience at the lowest cost to the company. Nate's most important questions to ask are "How can we actually be more efficient?" and "What technologies can we use, such as Talkdesk, that are cheaper than some of the alternatives and that make our agents more efficient?"
If you're interested in learning more about designing your intelligent contact center to provide superior support for your customers, register for our upcoming free events in New York and Austin.
Publish Date: September 8, 2017 5:00 AM
---

The 2017 Talkdesk Road Show is off to NYC! With the customer service industry growing and changing so quickly these days, it's important to stay on top of the latest trends. Come join us on Sept 12th to hear from our incredible speakers. They will be discussing how to use the latest technologies to improve customer interactions so that they are smoother, happier and reduce the cost that has been associated with contact centers in the past. It's time to design your intelligent contact center.
Here are details about the speakers for the Talkdesk's Designing Your Intelligent Contact Center event in New York City: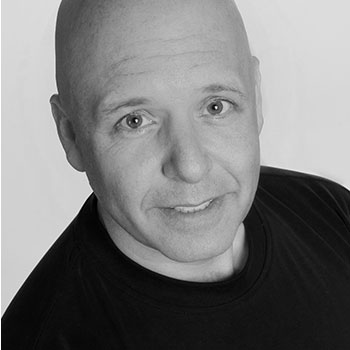 Shep Hyken - Chief Amazement Officer, Shepard Presentations
Shep Hyken is a customer service and experience expert. He is a well-known inspirational speaker as well as a New York Times and Wall Street Journal bestselling author. He works with companies and organizations who want to build loyal relationships with their customers and employees.
Shep hosted Talkdesk COO Gadi Shamia on his podcast to discuss the latest trends in customer service. You can listen to that episode of Amazing Business Radio for a preview of what he'll cover at the NYC Road Show.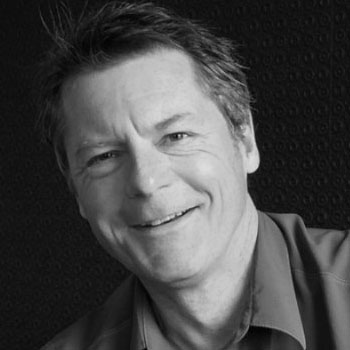 Bill Hoppin - EVP Strategic Sales, Marketing, and Alliances, TalkIQ
Bill Hoppin oversees sales, marketing, and strategic alliances for TalkIQ, a successful speech recognition startup. He's an executive management professional specializing in taking pre-sales startups to revenue, profitability, and liquidity.
TalkIQ was the winner of the first ever Talkdesk App Dash earlier this month. To learn more about their technology and see it in action, check out our App Dash recap.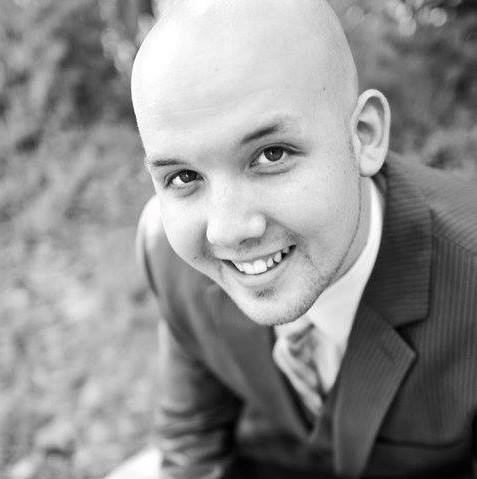 Brandon Turner - Senior Manager, Acxiom
Brandon Turner is a Senior Manager at Acxiom Corporation. His team is an internal Service Desk, responsible for supporting Acxiom associates globally. Brandon is passionate about customer service and blending technological innovation to achieve superior customer support experiences.
View the entire NYC agenda and get your free tickets at the Talkdesk Road Show NYC page.
Or, if you're in the Austin area, join us on September 13th for our final Road Show event of the year. Don't miss out on your last chance to brainstorm with thought leaders on how best to design your intelligent contact center. You can check out the speaker lineup and agenda here. Likewise, click the button below to visit the Talkdesk Road Show homepage.
Publish Date: September 7, 2017 5:00 AM
---

SAN FRANCISCO, CA.— OTG Consulting, a master agency made up of the industry's most experienced telecom executives, and Talkdesk, a leading innovator in the cloud-based call center software space, today announced the companies have partnered to offer OTG Consulting customers and agents access to Talkdesk's industry-leading software.
Through its partnership with Talkdesk, OTG Consulting is able to leverage Talkdesk's partner program benefits, including its expansive product set, competitive residuals and lucrative spiffs, dedicated account teams, ongoing training and priority support.
"Having access to Talkdesk's industry-leading software is opening up a whole new door of opportunities for OTG." Said Jeffrey Pearl, CEO and Managing Partner, OTG Consulting. "We are excited to partner with Talkdesk. They have real-time reporting, call monitoring, enhanced caller ID, screen pops, skills-based routing, automated workflows and much more. Basically all the features you need, built on a next-generation platform!"
"OTG Consulting is an ideal partner for Talkdesk because they share the same vision to provide high-quality cloud services for customers ," said Craig Klemp, Senior Director, BD & Partnerships, Talkdesk. "OTG Consulting has set a standard for trustworthiness and excellence and it's definitely an honor to be including in the offering for their customers and their community."
For further information about Talkdesk, visit otgconsulting.net. To learn more about Talkdesk's industry-leading call center software, visit www.talkdesk.com.
About OTG Consulting
OTG Consulting is a consortium of some of the industry's most influential connected Telecom Executives leveraging their inside knowledge to assist SMB and Enterprise Businesses in their transition from the PSTN to IP based Unified Communications in an effort to provide efficacy and savings. OTG offers the experience, knowledge, and technical understanding coupled with associations with all the key players/partners needed to provide solutions to navigate the impending changes.
About Talkdesk
Talkdesk is a next-generation, cloud-based contact center software that helps deliver delightful customer service. Unlike legacy systems, Talkdesk can be quickly and easily deployed without phones, hardware or downloads. Talkdesk's web-based interface provides robust, enterprise-level contact center functionality with advanced features, comprehensive reporting and seamless out-of-the-box integrations with 25+ business tools, including Salesforce, Zendesk, Desk.com and Slack. Talkdesk empowers contact center managers to make data-driven decisions based on comprehensive information and contact center agents to have personalized, effective conversations with customers.
Publish Date: September 5, 2017 5:00 AM
---

What you can't measure, you can't improve. That's what Ytica CEO and Founder Simon Vostry says about contact centers and he's absolutely right. When Talkdesk expanded its product offering with AppConnect, one of the most critical areas we wanted to address for our customers was analytics.
Measuring your activity is the first step to improving the way you treat your customers. To discuss contact center analytics and how your team can use them to treat customers better, we invited Simon to co-host the Uncovering the Power of Reporting and Analytics webinar with us earlier this week.
To begin, we covered some of the reasons that companies should start tracking contact center analytics. According to ICMI, 40% of contact center leaders struggle to identify and measure KPIs, which is unacceptable. With today's demanding customer expectations, personalized service through intelligent contact centers can be a huge competitive advantage. More than half of all customers would switch brands to a better service experience or more personalized communication. This is a great opportunity for companies willing to put in the effort to make the most of their customer interactions.
In order to turn a contact center into a differentiator, you have to track progress. To track progress, you have to determine which contact center analytics you're going to measure. To help with that, Simon offered 10 key contact center analytics that companies should be tracking:
Handling Time & Experience Time — from any company's perspective, it's simple math: the shorter the handle time, the more issues an agent can resolve in a day. From a customer's perspective, a contact center should be minimizing the time and effort that customers have to spend on issues. For both metrics, shorter is better.
Wrap-up Time — This is part of handling time, but it's important to look at on its own. Contact centers should be focused on streamlining this part of the process because it's not customer-facing.
Abandon Rate — When your customers can't reach you, you can't help them with issues and you lose business. It's that simple. Lower abandon rates mean more customers are getting their needs met through the contact center.
Speed of Answer — Put yourself in the customer's shoes: they're calling to talk to a person not listen to hold music. For the company, it's more productive, too. A contact center that answers calls quickly resolves the customer's issue faster as well.
Productivity — This will vary for each contact center, but in general, you always want your contact center agents spending as much time as possible in the "on a call" status. This contact center metric also helps identify the truly heroic agents who are going above and beyond for callers.
Handled Call per Hour — This is as simple as it gets. It doesn't matter whether you're looking at inbound or outbound, this is a very basic indicator of contact center activity.
Customer Satisfaction — This is probably the most important metric to track. The purpose of a contact center is to satisfy customers, so track CSAT. As technology improves, the barrier to measuring this metric lowers, meaning there's no excuse for not tracking. Better yet, look for positive correlations between CSAT and other metrics so that you can learn more about what your customers really want.
Conversation Discovery and Effectiveness — This metric is related to speech analytics and insights gained from analyzing the actual conversations. For example, you can learn whether agents are complying with best practices or legal requirements. You can also see if they are saying company-approved phrases. Put some thought into what you want to analyze. The options are endless.
Silence & Cross-Talks — Like number eight, this metric involves the use of a advanced speech analytics, however it highlights which agents are keeping a conversation flowing and which agents are experiencing multiple episodes of silence or cross-talk on calls. The latter isn't helpful for solving customer problems. Worse, silence and cross-talk often leads to frustrated callers.
Cost, Revenues and Profit — Everything comes down to dollars and cents. While a contact center exists to satisfy customers, it can also create financially lucrative situations for the company such as upsells, extended contracts and referrals. So it's important to track how changes in contact center operations are impacting your bottom line.
To learn more about these metrics and how easily you can track your contact center analytics, view the entire webinar with Simon. To get more information about Ytica and even start your free trial, click on the button below.
Publish Date: September 1, 2017 5:00 AM
---

The contact center space is the most crucial element in a company's customer relations, yet for some reason, it hasn't evolved in decades. While most of the world evolved to adjust to the internet's speed of information, contact centers have managed to stay mostly unchanged. Considering that customers have changed and companies have changed, it doesn't make sense that the contact center software hasn't changed to bring the two closer together.
Talkdesk was founded more than five years ago on the premise that contact centers don't have to be stale. Companies can adapt to changing customers expectations and upgrade their tools in real time to suit those needs. The technology exists to make contact center software much more customer-centric and we think we're building something truly unique and exciting for Talkdesk customers.
If your company is still using a legacy contact center that hasn't changed in decades, you're going to sink. For your customers' sake, it's time you considered sending up an S.O.S. and moving to an innovator like Talkdesk. Here are three huge advantages to utilizing our intelligent cloud-based platform that can rescue your customer relationships:
Simple
To put it briefly, everything about Talkdesk has been designed to be as user-friendly as possible. Talkdesk accounts can be set up in a matter of just a few minutes with an internet connection and a few clicks. No extra hardware or personnel is necessary. Once the account is created, all admin management (IVR setup, new users, report scheduling, voicemail setup, etc.) can be completed in just clicks through our simple menus. No custom coding is needed.
Beyond the traditional contact center, Talkdesk Academy and the Talkdesk Knowledge Base make self service a breeze. Talkdesk users in any role can find resources there to enhance their knowledge of our product and find out about new features. Those resources are free and updated frequently so our customers can always make the most of their Talkdesk contact center.
Open
One of the things that makes Talkdesk truly unique is how well it works with your other favorite business tools. As soon as you set up your account, you'll have access to 25+ out-of-the-box integrations with Salesforce, Zendesk, Slack and more. Beyond those integrations, Talkdesk has recently added AppConnect, the first enterprise app store, which offers apps that bring business intelligence, workforce management, voice analytics and more to your contact center. All AppConnect solutions come with 30-day free trials, one-click installation and pay-as-you-go billing so it's easier than ever to try, buy and manage your contact center stack.
Beyond those features, Talkdesk also has a Reporting API in beta that will expand the use of Talkdesk data. There are a lot of exciting uses of that data and we're excited to learn how our beta users are being more heroic to their customers so we can help spread those tools to the rest of our customers base.
Smart
Think about the last time you had to call in to a company's contact center? Did they ask you for your name or your account number? Did you have to explain your problem in detail to an agent? Maybe even another agent? Did the whole thing take too long and leave you unsatisfied? It shouldn't be like that. An intelligent contact center can make those interactions so much better.
Smart contact center software should recognize the caller instantaneously. It should also route to the right agent the first time and provide some context to that agent without the caller needing to give a painstakingly long explanation. This intelligence should cut down on the amount of time agents have to spend on frustrating minutiae and maximize the time they spend doing what they do best: solving customer issues. The overall effect for customers is more satisfying calls, higher CSAT and better loyalty. Everyone wins.
These simple, open and smart features are the future of the contact center industry. At Talkdesk, we don't think that these ideas are optional for our product, they're a necessary course change that an otherwise stale industry vitally needs.
We'll be going into depth on more of Talkdesk's S.O.S. features in the upcoming weeks, so stay tuned to the Talkdesk blog for more information on what makes Talkdesk the contact center of the future. If you want to see our revolutionary contact center in action, click the button below to talk to one of our experts.
Publish Date: August 30, 2017 5:00 AM
---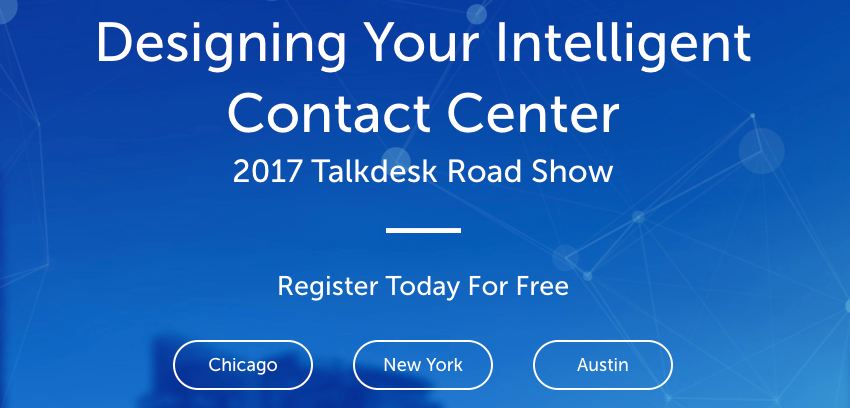 Our Kickoff "Designing Your Intelligent Contact Center" event in Chicago was a huge success and a lot of fun! Check out our top nine moments and make sure your contact center is working for you.
#9. Our COO, Gadi Shamia, calls it like he sees it!

In Silicon Valley, a land known for launching startups and harboring dreams, it was incredibly refreshing to hear some good ol' midwestern-style truth about the current state of contact centers.
"The typical customer call journey is terribly lame and frustrating," said Gadi. "No one likes to tell the same story to the agent that they just told a minute ago."
Customers don't like slow contact center experiences and this is reflected in their actions. According to a report done by Accenture, customers are 75% more likely to buy from a retailer that is able to have an intelligent, personalized conversation with them about their purchase history.
Thank you for helping us keep it real, Gadi!
#8. The incredible views from the LondonHouse Hotel in Chicago during happy hour.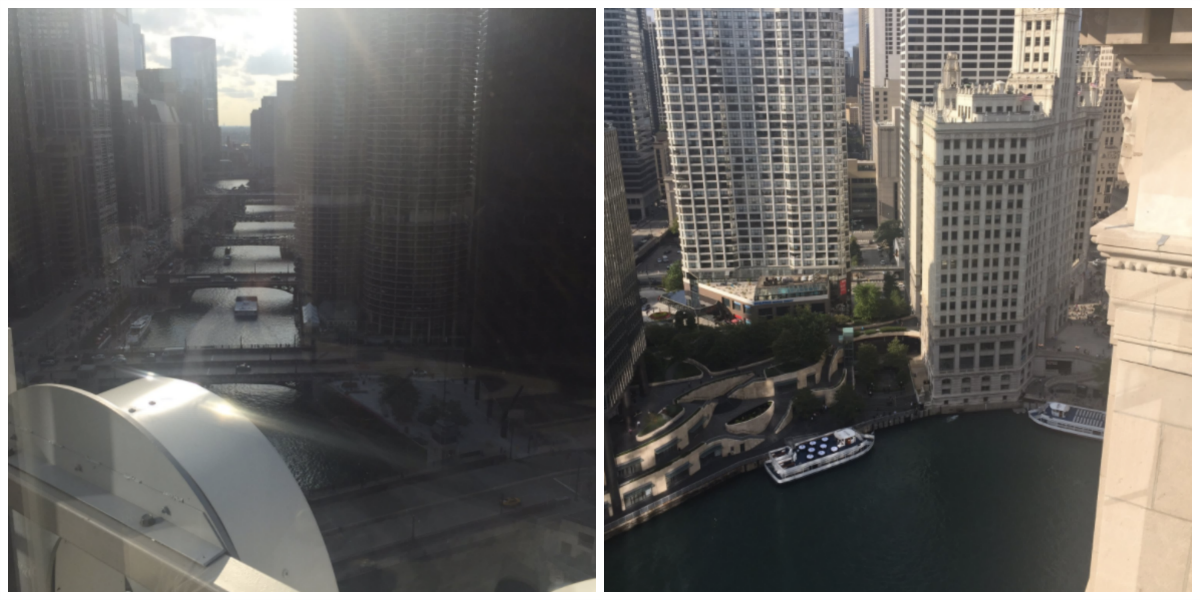 It was such a treat to get to enjoy the fabulous views of Chicago at sunset from the deck of the LondonHouse Hotel while connecting during our happy hour. From the classic cocktails, small bites and great networking opportunities to the view of the Magnificent Mile and majestic Lake Michigan, the LondonHouse was the perfect spot to talk about customer experience and intelligent contact center software.
#7. How to have Real Conversations between Customers and Agents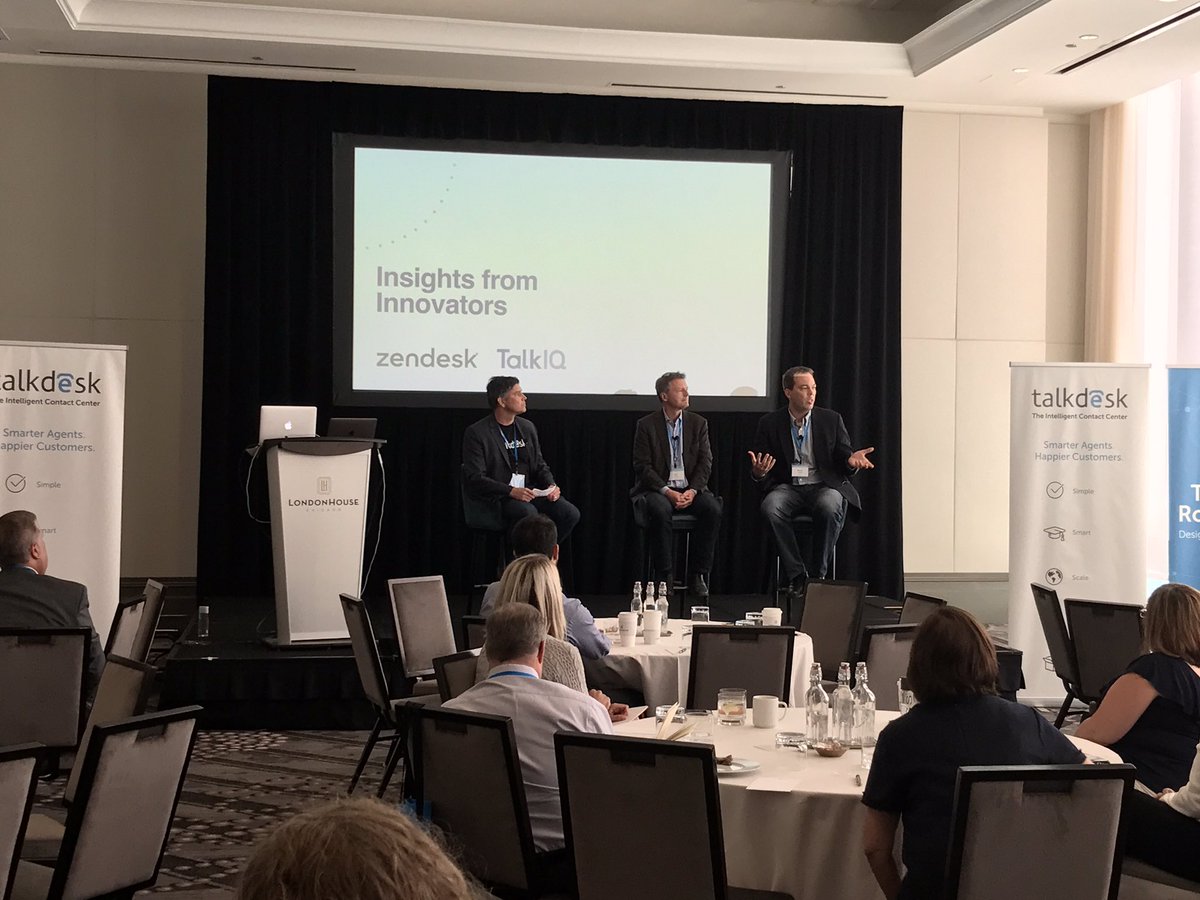 Zendesk reminded us that when agents are clear on the customer journey, they can have real conversations with customers that also help guide customers to the next level. It's important to use integrated tools like Zendesk to teach agents more about the customer journey. This equips agents with the ability to empathize with customers and make meaningful connections. Thus ensuring that customers have real, productive and thoughtful conversations with agents. Most importantly, it lays the groundwork for future upsells that truly meet the client's needs.
#6. Taking a Glimpse into the Future with TalkIQ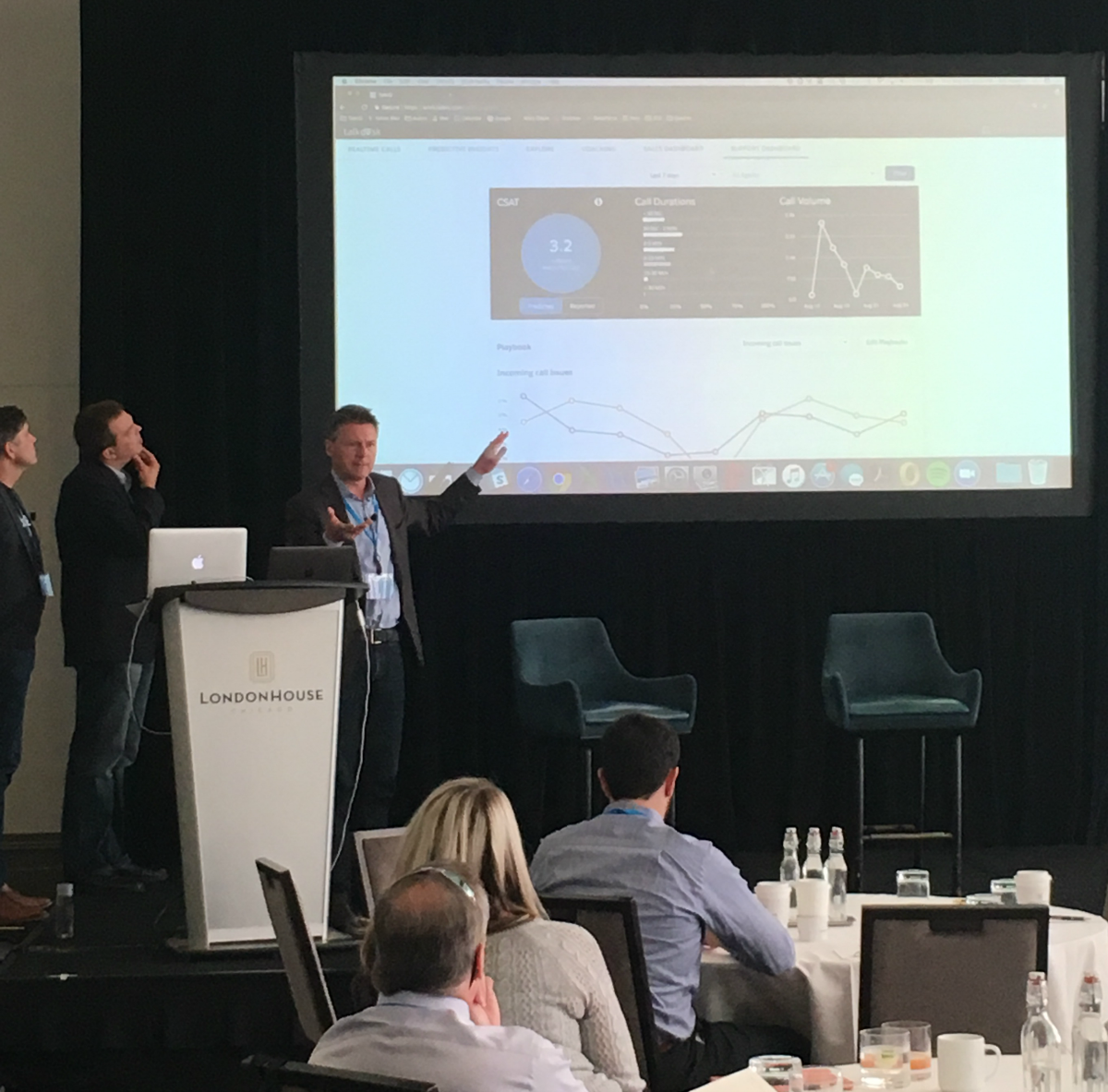 We were so excited to hear Bill Hoppin of TalkIQ announce that they plan to be able to transcribe calls in real time by the end of the year. With TalkIQ's real-time transcription, not only will agents get the words the customers are saying, but they will also get contextual insights on how well the call is going as it is happening. Imagine being able to do something to improve your CSAT score while you're still on the call. It's phenomenal. We appreciate how hard TalkIQ is working to give agents this superpower soon.
#5. Learning the Number One Attribute for Hiring Great Agents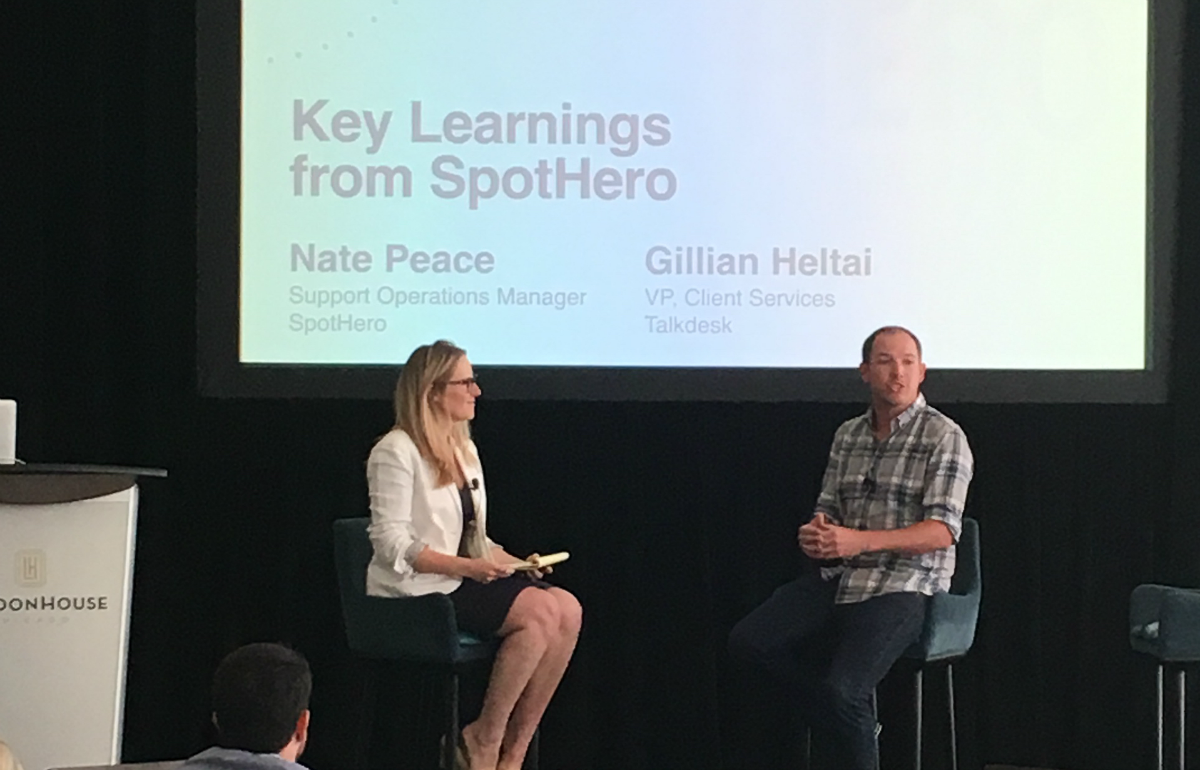 Nate Peace of Spothero taught us that the number-one attribute to look for in your next customer service agent is heroism. Spothero takes this characteristic so seriously that they even call their agents "heros." Nate explains that as a company you want to ask yourself, "Will this agent be heroic?" Customer service is about customer retention cost and you want your agent to be heroic in creating loyalty.
Breaking this idea down further, heroism encompasses a number of key qualities any company would want in their next customer service agent. This includes courage, selflessness, humility, patience and caring. You want an agent who's willing to jump into the middle of a challenging situation and get it fixed. You also want someone who will put the needs of the customer first and handle that client with patience and concern.
Great call, Nate!
#4. AIs are becoming IAs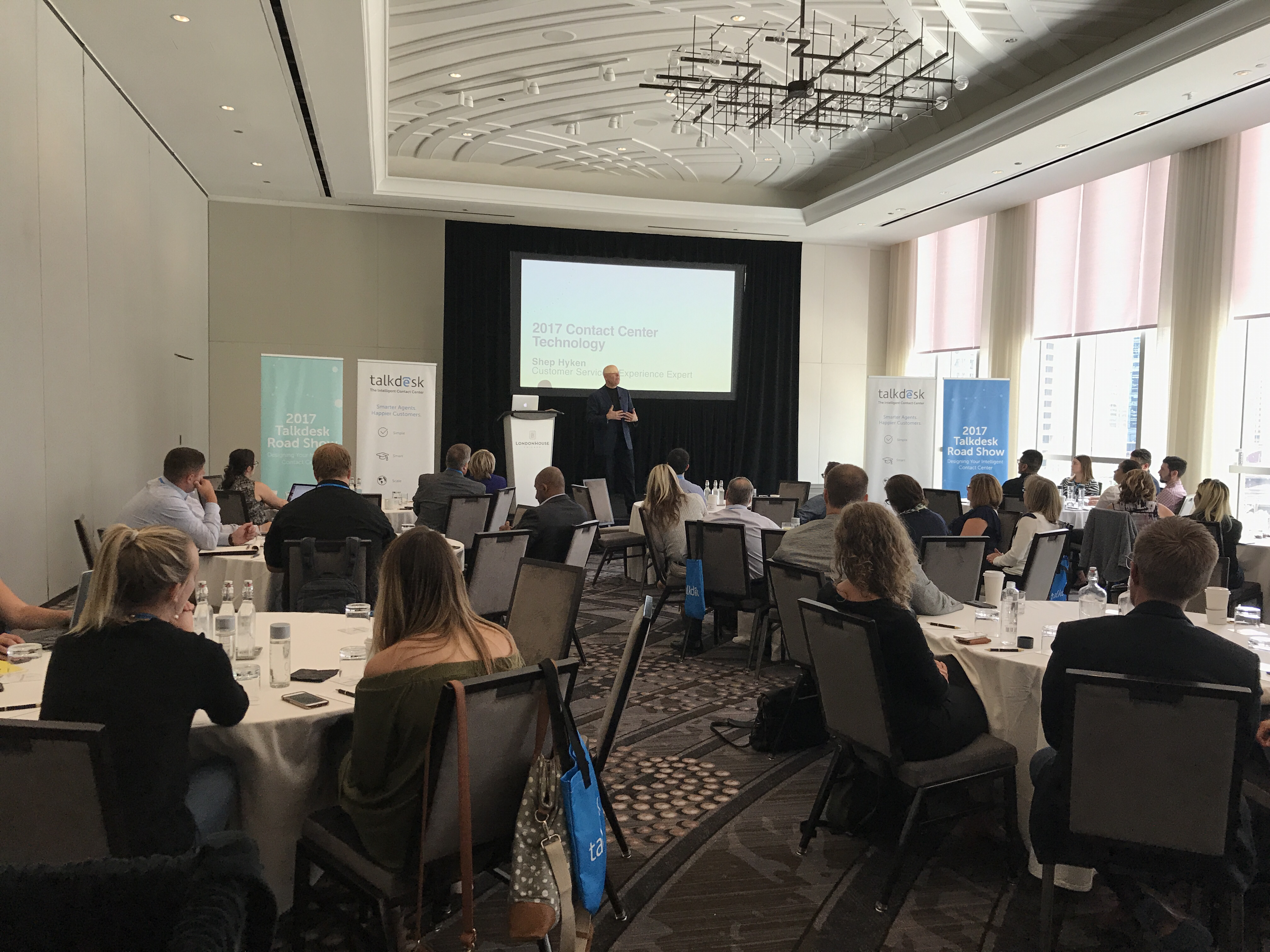 We loved New York Times best-selling customer service author Shep Hyken's catch phrase about the future of customer service: AIs are becoming IAs. He spoke to the future of customer service being a space where agents have more intelligent conversations with customers faster, rather than a future where agents are replaced by Artificial Intelligence (AI) Robots.
A customer's desire to talk to a real person when they call for help is still paramount. However, now a customer wants (and is starting to expect) that the first customer service agent they speak to will understand their issue immediately and be able to resolve the problem without an internal agent handoff. AI is here to help create more IAs (Intelligent Agents). Are you using it to the fullest?
#3. Right Customer + the Right Agent = Best Customer Experience

Nate Peace of Spothero shared powerful insights on a more holistic approach to creating the best customer experience.
It starts with designing your product to have the best end user experience possible. This means that your product design team should be consistently asking, "How can we update our product to better serve our customers?" It's vital that you respect your customer's ways. How a customer chooses to use the product may not be exactly how you envisioned it. Be flexible. Allow for adaptation that is inspired by the customer's feedback. When you make a product with the customer in mind, you attract more of your ideal customers.
Likewise, equipping your agents with the right intelligence tools, like the ones provided by Talkdesk, ensures that your customers stay and spread the word. This then creates a seamless, powerful loop of success and referrals.
#2. Turn Misery into Magic!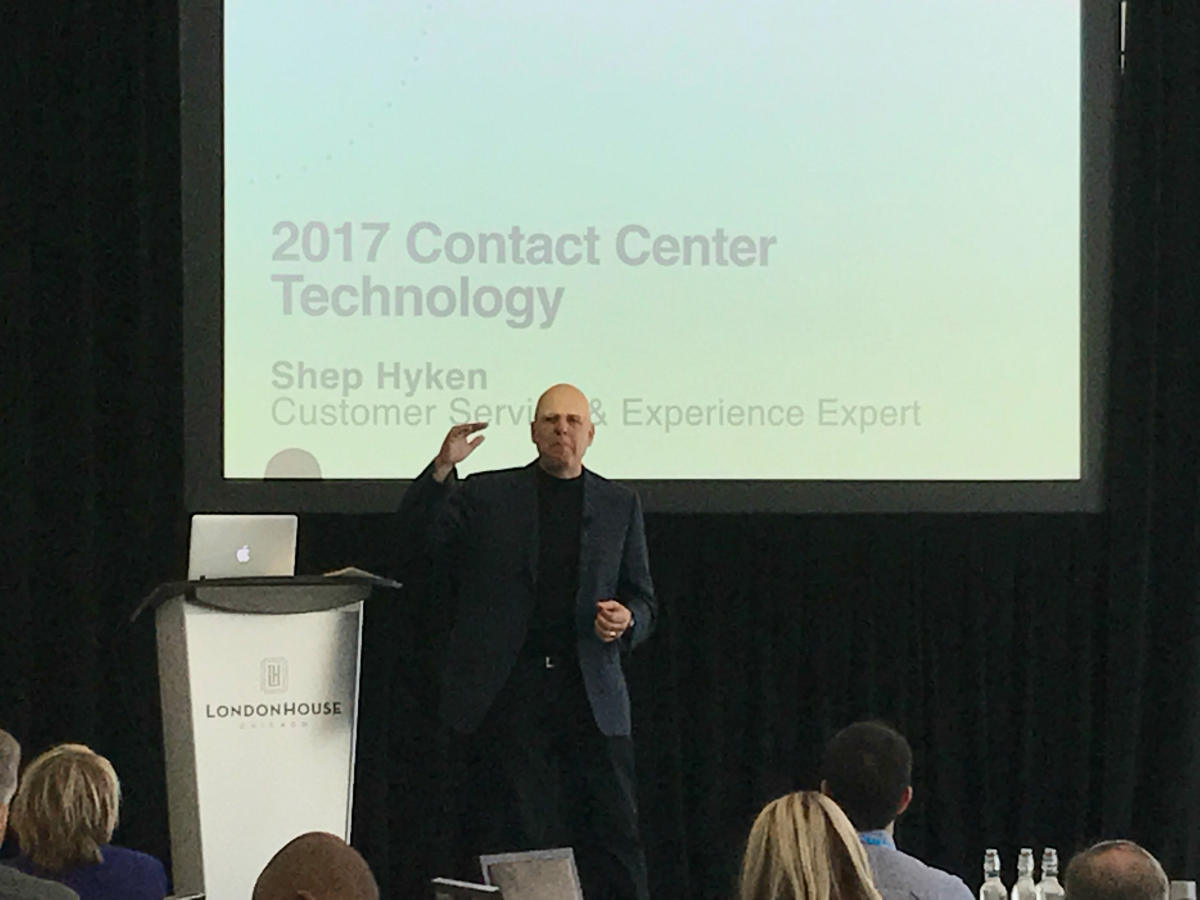 Keynote speaker Shep Hyken brought it all back to a powerful point: "It's important that companies are always striving to identify points of friction in their customer's experience and eliminate them."
He went on to say, that "when a customer calls you, you can turn misery into magic." There is the opportunity to create a Christmas morning experience for every customer every time they call. For better or for worse, right now this doesn't take very much. Little things, such as greeting a caller by name, being able to create a one-touch solutions and not forcing the caller to repeat their problem more than once leave a lasting, positive impact. Someone is calling with a problem, the goal should always be to add a little magic to their day by providing an immediate solution.
The best part is that Shep brought this point home by wowing us all with his ability to perform an actual magic trick on stage at the end of his talk. We won't give it away here! To watch Shep in action, you'll have to join us in NYC. You have one more chance. Don't miss it.
#1. It's Time To Start Measuring Your CSAT!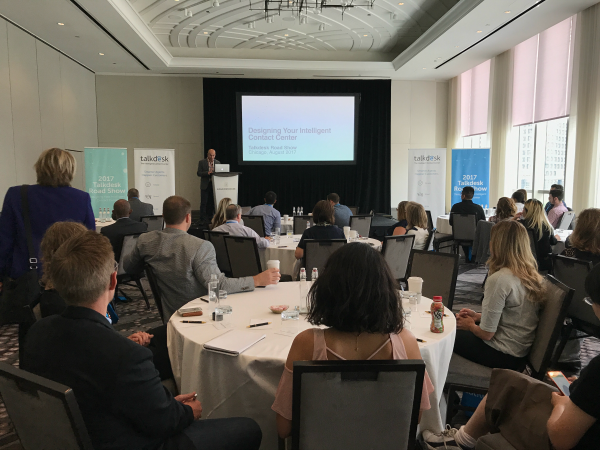 COO, Gadi Shamia, brought us into the future, calling for innovation on all fronts. The old way of slow and impersonal customer communication can quickly kill a business today. It's unacceptable and dangerous.
Today, customer communication is happening in real time with a positive, conversational tone and intimate feel. This means that you can tell a lot about how stable and viable your business is with your CSAT score. Now, your CSAT score can influence how you choose to spend your product engineering budget.
Make sure your contact center is working for you!
Want to learn more and be part of the experience? It's not too late. Join us at our New York City or Austin, Texas events in September and design your intelligence contact center!
Publish Date: August 28, 2017 5:00 AM
---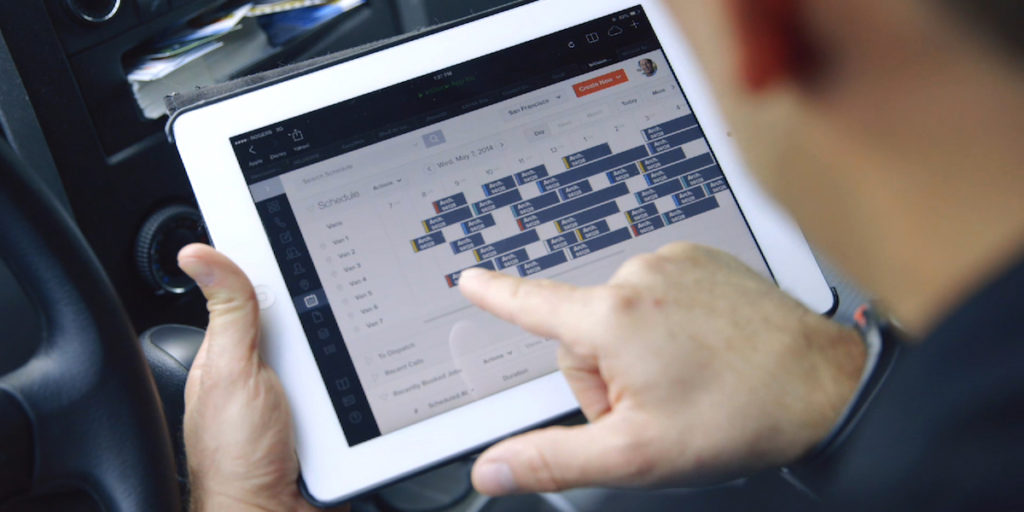 This post was written by our friends at Vonigo. We are always happy to hear Talkdesk customers share their great experience with our contact center solution.
At Vonigo, our cloud-based field service software company needed a new contact center software solution. We have customers all over the globe, and a partially distributed team, meaning that a traditional office phone system wouldn't work well for us.
The Challenge
As a growing software business, our team at Vonigo was expanding and becoming more distributed. New departments and teams formed causing us to need a contact center solution that could help to automate and simplify the distribution of calls to sales, support, customer success, and more.
"With a growing team and customer base we needed contact center software that could be agile enough for a dynamic company," says Vonigo Marketing Manager Graham Lee. "But also have enterprise-level functionality."
The Solution
"With extensive features and settings, Talkdesk allows Vonigo to manage calls for our Sales, Support and Customer Success teams," says Lee. "We're able to efficiently route and assign calls to the right person, letting us help more customers and leads." Talkdesk features handle the heavy lifting for us. "Tagging and assigning numbers based on the appropriate team and member lets us automate the calling experience for contacts."
For the sales team, Talkdesk has helped out in a big way. Being able to use local and international numbers with automatic outbound caller ID allows us to expand our global presence and improve connection rates with potential customers. With this also comes the increased professionalism of leads being able to reach Vonigo by local and toll-free numbers worldwide.
The Features We Need
Features such as reporting and local presence help our sales team increase efficiency and grow the pipeline.
The Customer Success and Support teams are able to help our customers in a more streamlined fashion with the Zendesk integration and the ability to receive and make warm transfers. Likewise, Talkdesk's robust IVR and call routing ensures that callers have a smooth experience and are directed to the correct party in an efficient manner.
About Vonigo

Vonigo is a service business management platform that helps streamline operations and increase sales of mobile service companies. Vonigo offers a unified suite of configurable cloud-based modules including; CRM, scheduling, online booking, work order management, estimating, dispatch, routing, GPS, invoicing, payments, reporting, and more all accessible over the internet from any desktop or mobile device. Millions of jobs have been successfully booked and managed with Vonigo.
Publish Date: August 25, 2017 5:00 AM
---

Conversations that take place through Talkdesk are a great way to exchange information, but not all information can be treated the same way, especially individual payment information. This sensitive data needs to be treated differently. In fact, the Payment Card Industry Data Security Standard is a standard set to maintain control over the transmission and storage of personal payment information.
The information in question here is card number, cardholder name, expiration date, service code and any sensitive authentication data about a person as it relates to their payment cards. All merchants that handle this type of information must meet certain security standards to be PCI-compliant.
These PCI security standards are applicable to any company that stores, processes or transmits payment cardholder data. To be PCI compliant, payment information needs to be securely encrypted at all steps of the transit. On top of that, there needs to be a notification process for instances where a breach occurs. The standards are strict, but this information is critical. Since Talkdesk is a platform that hosts conversations where information like this might be transmitted and stored, PCI standards are important to understand.
For telephony providers like Talkdesk, the digitization of phone calls has proven to be a complicated process in regards to PCI compliance. In many cases, PCI compliance requires the security of every tool that is built using similar technology. In Talkdesk's instance, our contact center software cannot be certified as meeting PCI compliance standards because our telephony providers aren't data processors, so PCI compliance isn't necessarily a priority.
While some customers may think that they can trust manual workarounds like pausing the recording when a customer gives out information, these processes are not fool-proof and do not guarantee a PCI-compliant experience. It might reduce risk, but not entirely.
Although this solution might not be practical for all companies, another easy way to avoid PCI compliance issues is to avoid taking credit card information over the phone. For some companies, there are much safer ways to collect this information that we would encourage. For others, removing this process from phone conversations is simply not possible.
What we suggest as the best way to minimize PCI compliance risk for companies that absolutely need to collect payment information on Talkdesk calls is to set up a custom storage bucket where the call recordings can be housed.
We'll detail the process of using a custom storage bucket in another post soon, but if you're looking for a quick overview, you can consult Talkdesk's Knowledge Base. There might still be some smaller, lingering issues with PCI compliance regarding this information, but if a customer sets up their own storage and records directly to that bucket, there's a lot less to worry about because the information doesn't change hands as much.
Though the standards are different, the same suggestion is also recommended for our customers who need to meet HIPAA compliance standards.
There's a lot more to the PCI conversation than can be presented in this post. VoiceBase, one of our AppConnect partners, has recently been certified as PCI compliant, so if you're thinking about adding more tools to your contact center and are worried about losing compliance, we have you covered.
You can also click the button below to set up a call with a Talkdesk expert to discuss a solution that will work for you company.
Publish Date: August 24, 2017 5:00 AM
---

Contact centers start with the admins. The admin sets up the infrastructure, manages the way the contact center exchanges data with other business tools and determines the capabilities of other users. In any contact center, the admin has the most responsibility because they make sure things are operating smoothly for everyone else.
With that in mind, Talkdesk has given admins the utmost ability to make changes to their contact center with the least red tape. It all starts with the first action the admin takes: setting up the contact center. Speed and ease of setup were crucial to early versions of Talkdesk and now that the product is more mature, it still takes just minutes to get started making and receiving your first calls.
One of the biggest ways Talkdesk empowers admins is through our self-service backend tools. Buying phone numbers, adding new users and creating ring groups can all be done with just a few clicks and doesn't need to involve new hardware or anyone from the Talkdesk team. The gives admins the power to fully control the structure of the contact center and make changes at a moment's notice to keep up with customers.
Even tasks that were once complicated are now as easy a few clicks in Talkdesk. For example, creating an IVR menu doesn't requires hiring a voice actor and sticking to a rigid list of options. Talkdesk's text to speech feature allows admins to simply type in IVR options and assign them to ring groups. This can be initially set up in just a few minutes and can be updated as often as you like with no loss in quality.
One the contact center is set up, admins can see a list of all members, including their phone numbers, status and ring groups. All of that information can be edited in real time to adapt to changes in the team or in the caller base.
Talkdesk admins also have access to customizable real-time dashboards that let them see how the team is performing from a high level. If there are changes that need to be made as a response to that data, Talkdesk contact center preferences (call recording options, operating hours, voicemail settings, sentiment settings) can all be changed with a simple on/off toggle.
Even more complex actions like creating new dispositions or editing the sentiment message can be managed in just moments. Every action the admin has to take in order to make his or her contact center more efficient or better optimized for the caller has been optimized by Talkdesk to take as little time and energy as possible.
The biggest way that Talkdesk empowers admins to manage their contact centers is in the automation management. Not only does Talkdesk offer 25 out-of-the-box integrations with today's most powerful business tools, but the admin can create recipes for those automations using a simple drag-and-drop tool. In less than a minute, an admin can set up an automation to eliminate manual work.
Want to create a task in Salesforce to follow up on all abandoned calls? Just create an automation to perform exactly that action and email the appropriate agent to follow up. With no additional work, your team can now instantly take care of the caller with that abandoned call.
Talkdesk integrates with Slack as well, so teams can receive real-time messages any time a certain event happens. For example, if an admin wants to reduce wait time, they could create an automation to send a Slack message to a supervisor every time a queue gets longer than five callers. From there, the supervisor could re-assign agents or change some agent statuses to respond to those calls faster.
Talkdesk was made for admins who want the most control and the least amount of complications. If you're interested in learning more about Talkdesk for admins, just click the button below.
Publish Date: August 22, 2017 5:00 AM
---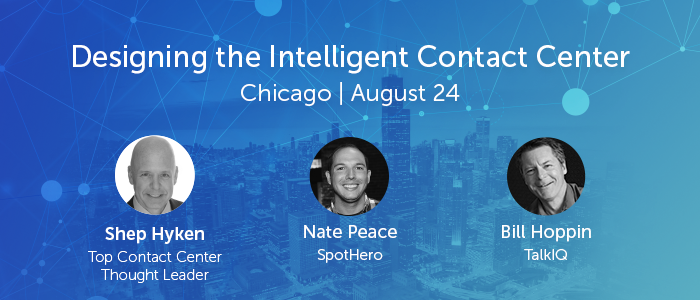 The 2017 Talkdesk event, Designing Your Intelligent Contact Center, kicks off in Chicago next week! We've been finalizing details about the speakers and sessions and now that everything is ready, we're thrilled to share more information.
Here are details about the speakers for the Talkdesk's Designing Your Intelligent Contact Center event in Chicago: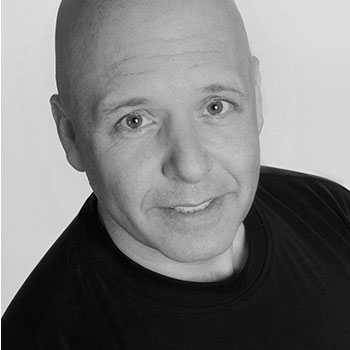 Shep Hyken - Chief Amazement Officer, Shepard Presentations
Shep Hyken is a customer service and experience expert. He is a well-known inspirational speaker as well as a New York Times and Wall Street Journal bestselling author. He works with companies and organizations who want to build loyal relationships with their customers and employees.
Shep hosted Talkdesk COO Gadi Shamia on his podcast last week to discuss the latest trends in customer service. You can listen to that episode of Amazing Business Radio for a preview of what he'll cover at the Chicago Road Show.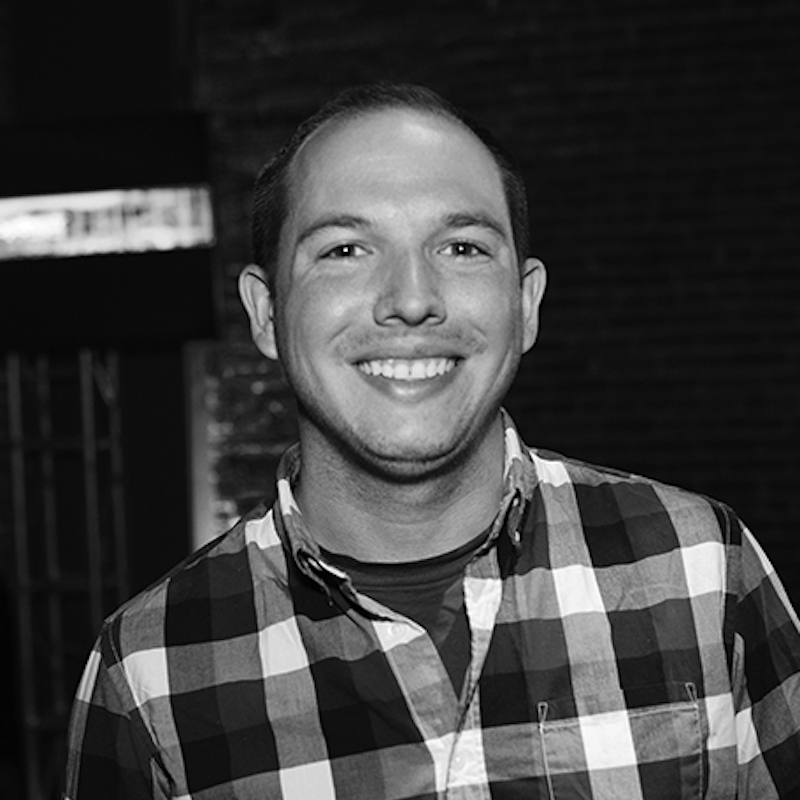 Nate Peace - Support Operations Manager, SpotHero
As Support Operations and Systems Manager at SpotHero, a leading parking reservation service, Nate Peace's mission is to make sure SpotHero is delivering a world class support experience to customers anytime, anywhere.
Nate was a speaker on Talkdesk's "Supporting On-Demand Economy" panel at Opentalk earlier this year. To learn more about him and his views on customer support, check out the recording of that session.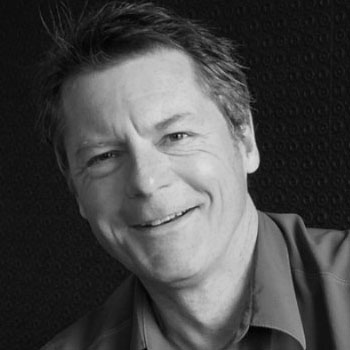 Bill Hoppin - EVP Strategic Sales, Marketing, and Alliances, TalkIQ
Bill Hoppin oversees sales, marketing, and strategic alliances for TalkIQ, a successful speech recognition startup. He's an executive management professional specializing in taking pre-sales startups to revenue, profitability, and liquidity.
TalkIQ was the winner of the first ever Talkdesk App Dash earlier this month. To learn more about their technology and see it in action, check out our App Dash recap.
View the entire Chicago agenda and get your free tickets at the Talkdesk's Designing Your Intelligent Contact Center event page. Additional events in New York and Austin are planned for September, we'll be sharing more details as we confirm the speaker lineup and agenda.
Click the button below to visit the Talkdesk Designing Your Intelligent Contact Center events homepage.
Publish Date: August 17, 2017 5:00 AM
---

The contact center is the easiest way to connect two people in a real-time, personal conversation, but companies can use the contact center to connect to more than just their customers. Information from these calls can be used in plenty of other business processes to streamline activities and make more informed decisions.
To make the most of that call information, Talkdesk offers 25 contact center integrations with today's most popular business tools, including Salesforce, Zendesk and Slack. These integrations work hand-in-hand with the tools you already use, so there's no need to change your processes or adapt for new workflows.
All of these integrations are two-way syncs, which means that information is continuously updated in both systems. Better yet, it means that if one solution goes offline for any period of time, the data from that solution is stored in the other solution and the two tools can reconnected when they are both online. It's a very reliable, secure structure for contact center integrations that will be sharing a lot of real-time data.
In addition to the 25 contact center integrations with your favorite existing tools, Talkdesk's AppConnect solutions are also a great way to try new contact center tools. AppConnect solutions add business intelligence, workforce management, quality assurance and more to your contact center. New AppConnect solutions are going live all the time, so keep checking back to see what new offerings are available.
Once your integrations have been set up, it's very easy to start taking advantage of them. Talkdesk's easy-to-navigate contact center integration backend allows admins to select which information is shared and when certain actions need to be taken. These automations can all be set up in just seconds using Talkdesk's drag-and-drop recipe builder. Automations between the integrated tools make them both more robust and eliminates a lot of manual labor.
For example, you could set up an automation in Salesforce to automatically create a new contact every time an unknown phone number comes in and to record that phone call into that contacts history. Think of the time and effort that would save agents.
For larger contact centers, these automations are a fantastic way to bulk manage a high volume of contacts. Actions or alerts can be set up to respond to abandoned calls, missed calls, low CSAT scores, voicemails, large queues, etc. These automations save your team valuable time and effort in responding to inquiries and also help you minimize searching through call logs by bringing the most important call center activity straight to your attention as soon as it happens.
These integrations and automations save lots of time and effort of all Talkdesk personas. Agents, supervisors and admins just need to identify the tasks they repeat the most frequently and build an automation to perform it. Or better yet, they can brainstorm data/notifications that would be useful for and create a new, smarter way to get the right information delivered to them at the right time.
If you're interested in learning more about Talkdesk's suite of contact center integrations, click the button below and set up some time to talk to one of our experts.
Publish Date: August 15, 2017 5:00 AM
---

Talkdesk supervisors are in a truly unique spot — they need to be able to track high-level metrics, but still need the ability to jump into calls if necessary. These supervisors need the to be able to use both agent and supervisor tools and the flexibility to move between them at a moment's notice.
Since a supervisor is primarily focused on managing the agents who are on calls with customers or prospects, let's examine what Talkdesk offers from an agent management perspective. At any time throughout the day, a supervisor can check their Talkdesk Live dashboard to see an overview of the contact center, including their current service level and what percentage of their agents are in certain statuses. At an individual level, the supervisor can see each agent's activity through the day, which status they're currently in and how long they've been in that status.
The supervisor can also monitor each live call that is happening and listen in or even join the conversation if they are needed. If the agent on the call needs real-time coaching during a call, supervisors can even use the Talkdesk dashboard to send Slack messages during the call to equip the agent with information that will be helpful.
With Talkdesk, supervisors can schedule any report that they want to see and determine how regularly they want to receive that report. For example, if a supervisor want to see their team's service level for each completed week, they could schedule a weekly report to be delivered to their inbox at the end of each week. This way, that data can be analyzed and any necessary changes could be implemented for the beginning of the next week. These reports are accessible in Talkdesk and also in any integrated tools.
In addition to the regular reports, supervisors also have a couple of other tools at their disposal to make changes to agent strategy. At any time, they can view call volumes and how those calls are being dispositioned across any period of time, allowing the supervisor to adjust where agents are allocated and dynamically meet customer demands. They also have access to all recordings of every call, so they can keep calls that result in high CSAT scores or calls from highly-rated agents as a training tool.
Any way you look at it, Talkdesk is optimized to help supervisors get a better view of what's happening on their agents' calls and make necessary strategic changes. Supervisors can be as hands-on or hands-off as they want and still be effective.
Click the button below to learn more about what Talkdesk can do for supervisors and other personas. Our experts will walk you through an interactive demo of our contact center software and show you how it can benefit your customers.
Publish Date: August 14, 2017 5:00 AM
---

GetApp just released their Call Center Category Leaders for Q3 2017, and Talkdesk is among the leaders once again. These rankings list the top 25 solutions in the call center space, evaluating them on five categories (each out of a possible 20 points): reviews, integrations, mobile, media and security. Each solution's ratings are combined for a final score (out of 100) and then ranked from highest to lowest.
Talkdesk had a very strong showing in the rankings, finishing 5th, ahead of competitors 8×8 (6th), RingCentral (10th), Avaya (12th), Genesys (16th), Five9 (18th) and inContact (21st). Talkdesk received top-5 rankings in the Reviews, Integrations and Security categories, the only solution to place that high in that many categories.
Here's a closer look at why Talkdesk performed so well in this quarter's report:
Reviews
Reviews are always of utmost importance for the Talkdesk team. We make our contact center software so that our customers benefit the most. It's important that they're having good experiences using Talkdesk. In GetApp's survey, Talkdesk received an average of 4.4-star rating out of 5. An impressive 91% of users gave Talkdesk a positive review, with a perfect 100% saying they'd recommend Talkdesk to a friend or colleague.
Below are some of the reviews Talkdesk received.
"After 1 week of working through installation and integrating with our helpdesk, we were up and running smoothly. Metrics have lived up to hype. Real-time is awesome." - Joel D.
"The thing that really drew us towards talk desk was the amount of softwares they integrated with. The sales person that onboarded us was extremely helpful and friendly. The site was very clean, and calls were very crisp and clear." - Adam D.
"We searched a long time for a solution that would integrate with our systems and give us the freedom to customize greetings at the drop of a hat and to also give us comprehensive and easy to read reporting. I'm so glad we found Talkdesk." - Dachelle K.
Read all of Talkdesk's reviews on GetApp to get more from real users.
Integrations
Talkdesk's work to integrate with partners earned the third highest score in that category (15/20). Talkdesk offers 25 out-of-the-box integrations and is adding to that partner toolbox at an incredible rate thanks to AppConnect. Working in conjunction with some of today's most popular business tools like Salesforce, Zendesk and Desk.com means Talkdesk's call center software solution can add value to any company's existing workflow without creating new processes. The new AppConnect partners allow customers to try adding new solutions to their contact center to create more intelligent communication processes without the stress or worry over integration.
Unmatched Security
Talkdesk's highest score in the report came in the Security category, a perfect 20/20. We're extremely proud of the work that our team does to protect our customers. his first-place category finish is proof that Talkdesk is a secure offering for customers of all sizes. If security is your top concern in a contact center, talkdesk is the absolute best you can do.
If you want to see Talkdesk in action, click the button below to set up a meeting with one of our experts.
Publish Date: August 11, 2017 5:00 AM
Page: 1 | 2 | 3 | 4 | 5 | 6 | 7 | 8 | 9 | 10 | 11 | 12 | 13 | 14 | 15 | 16