Talkdesk - ContactCenterWorld.com Blog Page 5
Page: 1 | 2 | 3 | 4 | 5 | 6 | 7 | 8 | 9 | 10 | 11 | 12 | 13 | 14 | 15 | 16 | 17

In the spirit of enhancing our product's usability and encouraging ongoing product education, we're happy to announce Talkdesk Academy, a free resource for Talkdesk users of all experience levels and roles.
Talkdesk Academy is open to agents, supervisors and admins, offering an initial training for each persona. These courses have been hand-crafted by our support team and are ideal for training new team members, offering them a chance to get up to speed on our tools before they begin using the product. The courses aren't restricted to new users, there's always room for existing users to learn something new.
Each of the available Talkdesk Academy courses alternates between instructive videos and short quizzes to test the information presented in those videos. Our team estimates that they will take between 1.5 and 3.5 hours to finish, but the lessons can be completed at any time and there is no time limit, so they can be completed whenever your schedule allows.
In addition to the three initial training courses, our team is hard at work creating new material for each of the Talkdesk personas. For a look at which courses are coming soon, just visit the Talkdesk Academy homepage. We're currently working on four new course: Callbar for Agents, Advanced Supervisor Certification, Callbar for Admins and Advanced Admin Certification. We're constantly thinking of new topics, so keep checking back to see what will be available.
After completing all the videos and quizzes in a particular course, new graduates will be able to download a Certificate of Completion to showcase their new Talkdesk training. Here's a sample of what that certificate will look like: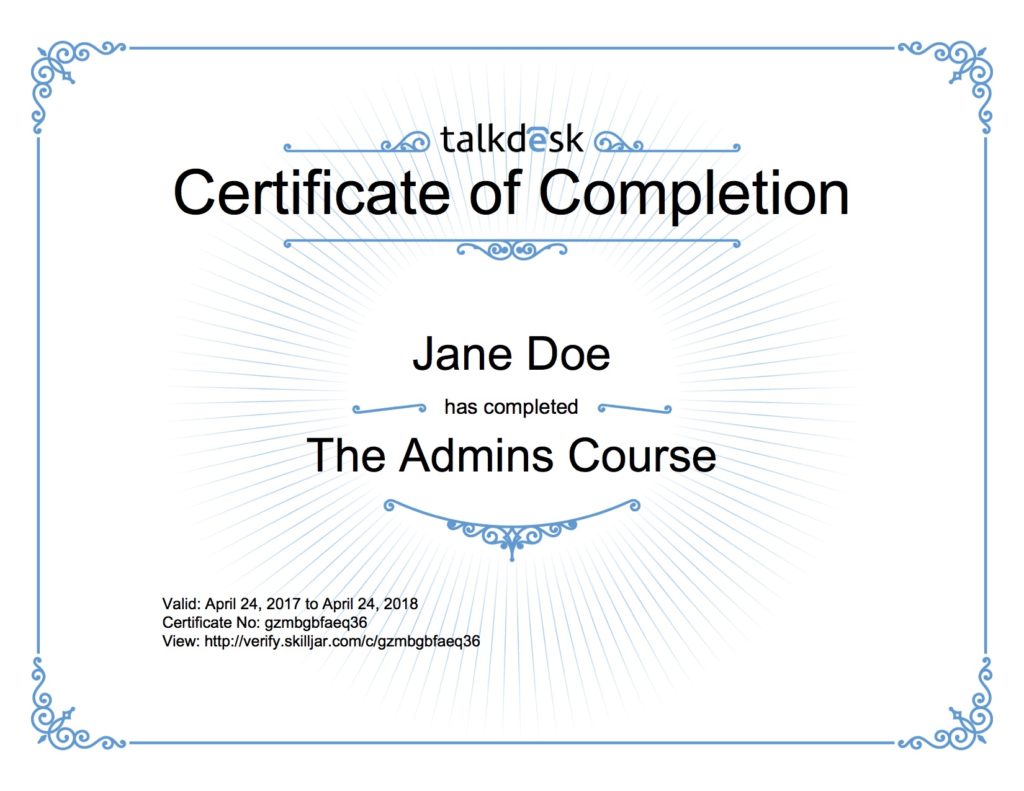 Talkdesk Academy is a great way for your team to make the most of the Talkdesk tools. New Talkdesk users on any team should consider the course a way to quickly ramp up on product knowledge. Employees who have been using Talkdesk for a while can take the courses from the perspective of finding new ways to handle likely use cases and solve common problems.
Courses on Talkdesk Academy are available today, so head over to the site and dive in. If you have any questions and Talkdesk Academy, email academy@talkdesk.com.
Source: https://www.talkdesk.com/blog/sharpen-skills-talkdesk-academy/
Publish Date: May 25, 2017 5:00 AM
---

Talkdesk had a lot to celebrate at Opentalk last week. We kicked off the two-day summit with a keynote address delivered by our own Tiago Paiva, Gadi Shamia and Robert Sur. In the address we covered the highlights of the past year at Talkdesk, including our bigger customer-oriented vision and how that goal has been translated into the products we create.
We were excited to present to the 1,000+ customer heroes who attended Opentalk, but we also want to share our message with a bigger audience, so we recorded the session. Watch the entire product keynote session below to learn more about:
Talkdesk's growth from Opentalk 2016, including our 100,000,000th call milestone
The recent launch of Talkdesk Academy, a free resources for agents, supervisors and admins
Talkdesk's dedication to engineering and maintaining a high level of employee headcount devoted to research and development
AppConnect, the first enterprise app store and the easiest way to add new technology to your contact center
New integrations available for Talkdesk customers
We'll be offering more session recordings from Opentalk 2017 soon, so make sure you're subscribed to the Talkdesk blog to stay up-to-date on the latest content from Talkdesk.
To learn more about what Talkdesk's cloud-based call center software can do for your company, set up a call with one of our experts by clicking the button below.
Source: https://www.talkdesk.com/blog/talkdesks-opening-keynote-opentalk-2017
Publish Date: May 5, 2017 5:00 AM
---

It's taken five years, but we've reached a huge milestone at Talkdesk! Today, the 100 millionth Talkdesk call was made. With this huge milestone behind us and an incredible Opentalk Summit just weeks away, now is a great time to pause and take a look at what we've achieved with the first 100 million calls.
In five years, Talkdesk has powered 370,680,239 minutes of conversation between companies and their customers. That's more than 700 years of human-to-human voice interaction that has taken place on our platform. More than half of those (52 million calls, 407 years of call time) came in 2016 alone, and we're already on pace to make 2017 an even bigger year!
Through the first 100 million calls, Talkdesk callers spent an astonishing 80% of their time in conversation. Only 20% of their time was spent either waiting (18%) or on hold (2%). We want our contact center software to be a tool for companies to be efficient with their customers' time, so we're thrilled to see that 4 out of 5 minutes these customers spend on our calls are in conversation with agents rather than wasting time listening to hold music.
Hosting 100 million calls is a lot, but it's an accomplishment that we only could have reached with the help of our customers. As of today, Talkdesk has more than 40,000 active agents with more than 300,000 contacts. Even more important to us, the companies with the most active agents (DoorDash and Shopify) have such a strong relationship with Talkdesk that they'll be joining us on stage at Opentalk in a couple of weeks.
As happy as we are to have reached our first 100 million calls, we're already looking forward to celebrating the next milestone. We can't wait to share this success with our partners and our customers and we're excited about what the future holds at Talkdesk.
We couldn't be more proud of what we've built at Talkdesk and what it means for the relationships between our customers and their own customers. If you're interested in seeing some of what we have in store for the future, join us at Opentalk in a couple of weeks. Click the button below to buy tickets to this year's event.
Source: https://www.talkdesk.com/blog/blogcelebrating-100-million-talkdesk-calls/
Publish Date: April 14, 2017 5:00 AM
---

Every company has a team of customer service representatives who come to work every day and field customer calls. Their primary role is to speak with customers, giving them valuable insights into how your products are being used.
Customer service representatives also have a unique ability to affect a customer's opinion of a company. Those agents are the literal voice of the company, so they need to reflect the attributes that brand wants to personify. If a company wants to be perceived as intelligent, they should have customer service representatives who are intelligent; if they advertise their product as an easy solution to a common problem, their call center agents should be able to handle customer problems with speed and clarity.
How the customer views the individual customer service representative is the way they'll view the company as a whole. The best companies realize that they can reverse engineer this process and take care of their customers by taking care of their customer service representatives. Here are some things to consider when planning your approach:
Measure customer service representative morale
Customer satisfaction (CSAT) is one of the most high-profile statistics a company can use to track their customers' experiences, but I haven't ever run into a company that tracks their customer service representative satisfaction. There's a correlation here that's easy to see: happy agents are better at making customers happy.
The first step to improving agent morale is simple: listen. At Talkdesk, our support team has regular check-ins where they can discuss their progression and propose new ideas. These meetings are a great way to keep a finger on the pulse of the team and make sure these agents are enjoying their work. Your company might have a different way to track the morale of your team, but regardless of the methodology you use, be sure to track customer service representative morale consistently
Give them the best tools
Customer service representatives often have a pretty well-defined process regarding how they help customers. They'll field a call, open a ticket, listen to a customer's issue, propose a solution, write after-call notes, etc. The problem is that these steps may have been put in place a long time ago, when technology couldn't speed up the process.
Today, modern call center software will automate a remarkable amount of the customer service representative's workflow, freeing them up to spend more time doing what they do best — solving customer problems. It's amazing how much time they can save when these support processes are streamlined. Replacing just one manual task with an automation means agents can field more calls every day and resolve more customer issues. Saving just a few minutes on each call can add up to hours of extra time to the weekly total that agents can spend with customers.
Listen to their ideas
If a customer support representative has an idea about a new feature that could solve a lot of their customers' problems, do they have a platform to communicate that to the product team? If they are hearing that the product consistently satisfies customers, do they have access to the marketing or advertising functions to build that feedback into a bigger campaign? Did a customer recently compare the product to a competitor? There should be a way to funnel this information to the sales team.
These agents are the best resource for customer feedback and they should be recognized as that. They can contribute to much more than routine contact center jobs. They're customer experts and they should be treated as a valuable commodity.
At Talkdesk, we say that our goal is to enable companies to treat their customers brilliantly. There are plenty of ways to do that, but one of the easiest ones is to treat your call center representatives like customer heroes. To learn more about to prevent stress in the call center, click the button below.
Publish Date: March 30, 2017 5:00 AM
---

Think about the most recent customer service call you were on. Do you remember the last question the agent asked you? The one right before they asked you to stay on the line for a quick survey. If it was something along the lines of "Have I fully resolved your issue today?" there might be a problem.
The authors of The Effortless Experience have definitively labeled that the worst question a customer service representative can ask. Not because agents should care less about resolving customer issues, but because customers usually don't have the ability to correctly answer. It's impossible to tell if their issue has been fully resolved because the they haven't had time to see how the agent's prescribed solution worked out.
Imagine the scenario in a different context: what if a waiter or waitress brought your order out from the kitchen, placed your food in front of you and immediately asked if you had enjoyed your meal. You could answer that it looked or smelled up to par, but you haven't actually tasted it, so you wouldn't be able to answer completely. The question isn't bad, but the timing is.
The Effortless Experience ties this all back to the customer effort metric. Asking the wrong question at the end of a call could lead to unresolved issues, which means additional calls in the future, which drives up the effort required from the customer. The goal is to reduce overall effort, so customer service agents should prioritize habits that work better for the customer's experience beyond the immediate call that they are handling.
The "fully resolved" question focuses too much on the present. Is the customer's current problem solved right now? It doesn't take into account what could have been done in the past or what can be done in the future to minimize effort. Part of this is due to a gap in metrics. For example, First Call Resolution can tell you exactly how well your agents are performing when resolving customer support requests, but it doesn't tell you about the entirety of the customer's journey.
What if instead, a company were to track the percentage of customers who needed to make service a call in the first place. As that number goes down, companies could be assured that they were proactively reducing customer effort. Similarly, companies can try to minimize additional calls in a certain period of time after a call is received. If the customer isn't calling back during that period, it's probably because the issue is truly resolved. That metric would prioritize a customer's actions rather than a verbal response as a way of answering the "fully resolved" question.
Our team is building call center software with a focus on ease of use and keeping effort as minimal as possible. We recognize that it's not enough to just suggest that a closing question is bad, we'd also like to make some suggestions about alternatives. Here are a couple of options that could help shift the focus away from the customer's problem right now and move toward a focus on the other parts of their journey:
"What could have prevented this issue?"
This question is a way to research the customer journey before they felt the need to call about an issue. They might have answers and they might not. It might also be a good way to generate content for a self-service portal or knowledge base.
If customers keep calling with the same issues and the same suggestions about resolving it, maybe it's time to rethink the content your team offers. It's also just a humble way to show customers that you're listening to their problems and illustrate how you're building solutions for the future.
"What did you try before you called?"
This is another research question aimed at getting into the customer's shoes and seeing what steps they take to resolve their issues. The answer might not solve their current problems but it can tell you what didn't work and which steps the customer took in their self-service process.
This question also focuses on the customer's past. The more research a company can do into the earlier stages of a caller's experience with their products, the more likely they are to avoid future roadblocks. If every customer is unsuccessfully going to the same resource first, it might be time to either re-design that asset or start making better efforts to push customers somewhere else.
"Customers who have this problem usually call about ______ next, here's what to do if that happens."
This is not a question and it's not designed to be one. It's just a statement that illustrates a company's commitment to next issue avoidance. It requires research into the issues customers at each stage of their journey are experiencing, but how impressive would it be if a customer service agent accurately predicted your next issue and solved it before you even knew you needed that solution?
For example, if a customer calls with a question about adding a new user to their account, the agent could look up the most common new user questions and direct that caller to a resource library for new users. Forward-thinking steps like this show customers that you genuinely want to reduce their effort and would almost certainly lead to increased loyalty.
No matter what you choose to ask your customers at the end of a survey, you need to think about what will ultimately provide the most value for them. It's up to you to consider all of the factors that play into that question and come up with something that will inform your company's process the best.
To see some additional insights we learned about customers at last year's Opentalk Summit, click on the banner below.
Source: https://www.talkdesk.com/blog/question-customer-service-agents-shouldnt-ask
Publish Date: March 22, 2017 5:00 AM
---

When it comes to making a decision about which contact center software to use for your team, the choice often comes down to two different solutions. In situations like that, third-party business review sites can be a great resource for objective head-to-head information.
Recently, G2 Crowd reviewed the contact center software industry, collecting reviews from individual users and synthesizing the results into overall ratings. We're happy to say that the results show Talkdesk customers love using our product. Overall, Talkdesk received an average 4.4 out of 5-star rating. By comparison, Five9 received an average of only 3.6 stars.
Talkdesk's average review was higher than Five9's, but even more impressively, Talkdesk bested Five9 in all eight of the customer satisfaction ratings. Here's a breakdown of the categories and how real customers rated the two solutions: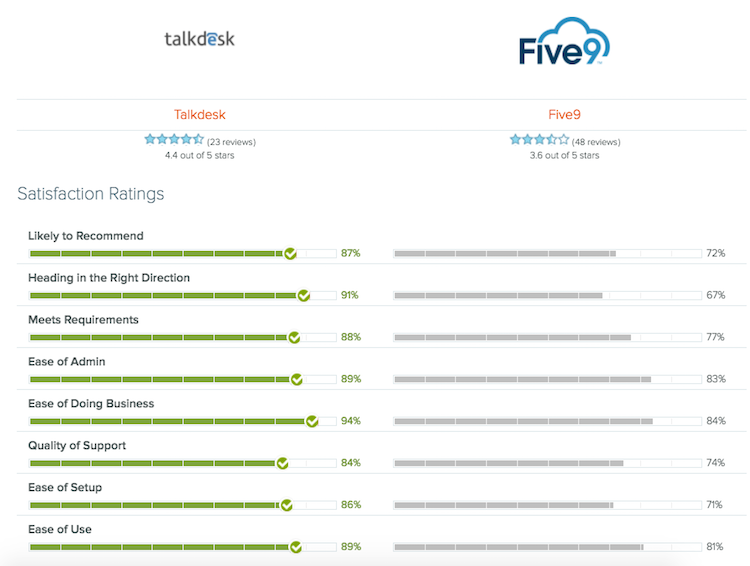 Direction
The biggest difference between Talkdesk and Five9 was on the question of which contact center software was "heading in the right direction." With a 24-percent differential here, Talkdesk was the overwhelming winner. We've put a lot of thought and effort into where Talkdesk is going (including features like omnichannel and customer sentiment tracking) and we're happy to see that insight resonating with our users.
Setup
When Talkdesk was founded, the company goal was to allow customers to set up a call center in five minutes. Today, the overall focus is still the same: provide admins with an easy-to-use setup process that can be completed without external people or products. We want to empower admins to avoid the hassle of setup and allow their team to get straight to having better conversations with customers. Talkdesk's deployment is so easy that Talkdesk users rated the solution 15% better than Five9 users on the "ease of setup" question.
Likely to Recommend
The ultimate test of customer satisfaction with contact center software is whether or not they would recommend it to colleagues. In this category, Talkdesk was rated 15% higher than Five9! When we combine that customer feedback with GetApp's analyst scoring (Talkdesk 61, Five9 41) we're thrilled to say that we're offering our customers a superior experience across the board.
Here are some examples of what G2 Crowd's customer reviews had to say about Talkdesk and Five9:
"I found that we had a 15-20% technical failure rate using Five9, making it difficult to use it to measure overall productivity since its failure rate created significant variables."
"We switched from another outsourced company to Talkdesk about a year ago and we've seen a huge increase in customer retention and a decrease in customer complaints."
"As a sales person, creating call lists, and then executing them should be easy. Instead Five9 made more of my customers angry than ever helped them."
"The best aspect about Talkdesk is their responsiveness and their product team. They have a great product, and they have made that product exponentially better because of their responsive support team and their accessible product team."
To see Talkdesk's contact center software in action, set up a live demo with a member of our team. It's as easy as clicking on the button below.
Source: https://www.talkdesk.com/blog/talkdesk-five9-contact-center-software-review
Publish Date: March 9, 2017 5:00 AM
---

One week after Talkdesk topped GetApp's list of Call Center Leaders, another third-party analyst has released an industry report with Talkdesk leading the way. Data from G2 Crowd's most recent industry overview named Talkdesk a High Performer in the contact center industry based on reviews from real users.
Talkdesk's reviews are great, receiving four- or five-star ratings in 95% of reviews. What's even more impressive is that Talkdesk's customer satisfaction rating exceeds Avaya, Five9 and the category average in every single G2 Crowd metric.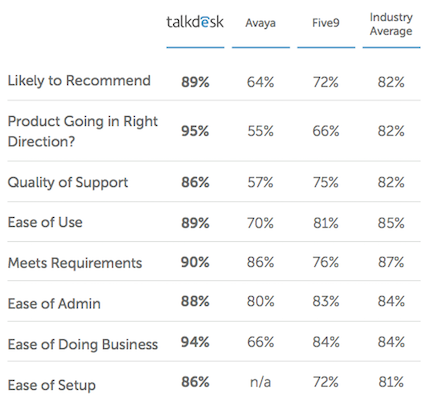 | | |
| --- | --- |
| | G2 Crowd Grid for Contact Center Infrastructure Software |
Reviews
The reviews are overwhelmingly clear: Talkdesk users love the experiences they're having with our contact center software. The reviews show that the company is easy to do business with and that the product is headed in the right direction. According to G2 Crowd, Talkdesk's highest customer-rated features are custom toll-free number assignment (96%), computer telephony integration (94%) and reporting/dashboards (94%). Those are some outstanding numbers!
The heart of G2 Crowd's contact center industry report is reviews, so here are a few examples of what real-life Talkdesk customers had to say:
"Talkdesk gives us the flexibility to route calls anywhere my agents are and I don't have to put in the traditional expensive enterprise phone systems."
"It stays in the browser, which makes accessing it from multiple locations simple and intuitive. I have nothing but good things and praise for our account manager and their support team. Always friendly, quick, and courteous, they're able to answer most questions."
"It's very organized and easy for multiple people to see what is happening in our call center - we needed a dashboard that could help us do everything we needed and Talkdesk is just that! I also find it very simple to create new users!"
"They're a great company to work with as they really spend time getting to know your business and your problems with your current vendor. They go out of their way to provide excellent customer service."
To read all of the reviews and see a complete list of features check out Talkdesk's G2 Crowd profile. It's a great place to see real users compare Talkdesk and all of the competitors in the contact center industry. To learn more about Talkdesk and to see how we compare to our competitors, read the entire Contact Center Industry report from G2 Crowd.
To see how Talkdesk can work for your company, click the button below to set up a live demo with our team.
Source: https://www.talkdesk.com/blog/g2-crowd-talkdesk-contact-center-high-performer
Publish Date: March 3, 2017 5:00 AM
---

Last month, Avaya filed for Chapter 11 bankruptcy. The company will continue to operate and has plans to retain control of their contact center, but there are certainly plenty of question marks around the long-term viability of their offering.
For Avaya's customers, news of the Chapter 11 filing might be just the cataclysm needed to shake up their call center strategy and consider something new. Here are three reasons for current Avaya customers to consider moving their call centers to the cloud:
1. Ease of setup
For current Avaya customers, it's likely that the words "call center setup" are associated with a process that involves several months or even years to finalize. It probably also involves multiple calls to Avaya's internal setup team or even scheduling a series of on-site visits to install hardware or phone lines.
With Talkdesk, creating your cloud-based call center can be done in as little as five minutes. An admin just needs to choose their settings, purchase a number and start making calls. Customers don't need to buy new phones, and they can begin making and receiving calls from the same computer they just used to set up the account.
When the team grows and new users are added to the call center, adding extra seats requires no new devices, additional setup or contact of an account manager to provision licenses. The account admin just needs to assign a license to that user and they're ready to handle calls immediately.
2. No new equipment purchases
Legacy phone systems like Avaya require customers to use Avaya's hardware, their software, their phones, their everything. Installation is expensive and the customer has no control over the pace.
Cloud-based call center software allows customers to use the tools they already have, so there is no need to purchase new phones or hardware. Better yet, admins don't need to wait on equipment to complete setup because they already have all the tools they need to start handling phone calls.
3. Speed of new feature development
There seems to be a common thread running through the conversation about Avaya's bankruptcy: they moved too slowly. The planning around the call center involved multi-year processes and complicated product builds. That was acceptable ten years ago, but in today's fast-paced call center industry, it's unacceptable.
A feature that was dreamed up years ago probably isn't going to be relevant for today's consumers. More importantly, a feature that today's customers want can't wait several years to be built — it should be pushed to production as soon as possible.
Not only does moving to a cloud-based call center increase the pace of product updates, it also opens the door for one-click integrations with business tools like CRM, Helpdesk, Live Chat and back office solutions. This means more streamlined and more intelligent workflows that allow agents to focus on what they do best. Modern call centers even have APIs that let other apps build new capabilities onto them, which means the features increase even faster!
If any of those Avaya pain points have hurt you in the past, better solutions are out there. Click the button below to learn more about how the right call center software solution can improve your team's effectiveness and your relationship with customers.
Source: https://www.talkdesk.com/blog/moving-call-center-cloud-avaya-bankruptcy
Publish Date: February 28, 2017 5:00 AM
---

Independent business tool analyst GetApp just released their Call Center Leaders report for Q1 2017 and the results show Talkdesk rapidly climbing to the top of the industry. GetApp's quarterly rankings list the top 25 solutions in the call center space, evaluating them on five categories (each out of a possible 20 points): reviews, integrations, mobile, media and security. Each solution's ratings are combined for a final score (out of 100) and then ranked from highest to lowest.
We're thrilled to announce that Talkdesk finished this quarter's evaluation with the second-highest overall score, ahead of Aircall (3rd), 8×8 (6th), Five9 (14th) and inContact (18th). Beyond that larger accomplishment, Talkdesk was one of the top three call center solutions in three of the five categories, including one perfect rating, something no other company can say.
Security
Talkdesk stands alone at the top of the security category, achieving a perfect 20/20 rating. Our team is extremely proud of the work that we do to ensure that our call center software platform is recognized as the most secure in this space and this perfect score is evidence of that effort. If your company is evaluating call center solutions based on security, GetApp proves that you can't do better than Talkdesk.
Reviews
With a category score of 16/20, Talkdesk is the second highest reviewed call center solution in the category. We build our tools with customers in mind, so this recognition is something the Talkdesk team takes very seriously. Here are some comments from real Talkdesk customers:
"We love that Talkdesk is a cost-effective, browser-based solution. It was quick and easy to set up and start taking calls. We love the ability to tag calls, which allows us to keep a good pulse on the customer experience, and the reports help us ensure our customer happiness team is providing the best possible care to our customers." - Lissa D. McManus, UrbanStems
"Talkdesk allowed us to deploy a valuable, long-term phone solution for our business in under month," - Jim Edwards, Smartwaiver
"The product is seamlessly integrated with Salesforce and has been essential for our business." - Philip Chun, Scalus
Read all of Talkdesk's reviews on GetApp to get more information.
Integrations
Coming in with the third highest score in the category (15/20), Talkdesk offers 25 out-of-the-box integrations. Working in conjunction with some of today's most popular business tools like Salesforce, Zendesk and Desk.com means Talkdesk's call center software solution can add value to any company's existing workflow without creating new processes.
To add to the impressive list of existing Talkdesk integrations, our team is also building on to the product at an incredible rate. While some of our competitors release new features only once or twice a year, Talkdesk is always working to provide new business tool integrations for our customers.
To see all of the results, visit the Call Center Leaders report on GetApp.
Source: https://www.talkdesk.com/blog/talkdesk-named-call-center-leader-getapp/
Publish Date: February 21, 2017 5:00 AM
---

As a company grows and expands its user base, it's inevitable that the support team will need to add new members. Filling those call center jobs with the right people is extremely important in terms of maintaining a positive work environment and improving relationships with new and existing customers.
At Talkdesk, we know our call center agents will often communicate with other call center employees, so we make it a priority to staff the team with the best of the best. We set very high standards and are happy to say that our call center team has achieved a 95% CSAT. We keep that number high by looking for a specific set of traits in our new hires. Here's a list of characteristics we seek out in new call center agents:
1. Unique
One of the most important questions to ask about a potential hire is if they bring something new to the team. Do they come from a different background than anyone currently on the team? Do they have unique industry experience? Do they speak a language that isn't already represented?
The goal of your call center is to provide an excellent customer experience to a diverse customer base, so you will need a diverse group of agents to execute on that goal. New call center jobs should be focused on building bridges to new types of customers so it's vital to bring in agents with unique skill sets and experiences.
2. Helpers
There's a certain percentage of the population that's wired to help other people and it's a company's responsibility to identify those helpers for call center jobs. An easy way to find out what makes a candidate tick is to ask them what they have enjoyed the most about previous jobs. One of the first things on their list should be the satisfaction of helping customers.
3. Problem solvers
Every support issue is solved a different way and the best call center agents see each new incident as an opportunity to find that solution. Good problem solvers are excellent at organizing information and figuring out which pieces need to be put together to get to a desired resolution. This type of person is an instinctive researcher who is excited at an opportunity to put their personal knowledge to use.
4. Technical ability
Call center jobs require constant multitasking and great agents need to be adept at navigating multiple devices, programs, apps and tabs at once. These agents are in front of a computer all day and the better they can navigate the information in front of them, the more beneficial they are to the customer. No one wants to wait on hold while someone else hunts for information, so the easiest way to keep customers happy is to make sure the support team is savvy enough to find things quickly.
This is a quality that's tough to test in the hiring process, but an interesting way to get a sense of an applicant's technical skills is to ask them which keyboard shortcuts they use. The response to that question should give you an idea into which processes the agent will incorporate and how quickly they complete those processes.
5. Team-oriented
The best support agents are team players. They don't really care about who gets credit for a solution, they just want to get problems solved quickly and completely. The most important thing is the customer's satisfaction, not who gets the credit. Team-first agents aren't afraid to ask for help and bring a humility to the role that allows the customer's problem to be at the center of a discussion.
6. Diligent
No matter how educated and experienced a call center agent is, they're inevitably going to run into an issue that they can't solve immediately. This is the most important test for a call center applicant. Do they take a shortcut and make up an answer or do they put in the work to come up with the best response?
7. Coachable
Brilliant support is an skill that is honed over a career of handling different problems for different types of customers. The best agents are open to feedback on their performance and are always looking for advice about how to improve. Odds are that the newest employees in contact center jobs won't be the most knowledgeable right off the bat. It's important for these agents to stay receptive to the managers and more senior members of their team in order for them to grow in their role.
8. Skilled writers
Call center jobs are ultimately communications jobs. A lot of the work is in researching a problem and working to find a solution, but if that solution isn't effectively communicated to the customer, then it's useless.
At Talkdesk, we have our call center applicants complete a writing test as the first part of their application process. We use real questions from real customers to test how well potential agents can state solutions. Our rationale is that it doesn't matter how capable an agent is solving problems; if they can't communicate to the customer, the answer they've identified isn't valuable.
9. Resourceful
On the same test that we use to evaluate writing ability, we are also looking for an agent's resourcefulness. All of these support cases can be closed successfully with information found on our website, it just takes a little digging. An agent who has a knack for finding resources and the diligence to hunt down the right answer among those resources is bound to shine in our hiring process.
10. Personable
Call center jobs are ultimately about communication between two people. Good agents don't sound robotic or apologetic, they sound like a friend who understands you and is trying to help solve your problems. It's important that agents are able to use their own words and let their personality shine through in support cases. If you're filling your call center jobs with the right people, you should be thrilled to let their personalities come through in calls.
Want to make sure your call center is up-to-date on current trends? Click the button below to download a free ebook containing our industry research and prepare your team for success.
Source: https://www.talkdesk.com/blog/10-traits-call-center-jobs/
Publish Date: February 13, 2017 5:00 AM
---

On-demand services are exploding into the consumer space across a range of industries. Companies like Doordash, Handy and Spothero are building platforms to deliver goods and services to customers at a moment's notice. The entire process is enabled by lightning-fast communication, and consumers who utilize these services are experiencing a dramatic shift in customer service expectations.
Today's on-demand brands need to accommodate new customer needs. The communication landscape is changing rapidly and the most successful brands are the ones that use call center software to adapt the quickest. Here are a few of the ways on-demand services are forcing customer communication to evolve:
1. Communication Has to be Instant (and Often)
On-demand services happen fast, often in real time. Doordash customers might push a button to order dinner and be eating 30 minutes later. In that small window, they'll probably want to be notified when their order has been placed, when their dasher has left the restaurant and when the food arrives.
This increased quantity of communication can be automated in a lot of cases, but it's up to the company to offer real-time support in case something unexpected happens or the customer initiates contact. The agents who handle those support cases need to have access to all the information about a customer's most recent order in a matter of seconds. That's where the right call center software can be a valuable tool.
2. Messages Need to be Personalized
It's not just the quantity of communication that's changing, it's also the style. Instead of crafting one-to-many messaging campaigns, on-demand companies are sending a lot more one-to-one transactional messages. Customers need to receive information quickly, but they also need to receive information for them quickly.
For example, a customer who reserves a parking space through SpotHero wants to receive information about the spot they reserved: how to find the location, reminders of the time slot they have booked, etc. They don't need to see promotional offers or general company information. Moreover, companies need call center software that makes that information available to an agent the instant a customer calls.
3. Change the Channels
As on-demand services increase, communication around those services will move toward the high end of the urgency spectrum. That means less of a reliance on email and more emphasis on SMS, voice and, for some companies, even video.
The move to faster channels requires an omnichannel call center software solution that allows agents to track all of the customer communication at once. The customer is probably using the same device for email, text, voice and video, so support agents should be able to streamline messages too.
4. Evolving CSAT Measurement
Part of the increase in communication related to on-demand services is that CSAT measurement is more readily available. It's fairly common for a service to request a simple feedback rating after each transaction and the ease of rating makes this request simpler than ever to fulfill.
It's far less of a burden on the customer to click a star rating on their phone than it is to stay on the line after a support call and answer questions. Companies like Thumbtack and Handy can generate information about their service providers that would have been nearly impossible to receive using older business models.
For other companies, CSAT needs to evolve. For example, a Doordash customer might leave a negative rating that takes into consideration both the quality of the food and the quality of the dasher. A response like this makes it unclear what exactly is being rated and muddles the strategy for correcting the problem. There can be follow-up communication to determine the specifics, but that strategy still needs to be developed.
No matter what your company's approach is to the on-demand economy, customer expectations are going to continue changing. Prepare your team with the right strategy and the right call center software to keep customers satisfied.
Source: https://www.talkdesk.com/blog/on-demand-call-center-software
Publish Date: February 9, 2017 5:00 AM
---

A phone is a device built for one purpose: communication. But the scope of communications is more broad than it's ever been. The smart phones in our pockets and purses are not just devices to transfer voices across the miles anymore. These multi-purpose computers can do that, but they also email, pay bills, book services, browse the internet and much more. The good news for companies is that contact centers can do more than ever too, but they need to adapt quickly to keep up with consumers.
When it comes to personal communication, today's consumers use their phones to type more than to talk, which means that customer-centric businesses need to make plans to start texting. It's not an option. The choice about which channels to use in business-to-consumer communications needs to be made by the consumer and the result is clear: 85% of consumers want to be able to communicate with companies via text.
The good news for brands is that SMS messages can be included as part of a well-designed omnichannel contact center strategy. The better news is that the texting landscape is still pretty fresh, so getting a head start now could be a major competitive advantage. Here are some tips to keep in mind when developing your company's plan for text messaging with customers.
Decide which messages to automate
Sending SMS messages to your customers shouldn't be primarily a manual process. A lot of the outbound messages will be transactional (notifying customers that something is being delivered to them, reminding them of a deadline related to their purchase, etc.) and can be configured based on each company's business model.
As far as the inbound text messages go, it's likely that a new strategy will need to be put in place to manually respond. Customers will probably text the same types of concerns that appear in existing channels (chat, email or phone support), but a successful contact center strategy will also consider which issues will become more frequent due to the new texting capabilities. The SMS support teams will accurately predict the SMS messages they are likely to receive and map those messages to specific points on the customer journey. From there, they can decide how best to respond.
Develop a measurement strategy
If you're creating a text messaging strategy from scratch, you won't be able to measure results against past data. It's going to be tempting to compare SMS metrics to standard email or chat metrics (number of incidents, response time, etc.), but the results won't look the same.
For example, a text message and an email are both text exchanges that occur at the low end of the emotion range, but they're at opposite ends of the urgency spectrum. An email might be long and include details and attachments and lots of other information that takes time to assess and respond to. A text message will likely be no more than a paragraph and customers won't patiently wait while your team puts together a response.
To add SMS capabilities to your contact center the right way, customer teams will have to keep an eye on early metrics and adjust in real time. Maybe you want to resolve issues in half the number of messages as a chat incident and half the response time of an email incident. Those numbers might be reasonable, they might be impossible; the only way to know for sure is to measure the early results and try to see where there's room for improvement.
Keep in mind that it's not just your support team that will need to adjust to SMS support, your customers will have a long way to go too. Some measurements might change as your customers and agents get more comfortable and more skilled with SMS messaging.
Know when to switch channels
Text messaging is going to solve some problems for your support team, but it's part of a bigger strategy. If a customer sends a message to support via text that can be resolved faster on a phone call or an email thread, don't be afraid to use the more appropriate channel to respond. Just because a customer is more comfortable reaching out via text doesn't mean that the conversation needs to stay there.
Ultimately, a text strategy is designed to give customers new ways to reach out to companies and get their issues resolved. Texting capabilities give your contact center a brand new way to increase customer satisfaction, but a poorly-designed strategy will cause more problems than it solves.
Source: https://www.talkdesk.com/blog/start-planning-contact-center-sms-strategy
Publish Date: February 7, 2017 5:00 AM
---

When you think about contact center jobs, you probably imagine people wearing headsets and answering calls in front of computer screens staring at call center software all over the world. These employees are the part of a company that is responsible for solving any problems that come up. When you think of people with contact center jobs, you probably don't look in the mirror. Unless of course, you purchased a mirror that is giving you problems and you need to contact the company that produced it.
There's a common misconception that these agents with headsets have the important contact center jobs. After all, they're the ones digging into details, distributing information and ultimately "solving problems" related to customer support. But If you take a step back, you'll realize that there's someone else who is more important to the process: the customer.
The goal of contact centers jobs is not to produce the most helpful agents, it's to produce the most satisfied customers. The two are correlated, but the agents exist only as a means to a customer-centric end. The contact center process, literally and figuratively, starts and ends with the customer. The customer reaches out to a company when they need a solution, they determine when a resolution has been achieved and they ultimately end the conversation. They drive the process.
Throughout the entirety of the communication, the customer and the agent are working together toward the same goal.They don't sit at the same desks, but they both want to see issues resolved as quickly and as thoroughly as possible. In that sense, the customer is acting in a de facto contact center job.
This is a realization that every employee in a contact center job needs to have. These agents need to approach each customer contact in the context of working together. Each conversation involves two equally-important people: one to highlight an issue and present it for resolution, the other to address the issue and ultimately streamline solutions in the future.
From my experience as a consumer, it can be tough to imagine the support process as one that involves working together. Sometimes it feels more like a struggle than a cooperative exercise, with both sides waiting for other to take action, but it doesn't have to be that way.
Try to re-imagine the entire customer support cycle from the perspective that the customer is a collaborator. They are the ones who do the product research to uncover issues with a company's offerings. They then bring them to the support staff with the intention of resolving them and monitor the process to ensure that it is done quickly and completely.
These customers are one of a company's best assets. They do product research and help a contact center prepare for issues with other customers. They're part of the team and should be treated with the same respect that other employees receive.
Source: https://www.talkdesk.com/blog/blogthe-customer-has-the-most-important-contact-center-job/
Publish Date: February 3, 2017 5:00 AM
---
When thinking about predictive customer service, the biggest question might not be what to say to customers, but which channels to use to increase customer satisfaction. This is ultimately not a question that any company can answer on its own. Since the majority of customer communication is reactive, it is actually the customer who chooses the channels that they are comfortable using to initiate conversation.
It might seem difficult to attempt to be predictive and responsive at the same time, but this is the challenge of modern customer communication. At Talkdesk, we recommend an omnichannel approach to communication, but that recommendation comes with the understood challenge of being equally adept at communicating across every channel customers want.
Evaluating Current Channels
At some level, companies should always be evaluating the channels that customers use to reach out to them. Are issues actually being resolved using those channels or are they just getting pushed to other channels? For example, it doesn't do a company a lot of good to have a team designated to Twitter support if that team is just going to push customers to a support email or chat service.
For each individual channel being used, it might also help to evaluate each on standard customer service criteria like CSAT, time to resolution, average numbers of replies, etc. If a company hasn't reviewed their existing channels for baseline metrics, that's a good place to start.
Planning for Future Communication
One of the channels that we see increasing in the customer communications space is SMS and MMS messaging. As consumers become more and more attached to the non-calling functions phones, businesses need to find ways to keep up. If a customer service solution can be achieved quickly through a short text (SMS) or image (MMS) exchange, this might be the preferred method.
To take the image trend one step further, outstanding predictive customer service teams can also begin implementing video into their support strategy. For consumer product in particular, this seems like an enormously beneficial and ultimately, inevitable, end point. For some teams, MMS technology might be skipped entirely for live video service one day. It's up to companies and customer teams to research emerging communication channels and determine what their buyers will want.
Don't Forget Agents
No matter which channel is used, each customer support interaction has two ends: the customer and the agent. While CSAT is important to maintain, agents can be outstanding resources for determining channel usage. They have the best insights into the way customer issues are being resolved and can certainly give some first-hand, qualitative information about the channels that are producing the most and the least success. As far as predictive customer service goes, these agents are the most valuable assets a company has in regards to filling the channel toolbox.
Agents may also have ideas about channels that could improve CSAT in the future. They can take the insights they have about customer interactions and brainstorm ways to utilize new channels to address pain points. As new channels emerge, it's important to keep agents active in evaluating potential adoption. Satisfying agents by giving them a voice will go a long way toward maintaining good customer relations.
The channels a company uses to communicate with customers are key to the overall experience those customers will have. It's still up to the individual agents to make those most of those communication lines, but the task is a lot easier when the right tools are being used.
Source: https://www.talkdesk.com/blog/improving-csat-predictive-customer-service-evaluating-channels/
Publish Date: February 2, 2017 5:00 AM
---

How many contact center jobs is enough? It's something that plenty of companies struggle with. On one hand, it's not acceptable to force customers to wait too long on calls because not enough agents are available. On the other, it doesn't make sense to have agents sitting idly at their desks.
One of the primary roles of a call center supervisor is to determine how many agents are necessary to do the job well. Here are some things to questions when it comes to staffing your team:
Are you treating customers brilliantly?
The biggest question about the number of contact center jobs at a company is simple: what will make customers the happiest? It doesn't take an expert to know that customers want to be treated as well as possible. It also doesn't take an expert to realize that more agents translates to shorter wait times, more flexibility and quicker resolutions to problems.
On top of everything, it makes financial sense to prioritize current customer retention over new customer acquisition. The customers who benefit from shorter wait and response times will be more inclined to continue purchasing a product or service and are also more likely to make a recommendation to a friend and increase spending in the future. That said, facilitating brilliant customer interactions are well worth the investment.
Are you ready for success?
No matter what product or service a company offers, every company has goals regarding the number of customers they want to attract in the future. Hopefully every company hits those growth goals, but it's not enough to merely attract customers; those new buyers have to stay loyal to create revenue. If there aren't the right amount of new contact center jobs to service those new customers, they will likely leave for a competitor quickly.
Companies need to anticipate the growth of their customer base when it comes to these positions. Having the right number of agents too late is the same as not having the right number of agents at all. Proactively hiring contact center agents will provide better service than reactive hiring 10 times out of 10.
Seasonality
Every company and industry has busy and slow periods. Classic examples are retail during the holiday season and accountants in March and April. These ebbs and flows don't come as surprises, they're predictable from year to year, so a company's contact center jobs should reflect the need for increased service during these seasonal rushes.
Beyond having a team of support agents ready for the busy seasons, companies also need to consider the time it takes to have those agents trained and capable of providing exemplary support by the time the rush hits. This timeline is different for every company, but should be calculated as part of the effort to scale appropriately.
Share them with other teams
The primary job of a contact center agent will always be to satisfy the customer, but today's industry leaders are finding ways to integrate customer service into more job functions. If a company's contact center is fully staffed with 12 agents, it might be beneficial to fill 14 contact center jobs so the extra employees can work with other teams to make sure the voice of the customer is heard across each of the relevant teams.
In the end, the optimal number of contact center jobs available isn't an exact science, but it's a concept each company needs to put effort into forecasting correctly. Having the right number of contact center jobs is a big step on the way to maximizing the impact of a support team.
Source: https://www.talkdesk.com/blog/blogdo-you-have-enough-contact-center-jobs/
Publish Date: January 23, 2017 5:00 AM
Page: 1 | 2 | 3 | 4 | 5 | 6 | 7 | 8 | 9 | 10 | 11 | 12 | 13 | 14 | 15 | 16 | 17