Talkdesk - ContactCenterWorld.com Blog Page 8
Page: 1 | 2 | 3 | 4 | 5 | 6 | 7 | 8 | 9 | 10 | 11 | 12 | 13 | 14 | 15 | 16 | 17

Voicemail is an essential call center feature for a variety of reasons. Providing callers with the option to leave a voicemail can reduce call queues, ease call volume stress for agents and direct callers to a solution after the maximum wait time or queue size has been reached.
For these reasons, voicemail is a standard feature in most call center software solutions. But call center voicemail can go beyond simply allowing customers to leave voicemails. The most significant evolution in call center voicemail is transcription.
What is call center voicemail transcription?
Voicemail transcription is a call center feature that creates a speech-to-text file of voicemails.
What is call center voicemail used for?
Speech-to-text translation allows agents and managers to review the details of voicemail messages without having to listen to the recordings.
What voicemails can be transcribed?
Call center software solutions that have this feature enabled will often allow supervisors to create settings for which voicemails are transcribed. For instance, in Talkdesk, the standard setting is for all voicemails to be transcribed.
How can call center employees access voicemail transcriptions?
As with any call data, there are different options available for receiving the information. Permissions can be set to certain levels of employees and ring groups to access the files in a central repository. Some advanced solutions will allow for custom email notifications containing transcripts and relevant call data. They may also enable automatic logging of call transcripts within callers' comprehensive contact histories, including across business tool systems.
What are the advantages of call center voicemail transcription?
There are many reasons to listen to voicemails. The primary argument for hearing the caller rather than just reading their words is that listening makes it easier to read emotions. That said, there are instances when transcription is a better choice. Here are a few:
1. Messages at a glance
Transcripts can be read much faster than voicemails can be listened to. By allowing agents to briefly glance at transcripts, time can be saved in identifying the most important caller issues to be address. Couple voicemail with the "Find" functionality and agents can search for specific phrases that indicate which callers may be a higher priority.
2. Messages on the go
There are many situations in which it would be useful, but inappropriate, to listen to a voicemail. For example, if a call center supervisor is in a budget meeting, a voicemail transcript will enable them to remain present at the meeting while checking that no important messages have slipped through the cracks.
3. Improved accessibility
Diversity among customer service representatives is to be encouraged. Voicemail transcriptions may help to make messages more accessible for a variety of customer service representatives. In example, voicemail transcripts can enable hearing impaired agents who work principally with SMS communications to assist with voicemail sorting.
4. Access for the follow-up
When voicemail transcripts are added to comprehensive contact information, call center agents have access to the text of the voicemail when they call the customer back. This means that they are able to reference the message and directly address the issues raised by the customer in their voicemail.
5. Voicemail spam filtered
Voicemail transcripts can help supervisors and agents immediately flag voicemail spam. This includes long messages without content or messages that are clearly recorded because their information repeats.
Voicemail transcription is a tremendously useful call center feature, but it is only one of the many advanced functionalities that the latest call center software brings to the table. Explore how features like voicemail transcription help modern businesses drive brand loyalty and customer satisfaction by requesting a demo of Talkdesk.
Source: https://www.talkdesk.com/blog/5-advantages-call-center-voicemail-transcription
Publish Date: July 28, 2016 5:00 AM
---

Even the most well-run, customer-centric contact centers deal with angry callers every day. In some ways, this is just the nature of call centers. Customers who reach out for phone support are invariably looking for immediate assistance with a problem directly related to your company's product or service. One very natural reaction to having a problem is anger.
Smart call center management recognizes that angry callers are an unavoidable reality. The purpose of providing them a phone number is to give them the opportunity to air their grievances and seek a human resolution!
That said, angry callers should be kept at a minimum. They can lead to churn, loss of brand loyalty and negative word of mouth. Angry callers can even promote agent turnover. Where possible, it's best to avoid certain situations that may take slightly a slightly peeved caller and turn them into the Incredible Hulk.
Here are six such situations:
1. Irritating IVR
IVRs are a mainstay of modern call centers. They can drastically improve the efficiency of call routing, reliably putting callers in touch with the most appropriate agents. Their use cannot be lauded enough. And yet, many callers dislike interacting with IVRs. A non-optimized IVR may have confusing or too many prompts. It may trap callers in dead ends, resulting in them having to call back in. Worst of all, it may route callers to the wrong ring groups, defeating its entire reason for being.
At the end of an IVR maze, even the most docile caller may become angry. To avoid this situation, invest in an advanced call center solution that allows for customizable multi-level IVR that can be tailored to meet your callers' individual needs. Once you've implemented it, make sure to mystery shop your IVR regularly to ensure that it's doing its job!
2. Long wait times
One of the most important call center KPIs is average wait time. The idea is very simple: the longer a caller has to wait to get an agent on the phone, the more angry they will become. People reach out to phone support because they want a real-time answer. If they wanted to wait, they'd email you!
Reducing average wait time is an easy fix once the problem is identified. Call center managers should regularly check their software's comprehensive live and historical reporting dashboard to be sure that wait times are appropriate. If they are not, a variety of steps can be taken, including hiring more staff.
3. Dropped call
There are a variety of situations in which a call can be dropped such as the caller losing service, a transfer failing or a power outage. When this happens, it is normal for callers to be angry. They do not want to have to repeat their IVR journey or explain their problem to a new agent.
Talkdesk has created Intelligent Reconnect, an industry-first call center feature, that attempts to solve this problem. With Intelligent Reconnect, customers who have been accidentally disconnected are routed directly to the agent who fielded their initial call.
4. Repeat explanations
Callers reach out for a solution. The last thing they want is to be forced to explain their problem in depth to numerous people. Even having to repeat a complicated account number can be a chore. The longer it takes for them to get to a resolution, the more upset customers can become.
Modern call center software enables agents to see background information and contact history about callers from the moment the call comes in. Couple this with seamless integrations with CRMs and other business tools, and by the time the caller gets an agent, it's like they're old friends catching up.
Do your best to avoid angry callers in your call center by investing in a sophisticated call center solution. No software can guarantee happy callers every time, but an advanced solution can at least reduce the number of inbound Hulks.
Source: https://www.talkdesk.com/blog/4-situations-make-callers-angry-call-center
Publish Date: July 28, 2016 5:00 AM
---

One of the most important elements of working at a call center is completing after call work (ACW). In this post, we'll explore the concept and provide tips for reducing ACW.
What is after call work?
After call work includes all of the tasks required from customer service agents and sales representatives after a call has ended.
What are common after call tasks?
Logging a call disposition code
Writing call notes
Updating information in a CRM or helpdesk
Providing feedback on customer sentiment
Sending an email to the caller
What is the "After Call Work" agent status?
Agent status is a call center feature that allows agents and reps to display their circumstance by picking from a pre-created dropdown menu. "After Call Work" is a standard option in this dropdown menu, along with "Available," "On a Call," "Away," and "Offline."
Agent statuses are useful for a variety of reasons. The most simple reason is that statuses enable call center IVRs to distribute calls effectively. For example, if an agent is in "After Call Work," it doesn't make sense to route a call to them.
Another use for agent statuses is that it provides a record of agent activity to the rest of the team and management. For instance, an agent that is found to spend significantly more time than others in "After Call Work" might be targeted for further training.
How long should after call work take?
There is no standard amount of time that should be allotted for after call work because the circumstances of every call center are different. As a general rule of thumb, after call work should be as short as possible while still allowing for accurate completion of after call tasks.
Tips for reducing after call work time:
There are two major ways to cut down on after call work time. The first is to reduce the number of tasks that need to be completed. The second is to empower agents to be as efficient as possible.
1. Reduce the number of tasks
Invest in call center software that makes your agents' lives easier. The more advanced the call center software solution, the more streamlined the ACW process will be. Automated tasks can shave minutes off of the average ACW.
Integrate with business tools. Instead of having agents spend time updating CRMs or helpdesks, automatically sync applications. Added bonus: information is less likely to be lost or misrecorded.
2. Improve agent efficiency
Boost agent coaching and training efforts by creating a clear plan for after call work.
Explore call center gamification by publicly tracking and rewarding agent statuses.
After call work is an essential part of work at a call center. Supervisors and agents alike should be well-versed in the concept and steps that they can take to reduce ACW time.
For more information on call center software with advanced agent statuses and automations, request a free trial of Talkdesk's innovative solution.
Source: https://www.talkdesk.com/blog/what-is-after-call-work
Publish Date: July 27, 2016 5:00 AM
---

Omnichannel experiences are all the rage these days. From marketing to customer service to sales strategy, omnichannel is the latest, greatest buzzword. In this week's installment of the customer experience weekly, we'll be diving deep into omnichannel customer experience. Let's see what we found:
What's the Difference Between Omnichannel and Multichannel Customer Support?
Maya S. Horowitz || Talkdesk
"Multichannel support" is sometimes used interchangeably with "omnichannel support". Although both indicate customer support across channels, the former does not include a holistic view of the customer experience. Omnichannel support is about having a continual conversation and relationship across channels, not just being available on multiple communications platforms.
Provide a seamless omnichannel #CX with these 2 tips – https://t.co/JJHKSJJydn pic.twitter.com/8RkOwbyTJa

— SAP (@SAP) July 15, 2016
The New Customer Service is Here, There & Everywhere
Nicole Fallon || Business News Daily
As customer expectations have increased, companies have responded by improving their provision of service. This improvement has caused a corresponding spike in customer expectations. The answer to this cycle is creating an omnichannel experience that meets customers where they are and provides them with the service they want in that moment.
New blog – How Leveraging an Omni-Channel Strategy Can Improve Your #custexp https://t.co/ST8AFZwsu8 @colinsataylor pic.twitter.com/L8iTPxf0HW

— Jonty Pearce (@JontyPearce) June 15, 2016
Omnichannel Customer Experience: Expert Systems, 360 Degree Views And AI
Micah Solomon || Forbes
Customer experience expert Micah Solomon interviews Mazin Gilbert, the Assistant Vice President of Inventive Science at AT&T labs about the corporate giant's move to an omnichannel customer experience. The two discuss analytics, AI and social media, among other topics.
An omnichannel customer experience gone wrong.
Source: Glasbergen
Why You Should Be Providing Omnichannel Customer Service
Maya S. Horowitz || Talkdesk
Customer service has become personal. The needs of today's customers must be treated appropriately for both content and context. Talkdesk's emotion-urgency axis attempts to map out the most fitting approaches and channels for customer inquiries.
Do you have a comment about these insights or a suggestion for our next topic? Let us know!
Source: https://www.talkdesk.com/blog/tips-creating-first-class-omnichannel-experience
Publish Date: July 26, 2016 5:00 AM
---

Whether you're a new recruit to call center work or a veteran who has always used on-premise solutions, the concept of VoIP can be a little confusing. In this post, we'll dissect the meaning behind this acronym by drawing from existing information on the topic.
What is VoIP?
"Voice over Internet Protocol (VoIP), is a technology that allows you to make voice calls using a broadband Internet connection instead of a regular (or analog) phone line. Some VoIP services may only allow you to call other people using the same service, but others may allow you to call anyone who has a telephone number – including local, long distance, mobile, and international numbers.
"VoIP services convert your voice into a digital signal that travels over the Internet. If you are calling a regular phone number, the signal is converted to a regular telephone signal before it reaches the destination."
Source: FCC
How does VoIP work?
"VoIP (voice over IP) is an IP telephony term for a set of facilities used to manage the delivery of voice information over the Internet. VoIP involves sending voice information in digital form in discrete packets rather than by using the traditional circuit-committed protocols of the public switched telephone network (PSTN)."
Source: SearchUnified Communications
What are the three types of VoIP?
1. Analog Telephone Adaptor (ATA)
ATAs are analog-to-digital converters that allow users to connect a standard phone to their computer or Internet connection for use with VoIP.
2. IP Phones
IP phones connect directly to users' routers. Instead of having RJ-11 phone connectors, they have RJ-45 Ethernet connectors.
3. Computer-to-computer
Users install software that allows them to make VoIP calls. The only additional items needed are a microphone, speakers or a headset and an internet connection.
Source: How Stuff Works
What is the number one advantage and the number one disadvantage of VoIP?
Advantage: It's cost-effective
Particularly for businesses, investing in VoIP can lead to major savings. Computer-to-computer VoIP does not require hardware, which means it also does not require IT upkeep. Additionally, there is no extra fee for any specific type of call (such as long-distance) using VoIP.
Source: A Primer on the Merits of VoIP
Disadvantage: It has a reputation for poor call quality
By it's nature, the internet is a more fickle mistress than hardline phones. That said, poor call quality often results not from the VoIP technology itself but from the WiFi. Employing ethernet generally solves any and all connectivity issues associated with VoIP.
Source: Ethernet Killed the WiFi Star
What are some examples of VoIP?
Vonage
Skype
Teamspeak
Talkdesk
Further reading related to VoIP
White paper on taxation and regulation
FCC regulations
Trends in VoIP adoption
News: Facebook Messenger's VoIP functionality
VoIP has revolutionized the call center industry and the technology is still evolving. Hopefully this post has helped you feel more comfortable with this important concept.
Source: https://www.talkdesk.com/blog/voice-over-internet-protocols-voip-101
Publish Date: July 25, 2016 5:00 AM
---

Customer service is evolving along with technological developments. Once relegated to elevator music and endless waiting, today clients can communicate with the same business via voice, text, video and more with omnichannel customer service.
From telephone to email to social media to live chat, there are more ways than ever to provide excellent service to your clients. Offering your customers a variety of communication channels can enhance your service and improve their satisfaction with your business.
Here are seven examples of how to use omnichannel options to provide the best customer service.
1. Make them comfortable
Most customers have a preferred communication method. If you take the comfort of the client seriously, you'll make sure they can choose the platform which best suits them. This approach will put your customers more at ease rather than forcing them to switch from the communication habits they're used to. By meeting them where they are, you're removing at least one customer satisfaction barrier between your business and the customer. So let your clients choose.
2. Adjust to the situation
Different problems and scenarios warrant different customer service approaches and different communication platforms. For example, a client who was just in a car accident and is talking to their insurance company would benefit from a video feature, so they can show their provider exactly where they are, what happened and what the damage is. The video can also be used by the insurance company to process the claim, providing the most accurate service possible.
3. Change the escalation game
Sometimes a customer service call escalates into a more serious issue. In call centers, that usually means bringing in a manager to handle the situation. Of course, there are precious few managers available to take calls, leaving this as a scarce last resort. Now, clients can feel the effects of escalated attendance by simply switching from one platform to another.
If SMS is the most casual way to solve common issues, then video may be the most appropriate platform to solve complex (and potentially expensive) requests. If you sense a client needs a visual and voice connection in order to solve the problem more efficiently, suggest switching to video in order to continue the conversation.
4. Save your customers time
Most requests your support agents receive are rather simple to solve but time-sensitive. This means your customer support team needs to address such questions in a clear and timely manner, and use the most effective method to do so. It's also important to remember that good customer service is often a proactive customer service. If you anticipate any changes that influence you customer's experience, you should let them know in advance.
For example, texting is ideal for transmitting urgent information such as appointment or venue changes or when a timely response is needed. Unlike voicemail where information can be misinterpreted and misunderstood, texting allows you to communicate accurately to your clients.
In this case study of Migration Translators, text messaging has proven to help their company in their essential communications. Texting "has enabled us to integrate text message communication into other communication channels, resulting in an improved response time and fewer misunderstandings in communication, thereby increasing overall client satisfaction across our organization."
5. Leverage social media
A survey of 23,000 consumers revealed that 67% had used social media to request customer service. Most consumers use social media every day, so it's easy and convenient for them to reach out to companies on it. But, it's not necessarily convenient for businesses. Managing several social media platforms can be a challenge, no matter how big the company's customer service team, and if you're not prepped to respond to requests on social media, you may be facing a high churn rate.
Choose one or two platforms and channel your customers to use them. Also, find out which platforms your customers tend to use the most. For example, Dutch airline company KLM tends to have a lot of business executives, so they put a 24/7 customer service support on LinkedIn, an unlikely first choice of social media platforms for most businesses, but one that's provided great results to KLM and its customers.
6. Help them help themselves
More and more, customers are looking to independently solve their problems. With increasing expectations of immediacy, no matter how rapid a customer service response is, a client will always prefer to figure out the answer on their own, provided the answer is easy to find and understand. Collecting data from customer service inquiries to craft up-to-date, thorough FAQs is the best way to help clients help themselves, which is their number one customer service preference.
7. Customers love video
The most sophisticated and the most intimate of all the customer service platforms, video is a great addition to customer experience options. Ideal for delicate situations where the client needs your attention and compassion, when they are highly frustrated and emotional.
It's also useful to show a client a complicated procedure that's difficult to explain only with voice such as assembly of a product or how to program an electronic device. Having a visual explanation can save the client time and frustration of having to either read instructions or be taken blindly through the procedure via voice call.
As you aim to enhance your company's customer service, it's important to consider the venues your customers use most and make sure these platforms work well both separately and together.
Source: https://www.talkdesk.com/blog/7-ways-deliver-excellent-omnichannel-support
Publish Date: July 22, 2016 5:00 AM
---

Managing the day-to-day operations of a call center can be a tall order. Call centers are central to the customer support operations of many companies. They serve as the hub for customer inquiries and complaints. This makes them essential to customer retention and loyalty.
Effective call center management involves many different skills and processes. In this post, we will review the top four essential tools managers must have in their tool belt.
1. Be knowledgeable
Call center managers must be well-versed in all things call center. This includes not only those things directly happening within the call center such as agent performance and call center technology, but also overarching company goals including branding and metrics.
Successful call center management requires extensive and ongoing knowledge gathering. On the call center side of this, managers should keep themselves up-to-date on trends such as chatbots and omnichannel as well as technical information including VoIP, call center acronyms and call center benchmarking.
2. Invest in the right tools
The best team member in the world can only do so much if they are hindered by inadequate tools. Advanced call center software is key to call center management because it allows agents and supervisors to leverage robust functionality in their pursuit of customer loyalty.
Call center features such as call monitoring, recording, whispering and barging facilitate effective coaching. Skills-based routing, IVR and ring groups direct customers to the most appropriate agents every time. Seamless integrations allow for complete data synchronization across platforms and arm agents with information from the moment the call connects.
Choosing, implementing, maintaining and reassessing the most suitable call center solution for the business is a core duty of every call center manager.
3. Use data to inform decision-making
Setting measurable goals and looking at the data cannot be underestimated as techniques for effective call center management. The first step to doing so is for managers to be knowledgeable about what metrics to examine and what their approximate level should be. A variety of metrics may be appropriate.
For call center metrics, it is essential that advanced call center software is in place that offers comprehensive real-time reporting. This allows managers live insights into call center operations, enabling them to make relevant on-site decisions. Other relevant metrics may include customer sentiment measurements such as NPS and CSAT.
4. Empower other call center employees
Call centers are not run by individuals alone. One of the most effective management strategies is to delegate responsibilities to team members. This allows managers to focus on high level strategy, rather than becoming overly involved in specifics.
Part of empowerment is creating a framework from which team members can operate without needing to check back in too regularly. Managers should develop a guidebook that can be used in these situations. Advanced call center software can also be of use in these situations because it allows team members to be given permissions to access and utilize different functionalities based on their role.
Competent call center management can make a significant difference in a company's overall retention and loyalty programs. Ensure that your management is performing effectively by empowering them with the right tools.
Source: https://www.talkdesk.com/blog/4-tips-effective-call-center-management
Publish Date: July 21, 2016 5:00 AM
---

Customer service has become the key differentiator between modern businesses. In today's consumer landscape, companies can't afford to provide anything less than stellar customer experiences. In the race to the top, many companies make mistakes in their provision of customer service.
In this post, we'll explore the three most common customer service mistakes businesses make in their effort to reshape themselves into customer-centric companies and we'll review what can be done to turn these mistakes into lessons on the path to success.
Mistake 1: Hiring the wrong people
Customer service representatives serve as the face of your brand. In many cases, support reps are the only direct human interaction customers have with your company. This means that the people who you hire to fill this role are absolutely essential to the health of your customer service offering.
In a Harris Interactive poll, consumers reported that customer service agents failed to answer their questions 50% of the time.
Solution: Make sure that your interview process is weeding out poor candidates. Ask prospective team members questions about their motivation behind seeking employment at your company. Once you've hired someone, make sure that they do not call prey to call center turnover.
Mistake 2: Providing agents with the wrong feedback
Even the most stellar hire will make a few customer service mistakes. They may use the wrong language with customers, transfer cases to the wrong person or provide the wrong answer to a question. Although this is completely normal, it is absolutely essential that these behaviors be nipped in the bud.
Solution: Implement a comprehensive customer service training program that is mandatory for new recruits and must be revisited by veterans periodically. Use technology like call recording to provide directed coaching. Advanced call center software solutions will also allow for other functionalities like call monitoring, call barging and real-time drill-down metrics.
Mistake 3: Building the wrong culture
Customer-centricity as a business value must come from all levels of an organization. Just saying the words is not enough to instill it into your culture. Companies that truly care about their provision of service invest resources into making their goals a reality. This is especially important as companies scale.
An 2011 American Express study found that 80% of Americans agreed that smaller companies place a great emphasis on customer service than large businesses.
Solution: Customer-centric companies like JetBlue and Tuft & Needle have created customer service-driven onboarding processes. Managers and executives also make a point of "getting down into the trenches" to interface directly with customers. No matter how large the company, customer service must come first for every employee.
The best companies don't necessarily avoid these pitfalls; their secret is in moving past customer service mistakes and building a stronger provision of customer support. Count yourself among the winner's circle by investing in business tools that empower your customer service team to go above and beyond customer service expectations.
Source: https://www.talkdesk.com/blog/3-customer-service-mistakes
Publish Date: July 20, 2016 5:00 AM
---

Whether you are replacing a solution that no longer suits your company's needs or investing in your first system, choosing the best call center software for your business can be a daunting task. Call center software often forms the foundation of a business' customer service provision and outbound inside sales. The technology that you select will have a tremendous impact on your company's bottom line, so it's important to do your research.
We've compiled a list of questions to ask yourself as you seek out the best call center software for your business.
General
1. What teams at your company will use this tool?
Call center software can be a significant investment. In order to pick out the best solution, every team that will be utilizing the technology should be consulted and included in the evaluation process.
2. Will your business be making primarily outbound or inbound calls?
What's best for your business is not always best for other businesses. One of the primary distinguishing factors between call center solutions is whether they are geared towards inbound or outbound calling. Most solutions allow for both functionalities, but tend to lean towards one or the other.
3. Do you have a preference for on-premise vs. cloud-based call center software?
What kind of physical technology best suits your business? On-premise software will require designated space and IT specialists for upkeep. VoIP technologies will need to be housed in the cloud. In general, there has been a move towards the cloud, but some companies may still prefer to have an on-premise solution for various reasons.
4. What is your budget?
The best way to save money on your call center solution is to determine exactly which features and functionalities are most relevant and necessary for your business needs so that you can choose the lowest cost, highest quality software for your team.
5. If this is your first call center software purchase: Are you ready?
Implementing call center software has the potential to be an excellent step towards customer service excellence for startups. But it is not as simple as just buying the software. Creating a call center requires investing in training and hiring and can represent a cultural shift at a business.
Agents and Representatives
6. How many agents will use your call center software?
Solutions are designed for different team sizes and compositions. Smaller companies would do best to choose simpler solutions with less functionality, but be aware that they will have to change systems as they scale.
7. Will the number of agents fluctuate or grow rapidly?
Some call center software solutions invest in creating flexible interfaces to allow for teams that have high seasonality, growth and/or call center turnover, while others may lack this advanced functionality.
8. How technically savvy are your agents?
If your agents are entry-level, outsourced or otherwise not technology experts, it may be best to invest in a solution that is user-friendly. This will save frustration and reduce onboarding time.
9. How much training will agents require?
Depending on your hiring strategy, it may make sense to invest in a call center software solution with advanced call center agent coaching functionalities.
Functionality
10. What business tool integrations do you need?
Modern companies use an array of applications, including CRMs and helpdesks, to help them in their day-to-day work. When seeking out a call center software, the best plan is to find one that offers seamless business tool integrations with your existing systems.
11. What call volume do you expect?
How many callers will you have per day? This will dictate not only the number of agents, but the necessary features. A call center with a high volume should be equipped with powerful routing and queue callback.
12. What quality of service would you like to provide?
Is your call center perfunctory or are you hoping to create an outstanding customer experience? Features like multilevel IVR, comprehensive customer history and deep integrations can make all the difference in equipping your agents to provide exemplary support.
13. What metrics would you like to track?
The best businesses are data-driven, but it's important to determine which data drives you. Some call center solutions allow companies to track a range of historical and real-time call center KPIs. The most advanced software even lends itself to gamification.
14. How customizable does your solution need to be?
Newer businesses may have a preference for an out-of-the-box solution that they can have up-and-running quickly. For basic needs, this is fine. Larger businesses require a higher level of customization. When this is the case, companies must investigate not only how many options there are, but how many can be done without the help of an external IT person.
There are, of course, many other factors that should be considered when determining what the best call center software solution is for your business. These fourteen questions should be used to guide your thinking as you explore the options available in today's vibrant call center marketplace.
Source: https://www.talkdesk.com/blog/whats-the-best-call-center-software-for-your-business
Publish Date: July 18, 2016 5:00 AM
---

Happy to have you at the CXW, Talkdesk's weekly round up of customer experience insights. This week, we're taking a deep dive into customer service bots. What are they? What purpose do they serve? Are they the future?
Here's what we found:
Bots, Explained
Kurt Wagner || Recode
This post is a primer on bots – what they are, what they do, what their business model is. It covers the many uses and types of bots including, but not limited to, our topic today: customer service bots. For beginners, this is a great place to start.
Why Chatbots Will Never Completely Replace Humans
Gadi Shamia || VentureBeat
Talkdesk's own Gadi Shamia discussed the pros and cons of customer service bots. While chatbots can be used to automate simple tasks and offer basic information, they can never be a substitute for personalized interaction with a human being. The most effective bots, then, provide callers with what they ask for and, if necessary, escalate them to a human representative.
#AI: Beyond the bot: Why true AI will come sooner than you think #ArtificialIntelligence https://t.co/ByRd16JC4K

— We Love #Bots & #AI (@Bots_news) July 11, 2016
Bots, Messenger and the future of customer service?
Michael Schneider || TechCrunch
The future of customer service is symbiosis between bots and humans, according to this article. By combining the strengths of the human touch and robotic efficiency, the customer experience will become simpler, more efficient and more enjoyable for customers.
Fantastic article on #airlines #customerexperience #bots #customerservice #CRM https://t.co/zop4O38z6B

— Marie K Clarke (@MarieKClarke1) July 6, 2016
5 Ways to Improve Your Customer Service Without Chatbots
Ash Rust || The Wall Street Journal
Salesforce predicts that bots will someday become a standard part of the customer service experience… But not today. While the kinks of the customer service chatbot are worked out, the best thing to do is focus on the basics. Tip number one? Keep it human.
Chatbots and Millennials: How Smart Brands Should Be Using Artificial Intelligence
Lauren Friedman || Forbes
Millennials and chatbots: two up-and-comers in one sentence! This article is a botapoolza, discussing the many applications of bots to the modern customer. Number one on the list is empowering customer service: bots can fill in the gaps where humans aren't able to efficiently provide service.
We'll see you next week for our tenth CXW! Do you have a comment or suggestion on this series? Let us know!
Source: https://www.talkdesk.com/blog/customer-experience-weekly-9-bots
Publish Date: July 12, 2016 5:00 AM
---


Since its release in 2014, Slack has become a force to be reckoned with. Offices around the world (including ours!) have quickly incorporated Slack into their daily operations. It's become abundantly clear that what initially started as a messaging app has become much, much more. Beyond simply facilitating intra-office communications, Slack has evolved into a powerful tool for increasing employee productivity, improving overall collaboration and unifying disparate business tools and systems.
Talkdesk Product Manager Alex Willen and Slack Account Manager Jesse Elliott discussed Slack's new functionalities as relates to phone support teams in our webinar "Using Slack to Reinvent the Call Center Experience." The two chatted about everything from the evolution of call centers to transparency in the workplace When used in conjunction with your call center software, Slack can have a big impact on your call center. Here's how:
1. Slack modernizes traditional (and sometimes ineffective) call center features
Call centers are often thought of as an old-fashioned concept. As Alex pointed out in the webinar, call center solutions often have legacy features that, while once might have been useful, now often cause headaches for supervisors and agents. These can pose significant challenges for agent coaching and other vital day-to-day tasks that occur in the call center.
The solution here is to use Slack in conjunction with your call center software. As a communication platform, Slack offers a quick and easy way for agents to communicate with teammates during calls. Better still, using call center software that integrates directly with Slack allows for increased team collaboration in ways that minimize disruption to live calls.
For example, Talkdesk for Slack's agent coaching feature is a new take on the traditional call whispering feature. By using Slack's messaging functionality to coach agents behind the scenes during live calls, agents can focus more of their attention on the customer rather than trying to listen to both a supervisors and callers at the same time. This means less distraction for the agent and higher quality phone support.
2. SLACK = Searchable Log of All Collective Knowledge
Although this acronym is not where Slack originally got its name, it's a handy reminder that Slack has a very powerful search feature. Everything that's sent via Slack (messages, PDFs, Google docs, Word docs and more) is indexed so you can perform searches for just about anything. This makes Slack particularly useful as a reference tool for onboarding new agents and when agents simply need a refresher course on certain topics.
To ensure your call center is getting the most out of this feature, Jesse recommended creating dedicated channels for the topics most important to your phone support team. Channels can be created for known bugs/issues, frequently asked questions, onboarding and more. Supervisors can then post important announcements or documents in each channel. When needed, agents will be able to use Slack's search function to locate the information they need with just a few simple commands. This can mean faster onboarding and faster case resolution times.
3. Slack improves team morale and company culture
As a messaging app, Slack is great for connecting teammates with other one another. The real-time nature of the platform eliminates the need for traditional email and allows for better collaboration. This increased collaboration helps improve team morale as agents are able to rally together to help should someone need assistance during a call.
Slack is also a great tool for providing the rest of your company with visibility into the accomplishments of your team. Announcing positive feedback from customers about your team's phone support efforts in Slack helps keep the rest of the company informed and gives your team members a boost of confidence and pride.
A good call center solution will include out-of-the-box functionality that helps your team do all of this and more. For instance, Talkdesk for Slack offers the feature "Get Help" that provides a more seamless collaboration experience inside Slack by minimizing distraction for agents requesting help and making it easier for teammates to provide assistance as quickly as possible.
These are only three of the insights Jess and Alex revealed in their discussion. Watch the full webinar now to learn more tips and tricks for leveraging Slack in the call center including why Slackbot is an important feature, how to solve the common issue of too many Slack channels and much more.
Source: https://www.talkdesk.com/blog/3-ways-use-slack-improve-phone-support
Publish Date: July 8, 2016 5:00 AM
---

When it comes down to it, a company's customer service rests on the shoulders of their customer service representatives. They serve as the representatives of the brand, often the only direct point of contact many customers will have with your company.
What does an excellent customer service representative look like?
It's complicated. The resume of a great rep varies based on many factors. Here are a few of the differences that may exist between customer service representatives:
1. Channel
Customer service representatives can operate on different channels. They can answer phones, live chat with customers, respond to emails, video chat, text and more. The perfect hire for a phone rep may be quite unlike the best live chat rep.
2. Skill / Ring Group
The purpose of an IVR or other self-sorting device for customer service is to help customers route themselves to the most appropriate representative. Any effective call center needs to have a variety of agents that can serve a variety of different customer needs. This may include things like fluency in languages other than the core business language of the company, advanced technical knowledge or a keen ability to calm distraught customers.
3. Company
Customer service representatives represent the brands they work for. This means that the ideal rep for a longstanding enterprise player is not the same as the ideal rep for a nimble startup. A company with fun branding needs fun reps. A company that deals with sensitive information needs discreet reps. The duties of the customer service representative vary from company to company.
There is only one universal quality of an excellent customer service representative.
The best and brightest reps act PROACTIVELY rather than REACTIVELY. Click to Tweet
They address customers individually and provide them with excellent customer service before there is a risk of churn. How can companies breed a proactive culture among reps?
It comes down to the business tools. Even the most outstanding customer service representative can only be reactive if they are not provided with adequate information about customers and options for managing their cases.
Advanced call center software makes the job of a customer service representative that much easier by empowering them with comprehensive caller information from the moment the call is received. Armed with contact history and account details, reps can tailor their interactions specifically to callers, creating a personalized experience that drives brand loyalty.
Call center software, although powerful, cannot deliver everything customer service reps need on its own. It must be integrated with other business tools such as helpdesks and CRMs. The more seamless the experience is for the reps, the more seamless the experience will be for the customers.
Business tool integrations give reps the insights they need to react proactively to personalize interactions and handle inquiries before they become issues.
What do your customer service representatives look like? Have they been chosen carefully to fulfill their jobs? Have you outfitted them with the right tools? Remember: In the eyes of many customers, your reps ARE your brand.
Source: https://www.talkdesk.com/blog/excellent-customer-service-representative-looks-like
Publish Date: July 7, 2016 5:00 AM
---

Interactive Voice Response systems (IVR) are essential elements to all functioning call centers. While most people are familiar with the concept as a consumer, there are nuances to the use of IVR from the business perspective.
This article is meant to serve as a primer on the use of IVR for both new and established businesses.
What is an IVR system?
An Interactive Voice Response (IVR) system is a call center software feature that facilitates self-service call segmentation and routing by enabling callers to make choices using spoken or typed commands on the telephone keypad.
Most consumers are familiar with IVR systems, whether or not they are aware of what the acronym stands for. Many may associate IVRs with the standard initial language selection, often "Press 1 for English. Oprima numero 2 para Espanol."
How do IVR systems work?
IVR systems greet callers and assist them in reaching the most appropriate agent or resource for their particular needs. They do this by responding to caller input, either voice or via the telephone keypad. As the caller selects menu prompts, the system begins to winnow down who or what the best end goal will be using skills-based routing.
In example, a caller that selects English > Billing in the IVR will be routed to an English-speaking billing agent. Some IVRs may take more information than this, including account number and specific details of the inquiry.
The core purpose of the IVR is to ensure that callers are routed correctly to increase efficiency and first call resolution.
What is a multi-level IVR?
A multi-level IVR allows numerous stages of input from callers. For instance, in the example above, the caller went through two levels: language selection, topic of inquiry. A simple IVR would only allow for one initial option. A very complex IVR could have many levels so that the caller is routed more precisely.
A simple, one-level IVR is simple for callers, but may not be able to sort customers adequately. The less specialized the agent is that fields a particular call, the more likely the call will need to be transferred or escalated.
On the other hand, a multi-level IVR may feel like a burden to callers. Many customers reach out via phone so that they can speak with a human, so the longer they are entering prompts, the more frustrated they may become. This is especially true if they find that they have difficulty remembering prompts or end up in menus that are not optimal and therefore have to hang up and call again to start all over.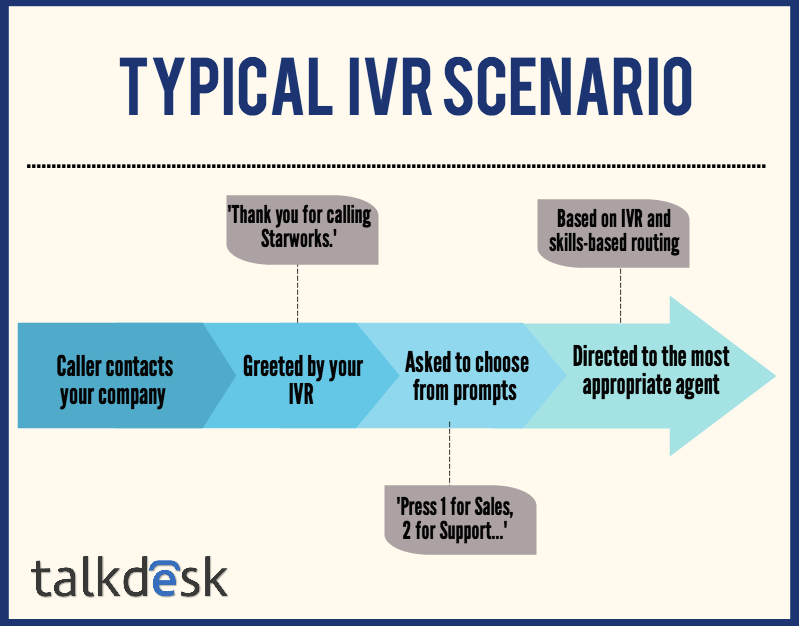 Are IVR systems ever referred to using different terminology?
You may occasionally come across IVR systems referred to as Auto-Attendants or Voice Response Units (VRU).
What call center software features are associated with IVR?
IVR systems are integral to call center software solutions. As such, they touch on many call center software features. Below is a list of a few instances:
1. Automatic call distributor (ACD)
ACDs are the backbone of call center software systems. They work with IVRs and CTIs to facilitate smooth routing.
2. Skills-based routing
Skills-based routing enables call center managers to essentially create the "buckets" into which customers are placed. Based on the selections made by callers, they are routed to the agent or group with the most appropriate skills.
3. Ring groups
Ring groups are comprised of agents suited to specific needs. Skills-based routing sends callers to ring groups. An example of a ring group would be "Billing." Call center agents can be assigned to numerous ring groups.
4. Call queues
Call queues are the lines that callers are placed in after they have been routed through the IVR. A call queue lines up to a specific ring group. The "Billing" queue consists of all customers who have been routed to "Billing" but have not yet been helped by a live agent.
5. Queue callback
Queue callback is an IVR option that allows callers to hang up the phone while retaining their place in the call queue. This is particularly useful when the call queue is long. The caller then receives a callback when it is their turn to speak with a representative.
6. Intelligent reconnect
Intelligent reconnect is an industry-first feature that automatically routes customers who have been accidentally disconnected directly to the agent who fielded their initial call, allowing callers to skip the IVR and have a more seamless experience
What are IVR greetings and messages?
IVR greetings and messages are customizable recordings that callers hear as they interact with your IVR. This includes the initial IVR greeting that feeds them into the system, the various prompts and general responses to errors or unusual inputs.
IVR greetings and messages can be customized to fit the needs of your business. They should be regularly checked and updated to make sure that your callers' IVR experience is as streamlined as possible. You can accomplish this by mystery shopping your IVR.
What call center KPIs are impacted by IVR performance?
IVR systems can have a profound impact on call center key performance indicators (KPIs). Here are three call center KPIs that are influenced by IVR:
1. First call resolution
If your IVR does not route callers effectively, first call resolution will take a nosedive. The IVR must put callers in contact with the most appropriate agent or else risk customer dissatisfaction and the need to be transferred, escalated or to call in again. These activities can lead directly to churn.
2. Average time in queue
The IVR feeds callers either directly to agents or into a queue. If the IVR is not optimized, callers may all end up in the same queue, shifting the workload to only a few agents and elongating wait times.
3. Average abandonment rate
It is not unusual for customers to abandon their calls while they are in the IVR. This often indicates that the IVR is frustrating in some way. Careful analysis of where callers abandon should lead to direct changes in IVR system configuration.
What are the advantages of IVR?
The use of IVR systems is standard practice for a reason. IVRs can be tremendously useful to companies. Here are a few examples:
1. Collect caller information
IVR systems record caller responses and add them to the caller's contact history. This enables callers to receive personalized service from the agent who answers their call.
2. Self-service
IVRs can be used to help route callers to appropriate resources rather than just agents. This might include information like company hours or location. This function of IVR streamlines the information-gathering process for callers.
3. Prioritize callers
IVRs help companies flag VIP customers and prioritize them in the queue. This allows the most high-value customers to receive the best service possible.
4. Increase first-call resolution
An effective IVR routes callers to the most appropriate agent, making it easy for their inquiry to be handled efficiently and without transfers or escalations.
5. Reduce operational costs
IVRs act as a type of silent employee, routing callers without the need to hire an operator to do so.
6. Increase professionalism
IVRs are a hallmark of enterprise businesses. Call centers that lack IVRs may appear to be less organized and professional than those that do have an IVR solution.
Why do IVR systems get a bad rap?
Many callers view IVRs as a "necessary evil" of reaching out to a company via telephone. Very often, customers have called companies so that they may speak to a human. The longer they have to deal with the IVR, the more they feel that their goal of speaking to someone directly has been hindered.
IVR systems that require voice input can be particularly frustrating. This is usually due to the IVR's difficulty to understand speech, especially from someone with an accent or a speech impediment.
Most significantly, IVRs may seem annoying to callers because it is unclear what purpose the IVRs serve. From a business perspective, it is obvious that IVR systems increase efficiency in the call center, but this may not be apparent to callers.
Ultimately, it is the role of call center managers and employees to make the IVR experience as easy as possible and, if necessary, communicate the reasoning behind implementing an IVR system.
Source: https://www.talkdesk.com/blog/ivr-basics-guide-to-interactive-voice-response-systems
Publish Date: July 6, 2016 5:00 AM
---

Hello readers! We're happy you joined us for our eighth installment of the Customer Experience Weekly (CXW). You know the drill: each week we pick a topic to explore by collecting insights from around the web.
For this CXW, we thought we'd go back to basics: What is customer service? Honestly. We talk so often about the importance of excellent customer service and yet, sometimes the definition can be elusive.
We thought we would take a very literal approach to this search. Here are few excerpted definitions of "customer service":
The assistance and advice provided by a company to those people who buy or use its products or services.
Dictionary.com
All interactions between a customer and a product provider at the time of sale, and thereafter. Customer service adds value to a product and builds enduring relationships.
BusinessDictionary.com
You can't give awesome customer service if you don't know what it looks like. Find out how to define & practice it. https://t.co/Q4DwkFEWNL

— Cindy Solomon (@cindysolomon) June 8, 2016
Customer service is the support you offer your customers — both before and after they buy your product — that helps them have an easy and enjoyable experience with you. It's more than just providing answers; it's an important part of the promise your brand makes to its customers. And it's critical to the success of your business.
Desk.com
Customer service is the process of ensuring customer satisfaction with a product or service. Often, customer service takes place while performing a transaction for the customer, such as making a sale or returning an item. Customer service can take the form of an in-person interaction, a phone call, self-service systems, or by other means.
Investopedia
Millennials Define "Luxury" Customer Service Differently https://t.co/zUgw533rI6

— Doron Levy (@TheTopTier) June 19, 2016
Customer service is the provision of service to customers before, during and after a purchase… Customer service concerns the priority an organization assigns to customer service relative to components such as product innovation and pricing. In this sense, an organization that values good customer service may spend more money in training employees than the average organization, or may proactively interview customers for feedback.
Wikipedia
As we researched these definitions, we found that most of them agreed on the basics, but the specifics differed. As your company defines and iterates upon your customer service strategy, it is essential that you decide upon your answer to "What is customer service?" Remember: more important than your company's opinion is your customers'. What looks like great service to them?
That's it for this week. We'll see you Tuesday for our next exploration into the customer experience.
Do you want to add your voice to the CXW? Click here!
Source: https://www.talkdesk.com/blog/customer-experience-weekly-8
Publish Date: July 5, 2016 5:00 AM
---

When customers reach out to your call center, your phone greetings are the first sounds they hear. Phone greetings are the official electronic ushers of your brand and should therefore be both welcoming and professional. Your greetings set the tone for your customer's interaction with your company.
In many instances, telephone customer service interactions are the only direct points of contact customers have with businesses. If this is the case for your company, you should think very seriously about what message your professional phone greetings send to customers.
There are many different types of phone greetings. They include the welcome greeting, the waiting queue greeting and the voicemail greeting. Each has a role to play in the customer experience.
In an ideal world, greetings are pleasant and facilitate an effortless customer experience. The last thing callers want when they reach out for service is to be confused by IVR prompts. Unpleasant or difficult to navigate greetings also prime customers to be rude to customer service representatives, which in turn creates a negative work environment.
For these reasons, smart businesses pay careful attention to how their greetings are structured. Here are a few of the dos and don'ts followed by the most successful companies:
DON'T go off brand
Your phone greetings should reflect your company's personality. As with any other business material, the best practice is to maintain a consistent voice. Make sure that the greetings in place follow the same brand guidelines as your marketing and sales materials.
Ex: If you work for a fun startup that sells dog toys, your IVR should greet callers with excitement and maybe a joke. No one wants you to be stuffy or follow the same old script.
DO give callers options
The purpose of an IVR is to help callers sort themselves so that they can receive the best possible service. A well-organized call center has agents divided into ring groups and a multi-tiered IVR to direct callers. Professional phone greetings should give callers clear choices for how to get to where they're going.
Another aspect of giving callers options is allowing them to opt out of speaking to an agent. Self-service is an up-and-coming trend in contact centers. Record greetings with standard business information, like hours and location, or direct callers to your website.
DON'T ring false
Phone greetings are an essential part of your company image, but they are not human. This means that they should express the correct information without attempting to humanize what is patently an electronic process. They should not affect any kind of empathetic viewpoint.
The classic example of this is phone greetings that say, "We're sorry, but all of our agents are currently unavailable. Your call is important to us. Please stay on the line."
This message is inherently frustrating. Callers do not feel valued if they are waiting in line and being apologized to by a pre-programmed greeting. Find a way around aggravating your callers with false offers of sympathy.
DO configure all available phone greetings
Make the most of your call center software by configuring every greeting available. Greetings help move callers through your system. Avoid jarring callers with missing steps or overly generic messages.
Advanced call center software solutions offer a variety of non-standard greetings. Companies should have the option to record phone greetings or type them out and have them read by the software. They should also have greetings to accompany features such as unsuccessful queue callback message and intelligent reconnect.
DON'T provide too much information
The key to professional phone greetings is being clear. As my fourth grade English teacher would say, KISS. Keep it simple, silly. The easier it is to move through your greetings, the better callers will feel once they reach an agent.
DO regularly check and update your IVR greetings
A well-oiled machine requires regular oil changes. Take the time to mystery shop your IVR at a regular cadence to be sure that existing settings still meet the needs of your callers. By checking the health of your phone greetings, you are ensuring that your company puts its best foot forward every time customers reach out.
Effective and pleasant phone greetings are one of the pillars of a successful call center. Be sure to put conscious effort into optimizing yours.
Source: https://www.talkdesk.com/blog/6-dos-donts-professional-phone-greetings
Publish Date: June 29, 2016 5:00 AM
Page: 1 | 2 | 3 | 4 | 5 | 6 | 7 | 8 | 9 | 10 | 11 | 12 | 13 | 14 | 15 | 16 | 17