Teleopti - ContactCenterWorld.com Blog
The contact-center industry lacks visibility into job applicants' capabilities across verticals and geographies. Brent Holland, EVP at FurstPerson, walks us through research on data captured from global contact-center applicants to help close the knowledge gap and provide insight into the relative strengths and limitations of talent pools.
Contact centers are an efficient, cost-effective vehicle for businesses to communicate directly with customers. A contact center is usually either a bricks-and-mortar facility or home office from which a person interacts with consumers via telephony and other technologies (e.g., live chat, email, and social media) while accessing real-time data to answer questions, solve problems, solicit new business, and myriad other activities.
Contact center agents draw on a vast array of skills to produce the customer engagement, contact handling efficiency, win-back percentage and revenue production companies expect. Although most industry-insiders recognize the complexities of these jobs and the unique skills sets required by employees to execute duties effectively, finding and hiring the right talent remains elusive in many contact centers. The sobering truth is that every company can improve the way in which it evaluates applicant potential for on-the-job success and matches people to the ideal job(s) and environment(s).
It is especially important to improve the process considering as much as 40% year-over-year increases in turnover among the hourly employed at an average cost of $4,284 per person1.

Before companies can improve quality of hire it is essential to understand the relative strength of the applicant pool in their respective markets – critical intelligence that has thus far remained elusive. FurstPerson's 2017 Global Benchmarking Study sample consisted of 1,237,654 English-speaking job applicants who applied to contact centers between 2014 and 2016 in 293 locations distributed across 13 countries; sample sizes ranged between 587,558 (USA) and 294 (Dominican Republic). Job applicants applied to seven different types of contact center jobs, though not all jobs or contact center skills' assessments are represented in every country. The study measured contact center skills using a variety of assessments and work-sample simulations. Note that the research summarized below has been standardized to permit direct comparisons across markets.
Socioemotional Tendencies
This research explored three socioemotional factors (Fig. 1) that underlie success in many contact center jobs. Results across eight countries portray important differences that could impact service quality. Colombia, Mexico, and Philippines achieve the lowest scores on Emotional IQ, suggesting that the candidate pools in these geographies are more vulnerable to stress and pressure than candidates in other regions. Interestingly, however, the Emotional IQ tendencies do not correspond to a substantially higher likelihood of burnout, suggesting that Emotional IQ could be more influenced by cultural factors and, therefore, may not have the same implications for job performance across geographies, though additional research is needed on this topic. It is important to note, however, that El Salvador achieves both the highest Emotional IQ score and a 17% lower score on potential for burnout than other countries. Creative problem solving illustrates the strength of applicants in Canada, El Salvador and Mexico in terms of identifying new solutions to everyday problems.

Four Important Contact Center Skills
Figure 2 summarizes four assessments used to measure contact center skills critical for common jobs. The tools include a written English skills assessment (1stScribe®), an inbound customer service simulation (CC Audition® Service), an inbound sales simulation (CC Audition® Sales), and a live chat simulation (CC Audition® Chat).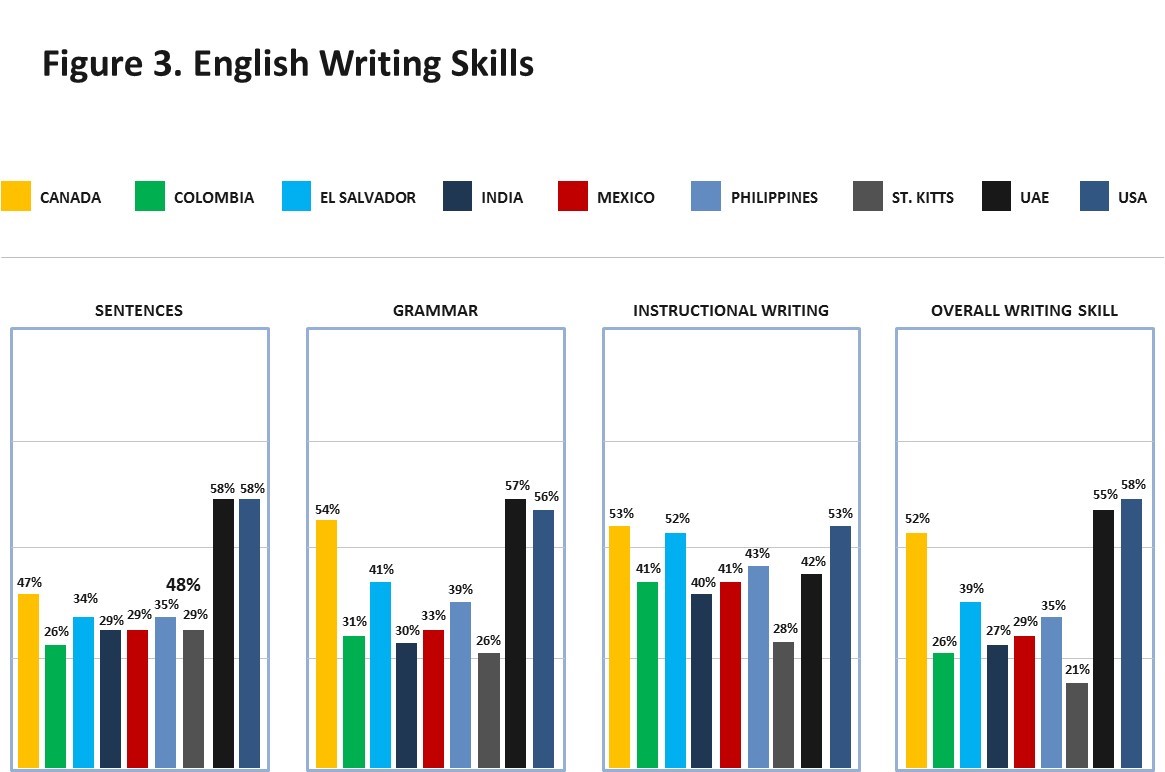 English Writing Skills
In terms of written communication skills (Fig. 3), the United States, United Arab Emirates, and Canada outpace other countries by a sizable margin. El Salvador and Philippines' applicants demonstrate below-average performance on constructing complete sentences (34% and 35%), grammar (41% and 39%), instructional writing (41% and 43%), and overall writing skills (39% and 35%), though candidates from both countries outperform applicants from Columbia, India, Mexico, and St. Kitts. Columbian, Indian and Mexican applicants score similarly on most dimensions.
Inbound Sales Skills
Inbound sales roles are critical in contact-centers. By accepting incoming customer inquiries, representatives are presented with the opportunity to identify a need, educate the customer, position an offer, and close a sale. Those representatives with the greatest likelihood of success possess strong multi-tasking, data-entry, computer, and job-specific sales skills. One implication is that the best inbound sales representatives tend to draw on a broad skill set that allows them to perform multiple tasks simultaneously, such as searching for account or promotional information while interacting with the customer, to create a seamless, engaging experience.
Across the four markets with sales-related skills' benchmarking data (Fig. 4), the USA (52%) and United Kingdom (49%) achieved the highest overall sales scores; it is important to note, however, that Filipino applicants came in a close third. Applicant scores showed the most variability on Data Entry Accuracy, with a range of 21% (Mexico) to 52% (USA) whereas scores appeared more consistent on Multi-Tasking – 42% (Mexico) to 51% (USA). The relative weakness of Mexican applicants on Computer skills is important and points to a critical development need if the country's contact-center industry wishes to remain competitive for inbound sales jobs.
Live Chat Skills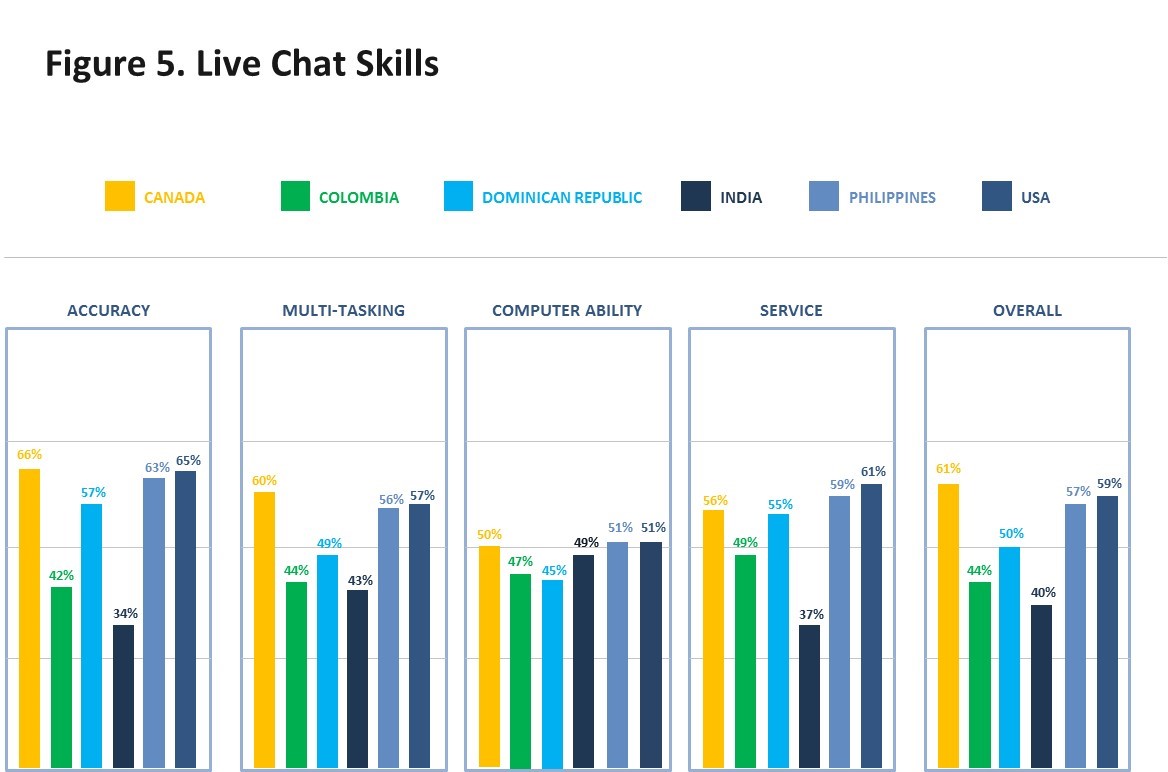 In Figure 5 the markets show the most consistency in terms of computer ability. For example, Philippines' applicants demonstrated computer skills equivalent to applicants in the United States. Conversely, chat applicants from Canada, Columbia, and India scored slightly lower than the Philippines and United States.
The data varies across geographies on the data accuracy scale. Applicants in Canada, United States, Philippines, and Dominican Republic achieved comparable scores. However, Columbia and India perform at a significantly lower level on this dimension. One implication of these findings is that chat programs based in India and Columbia may struggle with quality assurance and efficiency-related metrics compared to programs in other markets.
Scores on service orientation and multi-tasking show a similar pattern across markets. The United States, Canada, Philippines, and Dominican Republic achieve the highest scores on service and multi-tasking scales, reinforcing their position as the strongest chat-related markets in this study.
Inbound Customer Service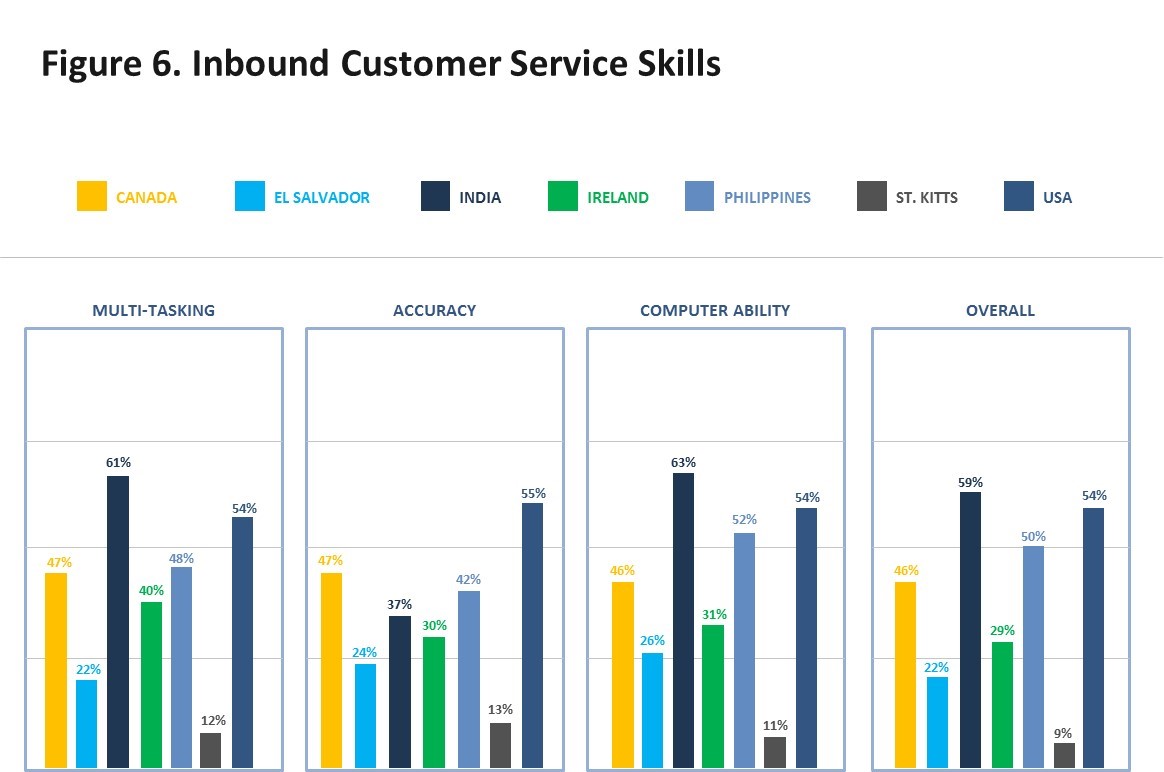 The pattern across all four scales is virtually identical (Fig. 6). India, United States, Philippines and Canada perform best across the scales; the lone exception for for India is Accuracy, with the score falling below the United States, Philippines, and Canada. The results reinforce the strength of international markets' technology and engagement skills, though the simulation does not take into consideration English language accent or conversation ability.
Conclusion
As companies extend the footprint of their global operations, the markets they choose for expansion will impact their ability to recruit individuals with the skills necessary to perform at a high level. The above results suggest that El Salvador-based applicants perform best on Emotional IQ and Creative Problem Solving while Philippines' applicants possess the lowest Burnout Risk. In terms of core contact center skills, United States' applicants perform best on English Writing and Inbound Sales, India does best on Inbound Service, and Canada achieves the highest score on Live Chat Skills. Job candidates in the United Arab Emirates and Canada (English Writing) and United Kingdom and Philippines (Chat and Inbound Sales) perform nearly identical to those in the United States on specific skills. This blog offers a summary of which regions would perform best with which channels and in which particular roles, but for a deeper understanding of who your center should be hiring, and where, feel free to get in contact with FurstPerson.
Notes
Call center recruiting and compensation survey (2009). FurstPerson, Inc.
Source: https://blog.teleopti.com/2017/11/02/skills-and-benchmarking-where-to-find-the-right-agents-for-your-contact-center/
Publish Date: November 2, 2017 5:00 AM
---
When it comes to WFM, there are some very important things that are generally not considered. What happens when contact-center agents, the frontline soldiers of your organization, are not happy?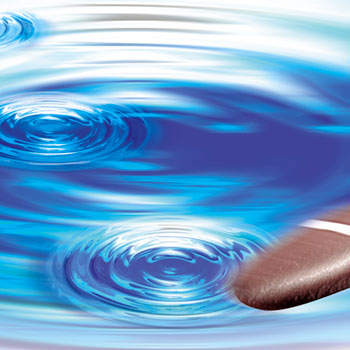 Traditionally, WFM adopted in the past has not been very accommodating to agents. Managers would create forecasts, plan and schedule – the latter often done arbitrarily. Ok, fair enough; some would try for a measure of fairness, if possible, on their Excel spreadsheets.
What ended up happening, and still does for some contact centers, is that a good many agents with second or even third jobs, or studying in parallel, face having to leave, due to conflicts in their schedules. This creates a never-ending, down-ward, negative spiral:
Agents, forced to quit, leave with a bad taste in their mouth;
Their remaining time in the contact center – notice time of two weeks to a month – results in sub-optimal performance (understandably so);
The contact-center's environment is soured by high turnover - I mean, how cool is it to see colleagues come and go through a continually spinning, rotating door?
Sub-optimal performance and low morale impact customers adversely;
Attrition is costly: the company has to recruit, re-hire and re-train;
Onboarding and learning curves too, end up costing time and money.
Attrition, due to agent dissatisfaction, is not much talked about but one thing is for sure; it leaves in its wake high costs, which, worse, are often intangible – ones difficult to estimate and keep track of.
Abracadabra – let WFM reach out and grab ya'!
Today's WFM platforms are offering mobility. In fact, growth within the mobile side of the WFM equation is expanding in leaps and bounds. Why? Because they are necessarily adapting to this age and this generation of Millennials.
That said, there are stark differences as to what vendors provide in terms of mobility quality. By quality, I mean the extent to which agent availability, their skills set and preferences can and are taken into consideration.
In parallel, this must be balanced with the operational needs of the contact center. Which resources are best utilized where? Artificial intelligence engines analyze operational needs, based on demand, to pinpoint resource needs. Superior scheduling methodologies identify where and when to best utilize one's resources. The advantages arising from the use of such modern, automated WFM are not only remarkable but tremendous:
Organizations use resources more effectively and efficiently;
Agents are more satisfied, feeling heard - scheduling preferences respected to a greater degree;
Attrition is lowered;
Customer satisfaction is raised (Studies have proven, again and again, that satisfied agents will provide a much better customer experience).
Don't keep fun and games at bay - Let's play!
Furthermore, gamification is now tied to the WFM process; a methodology or engine brought to the table that rewards agents with prizes in the form of, for example, gold, silver or bronze medals at the achievement of specific KPIs. For agents, this could mean better ranking for preference-based scheduling, time off, vacations, etc.
For some organizations today, gamification is the catalyst that pushes them to modernize their WFM. It's the game changer: modern-day WFM with gamification implemented for KPI goal measurement. It keeps agents occupied and happy. A sense of competition gives meaning to coming to work, and staying on at the work place. Can it get better than that?
WFM across the board
Yes it can! WFM systems today are not just limited to contact-center operations. They can and are used across the organization to manage other areas of the business – back office, ground operations, etc. – extending the same functionality and mobility to the rest of the organization's operations.
Creating synergy
Modern-day WFM is also a source of rich business intelligence. It also be direcly linked to e.g. salesforce.som, human resources, payroll, etc. allowing for a synergistic effect. Some vendors offer a toolkit, free of charge, allowing for a multi-brand approach.
A last word of advice for those looking to evolve or replace or upgrade their WFM: purchase a couple of extra days of consulting. Consultants take a close look at your contact-center operations to see where improvements can and/or need to be made. You'd be surprised at how many things they can come up with that contact centers never even thought about – including improvements.
Source: https://blog.teleopti.com/2017/10/20/repercussions-of-unhappy-agents/
Publish Date: October 20, 2017 5:00 AM
---
Nick Brook at Teleopti explores the challenges faced by outsourcers today and how to solve them.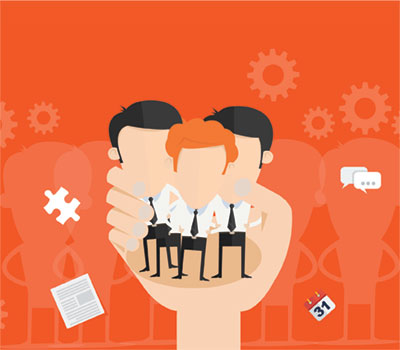 The outsourcing sector is on the up, with recent research indicating that the global contact center outsourcing market is forecast to grow at a CAGR of 9% during the period of 2017-2021. Indeed, it is the sheer number of outsourced agents being scheduled using Teleopti Workforce Management (WFM), over 80,000[i], that led me to take a look at some of the challenges that the majority of outsourcing contact centers face and how these challenges can be solved.
Having been involved in planning more than 8000 agents and multiple work streams during my time at an international outsourcer, it became clear that while outsourcing offers great potential for increased efficiencies in time, cost and customer service, the contact centers providing this service face a fresh set of challenges. Here is an outline of the key hurdles outsourcers face and how to overcome them using the latest WFM technology.
Seven Challenges Outsourcers Experience Today
The need for speed – the biggest channel for many outsourcing contact centers is the constant call for operational and technical efficiency. From setting up new agents to accessing relevant and accurate client data, speed leads to cost savings, healthier profit margins and happier customers. However, manual forecasting or scheduling is slow and prone to error. Automated WFM solutions can import large volumes of data from previous systems to set up new team structures quickly and efficiently. Automation provides a single, clear view of past, present and future activities, removing the time-consuming triple effect of manual workload management while making the most of one-time data inputting such as agent profiles and shift preferences.
Keeping cost conscious - according to Deloitte Consulting, 59% of companies said the primary driver for using outsourcers is as a cost-cutting tool. This is a challenge that will never go away. The contact center is under pressure to make operational savings and satisfy client demand to bring the greatest results for the lowest price. The main cost in a contact center is people, therefore resource planning must be accurate and efficient. The rise in cloud-based WFM provides the opportunity for companies to only pay for what they use while reducing investment in IT infrastructure. For example, Teleopti customer FEXCO has achieved 20% savings in annual license and maintenance costs by moving to cloud WFM. Every saving helps to strengthen the bottom line.
The mobile age – mobility is everywhere from smartphones, tablets and laptops to TVs and even cars. The challenge is to turn mobility into an advantage. It is now possible to set up self-service portals that allow agents to view their latest schedules, swap shifts and request time off from anywhere, using any device. At the same time agents can log-in to cloud-based contact center technology from any location and provide the same excellent levels of customer service even when they are away from the office.
Agent attrition – contact centers are notorious for high agent turnover with some reports revealing rates as high as 30%. This puts enormous cost and time pressures on recruiting and training new staff quickly (allowing for a lag in productivity while they settle in). Capturing agent skills alongside contract types and using these profiles to schedule people for their best activities can keep agents motivated. At the same time, identifying individual or team skills gaps to support effective training programs will reduce attrition rates and ensure agent engagement.
Internationalization – managing global projects, with different languages and time zones, is challenging. Comprehensive profiling and scheduling will mean that the agent with the right language skill is available to communicate with the customer. The WFM solution should also offer time-zone insights to prevent less efficient situations, such as an agent in Dubai being given a shift at midnight by a team leader in the US. Team leaders and planners should have access to international overviews.
Engaging expectations – rising customer expectations have transformed the skill sets required by agents. They need to be experts in customer relations as well as the products and services they represent. Therefore, it is important to avoid irritating the most productive agents, so take into account agent shift preferences, make absence requests a smooth process and let agents easily trade shifts. Boredom is another danger, so be sure to provide flexible breaks and varied, mixed activities to keep it at bay.
Things go wrong – expect the unexpected, because even the best laid plans can go wrong as a result of freak events, system bugs and human error. The challenge is to be prepared rather than live in fear of things going wrong. Ensure there is access to a strong support team with a dedicated service desk staffed by engineers and technical consultants with the ability to troubleshoot at a moment's notice. Then back this up with a continual evaluation program to assess the performance of the WFM solution and adjust it as circumstances demand.
To find out more and learn how three real-life contact center organizations have successfully overcome "the outsource challenge", download Teleopti's latest eBook "An Outlook on Outsourcing".
[i] Teleopti CRM data as of June 2017
Source: https://blog.teleopti.com/2017/10/13/outsourced-contact-centers-7-challenges-solutions/
Publish Date: October 13, 2017 5:00 AM
---
Following Industry Head at Google, Anna Mossberg's, presentation about customer-driven innovation at the Teleopti Nordic Forum 2017, Alyssa Fishwick, looks back at the key lessons learnt and what actions contact centers could take toward user-focused innovation.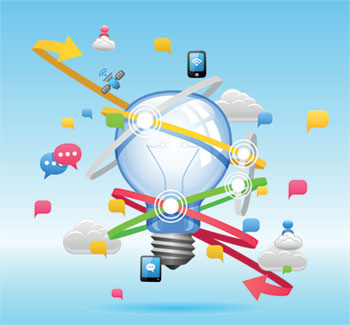 When Anna Mossberg spoke about User-Focused Innovation at Teleopti's recent Nordic Forum for customers and partners, she started by asking some vital questions to get the audience thinking about their own practices. The three questions that stood out to me were:
Do you have time set aside in your calendar for innovation?
Do you put yourself in your customer's shoes every week?
Do you agree that things change all the time?
These three questions felt particularly relevant as they came in a day of exploring the future of customer service. They also wrapped around Anna's core message about why innovation is just so important for businesses today: "In a rapidly changing world, the only long-term sustainable strategy and competitive advantage is to learn things faster than the world changes around you and translate that learning into meaningful innovation…"
One striking examples of how companies are embracing innovation is that Amazon invests 12% of its revenue into innovation.
In line with Anna's core message about innovation, she focused on three areas that are crucial for success: 1) Create a culture that stimulates innovation, 2) Innovate with a starting point in the customer journey, 3) Obsess about great customer experiences. What she said was alarmingly relevant for all companies today, whether B2C or B2B, so I thought it would be interesting to explore each area that Anna discussed but also see if it there are any contact center lessons that can be layered on top. Anna focused on the "user", a word that to me has a two-fold emphasis, yes, a user can be the customer, but the user, especially with a product like WFM, can also be the agent and other employees. It feels that we always need to be looking at these two groups in parallel, therefore ideas here will often overlap between actions toward customers and actions with/for contact center employees.
Create a culture that stimulates innovation
Key to changing the actions we take and the results we reap is recalibrating the questions we ask, of ourselves, of the company and of the customer. A key thing is that the questions we pose need to turn from being internally driven to holding an external vision. If your current questions are either self-, career- or comfort-motivated, they must become geared around the customer, company and industry, such as "What is best for our customer?", "What are the best in the world doing?" and "What is the long-term sustainable solution?"
Equally, when it comes to asking these questions, it shouldn't be those with the most power whose answers are heard. Instead, companies should strive to create a flatter hierarchy and get everyone asking the same questions and listening to each other.
As well as creating a level platform for asking and answering the right questions, a culture of transparency and collaboration needs to be nurtured. For instance, Google has a TGIF session every Friday where all employees can send questions to the Founders and they will answer. Similarly, rather than rewarding lone achievements, Google rewards are based on collaboration and helping each other.
Actions for the contact center: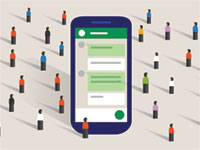 In terms of answering these questions in the right way, if two heads are better than one, then what about all the heads in your workforce? Agents are on the front line and have probably received much feedback about the service customers really need. Create a system of input, and thus, of innovation. Yet bring innovation to this process too, no more paper votes in the ballot box, create a space within your agent self-service portal where they can have their say, either publicly or anonymously. Take the stand out points and see what first small steps you can take to embrace these suggestions and catalyze development.
When it comes to transparency & collaboration - What transparency can you create? Do you have monthly meetings? Could you use that opportunity to be more transparent about the company financials or key projects? Similarly, make performance metrics visible, for teams and for the individual. For collaboration? The sense of working together toward the company mission is often seen to be a key incentive for employees, set up performance meetings to align employees' efforts with company goals. Furthermore, introduce rewards based on collaboration, supporting the team not just the individual, e.g. Gamification driven mainly by team achievements and rewards.
Innovate with a starting point in the customer journey
To offer truly innovative and effective service experiences, many of us already know that companies need to look at the user's buying journey, breaking it down into steps. However, from there, there is a whole plethora of layers to consider: the delights and the pain points for each step in that journey, the solutions for both solving the pain points and creating the delight, and then digitalizing the journey, diving into what technology is out there and overlaying it onto each solution. It is important to remember that it is often not as expensive as companies might first think, as many AI solutions (with open integrations) can be rented at reasonable prices. Finally, companies should think of the partnerships they have, or could make, to advance each step in the customer journey.
Actions for the contact center:
Of course, the first stage is to do exactly this for your customers – e.g. those wishing to buy a new internet package – and again involve all levels of employees, especially those who interact with customers.
Yet this should also be a journey that is mapped out for your agents. If a customer has a life cycle, what is the life cycle of the agent? Recruitment, training, working, development, potential attrition… Look at each stage and find the delights and the pain points, and then find the solutions and technology necessary.
Obsess about great customer experiences
BE RELEVANT
Technology should answer consumer behavior. Look at how you fit into the digital eco-system of your customer's daily life and buying process, and think about how you can push that territory. For instance, the growth of voice search, 29% of Google searches are voice search today. If you are not present in the right algorithms or systems then you might not come up or be chosen.
Actions for the contact center:
With the help of big data and machine-learning, speech analytics have moved beyond the frustrating, "I'm sorry, I didn't quite understand that" and can be effectively integrated into your customer self-service channels or telephony options. How much can be learnt before the agent even answers the call?
BE CONVENIENT
Look at the general tendencies of both your customers and agents, and optimize to that, e.g. Prime Wardrobe's "try before you buy" which responded to high return rates and costs for online clothing purchases. Equally, make sure that you are clearly and easily offering the options that users want, and next time, make that option even easier by customizing your service to their choices, like Netflix or Spotify.
Actions for the contact center:
Don't block how customers wish to communicate with you – phone, email, chat, text or, in the future, virtual reality – create an omnichannel experience where, whatever the touchpoint, their journey up to then is mapped and seamlessly continued. Everything has to be remembered so as to speed up their customer experience each time – like Netflix, make sure they can pick up exactly where they left off last time.
BE FAST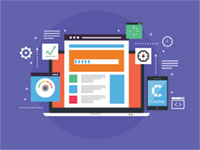 Be faster than your competition, and fast needs to be real-time, not "soon" or even, in a few seconds. As an example, 53% of people browsing the web will leave a site if it takes longer than three seconds to load, last year this figure was 40% so clearly mankind is becoming less patient. Try Google's Test My Site. If your company's website comes in at over seven seconds, you need to worry, and do something.
Actions for the contact center:
For one, make sure that your website is optimized to be as quick as possible for users browsing for answers ahead of contacting your support teams. Yet also, when they do reach out, you need to be thinking, what does this growing impatience mentioned above mean for your current Service Level? What was acceptable last year may well not be now…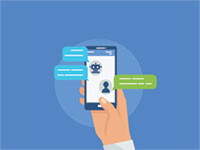 However, improving service levels shouldn't be at the expense of agent wellbeing. So, how can Artificial Intelligence be incorporated into each interaction to man the gap between agent abilities/time and customer impatience? For chat and emails, chatbots could act as the first port of call, reducing Service Level and minimizing chat AHT before an agent actually gets to the case. For inbound calls, with the development of Speech Analytics, there can now be "call steering to route callers to the right consultant through automatic understanding of the problem", registration of key facts ahead of the agent answering the call, or, based on the growing ability of AI to monitor stress levels, those customers demonstrating the greatest frustration can be routed to agents more quickly.
Furthermore, just as customers want real-time answers, your company and agents also need this. Real-time analytics offer the chance for proactive measures to be taken instantly rather than judgments made retrospectively. Tying in with an environment of transparency, agents similarly need to be able to see their metrics in real-time and take ownership of their work.
Conclusion - Your move.
Business can no longer stand by mottos such as "If it ain't broke, don't fix it" or "It's worked so far." Audience demographics are changing, expectations are growing and digitalizing, and users expect every service they invest in to keep pace with this rate of development. Contact centers are no different. You need to be proactively asking questions, about your customers and your employees (as well as involving them in such investigative processes), and exploring the innovative solutions that modern technology and AI can bring. Time is required to build out this image and direction but remember, it's not the thought that counts. Don't just talk about innovation goals, in the ever-relevant words of Nike, Just Do It.
Source: https://blog.teleopti.com/2017/09/22/user-focused-innovation-and-the-contact-center/
Publish Date: September 22, 2017 5:00 AM
---
Does your WFM solution lend itself to integration with other solutions?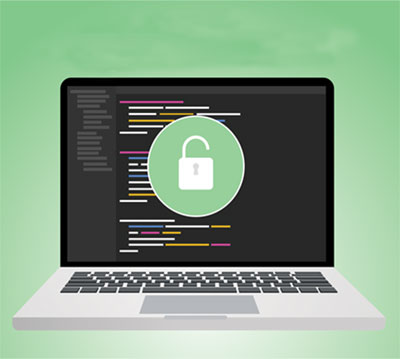 Many customers, in the absence of internal development, don't care about this: it doesn't make any difference to them. But those that do, it's a make or break deal.
In fact, an on-going trend in the contact-center industry is that more and more WFM customers, increasingly IT-savvy, are developing more and more of their own IT solutions.
Whether mobile or business apps, businesss intelligence (BI), portals, dashboards or reports, the pace of what's being created in-house today is accelerating. To hire outside expertise is costly and worse, it takes too long. Many business can't afford to wait six to nine months down the road for outside expertise to come up with what they need.
Another trend in parallel is that of a vast majority of customers, while discussing reporting, asking if this or that report is provided. To be sure, many WFM solutions have standard reports. However, in many cases, it's not what is really wanted, nor is it the point in question.
The point in question is that there are WFM vendors out there that offer something much more invaluable: an open database so one can create one's own reports with whatever system or platform already in place.
More precisely, customers are given a key – in the form of a Solution-Development Kit (SDK) – to access and tap into their own databases for any and all information needed to feed their reports. SDK doesn't hold data; databases hold data. Customers are then given the key – SDK, a map of sorts – to open their database structure, indicating where to go and get the data.
With the SDK, customers can create custom apps that also leverage the power of the WFM solution itself. Unlike the majority of vendors charging, at times, very large sums for a copy of the SDK, customers using, for example, the Teleopti SDK can create apps that include the utilization of the Teleopti solution per se and its data – without having to pay one extra penny for this feature.
Customers creating business-intelligence (BI) dashboards or apps that gather data from different platforms, then centralize it for viewing and reporting purposes, when using the Teleopti WFM solution, they have the flexibility and openess to include the information that WFM contains into their BI and environment.
To be able to tap into and exploit your own data is therefore a huge advantage when considering the procurement or replacement of a WFM solution.
I cannot stress this fact alone enough: Teleopti distinguishes itself in the WFM industry as one of the few providers – if not the only – that offers an open solution where databases can lend temselves to be tapped for other internal developments, and the WFM application itself is open to be included in larger, internally developed apps.
In summary, the point made here is short and precise:
To raise awareness that a friendly, open WFM solution exists; one that won't take you to the cleaners if your company or your contact center is doing internal development or plans to do so in the near future.
Source: https://blog.teleopti.com/2017/09/01/go-for-a-wfm-offering-with-a-free-open-flexible-database/
Publish Date: September 1, 2017 5:00 AM
---
Following the launch of Teleopti's WFM Savings Calculator this week Dennis Müller, Teleopti's Vice President – Latin America, explores some important areas to consider when discerning the Return on Investment (ROI) for a WFM implementation.
While contact centers may balk at the price of implementing a workforce management (WFM) system, the real and much more worrisome issue is how much the lack of a WFM system could be costing them. The overwhelming majority of ongoing contact center expenses are related to staffing. Again and again, across the WFM industry, online testimonials show spectacular results achieved by organizations adopting WFM, with the majority achieving ROI within a year or less.
Calculating ROI can, however, be tricky as the factors and their weight may differ from center to center but often savings are immediately and directly seen when it comes to reduced shrinkage per agent, per day (in minutes), reduced scheduled work and more accurate staffing.
For a quick and dirty calculation, if we assume 160 hours of work per agent per month at a cost of $15.50 an hour, and supervisors spend 15 percent of their total work time on forecasting/scheduling and earning $4,000 a month, even very conservative estimates of 15 minutes of shrinkage, a 25-percent reduction in scheduled work and a two-percent improvement in staffing accuracy brings about huge savings!
Even faster payback and ROI can be achieved through cloud implementation. In fact, an Oracle Nucleus study found that cloud application projects deliver 2.1 times the ROI of on-premise ones – up 24 percent since 2012. They also found that cloud applications used, on average, 91 percent less energy than on-premise ones.
Do you know which of your initiatives are having the greatest impact on your business? Can you measure the ROI of each initiative? What is also measurable and should be measured is:
Percentage of savings in the reduction of repeat calls
Reduction in average handling time (AHT)
Improvement of customer satisfaction net promoter score (NPS), by reducing their effort (a critical driver)
Improvement in first-call resolution (FCR)
Higher sales conversion
As for this last bullet point, according to data from the International Customer Management Institute, more than 60 percent of companies believe that contact centers are a cost and a drain rather than a source of revenue or innovation. Yet, at the same time, more than 50 percent of respondents to a Deloitte survey believe that contact centers can help increase customer retention. WFM can definitely boost your profitability, helping to transform your contact center from a cost center that largely resolves customer service issues to strategic assets that can further customer loyalty and retention.
Besides these measurable cost savings, there are many more intangible benefits, with perhaps the most crucial of these being the addition of a sophisticated "what-if" planning tool.
Furthermore, today customers demand a consistent effortless journey, no matter the communication channel. If you still are not calculating the workload volume and AHT of these different channels accurately, then you should make this a priority for 2017. It is vital to keep up and position your business to be more competitive through leveraging the latest offered in WFM scheduling and software solutions. You'll also have heightened opportunities to convert customers or upsell to them because of better visibility into the customer journey across these channels.
Remember, spreadsheets are guesswork at best while WFM schedules can be adjusted with much greater accuracy and as often as needed to satisfy demand.
Just as each center has its own set of value and performance indicators, ROI calculators will have particular factors that they analyze and balance. Teleopti's new Savings Calculator focuses on the savings that could be achieved through schedule optimization and adherence, lower sickness and attrition rates, and less time spent on administration. These savings are just the start of the multi-faceted benefits that contact centers reap when automating their planning processes.
Eager to see explore these results for yourself? Visit the Teleopti WFM Savings Calculator now!
Source: https://blog.teleopti.com/2017/08/25/calculating-your-roi-for-wfm-implementation/
Publish Date: August 25, 2017 5:00 AM
---
Nick Smith at Teleopti gives 3 compelling reasons why RTA is here to stay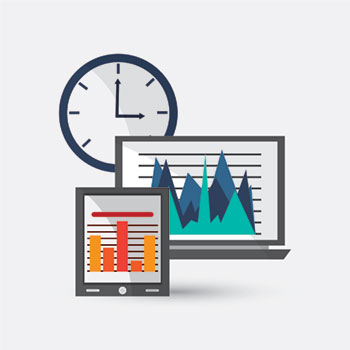 Scheduling disruptions are an everyday occurrence for frontline operations and a major headache for contact center leaders everywhere. Employees call in sick or run late to their shift, the latest promotional marketing campaign is so successful that product demand and call volumes are going through the roof or it's just after Christmas when business is flat and too many agents are hanging around doing nothing. There was a time when managers were forced to process exceptions manually just to keep staffing levels where they needed to be but all that changed with the arrival of automated Real Time Adherence (RTA).
What an invention! RTA practically transformed contact center operations overnight. Real-time information from third-party feeds, such as an ACD, is used to update agent schedules automatically when adherence issues occur. Gains in efficiency and time are matched by employee compliance and customer support – allowing team leaders to see the bigger picture and focus their resources on more strategic tasks.
The latest WFM solutions with embedded RTA capabilities perform a variety of tasks effortlessly, including:
issue email or SMS notifications to people with the right skills to ascertain if they can work at short notice and plug any gaps
monitor agent adherence to schedules and compare them with the live ACD status - wherever you are, using a variety of desktop, tablet or mobile devices
flag up when schedules are in danger of being breached with automated alarms
offer a real-time data feed, updated in seconds, to enable fast decision-making and action.
What is more, RTA offers a three-pronged approach to maximizing the performance of the contact center, making it a popular choice for ambitious contact center leaders.
Here are 3 reasons why RTA is here to stay:
1. Stay in control
Performance and compliance issues are no longer able to slip through the cracks because managers are immediately alerted to them as they happen and are given valuable insight into how agents work on a day-to-day basis. This puts managers in complete control, giving them the power to make changes that have an immediate impact on call center performance. The faster these reactions occur, the easier it is to achieve and maintain targeted service levels.
2. Handle the unexpected
Automated tools such as RTA give organizations all they need to be prepared for, and handle, the unexpected. High visibility of dynamic data makes tracking agent adherence and adjusting schedules to maintain service levels at all times, effortless. Graphics mean it is easy to spot developing trends as they happen allowing for fast re-forecasting or last-minute optimization.
3. All round business benefits
Research shows that companies who have implemented Real-Time Automation (or Intraday Automation as it's known in the US) enjoy a 55% year-on-year improvement in staff utilization rates compared to those who haven't. The technology identifies periods in the day when staff can be safely withdrawn from the front line to receive training or coaching without risking service levels. Better skills mean happier staff, as well as better resolution rates and sales conversations. As a result, customer satisfaction rates often improve by 37% with the same companies reporting a 3-fold increase in revenues.
Finally, don't just take our word for it!
There are many success stories around that cite the benefits of RTA. What is more, the most recent innovations encourage smarter ways of working. For example, when the contact center's work (calls, emails, webchats etc.) varies from the forecast and staff attendance is not what is expected on the day, people can be moved around to where they are needed most – be it training or strategic offline work. This is indeed a major breakthrough when you factor in the intricacies involved - different agent skills, preferences, contracts, schedules and breaks.
When all is said and done, effective management is all about staying in control of the day and being ready to handle the unexpected. RTA can do this and so much more.
What's not to love about it?
Source: https://blog.teleopti.com/2017/07/07/real-time-adherence-whats-not-to-love/
Publish Date: July 7, 2017 5:00 AM
---
The ways that people interact with the world around them and how customers expect to interact with companies aren't what they once were. Hussein Kamel, Senior WFM Consultant at Teleopti, discusses how well-honed customer care via social media is no longer a choice but a necessity.
The world is changing around us, but how exactly? Here are some interesting facts.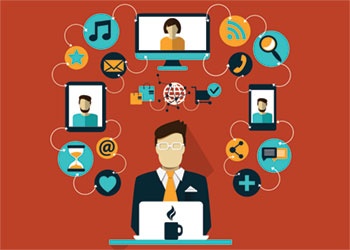 In 2014 alone, smart phones and tablets today comprised 60% of all online traffic, and that was up from 50% in 2013. 82% of people using Twitter today are accessing it from their mobile devices, and of the 1.74 billion monthly active Facebook users, 56.5% ONLY login to their accounts via a mobile device. In a Gartner release about social media, they predict that refusing to use social media to communicate with customers will soon be as damaging to companies as failing to answer a call or email is right now. Adoption of social customer care programs increased fivefold from 12% in 2010 to 59% in 2013 for major customer service centers. 33% of users even prefer to contact brands using social media rather than calling them.
Social customer care is now becoming an imposing reality as opposed to traditional model of customers calling in and waiting to be answered. A lot of our communication amongst our groups, either social or professional, are through different mobile messaging applications on social platforms that are all in the palm of our hands. It is fast, and easy. Furthermore, when it comes to social media and "groupthink", you can identify with other users, with users who share your interests or your common pains.
The speed at which this has been changing has led to companies having to deal with social media as a real channel to interact with their customers, this creates many benefits as well. It's an easy way to learn about your customers and their preferences. It allows you to receive instant feedback. You can share content faster and more cheaply with social media.
The consequence of this of course, if this channel is ignored, can be detrimental to an organization's reputation. If there is no clear strategy to keep up to date with how your company is being reacted to on social media - what is being posted, commented or tweeted about your brand - or how to respond to it, then this could create unexpected, likely undesired, repercussions for your brand.
So, if your organization does not have a clear strategy for dealing with social media as a very legitimate and real customer-interaction channel, with well-defined customer care in the coming period, it is highly recommended that this discussion should start. Ultimately, in all cases, the customers on FB, Twitter, and other platforms have probably started discussing your brand, it is your choice to participate in that discussion, or let them run away with it.
Social customer care is now a reality and here to stay.
Source: https://blog.teleopti.com/2017/06/30/the-rise-of-social-customer-care/
Publish Date: June 30, 2017 5:00 AM
---
How can resource planners achieve the best balance between agents' wishes for their schedules and the forecasted needs of the contact center? Rebecca Philp, Product Knowledge Manager at Teleopti, weighs up two options on offer.
As the contact-center world moves further and further into an omni-channel environment, the option to automate agent shift preferences is growing, replacing the older bidding systems based on manual scheduling. The question one must ask is: Why is this change occurring? To answer such a query, I will first look at the limitations in sticking to shift bids, and then explore the possibilities on offer with introducing a system that automatically optimizes schedules to agent preferences.
Shift bidding: The potential problems
With Shift bidding, contact centers can release the schedule of shifts on offer and agents can then bid for the shifts that they want, entering how much they would like to be paid for working those hours. At the end of the process, shifts are awarded, typically to those with the lowest bids (and the highest KPIs). Though the process is good for initiating agents' involvement in building their schedules there are a few issues that will crop up time and time again:
Time consuming (with often little end improvement)
Using shift bids takes weeks upon weeks to execute, and in most cases, the schedules created are very similar to the ones that were in place before the bid. A lot of work for little gain.
Fixed and ill-fitting
Shift bids fail to account for the constantly changing landscape of contact-volume forecasts and, once a shift bid ends, it can cause the contact center to be locked into a set of schedules that allow for almost no flexibility, a problem for both the agent and the center. If a shift bid is designed around the first week in September, how does that solve scheduling issues in the third week of November? Equally, a locked-in schedule won't work for many agents as they often work in contact centers as a second job, wanting the flexibility to fit shifts around other things in their life.
Stress for agents
Agents care first and foremost about their schedules and getting the right number of hours at the times that work best for them. If management is making them worry about their livelihood, then this will cause them to lose focus on the job that they are employed to do.
Overtime expenses
Just as the "best" shifts will end up with the lowest pay per hour, the "overtime"/unpopular shift times will have to be filled by paying agents at a much higher cost, causing payroll costs to rise. Furthermore, those agents who have to work the less favorable hours, might be being paid more but a "bad schedule" could leave them feeling tired and demotivated. In the long run, if agents are performing poorly, the company won't reach their service level targets.
Agent Preferences: The strengths
Agent Preferences is an automated system that lets agents enter their preferences for shifts and days off for each day of the week of the upcoming scheduled period by choosing the desired shift category (e.g. early, daytime, late) or day off. There is no monetary bidding involved but agent-rank tiers can be brought in to determine what percentage of preferences agents receive in their schedule e.g. 80% for third tier agents and 100% for top tier agents. Using this option, there are multiple benefits on offer:
Flexibility
Firstly, while traditional shift bidding requires contact centers to undergo a bidding process only several times a year – taking weeks to complete each time – an ongoing agent preference system gives agents the freedom to continually request desired scheduling. Imagine being able to enact "mini-bids" every week, without any extra effort. Each mini-bid is specifically targeted to that week's forecast.
Secondly, an automated Agent Preferences tool is responsive to the growth and evolution of the customer-service industry, rather than restraining it. While the cumbersome process of shift bidding makes it easier to only work with single-skilled agent groups, Agent Preference offers an easier, ongoing process that can work for multi-skilled, multi-channel contact centers.
Control
The system also allows users to define metrics and weighted measures for ranking agents, typically by using performance metrics from built-in gamification features or from quality scores, or a combination of both. This process will guarantee that the highest performing agents will get most of their preferences awarded.
In addition, resource planners can set business (/service level) requirements so that the company's customer-service needs are never overlooked.
Motivation and empowerment for agents
Motivation - The frequency of "mini-bids" with this Agent Preferences system means that agents no longer need to feel locked-down or demotivated by shifts that are set for months on end. Instead, having this strategy of frequent preference iterations ultimately motivates agents to think: "If I'm a top performer, I need to maintain that level if I want to keep my shift-preference rank. But, if my performance is poorer, I don't need to be too upset since I'm not trapped in this schedule for the next few months. I can work towards a better shift in just a few weeks."
Empowerment - In keeping with Teleopti's own focus on agent engagement and empowerment, Agent Preferences (through a self-service portal) allows agent input on how and when they'd prefer to work. When scheduling time rolls around, the intelligent optimization engine kicks in and balances business needs with agent preferences.
Fairness
As I said in my previous point, this fairness is found in regular 'mini-bids' and realistically balancing agent wishes with forecasts. Equally, unlike shift bidding, it doesn't favor those that can afford to work at a lower cost per hour.
The closing balance
At the end of the day, Agent Preferences is an automated system that Teleopti offers and believes in, yet for a single-skilled contact center looking to set schedules for months at a time, sticking to shift bidding is perhaps the optimal option. However, for a multi-channel contact center working with multi-skilled agents, constantly adapting to consumer needs whilst satisfying employees, Agent Preferences seems, at least to me, to be the best way forward.
Source: https://blog.teleopti.com/2017/06/21/agent-preferences-vs-shift-bidding-which-to-choose/
Publish Date: June 21, 2017 5:00 AM
---
Zero and reduced hours, time-off-without-pay (TOWP) could be the answer when it comes to flexible working but how will it work in practice? Per-Arne Karlsson, Technical Director APAC at Teleopti, shares a simple 3-point plan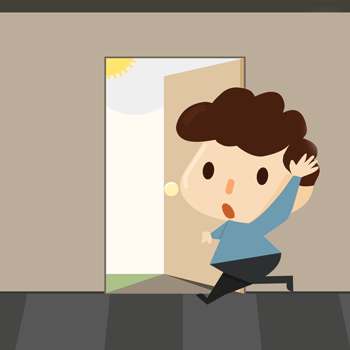 Flexibility in contact centers means many things to many people. It usually means making life easier for agents, enabling them to strike the all-important work/life balance. Or, it can apply to the automated technology that makes flexible working possible. Most recently, another meaning has emerged that focuses on the growing trend for companies to increase their business agility by introducing flexible or reduced hours working contracts.
As we all know, organizations everywhere continue to face the reality of squeezed budgets. In a race to cut costs, it's easy to see how the concepts of zero or reduced hours contracts and offering time-off-without-pay (TOWP) are an attractive commercial proposition.
Permanent contracts translate into higher costs for employers in terms of increased insurance contributions, holiday and sickness pay, pensions and statutory redundancy payments should times get really tough. The new flexible 'Pay-As-You-Go' approach to employing staff means just that – employers only pay for the hours worked with the added bonus of not being legally obliged to offer all the other extra benefits on top.
Flexible working contracts are particularly appealing to industries with seasonal peaks and troughs or in sectors such as insurance, financial planning and even shopping channels, where periodic spikes in the weather, stock market surges or the demand for products promoted in short bursts are uncontrollable and often unpredictable.
This new take on flexibility makes perfect operational and business sense, but just how can you introduce the right flexibility strategy if you don't know how volatile your demand is? That is the common conundrum faced by organizations today. How do the contact centers supporting them ensure that enough agents are in the right place at the right time and then keep them motivated to meet fluctuating customer requirements and service levels? Here is a three-point plan to keep you on track.
1. Understand the psychology of work
People like to be busy knowing they are offering a worthwhile service that is valued by their employers. Otherwise, they would prefer to be anywhere but at work, even if they are not paid. Nothing is more demoralizing or frustrating than wasting time sitting around waiting for a customer to call.
Zero hour contracts, where staff work when their employers need them, would appear to be the obvious answer. However, they have sparked a great deal of controversy and are sometimes viewed as an opportunity for unscrupulous employers to exploit staff during times of high unemployment. The truth is there are both pros and cons to this type of employment.
Despite the obvious negatives of no fixed income, being constantly on-call without any guarantee of work and feeling undervalued, the positives that zero hour contracts present are flexibility, more free-time, the chance to develop new skills and the freedom to find permanent work are real incentives for people to take the conscious decision to avoid permanent roles.
The biggest challenge appears to be for contact center leaders who fear losing their star performers and attracting the best new talent if they cannot offer a full-time permanent contract. This is where guaranteed minimum hour contracts can help.
2. Take the middle ground and include time-off-without-pay (TOWP)
The risks of flexible working and reduced hour contracts can be mitigated by following the safe middle ground. This is particularly relevant in environments where demand can be very unpredictable, for example during charity appeals, special offer advertising or 24hour shopping channels.
In contact centers of this type, demand depends on a number of factors such as viewing figures and demographics, the popularity of a presenter and the unpredictable demand for hundreds of different products. Even the weather plays a part, are people out enjoying a warm day or watching their TVs?
One option to maintain flexibility but reduce costs is to introduce minimum hours contracts that offer a fixed yet flexible number of working hours per week, say from 12-20, combined with 'Time off without pay'. While it might sound ridiculous, TWOP can be very popular. Why? It is a win, win situation because managers can better control staff costs and meet customer demand while agents, though not paid for time off when not required, are guaranteed an income and the opportunity to devote more time to their home and social lives without having to ask for it! Give it a try and watch the queue of potential applicants grow.
3. Look beyond scheduling
Introducing flexible working contracts is definitely an important step forwards, but it doesn't quite overcome the problem of enabling quick-build schedules to accommodate these new contracts. To maximize flexibility, choose Workforce Management (WFM) technology which includes a mobile app to support agents updating their availability to work at certain times/days in advance. The secret then lies in constantly adapting to change by conducting "what-if" scenarios using the latest WFM solutions.
A well-considered flexibility strategy combined with technical innovation offer a failsafe route to success and improved work/life balance for agents with minimum hour's contracts. Also look out for WFM solutions with Real-Time Adherence (RTA) capabilities embedded in their DNA. These include the ability to:
issue email or SMS notifications to people with the right skills to check if they can work at short notice and so plug in any gaps
monitor agent adherence to schedules and compare them with the live ACD status - wherever you are using a variety of desktop, tablet or mobile devices
flag up when schedules are in danger of being breached with automated alarms
offer real-time data feed, updated in seconds, to enable fast decision-making and action to be taken.
Take control of this new world of flexibility by understanding the psychology of work, then use this knowledge to introduce flexible working contracts underpinned by technology that goes beyond simple agent scheduling. There's no better way to release the full potential of your contact center and your overall business.
Source: https://blog.teleopti.com/2017/06/12/flexible-working-a-3-point-plan-for-time-off-without-pay-zero-and-reduced-hours-in-contact-centers/
Publish Date: June 12, 2017 5:00 AM
---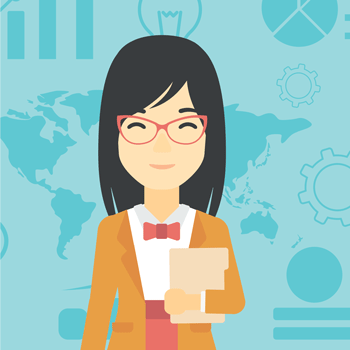 One of the biggest problems many companies suffer from is the lack of awareness about the extent to which WFM software can help them in their daily work. Instead, they approach WFM like a play station: they plug it in and start playing with it, stopping short of ever realizing the software's full potential. Why is this? It is because the technology providers who sell WFM software seldom have awareness of this either – often the case if their line of expertise is not WFM per se. With WFM representing the single, biggest cost-cutting tool available to a contact center, one must get around this.
So, how to get around this? The way to do this is to properly adopt a consultative approach; not just during the implementation stage but also during pre- and post-implementation. As a WFM expert and provider, we believe you should know what a consultative approach truly entails and apply these investigative tactics in the pre-sales and sales stages.
From the start, you don't just buy a box; you buy a solution. This involves doing a thorough examination of your current environment. Talking to supervisors about how they manage their teams, what they look for and what they should be looking for. Sit down with contact-center agents to listen to them describe how they do things. This may include mundane tasks, such as requesting schedule changes or vacation.
More often than not, an investigative approach uncovers issues or problems that customers are not even aware of. You can uncover if your center is achieving its objectives, handling time targets, occupancy targets, average speed of answer targets, etc. Often, under-performance has improper staffing levels at its root. What it comes down to is miss-utilization of the workforce, frequently a result of manual scheduling, using Excel – seemingly old-fashioned in this day and age.
In fact, a trend we've uncovered in talking to customers is that when prospective candidates are going through the interview process and realize that the hiring company lacks a mobile strategy, they decline the job. Agents no longer accept to be stationary, glued to their desks. The expectation today is that almost everything should be carried out from mobile devices – especially scheduling requests and changes. A way to retain staff and counter-act agents from leaving is then to offer mobility. Here again, to get mobility into the system properly requires a consultative approach.
During pre-implementation and implementation, you should be guided in how to configure your solution. Parameters must be managed. For the scheduling side of the equation, each company, city or country may have specific rules about how agents may be scheduled. These rules must be analyzed in order of the employment rules of the place in question. These rules need to be incorporated into the system to ensure agent-schedule production comply with these laws. At the same time, schedules must be produced with conditions that agents find acceptable and satisfactory.
Specific operations or campaigns must be managed; make sure your supplier covers how to adapt to these, as they often demand completely different planning and forecasting. It is extremely important that the best methodologies are available to those users who interpret the data.
Many vendors remain only initially with a customer, supplying a training syllabus that merely instructs which buttons to press. Then they are done and gone when they really should be vigilant about ensuring that business needs are understood and taken into account when configuring the tool. A good way is to break up the enablement of the tool into various sessions at the customer site, using their data.
After training is officially completed, it is important to do a couple of health check-ups down the road, analyzing the operations to see how things are running and determining if additional consultation or training is needed. Many vendors don't do this consistently, don't do this at all or charge for the extra days.
When it comes to providing, or investing in, WFM without a consultative approach, it is generally not successful. For this reason, a number of suppliers have shifted or are shifting their focus from selling WFM solutions to ones that are easier to sell; ones that don't require a consultative approach.
It is important to keep up with the technology of today and the agents of today – the majority being Millennials and Generation Z. At the end of day, a consultative approach helps mitigate problems from the outset.
Source: https://blog.teleopti.com/2017/06/02/consultative-approach-to-wfm-drives-long-term-contact-center-success/
Publish Date: June 2, 2017 5:00 AM
---
Hussein Kamel, Senior WFM Consultant at Teleopti, looks at the best ways to work with Average Handling Time. Shorter contact durations cannot be demanded from agents, but instead the AHT must be properly examined, processes adjusted and agents assisted.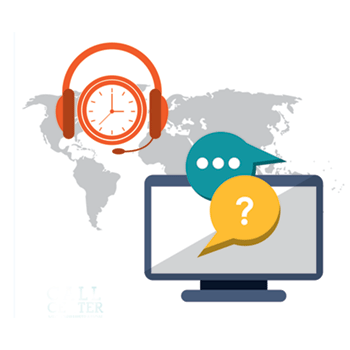 When creating forecasts, you are predicting volumes based on historical patterns, seasonality, special events, etc. However, there is also the other elephant in the room: Average Handling Time (AHT). Yet, though AHT merits attention, it rarely seems to get its equal share of the focus in a contact center's operations. Interestingly, a reduction of 20% in AHT is equivalent to an equal reduction in volume on your overall staffing needs.
Most organizations are looking toward reducing their call volumes through better self-service solutions, social media, and pushing out information to customers. Yet, reducing AHT is also a strategy that centers use, and should be using even more, to reduce costs and increase efficiency. It is worth noting that we see a lot of approaches to AHT which offers plenty of opportunities to streamline contact durations. The following key points are general ideas about how to approach managing AHT reduction plans.
Don't ask agents to consciously reduce AHT:
Yes, it is necessary for agents to see their AHT so they're aware of how it is trending, but if you ask your agents to drop from a four-minute call to a target of a three-minute one, they will most probably do so, but at the expense of customer experience. Of course, this does not mean that higher AHT makes happier customers (that tends to be another center legend). However, it means that if agents are thinking they must cut down their call time, they will talk faster, make mistakes, brush off customers, and overall be stressed about how fast they need to hang up and get on to the next call. They won't be focused on customer resolution or satisfaction. So, how do you approach reducing AHT?
Analyze AHT variation:
A first step is to create a bell curve analysis of AHT. A bell curve is a tool to measure how much variation there is from the average. AHT will always follow a bell curve pattern with differing degrees of variation. Follow this link for more on bell curves.
For example, let's assume you have a target of three minutes, and your center is achieving an average of four minutes. You are above the target by a minute. Not good. Once you look at the variation of the data using a bell curve analysis, what do you find? Are most of your agents 30 seconds above or below the four-minute average, with the same percentage of variation from the average? Does the bell shape look tight and uniform? In this case, you see low variation in the data.
Or, are some agents hovering around three minutes, whilst others are up around the five, six or seven-minute mark, thus skewing the data for everyone else to have an average of four? Does the bell shape look loose and spread out? You then have high variation in the data.
Dealing with low variation across the group:
If the data shows you have low variation for the call durations (everyone more or less obtaining the same AHT – say, 30 seconds up or down from the target), and at the same time you are off target, it means the problem is not an issue with the agents, it is rather something at the process level. Granted there will be a few agents at the far end of the curve, but just a few doesn't matter.
So, how do you move from four to three minutes? It is by understanding which main types of calls have the highest impact on overall AHT, and trying to re-engineer the processes of those calls to make them shorter. Are the systems slow in pulling the data for the call, does the agent need to use "hold" to do something away from the desk, ask permission, find certain information or get approval from their supervisor? Do they have to follow troubleshooting steps that could be made easier? You need to unload baggage from the process itself to make the call simpler, and once you decide on what to change, you train your agents and coach them on the new changes. Once this starts being implemented, everyone begins moving together toward the target the center is required to meet.
Dealing with high variation across the group:
The other scenario is that you have variation in the AHT data with some agents at three minutes, and others at five, six, seven, etc… Why? For many reasons.
Newbies - New agents will take longer to complete calls. This is very normal. Just make sure there is a plan and step goals to get them to target, and that you are evaluating their progress on a weekly basis.
Different agent knowledge levels - Some agents know how to get tasks done faster than others and ask less questions. It could be that one group took the full three weeks of new agent training, while the other group received just two condensed weeks because you were losing service level and had to squeeze them through. It happens to the best of centers, but it isn't recommended. Schedule in extra training to get the agents with lower knowledge levels and competency up to the standards you require.
Quality scoring methods are inconsistent among evaluators - There are different people evaluating agent performance and giving varying opinions to agents on how to handle calls, this creates a difference in agent performance. This disparity can be fixed by a solid calibration process so you have minimum discrepancy between how the evaluators think different call types need to be handled. (This will be the subject of a future blog post!)
Check hold time - Are some agents using hold time unnecessarily? Perhaps they are using it to take a breather on busy days. Such a phenomenon has been known to happen, and goes back to the above point around the center's ability to catch such occurrences and give the correct guidance when warranted.
A good question now would be, what if, for these agents with high AHT variation, you reengineer and improve processes for calls, just as you would for a center that has low AHT variation? Would that work? Mostly no, since the "process" is already out of control. You need to get agents back in control, and then improve the process.
If, as a metaphor, your agents are soldiers, and supervisors are officers, you cannot ask the soldiers to march from point A to point B, unless they learnt to march together, turn, and follow instructions at the request of their officers! Otherwise, it's going be a long slow march. In real-world terms, supervisors need to be working closely with agents to see where there are problems and figure out how to get them all up to the same level, whether that is stress management or competency development.
Final reflections
To repeat for emphasis, if you tell an agent to get their AHT down from four to three minutes by next week, most probably she/he will do it, but you are not sure how, and thus you expose your customers to the law of unintended outcomes. This is like asking a chef to make an omelet for 5 people with 2 eggs. You might get one, but you have no idea what else is in there, and it probably won't taste very good.
Remember, you want to make customers happy as much as you want to be profitable. Happy customers, along with low AHTs, come through a refined contact process and well-managed, well-trained agents.
Source: https://blog.teleopti.com/2017/05/23/reflections-managing-average-handling-time-aht/
Publish Date: May 23, 2017 5:00 AM
---
When it comes to increasing satisfaction levels and sales, nothing beats making life easy for customers and releasing their most valuable asset - time. Annica Ronquist, Head of Global Customer Operations and Services at Teleopti explores the options.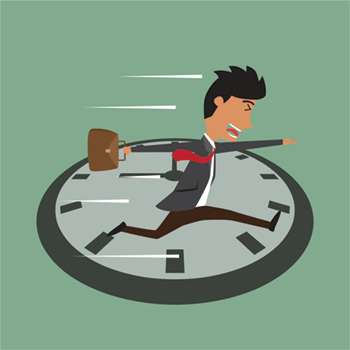 Look around you, we all lead busy lives where time is of the essence. The evidence is clear to see with people rushing to work drinking coffee on the run and travelers on public transport glued to their mobile phones and tablets! When was the last time you lost track of time and had to go online for a emergency grocery shop because you'd run out of everything in the house? It comes down to too much to do and not enough time to do it in.
It's all about time and convenience, therefore the organizations that deliver quick fixes, instant results and customer satisfaction will go on to flourish. Customers are not prepared to wait. Studies reveal that 45% of US consumers are likely to abandon an online transaction if their questions or concerns are not addressed quickly. Likewise a popular KPI in contact centers is first call resolution. Put simply, responsiveness and excellent customer service is a winning combination for busy, time poor customers.
What this means for the contact center
Customers now expect contact center agents to have the knowledge and authority to make decisions and fix their problems instantly. If agents can't achieve this, customers will go elsewhere. The lesson is:
Invest in training – by self-serving, a banking customer will know how much money is in their account, but when it comes to more complex issues, such as investment advice, they will want a more personalised service. This type of call has longer handling times and requires more highly trained agents to respond successfully, build customer confidence and deliver results.
Have a plan B – if customers can't find what they want online and quickly, make sure you have a back-up plan. Prominently display freephone customer support telephone numbers, enable agents to conduct Web Chat at any point and keep FAQs up-to-date and easy to find.
Bring it all together with the right technology
Technology offers a wealth of features to drive agent productivity and empower them to deliver an efficient service that releases customers' valuable time. Consider:
Self-service – according to Professor Steven Van Bellegham in a presentation on

SlideShare,

around 40% of the 3,000 global consumers surveyed said they preferred to self-serve rather than have human contact with brands. As a result, over 70% of these consumers expected a self-service option to be available on company websites. For businesses, the advantage of self-service means their shop window and shop door are open all hours, every day of the year, without resorting to the expense of additional headcount.
Web Chat - the latest technology solutions automatically flag up how customers want to interact. Switch agents to Chat as soon as the system tells them someone wants a Web Chat. The beauty of Web Chat is that well trained agents can handle multiple conversations at once leading to faster response times and enhanced customer satisfaction levels.
Consider introducing a dedicated self-service portal for priority customers including a free Web Chat service – a real competitive differentiator because many mobile providers still charge for freephone telephone numbers.
Chatbots – especially when combined with applications such as Facebook Messenger, can provide anything from automated content like weather and traffic updates, to customized communications like receipts, shipping notifications and live automated messages - fast. Customizable greetings mean Chatbots make it possible to offer a more personal, more proactive, and more streamlined customer experience
Omni-channel – you might think you operate a multi-channel contact center environment but make sure communications are seamless and agile to deliver a truly omni-channel experience that is both swift and satisfying.
Integration - with your CRM systems allows agents to track interactions from beginning to end, every step of the customer journey, to deliver a quick and personalized service.
Right place, right time - maximize WFM functionality to estimate accurate forecasts of self-service usage in the future and develop meaningful training sessions to schedule the right skilled agents at the right time to answer those more challenging calls.
It's time to answer the question: "how do I help make life easier for my customers and give them back their valuable time?" As we all know, time is of the essence – act now to empower agents, deliver a faster, more enjoyable customer experience and boost the bottom line.
Source: https://blog.teleopti.com/2017/05/05/time-is-of-the-essence-changing-priorities-for-customers-and-contact-centers/
Publish Date: May 5, 2017 5:00 AM
---
Mapping the customer and agent journey in parallel
In light of Teleopti's recent Avaya-partnered white paper, Brandon Rowe explores how the customer-service landscape and the role of the agent must always be considered in parallel. Brandon contemplates the essential need to react to change and nurture the agent's journey to create exceptional customer journeys.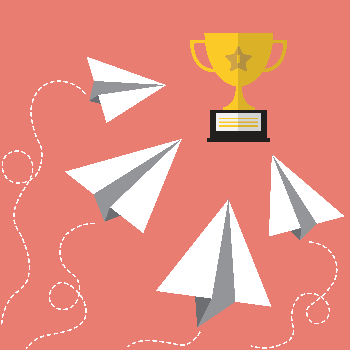 The world of customer service has massively changed and evolved from what it was two decades ago. Gone are the days where an 800 number was the only option for communicating with a company's customer-service representatives. Now, the customer has multiple media choices with which to interact with a company: voice, e-mail, chat, social media and more. As the 2017 Global Customer Experience (CX) Benchmarking Report found, the percentage of voice calls handled by agents in contact centers decreased from 65.7 to 57.7% between 2015 and 2016. To keep pace with this digital transformation and provide optimal service across all touch points, the management of agents equally needs to be transforming and evolving.
Rise of self-service
Before considering the management/service agents themselves require now, it is important to first look at the expectations that are set upon them by the customer. As companies offer, and customers embrace, web and mobile self-service options, the reasons for a customer to purposefully interact with an agent have changed.
In last week's blog, Teleopti's Head of Global Customer Operations and Services, Annica Ronquist, discussed the rise and opportunities of self-service for customers. There was the example of how, when it comes to banking in 2017, customers predominantly use self-service options for transferring money and checking their accounts. Annica focused more on the positive possibilities for banking with self-service options, but she also touched upon how this has changed the nature of direct communication between banking customers and their customer-service representatives. Nowadays, these direct interactions only happen when there is a problem, meaning, particularly when it comes to money, there is a distressed customer on the other end of the phone/computer in need of expert advice, pronto.
Who is the Super Agent?
This shift in motive for such agent-customer contact, from everyday tasks to problem solving, has created the illusive Super Agent; an agent that has 3 types of expectation on them. In a single contact, the customer expects an agent to know all the steps they have already taken, why they are frustrated, and how to get them an answer in a reasonable amount of time. No pressure.
To help the Super Agent to meet such expectations and challenges, in a constantly changing customer service landscape, contact centers need to be investing in state-of-the-art Workforce Management software.
New tools for new challenges
Competence development can no longer be limited to a supervisor going into a room, listening to live calls and taking notes to later discuss with an agent. Nor is it reasonable to expect a manager with a spreadsheet to adequately juggle multi-skilled agents who are dealing with omnichannel interactions. Five-year old WFM solutions that are still predominantly based on voice and Erlang C models don't include the necessary updates to accurately forecast, schedule and monitor today's omnichannel Super Agent.
So, what do these new tools need to include?
Multi-channel readiness – Being ready to deal with multi-touch customer interactions means there are three factors that must be offered in a modern WFM solution.
1. The option to calibrate different service levels according to channel type.
2. An ability to dynamically load multi-skilled agents into the staffing modules so that agents can work on multiple activities and be used for overflow between channels.
3. Overflow automation to know when to switch agents from email to chat, or when it is more important for them to stay on email, based on SLAs (service level agreements).
Expandability to business needs – A WFM suite shouldn't just offer one-set option that is inflexible for growth and means there is a large degree of wastage in what has been bought versus what is actually used. Instead, the option of add-on modules means a WFM suite can be custom created to business needs; optimizing management capabilities and reducing unnecessary expenditure.
Efficient monitoring – Quality Monitoring systems can now be responsive to certain 'trouble' criteria - e.g. multiple transfers and unusual length - rather than based on random selection and hours spent on manual analysis by supervisors. Plus, with the rise in online transactions and CRM, screen monitoring is fast becoming the new form of quality control. This helps supervisors to monitor and nurture agent performance in an efficient, multi-channel manner.
An agent-focused approach – Agent preferences provide employees with an active voice in the scheduling progress. Similarly, offering tools such as gamification in the workplace gives agents the ability to engage in a fun, game-like environment that has been shown to not only help lower attrition and boost motivation, but provide real-time insights into their performance without needing a managerial overview. The ability to invest in more and more agent-focused modules ties in with this idea of expanding a WFM solution to fit the needs of the center.

As companies face the ongoing digital transformation of their customer service, a roadmap of how each channel fits into the overall customer journey is needed. There should also be the foresight of what all this means for the agent experience, as their journey is likely always to impact the customer journey.
The key is to help the Super Agent to fly, not flee.
Download Teleopti's Avaya-partnered white paper with Sheila McGee-Smith 'Optimizing the Agent Journey to Perfect the Customer Journey' to explore this subject in greater detail.
Source: https://blog.teleopti.com/2017/04/11/mapping-the-customer-and-agent-journey-in-parallel/
Publish Date: April 11, 2017 5:00 AM
---
Connor Bourke, CEO of Optima WFM, a leading provider of managed WFM services, returns with his second guest blog for Teleopti this week. Connor explores the 22 signs that your company is in need of a WFM solution.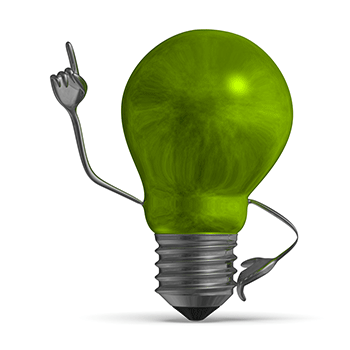 A successful contact center can't run on uncertainty or guess work. 'That's just the way it is' doesn't have to be a reason to stay the same and miss the opportunity for improvement. If you have ever said, heard or thought any of the below, maybe it's time to start your WFM search:
"Hiring decision are based upon gut feel and knee jerk reactions, or simply replacing attrition - not on future forecasts of demand and our ability to meet that demand."
"Our standard response to missing service levels is to simply hire more staff."
"I applied for leave, I thought it was approved" or "I am not supposed to be scheduled on Friday" are common explanations for absenteeism.
"I thought I was supposed to start at 9" is a common explanation for coming to work late.
The answer to "How many staff do we require", "How many did we schedule" or "How many do we actually have on the phone" is "not sure."
"We can't explain why the service level was missed on Monday."
"Our shrinkage, AHT and occupancy targets are based more on guesswork than analysis."
"Service levels vary greatly within the day and from day to day."
"Our schedules are determined more by when employees want to work than when they are needed."
"Some employees love their schedules, others hate them."
"All our staff are full time because we have never really considered part time staff."
"Whenever our employees or management ask us to do something different we cannot tell what the impact will be on service levels."
"Coaching sessions are always being cancelled due to high volume."
"Whenever we have training or team meetings the call queue blows out."
"We are always in 'all hands on deck' mode."
"Employees are always complaining that their schedules are being changed."
"Supervisors cannot coach agents because their schedules are not aligned."
"We have 3 people on the night shift because that is how many we have always had."
"We looked at getting serious about WFM - but we feel it is too expensive."
"We spend all this time on creating a plan but we have no idea if anyone follows it."
"Payroll is always wrong because we don't know who was in the center at what time."
"We paid a lot of money for this software but nothing improved."
If one or more of the above seem familiar, WFM can provide the solution, one that will cost you less, not more, and will improve the performance of your contact center, as well as improve employee morale.
Source: https://blog.teleopti.com/2017/03/17/guest-blog-22-signs-you-need-a-new-wfm-solution/
Publish Date: March 17, 2017 5:00 AM