Teleperformance - ContactCenterWorld.com Blog Page 2
Page: 1 | 2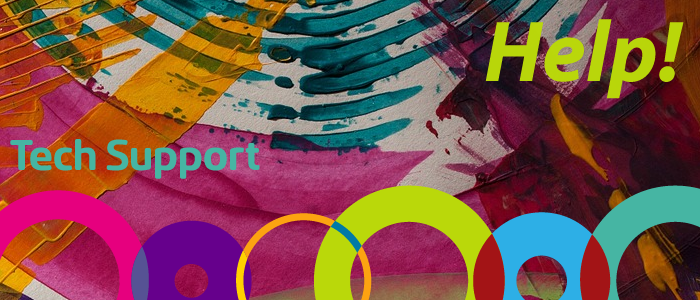 A very important part of customer service is the Technical Support department. Especially in industries such as IT, phone companies, cable TV or anything related to technology, customers usually feel the need to interact with an expert about some specific issues. Whether it is for something broken that needs to be fixed, or for learning how to use a specific device, the Technical Support department is the door customers will knock on for help.
Like all the other areas in customer service, tech support is a very visible face of the company. People can get an idea of how the company works internally by interacting with the tech support agents. Of course, customers can be very perceptive about the knowledge tech support agents have, even if they aren't experts themselves on the subject. That's why it is very important to keep them updated and to make sure they are fast learners. We all know that, and we all make huge efforts to ensure our tech support agents are properly trained.
But what if that's not all? Because, clearly, it's not. Knowledge and expertise are not the only things customers are expecting from the Technical Support department. Here at Teleperformance, we have detected three key qualities that tech support agents must have to ensure that customers have an outstanding experience with our brand every time they contact us with a technical problem. And, of course, we work hard to train our people on these qualities. Do you want to know more about this? Keep reading… here they are!
1. Patience
This might seem pretty simple, but people do not have any idea how easy it is to lose patience while dealing with customers. Especially needy customers with a problem, a malfunctioning device or lots of questions about something techie. When you lose patience, you generally forget your manners. At first you stop saying "please" and "thank you." But later on, you might start treating customers informally, you might raise your voice a little bit, you might interrupt the customer while he's talking, and you might even stop listening to him. Big mistakes, right? That's why it's always better to seek patience as a key quality when you are recruiting people for your Technical Support department.
2. Teaching abilities
Sometimes tech support agents must act like professors, teaching the clients about how to use a device, how to configure it, how to fix it, and so on. That means that they must develop teaching techniques like talking with words everyone can understand and being patient (again! see how important it is?), being didactic and not saving any explanations. Of course, this doesn't mean that we will assume that everyone calling us will be 100% computer-illiterate, because we can't make them feel like fools. Basically, tech support agents must act like really good, cool, amazing teachers that help customers feel better about themselves while interacting with technology.
3. Empathy
It's almost magical what happens when we learn to put ourselves in someone else's shoes. We become better listeners, we connect with the other person on an emotional level, we develop new and more efficient ways to help him and we remain satisfied for doing such a good job. On the other hand, the other person will be very grateful and will recommend us if the chance appears. Because being empathetic is the key to creating valuable, lasting relationships with people. When dealing with clients every day, sometimes angry or worried clients, building this kind of relationship with them is crucial to keep them loyal to our brand.
Remember to tweet us @TELEPERFORMANCE or leave us a comment below and tell us what you think.
Source: https://blog.teleperformance.com/customer-experience/tech-support/
Publish Date: May 24, 2016 5:00 AM
---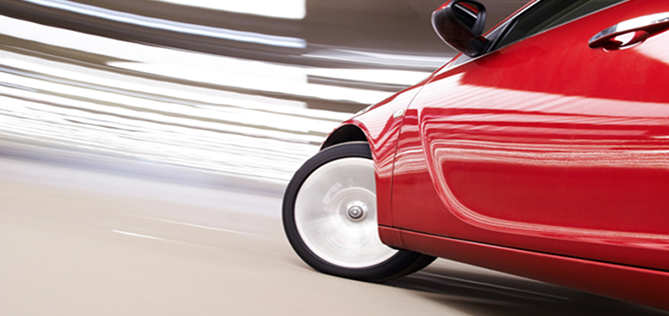 Auto Insurance Best Practices – The auto insurance industry is booming, as its revenue his 220 billion in 2015. However, is its customer service strategies keeping up? A recent survey revealed that 50% of consumers shopped for auto insurance, and that 71% of them looked for quotes online. However, the industry isn't providing online customer service – what is wrong with this picture?
Chat is currently the third most-preferred channel for customers, but it ranks seventh among the channels offered by auto insurance companies, as only 38% of the surveyed companies indicated that they offer it. Chat is a cost-effective and streamlined way for companies to exceed their clients' expectations in customer service interactions. Teleperformance found that first call resolution went up by 11% when customers inquired about technical support on chat, and increased by 17% for inquiries about warranties.
The impressive statistics on FCR on click-to-chat only reinforce the industry's need to upgrade its technology to truly meet customer preferences. There is no single effective approach to Omnichannel customer service. Auto insurance companies need a carefully mapped, strategic approach to providing a consistent experience for users on all devices and channels that maximizes efficiency and makes the best use of personnel and resources in order to come out on top in this competitive industry.
For more information on Best Practices in Chat for auto insurance customer service, check out our white paper
Source: https://blog.teleperformance.com/customer-experience/auto-insurance-best-practices/
Publish Date: May 3, 2016 5:00 AM
---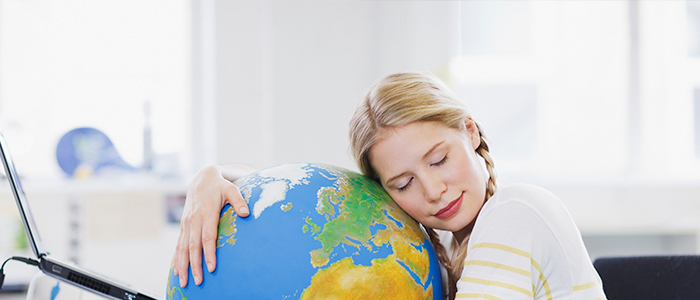 International travel is on the rise, and so is people's adoption of digital channels in all aspects of their lives. Online travel agencies need to adapt to a globalized, connected world that gives people access to more information in real time than ever before, and one of the most effective ways to do that is to align marketing strategies with an Omnichannel approach to customer service. Teleperformance's Omnichannel customer experience solutions assist OTAs in putting together digital business solutions for customizable and industry-specific interaction channels.
Travelers have different needs, but something that they have in common is that they all want quick and professional services available on a wide array of their favorite channels. Teleperformance's research in eight countries shows that chat is the Third-most preferred customer service channel. Chat is an effective channel for travel-related customer service because it provides a unique opportunity to gather customer data through required fields, provides customers with immediate assistance on a variety of devices. What's more, chat gives customer service representatives a way to assist multiple customers at once with ease.
While users are still turning to chat for general information, if OTAs guide their customers through customer service options effectively, they can use chat to help them make purchases and reservations, ask questions about their accounts, get feedback or seek technical support.
Chat is becoming more and more popular, especially with younger audiences, especially when they are handled proactively. This means that instead of setting up a chat option in which the customer must initiate the conversation, a chat window pops up with a greeting from a real person automatically, asking the customer if he or she needs help. OTAs can also develop apps to support their social media presence.
Teleperformance is the global leader in Omnichannel customer experience. We leverage our decades of experience in digital business solutions to create industry-specific, customizable solutions for every channel. Our chat solutions help companies assist customers quickly and proactively on their favorite devices.
For more information on Best Practices in chat for OTA customer service, check out our white paper
Source: https://blog.teleperformance.com/customer-experience/otas-and-the-digital-age/
Publish Date: April 26, 2016 5:00 AM
---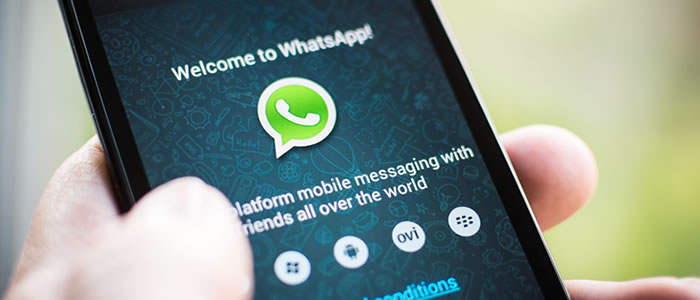 Customer service has shifted greatly in the past decades, as new technology has created new touch points on which customers can interact with brands. Consumers live more connected lives than ever, and expect immediate, hassle-free solutions from customer service representatives on the channels they already use in their daily lives. For that reason, WhatsApp is emerging as a popular alternative for fast, personalized attention.
In January 2016, WhatsApp announced that it was dropping all subscription fees and exploring the benefits that the messaging app could offer companies. The app has now grown to become the most popular and global messaging platform with more than a billion users (and a million signing up every day), which means that there is almost no channel able to provide more convenient and immediate service. Brands need to be where the customers are, and WhatsApp gives companies a way to incorporate themselves into an app that already has a significant role in peoples' lives in a non-invasive way.
There are many benefits to exploring WhatsApp as a customer service tool. The apps high levels of popularity assure high engagement – customers are guaranteed to see the messages sent to them. Wireless association CTIA claims that the average person reads a text message within 90 seconds of receiving it, while emails are read 90 minutes after reception, on average.[1] And since there are no third-party ads, the channel already offers customers a pleasant experience, and interactions with brands will fit seamlessly into the daily conversations they have with friends or co-workers on the app.
Video and photo sharing allow customers to send pictures or videos to clarify what they're having trouble with or show a broken or dysfunctional product. Brands can send tutorial videos, instructions through images or high-quality pictures of products they are selling. Agents can also create "welcome message" templates to send to every use that makes an inquiry. These messages can contain valuable information that respond to frequently asked questions, direct the user to a part of the company website, or remind the user of the hours that the agent is available for consultations.
When a million people are signing up for something every day, you know it's working. WhatsApp can work for customer service the same way it helps people communicate for free: it enables instant communication from users' favorite devices, empowers global connectivity and allows a range of solutions for any kind of interaction. In adopting WhatsApp for customer service, companies jump on a bandwagon that aligns their interests with those of the consumer: on both ends, communication is made more fluid, convenient and global.
For more information on Best Practices in WhatsApp for customer service, check out our white paper
Source: https://blog.teleperformance.com/multichannel-solutions/whatsapp/
Publish Date: April 20, 2016 5:00 AM
---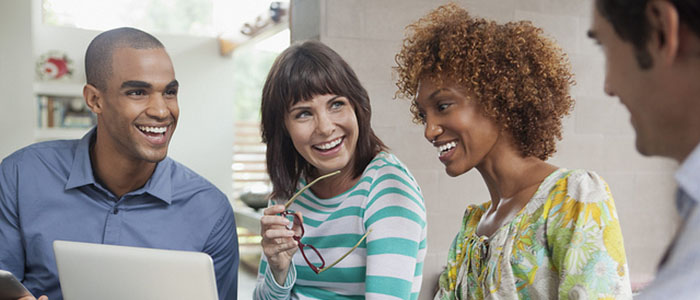 Customer or client retention is one of those important subjects that business schools cover in great depth. Every book or journal I read has a different multiplier showing the difference in the cost of keeping an existing customer compared to attracting new ones – in this article they say it is seven times more expensive to attract new customers.
The reality is that it changes from one business to the next and one industry to another, but the underlying principle is correct. it costs a lot more for your business to prospect for new customers than o look after the ones you already have.
I have scoured the web looking for examples that summarize the process of customer retention without getting into too much academic detail and believes that there are five key areas where you need to focus:
Get to know your customers
Have a feedback system and take action based on that feedback
Ensure that expectations are set correctly and early on
Be nice unexpectedly
Anticipate what the customer needs rather than just offering a helpline for them to complain
This is a great list. It summarizes in five easy to remember steps the most important ways you can hang on to those customers, but this list was only published 6 months ago and I believe that one of the most important customer retention strategies has been missed.
I would add to the list that building a relationship through availability and genuine engagement is now essential for any brand. Firstly because younger consumers just expect this. Ask them about the brands they like and it will almost always reflect the brands that they feel they can engage with directly on social networks. Younger consumers want to engage, ask questions, criticize and feel that they know your brands personally.
But beyond the millennial consumers, these expectations are spreading more generally. Customers of all ages will get in touch with a brand before a purchase to ask a question directly – rather than going into a store and asking the sales representative. Customers no longer consider that the only reason they need to get in touch with a brand is post-purchase, perhaps for complaints only.
This process of real relationship building is going to be really important. Some brands have known it for years; look at companies like Harley Davidson or Nike. Customers love these brands so much they will tattoo the company logo on their body – they are fans not customers.
But people now expect these closer relationships from Internet Service Providers, supermarkets, airlines, and hotels. If you are not talking to people about your business and considering that engagement is a key part of customer retention – and acquisition – then your customers are going to talk to someone else.
What's your view on retention? Is a lot of the traditional advice out of date now that social communication is changing so fast? Leave a comment here or tweet @teleperformance.
Source: https://blog.teleperformance.com/customer-experience/retaining-customers-and-creating-fans/
Publish Date: April 14, 2016 5:00 AM
---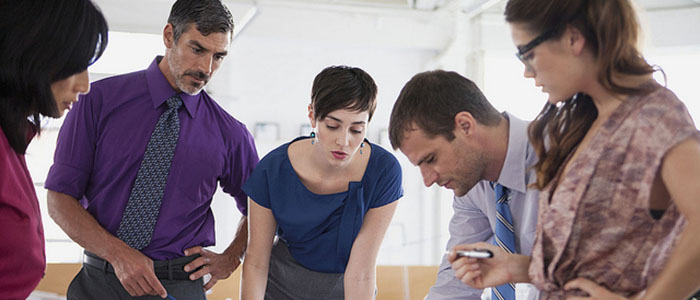 When your customer gets in touch with you, what should their experience be like? Well, regardless of any metrics or measures, the bottom line is that they should go away with a smile on their face. Sometimes we are so tied up in the strategic management of customer service that this simple truth is forgotten.
This rings true for the customer service operation of course, a place where customers are usually in need of help. If you can quickly help a customer to fix their problem then it will leave that customer smiling, but it is also worth thinking about just how much customer interactions have changed in the past couple of years.
The team that you have regularly engaging with customers is no longer communicating just on the phone or by email. Much of their work is now conducted on social networks and is open and visible to all. Many of the questions are from prospective customers rather than actual customers.
The nature of how customers engage with brands has changed dramatically. Customers now use many channels, they often hop from one channel to another in the course of engaging with the brand, and they expect brands to react to requests for information as well as to post-sale comments and complaints.
What this means for the customer is that it is easier to get information about products and services. The customer can call, tweet, text, email, or leave a message on Facebook with any question and expect a company to get back to them with the information promptly – using the same channel that the customer chose to use for the question.
Prospective customers also have access to a lot of additional information that has only really been available in the years since smart phones became common, namely price comparison and reviews from other customers available at any time. Customers have really never had it so good both in terms of the amount of information available and also the reactivity of brands to their queries.
From the company perspective there is a complex change taking place that many will struggle to adapt to. Instead of being able to maintain company departments in silos with distinct teams and management measures, any department that has some interaction with customers now needs to be working with the others.
In fact, it is likely that some companies will start merging all their customer facing tasks into a 'customer engagement' or 'customer relationship' department rather than maintaining the traditional silos. Practically this means that your marketing team, your sales and advertising team, your product research team, and your customer service team all need to be working as one.
It is likely that in many companies, the customer service team will be seen as the heart of the organization as it becomes more customer-centric in structure. The people who interact with customers on a daily basis are really the heart of the company if your aim is to engage with customers and build long-lasting relationships.
This relationship building inspires loyalty far more than any points-based program so as customer centricity becomes a more important strategy in many industries, we will see marketing strategies shift in a way that places the customer at the heart of corporate strategy.
If you have not seen the marketing strategy in your own business change this way yet you might want to ask yourself this question, has the way you interact personally with brands changed in the past five years? What are you own expectations for the way that retailers, airlines, or hotels interact with you? And if you own expectations have shifted then don't you need to start examining the departmental silos in your own organization?
What do you think about how customer interactions are changing? Please leave a comment here or tweet @teleperformance.
Source: https://blog.teleperformance.com/customer-experience/customer-centricity/
Publish Date: March 26, 2016 5:00 AM
---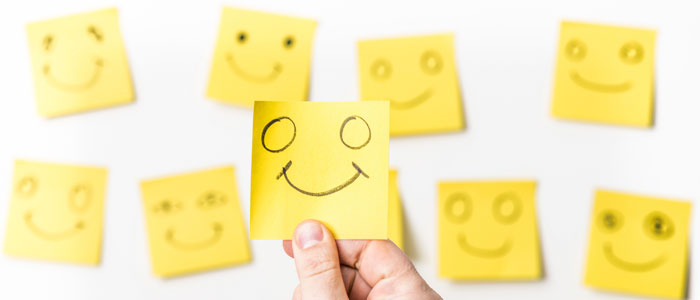 If you are running a business, you might be very aware of the challenge that building a strong and satisfying relationship with your customers implies. It is very difficult to develop a customer relationship management strategy because you are dealing with many different kinds of customers: people of different ages, genres, ideals, wants and needs. They also communicate in different ways: some of them prefer talking on the phone or going to the store, others are living in the digital world and they use social media and click-to-chat solutions much more. Even if we work on our customer relationship management strategy daily, the key to knowing if it is really working is measuring customer's satisfaction.
Here at Teleperformance, we have learned that customers are always changing, always evolving. The younger generations are very different from the oldest ones; they want and need different things from the companies they are relating to every day. We understand that the best way to adapt our solutions when it comes to customer service is by measuring customer satisfaction of each interaction that users have with brands. Our almost 40 years of experience in providing outsourced customer services to the biggest and most recognized companies in the world prove that we are on the right path. Measuring customer satisfaction is crucial to building a strong customer relationship management strategy.
But how can we do it? How can we measure the customer's experience? What can we do to properly understand what the user's feelings and thoughts about our brand are when they are interacting with it?
First of all, we should not be afraid to ask. Today it is pretty easy to get our customer's opinions regarding their experiences while interacting with our customer services using online polls or questionnaires. The key to making these effective and efficient, and to getting as many answers as possible is offering some kind of reward to those who answer it: a discount coupon, a free gift, a voucher with a relevant benefit for their next purchase, and so on. That kind of motivation will make customers want to answer the online poll and do it conscientiously. Also, it is important to keep the surveys short and simple. If the user gets bored while completing it, chances are that he or she will get tired and abandon the poll, or will start giving all wrong answers.
Also, it is very important to have a well-trained team of supervisors above the customer service agents. This team must be formed by experts on customer satisfaction with vast experience with customer service solutions. They have to monitor a relevant number of interactions between customers and the company to understand what can be done better to achieve customer satisfaction, and what should be changed. Also, they should elaborate clear reports based on each communication channel's performance.
Last but not least, to build a proper customer relationship management strategy, it is crucial to hear not only favorable opinions, but also bad reviews. Where can we find those? On social networks. Social networks are a set of online channels where people feel freer and more uncensored than ever. And they tend to post all kinds of bad reviews and critiques about companies there. If we are trying to measure customer satisfaction, it is our job to go to social networks looking for bad reviews about our brand. After carefully reading those critiques, we will be much more aware of what can we do to improve our customer services.
Remember to tweet us @TELEPERFORMANCE or leave us a comment below and tell us what you think.
Source: https://blog.teleperformance.com/customer-experience/customer-experience-management-the-importance-of-measuring-it/
Publish Date: March 24, 2016 5:00 AM
---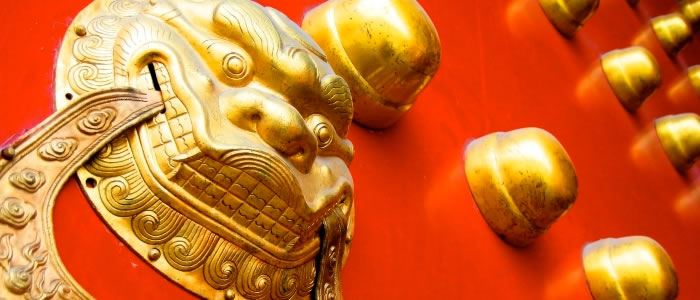 If you are ambitious, hands-on, bilingual in English and Mandarin there are many job opportunities for you in our operations in China. We need team leaders, operations managers, client service managers and trainers for our sites in Xi'an, Nanning and Kunming. Teleperformance is the global leader in Omnichannel customer experience, present in 65 countries with more than 190,000 people. We provide superior customer services for the best global brands throughout the world.
Looking for a change? This is your opportunity.
Join one of the strongest professional contact center teams in China.
Click here….http://goo.gl/e1Ja34
Source: https://blog.teleperformance.com/customer-experience/job-opportunity/
Publish Date: March 10, 2016 5:00 AM
---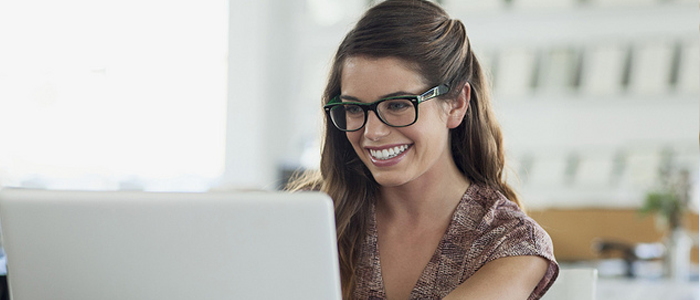 When choosing between various similar products or services, what are the most important criteria you personally use to make a choice? Price is the most obvious, but as you will know from the choices you make in your own life, cheap products often offer a false economy for the customer.
When I was a kid, my friend asked his father for some cash to buy a new pair of shoes for school. His father gave him the amount he asked for, only commenting that it sounded quite expensive. My friend had used his excellent skills of persuasion to convince his father that he was paying for quality that would last. He then bought a pair of shoes for half the price and kept the change – only to find that they were falling apart a week later and he could not ask his father again.
This schooldays reminiscing illustrates an important point that most customers are aware of instinctively, that price or cost is not the same as value.
Gerry Moran of Marketing Think believes that 80% of US consumers would happily pay more for a product or service if the customer service was better than that offered by a lower cost alternative. For many companies this kind of information on customers is astonishing – customers would happily pay more?
What is even more interesting is that almost half (44%) of customers in the Marketing Think data believe that customer loyalty is a relic of the past. So half of all customers don't believe that a brand deserves their loyalty today and 4 out of 5 are happy to pay more if they get great service.
Connect those two statistics together and it is no surprise that many organisations are spending far more on improving the experience customers have when interacting with their brand. Customers getting a great experience are happy to spend more. Customers getting a poor experience are prepared to move on to an alternative supplier in an instance. This is a perfect storm for those companies not thinking strategically about how they offer a great experience.
The customer experience begins long before the customer buys anything. Customers today want to interact with brands, to communicate, to ask questions and do research. Communication with customers today is more like building a relationship. Loyalty is given to brands who enjoy engaging with their customers and these are the companies that enjoy repeat business from customers who could be classified more like fans rather than just customers.
Have you started thinking strategically about the relationship your brand has with your customers? Leave a comment here or tweet @teleperformance to talk more about how you can turn your customers into fans.
Source: https://blog.teleperformance.com/customer-experience/customer-experience-beats-price-for-80-of-customers/
Publish Date: March 1, 2016 5:00 AM
---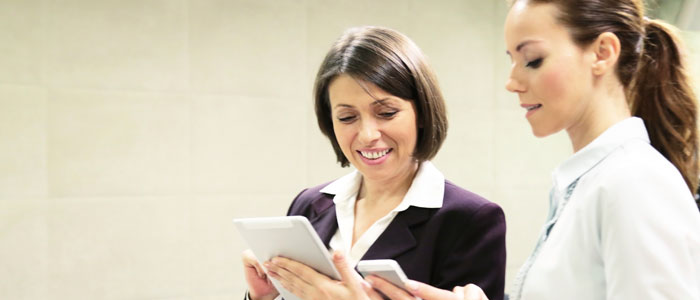 If you are running a business, you must know for sure how hard it is to deal with customers every day. Especially if you are keeping track of your customer service department. Even if it is by phone, e-mail, or in the stores, you know customers are pretty hard to deal with. First of all, it is a must to keep them satisfied and happy with your products and services, and that is not quite easy at all. Second, when a client has a particular question or doubt, it is important to offer him an accurate answer as fast as possible. He won't like it if he perceives that the customer service agent he asked has doubts or takes a lot of time to answer. Last but not least, when a problem comes along, it is our responsibility to fix it immediately and to give our customer proper compensation for the inconvenience.
But, before a company can concentrate on each one of those processes, it is important to have well-trained customer service agents that can handle every adverse situation they might have with your clients. The first thing they should learn is what they should never say to an angry customer if they don't want to make the situation worst. Here are a few tips to keep in mind:
1. "That is not possible"
When a customer comes along with a critical doubt or a problem, telling him that we are not able to give him a solution is not the right thing to do. We are dealing with an angry person here, and we should not take the chance of making him even more furious. We need to start calming the waters by offering any kind of a settlement that could be beneficial for him. Instead, use lateral thinking. If there's really nothing we can do to solve a customer's problem, we should offer some kind of gift, benefit, discount or something similar to retain him as a client and to increase his loyalty.
2. "That is your fault"
Yes, we admit it. Sometimes customers don't do things right and they create a problem for themselves. Not everyone knows how to use our products and services correctly and it is very easy to meet people who, after making a mistake, call us to blame it on us. But, still, the worst thing we can say to this angry kind of client is, "You did it. It is your fault". At least, that is the worst thing to say to them if we want to retain them as our clients, and if we want them to keep buying from us. Instead, gently ask your customer step by step how he used your product or service to see where the mistake was. When you get there, explain to him what would have been the right procedure. Later on, tell him to please follow your instructions so he won't have that problem again in the future. The key here is to be very friendly, empathetic, didactical and kind. It is quite hard to stay mad if the other person is totally gently and warm.
3. "This is not my problem"
It doesn't matter if the customer called the wrong number, for example, if he wanted to talk with billing and instead he called sales. The customer service agents must be trained to transfer each call to the corresponding department. The key is learning that each customer is important, not only the ones that are calling your department. Instead, say, "You are calling the sales department, and you need to speak to the billing department. Please hold a moment, I'll transfer you to the correct area." It's as simple as that!
4. "I don't care"
Customer service agents must always care about what's happening to their clients. That's the key feature of their jobs: being empathetic, learning to put themselves in the customer's shoes, doing everything they can to help them, truly trying to offer them a proper service and a satisfying solution. Everything each client has to say is important to the company, and the phrase I don't care must be deleted from each customer service agent's vocabulary. Instead, listen. Pay attention. Be committed. Work with the client to find a proper solution. That is what makes a great customer service agent, and therefore, a great customer service.
Remember to tweet us @TELEPERFORMANCE or leave us a comment below and tell us what you think.
Source: https://blog.teleperformance.com/customer-experience/customer-service-what-not-to-say-to-an-angry-customer/
Publish Date: January 29, 2016 5:00 AM
---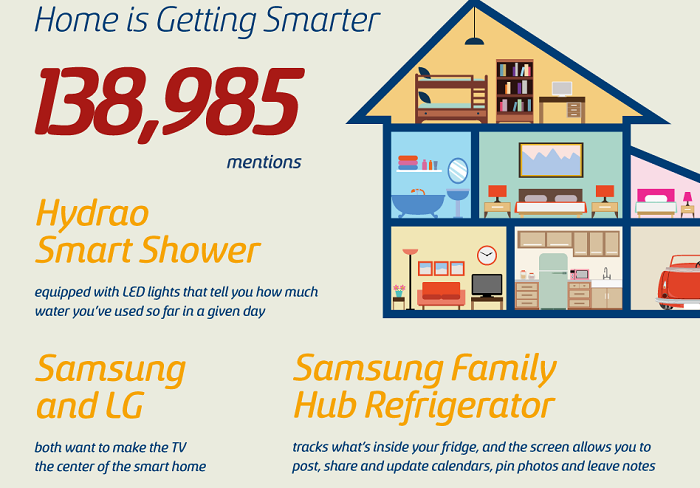 We are back with insight on major trends in tech that were presented by more than 3,600 exhibitors at the conference held between January 6th and 9th. The venue stretched over 230,000 square meters of exhibition space at one of the world's biggest convention spaces.
More Connected Objects
If we had to pick one major trend from this fair, it would be that the future of technology will require communication. Welcome to the wonderful world of the Internet of Things ("IoT" for connoisseurs).
Exhibitors such as Huawei added a touch of "fashion" to its products for women, presenting products designed in partnership with a flagship company in jewelry, Swarovski.
Many exhibitors developed products to better track physical activity. The right activity tracker will be based on your individual needs: whether you're planning on counting steps, sleep or monitoring your heart rate 24/7, there's something for everyone in wearables, and brands like Fitbit, Microsoft or Zhor Tech are all getting in on the action.
In terms of automobiles, manufacturers presented concept cars that are more connected and autonomous than ever. FaradayFuture, a new actor in this market, introduced its FFZERO1 model, a futuristic version of the Batmobile.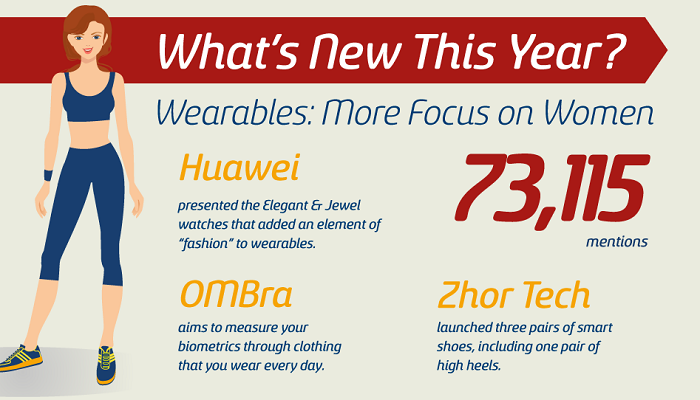 Virtual Reality Makes its Mark
We saw it everywhere. This year, VR was clearly one of the stars of the Consumer Electronics Show.
Samsung allowed everyone to test the Galaxy Gear VR.
Oculus allowed visitors to try the final version of its glasses Oculus Rift after four years of development.The glasses have been available for pre order since January 6th.
CES 2016 has come and gone! After four days of great new developments in tech, the end of the show brought us back to our routine. When will all this new technology be available in our everyday life?
For more insights on CES2016, check out our infographic:

Source: https://blog.teleperformance.com/customer-experience/ces-2016-infographic/
Publish Date: January 27, 2016 5:00 AM
---
When one of your customers enters your business, he knows what he wants to purchase, which is why he has directly, specifically arrived there. But a question arises, perhaps he cannot find a product or just needs more information, and approaches a member of your sales staff. This is the beginning of what could become a happy tale, or a real horror story.
The sales team is by far one of the most important elements of your business because it is through them that you establish contact with your clients. It is also, consequently, the link to a beneficial relationship, or the abrupt end to any deal that a consumer may have with you. We are all familiar with the customer service; both good and bad.
As you take the time to train your sales staff, they will become the friendly face of your company to your customers; the task is to always leave a pleasant perception. Actually, it takes a little time and constant training to develop strategies that will help you to have a high level of customer service. However, by carrying it out, your business has much to gain. Here are some tips for you:
Sensitivity
Once you have completed your sales team's selection process, be sure to share the story of how you founded your company with them. Share your passion for what you do, the goals of the company, and specific dreams. Inspire them through what inspired you.
Authenticity
They must know they are working for a genuine company. Let them know all those characteristics that make your company unique. Being aware that the place where they work is very different from other companies will help them know the resources they have when talking to your customers about the benefits they get by purchasing products or services that your company offers.
Values
In addition to sharing the story of your company, also instill in them the values, perspective, personality and policies of your company, so that the team becomes totally integrated with the understanding of your business.
Speech
Your sales team not only facilitates the products you offer, but also should always be well-prepared to provide solutions, alternatives, benefits and, above all, a high level of attention.
Originality
A greeting and/ or a characteristic farewell make all the difference. It's the kind of attention that gives the audience a sense of being taken into account, being treated with respect, and of course, being more than welcome in your company.
Fidelity
The link with your client does not end once the transaction took place. Always make sure that your sales staff asks your clients for a way of get in touch with them, so you can keep them abreast of new products or promotions. Give them the certainty that you handle a company that knows for sure that stands, thanks to its customers and their preference and support.
We are very sure that using these techniques will be absolutely useful for you, do not forget to send us your suggestions. Thank you for reading us, and we would love to see you soon!
Remember to tweet us @TELEPERFORMANCE or leave us a comment below and tell us what you think.
Source: https://blog.teleperformance.com/customer-experience/welcome-what-can-i-do-for-you/
Publish Date: January 23, 2016 5:00 AM
Page: 1 | 2