Why we love ContactSuite - Telnet - ContactCenterWorld.com Blog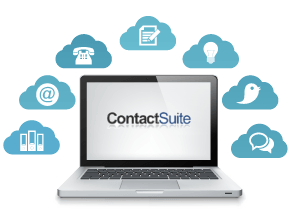 Let's be honest for a moment – hardly anyone likes reporting and it is almost impossible to remember everything that is needed to work in a call centre. Having spread sheets packed with information and writing notes all day can be messy, inefficient and very time consuming. If only there were a system created by a call centre to make daily life easier. There is. So, let's talk about it – ContactSuite. This is a system that has been created by Telnet, for a call centre. Telnet saw the issues that a high performing call centre faced and created this system to solve everything – even from the beginning!
From a management point of view, a frustrating part of hiring new staff can be the training process and the time and cost it involves. ContactSuite reduces that significantly by being an easy to use software that guides agents through processes – all with knowledgebase built in.
Yet, agents at Telnet make and take calls for several different clients and campaigns! Instead of having to memorise information or find it somewhere, ContactSuite knows what campaign the call is about and adjusts the computer screen accordingly. Again, with Knowledgebase automatically generated. The key word here is 'automatically' meaning the customer service agent can focus on their customer service.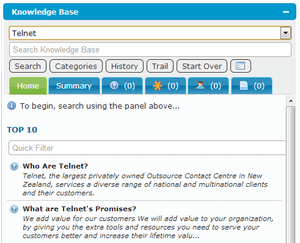 Life is well and truly made easy for our customer service agents when they use ContactSuite. It reduces any panic and stress because they have the assurance that everything they need is in the system and is easy to find.
As soon as they are logged in, they are ready to take phone calls. One will come through and there's no caller id or voice that yells who it is coming through. No. Instead, the computer screen will switch to the home screen of that campaign – complete with drop down buttons and a greeting script for the agent to read to the customer.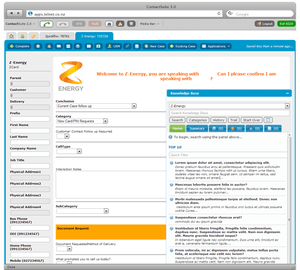 But what about each different process? Well, that is also taken care of by ContactSuite! The drop down buttons that appear allow the agent to ask questions and effortlessly guides them through each specific process for every call type. This all happens in such a smooth and fast way that the customer on the other end of the phone may not know that the knowledgeable agent they have just spoken to may not be dedicated to that particular client or call type.
Let's have a look at things in a real-life type of scenario – Someone calls a Service Station helpline and has an agent solve their problem for them. The agent is given a script on the screen that has popped up, and is guided through the whole process depending on each unique scenario – by ContactSuite. The call is wrapped up (again, prompts are given) and the agent hangs up. Another call comes through and it's for someone complaining about their magazine subscription. The agent will be highly knowledgeable and seem like they only take calls for the Publishing provider and it happens so efficiently that no one would know any better.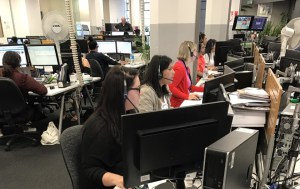 Speaking to agents in Telnet, sitting in with calls and asking questions, it is safe to say that everyone is unanimous in the fact that they could not function without ContactSuite. From the minimal training period to the ability to track everything and glide through different calls, all adds to the appeal that CS has.
What was also brought to my attention while sitting with some Telnet agents and asking questions about their journey with the company was that so many agents have moved around to different campaigns. Although they take on new campaigns, the whole process is not new to them – thanks to ContactSuite making agents feel at ease with 'change' and training.
What about when it's time for the dreaded reporting of call centre performance and billing? Don't worry, ContactSuite automatically generates reports and is highly customisable.
Remember when we talked about the agent logging in and being ready to go? ContactSuite also knows when they are on a break, when they are filling their water bottle, or any other time that they can't take a call. So, they will stop receiving them. Then making things even easier for the agents and the company as a whole, ContactSuite has also been taking note of the times they have logged in and out and generates the time sheet for them. The payroll team love how easy that part is!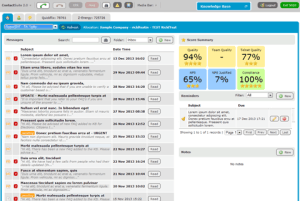 The main thing about ContactSuite is that it is incredibly easy to navigate and learn. It all flows so well and is so user friendly that it's easy to notice it must have been made by people with experience.
The beauty of the software is that it can handle everything you come by in your day to day operations and isn't just exclusive to Telnet. I don't expect you to just go by our word. NZINVEST also use ContactSuite, and this is what they say:
"Telnet helped us bring our Call Centre into the new millennium by providing a relatively cost effective solution at a fraction of the price that it would have cost our company considering that we now have all the benefits of a modern contact centre without the capital outlay.
The solution we have implemented has been predominantly custom made to fit the needs of our business. Both the technical support and development teams at Telnet have also delivered first class customer service with regards to every aspect of our solution including trouble shooting, reporting & data uploads. We are more than happy with the solution provided by Telnet and have no qualms in recommending Telnet to other small companies like ourselves looking for a technically excellent solution at a reasonable price."
Michelle Teiniker, Call Centre Manager, NZINVEST
Source: http://telnet.co.nz/uncategorized/why-we-love-contactsuite/
Publish Date: January 19, 2017 5:00 AM
---
PREMIUM

Avizent Ltd
(VIEW OUR PAGE)

Advanced AI technology and Natural Language Processing delivered to clients in the Cloud that harnesses both voice and digital conversations. The focus is on building an environment where intelligent ...

(view more)

PREMIUM

CTI Software
(VIEW OUR PAGE)

CTI Software is the creator of custom application called Davos, which complements the telephone client solutions with intelligent features such as automated call attendant, call recording and archivin...

(view more)

PREMIUM

ConceptCall
(VIEW OUR PAGE)

Аутсорсинговый контакт-центр ConceptCall| КонцептКолл специализируется на исходящем и входящем телемаркетинге: мы предоставляем услуги по осуществлению холодных звонков и продажи по телефону, проводим...

(view more)
---

View more from
Telnet
Recent Blog Posts:
| | |
| --- | --- |
| Customer service is a feeling not an action | August 29, 2017 5:00 AM |
| Patience – An agent's responsibility | July 21, 2017 5:00 AM |
| How scripting can go wrong | June 15, 2017 5:00 AM |
| How has Customer Service changed? | June 9, 2017 5:00 AM |
| 2017 CX so far | June 6, 2017 5:00 AM |
| Inbound Vs. Outbound | May 25, 2017 5:00 AM |
| What can ruin the Customer Experience? | May 19, 2017 5:00 AM |
| Why you should consider Outsourcing | April 28, 2017 5:00 AM |
| CX Management and why it should matter to you | April 28, 2017 5:00 AM |
| The Yes and No's to working in a Contact Centre | April 18, 2017 5:00 AM |