The Added Value Gained From The Use Of NPS In A Contact Center - Telnet - ContactCenterWorld.com Blog
By David Stott
NPS or Net Promoter Score is a simple equation based on a single question asked to callers along the lines of "How willing would you be to recommend this company to others?" – with a simple score between 0 and 10 – with zero being "not at all willing" and 10 being an unreserved willingness to recommend. Customers can then optionally leave a voice message to add an explanation of the score they gave.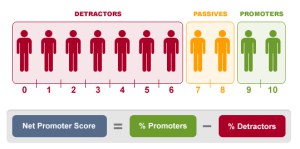 Our clients value the data they get from this, and the verbatim comments instantly highlight any sources of dissatisfaction, whether they are with Contact Centre services or not.
One of our clients is devoting a lot of time to the results they get from NPS. This company does a lot of market research, but the results arrive quarterly – NPS arrives immediately and for every call. They have found that NPS gives them an early "heads up" to any concern shared by a group of their customers.
NPS highlights sources of dissatisfaction within their processes and systems. They are a smart company: they've taken this information, and quickly modified the way they do business with their customers. Where indicated, they've asked us to implement changes too – and, of course, we're happy to demonstrate our commitment to continuous improvement!
Those dis-satisfiers can sometimes surprise – issues that the company thought were resolved can re-appear – and changes to policies or procedures can have unintended consequences – and NPS is a useful measure of how successful new initiatives are in addressing the sources of dissatisfaction.
They have the "verbatim" comments left by their customers reported to them, and, when appropriate, have tasked us with making a follow-up call to the customer to address the issue or get a resolution. Dissatisfaction left to fester can continue to have a negative impact on their business!
Of course the company also hears "verbatim" comments, lots of them, that sing the praises of the Contact Center and the client company – we're happy to share the kudos!
Source: http://telnet.co.nz/nps/the-added-value-gained-from-the-use-of-nps-in-a-contact-center/
Publish Date: March 20, 2014 5:00 AM
---
PREMIUM

CTI Software
(VIEW OUR PAGE)

CTI Software is the creator of custom application called Davos, which complements the telephone client solutions with intelligent features such as automated call attendant, call recording and archivin...

(view more)

PREMIUM

Future Gen International Pte Ltd
(VIEW OUR PAGE)

Outsourcing provider of English Call Centre services, Audio Transcriptions, Big Data ETL (Extract, Transform, Load) , Big Data Visualization, Big Data Predictive Model Generation

PREMIUM

HigherGround, Inc.
(VIEW OUR PAGE)

HigherGround develops data collection, information storage, and interaction analytics solutions that easily transform data into actionable intelligence, enabling operational optimization, enhanced per...

(view more)
---

View more from
Telnet
Recent Blog Posts:
| | |
| --- | --- |
| Customer service is a feeling not an action | August 29, 2017 5:00 AM |
| Patience – An agent's responsibility | July 21, 2017 5:00 AM |
| How scripting can go wrong | June 15, 2017 5:00 AM |
| How has Customer Service changed? | June 9, 2017 5:00 AM |
| 2017 CX so far | June 6, 2017 5:00 AM |
| Inbound Vs. Outbound | May 25, 2017 5:00 AM |
| What can ruin the Customer Experience? | May 19, 2017 5:00 AM |
| Why you should consider Outsourcing | April 28, 2017 5:00 AM |
| CX Management and why it should matter to you | April 28, 2017 5:00 AM |
| The Yes and No's to working in a Contact Centre | April 18, 2017 5:00 AM |