Highlights from Shared Services and Outsourcing Week - Telnet - ContactCenterWorld.com Blog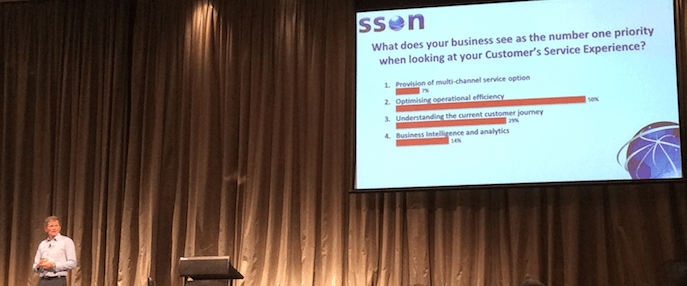 By Eddie Stapleton
We recently returned from Melbourne where we attended Shared Services and Outsourcing Week (SSOW), a 3-day event hosted by the Shared Services and Outsourcing Network that brings together professionals from Global Business Services, Finance, Human Resources, Procurement, Customer Service and IT.
Telnet was there showcase Telnet's "Near Shoring" contact Centre Outsourcing &ContactSuite solutions and to introduce them to high level decision makers.
As Exhibitors at the event, we were granted full access to the conference schedule and attended a number of keynote presentations. This provided us with insights into what Shared Service Operations (SSOs) actually need and over the course of 3 days we learnt a lot about the challenges that SSOs face in their consideration of Outsourcing and Off-Shoring/Near Shoring.
Driving out Costs while Improving Internal Customer Service Delivery
Simon Munter, Group General Manager – Global Shared Services, ANZ
Key Lesson Learnt:
To improve on service delivery, don't focus on the small 'rats and mice' areas of your service chain. Instead, focus on the vision and the volume areas that actually matter and contribute to the customer experience. People tend to focus on what is tangible to them. Problems are tangible. Success is often intangible. If you're constantly bogged down in problems, you need to look harder for successes and build on those in a public way.
Implications for Building a Case for Outsourcing:
Before undertaking a business case project, make sure you know what a great solution looks like from the perspective of your customer (as the recipient of your service). Focus on what you want to achieve with your outsourced contact centre instead of writing a long list of specific tasks or functions. Regardless of the solution you choose, modern outsourcing contact centre systems can deliver on your day-to-day functions – assess each solution instead on whether they'll help you achieve the big picture outcomes that are needed for your business.
Shifting the Focus from Survive to Thrive (CFO Perspective)
Featuring speakers from National Australia Bank, GE, Adecco Australia, Australian Taxation Office, Australian Unity and Deloitte
Key Lesson Learnt:
Link staff roles clearly to value creation in the organisation so that everyone understands how they contribute to the success of the company (not just to the success of their boss!). Mapping roles to the customer value chain helps to identify the skill sets that are required and increases staff engagement.
Implications for Building a Case for Outsourcing:
As part of initial scoping for your project, in addition to knowing what you want to achieve from outsourcing your contact centre, identify the people in your business who will play a key role in project implementation. Bring them into the conversation early and identify the skills that are already in-house. Ask if they feel under-utilised in terms of their knowledge and where possible, invite them to take ownership of specific parts of the project. Map these to clear outcomes of your service delivery.
Improving Customer Service by maximising the Value of Data Analytics
Dr Simon Dunstall, Senior Researcher – Operations Research, CSIRO
Key Lesson Learnt:
Analytics are all about the insight gained from data, not the raw data itself. The key therefore is to present data in meaningful ways. Linking data sets to each other provides a context that can then be related to business objectives. This context then leads to customer oriented decision-making and behavioural insights.
Source: http://telnet.co.nz/call-centres-2/highlights-shared-services-outsourcing-week/
Publish Date: August 7, 2014 5:00 AM
---
PREMIUM

HigherGround, Inc.
(VIEW OUR PAGE)

HigherGround develops data collection, information storage, and interaction analytics solutions that easily transform data into actionable intelligence, enabling operational optimization, enhanced per...

(view more)

PREMIUM

CTI Software
(VIEW OUR PAGE)

CTI Software is the creator of custom application called Davos, which complements the telephone client solutions with intelligent features such as automated call attendant, call recording and archivin...

(view more)

PREMIUM

Future Gen International Pte Ltd
(VIEW OUR PAGE)

Outsourcing provider of English Call Centre services, Audio Transcriptions, Big Data ETL (Extract, Transform, Load) , Big Data Visualization, Big Data Predictive Model Generation
---

View more from
Telnet
Recent Blog Posts:
| | |
| --- | --- |
| Customer service is a feeling not an action | August 29, 2017 5:00 AM |
| Patience – An agent's responsibility | July 21, 2017 5:00 AM |
| How scripting can go wrong | June 15, 2017 5:00 AM |
| How has Customer Service changed? | June 9, 2017 5:00 AM |
| 2017 CX so far | June 6, 2017 5:00 AM |
| Inbound Vs. Outbound | May 25, 2017 5:00 AM |
| What can ruin the Customer Experience? | May 19, 2017 5:00 AM |
| Why you should consider Outsourcing | April 28, 2017 5:00 AM |
| CX Management and why it should matter to you | April 28, 2017 5:00 AM |
| The Yes and No's to working in a Contact Centre | April 18, 2017 5:00 AM |
Industry Champion Award Leaderboard