WXC Charity Race Day - Telnet - ContactCenterWorld.com Blog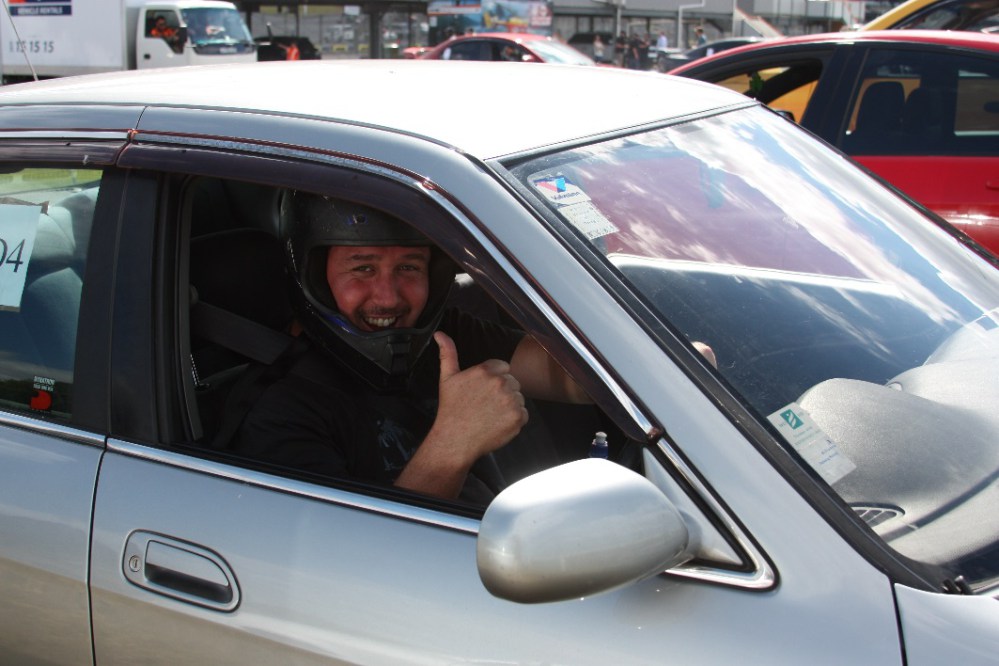 by Shaun Mills.
Telnet Services Ltd were presented by WxC and ARHC (Auckland Rescue Helicopter Trust) with an opportunity to take part in a charity Track Day at Pukekohe Park Raceway. Telnet thought this was a great opportunity to support the community and took up the challenge.
I was nominated to lead the team for the day's events and organize how to choose the remaining team members. We decided to run an in-house competition to see who wanted to join us for this. Firstly entrants needed to answer a fairly simple question "I was born in Motueka in 1936, and Won the 1967 F1 World Championship. Who am I?" Answer "Denny Hulme". Secondly the entrants needed to right a paragraph as to why they deserved to be part of the Telnet Track Team. We had some pretty good responses from our Contact Centre Staff, and with the help of some anonymous judges, we made a decision.
In the couple of days leading up to the event, everyone was super excited about being part of the great day.
13th March 8:30am – The outlook for the day was looking great, we were all making our way out to Pukekohe Raceway. Once at the track we were all a bit shocked at some of the vehicles that were arriving. Cars including a 2012 Ferrari 458 Italia, Aston Marin VantageS, Porsche 911 GT3 and an Audi R8. This was starting to look like quite an intimidating fleet of cars.
10:30am, after our Drivers briefing session we were all put into groups, I managed to be in a group with ummm… The Ferrari and the Aston Martin. "This was going to be a tough day".
The first challenge "Braking Challenge" From a point in the pit area, we need to accelerate as fast as we could, until we see the flag drop and we then had to brake and stop into what seemed a very small space. Well on my first go I sent the cones flying a good 30 meters down the pits. Ouch…. The second run was a lot better.
Challenge #2, Slalom Course, 2 Cars at a time starting from a designated spot making their way through the slalom of cones and then back again.. My Competition… The Ferrari.. I'm starting to think that this is not a fair competition.
Challenge #3 – Trailer Challenge. We all hoped out of our Fancy Cars "cough cough" Jumped into a 4WD with a trailer and had to drive as fast as you could to a point on the track reverse the trailer into a bay, then head back down the track completing a tight U-Turn at speed and then stopping in front of the cones.
Challenge #4, Small Circuit Challenge, In turn, in our own cars we had to drive a small circuit at speed, fastest time wins. On our first runs, Ferrari 34.7Secs, HSV GTS500 36.4Secs, Aston Martin 37.5Secs and Me in my Mitsubishi Ralliart 40.5Secs. On my first run I had warnings appear on the dash and lights going off, I quickly decided Traction and Stability Control were not a good thing for today. My Second run I made it in 38.2Secs.
Unfortunately there was a casualty on this circuit, The Audi R8 managed to blow its clutch, and so that concluded his day's events.
The rest of the day had quite a few events and things to try, including a large selection of Radio Control cars to try, ARHT brought along their Helicopter Pilot Simulator, a V8 Racecar Simulator, for those who dared could have a go at driving a B-Train (Large Truck and Trailer) and their where also some Hot Laps in an NZ V8 SuperTourer driven by Nick Chester.
We all got to watch a race between Paul Clarkin (WxC CTO) in his Walkinshaw Supercharged HSV GTS500 and ARHT 3rd Helicopter (Squirrel), it was a close one.. But shall we say the Helicopter came second.
Part of the afternoon was reserved for an Open Speed Lap session for those that were geared up for it, this was the session that I was most excited about, and I'm sure the same went for Michael.
My poor little Mitsubishi was out through her paces, I managed 205kph most laps down the back straight and 185kph down the front straight. Michael was fairly close behind, and looked to have quite a time on some of those corners. As you can imagine we saw the back end of some of the other cars a few times.
All in all the day's events were great; the team at WXC and ARHT had put on a great day with plenty to do for everyone and also supporting such an essential service.
Thanks Telnet, WXC and ARHT for a great day out.
Shaun Mills – Telnet IT Infrastructure Manager
Source: http://telnet.co.nz/agents/wxc-charity-race-day/
Publish Date: March 14, 2014 5:00 AM
---
PREMIUM

CTI Software
(VIEW OUR PAGE)

CTI Software is the creator of custom application called Davos, which complements the telephone client solutions with intelligent features such as automated call attendant, call recording and archivin...

(view more)

PREMIUM

Future Gen International Pte Ltd
(VIEW OUR PAGE)

Outsourcing provider of English Call Centre services, Audio Transcriptions, Big Data ETL (Extract, Transform, Load) , Big Data Visualization, Big Data Predictive Model Generation

PREMIUM

Avizent Ltd
(VIEW OUR PAGE)

Advanced AI technology and Natural Language Processing delivered to clients in the Cloud that harnesses both voice and digital conversations. The focus is on building an environment where intelligent ...

(view more)
---

View more from
Telnet
Recent Blog Posts:
| | |
| --- | --- |
| Customer service is a feeling not an action | August 29, 2017 5:00 AM |
| Patience – An agent's responsibility | July 21, 2017 5:00 AM |
| How scripting can go wrong | June 15, 2017 5:00 AM |
| How has Customer Service changed? | June 9, 2017 5:00 AM |
| 2017 CX so far | June 6, 2017 5:00 AM |
| Inbound Vs. Outbound | May 25, 2017 5:00 AM |
| What can ruin the Customer Experience? | May 19, 2017 5:00 AM |
| Why you should consider Outsourcing | April 28, 2017 5:00 AM |
| CX Management and why it should matter to you | April 28, 2017 5:00 AM |
| The Yes and No's to working in a Contact Centre | April 18, 2017 5:00 AM |