Are chatbots necessary in UC contact centers? - TEO Technologies - ContactCenterWorld.com Blog
Remember chatbots? These creations were among the most hyped innovations in business technology just a few years ago. Facebook made a prominent commitment to implementing chatbots within its Messenger application, while Microsoft developed Tay, a bot with its own responsive Twitter account. The proposed uses for chatbots at the time were vast, covering everything from weather reports to assistance when shopping online.
In practice, chatbots weren't quite ready for prime time when many of them rolled out to mass audiences in 2016. Tay was shut down within hours after it behaved unpredictably in response to Twitter interactions and Facebook similarly decommissioned a few chatbots it had been using to test negotiation-specific language. These results were similar to the shortcomings of many other forms of artificial intelligence (AI), including IBM's "Jeopardy"-winning Watson AI, which while technically impressive can seem "dumb" when it comes to thinking like humans.
"Chatbots weren't quite ready for prime time when many of them rolled out to mass audiences in 2016."
Chatbots in the contact center: Building on the success of messaging
Chatbots haven't gone away by any means, they've just moved out of the public eye and into narrower use cases, such as unified communications (UC) contact centers. Chatbots represent yet another channel for connecting customers to organizations, one that can potentially extend upon the advantages of live chat.
With chat, agents have already gained key advantages over phone and email, such as proactive nudging (i.e., a message offering to assist a customer on the site) and more granular recordkeeping (since chat logs are more easily searchable than call recordings). Chatbots can potentially extend and complement these capabilities by offering:
Lower operating expenses: Over the long term, contact center operators have steadily reduced the number of interactions requiring human intervention, meaning they can better navigate labor shortages. IT research firm Gartner has estimated that a majority of customer service calls don't require human mediation, a trend chatbots could sustain.
Accelerated responses: The same Gartner document predicted a sharp rise in the number of customer service contact attempts initiated by mobile devices by 2018. Accordingly, people will expect answers regardless of time or location. Ever-available chatbots can respond to their questions right away, without the long hold times or message gaps that often prompt customers to give up.
Integrations: Chatbots are software and as such can be integrated with many other business systems. For example, they could be connected to platforms for fetching account balances, viewing purchase histories or scheduling appointments and deliveries, making them akin to UC contact center agents who have similar info at their fingertips.
Indeed, chatbots may be better understood as extensions of current contact center improvements in automation and efficiency, rather than as disruptive innovations. UC contact center solutions such as Teo Contact Center already offer capabilities such as computer telephony integration (aka CTI). CTI allows agents to view account information details in real-time on their PCs during calls and can be used in tandem with automatic call distribution to optimize agent workflows and deliver personalized responses – something chatbots aren't currently good at.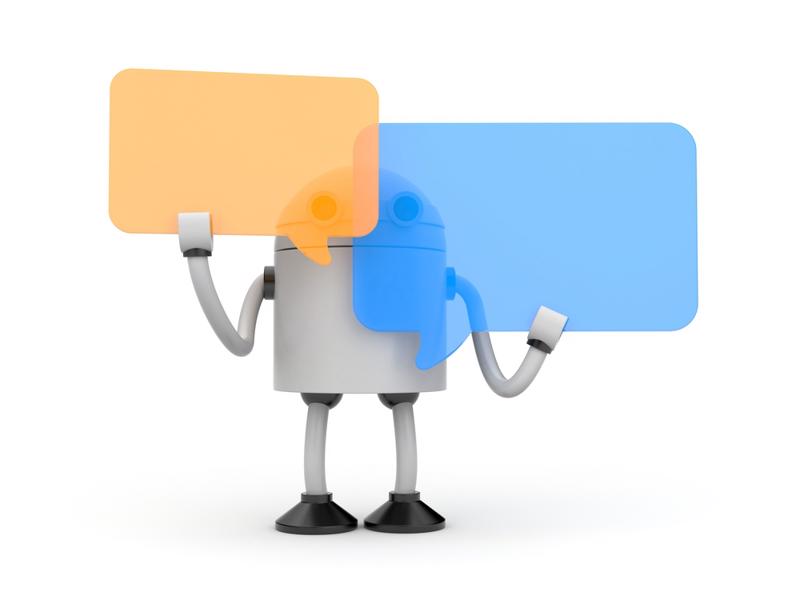 The place of the UC contact center in the future of customer service
Chatbots can be viewed as the tip of the spear for cloud computing's influence over customer service. The automation and scale of cloud-hosted resources has enabled more cost-effective and multifaceted contact center operations than were possible when on-premises infrastructure was the only option.
Even without chatbots, the benefits of cloud are interwoven with solutions like Teo Contact Center, which can be deployed in the cloud or locally depending on your organization's particular requirements (the feature set is identical regardless of implementation type). Deep integrations with existing business applications and legacy systems, a comprehensive interactive voice response system for resolving inquiries without agent intervention and a powerful outbound multimedia interaction controller make it easier than ever to support a modern contact center.
Contact Teo today to learn more about UC contact center offerings!
Source: https://www.teotech.com/research/news/are-chatbots-necessary-in-uc-contact-centers/
Publish Date: January 30, 2018 5:00 AM
---
PREMIUM

Future Gen International Pte Ltd
(VIEW OUR PAGE)

Outsourcing provider of English Call Centre services, Audio Transcriptions, Big Data ETL (Extract, Transform, Load) , Big Data Visualization, Big Data Predictive Model Generation

PREMIUM

HigherGround, Inc.
(VIEW OUR PAGE)

HigherGround develops data collection, information storage, and interaction analytics solutions that easily transform data into actionable intelligence, enabling operational optimization, enhanced per...

(view more)

PREMIUM

ConceptCall
(VIEW OUR PAGE)

Аутсорсинговый контакт-центр ConceptCall| КонцептКолл специализируется на исходящем и входящем телемаркетинге: мы предоставляем услуги по осуществлению холодных звонков и продажи по телефону, проводим...

(view more)
---
View more from
TEO Technologies
Recent Blog Posts:
| | |
| --- | --- |
| What to know about touchpoints: Improve the customer experience | March 15, 2018 5:00 AM |
| IP phones are key ingredients in VoIP telephony success | March 9, 2018 5:00 AM |
| Call recording: An essential feature in VoIP call centers | March 5, 2018 5:00 AM |
| Is it time to upgrade your UC?: Tips, considerations and best practices | February 6, 2018 5:00 AM |
| 4 ways unified communications solutions improve your cybersecurity posture | January 31, 2018 5:00 AM |
| Are chatbots necessary in UC contact centers? | January 30, 2018 5:00 AM |
| 3 features to focus on when evaluating unified communications solutions | January 30, 2018 5:00 AM |
| Contact center modernization: The time is now  | January 19, 2018 5:00 AM |
| What to know about using instant messaging in an enterprise setting | December 13, 2017 5:00 AM |
| Security Awareness: Top Threats to UC Technology | November 30, 2017 5:00 AM |
Industry Champion Award Leaderboard