The Connection - ContactCenterWorld.com Blog
In this day and age of cutthroat competition, it is ever more critical to provide great customer service, and to ensure that the quality of care that you provide is viewed positively by your customers.
Enter customer satisfaction measuring tools. Two of the most common customer satisfaction metrics are CSAT (short for Customer Satisfaction) and NPS (Net Promoter Score). Here is what you should know about each of them.
Understanding CSAT
CSAT measures satisfaction relative to a specific transaction or interaction. Typically, customers are asked a single question in a follow-up survey, such as:
"How would you rate your overall satisfaction with the service you received?"
Customers score their answer on a scale of 1-5, and scores are aggregated to show an overall customer satisfaction rating as a percentage from 0 to 100%. Depending on an individual's initial response, they may be asked additional questions designed to determine their level of satisfaction (or dissatisfaction). CSAT is generally used for two purposes:
1. Using CSAT to develop a customer service baseline
Customers are surveyed after every call or customer interaction, typically through IVR, email, or SMS. The company can organize this data:
Categorically by agent, product, or communication method
Demographically by age, gender, or location
By offering, based on product, service, demographics, or any combination of factors.
This provides an overall picture of how satisfied customers are with the service they receive.
2. Utilizing CSAT to track changes in customer service against corporate initiatives
Once a baseline has been established, CSAT can be utilized to measure the impact of new initiatives (training programs, policy modifications, offerings, etc.) on customer satisfaction. After an initiative is launched, CSAT scores are captured for 3-6 months. These scores are then compared to the baseline to identify any significant increases or decreases in satisfaction.
Understanding NPS
Net Promoter Score rates customer loyalty. It measures satisfaction and also gauges whether customers are likely to be:
Avid brand promoters (loyal to your brand)
Passives (neutral to your brand)
Brand detractors (negative)
With NPS, customers are asked a single question: "How likely is it that you would recommend [Company] to a friend or colleague?" Customers rate their response from 1-10.
NPS is a great management tool, and it is easy to use. Because you classify each customer's loyalty level, providing a baseline for follow-up the company can:
Benchmark current ratings by customer, product, communication method, or industry
Track growth against organization and industry standards, by customer and industry breakdown
Solicit promoters for reviews
Form focus groups to evaluate product or service offering for their target audience
Follow-up with passives and detractors to build greater brand loyalty
Gain insight to improve product features, benefits, and communications
To be truly effective, NPS should be measured quarterly. Deviations from the previous quarter can be reported and handled as needed, in a timely manner.
Which Measure Should You Use?
CSAT is a good tool, but it only measures customer satisfaction on one transaction or interaction at a time. It does not take into account that many mildly satisfied or dissatisfied customers tend to skip surveys, and it does not address factors that contribute to customer satisfaction such as value, quality, price, how closely the expectations of the customer are met, or how valued the customer feels at the end of the transaction. Therefore, CSAT scores can be skewed in either direction.
One Viable Method
If you utilize quarterly NPS ratings in conjunction with CSAT, you can develop a comprehensive understanding of how customers view the organization's service. However, merely gathering data is not enough. Regardless of the metrics used, following-up with customers is key to improving or reinforcing brand perception.
At The Connection®, we make sure that your organization has an appropriate follow-up plan and process that promotes follow-up with all levels of respondents, including any specific action items that may stem from follow-up responses.
Source: https://blog.theconnectioncc.com/csat-and-nps-ratings
Publish Date: May 30, 2019 5:00 AM
---
Assessment testing can greatly enhance the hiring process for any call center. If created well, these tests can identify a candidate's existing skills and knowledge. From customer service assessment to technical proficiency tests, it's important to find out whether a candidate has the personality and social acumen to succeed as a call center agent.
Considering the extremely tight labor market and the high turnover rate in the call center industry, the ability to sharpen the hiring process can make a substantial difference for the business. Here are some tips to identify the best customer service assessment test for your call center.
A Test for Everything
A call center is all about service, but not every call center is the same. Even though a candidate has experience does not mean they are the right fit for your environment and customers. When assessing a candidate, we recommend evaluating both the tactical skills needed for the job and their soft skills. That requires using a variety of tests to learn as much as possible about each candidate.
While there are numerous pre-employment assessment testing programs you could use to help determine your candidates' competencies and capabilities, it is important to zero in on tests that focus on your most-desired skills and personality traits.
Tactical Skills
Call centers require standard skills in typing, computer navigation, and basic writing. Testing in these areas confirms a candidate's fundamental proficiency. There are also basic skills tests that determine the ability to understand and apply training and to communicate clearly in two-way conversation with customers. Often, these tests can be administered efficiently and objectively online.
Customer Service Orientation
Pre-employment assessments can also predict how likely a candidate is to be a good fit as an agent. Soft skills tests measure a candidate's personality traits — things such as patience, tact, and "helpful nature."
But, can the candidate pull it all together to succeed as an agent? Call centers are fast-paced, often difficult working environments. Someone may have the necessary tactical skills and personality traits, but you want to know how they will actually perform on the front line.
This is why companies also assess candidates using behavioral interviewing questions, role-playing, and scenario-based, situational questions along with traditional testing. These "real life" opportunities allow the candidate to demonstrate their ability to solve problems and handle varied customer service situations.
Customer Service Assessment Test ROI
What does the candidate bring to the job? Can they be trained to do more? Do they have what it takes to succeed? Even when efficiently administered, assessment testing takes time and costs money. Not surprisingly, though, candidates who score higher on assessment tests are more productive on the job and more likely to stick around. Testing is well worth the investment if it results in a boost in customer service quality (and, quite possibly, revenue) and reduces expensive turnover.
The key is to identify the best customer service assessment test process for your call center.
Source: https://blog.theconnectioncc.com/customer-service-assessment-test
Publish Date: March 28, 2019 5:00 AM
---
Not every candidate who is hired to work in a call center comes with customer service experience. They may be friendly, outgoing, and patient, but they likely do not (yet) have the knowledge and call center-specific skills they will need to succeed. Since a lack of adequate training is a major contributor to attrition in call centers, it is vital to create a call center training program that works.
Do not worry! There are some useful tips that can help inexperienced new hires blossom.
Kick Off NHO (New Hire Orientation) on a Positive Note
We recommend advising new agents about what to expect when working in a call center, so they will have a realistic picture of the job. But highlight some of the fun things they can expect to encounter in their new job. It is not all cranky callers and complaints!
Help new folks get an immediate feel for company culture. Give them a tour of the facility and introduce them to folks in departments beyond the call center, so they can get the big picture and make connections out of the gate. Ask the CEO to stop in and give a personal welcome.
Create a Call Center Training Checklist
To ensure the training program is successful over time, the process of onboarding new hires should be consistent. By creating a formal checklist trainers can use, every new employee will receive consistent training, creating a best practice approach. Nothing will be overlooked, even as trainers work individually with people to provide extra coaching or skills development.
Create a Mentor Program
Any new job can feel intimidating. Assigning a mentor or "buddy" to each new hire ensures they always have a go-to friend to assist them. There is typically only one formal manager, but a buddy or mentor can provide one-on-one moral support as well as "insider" guidance on handling calls and the day-to-day call center experience.
Provide Feedback Often
Many times we wait until the end or "graduation" from the training program to provide feedback. Instead, provide feedback daily, or in "real time." Feedback — positive or corrective — that is given closest to the action it references has the greatest impact. The ultimate goal is new agent success, and offering frequent feedback helps set them up for that. Keep up the feedback, in a less formal way, over the next weeks and months.
Teamwork Makes the Dream Work
This is not merely a cliché. Statistics show that when we feel we are part of a team, we work harder to not let our team down. Creating a team culture will enhance learning and the entire training experience. That helps new hires get comfortable faster, increasing the likelihood that they will stick around longer.
Listen to Your New Hires
As trainers and managers, we can become convinced that "we know best," because we have been doing the job forever. However, we can still learn a few new tricks, too, if we listen. New employees come from a variety of backgrounds, and many times they have great feedback to offer about our processes. Their different perspective can suggest tweaks or bigger changes that enhance the call center work experience or improve customer experiences.
Even better, listen to experienced agents as well. As the folks on the front line of customer contact, they can provide valuable insight into improvements or other changes.
Do Not Quit Too Soon
Every manager knows that time is money, so it can be tempting to try to cram training into a too-short period of time. The most successful programs give new hires a transition period following formal training. Newly-fledged agents can begin to take simple calls under supervision rather than being put out onto the floor in a "sink or swim" environment. The more controlled situation allows agents to get a feel for the physical rhythm of handling calls as well as the personal side of handling customer contacts.
Conclusion
Spending more time on initial training and ongoing coaching may cost more up front, but it is an investment that will repay itself in higher quality, more productive, and happier agents who are much more likely to stay in their jobs longer. With a positive approach, mentors, lots of feedback, and active listening in your tool kit, call center training can transform inexperienced new hires into great agents.
Source: https://blog.theconnectioncc.com/call-center-training-tips
Publish Date: March 7, 2019 5:00 AM
---
Hiring qualified talent for your call center can be challenging. And if you don't hire the right people, you will likely experience even higher turnover rates.
If there is one thing recruiting experts are telling us to expect in 2019 it is that call center hiring is not going to get any easier. Hiring the right CSRs requires a consistent process and guidelines. Here are some best practices that will help you recruit an outstanding team.
Attract the Right Candidates by Identifying Your Ideal Hiring Profile
It is time to think beyond supplying the duties of the position. What type of traits and skills do you want this person to have? For CSRs, the answer typically includes buzzwords like patient, friendly, optimistic, problem solver, calm, outgoing. Go ahead, make a list and use that to define candidate selection criteria.
Identifying and choosing candidates for their aptitude and not just their abilities allows you to hire well rounded employees that have a higher rate of success. Employees can be trained on software programs, how to answer customer questions about products or the company, but adjusting personality to fit a role is rarely successful.
Do not overlook cultural fit. A candidate who looks great on paper but who is not a fit for the company culture will not stick around and cost you in the long run.
Source Candidates Using the Job Sites Your Ideal Profile Persona Uses
It does not make much sense to create an ideal hiring profile and then post it on monstor.com if that is not where your ideal candidate searches for jobs. Want to attract millennials? Look at using Instagram and Twitter to promote job openings. Social media platforms are excellent forums for promoting the company as a great place to work. Here are some more tips for posting your job listing.
In your social media posts, job announcements, and ads, use the language and tone that matches the candidates you want most.

Source and post positions on job sites that attract the level of candidate you are looking to hire. Snagajob.com and ziprecruiter.com attract non-exempt (hourly) applicants looking for a new opportunity

Be clear about who you want and also what the job entails. Many CSRs quit soon after being hired because the job is not what they expected.

We get what we ask for, so portray the position as professional customer service, not a menial entry-level or dead-end job. Talk up company training and promote-from-within policies.

Make applying easy. Adopting the latest technology is crucial, especially for millennials.
Tap Your Top Performers!
Happy employees make some of the best advocates, which means top performers can be some of your best recruiters. Ask your best people for referrals. While you are at it, why not include referral bonuses as an incentive to your employees? A referral bonus will pay for itself in the long run and help spread the word that the company is hiring.
Use Assessment Testing to Narrow the Field
The more techniques you use to evaluate candidates, the more likely you are to gain a more complete, accurate picture of them as a potential CSR. Assessment testing can confirm an applicant has the right skills and also help identify which applicants are a strong fit for the role.
Along with formal testing, have top candidates role-play some calls using a real script. Also, be sure to check out their writing skills if they will be interacting with customers via chat, email, or texting. Will customers have a good experience interacting with this person?
Make the Team Part of the Interview Process
Including current CSRs in the interview process helps the internal team feel involved and invested in choosing the right candidate. It also helps weed out applicants who may be on their best behavior with the interviewer but then let their guard down to reveal their true traits when talking with perceived "non-bosses." The team is also in a great position to get a feel for cultural fit. After all, they will have to work with this person.
Be the Candidate's Ideal Employer
The most effective (and least expensive) way to boost call center hiring results is to retain the great people you already have. There is a double bonus in creating a retention-friendly environment, because the things that inspire people to stay are usually the same things that attract and close the deal with desirable new hires. For example:
Be flexible with scheduling and other rules where you can.

Train CSRs to communicate well and solve problems, then trust them to do that.

Stay abreast of compensation and benefits trends, and offer the best possible options including performance incentives.
Conclusion
Recruiting challenges are to be expected in the new year. However, by following the above best practices, call center hiring can attract and retain ideal CSRs who will stay, prosper and recommend other excellent hires.
Source: https://blog.theconnectioncc.com/call-center-hiring
Publish Date: February 7, 2019 5:00 AM
---
Customer service reps spend all day interacting with customers, which means the call center can be one of your most valuable customer experience management tools. These days, a company's future can rise or fall based on their customer service.
Since you have made a major investment in infrastructure, personnel, and operations, here are some ways to leverage your contact center (and the associated investment).
Better Customer Experience Benefits Everyone
Taking orders and resolving problems are important, but a contact center can do more than "deal with" customer issues. Focusing on the customer's overall experience can boost sales and revenue, improve CSR proficiency and productivity, increase customer loyalty and lifetime value, and uncover opportunities to improve more than just customer service.
How? Simply by paying closer attention to customer conversations and then acting on what you learn.
Customers Are a Unique Resource
No one knows what customers want and how they feel about their relationship with a brand better than the customers themselves. Therefore, contact centers are perfectly positioned to gather incredibly valuable information, and lots of it, straight from the source. Good or bad, every customer comment has the potential to provide invaluable insight. That's why most contact centers utilize surveys to solicit feedback as one of their customer experience management tools.
However active listening can reveal even more than that. CSRs can identify (and then fix) problems with a particular product or service. They can notate comments that repeatedly surface — whether they are complaints or suggestions — about products, the company, or the customer contact process.
Quality assurance monitors are typically trained to focus on the CSR side of the conversation when listening to live or recorded calls. In the same way, paying close attention to the customer's side of the conversation can be equally instructive. Active listening reveals their specific language and tone of voice when they speak and as they respond to the CSR. They may get the result they wanted, but let's make sure the customer is also happy with their experience. Quality assurance monitoring is also a double check on the same customer insights that a CSR might pick up.
Create a Culture that Values Listening
What does it take to leverage the full value of your contact center? A comprehensive, customer-centric strategy that:
Brings the contact center out from the shadows and into its rightful place as a vital component of your organization, capable of helping achieve overall business goals. That requires a company-wide culture that emphasizes customer service. It also requires a change in contact center and CSR performance metrics, to reflect the new emphasis on total customer experience as well as the important role that CSRs play in that process.

Includes managerial cross-training. Contact center managers may need broader business training in order to communicate and collaborate effectively with finance, marketing, and other key departments on top of understand the goals of the company and the best way that the contact center can help achieve those goals.
Refocuses CSR training and expectations. Customer service reps need the skills and authority to resolve more issues on their own. This increases productivity and eliminates key customer irritations such as call transfers or callbacks. Problem-solving cannot be scripted, so CSRs also need the chance to practice active listening to help customers in a variety of situations.

Creates a thorough process for customer feedback. With a more formalized process in place, CSRs can do a more thorough job of noting customer comments and suggestions as well as complaints. Regularly sharing this data with other departments enables everyone to benefit from the insights gained through customer conversations.
Utilizes the latest technology that supports systematic capture, communication, and analysis of customer-sourced information to identify opportunities to fix or avoid problems, improve products/services, and overall customer service. The most effective technology enables a call center to track a customer's entire history, so they don't have to repeat themselves every time they contact the call center.
Conclusion
You don't need to treat your contact center as a frustrating, expensive necessity that does nothing more than process transactions. By acknowledging the contact center as the company's number one listening post, it becomes one of your most valuable customer experience management tools.
Source: https://blog.theconnectioncc.com/customer-experience-management-tools
Publish Date: January 31, 2019 5:00 AM
---
Most companies perform some kind of customer service, whether that involves handling and processing orders, back-end support, or both. In many companies, the ongoing debate is: should we handle the process internally, or would outsourcing customer support be more cost effective?
Many companies view this question as one of cash flow — how much (more) is outsourcing than managing customer support in-house. But evaluating and comparing these options is more complex than simply cash flow. Here are some other key factors:
Labor Costs (and sometimes the only cost that is considered)
We all get that there is a differential in base wage from internal vs. outsource, but internally we also have the somewhat hidden costs that include benefits, sick pay, vacations, holidays, and the training and management of the agents. Then we need to figure in the cost of recruiting associated with the original hire and then the recruiting, rehiring, retraining costs associated with attrition. And now that we mention attrition, are we factoring in all of those costs?
Other Hard Costs
Companies that operate in-house call centers often do not realize, are not aware of, or do not include all the hard costs, so they do not have a complete picture of what they are spending to do it themselves. Therefore, they do not realize the true cost of insourcing.
This is one reason companies come to us. We help them see what other costs are involved that they may not have considered. Costs often overlooked include the space to house the agents, furniture, equipment, managers, trainers, Quality Assurance personnel, investments in technology for a voice platform, voice analytics, reporting platform, etc.
Opportunity Cost
It is also important to look beyond direct expenses. There are MANY opportunity costs associated with running your own internal contact center including items such as:
What if you're out of space and considering an extra 5,000 sq. ft. on the floor above? How much square footage are you utilizing to house CSRs?

Are you factoring in all the overhead associated with an additional X employees? Perhaps the CSRs and all the associated supervisory and management personnel are putting you over the line for certain HR regulations. And if it's not HR, it's any number of administrative costs associated with having an additional team of employees.

Do you have the critical mass to scale up all the technology needed to successfully operate a 21st-century contact center? There are a lot of systems required — telephony, workforce, HR, payroll, quality assurance, etc.

What is the ongoing capital investment for technology, security, reporting, etc? Is it possible that you could wind up limiting investment in equipment, R&D, etc., for your core business because of the ongoing investment in a call center?

And what is the opportunity cost if you operate your own center and then don't keep it current? How will that affect your ability to perform the customer service and support function at the level that you and management determines is necessary to support your customers.
And then there is the human side — how you are utilizing your people? It is one thing if you have 50,000 employees and you need an extra 20 people for the call center. But what if you have a 100-person company and you need 50 people for your call center? Or you have just 50 regular staffers but need 100 to handle customer service?
If your company is virtual — a very small staff using cloud-based services — operating a call center requires that either you shift your focus or hire a new set of people to ramp up a quality contact center. It gets worse if call center needs are likely to fluctuate for seasonality or other reasons. Now, the tail is clearly wagging the dog. With all the systems and support required, you are now in the call center business instead of focusing on your company's core offering.
Conclusion
Is outsourcing customer service cost worth it? Well, the contact center is on the front line, dealing directly with your customers every day. You do not want to cut corners and deliver a bad product to your customers as their first impression, or any impression.
If your internal call center is already a solid operation, then the cost may be worth it. Otherwise, spending a little more to outsource to ensure customer service excellence will be money well spent, and in reality, once you have all the costs at your fingertips, it may really not cost any more at all.
Source: https://blog.theconnectioncc.com/outsourcing-customer-service-cost
Publish Date: January 29, 2019 5:00 AM
---
All businesses require a certain number of customer service reps to staff their call center and that number can fluctuate throughout the year. If you experience turnover at an inopportune time, e.g. there is a termination or someone quits without notice, your call center could be left temporarily short-staffed. Of course that does not reduce the number of customer contacts or your responsibility to handle them, so how do successful call centers handle this shortage?
Here are some useful approaches to solving this problem:
Run Overtime When Needed
There will be many times where OT is needed to get the call center smoothly through volume peaks. You even plan for it in some cases. But running short-staffed on purpose and using overtime as a standard "solution" is expensive and will burn out employees. Burnout negatively affects CSR-customer interactions, and it can lead to increased episodes of untimely absenteeism, and eventually increased turnover.
Cross-train other Personnel for Quick Action
As with overtime, this works best as a stop-gap measure, not a go-to solution because working extra hard during busy times leads to burnout. That said, there are times when this is a workable solution. Knowing that gaps happen, cross-training a few additional personnel ahead of time provides a pool of "gap fillers" who are knowledgeable to step in when and where needed. This versatility can greatly increase call center responsiveness overall.
While those are great reactive ways to handle gaps when they occur, it's extremely important to be as proactive with managing staffing gaps as possible. So, here are a few proactive strategies:
Headcount vs. FTEs
It is fine to budget your call center costs based on FTEs, but if you schedule to that budget, you will often be short on personnel. Between PTO, unscheduled absences, family emergencies, etc., even the best operations experience a daily shrink of 10%, and it's not unusual in some instances to see 15% or 20% shrink. So, you need to have enough headcount on staff to schedule based on the need PLUS the shrink. In this fashion, even when people are suddenly missing, you will get your calls handled as you expected to.
Provide Time Off When You Can
Do everything you can to honor employee requests for time off. Being flexible goes a long way here. Maybe you cannot always allow someone the entire day away, but how about the two hours needed for the actual appointment? The CSR will appreciate your accommodation, and it will be easier for you to fill that small gap.
Show Thanks to CSRs
Create a supportive, caring year-round culture. Customer service reps who know they are valued as people, as well as agents, are far more likely to respect their work schedules and be willing to pitch in to do more when the need arises. Kudos for a job well done and incentives for exceptional achievement or attitude are just two ways you can enliven the call center atmosphere and show appreciation for CSRs.
Hire Right
So easy to say, so hard to do! Yes, today's labor market is tight, but try your best to find the right people. Committing to hiring candidates who fit the call center culture and have a strong personal work ethic will reduce the risk of surprise absences or quitting.
As peak season approaches, time new hires so their training and "break-in" period can happen before things get too hectic. That way, training won't be short-circuited by the need to get people on calls, and new people will be more productive when they do start to handle calls.
Conclusion
The more you do to plan strategically, hire the right people, and create a positive working environment, the less stressful things will be for everyone when gaps occur in call center staffing, and you need to depend on the rest of the team to pick up the slack.
Source: https://blog.theconnectioncc.com/gaps-in-call-center-staffing
Publish Date: January 17, 2019 5:00 AM
---
No matter how hard we work to hire the best customer service representatives, sometimes it simply does not work out and the person is not cut out for the rigors of contact center work. Knowing when and how to fire an employee is one of the biggest challenges a manager faces.
Here are some tips for firing an employee without leaving a mark.
Did You Do Everything You Could?
Of course, no one likes to fire employees, especially in an industry notorious for low retention. So, ask yourself, "Did I do everything I could to help this employee be successful?" Some follow up questions may include:
"Did I provide a clear explanation of what this job entailed?"
"Did I clearly communicate what my expectations were for this role?"
"Did I treat this employee fairly and with the same respect as everyone else?"
"Did I address his/her concerns and provide helpful feedback that would lead to improvement?"
"Did he/she receive adequate and ongoing training?"
"Did he/she have the tools necessary to do his/her job effectively?"
"Did his/her colleagues help him/her along the way?"
"Is there a different position within the company that would be a better fit?"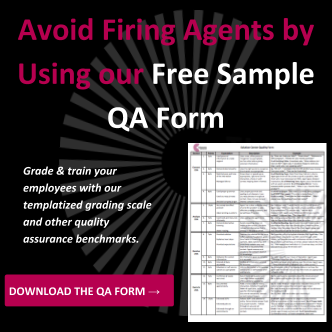 If the answer is "no" to any of the above questions, continue to address your concerns with the employee and remember to document along the way to ensure that both you and the employee are on the same page and you have a paper trail in case you should need it later.
However, if you provided that CSR with all the tools, training, and support they needed to be successful and they continued to underperform, it is best to let them go. Here is how to handle that process:
Be as Direct as Possible
Firing an employee is not the time to be passive-aggressive. Do not sugar-coat the news or dance around the point. Be clear and direct in your decision and the reasoning behind it.
Provide a moment for the employee to absorb the information. Then, answer questions and provide next steps (i.e. paperwork).
Exiting Gracefully
It is overwhelming for both the employee and their colleagues to field questions following a termination.
Have a direct supervisor box up the employee's items during the discussion to minimize interaction between the terminated employee and his or her colleagues. Always accompany the employee out of the office and ensure they have all of their personal items and contact information for future questions.
Business References vs. Personal References
Create a policy that does not allow the company or its managers to provide business recommendations or references for exiting employees. That said, companies can and should provide basic job information such as dates of employment, title, wage information to future employers, as this process provides consistency.
On the other hand, personal references are perfectly fine. Supervisors and managers can be allowed to provide personal references based on their personal experiences without causing liability to the company.
Conclusion
Unfortunately, despite your best efforts, some employees you hire will not work out. When you decide it is time to let someone go, knowing how to terminate an employee in the proper fashion can foster professionalism and respect between the remaining employees and the company.
Source: https://blog.theconnectioncc.com/how-to-fire-an-employee
Publish Date: January 10, 2019 5:00 AM
---
All customer service agents spend their day handling frustrated customers and solving difficult and unique challenges call after call, every day. Sound easy? It is not.
It can be difficult for agents and managers alike to handle each call perfectly, depending on the problem and the customer. So, it is time to go back to the basics. Our VP of Human Resources, Cyndi McDurmott, teaches us customer service 101 and provides 5 tactics agents can use in their conversations:
Be Responsive to the Caller
Every caller is different. Some are having a pleasant day and have all the time in the world to find a solution to their issue, while others may be experiencing a stressful day with very little time or patience to deal with an extra problem.
It is crucial that agents alter the conversation depending on the type of customer calling. The customer who is enjoying a pleasant day may be more conversational and easier to help. However, an angry customer may be more difficult to please. When it comes to the frustrated customer, Cyndi says, "You have to de-escalate the call before you can even figure out what the problem is."
De-escalating a situation and helping a frustrated customer can be very challenging, but we find that these de-escalation tactics work great in this situation.
Listen to the Caller
One of the most important parts of a customer service agent's job is to actively listen to the caller's needs.
When people feel heard and understood, they typically calm down and trust the agent more. Not to mention, listening to the customer can provide the call center and its business with important customer listening data, which helps better serve the customer in the future.
"Even though our agents are highly trained and they know the answer, listening is key to that," Cyndi says. Even if we think we know the answer (and we may actually know it), listening not only helps us better understand what the caller needs, but it also shows the caller we care.
Knowing the Power of "Yes"
Agents should also have the power to say, "Yes, I can help you fix that problem." Empowering agents to solve issues on their own helps rebuild relationships between the agent and caller. Typically, when that relationship is mended, the customer is more likely to remain a customer.
That empowerment comes from a network of agent support starting with their supervisor and including program supervisor, call center manager, human resources, and the client (if the call center is outsourced).
Having a Calm Demeanor
Remember that angry and frustrated customer we talked about earlier? We get calls from frustrated customers all the time. So, the ability to maintain a calm and confident demeanor as an agent is one of the most important qualities of the customer service job.
Cyndi warns of the dangers of letting the caller's attitude rub off on the agent by saying, "If I'm as flustered and frustrated as the customer, or if I'm trying to shout over the customer, the call is going to go downhill pretty quickly."
Reflect on Your Own Experience
"All of us can think of a customer service experience where we feel that it wasn't handled very well," Cyndi says, "And when we go through training, we ask our agents to think about that. What made you feel like that wasn't a good experience?"
If agents put themselves in their customer's shoes, it is easier to empathize and help resolve the issue. Again, consider their frustrations and needs, and remember a time when you felt the same. How would you like to be treated?
Here at The Connection®, we put our agents through rigorous training to make sure they completely understand the client they're representing and they have the aptitude to handle the varying types of callers. Learn more about our training process!
Source: https://blog.theconnectioncc.com/customer-service-101
Publish Date: December 7, 2018 5:00 AM
---
One way or another, the great majority of customer service reps are going to utilize a script on a few, some, or perhaps all of their calls. However the last thing any of us wants when we call a customer service department is an agent who recites a script like a robot. Heck, even Siri and Alexa manage to sound like real people (sort of), and they are robots. Fortunately, it is quite possible to follow a script and also sound authentic and friendly.
Here are some tips to help agents deliver that authentic customer experience.
Practice Delivering the Script Until it Feels Comfortable
Some scripts need to be read word-for-word. It may be a necessity to avoid confusion, to handle complex info, to cover legal requirements, etc. Those situations aside, mostly we try to ensure that agents are able to deliver the script in their own words. After all, the point is to make specific points and follow specific best practices, right? Verbatim or not, the best way to come across as sincere and engaged with customers is to practice the delivery so that tone of voice, pacing, and word emphasis all sound natural.
Practice Active Listening
From the customer's standpoint, this call is all about them. And the best way to help the customer is to practice active listening. When practicing active listening, paraphrase what they say. This is an art form that is difficult to learn, but very valuable in establishing a positive connection with customers. When an agent repeats back what the customer said, but in their own words, it shows they are listening. They get it. Now we are ready to make the sale or resolve the issue.
Listen to the Customer's Tone and Try to Match it
If the customer is upbeat and casual, they might appreciate a little humor. If they are formal, they probably expect formality in return. (Do not act cold or disengaged, though.) If they are unhappy, it's time for empathy, understanding, and reassurance that a resolution is near.
Personalize Calls By Using the Customer's Name
It is great to personalize the call and can show caring, but do not overdo it, because that sounds fakey — we do not constantly insert someone's name in real-life conversations. Also, be aware that not every caller wants you to use their name. Not sure? Ask, "May I call you Mary, or would you prefer Ms. Smith?"
Smile!
Agents may not be visible to callers, but smiling is a well-known technique for brightening one's tone of voice. And smiling is infectious. Smile at one another when walking around the call center, when standing to see over partitions, and during breaks, too. This builds a culture of friendliness that will positively affect calls. Smiling before answering can also help an agent who has just completed a difficult conversation and may not feel as upbeat as they should be for the next customer.
Stand Up While Speaking
Stretch, do some neck rolls, or even jog in place between calls. Every call is different for agents, and using a paraphrased script requires adapting to each customer. It is easier for agents using a paraphrased script to feel engaged and valuable than it is for reps whose days are filled with repetitive verbatim scripts. But sitting is sluggish. It takes its toll on attitude as well as personal health. Getting the blood flowing gets minds and personalities flowing, too.
There is no "special sauce" for script delivery.
There is no special sauce when it comes to delivering an authentic call center script. What it takes is practice, practice, practice to understand the script's messaging, paraphrase it naturally, and actively listen to the customer.
Work with your agents, record calls, play them back, look for creative ideas that will help ensure the agent is upbeat, on task, and delivering a high quality service. And when you work with your agents on scripting and script flow, make it fun and an engaging learning experience, because that will come out in their interactions with their customers.
Source: https://blog.theconnectioncc.com/call-center-script
Publish Date: November 29, 2018 5:00 AM
---
People want to work for companies with an engaging environment. And call center companies want to retain talented CSRs. So, here are four key methods to better retain your quality employees. Not only will these tips improve employee retention, they will also improve sales and the customer experience. Let's take a look:
1. Approachability is Key
Employees should feel comfortable approaching fellow workers, managers, and even the CEO. Common shared lunchrooms and meeting spaces help create an inclusive environment and put a face to every employee. People can get to know one another as people, no matter their specific role within the contact center.
Instead of feeling isolated at work, agents know they are an important part of the team. Why look for another job when they have "family" right here? Some call centers also encourage agents (and other employees) to get together outside of work to further build camaraderie. Have top managers make the rounds to chat with agents, hand out cookies, thank them for a great call or an extra effort.
2. Communicate Well and Consistently
Creating a culture of communication — where managers and employees align goals and work together to meet them — helps build a strong foundation. Employees who understand how their work contributes to the overall success of the company are far more engaged and motivated.
Using a collaborative tool such as Slack or integrated instant messaging enables and encourages everyone to chat. Employees can assist one another, get fast answers to tough questions from supervisors, receive coaching, or simply cheer each other on with the occasional "way to go!" Periodic in-person meetings facilitate peer training via knowledge-sharing and offer opportunities for agents to suggest improvements or bring up problems that need fixing.
Decorating the office creates a welcoming, upbeat surrounding that communicates, "This is a great place to work." Include posters with key training or motivational messages.
3. Do Not Save the Praise!
What are you saving it for? Recognizing someone's accomplishments and saying "Thank You" goes a long way. Too many organizations wait for a big payout or large meeting to praise an employee. The longer someone has to wait for positive reinforcement, the more likely they are to assume they are not doing a great job, or that no one cares.
Praising someone immediately after they do a good job or deed provides immediate positive feedback and leaves a great feeling with that employee and those around him/her. Even small successes are worth rewarding to show the importance of quality work. Therefore, it is impossible to overstate the value of simple, sincere appreciation, delivered immediately.
4. Implement Incentive Programs
Incentives can be highly beneficial in motivating employees. Program cost can be based on employee performance, tied to a specific desired goal. The goal might be upselling customers, resolving the most issues in the first call, etc. Make it a game that encourages friendly competition.
There are also many just-plain-fun things we can do to boost the positive atmosphere within our workspace. For example:
Themed days – ugliest outfit, weirdest hairdo, any wild idea goes because customers cannot see how goofy agents may look.

A Wheel of Fortune to spin to win small prizes. That could be gift cards, a prime parking spot for a day, or having a supervisor take over for the last part of someone's shift. Spins can be earned by achieving specific results or just for random fun.
All fun aside, one of the most meaningful and effective incentives we can offer our call center agents is career development. Beyond the agent-specific training they receive, we can cross-train them in other aspects of call center management and show them what the career path looks like in our organization.
One tradition we follow every November here at The Connection® reflects the true nature of Thanksgiving. We give thanks for our employees by giving each of them a turkey to take home and enjoy on this special holiday. It is a tangible gift that we know our employees truly appreciate.
Conclusion
We all know how hard it is to work as a customer service representative. Building a call center culture that is open, well-communicated, and rewarding increases engagement. These keys inspires our employees to stick around and deliver excellent customer service every day.
Source: https://blog.theconnectioncc.com/call-center-culture
Publish Date: November 27, 2018 5:00 AM
---
Finding the perfect telephony vendor for your company, much like partnering with any other type of business, is not easy!
And when it comes to interviewing telephony vendors, you need to know "enough to be dangerous" about the telephony industry, processes, and technology. Otherwise, how will you know if they can be a quality partner?
With that in mind, we interviewed our Chief Technology Officer, Ken Unruh, and asked him to list the top mistakes that people make when interviewing telephony vendors. Take a look:
1. Not thinking about how the vendor fits into business objectives.
When searching for a telephony vendor, we should start by looking internally. We should ask ourselves the following questions:
What are our ultimate goals?
What do we plan to get out of this partnership?
How can this vendor help us accomplish our goals?
What KPIs do we want to look at? (Do we know which KPIs to look at?)
There are many more questions we could ask, but from a 30,000-foot-view, it's important to know the general direction we want our business to head and how the telephony vendor can help before we interview anyone.
2. Not understanding the technological requirements of a telephony vendor.
When telephony vendors join the team, they may have updated technology. So, we should know if taking on a new telephony partner means that we need to upgrade the hardware and software we have now.
It is helpful to familiarize ourself with the desktop and network requirements the telephony vendor will need prior to introducing new call center technology to the mix.
3. Not reviewing vendor uptime and how they provide redundancy.
If there is an outage, how can the telephony vendor ensure that our business can keep running? Do they have redundant servers and an action plan in case something goes wrong?
4. Failing to look at data security requirements.
Will the telephony vendor be handling HIPAA data or cardholder data? Information like that has strict security regulations and should be handled with the utmost care. It's extremely important that they have the right security certifications to protect you and your customers.
5. Not considering the scalability of the vendor's platform.
As our business continues to grow, does the telephony vendor have the capabilities to grow alongside us? Their technology, support, and size need to be able to flex as our staffing requirements grow and change.
6. Not reviewing reporting capabilities.
One of (if not the) most important features of a telephony vendor is their capability to provide and explain reports. Here are some questions to ask when interviewing telephony vendors:
Are you able to report on the KPIs that are important to our business?
Will you dig deeper than our expertise in our business and show us unique patterns or interesting data that you have found?
Will you translate their findings to us and help interpret the data for actionable business decisions?
Do you have staffing to allow for questions we have on your reporting?
Will we have constant access to your reporting data?
7. Forgetting to consider organization and culture match.
Simply put, will the potential telephony vendor fit in well with our people? Do they have similar goals, culture, training, and perspective? Getting along well with a telephony vendor makes the relationship a lot easier!
8. Not digging into the pricing structure.
It's not uncommon for telephony vendors to build in hidden costs (like network access and integration costs) to their services. We have to make sure that we've reviewed how they price all their services before signing any contracts. That way, there are no negative surprises down the road.
9. Failing to review the implementation and support resources.
Does the telephony vendor have the infrastructure to start off the relationship quickly and efficiently? Getting the relationship to start on the right foot will be a great help in the long run.
When researching telephony vendors, make sure that you consider all 9 of these tips, and continue to find more tips about technology and contact center management from our blog!
Source: https://blog.theconnectioncc.com/telephony-vendor
Publish Date: November 20, 2018 5:00 AM
---
Data security is top-of-mind with everyone now, especially anyone who shops online. So, it is critical that call centers assure customers and business partners that their credit card and other sensitive information is safe. In order to build that trust, many call centers take the necessary steps to obtain Service Organization Control (SOC2) and Payment Card Industry Data Security Standard (PCI DSS or PCI for short) certifications, which offers independent third-party verification that a call center is using stringent security measures.
Here at The Connection®, we are proud to be both SOC2 compliant and PCI certified. Here is what that means for call centers like us.
What is PCI?
The Payment Card Industry Data Security Standard was created by the major credit card brands. The goal is to protect credit and debit card transactions against potential fraud or theft.
The PCI standard applies to companies of all sizes that accept, store, or transmit credit card payment data. The current version of the PCI standard includes more than 400 security controls organized into 12 primary requirements with six security goals:
Build and maintain a secure network
Protect cardholder data
Maintain a vulnerability management program
Implement strong access control measures
Regularly monitor and test networks
Maintain an information security policy
What is SOC2?
Service Organization Controls were created by the American Institute of Certified Public Accountants. SOC2 is an audit procedure that helps service providers, such as call centers, establish and monitor data protection controls based on specific "trust service principles." These are:
Security
Availability (performance monitoring)
Processing integrity of the systems used to process data
Confidentiality (such as encryption)
Privacy of the information processed by these systems
Certifications Are Not "One and Done"
We monitor numerous aspects of our PCI and SOC2 compliance requirements on an ongoing basis to ensure all protections are functioning as planned. Both certifications require ongoing security monitoring and compliance enforcement day in and day out.
However, to retain our certified status, we must also conduct an annual audit of our programs. This annual review is not merely an opportunity to check boxes off a list. Re-certification requires documentation and evidence showing various compliance activities occurring daily, monthly, quarterly, etc. We also conduct regular security training and awareness initiatives for all employees.
The annual audit involves several steps:
First, we identify the types of sensitive data we are collecting, storing, and transmitting within our call center environment. We also identify which of our systems are involved with those processes. This helps us define the scope of our audit.
We complete a risk analysis to determine any potential security vulnerabilities and associated threats. The best way to reduce risk is to store the minimum amount of sensitive data and remove any data we don't need.
We work hand-in-hand with our PCI or SOC2 auditor to map the compliance requirements to our existing controls. Mapping helps to identify gaps, so we can then develop a plan to implement or improve controls not already in place.
PCI and SOC2 both require extensive documentation of security policies, procedures, and monitoring activities.
Conclusion
Customer trust is critical for call center success. At The Connection®, we take that trust seriously, and our PCI and SOC2 certifications demonstrate that. For us, it is one more way we can ensure we are giving our clients and their customers the best possible call center experience.
Source: https://blog.theconnectioncc.com/soc2-and-pci-certifications
Publish Date: November 15, 2018 5:00 AM
---
Call center scheduling is a difficult and time-consuming job. Top that with trying to satisfy the needs of all your staff while also meeting service levels, and you are one busy manager. And if you are using Microsoft Excel (or Google Sheets) for your call center scheduling program… Let's see if we can find a better way.
Consider Investing in Specialized Technology
First, and most importantly, if you are using a program such as Excel to plot call center schedules manually, there is a better, simpler, and in the long run, much less expensive way. Automated scheduling software can help speed the process and make it more accurate. In addition, it can match personnel needs to specific days or day parts. Choosing a software platform that incorporates historical data can further refine forecasting and future scheduling. Even in the short run, better utilization of the team will more than offset the cost of this software.
Early Planning Smooths Peak Periods
Getting through the busy season efficiently starts with having enough agents on hand when needed. Scheduling busy times as early as possible helps agents put work first without disrupting their personal holiday plans. Planning well in advance also ensures the call center will be well-staffed to meet customer demand without sacrificing service quality.
To keep things on track when the call center is busy, consider:
Offering time off before the busy season hits. This will help agents rest up for the big push, when time off will be scarce. Options could include voluntary time off (VTO), approved time off (ATO), or, if necessary, forced time off (FTO).
Offering overtime. Agents may welcome the opportunity to earn extra income for holiday shopping, etc. If agents are willing to work longer hours, that could reduce the need to hire and train temporary agents.
Offering holiday pay to encourage agents to work peak days or time slots.
Offering non-monetary incentives to fill the schedule, which could be anything from gift cards to future time off.
To adjust call center scheduling when things get slow, consider:
Allowing agents to leave early.
Reducing shift hours.
Letting people go. Veteran call center managers usually see this as a last resort, as eliminating employees guarantees the pool of agents will not be big enough when volume picks up.
Consider Your Wage and/or Payment Policies
Every call center has a system for determining wage amounts and when agents are paid. In addition to offering more hours or increased pay to fill the busy season schedule, there are other ways to adjust pay and payment policies to support scheduling needs. For example:
Days available for time off could be weighted according to likely volume. If Fridays are slowest, then taking Fridays off can be easily approved. If Mondays are busiest, they can be removed as a day-off option.
If agents tend to give themselves Monday off after a payday Friday, the policy can be changed to withhold holiday pay for anyone who does not show up for work on Monday (or for their next scheduled shift).
Become a Student of Call Center Data
Business owners usually receive loads of data from their call center provider. However, a hefty "data dump" does not constitute a "wealth of information" unless the data can be easily interpreted. Working with Workforce Scheduling vendor to make sure data is easy to view and interpret can help tremendously with call center scheduling. If a business owner doesn't understand the data they are given, they cannot accurately forecast their business, which then affects scheduling for their call center partner. As an alternative, a vendor rep should be available to help review and analyze the information.
Investing in scheduling technology, finding ways to incentivize agents to work busy periods, and studying performance results can all help companies understand staffing needs to make better scheduling decisions in the future.
Source: https://blog.theconnectioncc.com/call-center-scheduling
Publish Date: November 13, 2018 5:00 AM
---
No call center wants to run a-fowl of their customers this hectic holiday season. Whether customers are in a jolly mood or in full stress mode, we want to give them a friendly, helpful experience. But as every call center agent knows, that is not always easy. Fortunately, we can learn from experts — and who better than the seasoned pros on the annual Butterball Turkey Talk-Line?
This famous call center reappears every year in early October, agents poised to assist would-be turkey chefs with every little detail and smooth their ruffled feathers when necessary. Get ready to feast on these valuable lessons.
1. Omni-Channel is Key
Back in 1981, a half-dozen or so ladies "manned" the phones of Butterball's Turkey Talk-Line. But savvy call center managers knew that the secret ingredient for Turkey Talk-Line success was technology. So, when frazzled cooks clamored for more options, they added email, web-based chat, texting, and social media such as Facebook and Twitter. No old fogies at the Turkey Talk-Line.
Yet, the vast majority of their customer contacts each season continue to be via phone. Why?
2. The Power of Personal Connection
Anyone can research information online, but they cannot ask questions or get personalized advice. Besides, it is a time of year when folks are thinking about family and friends, so making a human connection to talk turkey (and maybe share a short anecdote or two) just feels right.
Being nice gives customers a nicer experience, in the spirit of the holidays. What a wonderful thing to keep in mind as we all don our headsets and pull our keyboards close for another mad dash to year's end.
3. Hire the Right People
We all know that not everyone is cut out for call center work, especially when the holidays roll around. While most agents do not have to literally save someone's family dinner, we often do have to save their day. It takes people who love to talk to others, who can empathize with customers, who are patient and reassuring, who can and will treat everyone with kindness.
New Turkey Talk-Line agents are recruited via referrals and word-of-mouth — not unlike many new recruits at any call center. Treat people right, and give them the tools they need to help customers effectively, and they will be happy to spread the word about their great workplace.
4. Continuously Train Your Reps
When someone calls the Turkey Talk-Line, they expect agents to know their stuff (or should we say stuffing!). So, Butterball University convenes in October, as the Turkey Talk-Line is about to get underway. Agents prepare turkey dinners using multiple techniques, refreshing their extensive personal knowledge and learning the latest trends and fads.
Armed with phones, laptops, and headsets, they also have a full menu of other resources right at their fingertips. They can send video tutorials or recipe links to callers, or view customer photos to provide more specific advice.
Continuous training is crucial for year-round call centers, but ramped-up, holiday-specific training can boost confidence for agents and results for customers. How can agents work even more efficiently? Butterball hangs a big chart that serves as an at-a-glance cheat sheet for thawing/cooking times. Low tech, super-helpful.
5. Carve Out Time for Fun
Working the Turkey Talk-Line may seem amusing, but any agent knows how hard it is to stay upbeat when the lines are humming and callers can be downright cranky. Butterball keeps their call center on brand and cheerful with a big inflatable turkey and blue and yellow candies that give agents an energy boost whenever needed.
We can follow their example with seasonal decorations, snacks, and beverages that keep agents in the mood and fueled up. Or, random small prizes to thank agents for their great work. Make a list of the silliest or most heart-warming questions such as the guy who asked if it was OK to bake glitter onto his turkey, or U.S. immigrants wanting to start their own American Thanksgiving tradition. Good humor is infectious, elevating everyone's experience.
So, what have we learned?
The Turkey Talk-Line is not really doing anything new, they are just doing everything right. With the right people, the right training, the right attitude, and omni-channel technology, every call center can serve up delicious customer experiences this holiday season.
Source: https://blog.theconnectioncc.com/turkey-talk-line-lessons
Publish Date: November 8, 2018 5:00 AM