The Connection - ContactCenterWorld.com Blog
Go Beyond Outsourcing: Leverage Strategic Partnerships For Growth
Even if you run your own factory, manage your own warehouse and clean your own break room, chances are you're still outsourcing something.
Think about it, you don't operate your own internet service. You likely pay for online storage and backup. You probably use a third-party database. You're already using someone else's stuff for so many other things and whether you realize it or not, you're outsourcing just the same as you would for inbound or outbound support teams. So why is outsourcing personnel so different from outsourcing other key business functions? "It's because the knowledge gap and value is realized immediately," says Fred Weiner, CEO and founder of The Connection®, "they recognize someone else can provide the service more affordably, efficiently, and keep up to date with the latest technologies so they don't have to. Personnel outsourcing is a lot like this, but most people don't view it the same way."
Outsourcing has become a best practice in many industries. While there aren't a lot of hard numbers to show how prevalent such partnerships are in the channel, the Direct Selling Association (DSA) 2016 Growth & Outlook Report said that nearly 70 percent of direct selling companies in the United States outsource manufacturing, assembly and generation of products and services to domestic vendors. And according to a DSA spokesman, "this undercounts the full amount of outsourcing, as it doesn't capture outsourcing of things like payroll, legal work and logistics."
Organizations who talked to us about their outsourcing experiences say that partnering with experts in everything from manufacturing to marketing has been critical to their success. Strategic relationships with product and service providers free companies to focus on their core competencies without the investment in and daily responsibility for such things as factories and fulfillment centers. Many companies rely on outsource partners to stay on top of regulatory requirements and changes, monitor consumer trends and navigate shipping and customs standards, among other market forces. This allows them to grow more quickly and cost effectively than they would if they had to spend the capital and time to develop and manage these pieces of their business.
---

Strategic relationships with product and service providers free companies to focus on their core competencies.

---
Let Someone Else Build It
As research shows, few companies want the expense of their own manufacturing plants, warehouses or fulfillment centers. Operating such massive, complex facilities diverts cash—and attention—from targeted business development efforts.
When it comes to warehousing, in particular, many organizations can't be competitive with only one facility. Shipping from multiple, strategically located fulfillment centers has become the way to meet consumer expectation. So unless you are prepared to invest in and skilled enough to manage multiple warehouses that can drop product at doorsteps within two days of an order, for little or no delivery cost to the customer, it makes sense to outsource to a shipping expert. Outsourcing warehousing and shipping not only decreases your overhead, allowing you to pass along savings to customers, it can streamline your processes by shortening time from production to delivery.
Speed and efficiency are the major reasons North Carolina-based Touchstone Essentials outsources fulfillment of its organic supplements, says Chief Operating Officer David Isserman. Leveraging the locations and expertise of its warehousing vendors was a strategic way for Touchstone to fill an operational gap. "That's the key component to outsourcing," Isserman says. "To find out where vendors have that competitive advantage and that core competency that you, as a multilevel marketer, just don't have the ability to capture."
Roger Morgan, CEO of Texas-based pet food startup pawTree, says outsourcing production is the only way his company has been able to double sales every year since it was launched in 2014. It would have taken an enormous amount of capital to build and operate a food manufacturing plant—something that didn't make sense for his startup, which has aggressive growth plans. "I can't think of any other way to do it," Morgan says. "There's not a chance I would take that on."
Share Vision and Track Results
Trusting a third party with a critical operational component of your business is a big deal. Companies and outsource providers agree that such trust comes from ongoing, clear communication and explicit accountability standards. You need to help your provider understand your vision and values. Make sure your provider speaks your language so that it becomes a seamless extension of your company. "Our vendors are really representing us by the way that they handle the service they're providing us," Isserman says.
Fred Weiner, CEO of The Connection—a Minnesota-based provider of customer contact services—says "it's all about the brand" when his company partners with a client. "Everybody from myself to the Client Service Managers will live and breathe the brand and will wind up being experts in the client's culture," Weiner says.
It's not enough to talk the talk, though. Vendors must provide a consistent, measurable level of service. Sometimes the outsource provider will write service guarantees into its contract. Other times, the org will dictate the terms of acceptable performance. Either way, a successful outsource partnership will evaluate its success based, in large part, on quantifiable outcomes.
Access to data is critical in an outsourcing relationship, Weiner adds. The Connection's clients can see real-time reports on the company's service levels 24 hours a day, seven days a week via an online dashboard. Reporting everything from the average call time to the number of abandoned phone calls, the dashboard provides a clear picture of how The Connection is performing for its partners, he says.
In general, the most successful outsource providers understand their clients from the inside out. They are focused on so much more than competitive pricing. They know that their clients' wins are their wins and that their clients' challenges are their opportunities.
Stay Close
Loss of control. It's a common fear among organizations when they think about outsourcing. But successful outsourcing partnerships are a calculated blend of holding on and letting go, with the Client deciding when it will be in the driver's seat and when it will hand over the wheel.
For example, when it comes to manufacturing, many companies work closely with their factory to determine—or to take ownership of—where ingredients or materials come from down to what type of packaging material is allowed and what isn't.
The bottom line is, you are in charge of what you let another company do for you—which is, itself, a form of control. You decide what your knowledge is and what your competencies are and where there are holes. "If you recognize that there are some gaps in your team's expertise and experience that can be fulfilled by a third-party provider, then it's worth researching an outsource option.
Let Experts Be the Experts
While you're overseeing processes, don't forget that one of the reasons you chose outsourcing to begin with was to clear your plate. If you partner with outsourcers who understand and treat your business like it's their own, you can confidently step back from certain areas.
Experienced third-party outsourcers stay up-to-date on the latest regulations, rules, technologies and trends so you don't have to. They make sure you're informed of the relevant items that could impact your business and ensure your program comply at every step. They are always looking at compliance, service, and quality as well as maintaining the integrity of your program. A strategic outsource partner also should have enough experience in your corner of the market that it can leverage lessons learned from serving customers with similar goals and challenges. They can make you aware of trends to embrace and fads to avoid.
See Through Their Eyes

From data collection and analysis to process improvement strategies, outsource partners have a collection of tools that can help refine an organization's focus and fuel its growth. Your partners are behind the scenes making sure you have the support you need to grow your business.
When an outsource vendor also provides valuable consulting, it can help you make smart investments as you grow, says The Connection's Weiner, who helps his clients minimize the number of contact center staff they need as they grow, which controls their overhead costs. "If you double in revenue, you're not going to have to double the size of your contact center," he says, because a company can address many customer issues through web chat, social media and other digital tools. "When they're taking off," he says, "they're chasing all sorts of infrastructure issues, and the last thing they want to be chasing is a contact center process to scale from five people to 150 people." In a strategic outsource partnership, a vendor can help a company avoid unnecessary expenses, which frees capital and cash for growth initiatives.
---

If you recognize that there are some gaps in your team's expertise and experience that can be fulfilled by a third-party provider, then it's worth researching.
- David Isserman, Chief Operating Officer, Touchstone Essentials

---
Bringing in the Best
Outsourcing is a massive global business. According to smartceo.com, the outsource market reached as much as $136 billion in 2014, funding more than 900,000 jobs at 162,000 companies. It has become sophisticated, strategic and standard.
Because you have a million moving parts to manage every day, maybe just the thought of adding one more cog to your wheelhouse feels overwhelming. The decision to outsource is not an easy one—nor should you take it lightly. Your business is your baby, and it makes sense to be deliberate about allowing someone else to help you care for it.
Make a pros and cons list. Ask yourself, and potential outsourcers, hard questions. Choose a vendor you can trust with the kind of information and responsibilities that successful strategic partners need to contribute to your success. Team National's Chrysler advises you to get recommendations. Ask your peers, "Who are you using? How are they helping you?"
Look at Apple as an example of a company for which outsourcing is a major factor in the company's ability to remain innovative. "Does it become the best glass company?" he asks. "The best chip manufacturer? The best fulfillment facility? Or does it pick and choose what it can do and pick the best outsource partners to become
the best?"
Think of outsourcing as a way to expand your vision and your team, to leverage external talent and experience to help you achieve your goals. But think of it also as a way to set the bar higher, to be a leader in your field. There are valuable sources out there. Bring them in.
Questions About Whether Outsourcing is Right for You?
If you have questions about whether call center outsourcing is right for you, contact our team of Consultants at The Connection® at (800) 883-5777 or connect with us online.
Originally published in Direct Selling News Magazine by Heather Martin
Source: https://www.theconnectioncc.com/tips-from-the-pros/blog-details/go-beyond-outsourcing-leverage-strategic-partnerships-for-growth
Publish Date: November 27, 2017 5:00 AM
---
How AI & Chatbots Are Transforming Customer Experience in the Call Center
Artificial Intelligence (AI) is dramatically changing business, and chatbots, fueled by AI, are becoming a viable customer service channel. The best ones deliver a customer experience (CX) in which customers cannot tell if they are communicating with a human or a computer. AI has come a long way in recognizing the content – and context – of customers' requests and questions.
Typically, customer service chatbots answer questions based on key words. The most basic systems are actually document retrieval systems. Sometimes this is frustrating. Think of the times you may have asked Siri or Alexa a question and received the wrong answer. The computer recognizes key words but may not recognize the context in which they are being used. In other words, the computer doesn't recognize the way people naturally speak. This can cause the customer great frustration. However, these AI systems have come a long way and continue to improve.
Adding natural language processes and machine learning changes everything, giving virtual customer assistants (VCAs) the ability to determine not just what rules-based action to take based on a word, but to understand the meaning of words in different combinations, ask questions to create context and intent, and actually do something for the customer.
For at least the foreseeable future, chatbots won't be replacing humans in contact center jobs. At this point, chatbots will only replace some of the tasks that people are now handling – especially lower-level requests, questions and complaints. The best chatbot systems can recognize customer frustration and switch the interaction to a human in the company's support center. That said, chatbots are on their way to mainstream acceptance. Here are four ways AI and chatbots are creating a major impact in the customer service and CX world:
The chatbot never sleeps: Customer service is all about convenience, which includes 24/7 customer support. A cost-efficient, yet powerful way to provide basic support is through the never-sleeping chatbot. In the banking industry, for example, chatbots are trained by using historical conversations and can perform some of the same tasks as a live support center rep such as correcting an invoice, answering basic questions about account balances and more. Customers receive the same level of service they would get from the support rep. The chatbot can recognize human emotions such as anger, confusion, fear and joy. And, as mentioned above, if the chatbot detects that the customer is angry, upset or frustrated, it will seamlessly transfer the interaction to a human to take over and finish assisting the customer.

The chatbot won't make you wait: The concept of on-hold music is a friction point in customer service. With chatbots, you no longer have to wait for the next agent.

Personalizing the customer experience: Chatbots excel at collecting customer data from support interactions. After all, it's the computer that's doing the work. The advantage is that live support agents can use this information to personalize their interactions with customers. Chatbots serve as virtual assistants that can feed customer data to the agent in real time, so the agent can give the customer good information and solutions based on current needs as well as past interactions with the company.

Chatbots make friends and build relationships: Most companies wish their agents had more time to make outbound, proactive contact with their customers. Chatbots are there to help, and in some ways, they are revolutionizing the way brands stay in touch with their customers. Whether it's a simple email or text on a customer's birthday, or a quick check-in to ask if they are enjoying the brand's product or service, chatbots are helping to foster brand loyalty. This may sound counterintuitive, but the most sophisticated chatbots can provide a more human experience than an actual human. They don't have bad days and they don't get frustrated by customers.
Studies and reports show that customers want quick, frictionless solutions to their problems and answers to their questions. No doubt there are acceptance issues for AI and chatbots. Some customers have always used traditional phone support and have a hard time accepting anything else. But, there is a growing contingent of customers who are increasingly open to new technology, especially if it can enhance their CX. As the technology improves and acceptance grows, chatbots, powered by AI, will have a strong role in customer service and support.
To discuss chat and chatbot solutions for your organization, as well as using AI in the contact center, contact us to speka with one of our Business Development Representatives.
As published on Forbes.com by author Shep Hyken.
Source: https://www.theconnectioncc.com/tips-from-the-pros/blog-details/how-ai-chatbots-are-transforming-customer-experience-in-the-call-center
Publish Date: July 18, 2017 5:00 AM
---
5 Ways Call Center Outsourcing Can Help Increase Profitability
For many companies, staffing and managing an internal call center can be a challenging and costly part of their direct-to-customer businesses - representing as much as 3% or more of net sales. An alternative is outsourcing call center services in part or in full to a qualified partner to help support your growing business.
While most businesses now use internal call centers, there are cost-effective and customer centric ways to use outsourcing. It's important to perform the right level of due diligence to determine if outsourcing is right for your business.
To help in your decision making process, here are 5 ways outsourcing call center services can help organizations like yours.
Lower Cost per Call and Order
For many small to midsize companies, call center outsourcing can provide a lower cost per fall and per order than in internally managed operation. This is especially true of companies without a highly technical product that requires in-depth knowledge. Outsourcing eliminates the costs of recruiting, training and retaining qualified call center representatives.
Do you know what your costs are and how to compare them to outsourced call centers? So often we only think about the hourly labor rate, but a fair comparison requires determining total costs per transaction. These costs include payroll and benefit costs for management, supervisors and Agents, space and utility costs, telecom, IT systems and software, HR, recruiting, and training (including season ramp-up and employee turnover). Do the analysis and understand your costs per transaction, order and call.
When you do a comparison analysis of outsource vs. insourced, be sure all costs are included in the estimate. This should include project time and product training costs several times per year in order to get an apples-to-apples comparison.
The Connection offers U.S. outsourced contact center services for call centers looking for assistance with customer service and technical support solutions. Contact us for a free quote today.
Focus on Core Competencies
Outsourcing your call center functions to a qualified call center company gives management more time to focus on developing products, customer acquisition, marketing campaigns and other growth initiatives. A qualified call center company will handle all of the program and operational details of your program keeping you as hands on or hands off as you desire. This will give you the time to execute plans and focus on your brand.
Support for After Hours & Overflow
Much like seasonal support, call center companies can help you service customers in ways that you're not able to do with flexibility and acceptable costs. If you have higher than planned call volumes, customer will not wait. They abandon calls and shopping carts if they can't get immediate assistance. Outsource companies can help provide this immediate staffing need with high quality and tenured personnel, making sure you stay connected with your customers and sales opportunities.
Avoid Capital Investment
To be efficient and competitive, companies need to invest in technology and systems that help you stay connected to customers. These can include chat, VoIP, support for online shoppers on websites, scheduling software, quality call monitoring systems, speech analytics and modern interactive training systems. These systems are expensive to maintain and constantly changing. The latest and greatest in these technologies helps provide a seamless customer experience, higher service levels and lower costs, but can also be costly for many organizations to maintain. Most outsource call center companies invest in these technologies on a regular basis and have the staff necessary to complete regular maintenance and keep them running. These technologies and support services should all be built into the costs associated with operation of your program. While all of these don't apply to every company, the right partner will allow you to reserve capital for other growth focused initiatives.
Reduce the Stress, Time, Cost of Hiring and Training
Recruiting becomes a time-consuming and costly endeavor for many companies, especially those looking to fill ramp periods and seasonal spikes. In some markets you may not be able to find qualified call center associates at your budgeted wage. And there is always some percentage of temporary associates that just don't make the grade or decide this isn't what they're looking for.
IT, order entry, customer service systems, ecommerce systems, procedures and product assortments have become so complex that it requires a week or more of training, plus some nesting time to get new associates confident and hitting the desired productivity levels. Outsourcers provide additional recruiting and staffing opportunities, utilizing multiple national locations and deep candidate hiring pools. In addition, outsource call centers are equipped with people, processes and systems to provide regular training, nesting and ongoing monitoring to make sure staff are operating at peak performance.
Ask us for a call center outsource quote today.
Source: https://www.theconnectioncc.com/tips-from-the-pros/blog-details/5-ways-call-center-outsourcing-can-help-increase-profitability
Publish Date: March 14, 2017 5:00 AM
---
The Connection® Celebrates Dual Anniversaries
The Connection® is celebrating two anniversaries this year. The contact center will be celebrating its 10th anniversary in Jamestown, NY and 35th overall as a business, founded by Fred Weiner, CEO, in August 1981. Weiner founded the Minnesota-based business that began operations as computerized classifieds. As the market has changed with the addition of new technology, The Connection® evolved into a call center that has continued to grow into a contact capable of handling all forms of customer contacts as well as its newly expanded offerings of consulting and training and development.
"In Jamestown we do the full sweep of what a contact center offers from live operators to email response to web chat to social and online monitoring. We also offer back office support options based on customer service and tech support " Weiner said. The center operates 24/7, with more than 200 employees in Jamestown and more than 1,000 overall. Weiner said The Connection® opened in Jamestown in 2006 as a 20-seat pilot operation. He said full operations started in 2007.
"There was a marketing professional by the name of Lori Shagla who found us and reached out to us. She convinced us to look at Jamestown," Weiner said. "We liked the community and the population. It has been a nice run now that we're coming up on the 10-year anniversary in Jamestown." Weiner said the Jamestown location has been a success for the business headquartered in Burnsville, Minn., with call centers also located in Rockford, IL and Olean NY. "Jamestown meets the needs for our operating matrix. It is a great community for us to hire from. We have a lot of people who have stayed and grown with the organization," he said.
"There have been people who have been around 25-30 years. People who have grown and grown with the organization. They have become family," Weiner said. "We're always looking for people who want in opportunity to improve their lives. That is what the 35 years has been about – changing lives."
Weiner said anyone interested in applying for a job with The Connection® can visit the Jamestown location 111 W. Second St., or they can apply online. "We love Jamestown, we love the people and we're always looking for more," he said.
Orignally published by Dennis Phillips from The Post-Journal.
Source: https://www.theconnectioncc.com/blog/blog-details/the-connection-celebrates-dual-anniversaries
Publish Date: August 23, 2016 5:00 AM
---
The Connection® Celebrates 35 Years in Business
The Connection®, a leader in contact center outsourcing, call center consulting, and training and development services, celebrates 35 years in business.
On August 19th, The Connection® will celebrate its 35th year in business. Founded in 1981 by President and Founder Fred Weiner, The Connection® began as an electronic classifieds and soon became the source for all things Twin Cities including parade routes, movie times, car listings and dealer locator services. Throughout the years, The Connection® evolved to meet the changing business climate expanding dealer locator services nationally and soon transitioning into an event ticketing organization for the state of Hawaii.
"Our Clients began asking for assistance with customer service and technical support functions of their business," recalls Weiner. "This need enabled The Connection® to enter the BPO space providing call center services to meet the needs of our Clients." Today, The Connection® is a full service contact center providing inbound and outbound customer service, appointment setting, lead generation, enrollment services and customer retention to Fortune 500 companies in the Healthcare, Government, Education, Retail, and Utilities markets. The Connection® operates three call centers nationwide located in Rockford, Illinois as well as Olean and Jamestown, New York. Recently, The Connection® has also added call center consulting as well as training and development solutions which include customized eLearning and LMS solutions to its suite of services.
"One of the things The Connection® does really well is adapt," says Weiner. "We see an increasing need for a service and look at how we can fulfill that need. However, we are more than a service company, we are also a people business. There are many people who have been with our organization for 25 to 30 years that have grown with our company and become family. That is what the last 35 years has been about – providing value – whether it is to our Clientele through enhanced service offerings or enriching the lives of those that work within our organization."
Source: https://www.theconnectioncc.com/blog/blog-details/the-connectionreg-celebrates-35-years-in-business
Publish Date: August 19, 2016 5:00 AM
---
Client Branded Customer Service Maximizes Consumer Retention during Product Recall
A well-known retailer for consumer goods and services began receiving repeated customer complaints after launch of a new product. Upon investigation, the company discovered the recently launched product contained a manufacturer defect that would require the item be recalled. To handle the recall as expeditiously as possible for their customers, the company quickly took action—distributing a recall notification in which they offered free repair of the product. In anticipation of increased call volume, the organization sought the help of a contact center that could handle the large spike in call volume. As a trusted outsourcing partner, The Connection® was called into help.
The Connection® Solution:
Agent and Supervisor Training. Understanding the impact these calls can have on customer retention and corporate reputation, The Connection® developed, in partnership with the Client, an intensive, brand-centric training course for customer service agents using materials and scripting provided by the client.
Inbound Customer Service. Inbound customer service agents provided by The Connection® focused on first call resolution, delivering a customer experience unique to our retail client. Agents worked to ensure that in spite of the recall, the process of handling it would increase the likelihood of customers to use their brand again through:

Explaining the situation to the Customer.
Confirming whether or not the recall affected them and how.
Scheduling a repair for Customers affected by the recall.
Reassuring the Customer of the quality and commitment of the brand to solving their problem.

Outbound Follow Up. The Connection® outbound agents contacted non-responsive customers to remind them to schedule their repair appointment.
Customized Reporting. In addition to service level, KPI and daily reporting, The Connection® also provided detailed reporting for the client around a customized set of parameters. Reporting included:

Number of repairs scheduled;
Number of follow up calls provided;
Call escalations requiring additional follow up from the client's internal team.
Results:
Impressed with how their program was handled, The Connection® was asked to handle additional operational hours during the recall. In response to the high quality and level of customer service provided, the Client has continued to partner with The Connection® for overflow and event based support.
Source: https://www.theconnectioncc.com/blog/blog-details/client-branded-customer-service-maximizes-consumer-retention-during-product-recall
Publish Date: August 16, 2016 5:00 AM
---
The Connection® Contact Center Hosts Open House
Rockford, IL (July 20, 2016) –The Connection®, a leader in contact center outsourcing, call center consulting, and training and development services, hosts Open House Saturday, July 30th.
The Connection® Contact Center in Rockford will be hosting an Open House Saturday, July 30, 2016 from 9:00am – 1:00pm. The Open House is open to the public, offering a chance for the community to meet the team, and tour the facility, which added over 125 seats to the existing 400 seat center in early 2016. "We are excited to share what we have to offer with the community, and invite everyone out to see our location and meet our new team members," says Jeff Austin, who joined the Rockford location in mid-June as Call Center Manager. "We are a people business and strive to engage the communities our call centers reside in so we wanted to use this Open House as a way to give back to the community while providing an opportunity for those who may be unfamiliar with The Connection® a chance to see why we are one of the premier employers in the Rockford area."
Onsite from 10AM to 12PM during the Open House will be local radio station 97 ZOK who is awarding some great prizes to attendees such as tickets to the Rockford Rivets, Magic Water Park Passes, Hotel Getaway Packages, and more. Goodwill, who will be accepting donations, will also be onsite as well as Rock Valley College, PNC Bank, Anytime Fitness, and a variety of other vendors. "These organizations have great tools available for anyone in the community to use. We are excited to be able to partner with them for this Open House," states Austin.
The Connection®, an inbound contact center providing customer service to a variety of clients including consumer services and retail, government, healthcare, and financial services, is always on the lookout for talented individuals to join our team. "The Connection® will be looking to fill multiple positions including Customer Service Representatives, Supervisors, Trainers, and Quality Assurance throughout August and September. We encourage all interested parties to stop by the Open House located at 1975 Harlem Road in Loves Park, IL or apply online at http://www.theconnectioncc.com/careers/," said Austin.
We hope to see you on July 30th from 9:00am – 1:00pm!
Source: https://www.theconnectioncc.com/blog/blog-details/the-connection-contact-center-hosts-open-house
Publish Date: July 20, 2016 5:00 AM
---
Using CSAT and NPS Ratings to Gain a Complete View of Customer Perception
The CSAT survey and NPS rating are two of the most commonly used instruments to measure customer opinions. However, each is used for a specific purpose and capture different types of data.

CSAT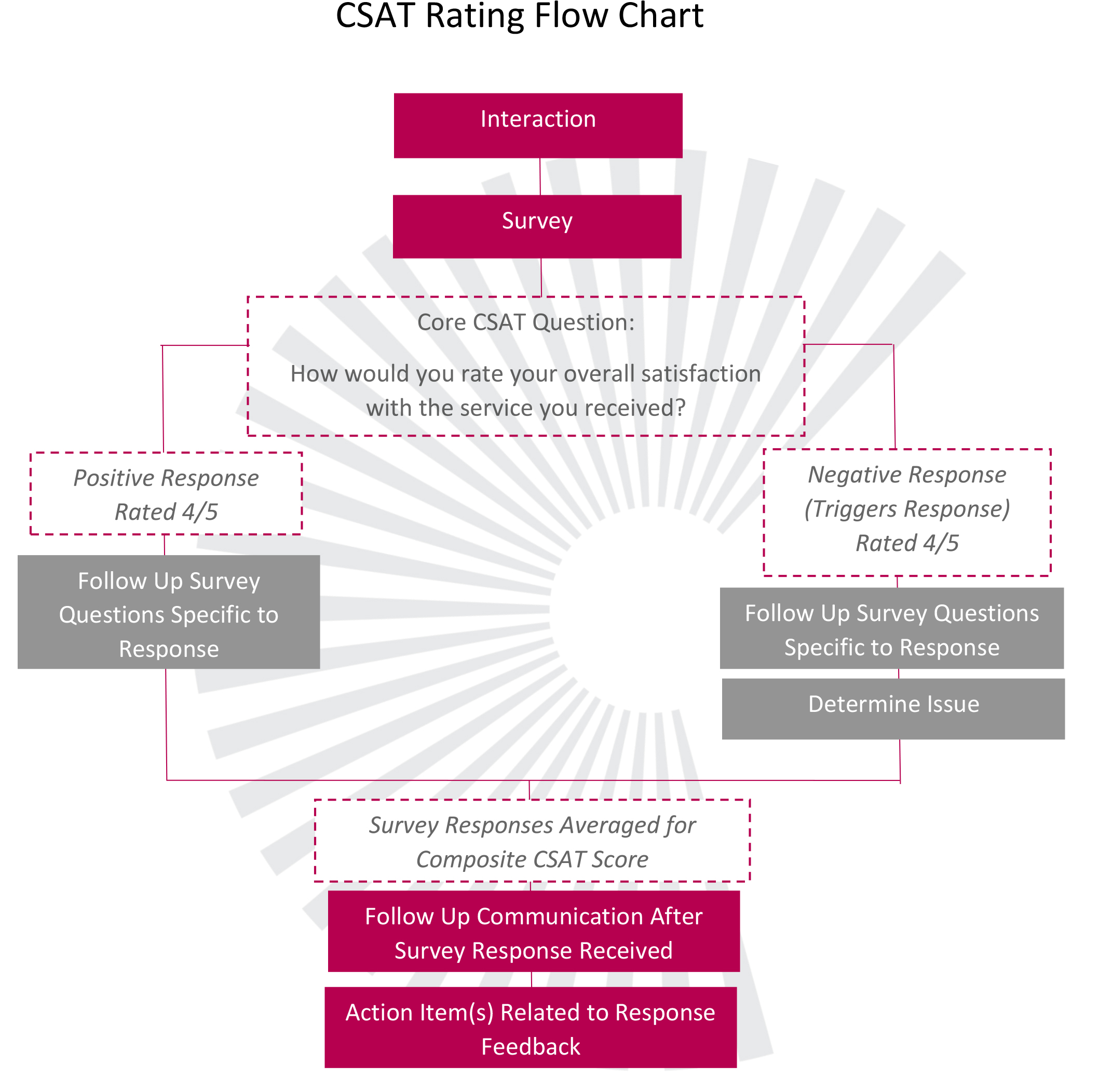 CSAT measures customer satisfaction in relation to service received relative to a specific transaction or interaction. It can also be used to track changes in customer satisfaction as a result of new company initiatives such as training programs, policy modifications, or offerings.
The CSAT measurement offers a holistic view of customer satisfaction expressed as a percentage between 0 and 100, with 100% representing complete customer satisfaction. CSAT is often determined by a single question in follow up surveys that ask one core question:
"How would you rate your overall satisfaction with the service you received?"
Depending on how customers answer the core question, additional follow up questions can be utilized to ascertain specific areas of satisfaction or dissatisfaction (see Figure 1.0).
Customers are asked to rate each answer on a scale of 1-5 with:
1: representing a customer that is very dissatisfied with the service provided;
3: representing the trigger point for follow up. Any score of 3 or under automatically receives a follow up from manager of QA team member;
5: representing a customer who is very satisfied with the service provided;
All surveys are then averaged for a cumulative CSAT score represented as a percentage between 0 and 100.
CSAT is generally used for two purposes:
To develop a customer service baseline;
To track changes in customer service against corporate initiatives.
In order to develop a customer service baseline, the CSAT is provided after every single call or customer interaction typically through IVR, email, or SMS. This will enable a company to:
Identify CSAT rating categorically by agent, product, or communication method;
Identify CSAT rating demographically by age, gender, or location;
Identify CSAT rating by offering based on product, service, demographics, or any combination thereof;
Develop an overall understanding of how satisfied customers are with the service they receive.
Once a baseline has been established, the CSAT can be used as an indicator of how new initiatives to the organization impact customer service by measuring deviations from the baseline. Once initiatives have been implemented, CSAT scores are measured after every call or interaction over the course of 3-6 months. The CSAT during the 3-6 month period are then compared to the baseline established earlier to determine any significant increases or decreases to customer satisfaction as a result of the initiative.
NPS
Net Promoter Score (NPS) is a standardized measure used to indicate the loyalty level of your customers. The NPS measures not just customer satisfaction, but gauges whether customers are going to be avid brand promoters (loyal to your brand), passives (neutral to your brand), or brand detractors. It accomplishes this by asking one core question:
"How likely is it that you would recommend [Company] to a friend or colleague?"
Customers are asked to rate their answers on a 0-10 scale, which is divided into three categories based on how they answer the question:
Detractors (Company that is ranked 0-6 on a 1-10 scale)
Passives (Company that is ranked 7-8 on a 1-10 scale)
Promoters (Company that is ranked 9-10 on a 1-10 scale)
The NPS is a great management tool that is both easy to use and intuitive (see Figure 2.0). Responses to the question classify the level of loyalty for each customer while providing a baseline for follow up. Based on the response of each customer, the company can:
Benchmark current NPS rating by customer, product, communication method, or industry;
Track growth against organization and industry standards based on benchmark of NPS rating by customer and industry breakdown;
Solicit promoters for reviews;
Develop focus groups to evaluate product or service offering for their target audience;
Identify brand promoters, passives, and detractors categorically and demographically;
Allow for follow up to passives and detractors to promote greater brand loyalty;
Provide insight into need for product features, benefits, or communications revisions based on feedback and evaluations;
Provide the company similar language to use when referring to customers at the varying loyalty levels;
Provide detailed follow up plan for follow up based on levels of loyalty.
To truly make an NPS rating effective, it should be measured quarterly. Results can be segmented to depict loyalty measurements by customer and industry each quarter as well. Any movements or deviations from the previous quarter's loyalty relating to customers or overall industry outlooks should be reported and handled appropriately.
Which Should You Use?
CSAT, while a good measurement for customer satisfaction, is limited in the insight it can provide to the specific transaction that the survey is asking about. Additionally, the method does not take into account that many mildly satisfied or dissatisfied customers tend to forgo participating in such surveys. It also fails to differentiate certain factors that contribute to customer satisfaction such as value, quality, price, how closely the expectations of the customer are met, or how valued the customer feels at the end of the transaction. This can cause the CSAT measurement to be skewed in either direction. As a result, it is highly recommended that quarterly NPS ratings be utilized in conjunction with CSAT measurements to provide a comprehensive customer outlook of the organization.
Regardless of which model or metric is used, follow up after responses have been collected is key to adjusting or strengthening brand perception in the eyes of the customer. Gathering the results is not enough; an organization utilizing either CSAT or NPS ratings should be able to understand what to do with these results once they have been compiled. At The Connection®, we make sure that your organization has an appropriate follow up plan and process that promotes the follow up of all levels of respondents including any action items that may stem from follow up responses.
Source: https://www.theconnectioncc.com/blog/blog-details/using-csat-and-nps-ratings-to-gain-a-complete-view-of-customer-perception
Publish Date: July 12, 2016 5:00 AM
---
Recruiting, hiring, staffing and scheduling—virtually everything that goes into optimizing resources depends on having a good estimate of the work that will come your way.
How accurate should your forecast be? Let me suggest some parameters. Large agent groups (100 or more agents) generally see relatively stable contact arrival patterns and should strive for plus or minus 5 percent (or better) of workload down to specific intervals (see Table). Small groups (15 or fewer agents) often have more volatile patterns and should shoot for plus or minus 10 percent. Those in-between should strive for something as close to 5 percent as possible.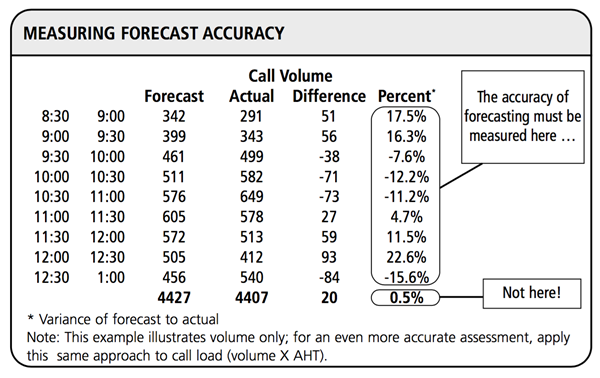 This is not to suggest you can't do better. On the other hand, if you're just getting started with, say, a small group handling new mobile or social interactions, being within 100% might be a good start! Don't give up. Make this aspect of planning a priority.
Ten common problems tend to consistently emerge as forecasting problems are investigated, and they are summarized here (in no specific order). In centers with inaccurate forecasts, usually two or three of these issues are most prevalent. The good news is, you can avoid these problems! By identifying the culprits, remedies become evident.
1. No Systematic Process Is In Place.
There are two erroneous beliefs that many use to justify the absence of a systematic forecasting process. One is that the environment is just too unpredictable, that forecasting is not going to help. Others are convinced it's not worth the time and effort. Either can be cultural killers of forecasts, and will set you up for failure.
2. There Is An Assumption That "The Forecasting Software Knows Best."
Don't get me wrong on this, forecasting software can be very helpful in collecting and analyzing data, running scenarios, contrasting methodologies and potential outcomes. But you can't just plug numbers in and have accurate forecasts pop out. The software doesn't know what your marketing department is about to do, or competitive activity, or the significant initiatives you put in place in recent months that will literally reshape services. It's a tool, not the end-all answer.
3. Not Forecasting At The Agent Group Level.
Even a perfect forecast of the aggregate workload will be of limited use if you route contacts to specialized groups. If you have a group of Spanish-speaking agents handling services A, B and C, you will need to forecast contacts from Spanish-speaking customers who need help with those services. This, of course, is a prerequisite to effective recruiting and hiring.
4. The Forecast Is Taken Lightly.
If the forecast has been wildly inaccurate in the past or if no one understands the assumptions used in the process, it will not be given the credence it needs in the planning steps to follow.
5. Events That Should Be Exceptions Become Part of the Forecast.
Utilities tend to get lots of contacts when storms knock out power, the financial industry gets swamped when markets swoon, and many centers have, on at least one occasion, dealt with contacts from an unannounced marketing campaign. Those preparing the forecast need to be aware of the root causes of contacts in order to make a good judgment on what is likely to continue (and therefore should be built into the forecast) versus the exceptions.
6. Ongoing Communication With Other Departments Doesn't Exist.
Most of what happens in a contact center is caused by something going on outside the center. The forecast, along with any larger business transformation initiatives, is doomed if strong ties with other departments don't exist.
7. Planning Is Done Around Goals, Not Reality.
If staffing is based on a handling time of four minutes when actual handling time is more like seven minutes, the resulting staff calculations and schedules will be based on a pipe dream. Maybe lower turnover, improved training, or better systems would move things in that direction. But ignoring reality in the planning process is no way to achieve better results or build confidence in the forecast.
8. No One Is Accountable.
As vital as a good forecast is, often there is no one who spearheads the effort. Someone needs to be responsible for bringing the various types of input together, ensuring that it is integrated into the forecast, and investigating which assumptions were off when the forecast is not accurate.
9. Agents Are Mixing Flexible Activities into Work Modes.
If agents are not using work modes consistently, especially after-call work, then accurate forecasting will be elusive.
10. Not Making The Connection With Staffing.
Forecasts mean nothing unless they are tied to staff and system resources required. With good forecasts, you are ready to cast for your contact center superstars.
Forecasting takes practice. You will never learn all there is to know about it — but you'll get better at it. One of the most important steps you can take to improve accuracy is to compare your forecasts with actual results and then ask, "Why?"
As published by Brad Cleveland from ICMI Resources, Workforce Management.
Source: https://www.theconnectioncc.com/blog/blog-details/10-causes-of-inaccurate-forecasts-how-to-avoid-them
Publish Date: March 14, 2016 5:00 AM
---
It's tough to hold on to good employees, but it shouldn't be. Most of the mistakes that companies make are easily avoided. When you do make mistakes, your best employees are the first to go, because they have the most options.
If you can't keep your best employees engaged, you can't keep your best employees. While this should be common sense, it isn't common enough. A survey by CEB found that one-third of star employees feel disengaged from their employer and are already looking for a new job.
When you lose good employees, they don't disengage all at once. Instead, their interest in their jobs slowly dissipates. Michael Kibler, who has spent much of his career studying this phenomenon, refers to it as brownout. Like dying stars, star employees slowly lose their fire for their jobs.
"Brownout is different from burnout because workers afflicted by it are not in obvious crisis,"Kibler said. "They seem to be performing fine: putting in massive hours, grinding out work while contributing to teams, and saying all the right things in meetings. However, they are operating in a silent state of continual overwhelm, and the predictable consequence is disengagement."
In order to prevent brownout and to retain top talent, companies and managers must understand what they're doing that contributes to this slow fade. The following practices are the worst offenders, and they must be abolished if you're going to hang on to good employees.
They make a lot of stupid rules. Companies need to have rules—that's a given—but they don't have to be shortsighted and lazy attempts at creating order. Whether it's an overzealous attendance policy or taking employees' frequent flier miles, even a couple of unnecessary rules can drive people crazy. When good employees feel like big brother is watching, they'll find someplace else to work.
They treat everyone equally. While this tactic works with school children, the workplace ought to function differently. Treating everyone equally shows your top performers that no matter how high they perform (and, typically, top performers are work horses), they will be treated the same as the bozo who does nothing more than punch the clock.
They tolerate poor performance. It's said that in jazz bands, the band is only as good as the worst player; no matter how great some members may be, everyone hears the worst player. The same goes for a company. When you permit weak links to exist without consequence, they drag everyone else down, especially your top performers.
They don't recognize accomplishments. It's easy to underestimate the power of a pat on the back, especially with top performers who are intrinsically motivated. Everyone likes kudos, none more so than those who work hard and give their all. Rewarding individual accomplishments shows that you're paying attention. Managers need to communicate with their people to find out what makes them feel good (for some, it's a raise; for others, it's public recognition) and then to reward them for a job well done. With top performers, this will happen often if you're doing it right.
They don't care about people. More than half the people who leave their jobs do so because of their relationship with their boss. Smart companies make certain that their managers know how to balance being professional with being human. These are the bosses who celebrate their employees' successes, empathize with those going through hard times, and challenge them, even when it hurts. Bosses who fail to really care will always have high turnover rates. It's impossible to work for someone for eight-plus hours a day when they aren't personally involved and don't care about anything other than your output.
They don't show people the big picture. It may seem efficient to simply send employees assignments and move on, but leaving out the big picture is a deal breaker for star performers. Star performers shoulder heavier loads because they genuinely care about their work, so their work must have a purpose. When they don't know what that is, they feel alienated and aimless. When they aren't given a purpose, they find one elsewhere.
They don't let people pursue their passions. Google mandates that employees spend at least 20% of their time doing "what they believe will benefit Google most." While these passion projects make major contributions to marquis Google products, such as Gmail and AdSense, their biggest impact is in creating highly engaged Googlers. Talented employees are passionate. Providing opportunities for them to pursue their passions improves their productivity and job satisfaction, but many managers want people to work within a little box. These managers fear that productivity will decline if they let people expand their focus and pursue their passions. This fear is unfounded. Studies have shown that people who are able to pursue their passions at work experience flow, a euphoric state of mind that is five times more productive than the norm.
They don't make things fun. If people aren't having fun at work, then you're doing it wrong. People don't give their all if they aren't having fun, and fun is a major protector against brownout. The best companies to work for know the importance of letting employees loosen up a little. Google, for example, does just about everything it can to make work fun—free meals, bowling allies, and fitness classes, to name a few. The idea is simple: if work is fun, you'll not only perform better, but you'll stick around for longer hours and an even longer career.
Bringing It All Together
Managers tend to blame their turnover problems on everything under the sun while ignoring the crux of the matter: people don't leave jobs; they leave managers.
Published by Travis Bradberry, award winning co-author of the book, Emotional Intelligence 2.0, and the co-founder of Talent Smart.
Source: https://www.theconnectioncc.com/blog/blog-details/bad-mistakes-that-make-good-employees-leave
Publish Date: February 17, 2016 5:00 AM
---
Customer centricity has made it high up on - if not to the top of - most companies' list of priorities. A recent study from Harvard Business Review Analytic Services and Strativity Group, which surveyed 315 business executives, found that 75 percent of respondents plan on having a customer-centric strategy in place within the next two years.
These companies have good reason to pursue customer experience (CX) strategies, according to Bob Azman, chief experience officer at Avtex. In Azman's estimation, customer experience strategies are becoming as ubiquitous as headsets within contact centers, "CX shouldn't be an afterthought," Azman says. "It should be the benchmark by which all activities in an organization are measured and decided upon."
More firms are recognizing that to stand out, they have to start putting customers at the center of their operations. Yet while many of them work toward reaching this CX pinnacle, a lot of companies struggle to get their efforts off the ground, as the internal preparation required for carrying out an effective strategy proves daunting.
Whether a company is just embarking on a CRM strategy or evolving its current one, there are many challenges involved in the process, both from a cultural and a financial standpoint; but there are some rules of thumb companies can follow to ensure CX plans unfold smoothly.
WHAT IS AN EFFECTIVE CRM STRATEGY, AND WHY CREATE ONE?
An effective CX strategy is simply one that enables a company to be "easy to do business with." It is what outfits such as American Express, Amazon, Zappos, and Apple all have in common.
Azman urges clients to ask themselves whether they are also easy to do business with, and to review themselves, paying particular attention to 10 key areas:
Social media presence
Web site maintenance and navigability
Technological support
Comprehensive CRM
Empowered customer service agents
Responsive telephony systems
Service recovery processes
Customer analytics
Employee engagement
Streamlined process
For Azman, companies with customer-centric strategies in place enable their customers to reach them at their convenience and engage them on the platforms they want to use, when they want to use them.
Nelson says that the marketplace has come to require these strategies. If customers have grown accustomed to a certain way of doing business, they will hold your company to that standard, as they've carried over expectations from elsewhere. For instance, while your web site may not be a direct competitor with Amazon, your customers are familiar with the experience Amazon delivers, and since they know what is possible, they will expect them of your organization as well.
WHERE ARE YOU, AND WHERE ARE YOU HEADED?
Self-awareness factors heavily into defining CX strategy. Experts suggest that companies routinely evaluate themselves to pinpoint the areas in which they most need to improve, and to ensure they're meeting the needs of customers in whatever channel they encounter them.
Nelson points out that many companies approach CRM with the wrong mid-set, simply noting that they want to "do CRM". He uses a trip analogy to describe the process of developing a CRM strategy: You must understand clearly where you are starting from, where you desire to go, and what tools you'll need to get there.
WHERE DOES STRATEGY BEGIN?
Customer-centric strategy begins at the top of any organization and trickles downward. After all, if someone has a C, E or VP in front of their title, he/she is probably more likely to have influence over those below her in the hierarchy.
Some firms are fortunate enough to have a culture founded on the belief that customer centricity should be prioritized. Those companies often have departments dedicated to overseeing CX initiatives, holding the title "chief customer officer" or the like.
Nelson urges companies to envision what it's like to be a customer of their company to determine what interactions should look like. From there, they can assess the image they'd like to project to target customers.
This can take many forms. For a firm like Fidelity, an effective CX strategy required it to become truly multi-channel. Charles Schwab, on the other hand, has focused on increasing capacity through self-service. State Farm, meanwhile, has concerned itself with creating long-term relationships, and Apple has opted to create emotional excitement for its products.
Azman has some suggestions for companies whose leadership is resistant to customer-centric thinking. "I often hear that no one will listen, that they're focused on revenue, etc." But while organizations face these, and many other obstacles, Azman notes that there's nothing to stop individuals from getting started on their won. One way, he says, is to launch a joint project with a key business partner. For example, they might try to unite the customer service department with sales. From there, they can delve into a broader customer experience alignment, Azman says. "Starting a grass roots campaign can sometimes bear more fruit than a company wide effort that takes months to get started and loses momentum quickly."
ALIGNING ALL EMPLOYEES TO A COMMON VISION
CX efforts can start in one part of an organization, but must ultimately gain traction and reach all parts of it, experts agree. Specific to a CX strategy, it needs to be all encompassing. That is, it can;t be focused solely on one area, but must extend laterally. Fixing a customer service issue, for example, doesn't achieve the foals of an effective CX strategy if it doesn't include other departments.
Nelson agrees, noting that with CRM, "you're only as good as your weakest link." When a customer runs into one area that is broken, she is likely to perceive that entire organization as similarly damaged.
Although it helps if a strategy is agreed upon and supported from the top down. In a statement summarizing the findings of Harvard and Strativity's study "Making Customer-Centric Strategies Take Hold," it noted that "many customer-centric strategies fail during execution because they were designed for the boardroom, not for the customer-facing employee." This view contends that employees are often not adequately prepared to exhibit true customer-centricity. This is largely because of a lack of proper training.
Harvard and Strativity's joint study found that while 80 percent of organizations believe that employee training is important, only 40 percent of them felt they did it well. Many organizations struggle with such preparation because they fear repeating the failures incurred during previous training initiatives, or simply don't want to remove employees from their jobs for the time it takes to train them. Others, it says, simply fail to see the cost of not coaching employees.
Check out the eLearning platform offered by The Connection®. A quick, easy way to train your employees that is effective, efficient, and customized to your goals and CX strategy.
GETTING THEM TO CARE ABOUT CX
In addition to training, companies should cultivate a workforce that genuinely cares about being customer-centric. There are several tactics companies can use to foster such a mind-set.
An essential part of creating a clear and effective vision involves a meaningful cause. Products and services should be discussed in a way that ensures employees can see the impact they can have on other human beings. It is also recommended that CX strategy be linked with bigger picture goals of the organization to show relationship and correlation. If, for instance, your organization values revenue, try to show how customer-centric mindedness impacts revenue through satisfied and loyal customers.
Companies must also align processes with metrics across the entire organization, not just within sales or another department. Set the bar high and then keep raising the bar. If you set the bar too low, employees will feel as though they can under deliver and still meet expectations.
CREATING A BUSINESS CASE FOR CRM UPGRADES
The tips above have largely no-tech or low-tech suggestions. At some point, however, a technology upgrade may be needed. To use a simple example, getting from your house to the corner store is a trip you can take on foot, but going from London to San Diego will require greater technology and a more costly investment (i.e. a plane ticket). In general, the greater the ambition, the more sophisticated the tools required to get the results.
And, like it or not, money will be a factor with outlining a strategy. If someone has an idea for an upgrade, he must be prepared to demonstrate to the decision makers that it will have concrete benefits throughout the organization. There are ways to get through to the various departments and decision makers who hold the power to approve these tools, but it requires careful planning. The business case serves as a tool to help you convince everyone in the organization that you're trading up. It also serves as a helpful map for firms, as a business case provides them with a structured outline as they begin to think about how to evolve their systems.
When determining what technologies to invest in, executives and managers should focus on pitching a short list of realistic benefits rather than indefinite or intangible ones that decision makers will likely meet with skepticism.
One of the great mistakes companies make today is to confuse the features vendors tend to market with the benefits they'll see from using those features. Therefore, companies must be careful in assessing what a given feature will do for them, not what it has done for another firm. Likewise, the objective behind a technology should be maximizing benefits, not minimizing costs.
First, identify the areas of real benefit, then quantify these benefits and evaluate the associated financial metrics. Benefits must be equivalent to results. They can come in the form of increased employee productivity, reduced costs, additional sales, and higher customer satisfaction rates.
MEASURING SUCCESS
The software might have been installed, but that doesn't mean you can relax. The performance of your system must constantly be measured and assessed to determine what areas need to be refined. And after companies have calculated the concrete benefits of an implementation, they should set milestones to track whether they're meeting the numbers they've laid out for themselves. Companies should identify and prioritize the key areas of focus to make sure a project stays on track.
Just remember, as you embark on your CRM journey, it's going to be an ongoing process. It's not a once and done.
Article by Oren Smilansky published in Customer Relationship Magazine.
Source: https://www.theconnectioncc.com/blog/blog-details/crafting-an-effective-customer-strategy-guidelines-for-tackling-common-barriers
Publish Date: February 4, 2016 5:00 AM
---
More than one hundred members have replied (and only a few have ignored the one word guideline). The resulting thread is one rich with insight about how today's business professionals define elite customer service.
Simple, inviting and readable, the discussion represents a valuable means of assessing customer service.
No matter how philosophically customer centric, today's businesses all face practical constraints. They cannot do everything and they cannot be everywhere. Despite that reality, they are being asked to serve customers who demand an increasingly higher level of service.
Businesses, consequently, have no room for wasted effort. If their finite resources and capabilities do not go specifically to what matters most, they will not be able to compete on the customer experience. Customers will flock to the businesses that come closer to the customer experience ideal.
By identifying the one word that describes the best customer service, professionals articulate the one thing they absolutely cannot ignore. No matter how loose or tight their budgetary constraints, they must deliver on that pivotal expectation.
Empathy (or "understanding"): The best service, in the eyes of the greatest percentage of group members, is not imposed upon customers. It is the product of an actual attempt to empathize with them. The concept of customer centricity declares that the information and resolution offered must align with customer desire rather than business script, habit or policy. Truly understanding how the customer feels and why the customer wants what he wants is the surest way to honor that directive.

Satisfaction: Again indicative of the fact that customer service is, ultimately, about the customer, "satisfaction" (or "satisfied") represents the group's second-most popular selection. No matter how efficient, innovative, cross-channel or personalized the service, it ultimately needs to satisfy the person or entity to whom it is being offered.

Listen (tie): Scripts and policies are designed based on expectations and generalities. Actual customer interactions are rooted in unique experience and shaped by unique customer preference. Instead of attempting to affix a standard label onto a conversation, the best customer service effort listens wholeheartedly to the customer and allows that conversation to create the label and drive the remainder of the interaction. When it comes time to issue the resolution and complete the engagement, the agent again listens to make sure the customer – not simply protocol – is satisfied with the outcome.

Patience (tie): Average handle time is relevant for workflow purposes. Efficiency is relevant for business purposes. When it comes to elite customer service, however, patience trumps both. The best customer service, per a substantial group of members, involves a complete commitment to the customer – and achieving his desired outcome. That may manifest in a quick call. It may require a lengthy one. Exercising patience, neither the business nor the agent should possess a preference. Both must invest the time needed to deliver the best outcome for the customer.

Caring: Certainly believers in the notion of empathy, a chunk of group members believe the call of duty goes one step further. They believe the best customer service occurs when the outcome truly matters to the business and its agent(s). Agents do not simply need to listen to customers. They do not simply need to understand customers. They need to care about customers – and the success of the interaction. What the customer is facing – and what the customer requires – should matter to the business. Troublesome matters should concern the business, as those matters do customers. Successful resolutions should delight the business, as those outcomes do customers.
Published by Brian Cantor at Call Center IQ.
Interested in tracking your customer satisfaction, brand loyalty or customer effort score? Contact The Connection® to see how our after call surveys can help.
Source: https://www.theconnectioncc.com/blog/blog-details/five-words-that-describe-the-best-customer-service-in-2016
Publish Date: January 21, 2016 5:00 AM
---
The Connection®, a provider of contact center solutions based out of Burnsville, MN, provides over 1,000 turkeys to corporate and contact center employees for the holidays.
For its annual "thank you" to all its employees, The Connection® Contact Centers provided Holiday turkeys to its employees providing over 1,000 turkeys to employees to their corporate office and three call center locations nationwide. The turkeys arrived frozen allowing the employee to choose the best time to share it with their family or friends. "We hire such a diverse population of people that we wanted to ensure each employee had the opportunity to participate regardless of when they choose to celebrate," stated The Connection® Director of Marketing, Karen Danielson.
"We work hard throughout the year to ensure our employees know how grateful we are for their hard work and dedication," said Fred Weiner, President of The Connection®. "And especially during the holidays, we want to make sure that everyone has an opportunity to have a great holiday meal with their family."
The Connection® is dedicated to creating an environment of appreciation for all their employees and hope to spread the word to give people in the communities they serve a chance to become a valued member of their team. The Connection® invites all who may be interested in joining their team to apply online at www.theconnectioncc.com/careers/ or stop into one of their locations to fill out an application. The Connection owns and operates three call centers nationwide located in Olean, New York, Jamestown, New York, and Rockford, Illinois.
The Connection® is a contact center solutions provider for B2B companies specializing in inbound live operator, web chat, email response, and social media monitoring as well as offering consulting services to existing call centers. The organization offers personalized solutions tailored to the unique culture and customer experience of each client in one of our three U.S. based call center locations nationwide. To learn more about our company, check us out.
Source: https://www.theconnectioncc.com/blog/blog-details/the-connectionreg-provides-over-1000-holiday-turkeys-to-employees
Publish Date: January 5, 2016 5:00 AM
---
Picking a call center is one of those business decisions that can make or break your customers' perception about you. It is therefore necessary to exercise caution while outsourcing call center services.
There are numerous factors associated with business process outsourcing that have long-term effects for your business. Here are 4 simple pointers to assist you in choosing the best technical support call center:
1. The Price Tag
The need to cut back on costs is the prime reason why the call center sector is growing year after year. It makes no sense outsourcing a technical support call center if it isn't cost effective. Compare the service packages and rates of various call center service providers to find the best deal.
2. Request a Trial
You can request that the service provider arrange for a test project, prior to entering into any agreement. This would give you a realistic idea if the service standards justify the price and if the call center is capable enough to live up to the expectations of your customers with respect to the quality of service and support.
3. Integrated Customer Support Platform
Nowadays, it is vital to integrate the call centers with other customer support platforms, such as social media platforms, automated support channels and live chat, for an enhanced customer experience. Ask the service provider if their call center can support multiple support channels.
4. Experience
Make sure the call center service provider has relevant experience in the field of technology. A well-trained staff with finesse in dealing with technical ins and outs is a must to offer technical support service of high standards.
If you're selecting a vendor, contact The Connection®, we can assist with RFP development, selection criteria and highlight things you need to be aware of when choosing a partner that is right for you.
Source: https://www.theconnectioncc.com/blog/blog-details/choosing-a-technical-support-call-center-what-you-need-to-look-for
Publish Date: December 30, 2015 5:00 AM