B2B Lead Generation: Part 1 - Utilising customer persona to improve your lead generation - The Telemarketing Company - ContactCenterWorld.com Blog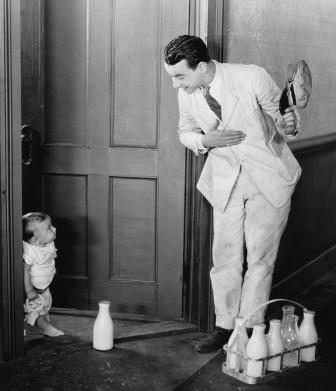 Every business has its own customer segments and key demographics, but not every organisation understands how to segment their audience based on value. A well-segmented persona will help you to determine where your time is best spent, how your products should be developed and whether your business is targeting the right people for lead generation.
A study of the practices of B2B marketers by Cintell in 2016 showed that companies who exceed revenue and lead goals have a clear roadmap for implementing customer personas. Those companies were 2.2X more likely to have and document personas, than companies that missed revenue and lead targets.
Customer personas – also known as a buyer persona or marketing persona –when designed well, and used to tailor content, target outbound activities and drive high quality lead generation, can bring real value to a business.
What is a customer persona?
A persona is basically a snapshot of your ideal customer based on analytics, market research and existing customer profiles and behaviour data, for example your email marketing or transactional data. Google Analytics and similar tools on the market have improved the process of advanced segmentation along the entire customer cycle. A good persona will take the needs of your customers into account - what their main drivers are, how they think, how they behave offline and online, and how and why they buy - to improve an overall targeting strategy.
Why segmentation matters
Creating personas, and segmenting your data accordingly, provides the structure needed to attract and engage customers with the highest potential lifetime value. It allows you to generate well qualified, sales ready leads with a high propensity to convert, ultimately leading to more profitable business.
If you know what your customers need, you can provide better customer service, improve direct messages, and maximise up-selling and cross-selling opportunities. It is, therefore, worth spending time and involving the right people from the outset to develop personas that are as authentic and rounded as possible.
Tony Zambito, a leading authority on buyer insights and personas, has pioneered an approach to persona development, which centres on the underlying goals driving buyer behaviour. His buyer persona canvas highlights the key questions needed to create well-defined customer personas that can drive improved customer strategies, customer experience and ROI. Rather than looking at behaviour only in the context of the buying process - what customers buy, when and through which channels - this approach looks at the goals, attitudes, perceptions and beliefs behind the behaviour.
What are your buyer's business goals?
What are their personal goals?
What organisational goals affect their behaviour?
How does buyer thinking affect 'Why' choices?
How does buyer thinking affect buyer behaviour
This approach provides a much deeper level of understanding and a more fully defined persona to inform decisions around customer experience and strategies that lead ultimately to improved revenue performance.
Common mistakes
Customer segmentation is a fairly standard practice these days but, as with all processes, there are some common pitfalls to avoid. The first is using outdated information:
Poor Data
We have talked previously about the importance of data quality when using marketing automation for lead generation, and the same applies when building customer persona. Many of our clients come to us with outdated or incomplete data sets as a basis for their marketing activity. Using incomplete or poor quality data to inform your customer persona and segmentation strategy, will provide an incomplete and misleading picture that undermines your ability to accurately target both your inbound and outbound efforts. Good quality data and a robust mechanism, such as an outbound data cleansing service, to maintain the health of your data, are essential.
Creating too many persona
Developing too many customer personas is tempting, but should be avoided. You might think that you're simply covering all your bases by constructing a long list, but you run the risk of stretching your resources too thinly without making a significant impact on any particular group. Don't be afraid to be ruthless with your persona list, or nervous to scrap a segment if it is no longer relevant to your business. It is important to keep reviewing and refreshing your list; if your personas organically change or shift after a campaign simply adjust your strategy accordingly
Involve the whole team
In the same vein, include every facet of the business to thoroughly research your buyer personas, from your sales team and call centre staff to marketing and management teams. Without a consistent, cohesive strategy throughout the business, your brand message can become disjointed, and your developed persona can be diluted through the later stages of the buyer cycle.
Limiting the reach of your personas to a set of teams within the business, or certain parts of the sales funnel only, can also limit your lead generation strategy. Think of your customer personas as part of your brand voice which encompasses the entire funnel and every team.
B2B lead generation
Utilising customer insight to improve lead generation is a key challenge amongst B2B marketers. The Cintell study found organisations that do align their efforts with a customer persona are three times more likely to reach business goals, and companies that exceed lead and revenue goals are 3.8X more likely to have a resource internally dedicated to personas.
The report also suggested that interviewing real buyers (both potential and existing) is one of the most important components of persona development. It found that qualitative interviews were the top source of personal insights, used by 82.4% of those companies exceeding their revenue goals.
Voice contact is one of the most effective channels for delivering clean, accurate data and insight to feed and refresh your customer persona, and enhance your targeting strategy. Not all customers will be right for your business and a vibrant and realistic customer persona matching your ideal prospect is essential to underpin your sales and marketing efforts, and align your content and messaging to priority data segments.
If you've set your sights on improving your lead generation campaigns this year, and are developing a strategy to match your goals, creating customer persona is an essential step in the process. With an authentic set of personas you can personalise the customer journey and nurture interest with relevant and engaging content based on genuine customer insight that generates high quality, sales ready leads. So, stop chasing bad leads, and start connecting with the right prospects.
Source: http://www.ttmc.co.uk/en-gb/knowledge-bank/2016/7/8/b2b-lead-generation-part-1-utilising-customer-persona-to-improve-your-lead-generation/
Publish Date: July 8, 2016 5:00 AM
---
PREMIUM

HigherGround, Inc.
(VIEW OUR PAGE)

HigherGround develops data collection, information storage, and interaction analytics solutions that easily transform data into actionable intelligence, enabling operational optimization, enhanced per...

(view more)

PREMIUM

CTI Software
(VIEW OUR PAGE)

CTI Software is the creator of custom application called Davos, which complements the telephone client solutions with intelligent features such as automated call attendant, call recording and archivin...

(view more)

PREMIUM

Future Gen International Pte Ltd
(VIEW OUR PAGE)

Outsourcing provider of English Call Centre services, Audio Transcriptions, Big Data ETL (Extract, Transform, Load) , Big Data Visualization, Big Data Predictive Model Generation
---

View more from
The Telemarketing Company
Recent Blog Posts:
| | |
| --- | --- |
| PPI Claims Deadline – the end to nuisance calls, or a new plague? | October 31, 2017 5:00 AM |
| A two-way street: what makes a good client/agency relationship? | September 19, 2017 5:00 AM |
| Is the Customer really In Control? And if they're not, who might be? | May 5, 2017 5:00 AM |
| Looking for your perfect (Telemarketing) match? | February 10, 2017 5:00 AM |
| 10 Fundamental Rules for Creating Effective Customer Surveys | January 12, 2017 5:00 AM |
| Infographic: The Top 10 Reasons Your Leads Aren't Converting | January 4, 2017 5:00 AM |
| B2B Lead Generation: Part 2 - 8 tips for email marketing success | September 19, 2016 5:00 AM |
| Just one more thing | September 9, 2016 5:00 AM |
| Post Brexit-winter is coming...why you need to take a long hard look at your own sales appointment team | August 22, 2016 5:00 AM |
| 'Must Have' Propositions - What are the essential attributes of a successful telemarketing proposition? | August 18, 2016 5:00 AM |