The Many Faces of Telemarketing - The Telemarketing Company - ContactCenterWorld.com Blog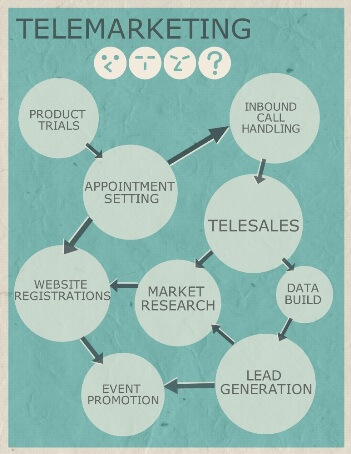 Negative press due to cold calling by unscrupulous companies, often in the B2C sector, has left many with a very one-dimensional view of telemarketing, which equates simply to unsolicited, unscreened calls, with the single objective of selling. Sadly, the many reputable companies, including ourselves, who work to a strict code of practice, have been tarnished with the same brush as other less ethical organisations. In addition, with the arrival of more technologically sophisticated channels such as digital and social media, and marketing automation, more traditional approaches such as telemarketing are sometimes perceived as old fashioned or of lesser value.
How accurate is this one-dimensional view?
In reality, there are many more dimensions to telemarketing beyond the stereotypical view of cold calling. It is one of the most flexible and measurable channels, which can bring valuable human engagement to every stage of the sales process. We recently carried out a survey in conjunction with B2B Marketing, where we contacted 150 marketers to understand their perceptions of the value of customer engagement. Results confirmed that human interaction within the sales process is considered very important and organisations using telemarketing see real value in terms of revenue generated. This appears less clear cut with those using newer media.
Of the 33% of organisations who use telemarketing, 71% think it is effective or very effective.
Of the 90% of organisations who use social media, 37% consider it ineffective, and only 3% consider it very effective.
Here is a snapshot of the various ways telemarketing can be applied and add measurable value, particularly in the B2B sector:
It can support a wide range of high value outcomes:
Sales lead generation, qualification and nurturing, appointment setting, free and paid event and webinar registrations, subscription sign ups, product trials/evaluations and full sales transactions.
Post sales warranties, contract and subscription renewals.
Non-sales propositions including free funding, awareness-building, inbound call handling, customer service.
Data cleansing, insight and market research - providing clean, accurate data to improve the effectiveness of any marketing campaign.
It can address diverse audiences:
Distinct decision maker profiles with varying levels of seniority across all functions including IT, purchasing, marketing, sales, and engineering.
A broad spectrum of market sectors, from new emerging markets to mature established industries both public and private, from finance and insurance, retail, leisure and hospitality to professional services, computing and IT.
All organisation sizes and types from start ups to large global enterprises.
It can promote multiple product types and propositions:
As diverse as luxury chocolates for high end hotels, consultancy for health and social care, precision instrumentation for industrial applications, or complex state-of-the-art software solutions for hi-tech companies.
From free offers and subscriptions, low value transactional sales to high end products, solutions and services, costing tens of thousands of pounds.
It can be applied at any stage of the buying cycle, at any market stage:
From cold calls and unqualified suspects, to warm and hot prospects through to opportunity conversion and close of sale.
Or, post sales, targeting existing customers to build loyalty and retention, or to reactivate lapsed customers.
Supporting product launches in new or existing markets or pushing existing products into new markets - targeting early adopters, or prospects within mainstream, mature markets.
The results of our survey were umambiguous in terms of the importance of a personalised experience for the customer. Whilst channels have evolved and become more technologically sophisticated, customers still expect personal engagement, more so than ever, given our consumer experience:
96% of respondents said human interaction is important or very important for new business.
98% of respondents said human interaction is key to retaining contracts.
Results were equally compelling with regard to the importance of human interaction in generating revenue.
76% of revenue is generated through non-digital means – face to face or phone
18% only is generated through digital sources – email, social media
Technological advances have created new media and new opportunities for marketers but, whilst effective, new approaches are relatively impersonal. Telemarketing is a well-established, highly personal channel, which can work standalone or alongside new channels, support marketing automation and bring the value of human engagement to any stage of a campaign.
Call it old fashioned….as our survey shows, it gets results.
Source: http://www.ttmc.co.uk/en-gb/knowledge-bank/2015/7/7/the-many-faces-of-telemarketing/
Publish Date: July 7, 2015 5:00 AM
---
PREMIUM

HigherGround, Inc.
(VIEW OUR PAGE)

HigherGround develops data collection, information storage, and interaction analytics solutions that easily transform data into actionable intelligence, enabling operational optimization, enhanced per...

(view more)

PREMIUM

CTI Software
(VIEW OUR PAGE)

CTI Software is the creator of custom application called Davos, which complements the telephone client solutions with intelligent features such as automated call attendant, call recording and archivin...

(view more)

PREMIUM

Avizent Ltd
(VIEW OUR PAGE)

Advanced AI technology and Natural Language Processing delivered to clients in the Cloud that harnesses both voice and digital conversations. The focus is on building an environment where intelligent ...

(view more)
---

View more from
The Telemarketing Company
Recent Blog Posts:
| | |
| --- | --- |
| PPI Claims Deadline – the end to nuisance calls, or a new plague? | October 31, 2017 5:00 AM |
| A two-way street: what makes a good client/agency relationship? | September 19, 2017 5:00 AM |
| Is the Customer really In Control? And if they're not, who might be? | May 5, 2017 5:00 AM |
| Looking for your perfect (Telemarketing) match? | February 10, 2017 5:00 AM |
| 10 Fundamental Rules for Creating Effective Customer Surveys | January 12, 2017 5:00 AM |
| Infographic: The Top 10 Reasons Your Leads Aren't Converting | January 4, 2017 5:00 AM |
| B2B Lead Generation: Part 2 - 8 tips for email marketing success | September 19, 2016 5:00 AM |
| Just one more thing | September 9, 2016 5:00 AM |
| Post Brexit-winter is coming...why you need to take a long hard look at your own sales appointment team | August 22, 2016 5:00 AM |
| 'Must Have' Propositions - What are the essential attributes of a successful telemarketing proposition? | August 18, 2016 5:00 AM |