Top Tips for Making a Successful Call - The Telemarketing Company - ContactCenterWorld.com Blog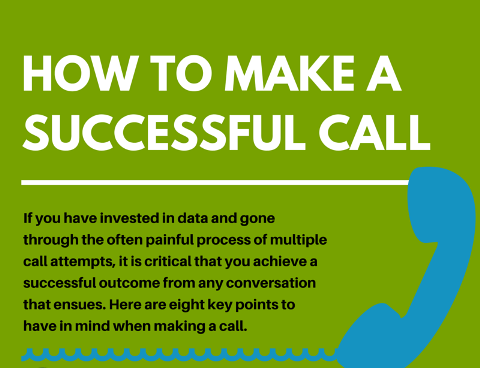 A single B2B phone conversation has the potential to create a beneficial partnership for both parties, but without the right framework in place, an interested customer can quickly switch off and switch out.
Having invested in data, identified the correct decision makers and finally got past the gatekeeper, you have created a valuable opportunity that can't be wasted. What is more, you can't afford to impact your brand reputation by leaving a poor impression or wasting a senior person's valuable time.
The art of phone engagement is heavily reliant on delivering information the way others need to receive it – it isn't easy! Confidence comes from knowledge, rather than instinct alone. In this era of hyper-informed customers, it is not enough to simply rely on business reputation; a pre-call plan must be created to ensure your call makes a real impact and the proposition you present stands out in a competitive marketplace. Preparation will not only allow you to combat customer resistance but also turn these negatives into more engagement opportunities to reassure a customer and align them with your solution and value proposition.
We shared our top tips on getting the best return on your activity through dedicated preparation. The next step is to transfer these insights into manageable action points during a phone call, from your opening objective to steer the call in the right direction, to the closing and nurturing stage to reinforce your business proposition.
Telemarketing does have the potential to take a cold call right through to a tangible lead and beyond, but it isn't easy; it takes skill and good preparation. Pre-call preparation or training can enable any salesman to approach a cold call with the confidence and knowledge to engage effectively. Here are our top tips on what to include in your pre-plan structure and how to conduct yourself during a phone call with a potential customer.

Source: http://www.ttmc.co.uk/en-gb/knowledge-bank/2016/2/17/top-tips-for-making-a-successful-call/
Publish Date: February 17, 2016 5:00 AM
---
PREMIUM

CTI Software
(VIEW OUR PAGE)

CTI Software is the creator of custom application called Davos, which complements the telephone client solutions with intelligent features such as automated call attendant, call recording and archivin...

(view more)

PREMIUM

HigherGround, Inc.
(VIEW OUR PAGE)

HigherGround develops data collection, information storage, and interaction analytics solutions that easily transform data into actionable intelligence, enabling operational optimization, enhanced per...

(view more)

PREMIUM

Avizent Ltd
(VIEW OUR PAGE)

Advanced AI technology and Natural Language Processing delivered to clients in the Cloud that harnesses both voice and digital conversations. The focus is on building an environment where intelligent ...

(view more)
---

View more from
The Telemarketing Company
Recent Blog Posts:
| | |
| --- | --- |
| PPI Claims Deadline – the end to nuisance calls, or a new plague? | October 31, 2017 5:00 AM |
| A two-way street: what makes a good client/agency relationship? | September 19, 2017 5:00 AM |
| Is the Customer really In Control? And if they're not, who might be? | May 5, 2017 5:00 AM |
| Looking for your perfect (Telemarketing) match? | February 10, 2017 5:00 AM |
| 10 Fundamental Rules for Creating Effective Customer Surveys | January 12, 2017 5:00 AM |
| Infographic: The Top 10 Reasons Your Leads Aren't Converting | January 4, 2017 5:00 AM |
| B2B Lead Generation: Part 2 - 8 tips for email marketing success | September 19, 2016 5:00 AM |
| Just one more thing | September 9, 2016 5:00 AM |
| Post Brexit-winter is coming...why you need to take a long hard look at your own sales appointment team | August 22, 2016 5:00 AM |
| 'Must Have' Propositions - What are the essential attributes of a successful telemarketing proposition? | August 18, 2016 5:00 AM |