Vcare Supports Retailers Through Their Most Successful Holiday Season - (v)WeCare Technology - ContactCenterWorld.com Blog
For some online retailers, the holiday season can make up 40% of their annual revenue. Naturally, a large portion of sales are concentrated on spending holidays like Black Friday, Cyber Monday, and Green Tuesday.
On aggregate, Vcare retailers saw their best holiday season ever, thanks in part to the world-class service and support their customers received. Clients met all of their customer care goals, even on the busiest shopping days of the year.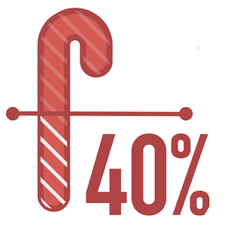 It is a challenge for retailers, both online and brick-and-mortar, to make sure that their customer service levels are maintained throughout the holiday season, when customer support volume can increase by more than 10 fold.
This customer care test is the last chance for retailers to inspire loyalty for the coming year.
In this new era of digital and mobile shopping, there are new expectations for retail call centers to provide omnichannel customer service during the holidays, ranging from phone support, to live chat on the website, to email support, and even social media customer care. This makes it even more challenging for retailers during peak season to maintain the highest levels of quality customer care service.
Here are some Vcare statistics from the 2015 holiday season, along with some quotes from Vcare call center clients and industry experts.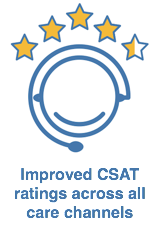 Vcare Highlights
Service levels of 95%
Hired 300 new Care Specialists during holiday season

Call handling time of less than 7 minutes

Improved CSAT ratings across all care channels

Maintained email SLA's of under 4 hours

Increased Conversion rates by 10% over 2014
What Clients Had To Say…
"This holiday season, it was business as usual for our customers. Despite peak traffic, they saw the same response times they would have at any other time of the year, thanks to Vcare."

Michelle Jacob — Planet Shoes

"It's important that our customers receive the best customer care, especially during busy Q4. We were prepared for the holiday surge in customer support tickets and traffic thanks to the Vcare team"

Billy May — Hastings Entertainment
From The Care Industry…
"Time is the currency of the day. Remember each day to help your Guests make the most of their time, and you'll find that they return long after the light-up reindeer are packed away in the garage."

Tony Johnson — Customer Service Author & Speaker,

@ServiceRecipe
"A growing number of retail sales — across all channels — are influenced by digital as the lines between online and in-store shopping become increasingly blurred."

Artemis Berry — VP Digital Retail at NRF,

@ArtimesAEB
"Multichannel shopping is gaining, with orders placed online for in-store collection reaching their highest share of online orders yet – at 23%" going into the 2015 holiday season, "and up from 18% at the same time last year."

Chloe Rigby — Editor of InternetRetailing.net,

@chloe_rigby
Coming out of a successful 2015 holiday season, there are new trends in customer service, online shopping, and digital user behavior, that made a big impact for retailers rolling into 2016. From increases in spending, to mobile shoppers, to new generations coming online, check out some of the biggest themes in online retail and customer care for 2016.
If lowering customer service costs are one of your objectives for 2016, get in touch with us today. One of our Customer Care Specialists will connect with you for a free consultation on how you can deliver a great customer experience more efficiently.

Source: http://www.vcaretec.com/blog/vcare-supports-retailers-through-their-most-successful-holiday-season/
Publish Date: January 19, 2016 5:00 AM
---
PREMIUM

ConceptCall
(VIEW OUR PAGE)

Аутсорсинговый контакт-центр ConceptCall| КонцептКолл специализируется на исходящем и входящем телемаркетинге: мы предоставляем услуги по осуществлению холодных звонков и продажи по телефону, проводим...

(view more)

PREMIUM

CTI Software
(VIEW OUR PAGE)

CTI Software is the creator of custom application called Davos, which complements the telephone client solutions with intelligent features such as automated call attendant, call recording and archivin...

(view more)

PREMIUM

Future Gen International Pte Ltd
(VIEW OUR PAGE)

Outsourcing provider of English Call Centre services, Audio Transcriptions, Big Data ETL (Extract, Transform, Load) , Big Data Visualization, Big Data Predictive Model Generation
---

View more from
(v)WeCare Technology
Recent Blog Posts:
| | |
| --- | --- |
| A Common Mistake Practised by Every Call Center! | July 11, 2017 5:00 AM |
| 5 Tips for Choosing the Right Contact Center for your Business | June 28, 2017 5:00 AM |
| 5 Most-effective Social Media Practices for a Satisfying Customer Service | March 23, 2017 5:00 AM |
| Avail Call Center Outsourcing Services For Proactive Customer Support | October 5, 2016 5:00 AM |
| Top 3 Call Center Tips For Dialing Into The Millennial Market | August 16, 2016 5:00 AM |
| 5 Questions To Grill Your Next Call Center Vendor | July 26, 2016 5:00 AM |
| The Dirty Little Secret For Finding The Best Call Center Partner | July 12, 2016 5:00 AM |
| 3 Steps To Turn Customer Care From Cost Center To Profit Center | June 15, 2016 5:00 AM |
| Boost NPS & CSAT Through Customer Mirroring | April 20, 2016 5:00 AM |
| How To Achieve Industry-Leading Customer Care Through Hiring & Training | April 1, 2016 5:00 AM |