Verbatim Call Centres - ContactCenterWorld.com Blog
Diets were on pause this week at Verbatim while we held a Cupcake Day to raise money for the Alzheimer's Society. Our lovely receptionist Angela, who has been with us for 14 years, organised the event; much to everyone's pleasure, because who doesn't enjoy cupcakes after all? She had many of us busy in the kitchen, and perhaps a cheeky few in the store. We certainly had a wonderful array of gorgeous goodies turn up.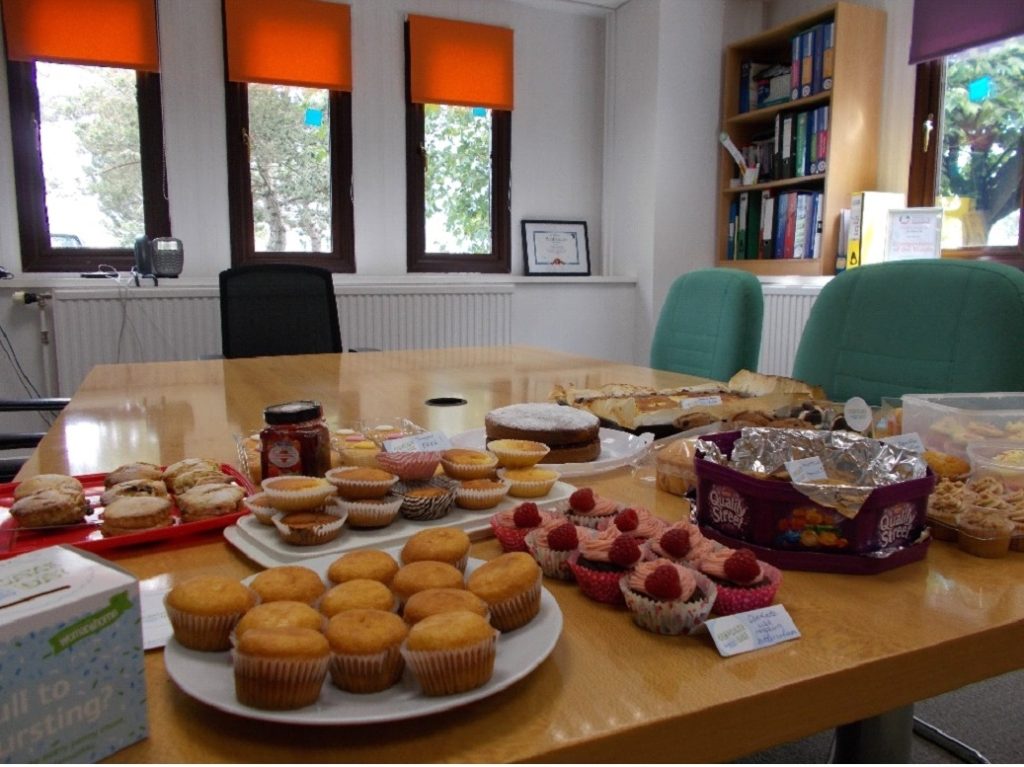 No-one was going hungry today!
Knocking on office doors with a tray full of temptation gave me a great excuse to finally meet some of the tenants of our building. It is amazing how many I swear I have never seen before. It is a small example of how good causes can bring people together.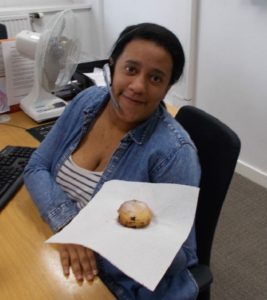 Kiera showing off her next tasty treat.
Our small but mighty team raised £50 for the Alzheimer's Society. I think we can be proud of our efforts, when just £40 is enough to pay for a person living with dementia to attend a Dementia Café support group for two months. You can find out more about Cupcake Day, or donate to the cause at: https://cupcakeday.alzheimers.org.uk/
Verbatim Your Call – Our Passion.
Until next time, Elise
Source: http://www.verbatim-cc.co.uk/2016/06/cupcake-day/
Publish Date: June 24, 2016 5:00 AM
---
I always feel a little dread when I tell people I work in a call centre, because let's face it, the term 'call centre' is not one that inspires great joy. We have all been there; sitting on hold thinking we definitely should have got up to make that tea 15 minutes ago after all. We have listened to a patronising recording of someone assuring us our call is of vital importance to the company over and over, until we want to throw the phone at the wall. When we have finally got through to a human voice, it not only sounds like they are on the other side of the world; but that the entire world is in their office. It seems nearly impossible to decipher someone reading their script with the constant shrill of hundreds of phones in the background, alongside the throb of voices of colleagues pinned in.
When I tell people I work in a call centre, I know this is what they picture. Yet the reality couldn't be more different…
Just a dozen of us receptionists are spread out across a bright and spacious office. We sit in our own little pods, with our desk dividers, noise-cancelling headphones and even carpet designed to prevent noise carrying. The loudest thing on our lines are our personalities. We don't have strict scripts, because ultimately we all know people want to speak with a human not a machine. And thankfully, for the sanity of all involved, there is no need to have a recorded message droning on about how important your calls are to us, because we answer calls straight away, which says it all.
There are no obvious call centre trademarks when you call us. People are generally unaware that companies use services like ours, which means it can often take some time to explain to people exactly what I do. I still don't think my mum gets it. As far as I'm concerned the best reviews we get are clients telling us none of their customers have ever noticed we aren't in their office. If people don't know we exist, we're doing our job well.
Until next time, Elise
Your call answering team
Source: http://www.verbatim-cc.co.uk/2016/04/ok-dont-like-call-centres-either/
Publish Date: April 17, 2016 5:00 AM
---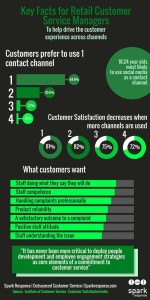 At Verbatim we have bucked industry trends with long serving staff and high retention rates. In an industry with higher than average employee turnover, it's even more important to invest in our people to help retain knowledge, skills and experience.
Research shows – The majority (64.8%) of non-food retail customers prefer to interact with customer service departments via one channel; the telephone.
Whilst just 1.5% of customers admit to using 4 channels to get their issue resolved.
Interestingly, where customers use more than two channels, their level of customer satisfaction decreases significantly. Where customers are able to use just two channels, customer satisfaction levels are fairly static at around 81%. But when a third or fourth channel is used, satisfaction decreases to 75% (3 channels) and 72% (4 channels). This fact appears to be unique to the retail sector, and could be explained through a lack of response on a primary channel. For example in today's real time world, a 24 hour response time to an email is no longer deemed acceptable. In many cases customers will turn to social media to vent their frustration and seek quicker and timelier responses.
The challenge for retail customer service managers is to ensure that whichever contact channel a customer uses, the overall customer experience is the same. It's equally important to understand the reasons why customers utilise the channels they do. Perhaps unsurprisingly it's 18-24 year olds who are the biggest users of social media as a contact channel, whilst older generations continue to use telephony as their primary contact channel. It is important to measure key metrics and call outcomes across each channel, in order to identify trends and patterns in the way consumers use contact channels.
The human factor – When customers are asked what they want from contact centres, six of the top seven responses can be grouped as human factors, meaning the way in which a customer service advisor handles an interaction –
Delivering on promises
Being helpful
Competent
Professional
knowledgeable
Understanding
These are all traits that customers expect in a customer service advisor.
This research therefore highlights the fact that employee engagement** training, and people development are all fundamental components of a successful customer service strategy.
Source: Institute of Customer Service Customer satisfaction index.
**In a staff engagement survey conducted by people essentials we (Verbatim Call Answering Service) scored 80%+ for engagement vs a UK average of 49%
Source: http://www.verbatim-cc.co.uk/2016/02/6088/
Publish Date: February 14, 2016 5:00 AM
---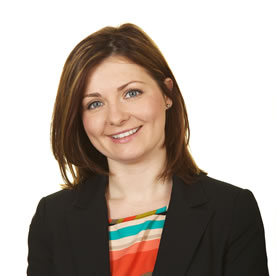 We are saying goodbye to Hayley later this month. Hayley has decided to become a full time mother to her beautiful little girl Alannah.
I would like to thank Hayley for her dedication and contribution to Verbatim and for the outstanding service to our clients, many of whom have got to know her well.
I'm sure you will join me in wishing her well for the future.
Thanks Hayley.
Source: http://www.verbatim-cc.co.uk/2015/04/goodbye-hayley/
Publish Date: April 1, 2015 5:00 AM
---
There's no question that being a small business owner is seriously hard work! Apart from the day-to-day challenge of managing everything, there's the constant need to drive more customers into your business.
Yep, that makes sense. However, most business owners are missing the bleeding obvious. Are you one of them?
As you know, the business world is in a constant state of evolution. With each new technology comes a new fancy method of marketing. As entrepreneurs, most of us are attracted to fresh ways to attract customers, and therefore we struggle with shiny object syndrome.
With conventional marketing, you have local PR, direct mail, leaflet drops and your website. There's also the newer aspects of email marketing, marketing funnels, Facebook Ads, Twitter Ads, Linked In Ads, Google Adwords, Banner Retargeting, call-tracking numbers, and more!
Do you find it pretty exhausting keeping up with it all?
You're not alone! The number of times that I hear a business owner say, "oh no! not ANOTHER marketing technique to learn…".
The MASSIVE Marketing Irony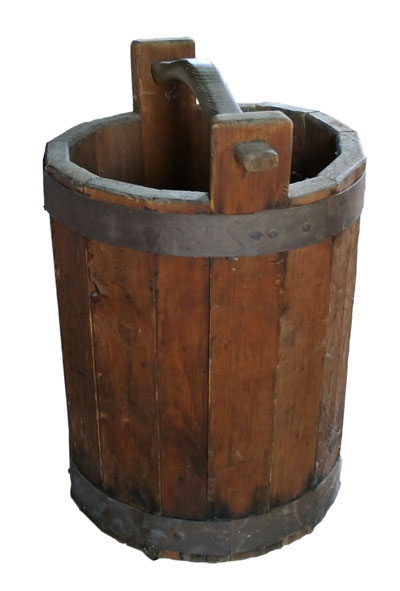 Picture marketing as being like a big bucket. When you do marketing, you're doing something to add potential customers to your bucket.
By some kind of magic, some of those potential customers in your bucket become paying customers too.
Yes, I know. It's not magic. It's hard work. But please, let's just pretend… just for another 3 minutes and 24 seconds.
You might be spending £100, £1,000, or £10,000 (or more?) to grab the attention of new potential customers, and putting them into your bucket.
But what happens if your bucket has a great big hole in the bottom?
So much effort (and money) goes into investing in marketing. But if your customers cannot buy from you… what's the point of all that effort?
Sounds stupidly obvious? That's because it is.
Did you know that on average, a business will miss 15% of incoming telephone calls?
These are smart, savvy, switched on and intelligent small business owners. But far too many are not answering the blooming phone!
With the best intentions in the world, you can't answer the phone when you're:
Sleeping
Eating
Attending networking meetings
Doing the work you're paid to do
In a client meeting
On the phone to somebody else
Had a huge surge in calls as a result of a leaflet drop
and more…
And that's just the day-to-day aspects of running a successful company. There's also the unexpected:
(Positive) Mentions in the local or national newspaper
Some love and attention from one of your customers on Facebook
Perhaps a mention on Twitter of your business by someone with lots of followers
Or one or two of your staff have called in sick…
Before spending any
more

money on marketing – make sure you've plugged your leaking bucket by answering all your inbound calls!

Yes I am biased because I've been running a call answering service for over 18 years. And that's why I love what we do at Verbatim.

I'm SO passionate about helping business owners to seriously grow their business by providing a top-notch team to ensure you don't miss that valuable call (a call that might be worth thousands to you?).

This is not a sales pitch. It's more of a rant.

(Although I will say, you can see from our testimonials of just how much business we've won for our clients by answering the phone for them

).
Why waste money with your marketing if you're not handling every single sales enquiry?
Using one of the examples from above. Say you get really fabulous national coverage in the papers. You'll get more enquiries. Some will be via email, but a lot will be via telephone.
It's very difficult (and costly) to hire someone quickly, as well as train them up to answer meaningful questions about your products (and services) in just a couple of days. If you have a high quality call answering service, then your answering capability is completely elastic.
We do this for several of our clients already. We learn as much as we can about our client and their offerings so that WE can answer meaningful telephone calls on behalf of that client.
That way, you're not missing any calls from what is a super-valuable bit of marketing. National PR coverage is usually gold dust to a business. Why throw money down the drain?
Before you do any more marketing, ensure you're not missing another call. A call answering service should be your FIRST marketing pillar.
Just a thought.

P.S. If you want to read 7 MORE ways that a call answering service can help you grow your business, then take a look at my free eBook by clicking this link.
Source: http://www.verbatim-cc.co.uk/2015/03/leaking-prospects/
Publish Date: March 24, 2015 5:00 AM
---
Verbatim's support of AquAid has provided Africa with a much needed new water well to provide clean, safe water – a vital resource that will help villagers there fight the current outbreak of Ebola.
Now completed the pump (called an Elephant Pump) bears Verbatim's name as seen in the picture. We are equally proud to display our AquAid Badge of Support and the team here were all touched when we received a certificate and letter of thanks from the people aided by this new water well. Verbatim will continue to support AquAid as a long standing commitment to helping the people of Africa, especially during times of crisis.
Founder and owner of Verbatim – Graham Hill says this…
"As a boy I lived in northern Nigeria for 4 years and as a young Graduate trainee I had temporary posts in Kenya, Tanzania and South Africa. I have also travelled on business extensively to Sudan, Algeria and Libya. What struck me then (and this is going back 40 years) was that women would walk for miles every day from their villages to collect fresh water in pots on their heads and then return to their village hours later. Nothing much has changed sadly and to think you and I turn on the tap every day and take it for granted, yet millions of our fellow beings don't have access to fresh water and good sanitation. We need to stop thinking of it as an African problem but one shared by our species / fellow humans and now with Ebola – which I know will be exacerbated by the lack of hygiene and fresh water. So I applaud AquAid and am proud to contribute via this trusted supplier."
More about Ebola
Source: http://www.verbatim-cc.co.uk/2014/10/verbatim-gains-aquaid-badge-of-support/
Publish Date: October 15, 2014 5:00 AM
---
As every Star Wars fan now knows, the Millennium Falcon and two X-wing fighters have been spotted at Greenham Common in West Berkshire, just a 40 mile drive along the M4 to Pinewood Studios, and home to Verbatim – Thames Valley's leading call answering service for businesses.
With 'Episode 7' of Star Wars currently back on track and into its second chunk of filming at Pinewood, the production is approaching the end of its primary shooting phase, and with various locations around the UK being used – scenes have been shot at Puzzlewood, Skellig Island… now Berkshire!
A quick look at the Greenham Common site shows the legendary Millenium Falcon, much-loved stock light YT-1300 freighter owned by Han Solo and co-piloted by his partner Chewbacca.
Early rumours seem to suggest that Solo no longer owns the ship and that the character portrayed by Oscar Isaacs is the new captain of the Falcon. Nobody outside the production knows as yet but there's no doubt that the ship is looking in great shape, even in her half-completed form, says earth bound Greenham Common based Verbatim. Should non-earthlings descend on Newbury, don't worry – Verbatim's 24/7 emergency call out has you covered.
May the calls be with you!
Source: http://www.verbatim-cc.co.uk/2014/09/star-wars/
Publish Date: September 22, 2014 5:00 AM
---
We joined in this year's World Cup football fever by running a Keepy-Uppy Challenge throughout the duration of the Games – the lucky winners were awarded their weight in beer.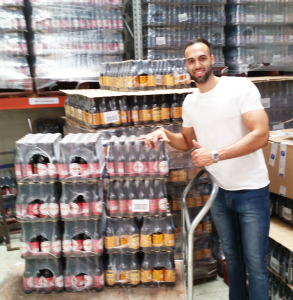 The challenge was run throughout the World Cup games, and the winners were announced on 16th July. Local businesses on the Greenham Business Park received a personal printed invitation to enter the challenge at Verbatim's offices – entry sessions were held every Monday and Friday for anyone wanting to drop in and have their best keepy-uppy effort recorded by the Verbatim team. Winner Aman (above left) – a 23 year old employee of Norma UK Ltd, was thrilled to win the challenge after completing an amazing 75 non-stop keepy-ups at Verbatim's offices just days before the competition closed. He was greeted at Windsor & Eton Brewery on Friday 25th July where he was given 14 cases of beer. Aman said…
"I was ecstatic to find out I was the winner of the keepy-uppy challenge. I took my friends from work along with me and we all had a go. Competition between me and my work friends was tough but I managed to leave with the highest. A few hours later I received a call that I had won! I was over the moon! I had only trained a day before attempting the challenge so was pleased with the result. Upon receiving the beer I was greeted very pleasantly by the Windsor and Eton Brewery where I was given a full tour of the factory and got to taste a variety of their beers! I even got up on the scales and did some keepy-uppy's. In the end I received 14 crates, was extremely chuffed with my winnings! I will most definitely be attempting this challenge again next year!"
Challengers could also post a video of their best keepy-uppy attempt on Verbatim's Facebook page. Winners for this category were also awarded their weight in beer. Winners Richard and Carlos seen below receiving their 8 cases of beer.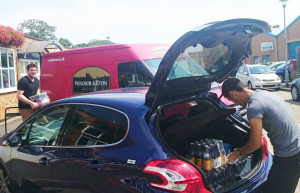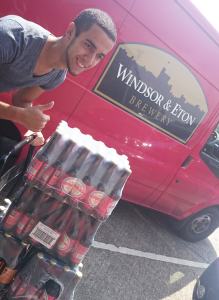 The winner of the £50 M&S voucher – for predicting the final score successfully is Richard White (below) receiving his prize from Graham Hill.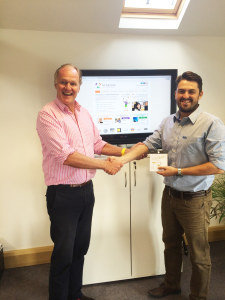 More fun was had with Verbatim's 'Keep your eye on the ball' challenge. Footballs were carefully (and sneakily) hidden within the 4 page quarterly printed newsletter that Verbatim sends to clients, and with some balls only being 3 mm in diameters this was not an easy 'spot'. The winners – who spotted all 8 balls – were Hannah and Jane from Guardian Preservation Services who each received a 'His and Hers World Cup Goodie Pack' including a bottle of bubbly and luxury chocolates for her,and cider and crisps for him.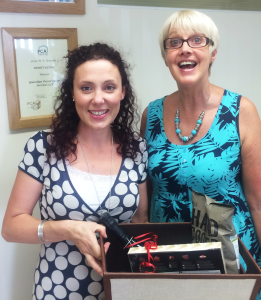 Hannah and Jane receiving their Goodie Pack prize for spotting all 8 balls hidden in the Verbatim newsletter
Source: http://www.verbatim-cc.co.uk/2014/08/winners-receive-weight-beer/
Publish Date: August 1, 2014 5:00 AM
---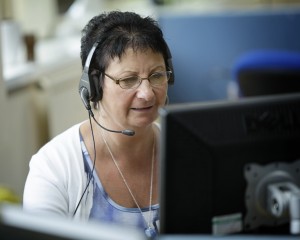 Staff profile: Ann Davidson – 16 years working for Verbatim
In 1998 I found myself at home with a two year old son. I needed to get back to work and answered an ad in the local paper for a job at Verbatim.
I got the job and started working 3 mornings a week and the odd Saturday morning. We worked in an office on Main Street, Greenham Business Park and 6 of us sat cosily around a group of desks with our phones and notebooks with a fax machine in the corner.
We started off taking calls, noting down the clients id, typing up the messages and in nine times out of ten, printing the message off and getting up from our seats to manually fax the message over. Early days and not very high tech but we did the job and the clients were pleased!
As AJ grew, so did Verbatim, we knocked a hole in the wall and moved into the adjoining office. As AJ went to school I increased my hours to work around his school day and Verbatim, being the family friendly company allowed me work around him all the way through his school years.
We grew bigger and eventually moved into new, bigger offices at Venture West. More clients, more staff and more hours to work but new technology including emails and texts and automated faxing!
A series of mishaps happened along the way with me, my mums passing and the death of my lovely husband Ken. My extended family at Verbatim rallied round and supported me with love and compassion. When times have been tough for me, Graham and the team have always been there and helped me through the bad times, as they do with all of us.
Moving on, my son has just turned 18! I have now been here 16 years. I love to chat with my clients and callers and have some great friends and colleagues here. We always look out for each other through good and bad. We laugh together, cry together but above all work together to make Verbatim what it is today. The fundamentals of the job remain the same, answer my phone, talk to my callers in a friendly and professional way, deliver the message and fulfil my client's needs. Job done!!
I cant see me leaving until pension day – which unfortunately is nearer than I would like!!!!
Ann Davidson
Source: http://www.verbatim-cc.co.uk/2014/06/staff-profile-anns-story-16-years-verbatim/
Publish Date: June 11, 2014 5:00 AM
---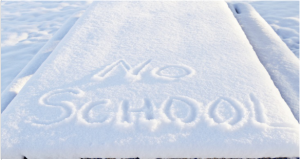 With the UK weather being more unpredictable every year, schools are having to make immediate decisions about if and when to close. Often this decision is made out of hours, long before staff have arrived causing a communication issue all round, and for the Head Teacher the knock on effects of last minute closure are many…
Notifying the right people, staff, students and parents promptly is vital if the Head wants to avoid situations that cause massive disruption, not just for the school, but for parents who are forced to make last minute childcare arrangements. The key in these situations is to have a robust, tested and approved plan in place that utilises the best and most reliable technology to speed the process up, and eliminate hassle. But whilst most schools will have a plan, it may not be effective, which leaves them unprepared and liable to confusion about what response mechanisms are in place.
And with many schools now having on average 1500 students how you get the right message to the right people… quickly really does matter. Consider the scenario that happens in many schools across the UK today – The day starts unexpectedly, its 6am and the approach road to the school is heavily iced, not safe enough to keep the school open. The Head decides to close, and may rely on sending an e-mail, but many staff and parents simply won't see it in time, resulting in them turning up to a school already closed. Who would be responsible (or have the time) to make the call to everyone who may be affected? Should you rely on social media? And of course someone has to inform the local radio stations, but who is that person… and more importantly where are they?
It's a headache for the Head that's for certain, but it doesn't have to be!
These situations CAN be managed with an effective plan, one that every member of staff is aware of, understands and has practised. And there IS technology out there to make sure this plan works and is foolproof – every time. Announcement systems like EDGE-Care automatically deliver a message to everyone who needs to know about the situation as it arises. So when the Head makes the decision to close the school, he doesn't need to worry about communication chaos, but can concentrate efforts on resolving the issue at hand instead. This has to be a better use of time surely!
What are your experiences of dealing with school closures and how do you think the processes should best be managed?
Source: http://www.verbatim-cc.co.uk/2014/03/schools-face-closure-due-bad-weather-whats-plan/
Publish Date: March 26, 2014 5:00 AM
---
Captains log – Stardate 91759.74
Hi I'm Captain EDGE, Verbatim's EDGE Care super hero and I 'm so excited to be given my very own Captain's blog!
One of my heroes is Deep Blue, IBM's super computer who went on to beat international chess Grand Master, Kasparov, in the 90's.
It got me thinking about how to apply 21st century intelligence to the business of calling out emergency maintenance crews to fix production line machinery and critical IT or power systems. We have come a long way from the early days of production but sometimes our response in a crisis can seem a little archaic. Calling around your engineers in the hope someone picks up.
Thanks to Verbatim, the phone answering service, I can now demonstrate how EDGE-Care can bring your response into the 21st century and how Captain EDGE can work with your emergency response teams to shorten your response time.
Just imagine the impact of down time in your business. The list is endless- lost production, late deliveries, reputation, financial penalties just to name a few.
Let me share the things that YOU WON'T GET with Captain Edge
Things like:
You won't struggle to reach your engineers
You won't struggle to get your engineers out of bed and then worry about them taking the important information down wrong
You won't have to repeat your instructions and contact details
You won't have any doubt as to whether the on call engineers have been contacted and are on their way and properly briefed.
You won't have disputes about who called whom and what was said and at what time the notifications started.
These are things of a bygone age – with Captain EDGE you will get a super hero service
Things like:
You will have the phone answered in 3 rings – guaranteed
You will get all the information you need using a structured maintenance request form designed by you
You will be confident your maintenance crews have been immediately notified as well as any back up crews you require.
You will be able to guarantee to meet your customers' SLA's
You will have ISO compliant records – auditable and traceable
You will have voice recordings of the original request- great for verifying any points of dispute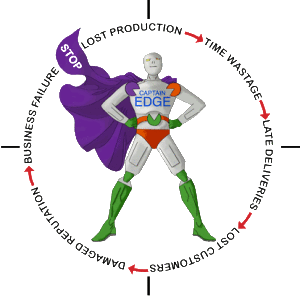 Captain EDGE WILL:
Reduce times to fix the problem
Help you deliver better service levels
Enhance your reputation
So the question is:
"Can you afford to ignore a fast, efficient and fool proof guaranteed escalation process from a super hero ………………………………………….?"
Captain EDGE signing off
Source: http://www.verbatim-cc.co.uk/2014/02/call-engineers-super-hero-captain-edge/
Publish Date: February 27, 2014 5:00 AM
---

Verbatim, The Phone Answering Service has thrown a lifeline to Berkshire businesses affected by the flooding with the offer to answer the calls of up to 20 stricken businesses for free until the end of February, by which time the floodwater will have hopefully subsided.
The offer is open to home based businesses that have been flooded or to business owners whose homes are flooded or threatened with flooding meaning they cannot be at work.
Verbatim based at Greenham Business Park in West Berkshire whose Founder & Managing Director lives 50 yards from the river on the upper reaches of The Thames, has first-hand experience of the rising flood waters at his home prompted him to make the gesture.
"Where I live west of Oxford we have been on flood alerts and flood warnings since Christmas and are surrounded by sandbags and while we have not yet been flood the water is getting closer and I know how important it is to stay close to home.
"I am lucky to own a phone answering service meaning I can work from home and be here to protect my property and family and still handle calls and clients; others are not so lucky and either have their workplace flooded or are away from work to protect their home and our hearts go out to those people and we hope this gesture will help them stay in business while staying at home.
"Answering phones for businesses effected by the flooding is a small gesture and a genuine way we can help the local economy."
If you know someone whose home based business is down the drain due to flooding
"Here's a free, absolutely no quibble, no moaning, lifeline for them"
Tell them to call this number to register their business – 01635 576060 – and we'll handle all their calls until the end of February, absolutely free and with no obligation and no strings attached.
We'll maintain their diary, take calls and sales enquiries, transfer urgent calls to mobiles, and give out info to VIP and key customers, leaving them free to sort out their family and home problems.
In times like this we all need to pull together and help those in urgent need, and helping businesses is what we're about. My home is only threatened right now, while the business is high and dry, so we're in a position to help those less fortunate.
Source: http://www.verbatim-cc.co.uk/2014/02/know-someone-whose-home-based-business-drain-due-flooding/
Publish Date: February 11, 2014 5:00 AM