Call out engineers with our super hero………Captain EDGE - Verbatim Call Centres - ContactCenterWorld.com Blog
Captains log – Stardate 91759.74
Hi I'm Captain EDGE, Verbatim's EDGE Care super hero and I 'm so excited to be given my very own Captain's blog!
One of my heroes is Deep Blue, IBM's super computer who went on to beat international chess Grand Master, Kasparov, in the 90's.
It got me thinking about how to apply 21st century intelligence to the business of calling out emergency maintenance crews to fix production line machinery and critical IT or power systems. We have come a long way from the early days of production but sometimes our response in a crisis can seem a little archaic. Calling around your engineers in the hope someone picks up.
Thanks to Verbatim, the phone answering service, I can now demonstrate how EDGE-Care can bring your response into the 21st century and how Captain EDGE can work with your emergency response teams to shorten your response time.
Just imagine the impact of down time in your business. The list is endless- lost production, late deliveries, reputation, financial penalties just to name a few.
Let me share the things that YOU WON'T GET with Captain Edge
Things like:
You won't struggle to reach your engineers
You won't struggle to get your engineers out of bed and then worry about them taking the important information down wrong
You won't have to repeat your instructions and contact details
You won't have any doubt as to whether the on call engineers have been contacted and are on their way and properly briefed.
You won't have disputes about who called whom and what was said and at what time the notifications started.
These are things of a bygone age – with Captain EDGE you will get a super hero service
Things like:
You will have the phone answered in 3 rings – guaranteed
You will get all the information you need using a structured maintenance request form designed by you
You will be confident your maintenance crews have been immediately notified as well as any back up crews you require.
You will be able to guarantee to meet your customers' SLA's
You will have ISO compliant records – auditable and traceable
You will have voice recordings of the original request- great for verifying any points of dispute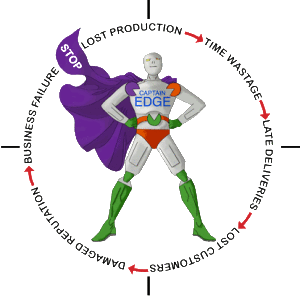 Captain EDGE WILL:
Reduce times to fix the problem
Help you deliver better service levels
Enhance your reputation
So the question is:
"Can you afford to ignore a fast, efficient and fool proof guaranteed escalation process from a super hero ………………………………………….?"
Captain EDGE signing off
Source: http://www.verbatim-cc.co.uk/2014/02/call-engineers-super-hero-captain-edge/
Publish Date: February 27, 2014 5:00 AM
---
PREMIUM

HigherGround, Inc.
(VIEW OUR PAGE)

HigherGround develops data collection, information storage, and interaction analytics solutions that easily transform data into actionable intelligence, enabling operational optimization, enhanced per...

(view more)

PREMIUM

Avizent Ltd
(VIEW OUR PAGE)

Advanced AI technology and Natural Language Processing delivered to clients in the Cloud that harnesses both voice and digital conversations. The focus is on building an environment where intelligent ...

(view more)

PREMIUM

ConceptCall
(VIEW OUR PAGE)

Аутсорсинговый контакт-центр ConceptCall| КонцептКолл специализируется на исходящем и входящем телемаркетинге: мы предоставляем услуги по осуществлению холодных звонков и продажи по телефону, проводим...

(view more)
---

View more from
Verbatim Call Centres
Recent Blog Posts:
| | |
| --- | --- |
| Cupcake Day | June 24, 2016 5:00 AM |
| It's OK, we don't like call centres either! | April 17, 2016 5:00 AM |
| Customers want to TALK to you! | February 14, 2016 5:00 AM |
| Sad news for us but great news for a little person :) | April 1, 2015 5:00 AM |
| Is Your Business Leaking Valuable Prospects? | March 24, 2015 5:00 AM |
| Verbatim helps Africa to fight Ebola – and receives the AquAid Badge of Support | October 15, 2014 5:00 AM |
| Star Wars spotted at Greenham Common | September 22, 2014 5:00 AM |
| Winners receive their weight in beer | August 1, 2014 5:00 AM |
| Staff profile: Ann's story – 16 years at Verbatim! | June 11, 2014 5:00 AM |
| When schools face closure due to bad weather – what's the plan? | March 26, 2014 5:00 AM |